Over the weekend, me and Jay from The Sexy Armpit found ourselves in a church, or maybe an event center, or perhaps some kind of school. I'm not exactly sure, but some building in Clifton NJ had been commandeered for a comic book convention.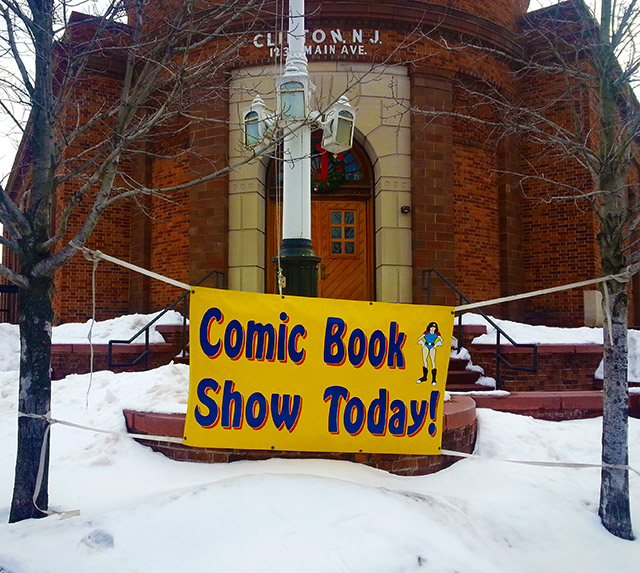 A small comic book convention, I mean. This wasn't NYCC, and it certainly wasn't SDCC. No celebrities, no major press, no cosplayers and no freebies from Sony. Just a few dozen people selling comic books off of well-worn folding tables. It was exactly what I wanted it to be.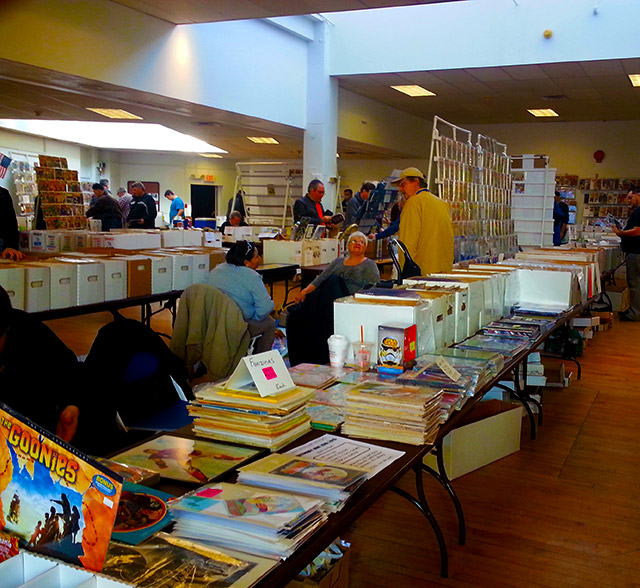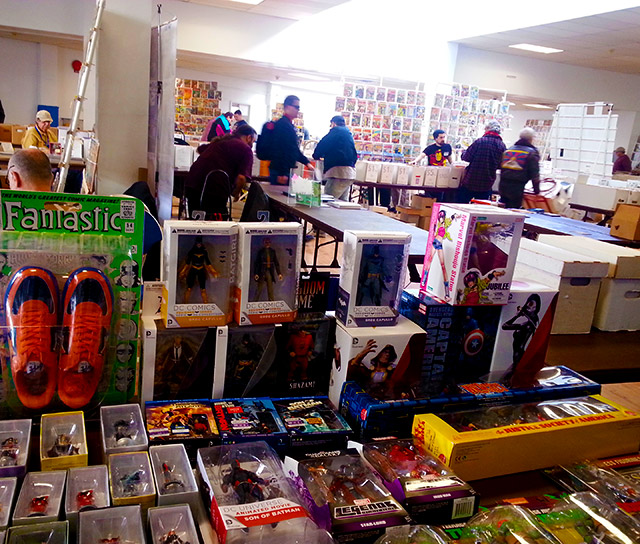 This was my first time visiting, but the Clifton Comic Book Expo is a long-running show. I assume that many of the dealers have been a part of it for years, slowly morphing from competing salespeople to cherished friends.
I loved it. There couldn't have been more than 30-35 dealers there, but they were hardcore. While there were a few welcome bric-a-brac peddlers, most were serious comic book folks, with huge libraries and endless anecdotes about those libraries.
To me, these smaller shows are so much cooler. The intimacy permeates every facet of the show, and it's all so weirdly relaxing. I can't imagine that the dealers paid a lot to be there, so as I thumbed through everyone's longboxes, not once did any of them annoyingly try to pressure me. They all wanted to make money, but I got the impression that this was mostly just fun for them.
Plus, when you're at a smaller show, that usually means a smaller and more pleasant crowd. Nobody was fighting over spots, and if you were looking through a particularly popular box, people waited patiently without pulling the hovering/heavy sigh combo.
I hate the hovering/heavy sigh combo.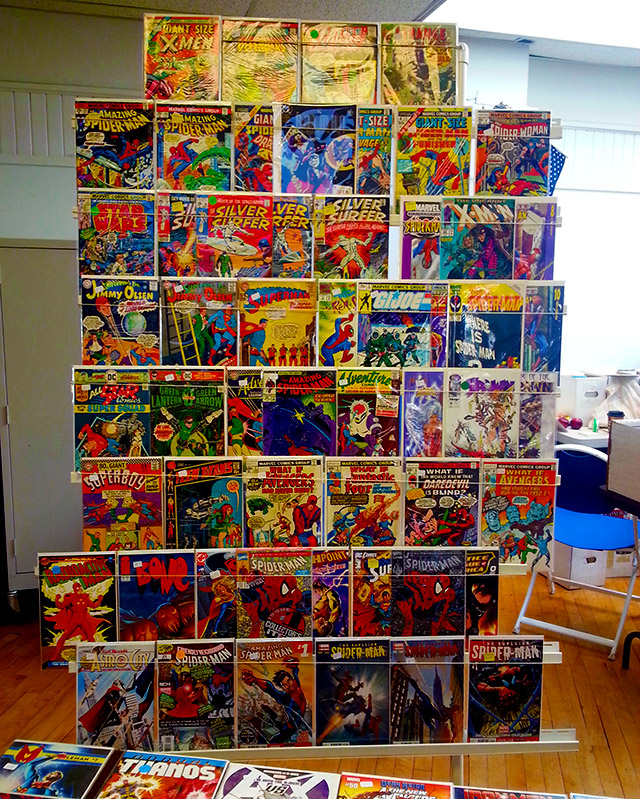 Since you could find most of what's for sale online — and maybe at better prices — a comic show seems joyous but perhaps a bit needless. That is, until you get there. Once you do, you see the bigger picture. You'll be reminded of things you once loved, and introduced to new things to obsess over. After we left, I had a renewed passion for Adam Warlock, and a sudden interest in weird RPG dice.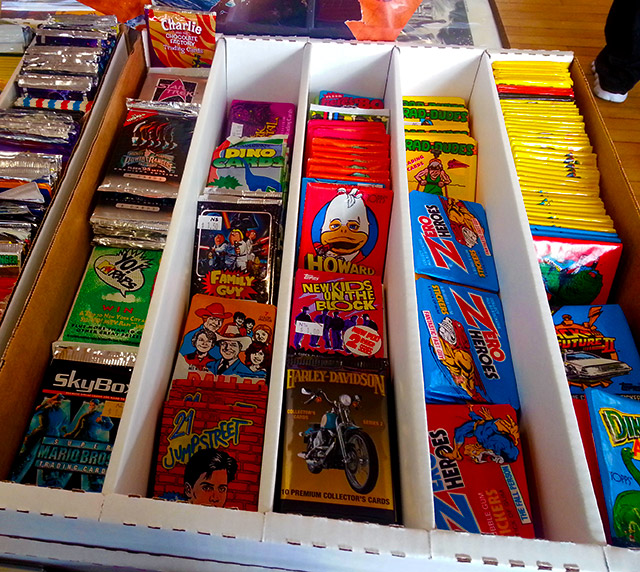 Course, my favorite dealers at any comic book show barely even have comic books for sale. I always gravitate to the dealers with toys, cards and crap.
One dealer had tons of cheap, loose action figures. Another had a drool-worthy box of non-sport trading card packs. Still another saw this as an opportune time to unload 600 used DVDs. Those were the guys I got to know the most. These dealers are important, because the best comic book shows feel at least a little bit like garage sales.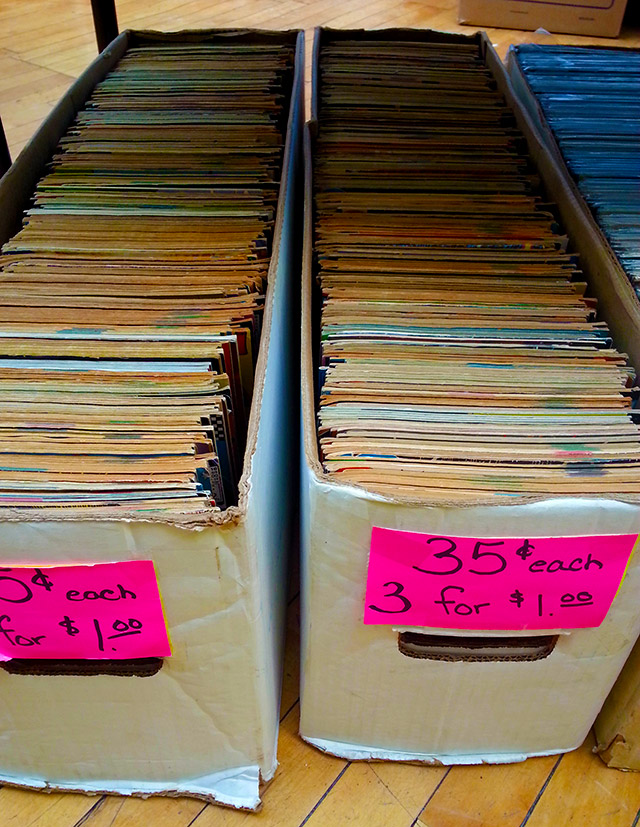 …but even if I'm no big comic book collector, I still have my favorites: Dirt cheap books from the '80s and '90s.
Most dealers had their "showpieces," but many also kept longboxes of "junkier" titles underneath their tables, with prices as low as six books for a buck. I love building piles of take-homers when I never once have to worry about how much I'm spending. It's pretty much my favorite thing in the world.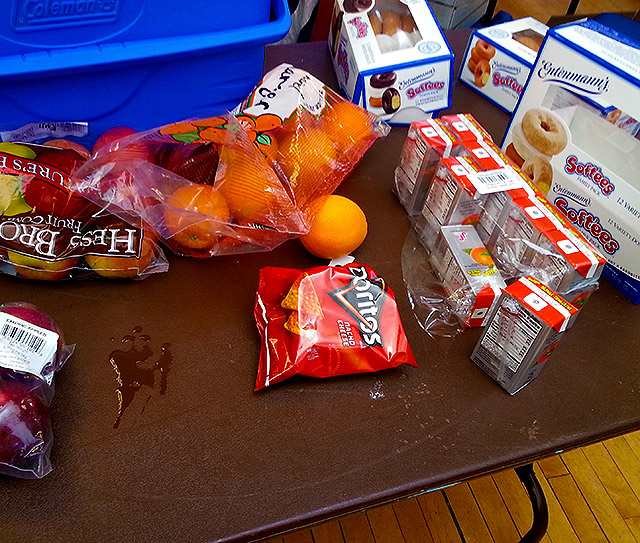 Had to grab this photo. I believe this was a communal snack table for various dealers. Words can't express how much I adore the idea of comic book sellers becoming friendly enough to share fruit and donuts and juice boxes. The only thing missing from that table is a half-finished game of Connect Four.
We only stayed for around an hour, but both of us left with more shit than we could reasonably carry. Best of all, neither of us spent too much money. Guilt-free shopping sprees are so great.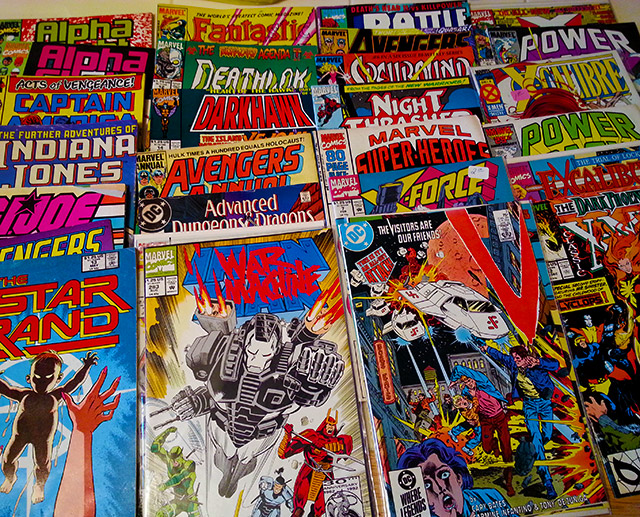 I left with the 30+ comic books seen above. They were all from the "cheapie boxes," and I only bought them so I'd have material for future tributes to comic book ads.
I barely paid attention to what I grabbed. So long as it looked old, into the pile it went. The fact that I ended up with so many boss titles was just dumb luck. (In fact, the best comic in the lot — a motherfuckin' issue of V — was randomly picked by Jay when I realized that my pile was one book short.)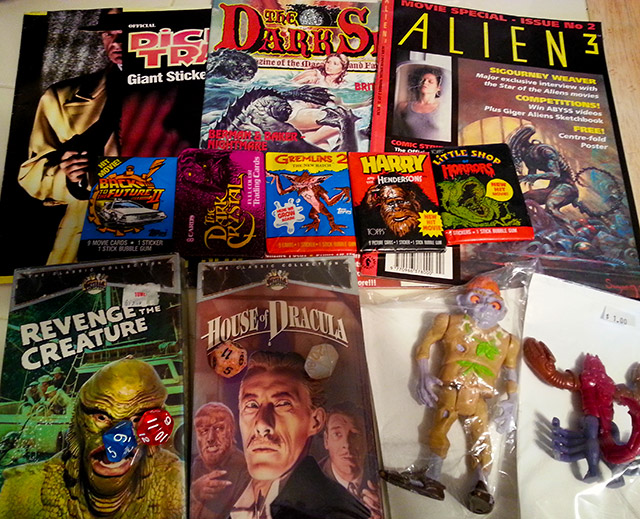 I also took home this smorgasbord of collectibles and nonsense, which could make for a standalone post in its own right. Trading cards! A Real Ghostbusters figure! Horror videos that I'll never watch! A DICK TRACY STICKER BOOK!!
After I got home, I spread everything out on my coffee table and just soaked it in. So many new things to investigate and enjoy! So many opportunities to bury my face in back issues of Alpha Flight for quick hits of that old comic smell! A DICK TRACY STICKER BOOK!!
If you live in Jersey and you're close enough to Clifton, check out the expo next month! If you live elsewhere, do yourself a favor and look into shows near you. They still exist! They're still great! You'll feel like you're 12 and you'll only spend 12 dollars!
Oh, and make sure you check out The Sexy Armpit, because Jay will be posting about his finds from the show, too! (I was too busy playing with my new things to notice his haul, but I think I saw something with Shazam.)
PS: You're running out of time to get Dino Drac's March Funpack! They're shipping later this week!
PPS: My newest article for Star Wars Dot Com is now live. Say hello to JABBA GLOB!