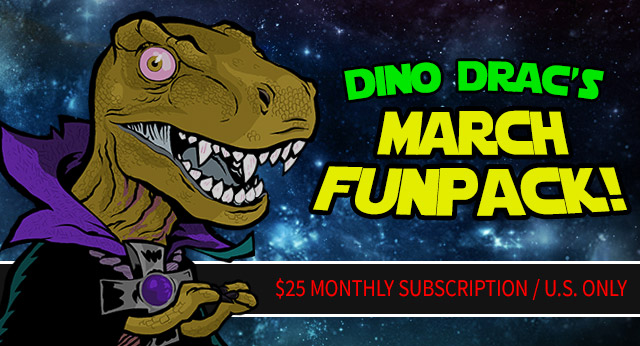 Dino Drac's March 2015 Funpack has arrived, and this one is out of this world! It's the Funpack from outer space, loaded with extraterrestrial awesomeness!
As most of you know, these Funpack subscriptions have become the lifeblood of Dino Drac, so on top of getting boxes full of weird junk every month, you're also helping to keep the site afloat!
Quick and dirty info: Subscriptions are available in the United States only. It's $25 a month (that includes shipping) and you can cancel at any time. For as long as you stay subscribed, you'll continue getting new Funpacks every month!
March's box is extra special. There are some seriously choice items in here, and everyone's being upgraded to Priority Mail for speedier service!
Wondering what's inside? Keep reading!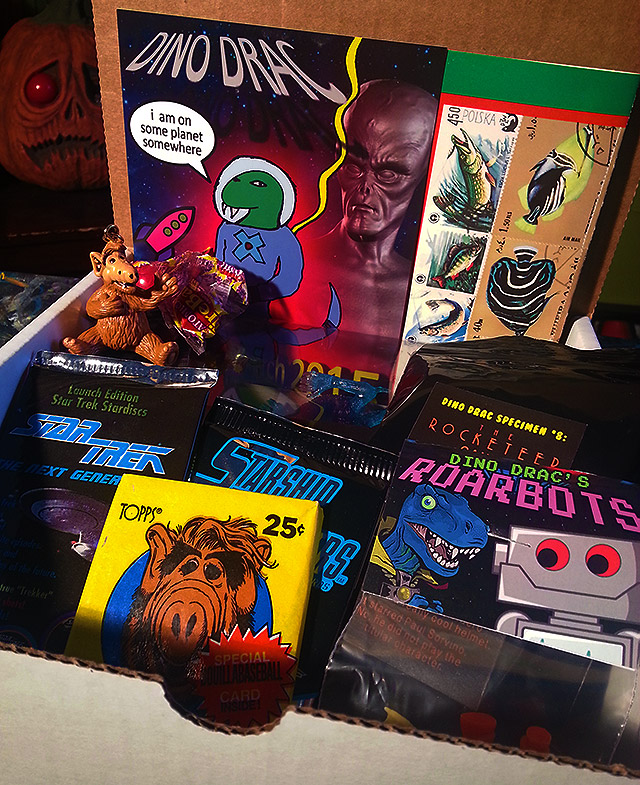 The March 2015 Funpacks are space-themed, including all sorts of sci-fi/horror collectibles with an alien slant. Every Funpack includes:
– Boxed ALIENS figure two-pack from 2003! WOW.
– Vintage pack of ALF trading cards!
– Vintage pack of Starship Troopers trading cards!
– Vintage pack of Star Trek: The Next Generation Stardiscs!
– Vintage ALF keychain! (Various styles.)
– Dino Drac's Roarbots two-pack in custom packaging!
– Dino Drac's March Specimen: A Rocketeer candy dispenser from 1991!
– Dino Drac's space-themed March 2015 Ugly Mini-Poster!
– Two Atomic Fireball candies, so you have something to eat while enjoying your stuff!
– A vintage Mystic Stamp set of fifty fish stamps, which has nothing to do with space but I liked too much not to include!
– Dino Drac's March 2015 Funpack Newsletter! (Not shown.)
Yes, there are over ten items in every Funpack, snugly fit in resilient mailer box and shipped directly to your door!
Let's take a closer look at the highlights…
The star of the March 2015 Funpack is this incredible ALIENS figure two-pack from 2003! Each comes with two small figures, including that kickass translucent blue Xenomorph! Each two-pack comes in a case-fresh window box. Score! (Photo above shows a sealed box on bottom and the figures/cardboard display taken out on top.)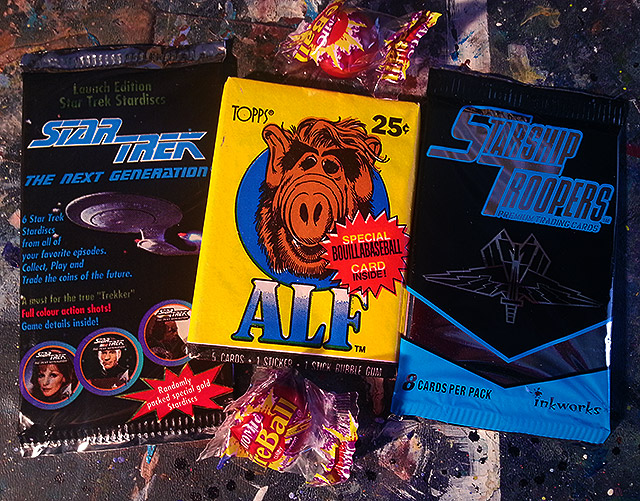 You're going to love tearing open this month's batch of vintage cards, including ALF, Starship Troopers, and a very cool pack of Star Trek: The Next Generation Stardiscs, which actually aren't cards at all, but pogs!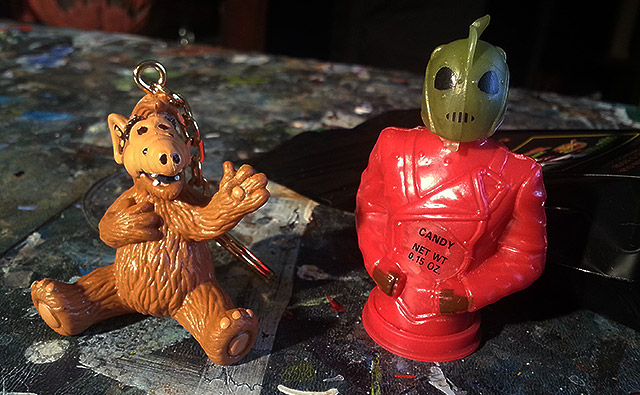 The March 2015 Dino Drac Specimen is a vintage Rocketeer candy dispenser, never used! Yes, the candy is still inside, but don't eat it! Every subscriber will receive one dispenser in a slick black mystery bag with custom Dino Drac sticker. (There are two styles — Rocketeer heads and Rocketeer bodies — you'll get one at random!)
You'll also receive a vintage ALF figural keychain! These come in various styles — you'll receive one at random!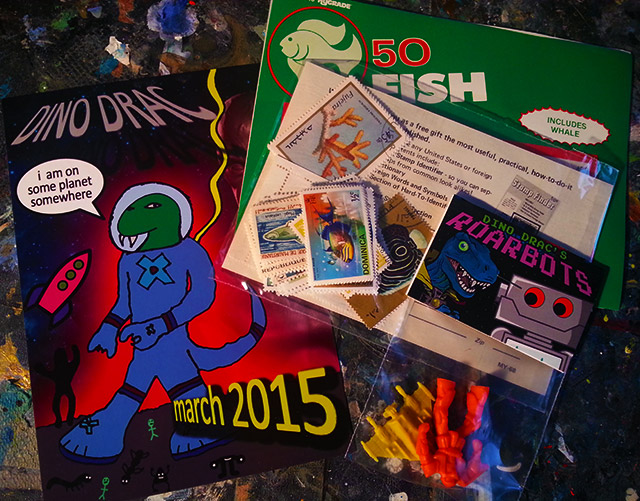 All subscribers will also receive Dino Drac's March 2015 Mini-Poster… fittingly space-themed!
Then there's a two-pack of Dino Drac's Roarbots! These are cheap, junky robot and spaceship toys made more alluring with custom Dino Drac packaging! (Various styles and colors, but everyone gets one robot and one ship!)
Finally, you'll also receive a very vintage pack of stamps from the Mystic Stamp Company — an old favorite if you remember their ads from the back pages of comic books. Each pack includes fifty old fish stamps, to help you remember a time when the silliest hobbies were the driving force in your universe! (This has nothing to do with outer space, I admit.)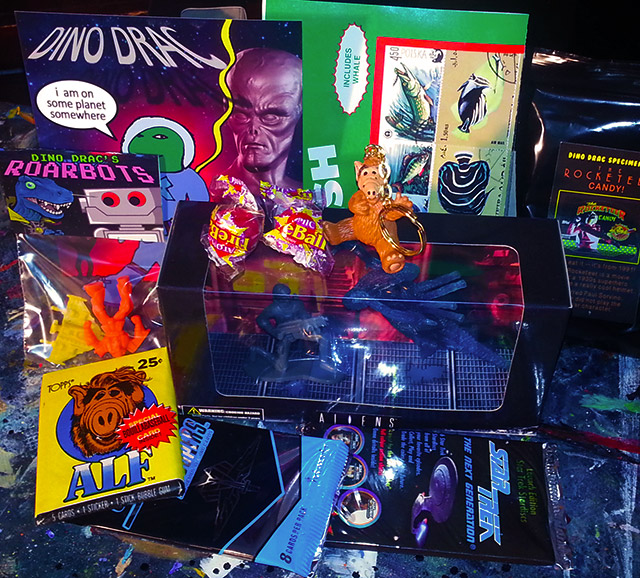 If you're already a subscriber and you'd like to stay that way… do nothing! You're all set!
…but if you'd like to become a new subscriber, here are all of the important notes!
1. Subscriptions are $25 per month and only available in the United States. For as long as you stay subscribed, you'll keep receiving Funpacks every month!
2. Subscriptions are handled via Paypal and you'll be automatically charged monthly. If you ever wish to cancel, you can do so on Paypal, or email me with a cancellation request. (Emailed requests must allow for 24 hours processing time.) There is no limitations on when you can cancel. You could theoretically subscribe today and cancel today, if you only want March's Funpack.
3. If you sign up today, you'll be charged today, and then again in exactly one month from today. For as long as you stay on, you'll keep getting boxes. If you cancel after being charged for the following month's Funpack, you'll of course receive it! (Basically, don't worry — you'll always get what you paid for!)
4. Even if you don't have a Paypal account, you can still subscribe via Paypal using any major credit or debit card.
5. Funpacks are shipped to the name and address associated with your Paypal account. If you'd like your Funpacks to be shipped elsewhere, simply email me with the information!
6. If you have any questions or concerns, just email me — I'm very quick to respond to any Funpack-related inquiries!
To start your subscription, please click the button below to go to Paypal. The March 2015 Funpacks are scheduled to ship on or before March 12th!
Thanks so much for supporting the site, and I hope these boxes of nonsense are a fair trade!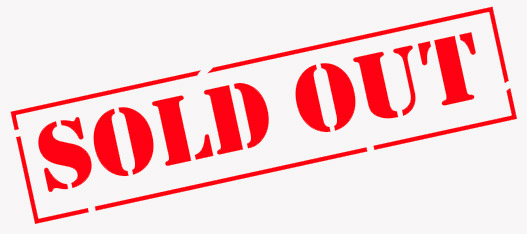 NOTICE: THE MARCH 2015 FUNPACKS ARE SOLD OUT! THANKS, ALL! NEW FOLKS WHO SUBSCRIBE FROM THIS POINT ON WILL START WITH THE APRIL 2015 FUNPACK. DETAILS COMING ON THAT ONE SOON!
CLICK THE BUTTON BELOW TO SUBSCRIBE VIA PAYPAL: