Happy holidays! Good tidings, I bring. Good tidings and a box full of weird stuff.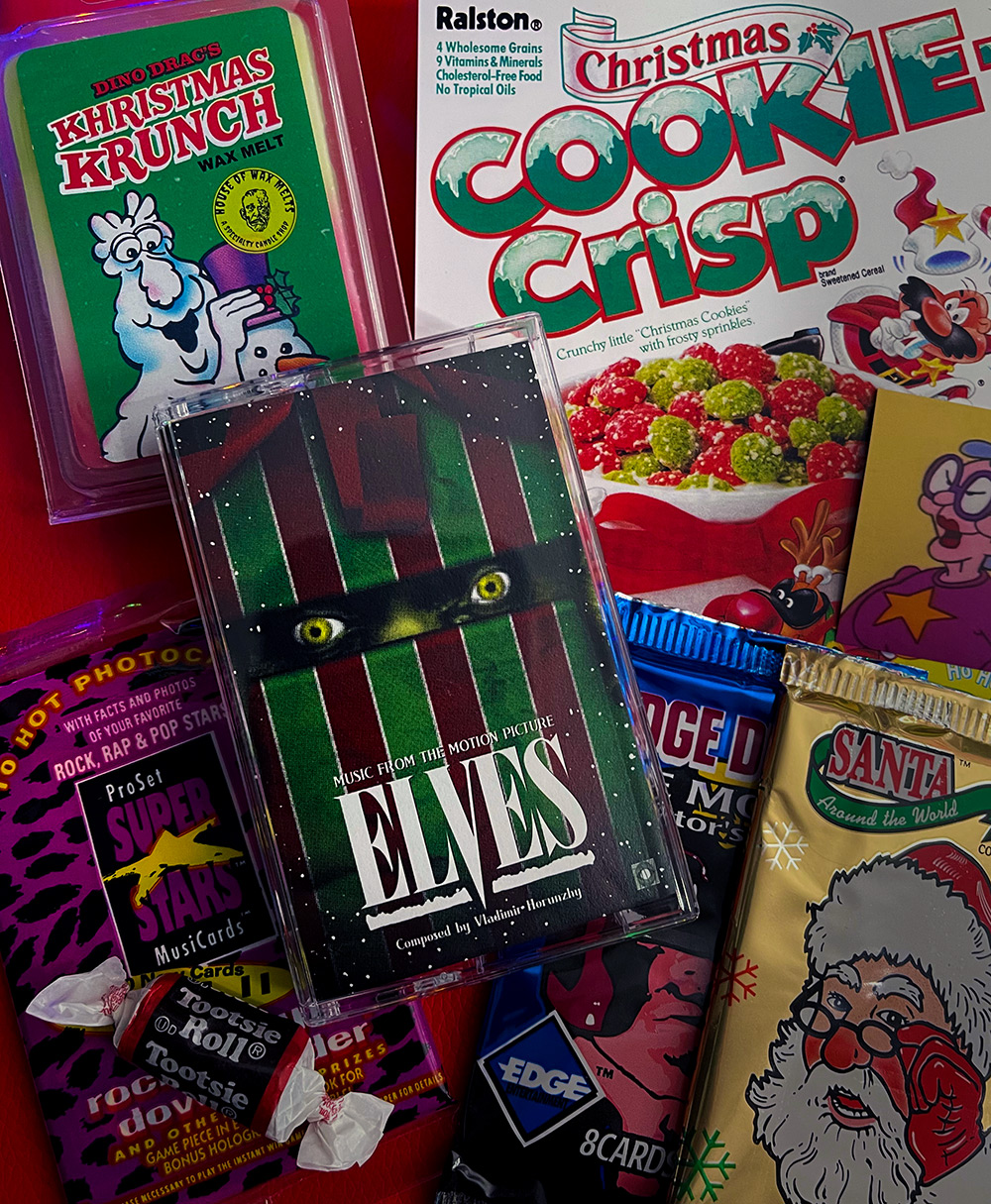 Dino Drac's December Funpack is here, and not a moment too soon! The post office is busy busy busy, and I want you all to have these before Christmas!
Here's the scoop! Subscriptions are currently maxed out. I may have a limited number that I can sell on an individual basis when I complete my counts. Cost is $25 shipped. Scroll to the bottom for details, or keep reading to learn about everything in this month's box!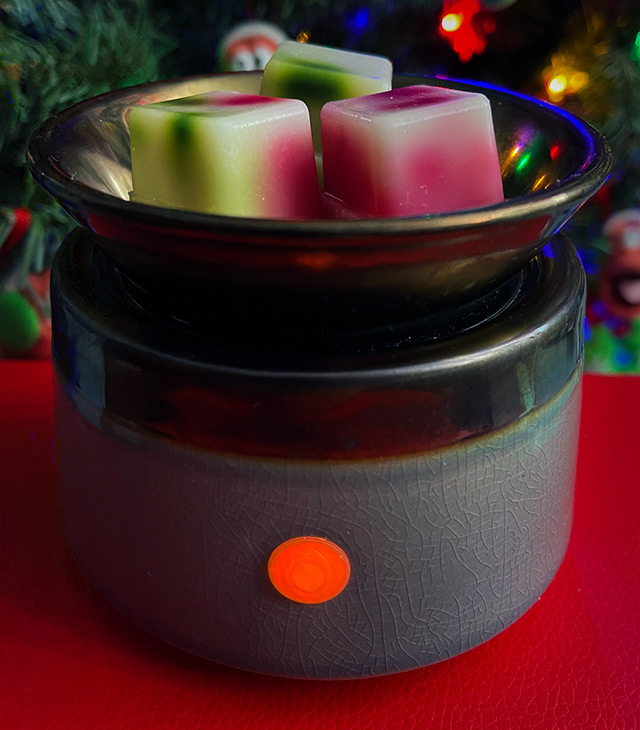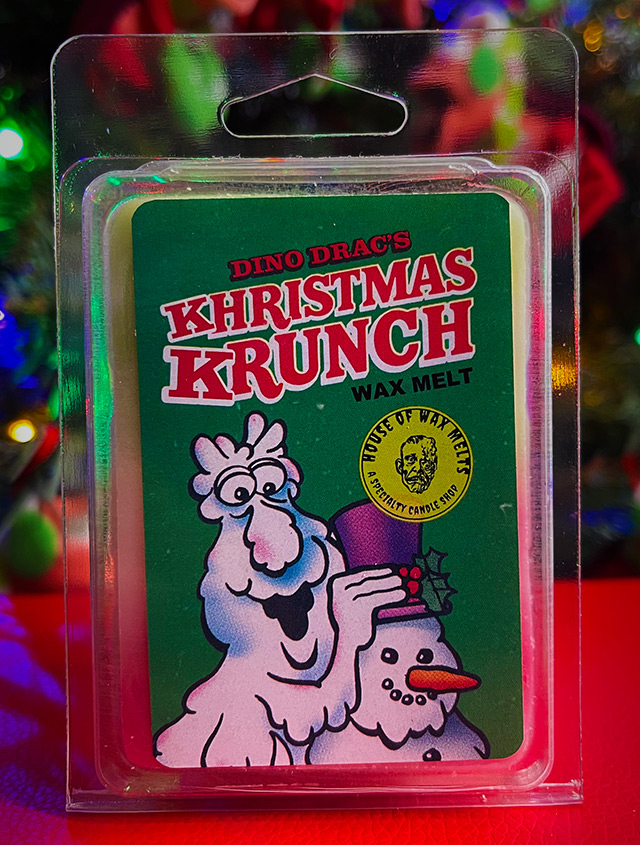 Leading the charge this month is another collab from Dino Drac and the ever-awesome House of Wax Melts. Yep, this is really happening. You're getting your very own set of Khristmas Krunch Wax Melts – six gorgeous cubes of holiday-colored wax that smell *exactly* like Christmas Crunch cereal!
I cannot overstate how GOOD these smell. Pure, crystallized Christmas – you'll feel like you died and went to Santa's bakery. For extra bonus points, as they melt, the wax cubes perfectly resemble a soggy bowl of Christmas Crunch. (That's why there's an old school Soggy on the sticker!)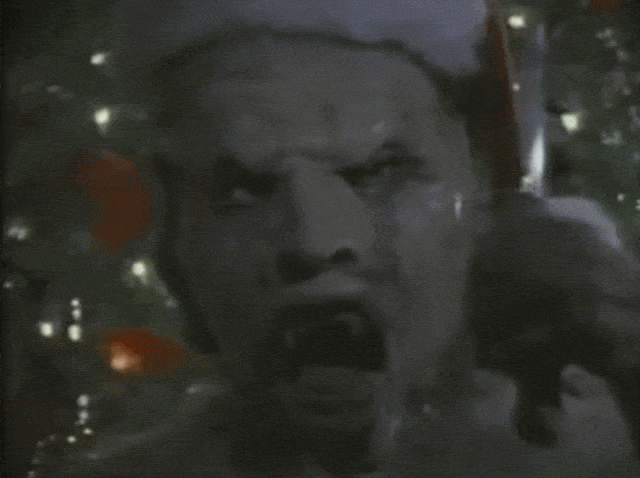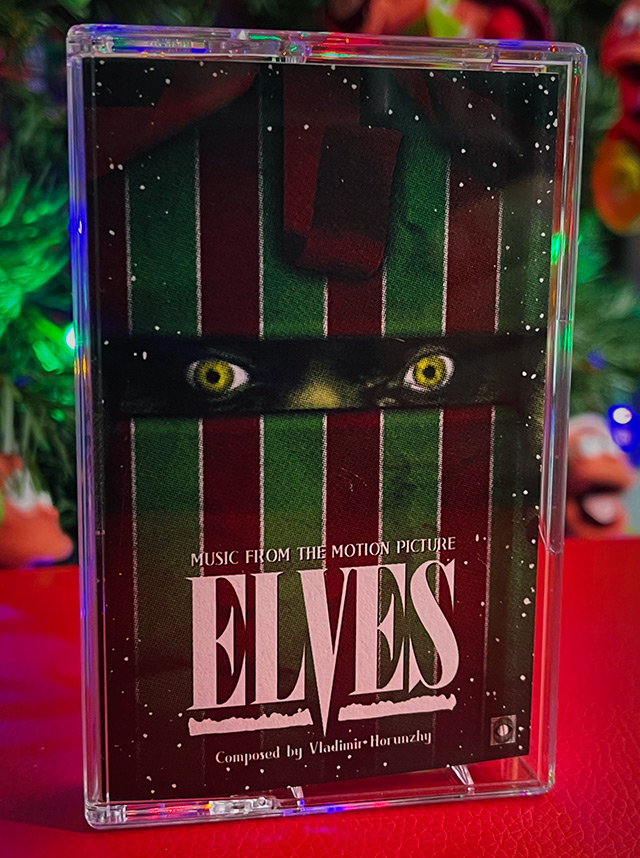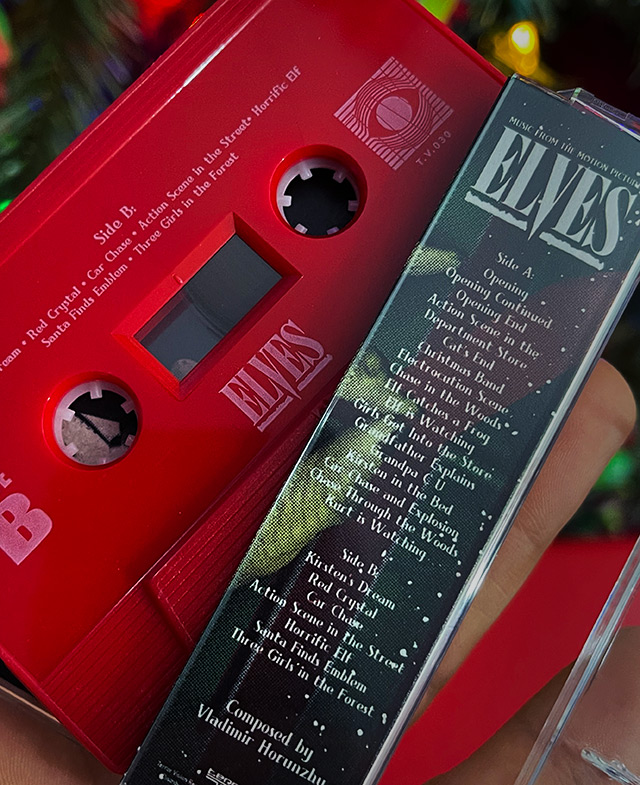 Sharing top billing this month is another hit from our friends at Terror-Vision Records. You wouldn't think they'd have anything in stock that would work for a holiday-themed Funpack, but lo and behold, there it is!
You'll each get the score to Elves, on audiocassette! If you've never seen Elves, it's a (very) low-budget horror movie from 1989 about killer elves… and a bunch of other things that are somehow even weirder. The film may be crude, but it had a pretty fantastic score, and these babies are sealed, factory fresh and officially licensed!
Bonus points: The cassettes will be coming to you in a never-before-sold Christmas red color, festive as could be! Whether you actually listen to the tapes or just consider them a neat collectible, I'm thrilled to bring a little ho ho horror into your holiday season.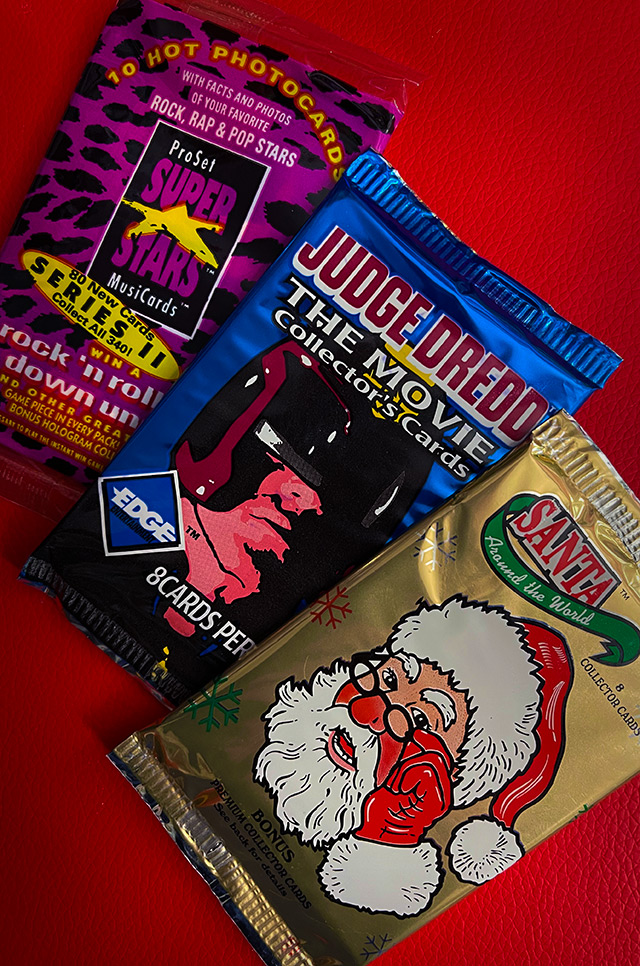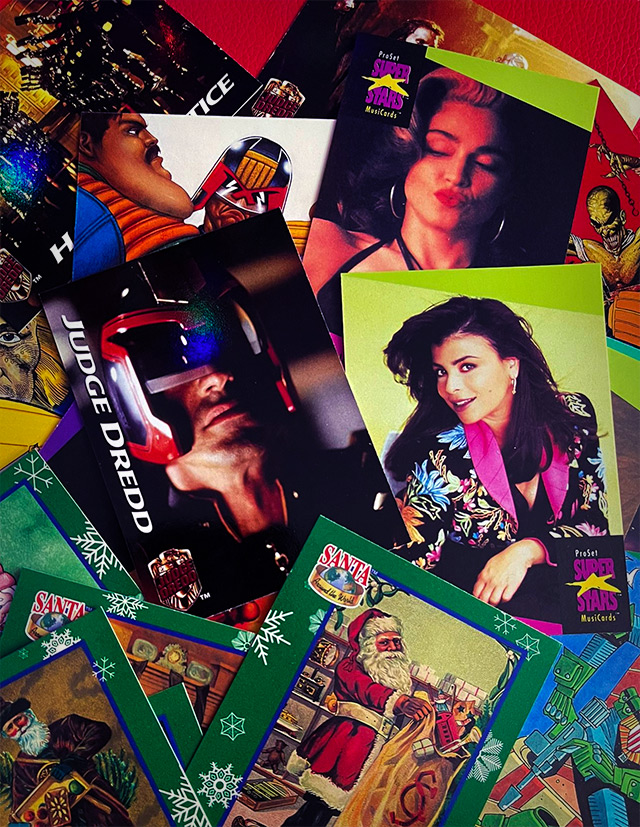 While the December Funpack is mainly about the prior two items, I think I can work in a little more. It's Christmas, after all. In every Funpack will be this trio of vintage trading card packs, including two that have never been included in any prior Funpack!
You'll get all three of the following packs:
Santa Around the World (1995)
Judge Dredd: The Movie (1995)
ProSet MusiCards Series II (1991)
Sprawl out under the tree and tear open some old trading card packs. Notice that I didn't specify "Christmas tree." This is a nondenominational exercise. Pick a palm tree if you like.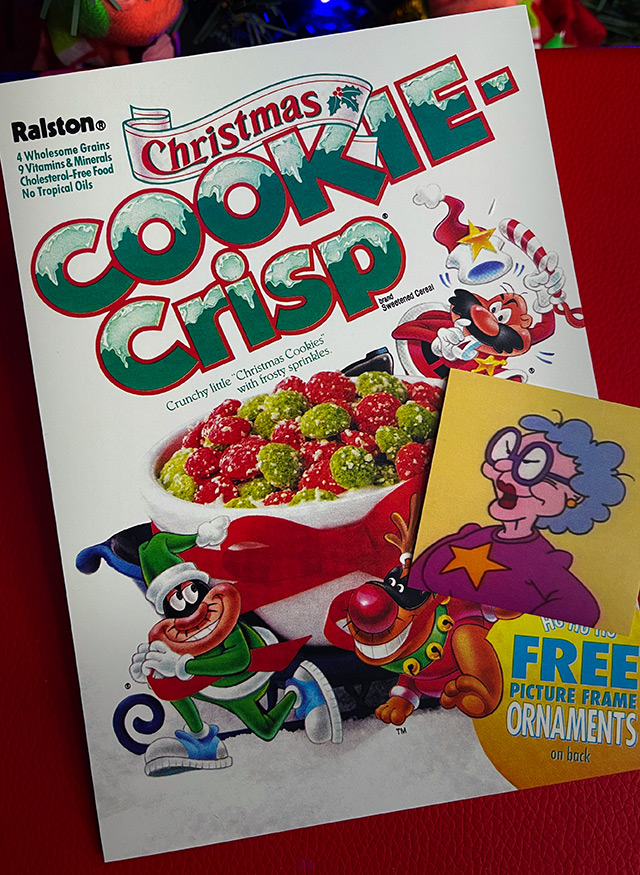 This month's 5×7" cardstock mini-poster is one of the best in Funpack history – and completely appropriate for the season. You're getting this swank scanned artwork from one of the rarest of all holiday cereals, 1992's Christmas Cookie Crunch!
What a great looking box that was. And the cereal! Every bowl contained enough dye to tint the entire Pacific Ocean. It's so pretty, I bet you'll leave it hanging up all year.
Oh, and you'll also get this month's exclusive 2×2" sticker, featuring the uncrowned queen of Christmastime, Grandma Arbuckle. I love her, you love her, everyone loves her, and now you can pay tribute by sticking her face on the back of a marble notebook.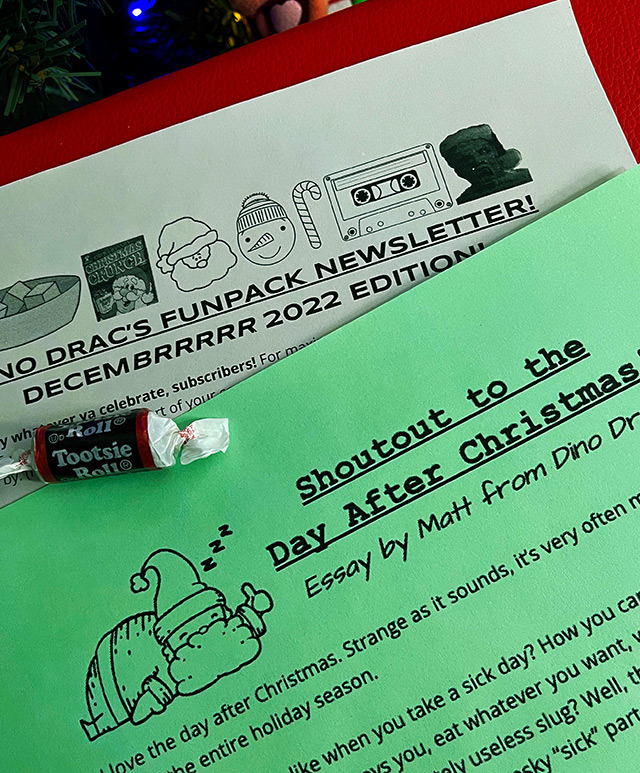 Rounding things out, you'll also get this month's Funpack Newsletter, plus an exclusive essay that will never be reprinted on the site.
This month's essay is a tribute to the day after Christmas. Which is one of the secret best days of the whole year. It'll help you stave off those post-Xmas blues until the 27th.
Oh yeah, and I'll also toss in that teensy tiny Tootsie Roll. Ya gotta eat.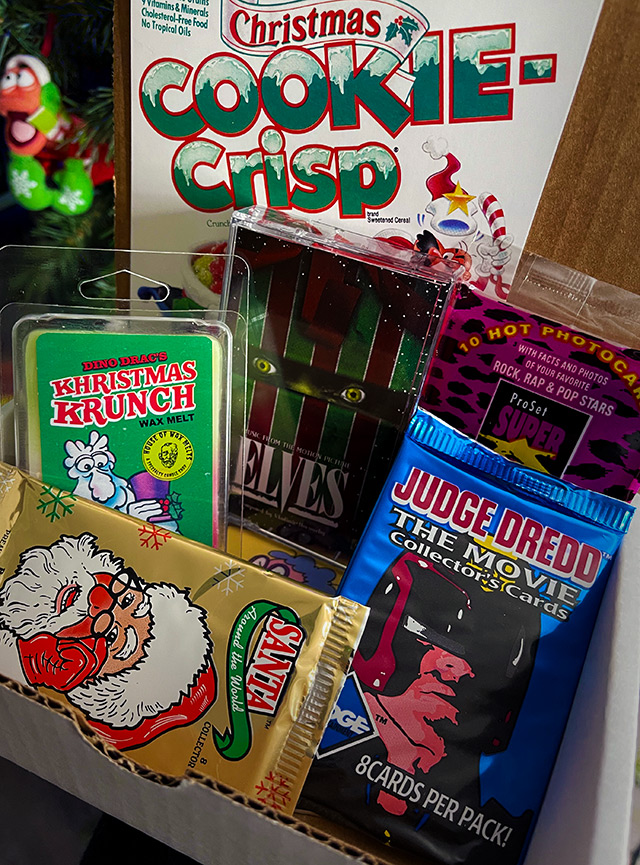 So that's the whole shebang, and it's yours for $25 shipped.
If you're already a subscriber, sit tight, you're all set!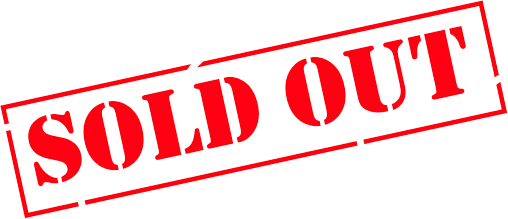 Sorry, wait list is filled up and these are now totally SOLD OUT!
All Funpacks will be shipped out by December 16h, well within the USPS's guidelines for Christmas delivery. Thank you all for another great (and crazy) year of Funpackin', and I look forward to sending you more nutty nonsense in 2023!