Mentioning it here for the RSS-only crowd, but also because I don't know how many people keep an eye on that enormous features banner on the main page. There's a new one up, about Casino Games, an old title for the Sega Master System. Read it!
But I still don't want these tiny blog updates ushering you to bigger non-blog updates to go to waste, so let's get some use out of this one.
First, here's a photo of a Centurions eraser, a Transformers head and a packet of Sea-Monkey food.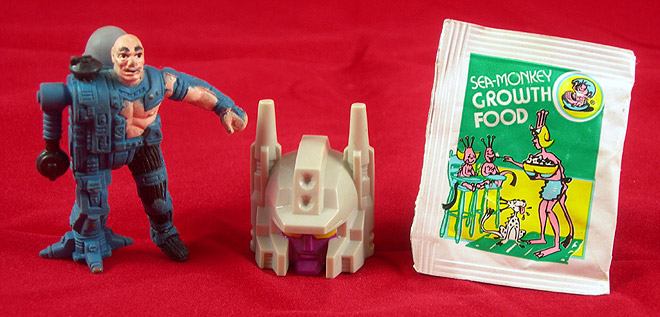 I wasn't sure where else to put it.
Next, let's make this a survey.
In the comments, it's time for you to confess.
Name a movie or a TV episode that seriously made you cry.
Not just "sad." I mean real tears. The more embarrassing the better.
I'll get the ball rolling. It was the second made-for-television Ewok movie, Ewoks: The Battle for Endor.
I'm dead serious. Ugh. That part when Cindel left Endor with Wilford Brimley, and she waves that sad goodbye to Wicket. I'm talking crazy tears. Physical, uncontrollable sobbing. I was like twenty years old, too. I'd already seen that stupid Ewok movie a hundred times without issue, but on that one weird occasion, Cindel and Wicket did me in.
Your turn. Top that shit.