Surprise — it's back! Dino Drac's fifth ENVELOPE OF EVIL is available now, assuming you live in the U.S. and have $31 to spare.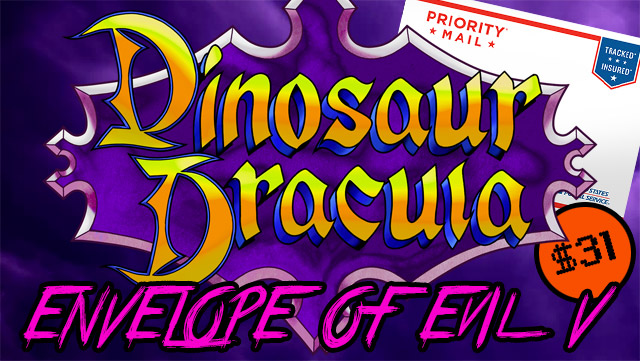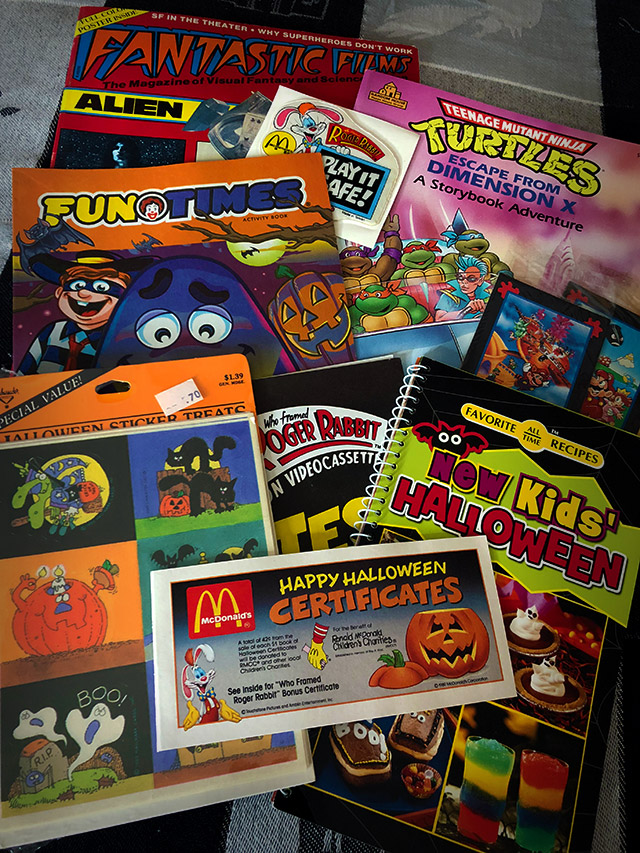 You'll receive a Priority Mail envelope stuffed with all sorts of spooky goodies, and maybe one that isn't spooky at all. It's a macabre mix of reading material, collectibles and activities, and exactly the sort of treasures that Dino Drac readers would be into. (I hope!)
Supplies are limited, and once they're gone, they're gone forever. Scroll to the bottom for ordering info, or keep reading to learn about everything you'll receive!
(Please note that this is NOT a Dino Drac Funpack — that's still yet to come. This is just a side thing!)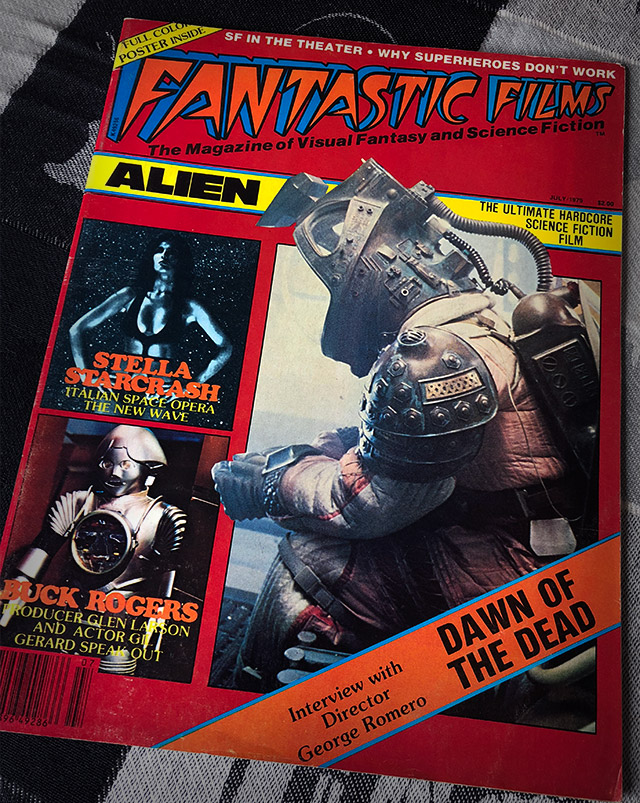 First up, you'll each receive a copy of the July 1979 issue of Fantastic Films Magazine! (That's Vol. 2, #3, for those who care.)
Kind of a mix of Starlog and Fangoria, Fantastic Films covered movies with some sort of "fantasy" element. This super old issue features everything from an interview with George Romero to production art from Alien, plus oodles of awesome vintage ads.
These issues were never circulated and are in never-read condition! Some covers may show surface wear from storage, but the pages are bright and CLEAN.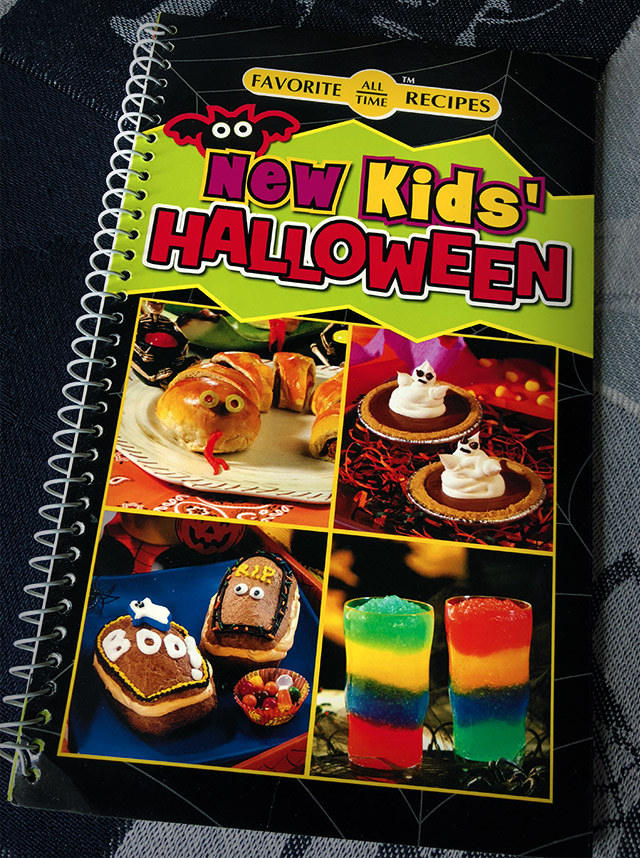 Next is a copy of the New Kids' Halloween Cookbook, published in 2008. This 96-page spiral-bound beaut features TONS of Halloween-themed recipes for you to try, with color photos of each! Come for the Cheesy Pumpkin Biscuits, stay for the Snake Calzones.
SO COOL! At least as good as any of the Halloween recipe mags you'd see on the checkout lines at supermarkets. These books are in totally new, unread condition. Trust me, they can completely MAKE your Halloween season!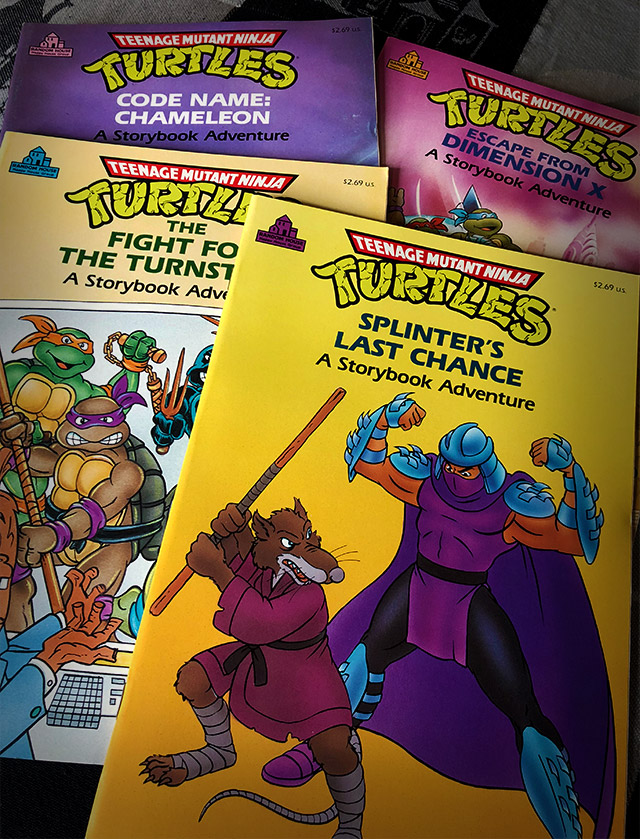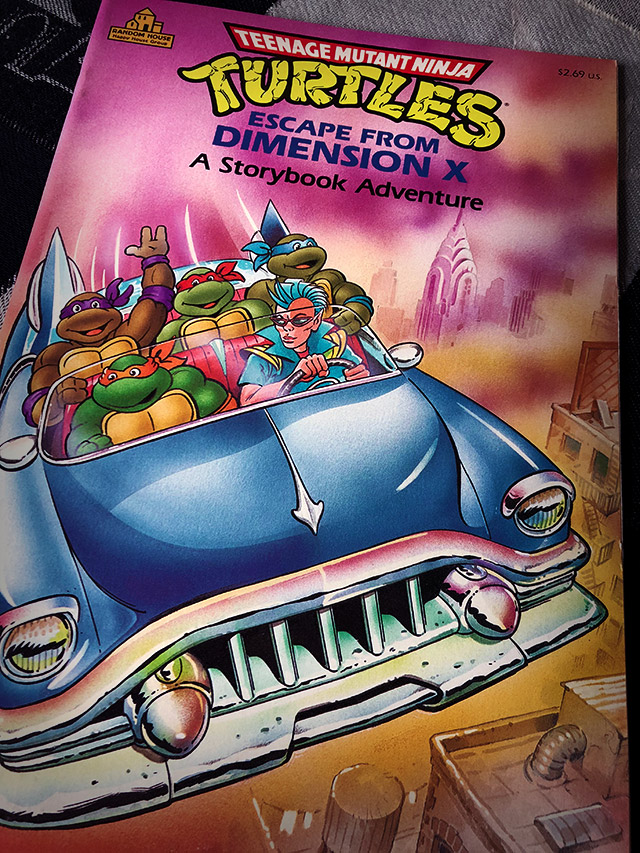 Okay, so these have nothing to do with Halloween, but I think you'll forgive me. You'll each receive *ONE* vintage Teenage Mutant Ninja Turtles storybook, published way back in 1991.
These gorgeous softcover storybooks are about as large as magazines and stuffed with color art on every page. You'll receive one of the four titles shown above, at random. (Don't worry, they're all great!)
Books are in uncirculated, case-fresh condition. No matter which you receive, you'll be the first to read it!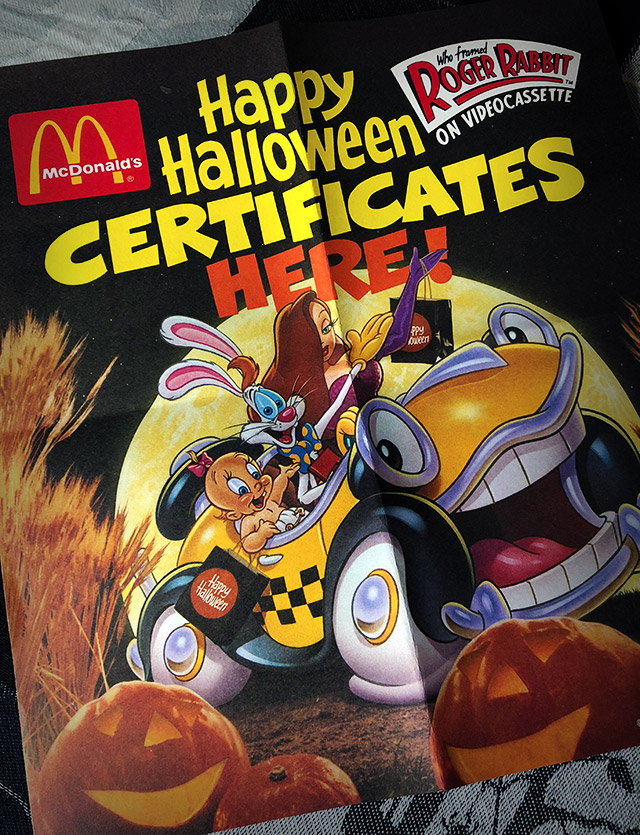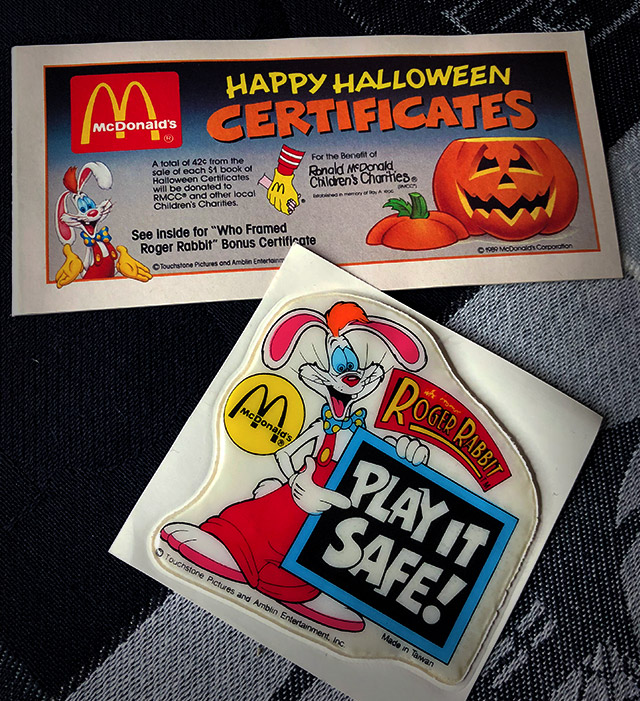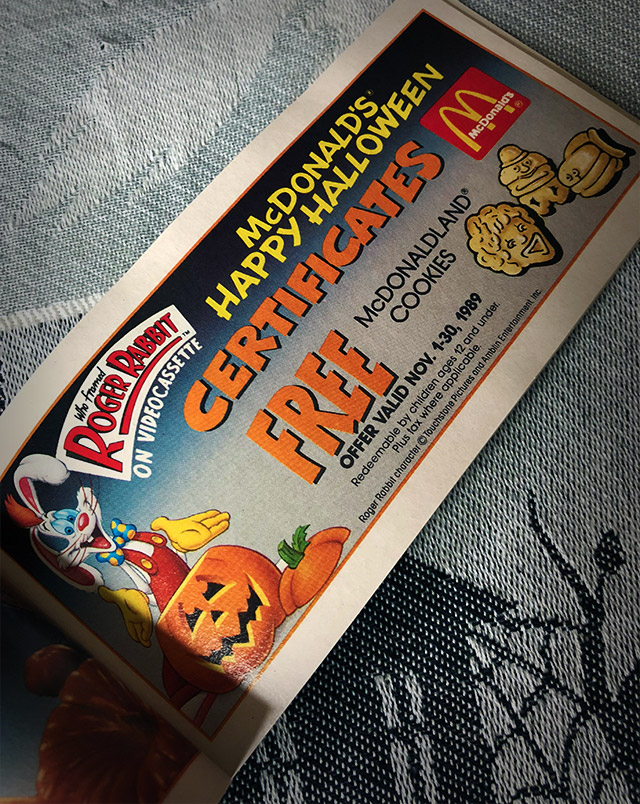 And then there's this bonanza of vintage McDonald's collectibles, from the 1989 Halloween season.
That year, McDonald's teamed with Roger Rabbit to celebrate Roger's arrival on VHS. You'll receive ALL of the following:
1. Unused McD's Halloween Treat Certificates Book
2. Unused McD's / Roger Rabbit Oversized Puffy Sticker
3. McD's Roger Rabbit Promo Sheet (Folded)
The treat certificate books are just perfect. They're no longer valid, of course, but it's still so fun to flip through them and see ancient pictures of McDonald's pies and cookies.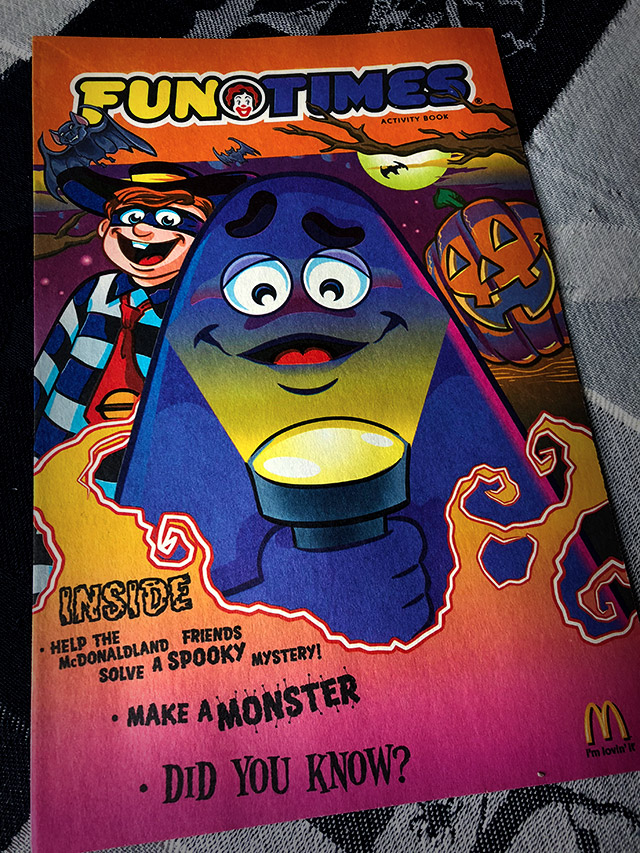 …and let's go for another hit of McDonald's Halloween nostalgia. I'll also toss in a copy of the McDonald's Fun Times Activity Book, from October of 2004. These comic-sized books don't have many pages, but they still cram in tons of spooky fun with your favorite McDonaldland characters.
Books are in totally unused condition.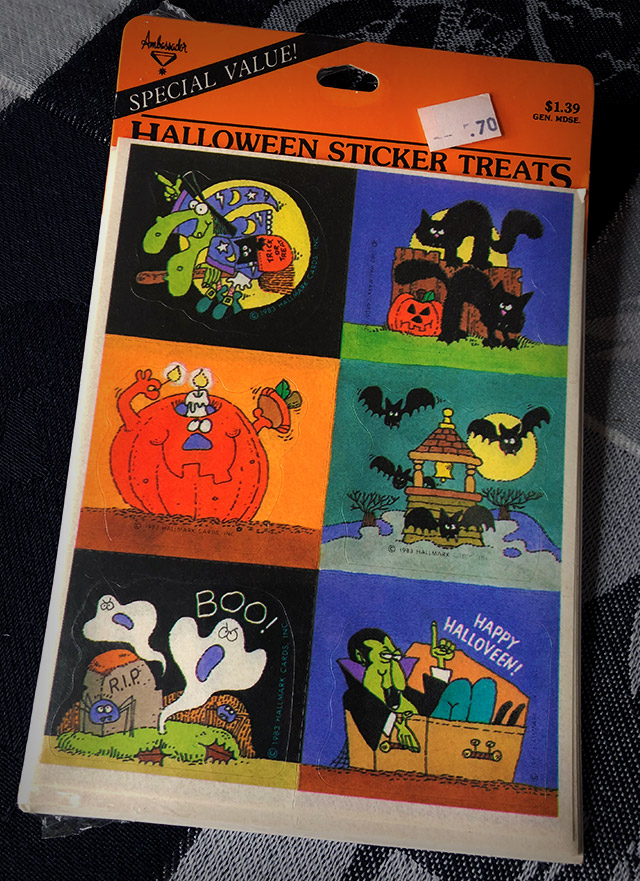 There's still more! You'll each get this MEGA PACK of vintage Hallmark Halloween Sticker Treats, dated 1983. Each pack contains EIGHT sheets, for a total of 48 stickers!
Sticker pages are perforated. The idea was that you could give trick-or-treaters stickers instead of candy, but I suspect that you'll find more sensationally selfish uses for them!
Look at that art! Those are the kinds of Halloween vibes we never see anymore.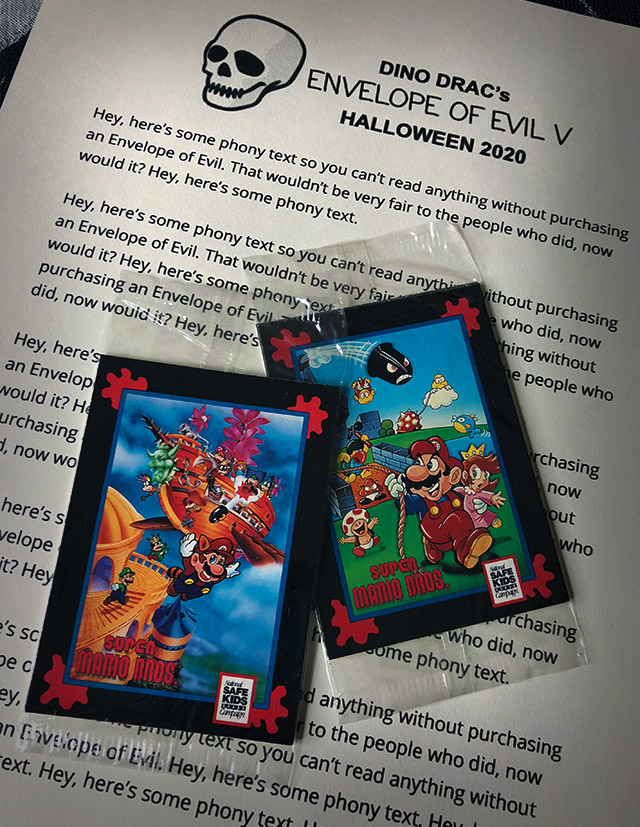 You'll also receive a handy one-page newsletter explaining the goodies, and, eh, you know what? I'll toss in two vintage packs of Nintendo Trading Card Treats, too. Those are from 1991, and were originally meant to be handed out to trick-or-treaters. Some cards feature Mario, others Zelda.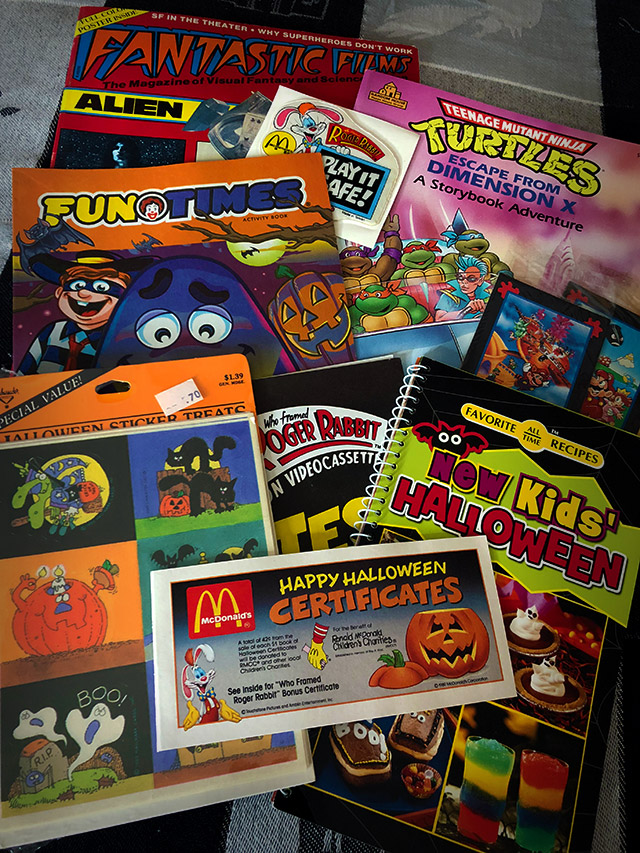 So you'll get ALL OF THAT STUFF, carefully packed and loaded into an official Priority Mail envelope, for $31 shipped.
This offer is only good in the United States. The Envelopes of Evil will ship on or before Friday 10/9. To order, just click the button below!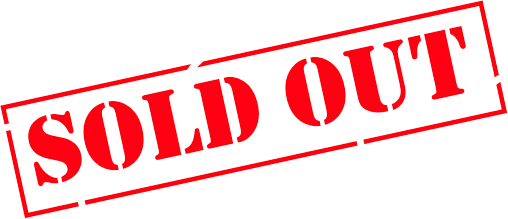 The Envelopes of Evil are now SOLD OUT! Thanks all!