I'm so glad that I finally hopped on the Stranger Things bandwagon. Not only is it a great show, but it would've killed me to skip all of this wackadoo promo shit for its third season. First was that New Coke hoopla, and now the series has completely taken over Baskin-Robbins!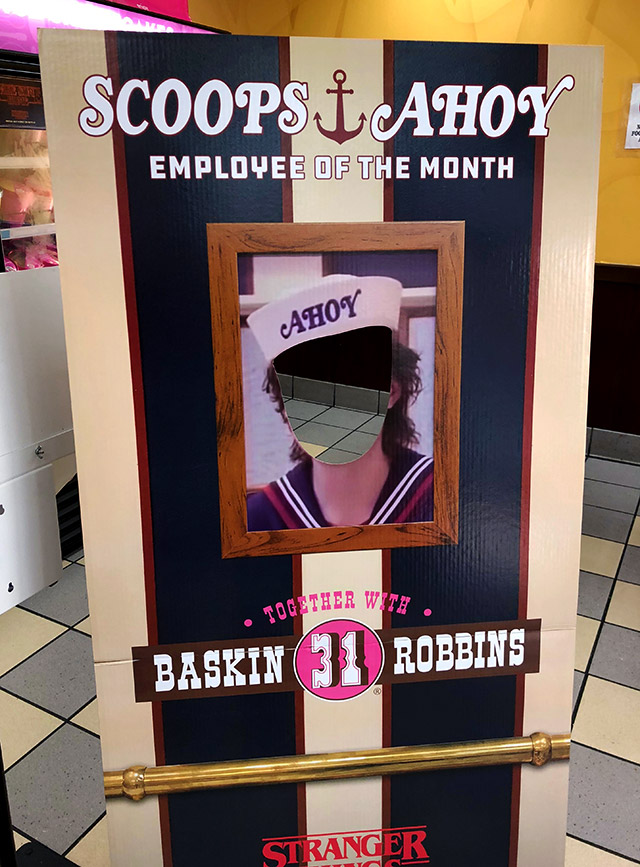 It's natural, too. Stranger Things 3 will feature a "Scoops Ahoy" ice cream parlor as a not-insignificant location, so it's no big leap for the series to team up with a real world ice cream joint.
This ain't my first rodeo with movie-themed Baskin-Robbins promotions, and I can pretty confidently say that the chain has never been so all-in. There are more ST-inspired treats available than even a party of four could reasonably tackle in one visit.
…at least, that was my experience yesterday, when four of us marched into Baskin-Robbins on a mission to order EVERYTHING. Only after getting home did I realize that we missed a few desserts, despite needing two tables and eighteen stomachs to handle what we did buy.
Below are just three of the many things currently featured on Baskin-Robbins' Stranger Things menu. I should note that the employees were only just starting to familiarize themselves with these new offerings, so while they were super awesome and way accommodating, they didn't always nail the details: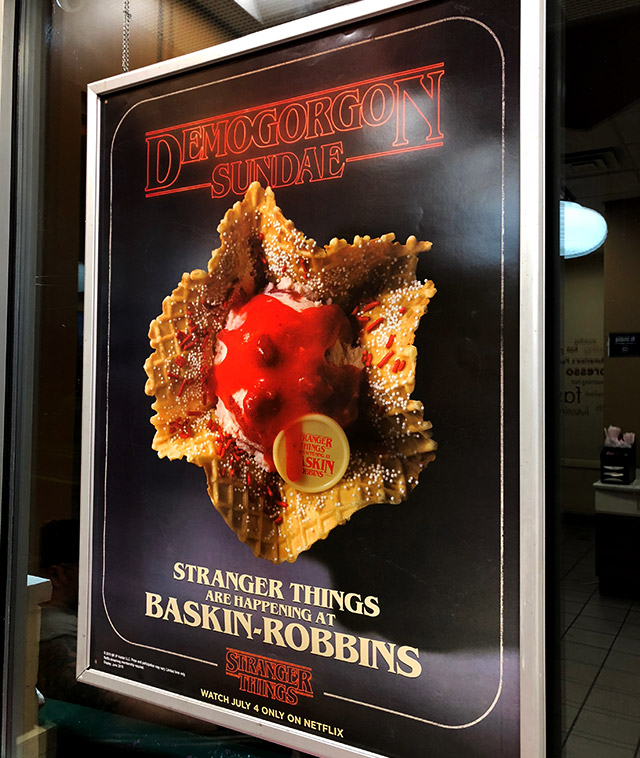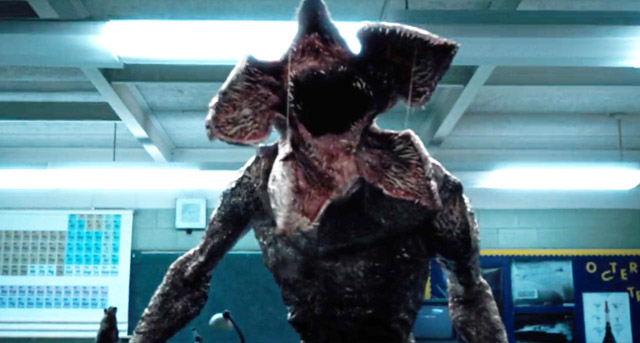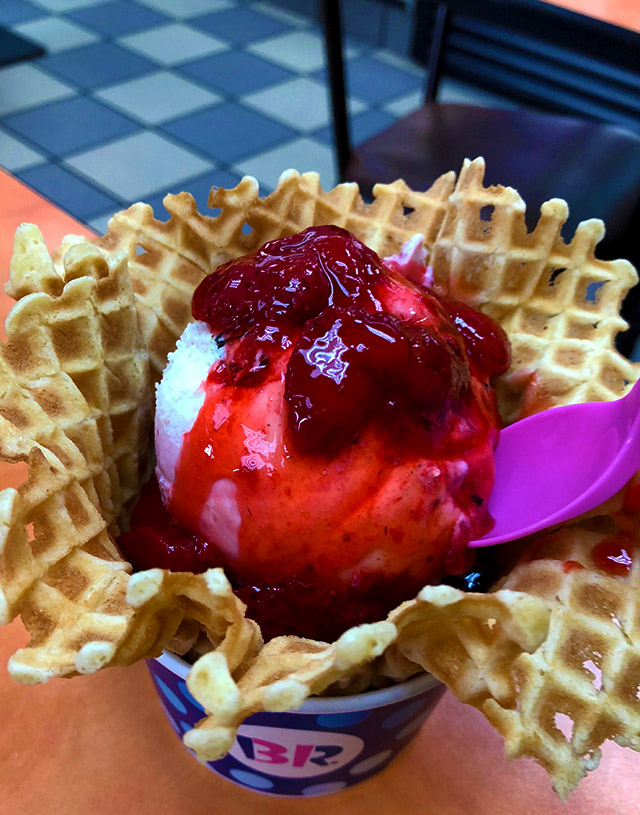 The star attraction is this Demogorgon Sundae, so named because the waffle cups are shaped not unlike a Demogorgon's head. Sadly, our waffle cup was missing the promised sprinkles and nonpareils, so if you wanna see a Demogorgon Sundae that looks more like the promo shot, my buddy John tried one that came a little closer.
But hey, I didn't care. Even without the small touches, this was still a strawberry sundae vaguely shaped like a Demogorgon. That's fuckin' unreal, guys. People my age still flip out over the time Hardee's sold Slimer Sundaes, but this thing is twenty times as theatrical. I might say that it's my all-time favorite promotional ice cream, and you're reading a guy who remembers when Tony Soprano had his own brand of ice cream sandwiches.
If your local B-R has the right ingredients, you'll get a sprinkled waffle cup filled with berry ice cream and topped with a wickedly evil strawberry sauce. Even my half-correct version was gorgeous and delicious. Will definitely try another before they close up shop.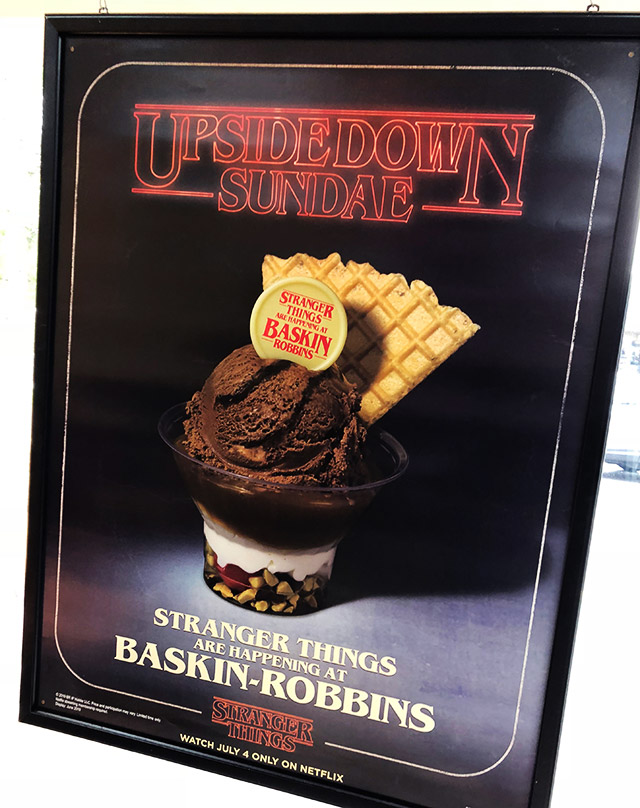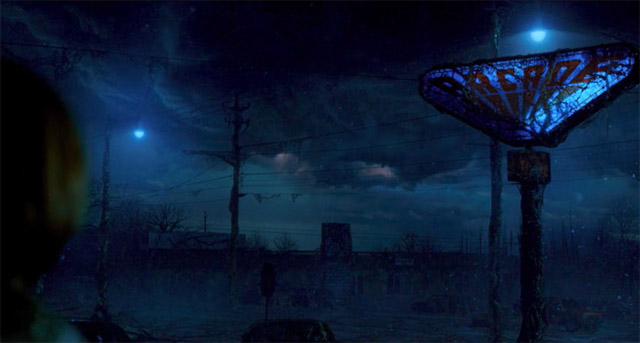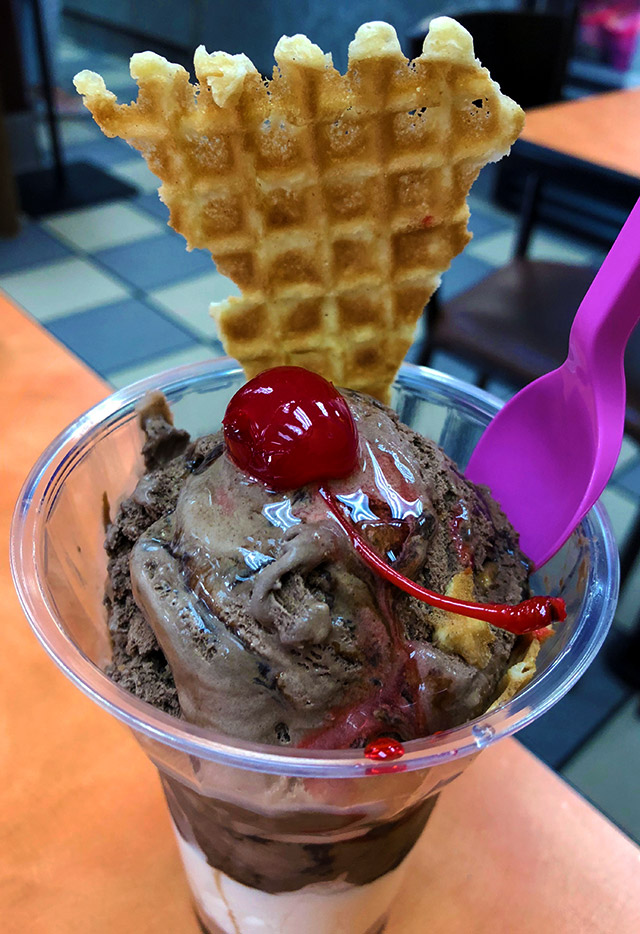 Purely in terms of taste, I'd give the trophy to this Upside Down Sundae, named after the show's alternate dimension wherein monsters freely roam and trapped children slowly choke.
To pay off the title, it's literally an upside down sundae, where everything that's usually on top starts at the bottom. Work your way through layers of pralines ice cream, whipped cream and chopped almonds, and when you hit the stray cherry, you'll know you're done. To really sell the idea, they're even topped with a wedge of an ice cream cone!
(Ours came with the cherry right on top, which was their mistake. Again, they just started this promotion, so I'm not gonna fault the guys for not having memorized each of the forty steps in all of their Stranger Things selections.)
It's pretty high concept, even if it doesn't look like Big Event Ice Cream. What it lacks visually is more than made up for by the flavor. This is crazy good stuff that will remind you of the best birthday party you've ever been to.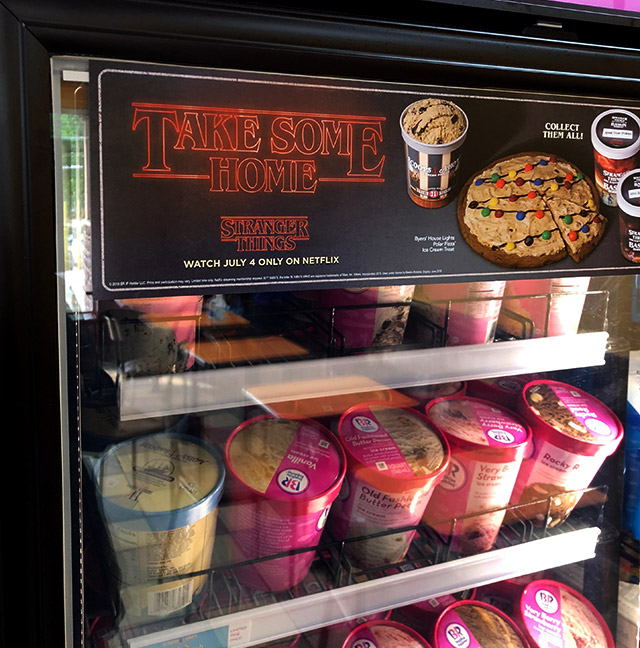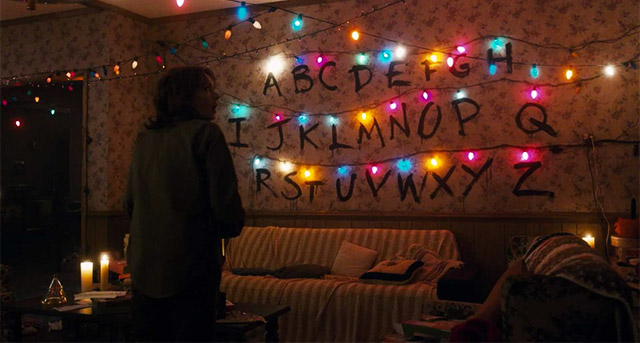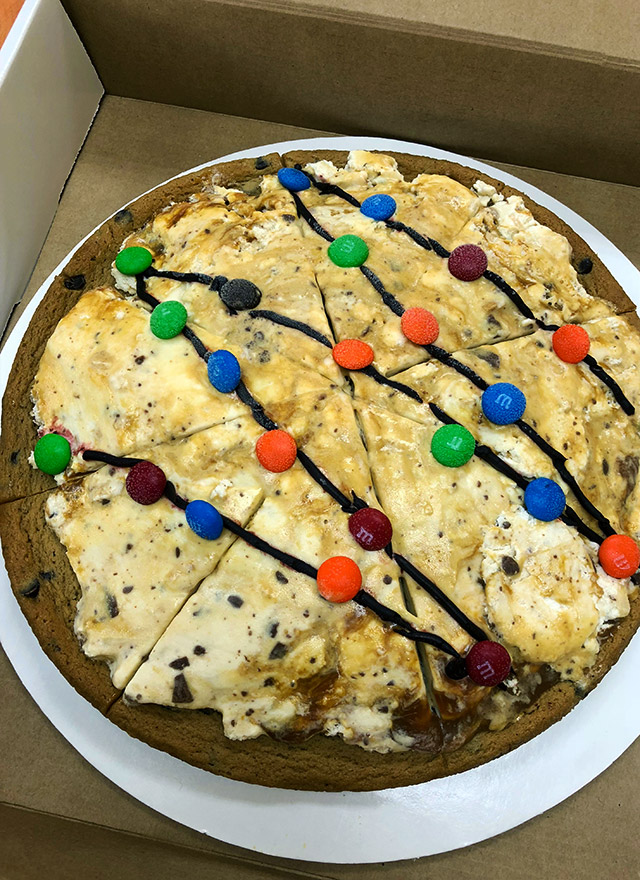 Baskin-Robbins also offers several take-home varieties of Stranger Things ice cream. My favorite is their Byers' House Lights Polar Pizza, an absolutely berserk monstrosity that looks like something sitcom teenagers make for dinner when their parents get stuck at work.
It's named after the iconic shot of Joyce Byers's house covered in Christmas lights, with M&M's and drizzles of fudge acting as the light strands.
The stuff is so dense and indulgent that the calorie count must be in the area of a thousand per bite. I mean, this is a pizza-sized cookie topped with enough Snickers ice cream to spackle Joyce's ratty bungalow. The healthiest thing on that pizza is an M&M. Naturally, it's really, really good.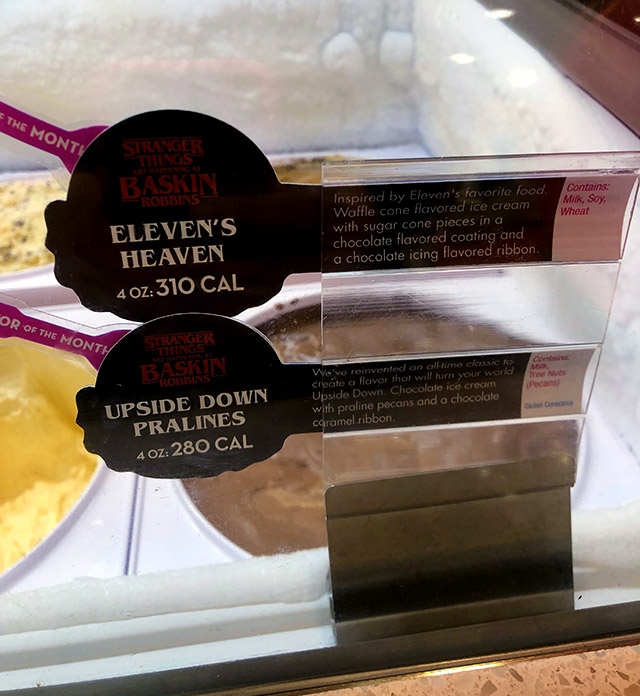 What I've shown you here barely scratches the surface. Hell, I'm not even featuring everything *we* tried, which also included an "Elevenade Freeze" that made me balloon up like a tick.
Check out Baskin-Robbins' website for the full menu, which joins tons of exclusive Stranger Things merchandise that people are already trying to flip on eBay. (Honestly, there are so many Steve Funko Pops listed that we're like three hours away from them costing less on eBay than they do at Baskin-Robbins.)
Big thanks to Jay for being game to order fifty bucks' worth of ice cream in one shot. I'm totally in love with this promotion and now consider it my personal mission to acquire one of their promotional Demogorgon Sundae posters. My GOD do I want one of those.