This will likely be the final edition of 2017's Best Halloween Junk Food, but that ain't for lack of deserving snacks. This season may have been short on HUGE things, but the sheer volume of "pretty good" things was astounding.
Here are my five latest finds: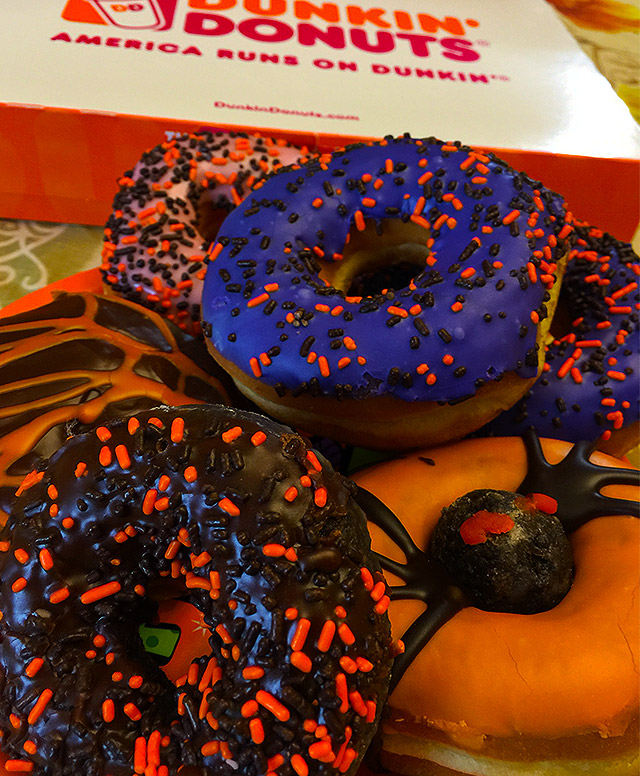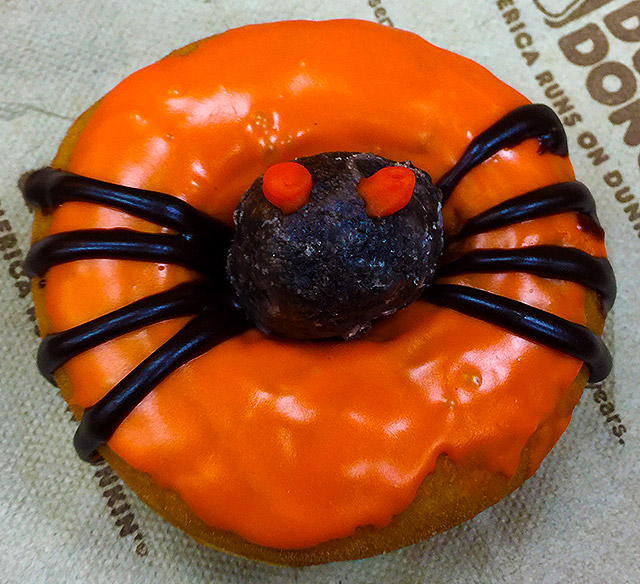 The Spider Donut!
Found at: Dunkin' Donuts
Dunkin' Donuts hit it out of the park this year, offering so many Halloween donuts that I'm struggling to even remember them all.
Their opus achievement, though, is the Spider Donut. Combining a donut with a Munchkin, Dunkin' Donuts has created something that — depending on how blue you work — looks either like a spider riding a pool tube or a crowning baboon. It's possibly the single greatest thing about the 2017 Halloween season.
Keep in mind, not every Dunkin' Donuts carries the Spider Donut, and even the stores that do might not make them properly. Some forgo the Munchkin altogether, while even more neglect to add legs. I've seen at least a dozen Spider Donuts in person, and only rarely have they looked the way they're supposed to.
GRADE: A+. This is Halloween.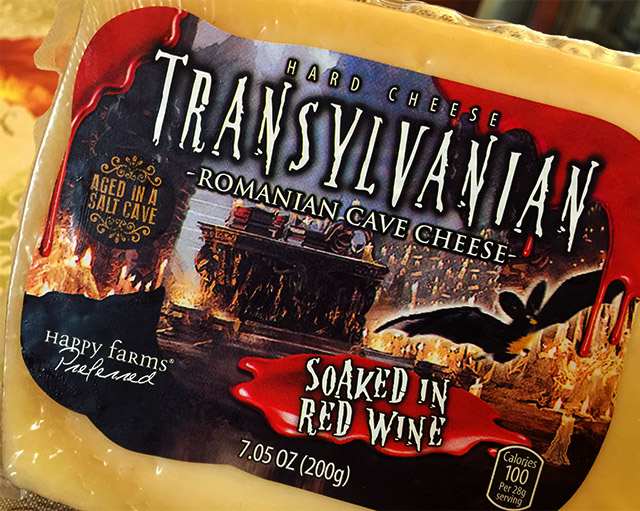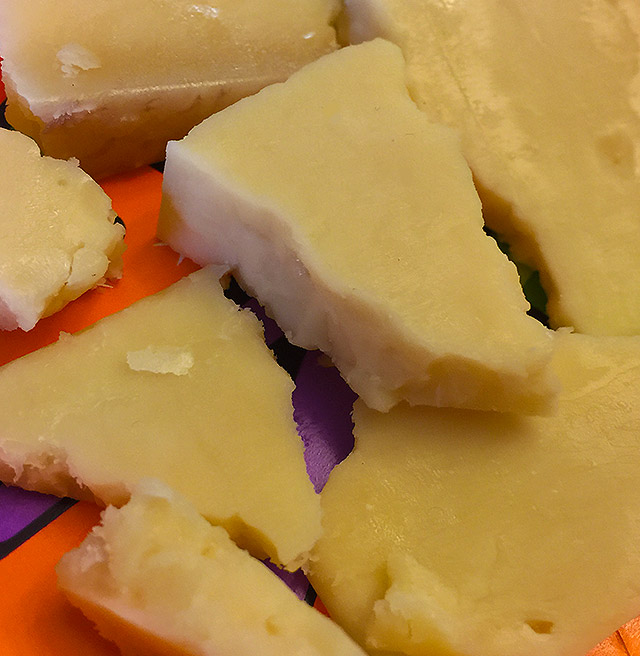 Transylvanian Cheese!
Found at: Aldi
I've been chasing this stuff for years, and was finally able to find it after a tip from my bud Nicole. Romanian cave cheese? TRANSYLVANIAN CHEESE?!
The cheese was "soaked in red wine," which was less about imbuing it with winey flavors and more about giving the cheesemakers an excuse to add bloody graphics to the labels.
You do get a hint of the red wine, I guess, but it mostly just tastes like Parmigiano-Reggiano. It's very good cheese — the kind you could eat a whole brick of when you're having a weak moment. It's honestly as good as cheese that costs 2-3 times as much. There's nothing "gimmicky" about it, except for that awesome label.
GRADE: A+. (Like I wasn't gonna go full monty on goddamned vampire cheese.)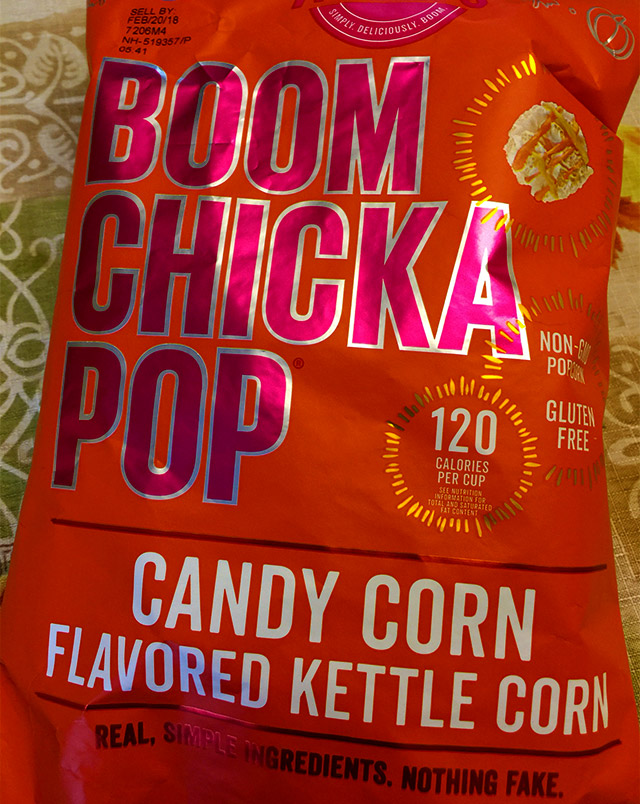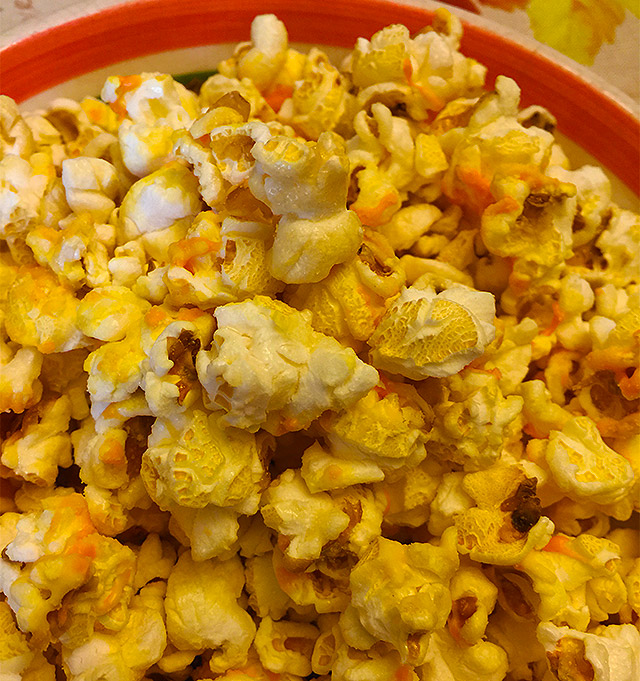 Candy Corn Popcorn!
Found at: ShopRite
Boom Chicka Pop is apparently supposed to be styled BOOMCHICKAPOP, but holy Christ, we're not going there unless they pay me.
No matter WHATYOUCALLIT, this is great popcorn and actually my preferred brand… especially now that I'm too old to get away with eating Wise's Triple Butter and More Butter Buttered Popcorn.
I didn't have high hopes, since I dislike candy corn and sweetened popcorn. Incredibly, even *I* didn't think it was so bad. The key factor was that they didn't go light on the salt. There's an unmistakable sweetness, and on a stretch I suppose it's reminiscent of candy corn, but there's also enough salt to cure eighty pounds of beef. Good!
GRADE: B. It's not something I'll ever eat again, but if you're into this sort of thing, they did a nice job. It also helps that the bag looks like one of those holofoil comic book covers I paid an extra dollar for back in '92.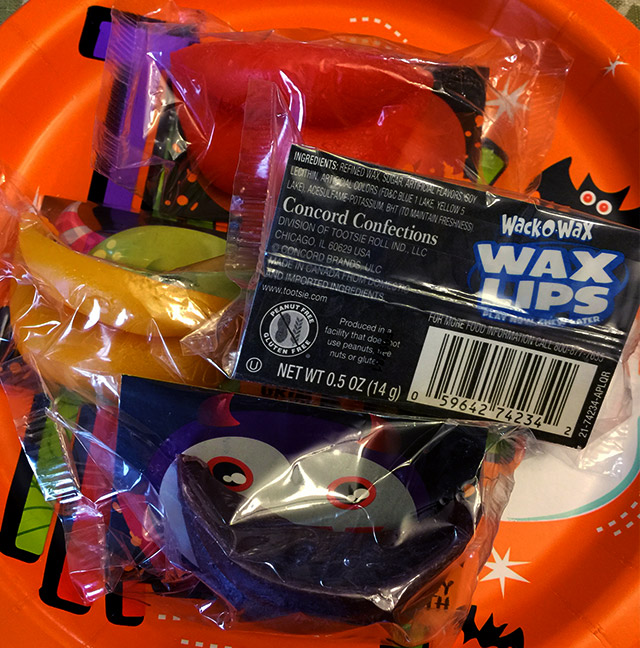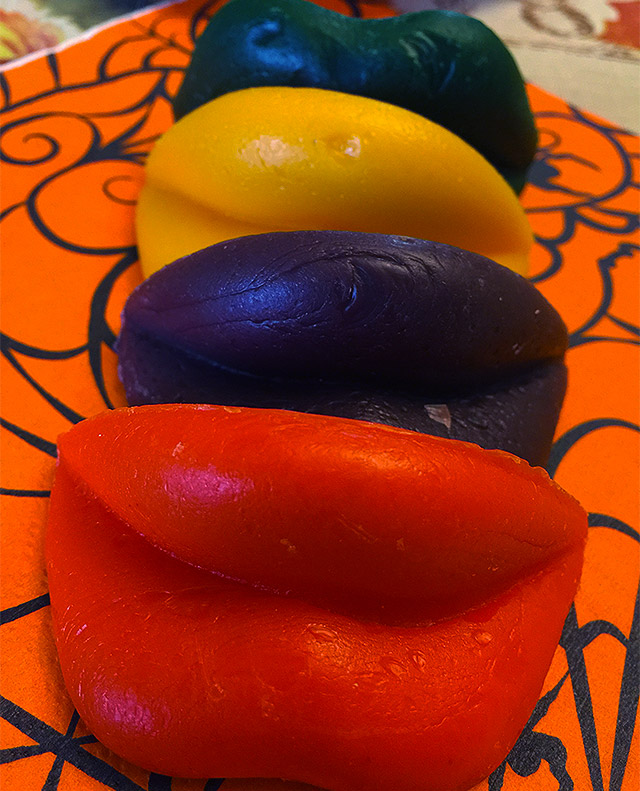 Monstrous Wax Lips!
Found at: ShopRite
I'm a sucker for Wack-O-Wax's Wax Lips, which I indeed consider "candy," even if you don't.
As much as I enjoy parading around as a big-lipped vampire, I only ever buy those things because I love chewing on the subtly flavored wax. They're like the world's most awkward pieces of gum.
I never noticed these monstrous spinoffs before this year, so they're either new or I was too focused on Snickers. With names like Seedy Smile and Tangy Tooth, each pair has its own flavor. (They taste the way you'd expect them to taste. Purple = grape, yellow = lemon, and so on.)
GRADE: B-. As neat as it is to see new varieties of Wax Lips, these just aren't as good as Wack-O-Wax's originals — in taste or appearance. (Sorry, gotta call 'em like I see 'em!)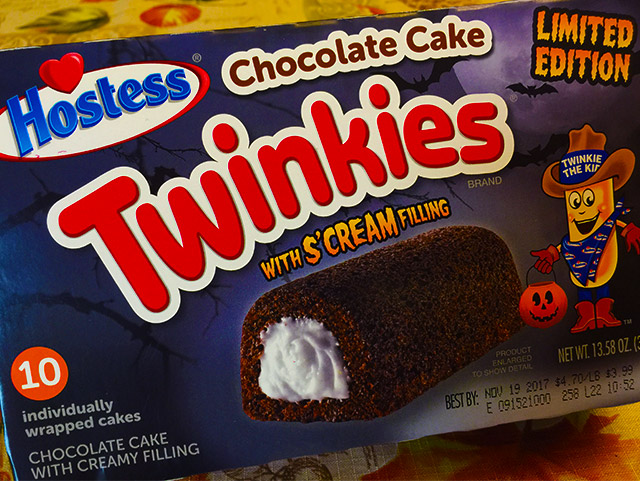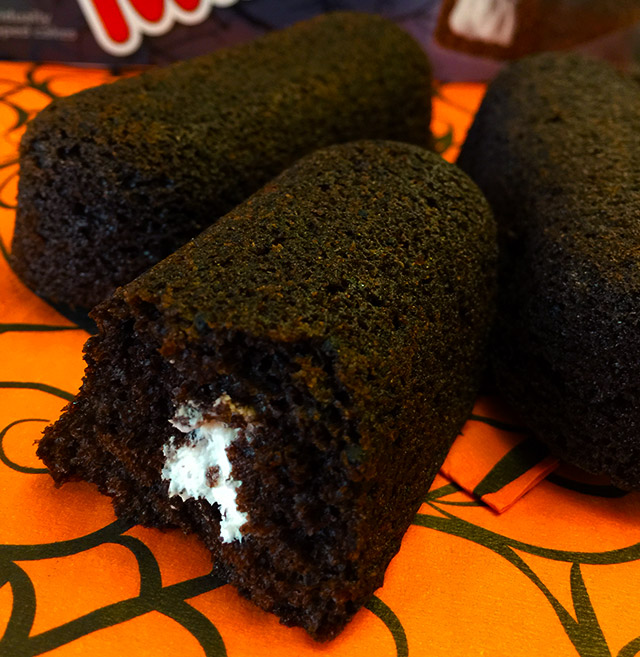 Chocolate Cake Twinkies w/ S'cream Filling!
Found at: Target
The Hostess Halloween lineup for 2017 is almost exactly the same as it was last year. That normally bothers me, but they'd clearly achieved perfection with the ghoulish night-themed packaging, so I concede that there was nowhere to go but down.
In fact, the only new-for-2017 treats are these Chocolate Cake Twinkies, which have replaced last year's Chocolate S'creamers. (More a step sideways than up, but at least I got an excuse to write about Twinkies again.)
GRADE: B+. I can't say that I prefer Chocolate Cake Twinkies to the regular ones, but I do like them more than regular Twinkies with nontraditional filling. You'll mostly be in it for the box art, but since it's especially tremendous box art, that's okay!
Thanks for reading about me eating.
If you missed the previous editions, check out Part 1 and Part 2!
PS: Jay from The Sexy Armpit (and of Purple Stuff fame) recently released his 2017 Halloween special. You should watch it, and not just because I have a cameo.