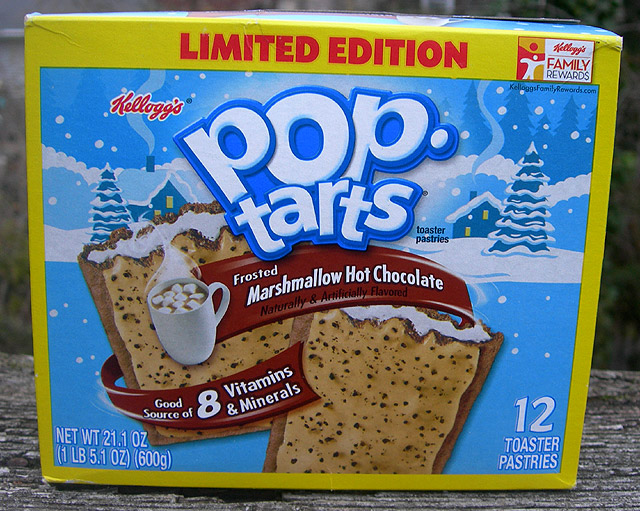 Along with one or two returning holiday flavors, Kellogg's has blessed us with all-new Frosted Marshmallow Hot Chocolate Pop-Tarts, thereby increasing their streak of Pop-Tarts flavors with extremely long names to an impressive 267.
Okay, so they're not as "showy" as Kellogg's previous offerings, like Sugar Cookie Pop-Tarts or Gingerbread Pop-Tarts. They're not as weird-in-a-good way, nor colorful, nor do they come with any bizarre recipes on the side panel. All true, but these Pop-Tarts have it where it counts:
They taste like hot chocolate.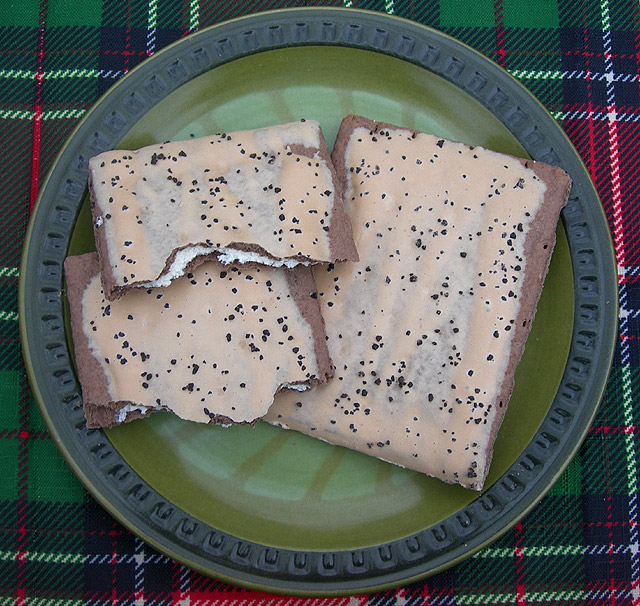 I took that photo of them in their "plain" state, but you kinda do need to toast them. Even if you prefer your Pop-Tarts with no caloric upgrades, the heat has a way of bringing out their scent. Believe me, this is a scent you WANT brought out.
Like, picture the most classic cup of hot chocolate you can imagine. Now picture it five feet tall. Whatever you think that would smell like is pretty close to how these smell. If it's possible to get high from the aroma of blistery Pop-Tarts, brother, I am so there.
While the pastry and its frosting cover the "chocolate" base, a core of bright goo handles the "marshmallows." It's like NASA figured out how to freeze-dry hot chocolate, only not really at all like that.
I don't keep score of these things, but I'll go out on a limb and proclaim that there's never been a tastier Pop-Tart. I'll also proclaim that no other Pop-Tart has ever looked so much like an army of mites swarming over Mars.
The Rule of Triples means I get one more proclamation, but I'll save that for when it'll really count.