Time for Dino Drac's July Funpack — the last one before a trio of Halloween Funpacks, starting in August! Let's get a little more juice out of summer, while we still can!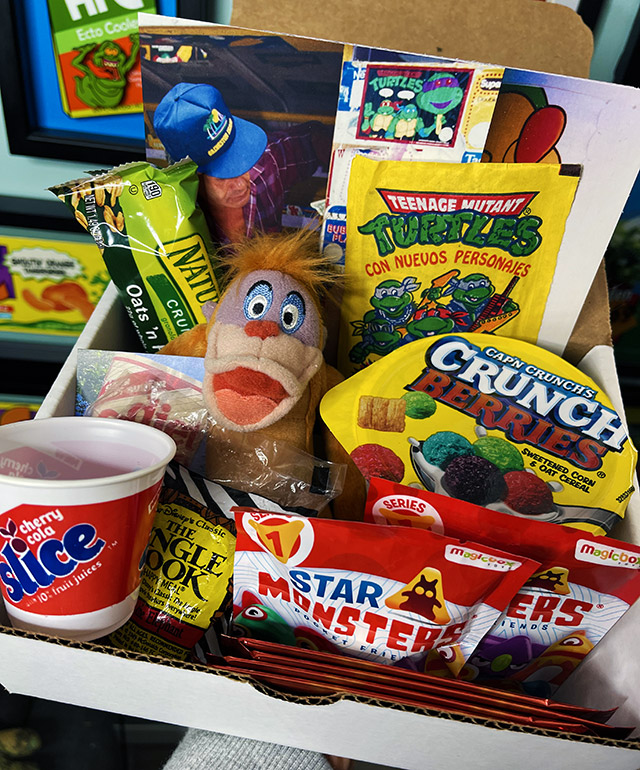 UNITED STATES ONLY! VERY LIMITED SUPPLY!
Here's the deal. This month's Funpack is already kinda/sorta sold out! I'm putting this up because the subscribers gotta see it regardless, but just know that I'm *really* low on extras — if I have any at all!
You can scroll to the bottom to try getting on the waitlist, or keep reading to learn about everything in this month's box!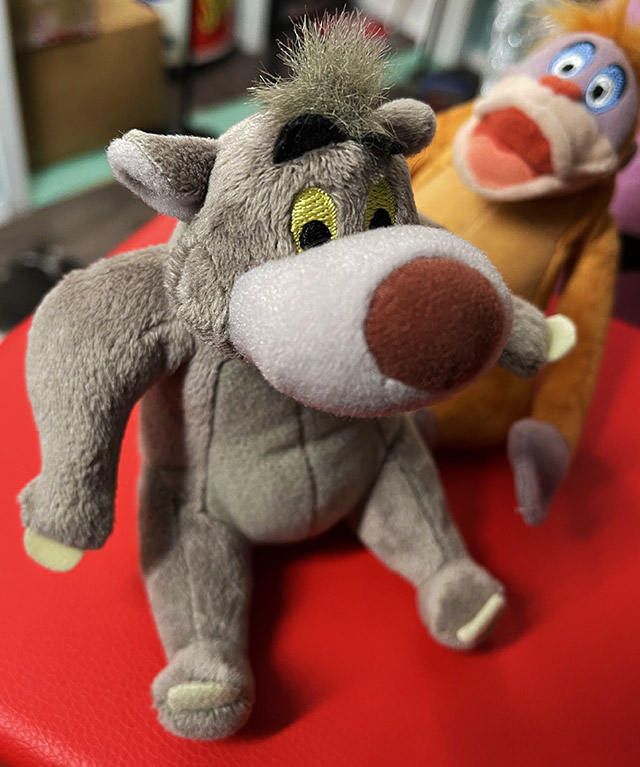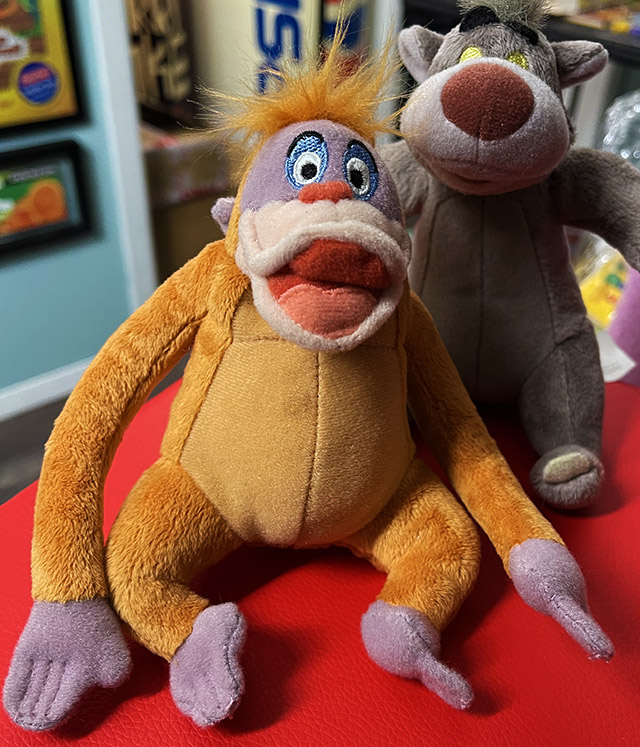 YOU WILL RECEIVE *ONE* OF THESE TWO DOLLS!
First up, you'll get ONE of these two cute little plush dolls from Disney's The Jungle Book. The tags on their asses are undated, but I know for sure that they're pretty old and no longer available in stores. Despite that, they're in case-fresh, unused condition!
You'll either get Louie or Baloo – two characters who'd later appear in TaleSpin. These adorable animals are around six inches tall, and are guaranteed to change your life for the better. Remember, you'll only get one, not both!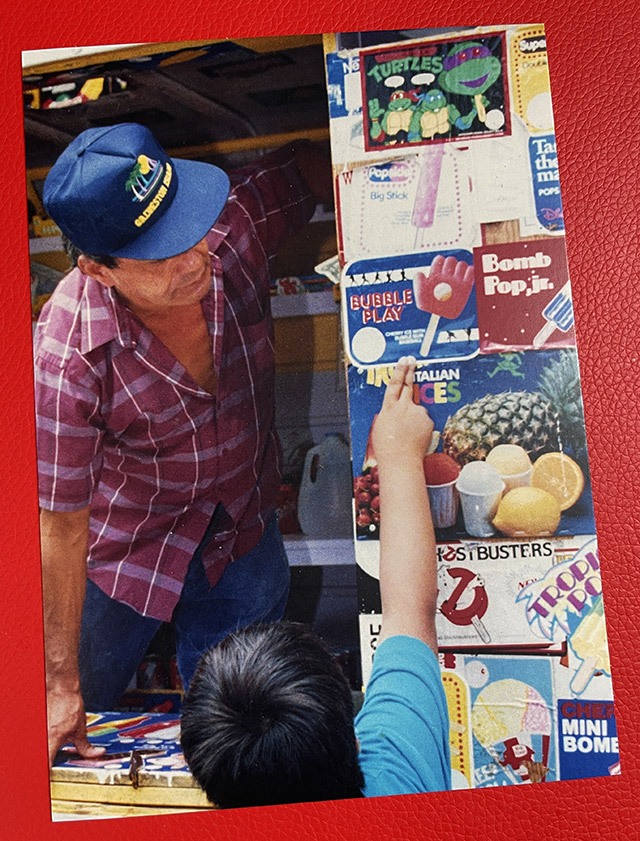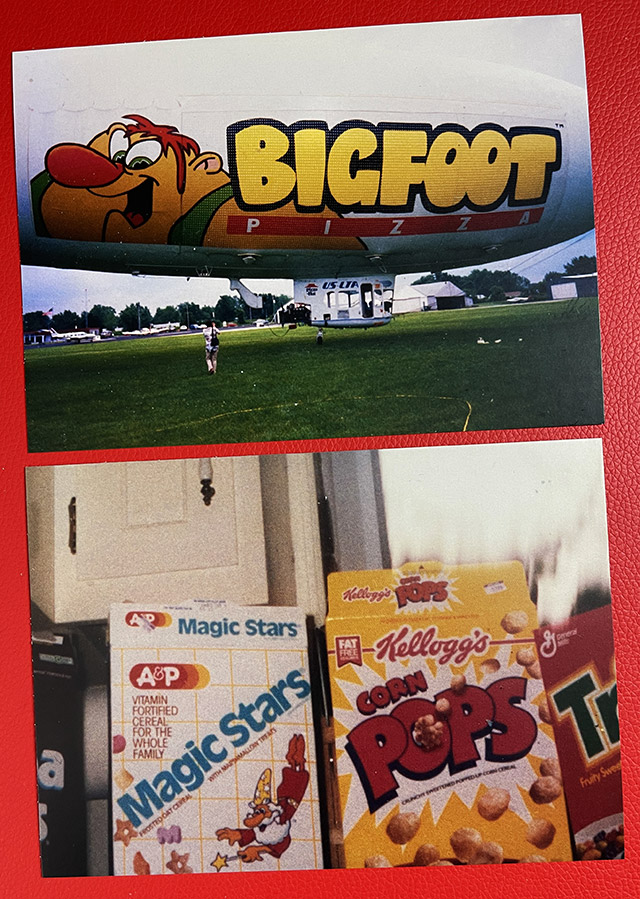 Every Funpack comes with a 5×7" cardstock mini-poster, but this month, you're getting THREE!
Yep – each Funpack will include ALL THREE frame-worthy mini-posters shown above, all made from rare photos in my personal collection. The "official" mini-poster for this month features a 1990s ice cream truck, but you're getting two more — one with a bunch of old cereal boxes, and another with the classic Bigfoot Pizza blimp!
All three scream "summer," so they're perfect for the July Funpack!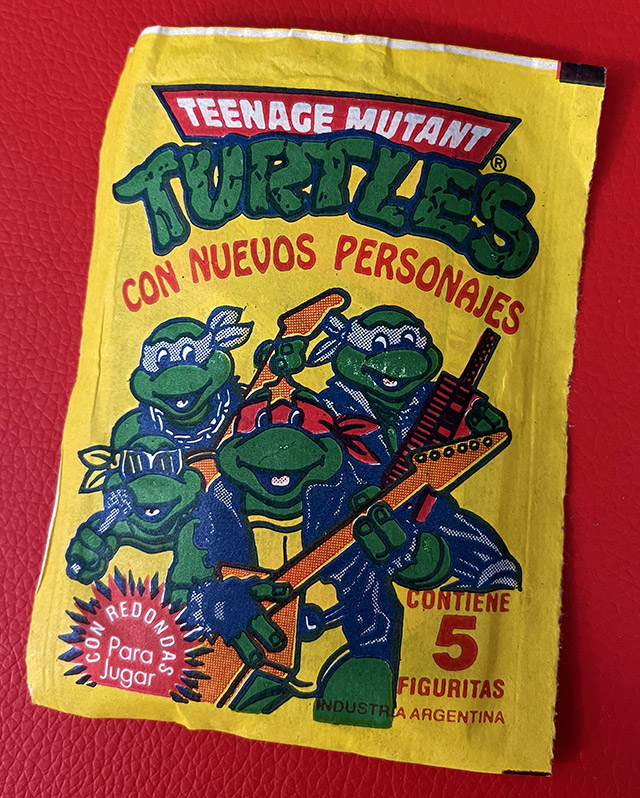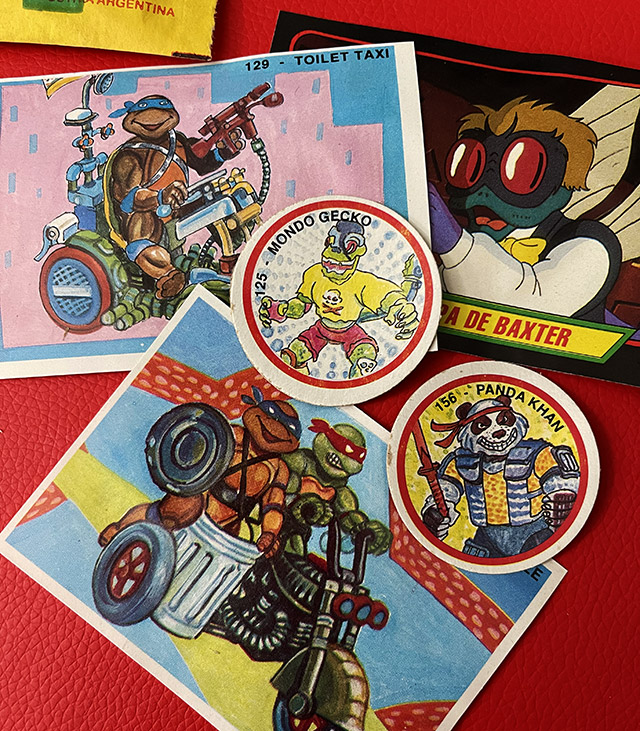 And then we have a RARE pack of Teenage Mutant Ninja Turtles album stickers, made in Venezuela in the early '90s. Needless to say, these were never available in the States.
I mostly wanted to include these for the gorgeous wrappers, which feature the four Turtles in their rock star getups. So crude, so awesome!
I'd planned to tell you NOT to open the packs because the wrapper art is the real draw… but then I opened one and found that pile of amazing ridiculousness inside. Paper-thin pogs and stickers that look like they were created by third graders. I'm in love.
Please note that these packs are OLD and from FAR AWAY. It's a miracle they've survived at all, but some do have creases and edgewear. Nothing too terrible, tho! There's one of these in every Funpack!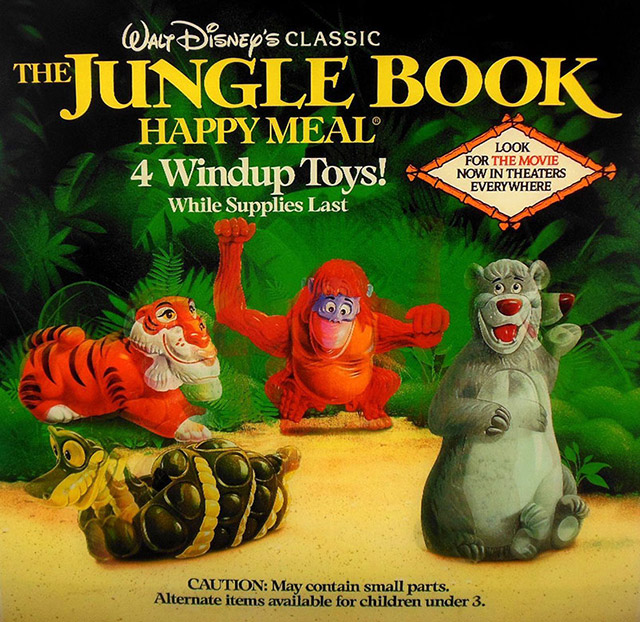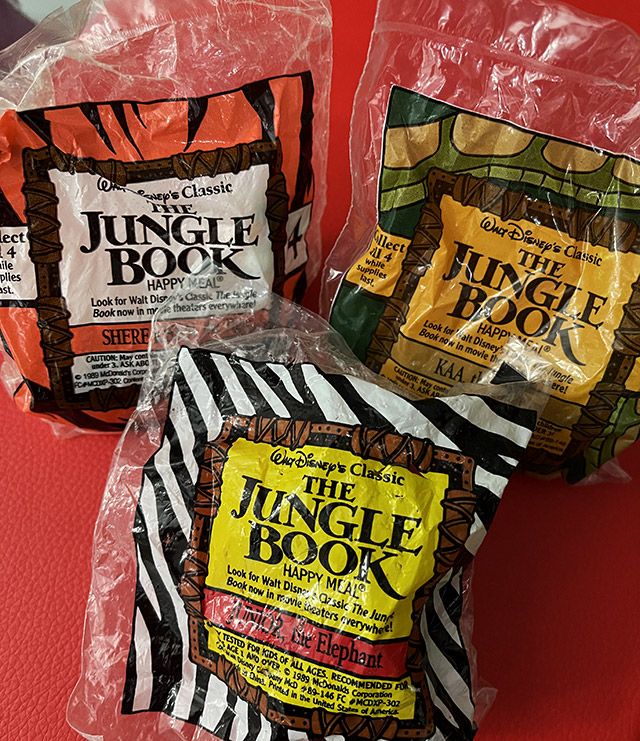 Ah, more stuff from Disney's The Jungle Book! Every Funpack includes ONE of the swank toys from McDonald's Jungle Book Happy Meal set, from 1989! Each toy is in never-used condition and is still sealed in its original baggie.
Remember, you'll only get ONE of these toys, chosen at random. I should mention that I have far more of "Kaa the Snake" than any of the others, so if you like Kaa the Snake, good, because you're probably getting him.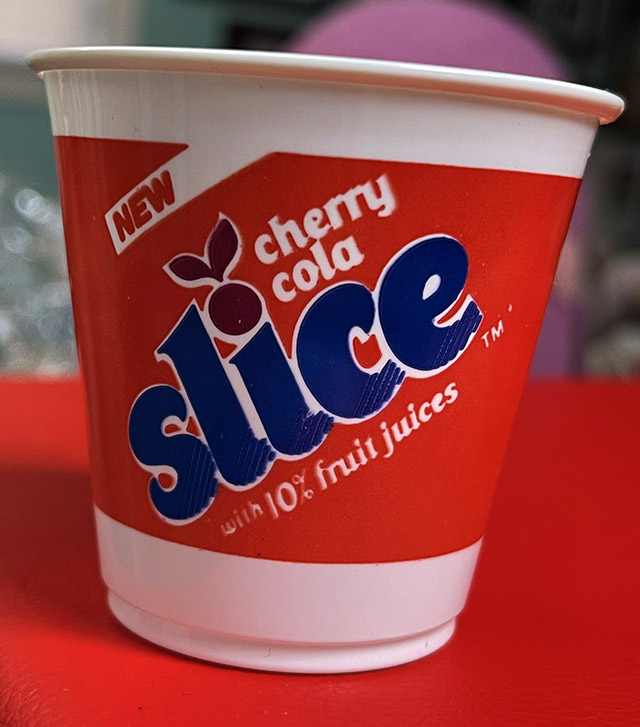 And here's something you never saw coming! Cherry Cola Slice was one of THE sodas of the '80s, and probably captures that decade's vibe and aesthetic better than any other soft drink.
Cherry Cola Slice bottles and cans are crazy expensive these days, so if you can't afford any of those, I'm here to rescue you with a vintage Cherry Cola Slice plastic sample cup, from 1986! These were never sold to the public, but were instead used for in-store soda samples to get people interested in the new product.
They're unused, of course! These are small cups, like Dixie-style or maybe even a touch smaller. I love ephemera like this, and I'm happy to share it with you!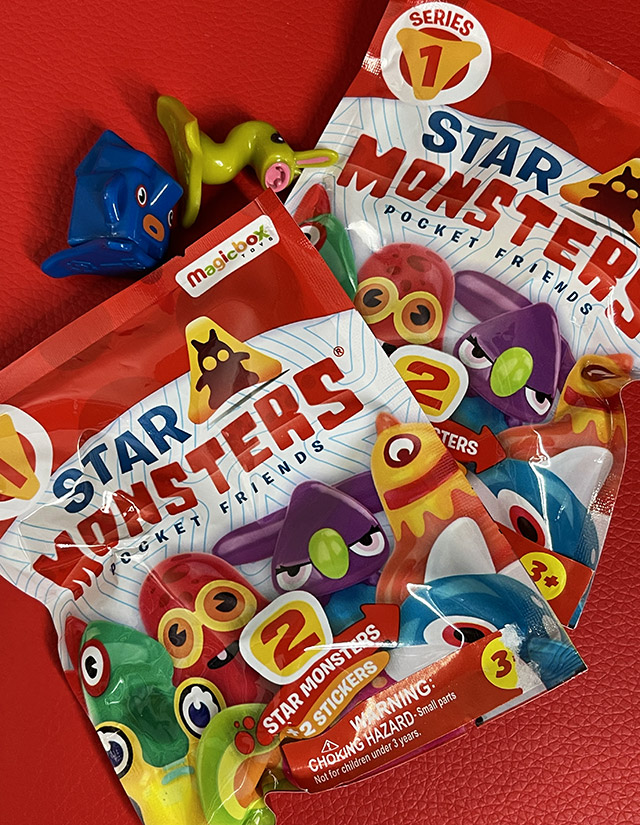 God, there sure is a lot in this Funpack. Next up is a PAIR of Star Monsters Blind Bags. Released in 2016, I can't tell you much about Star Monsters beyond the fact that they look like weird, adorable aliens of every possible sort.
Each blind bag contains two figures, so you'll get four in all, plus some stickers! Most of you have never heard of these I'm sure, but I think you'll be pleasantly surprised. They're quirky in the best way.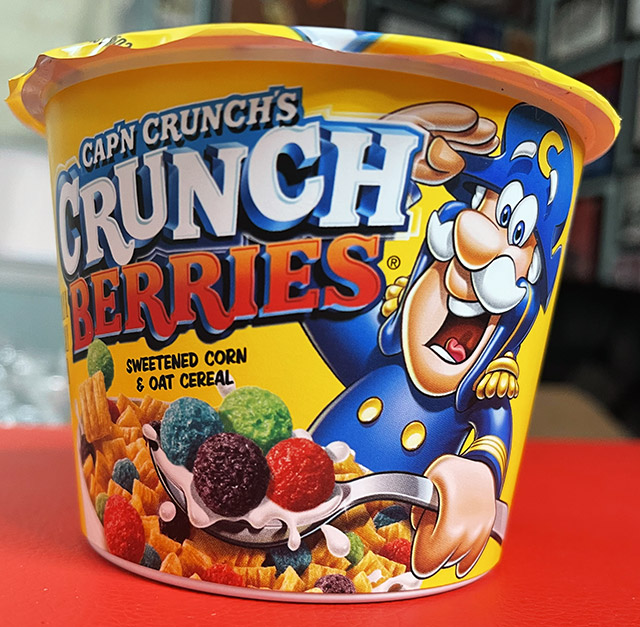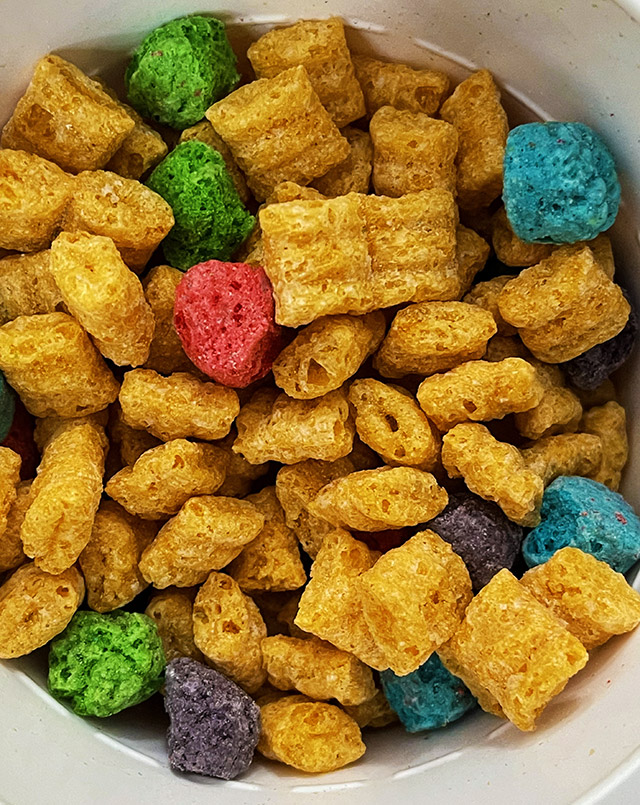 This month's main snack is a big ol' tub of Crunch Berries Cereal! Something about these cups screams "summer" to me. Maybe it's the bright colors, or maybe it's because I used to waste half of my summer vacations eating Crunch Berries by the television.
These are pretty substantial cups, containing more than enough cereal to bloat and delight you.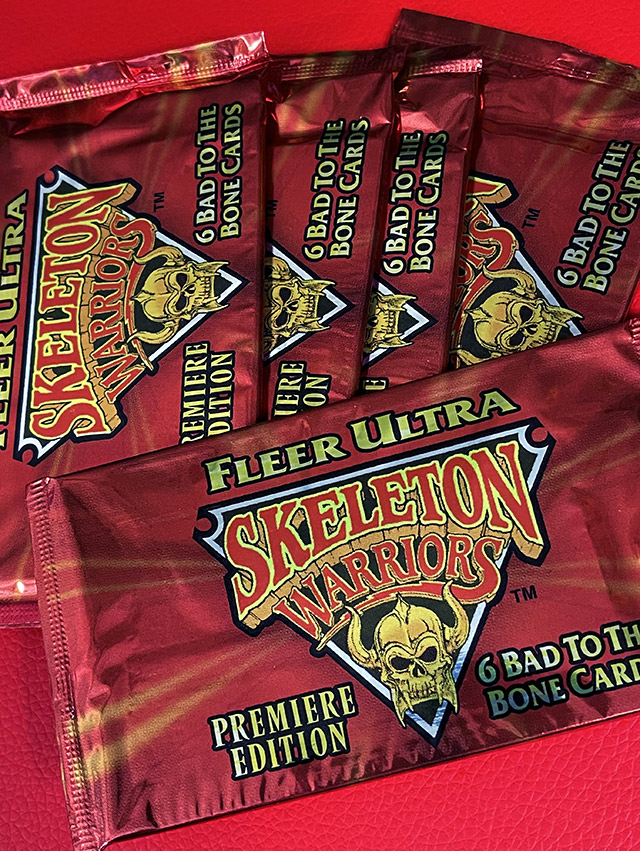 Oh, and since I know Halloween is starting to creep into all our brains, I thought I'd give ya little taste of the best season of the year.
Every Funpack will include FIVE PACKS of vintage Skeleton Warriors trading cards, made by Fleer in 1995. These are truly beautiful (and scary) cards, and with five packs, you'll get a total of THIRTY CARDS to enjoy!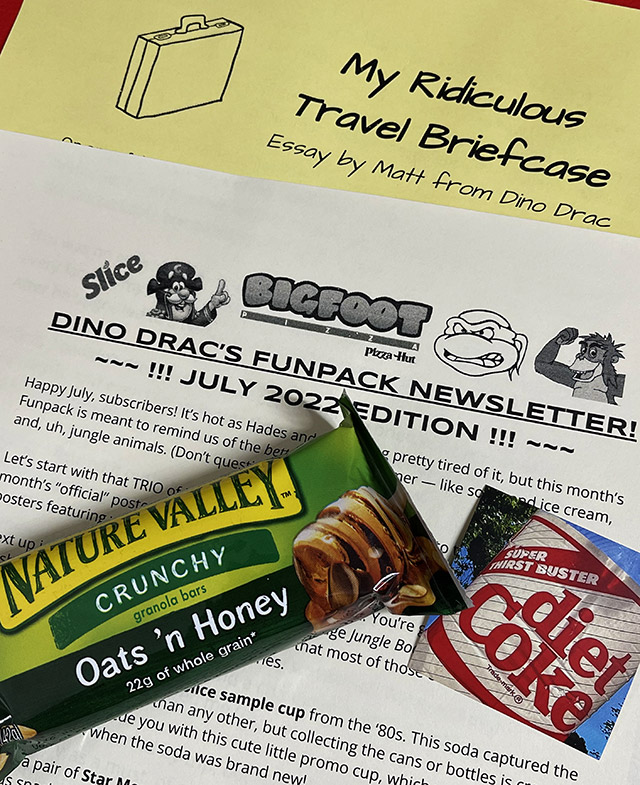 Rounding things out, you'll also get this month's Funpack Newsletter and an exclusive essay that will never be reprinted on the site. (This month's essay is about how I stole my father's old work briefcase and used it as my personal survival kit. Sounds weird, but I think you'll dig it.)
I'll also include this month's exclusive 2×2" sticker (hello old Diet Coke) AND a Nature Valley Oats 'n Honey bar. Jeez, there really is a LOT in this month's box!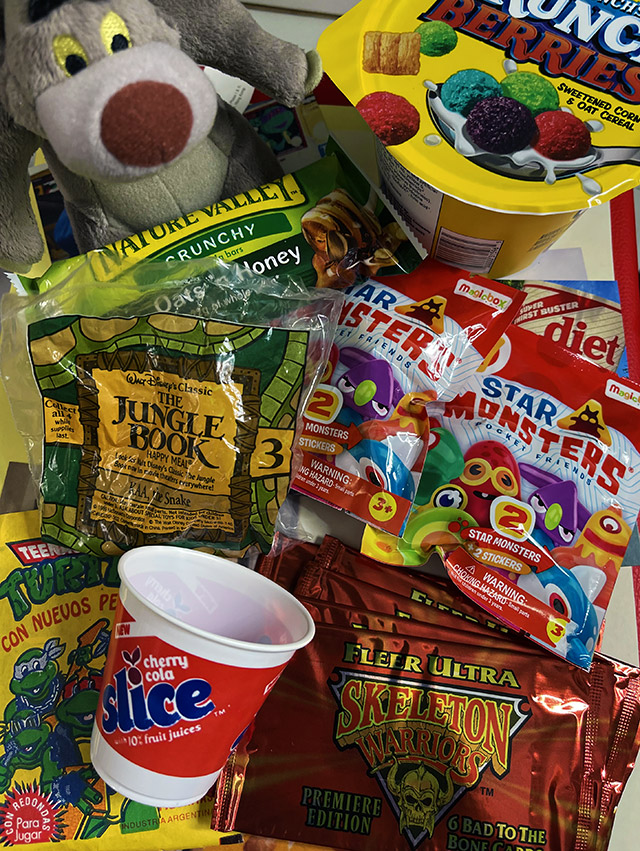 So you'll get everything shown above for $25 shipped!
If you're already a subscriber, do nothing, you're all set!
If you're NOT a subscriber and you want this month's Funpack, please email me to get on the waitlist. I'll hopefully have a few to offer once I do my final counts, but no promises! You can reach me at dinosaurdracula on gmail.
The July 2022 Funpacks will ship on or before Monday July 25th. Thanks!