There's no better way to beat the heat than a Dino Drac Funpack!
Well, that's not exactly true. I just have heat on the brain. It's like 200 degrees out right now. I'm basically Surtur without the superpowers.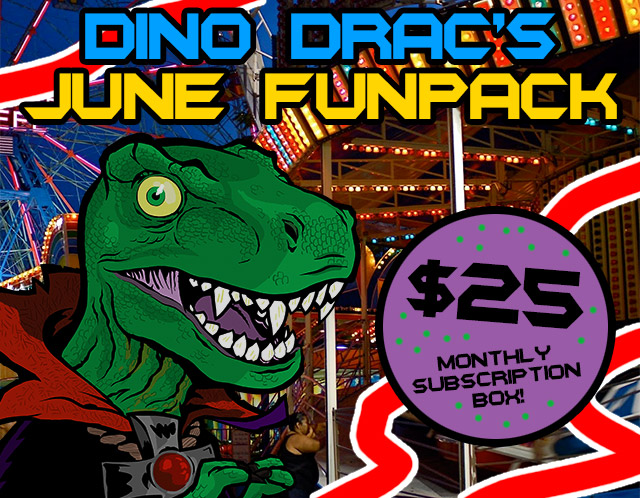 In any event, Dino Drac's June Funpack IS HERE, but it will only be available for a few short days!
The short story, for those who don't know: Dino Drac is a one man show that requires a great deal of time, money and effort. It would be an impossible endeavor if not for the generous peeps who subscribe to my monthly Funpacks.
It's $25 a month (including shipping), and for as long as you stay subscribed, you'll continue to receive awesome boxes full of retro nonsense that I personally assemble. (And of course, you can unsubscribe at any time without penalty!)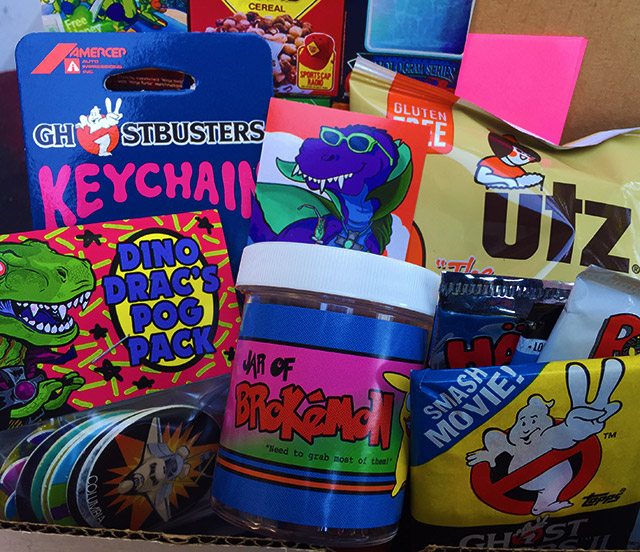 The June 2017 Funpack boasts more than 10 items in every box, including several exclusive items in custom Dino Drac packaging! There are toys, knickknacks, weird chips, things to read and more!
Jump to the bottom for ordering info, or keep scrolling to see EVERYTHING you'll receive in this month's box!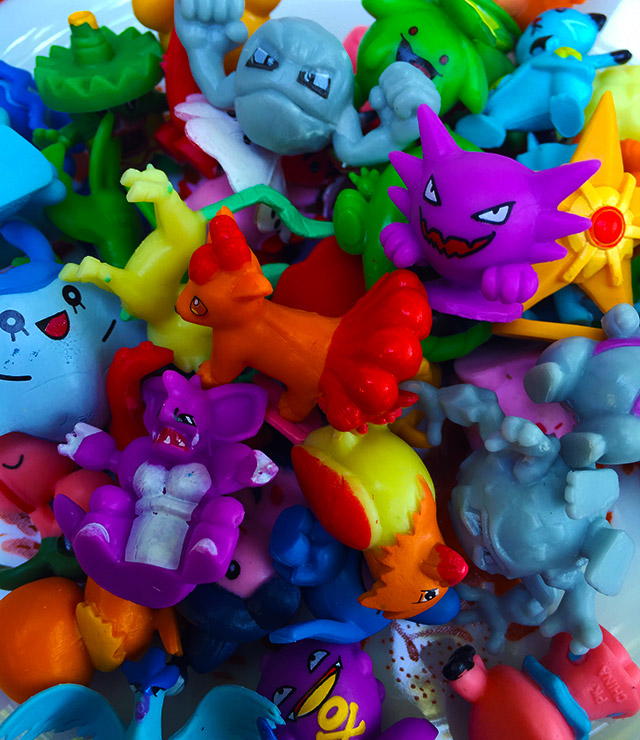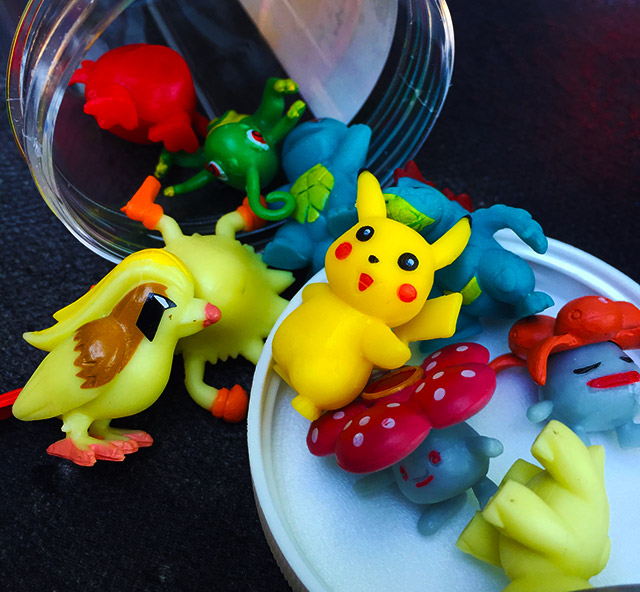 First up, the incredible Jar of Brokémon!
Yes, Brokémon!
Each jar is stuffed with TEN assorted Pokemon figures. These tiny monsters come from God knows where — and some of them are adorably off-model — but they're still amazing little figures whether you're into Pokemon or not.
The collection of figures spans several generations of Pokemon, and while I cannot guarantee which ten you'll receive, I can guarantee that the ten you'll receive will be ALL DIFFERENT.
These bold and bright creatures will come stuffed inside of Dino Drac's custom Jar of Brokémon. You're gonna love this nonsense. It's one of my favorite items from any Funpack ever.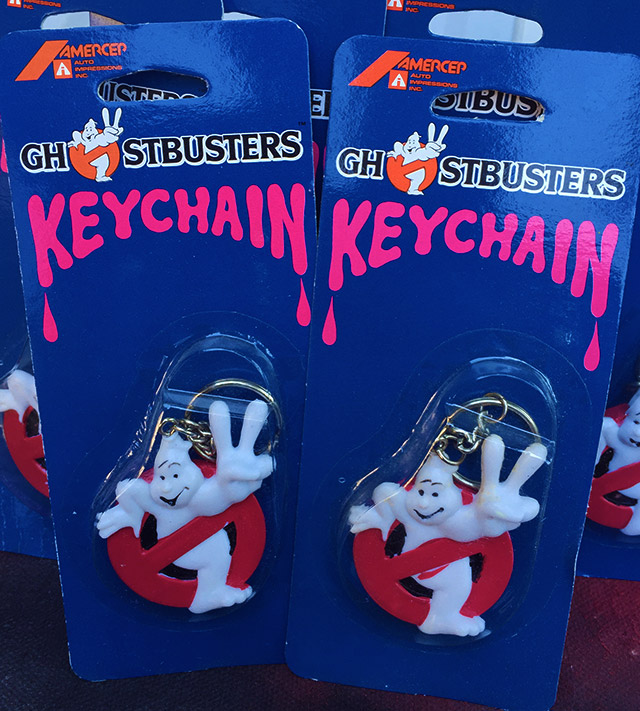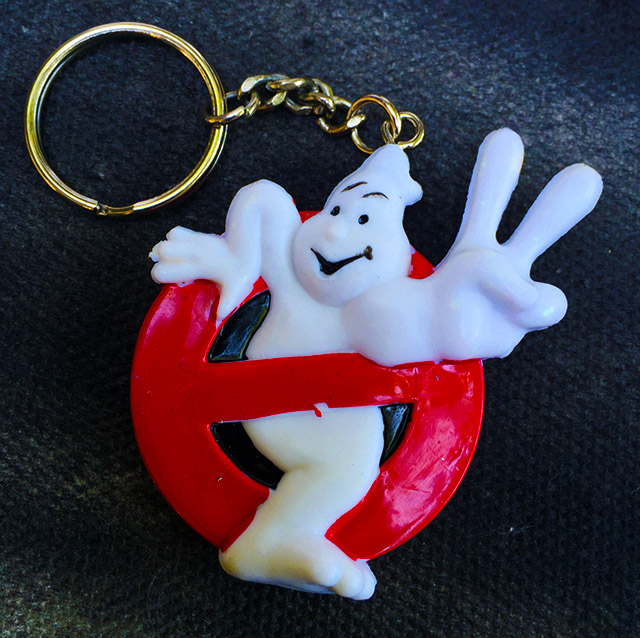 Next, you'll each receive an honest-to-goodness vintage Ghostbusters II keychain, still sealed in its original package! These babies are from 1989!
Note on condition: All packages are firmly sealed, but some have creases/denting to the cardboard. They are, after all, obscure items from nearly thirty years ago!
Whether you choose to use the keychain or simply hang the package on your wall, this is an amazing (and officially licensed) vintage Ghostbusters collectible that will help you celebrate one of the most undervalued sequels of all time!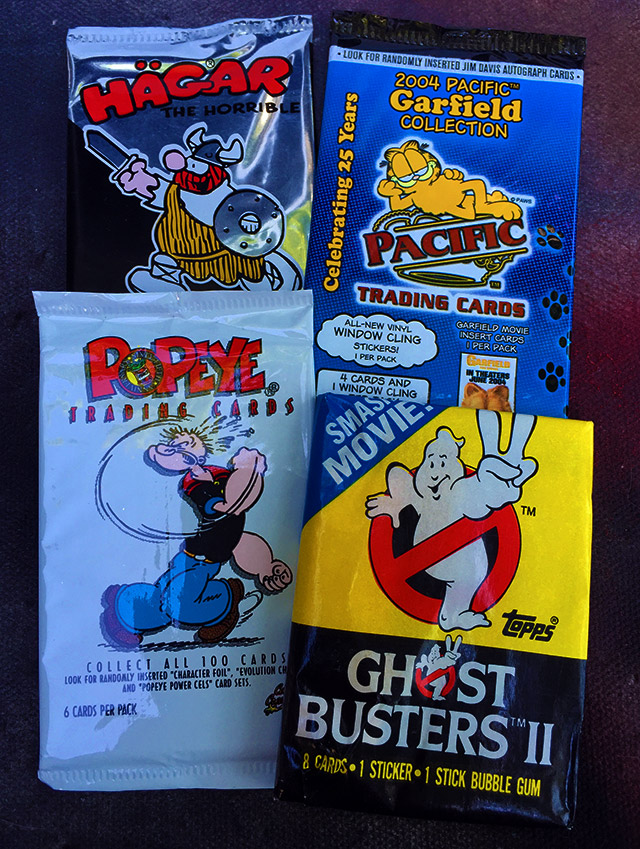 Then there's the usual assortment of trading cards packs! To complement your keychain, I'm tossing in a vintage wax pack of Ghostbusters II cards, complete with a really old piece of gum that you should definitely not eat.
Joining Slimer are three packs that aren't quite as old, yet are nearly as nostalgic. Have fun tearing through packs of Hagar, Garfield and Popeye cards!
(Yes, all four packs are in every Funpack!)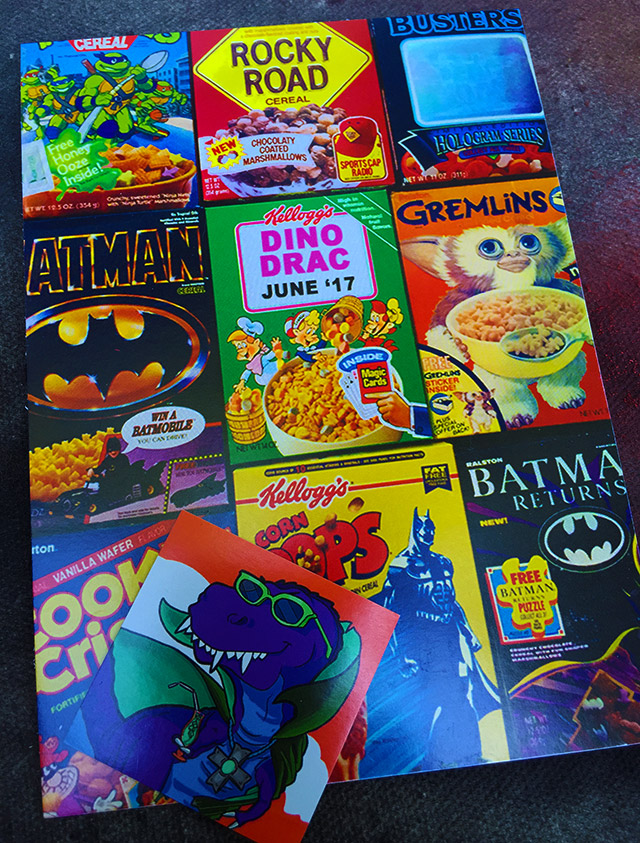 This month's 5×7" Mini-Poster looks a hell of a lot cooler in person. Curse you, sun glare! It's a photo of some of the best cereal boxes in my personal collection, from Gremlins Cereal to Batman Cereal. You need this in your life.
(And yep, you'll get this month's exclusive Dino Drac sticker, too!)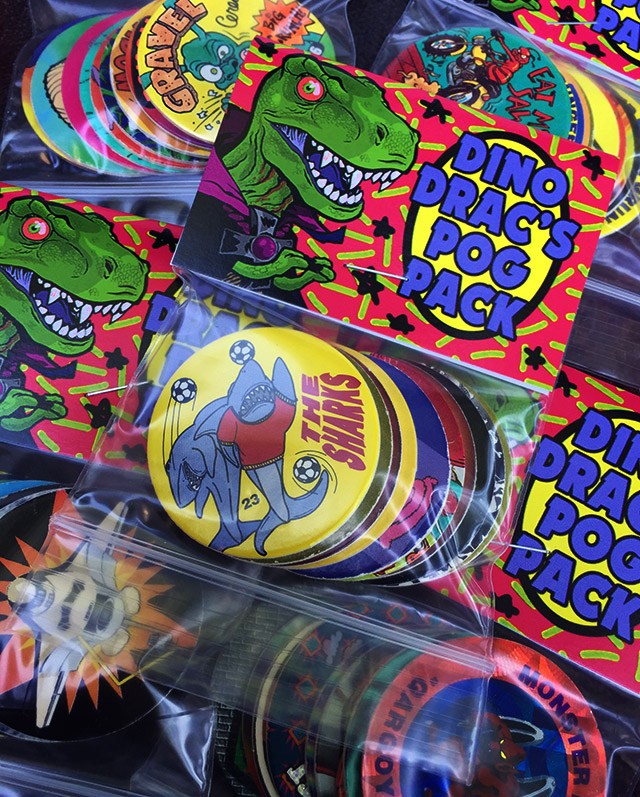 Then there's this month Dino Drac Specimen: Get a load of Dino Drac's Pog Pack!
Each custom-made package includes TEN vintage pogs (well, not official "Pog" pogs, but milk caps) from all different makers. All of the heavy hitters are here: 8-balls! Spiders! Random monster eyes!
I'm personally selecting ten pogs for every package. (Packages open from the bottom, so you can check out your pogs without ruining the custom Dino Drac header card!)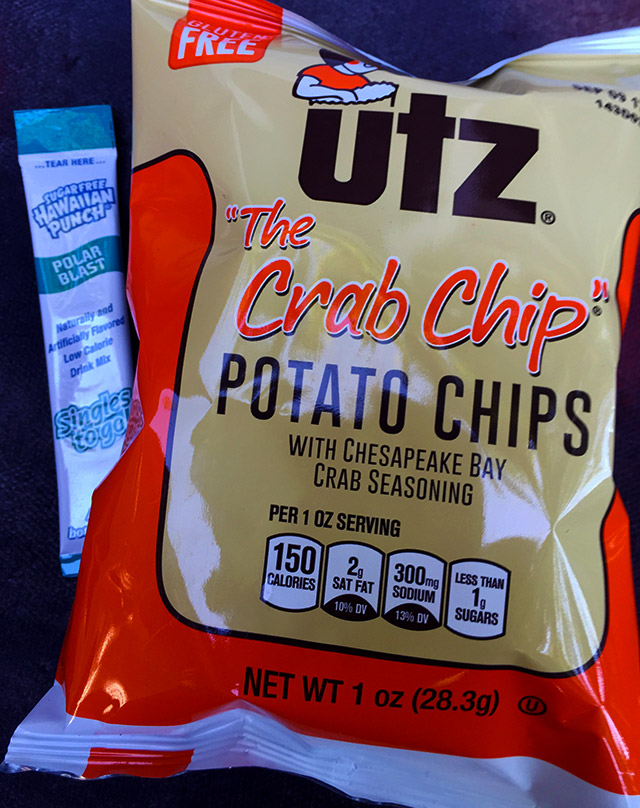 Oh, and how about some snacks? Don't be scared of those Utz Crab Chips — they contain NO CRAB PRODUCTS at all. Instead, they've been flavored with Chesapeake Bay crab seasoning, which lends the chips a deep, savory flavor that will turn you into an addict pretty much immediately.
To wash the chips down, I'll also toss in a single-serve pack of Hawaiian Punch Polar Blast drink mix. Dump it in a bottle of water, shake vigorously, and drink up. It tastes like alien blueberries!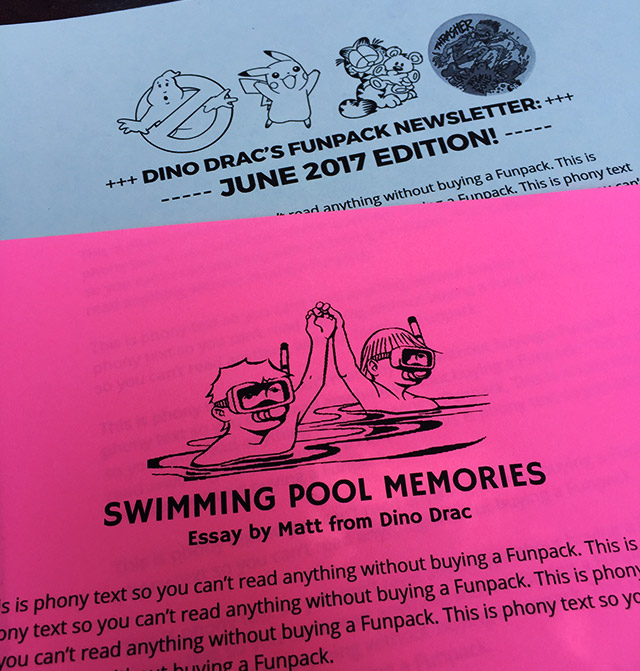 Wrapping things up, you'll receive this month's Dino Drac Funpack Newsletter, plus an exclusive essay that will never be reprinted on the site!
This month's essay is about my childhood swimming pool memories, which as it turned out were a lot weirder than I thought they would be. But maybe you'll relate to them, anyway.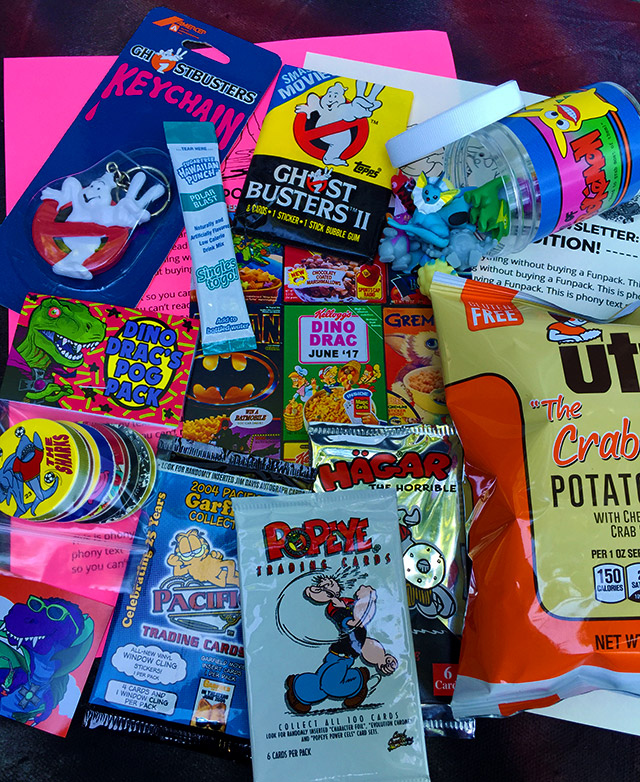 So, you'll get EVERYTHING shown above for $25, shipped!
If you're already a Funpack subscriber and you'd like to stay that way… do nothing! You're all set!
If you want to subscribe, please read the following, and then click the button at the bottom of this page!
1. Funpacks are available in the United States only. Sorry!
2. Subscriptions are handled via Paypal. If you don't have an account, it's very easy to make one!
3. Funpacks will be shipped to the address listed on your Paypal account. If you need to change your shipping address, or if you'd like for your Funpacks to be shipped to someone else, simply email me!
4. You will be automatically billed $25 every month. (Yes, that price includes shipping.) If you subscribe today, you'll pay today, and then again in exactly one month. For as long as you remain subscribed, you'll keep getting Funpacks!
5. You can cancel at anytime. (You could subscribe today and cancel today!) If you cancel after you've already been charged for the following month's Funpack, you'll of course receive it just the same as any current subscriber would. (You can cancel via Paypal, or by emailing me.)
6. The June 2017 Funpacks will ship on or before Wednesday 6/21!
Remember, the Funpacks allow me to keep doing the site… thanks so much to all who help to keep it/me going!
To get your subscription started, click the button below!
SOLD OUT!