Running Dino Drac takes lots of time, money and blood sacrifices, so if you enjoy what I do here, the best way to keep it going is by subscribing to Dino Drac's Funpacks. June's looking like a good month to start!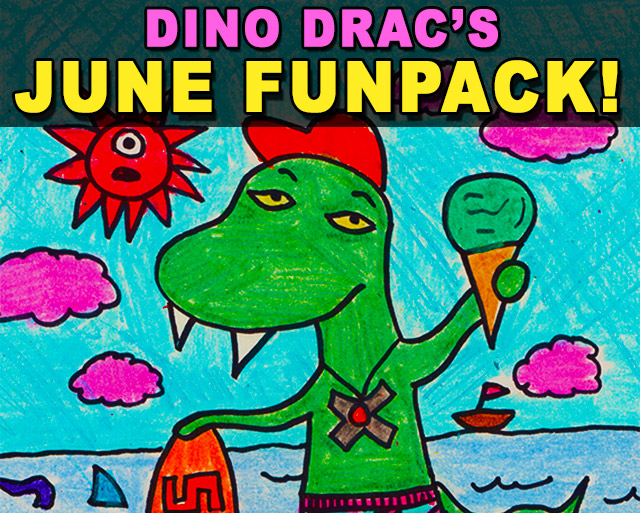 ($25 MONTHLY SUBSCRIPTION BOX. UNITED STATES ONLY.)
The quick-and-dirty: Every month, I mail out a new Dino Drac Funpack, stuffed with all sorts of retro memorabilia and random nonsense. Subscriptions are handled via Paypal, and cost $25 each month. (Yes, that includes shipping.)
For as long as you stay subscribed, you'll keep receiving new Funpacks every month. You can cancel at any time without penalty, and you'll always receive the proper amount of Funpacks no matter when you do.
Scroll to the bottom of this post for additional information and to get your subscription started… or read on to see what's in store for June!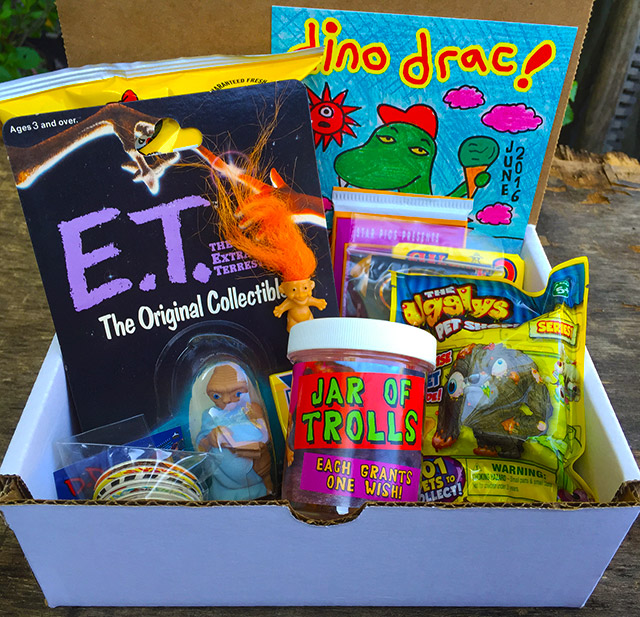 There's only one word to describe the June 2016 Funpack: Eclectic. No two items have more than a passing similarity, and that's just the way I like it. There's around a dozen items in every box, ranging from legit old school collectibles to bizarre jars full of Trolls.
Keep on reading to see the highlights, and remember: Every subscriber receives everything shown below!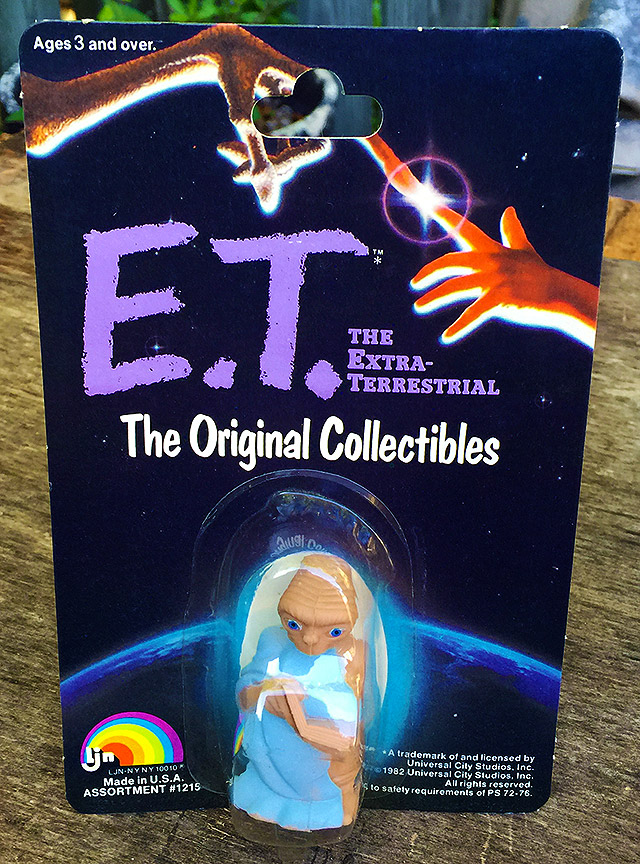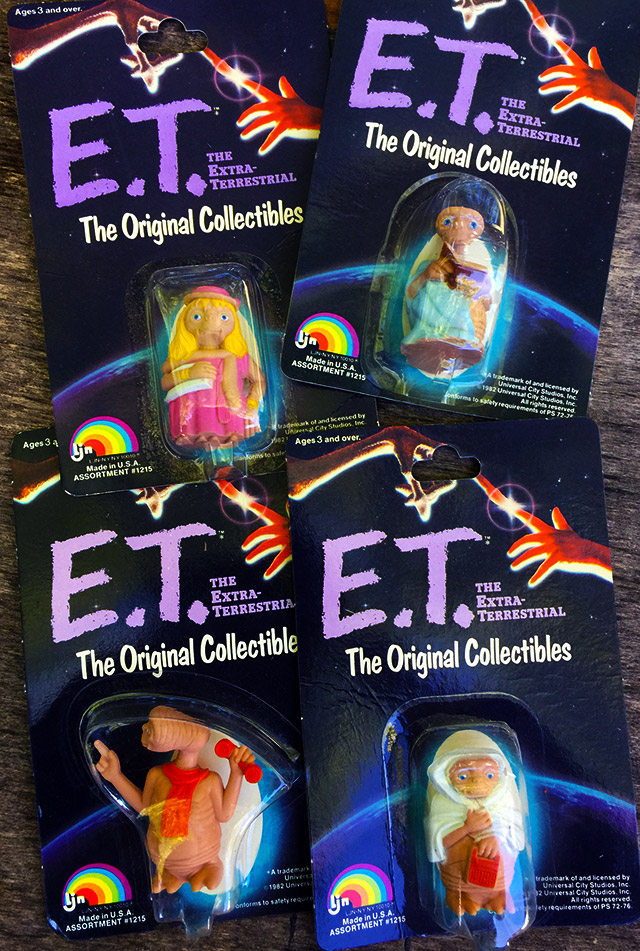 Oh, man. Here's a big one: Every subscriber will receive ONE random STILL-PACKAGED E.T. figure, made by LJN in 1982. Yes, 1982 — there are legitimately almost 35 years old!
There's a range of small, adorable E.T. figures up for grabs, and every subscriber will receive one at random. These are awesome collectibles, and the figures have never been removed from their original cards. What a score!
NOTE: Considering their age, the packages are in nice condition, very bright and fresh. However, do expect that yours may have a bit of creasing as that's only natural for action figure packages of such severe age. I'm picking the best ones I have and I think you'll be satisfied. Bubbles are nice and bright, too — not yellowed at all!
Each will be packed carefully in a custom-sized bubble bag to avoid any damage during shipment!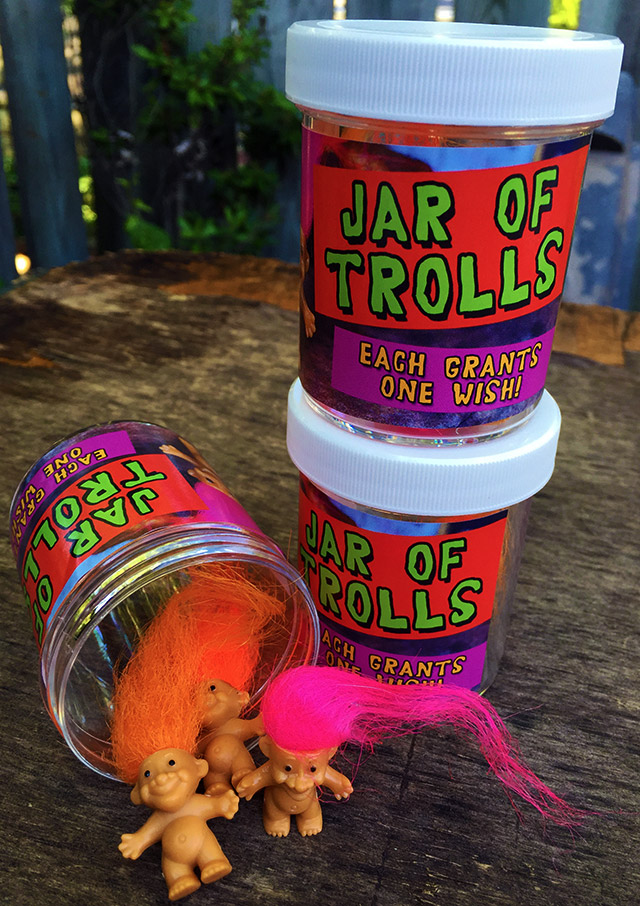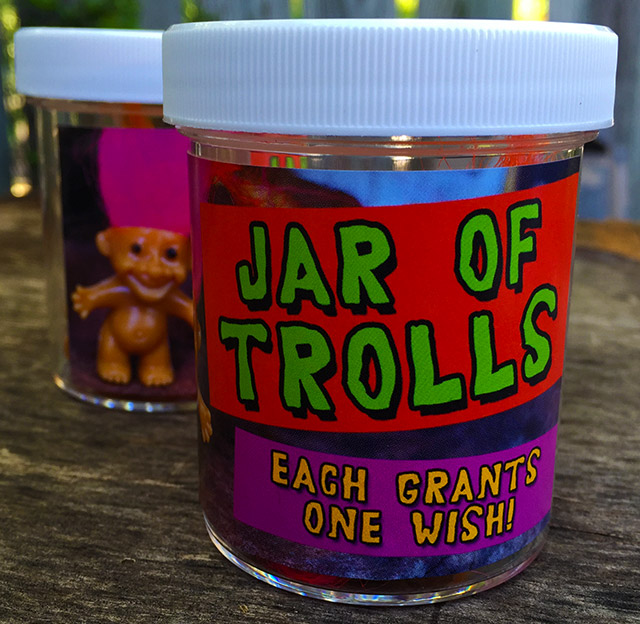 Next up, every subscriber will receive one JAR OF TROLLS. I've been waiting a long time to introduce old school Troll figures to the Dino Drac Funpack! These are legit vintage Troll figures, tiny-sized but still with the requisite tuft of neon hair.
Every subscriber will receive THREE vintage Troll figurines (Each with a different hair color!), stuffed into Dino Drac's custom jar. The "Jar of Trolls" displays great, as as the label says, each of the three trolls will grant you one wish!
(Granted wishes are not actually guaranteed. Work with me.)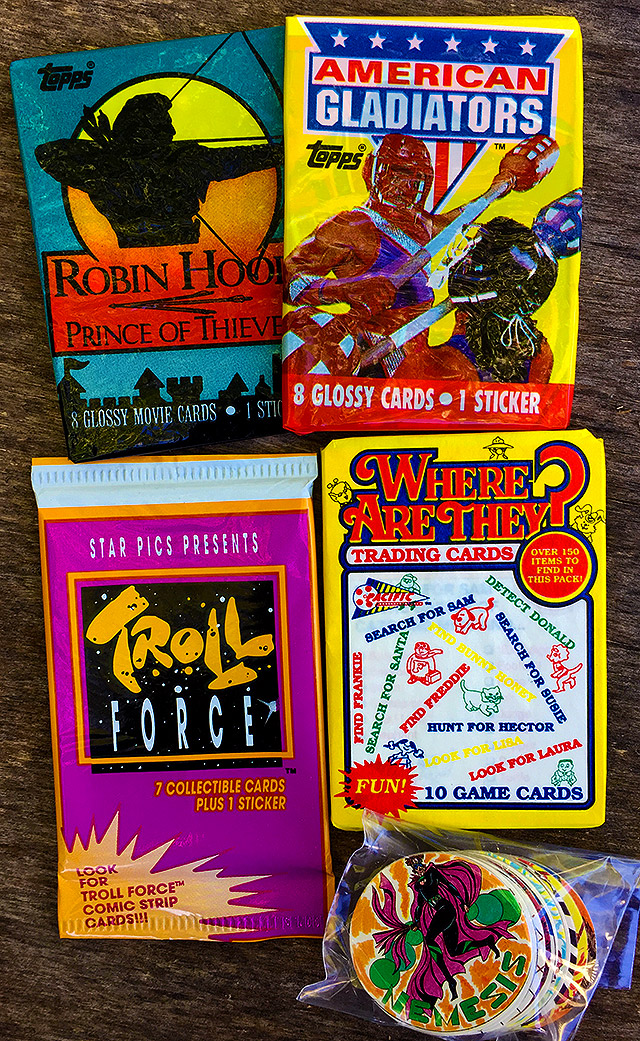 No Dino Drac Funpack is complete without a bunch of vintage trading cards, and this month, you're getting FOUR different packs.
Included are packs for Robin Hood: Prince of Thieves, American Gladiators, Where Are They? and Troll Force. I admit that that's a pretty strange assortment, but that's part of the fun! Get yourselves acquainted with some properties and characters that you've probably never paid much attention to before!
Oh, and to sweeten the pot, I'll also throw in a small pack of weird pogs. Because everyone loves those.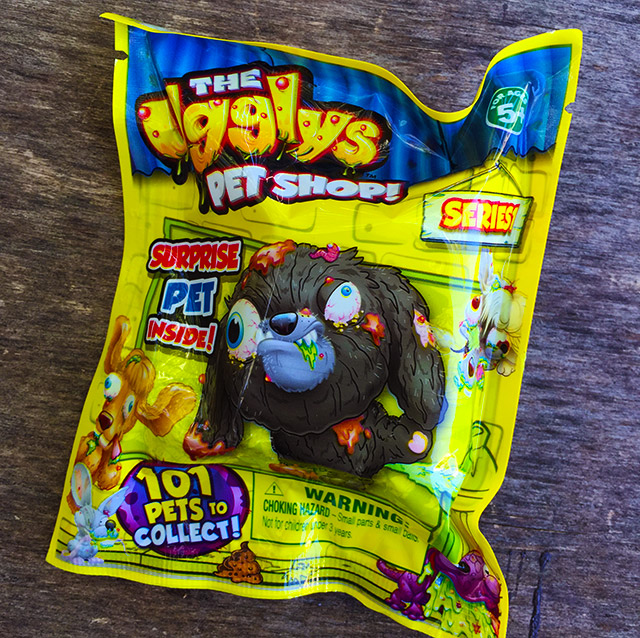 Next up, you'll each receive an Ugglys Pet Shop blind bag, including one very ugly dog figure. If you've never heard of the Ugglys collection, it's pretty recent but with a distinctly retro vibe. These blind bag figures feel like a mash between M.U.S.C.L.E. and Boglins. Trust me, you'll dig 'em!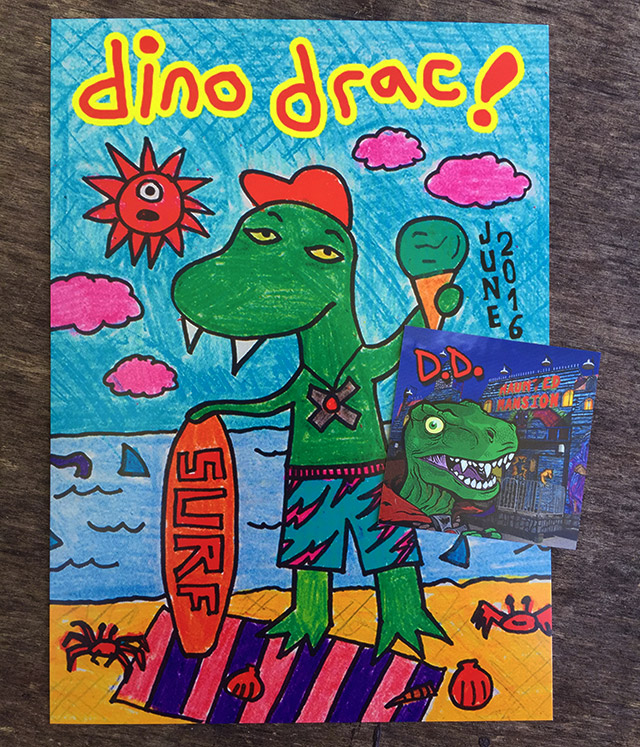 You'll also receive Dino Drac's June 2016 Ugly Mini-Poster, drawn and colored by yours truly and printed on quality cardstock. To celebrate the start of summer, Dino Drac's surfing while eating ice cream. Yes.
(And yup, you'll also get that little Dino Drac sticker, too!)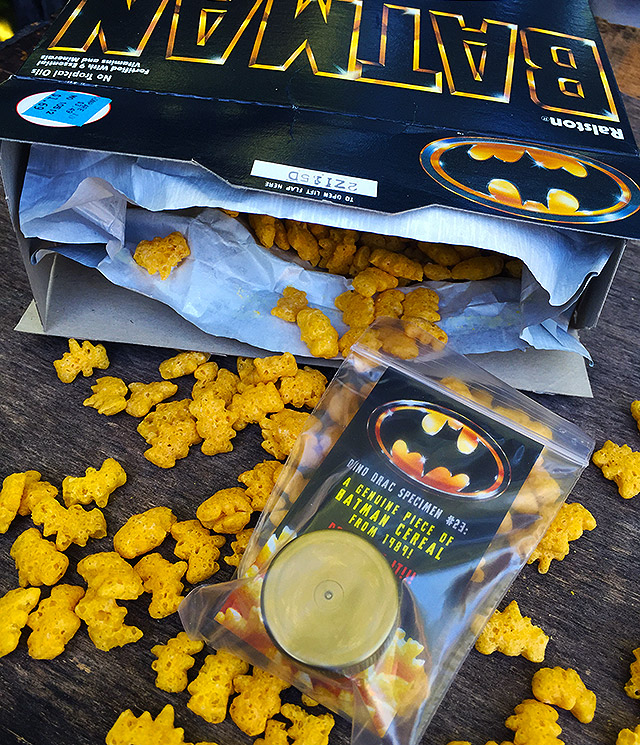 This month's Dino Drac Specimen comes with a warning: DO NOT EAT IT.
You'll each receive one piece of 1989's Batman Cereal, safely trapped in a tiny jar, and then bagged with a custom Dino Drac Specimen card. It's hard to suggest that this has any monetary value, but it'll sure work great as a conversation piece.
(Note how the tiny jars have lids to match the cereal's color. I put a lot of thought into this.)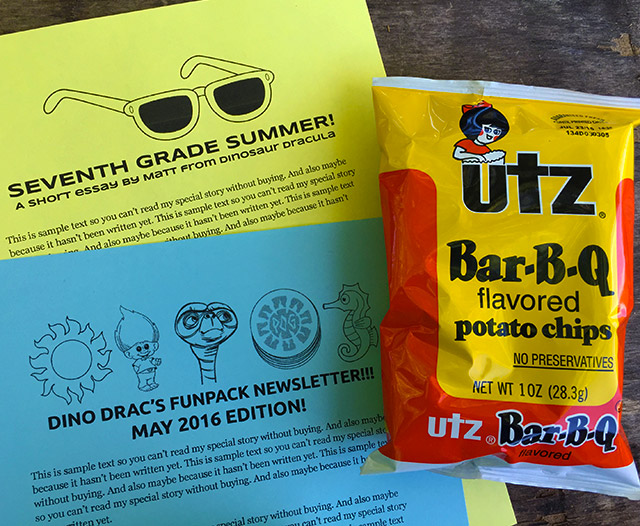 Finally, you'll receive Dino Drac's Funpack Newsletter, plus an exclusive essay telling you about a typical summer day back when I was in the seventh grade. I haven't written the story yet, but I'm sure it'll be a little depressing. As always, the essays in these Funpacks will never be reprinted on the site!
Oh, and yeah, you'll get a bag of Utz's barbecue potato chips, too. Playing with Troll figures and flipping through American Gladiators cards is sure to work up an appetite, after all.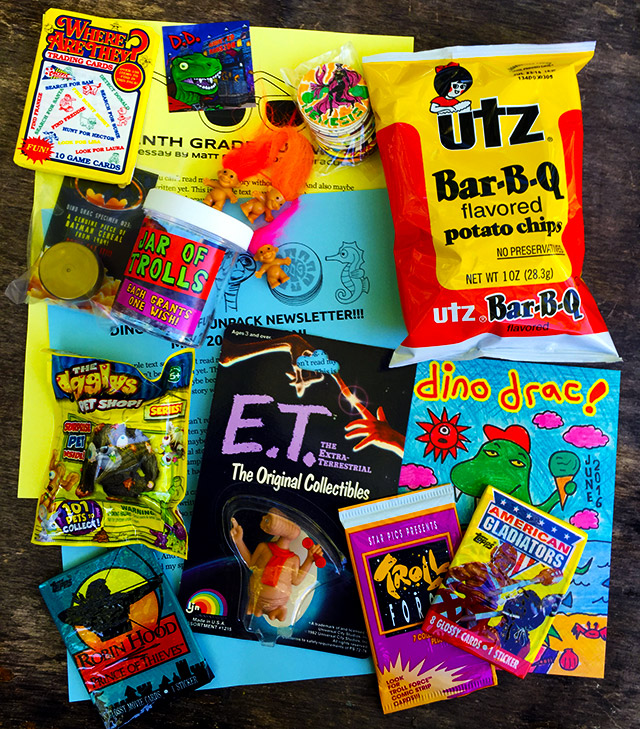 Yep, you'll get EVERYTHING shown above for $25 shipped!
If you're already a Funpack subscriber and you'd like to stay that way… do nothing! You're all set!
If you want to subscribe, please read the following, and then click the button at the bottom of this page!
1. Funpacks are available in the United States only. Sorry!
2. Subscriptions are handled via Paypal. If you don't have an account, it's very easy to make one!
3. Funpacks will be shipped to the address listed on your Paypal account. If you need to change your shipping address, or if you'd like for your Funpacks to be shipped to someone else, simply email me!
4. You will be automatically billed $25 every month. (Yes, that price includes shipping.) If you subscribe today, you'll pay today, and then again in exactly one month. For as long as you remain subscribed, you'll keep getting Funpacks!
5. You can cancel at anytime. (You could subscribe today and cancel today!) If you cancel after you've already been charged for the following month's Funpack, you'll of course receive it just the same as any current subscriber would. (You can cancel via Paypal, or by emailing me.)
6. The June 2016 Funpacks will ship on or before 6/16!
Remember, the Funpacks are *absolutely* what allow me to keep doing the site… thanks so much to all who help to keep it/me going!
To get your subscription started, click the button below!
THANK YOU!!