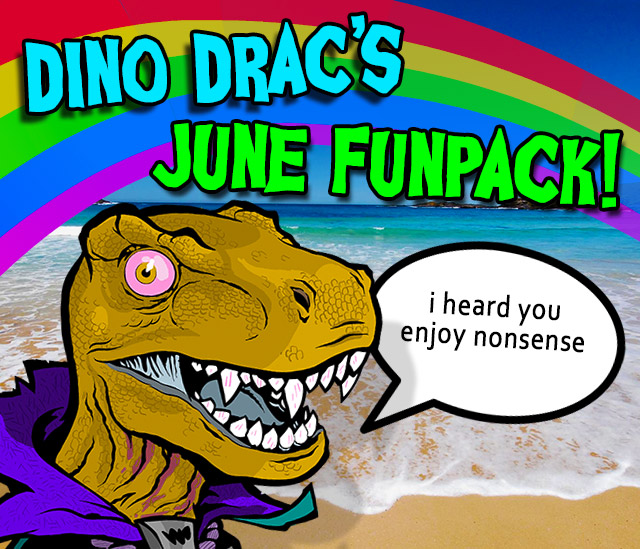 ($25 / MONTH SUBSCRIPTION. UNITED STATES ONLY!)
Wheee! It's finally time to launch Dino Drac's June Funpack!
You all know the deal by now, right? Probably, so I'll keep it short: Every month, I mail out boxes of goodies. Selling these Funpacks is absolutely what enables me to keep Dino Drac going, so on top of getting a monthly box-o'-fun for your money, you're also keeping the site afloat!
Subscriptions are $25 a month (United States only), and that price includes shipping. You can cancel at any time, too. I'll give you more of the business specifics later, but for now, let's take a look at what's in store for June!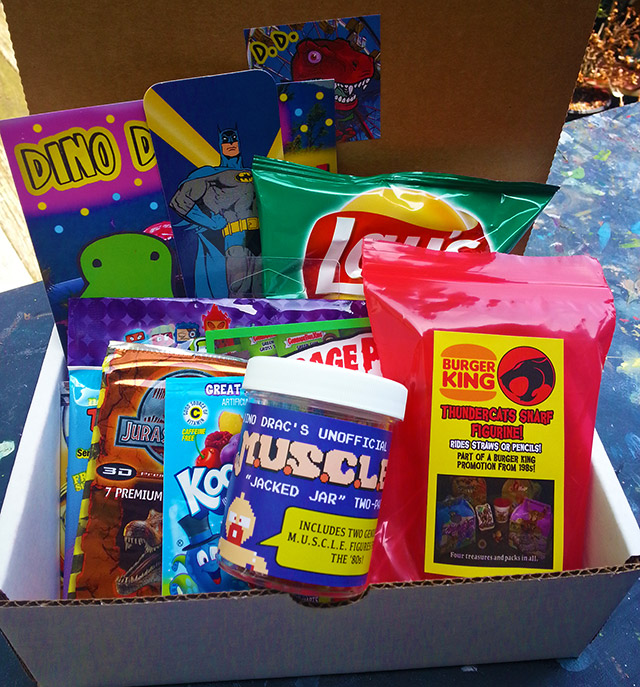 It's arguably my favorite box yet — and definitely one of the biggest. Around a dozen items in every box, and it's a great mix of legit collectibles and dumb fun!
Every Funpack includes:
– Dino Drac's Unofficial M.U.S.C.L.E. "Jacked Jar" Two-Pack!
– A 1985 Thundercats Snarf figure — part of an old Burger King promotion!
– Dino Drac's June 2015 Ugly Mini-Poster!
– The June 2015 Specimen: A piece of Garbage Pail Kids gum from 2003!
– A fresh pack of Great Bluedini Kool-Aid, and a bag of chips to go with it!
– Three different trading card packs!
– A Batman bookmark from 1989!
– A mega pack of six Blinku Micro Monsters!
– Dino Drac's June 2015 Funpack newsletter! (Not shown.)
There is a lot of stuff in this one, and I can say with all certainty that this Funpack will be tough to top!
If you've heard enough, skip to the bottom for ordering info. If you need a harder sell, enjoy a closer inspection of June's loot!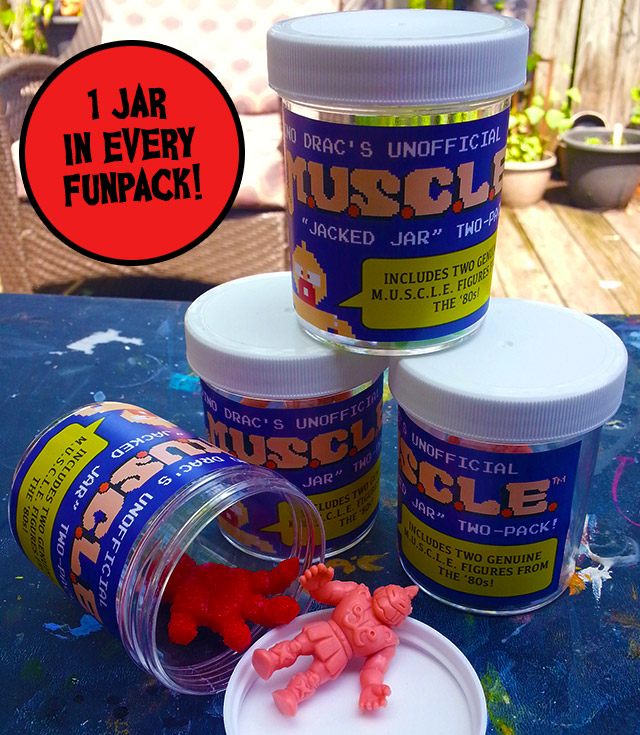 The star of the June Funpack is Dino Drac's Unofficial M.U.S.C.L.E. "Jacked Jar" Two-Pack! Each clear jar is stuffed with two vintage M.U.S.C.L.E. figures from the '80s! The jars are decorated with a custom label, and no figures are being held back — all of the best of 'em are here! (I'll be using a mix of flesh and neon colored M.U.S.C.L.E. figures for this endeavor. You're gonna love these!)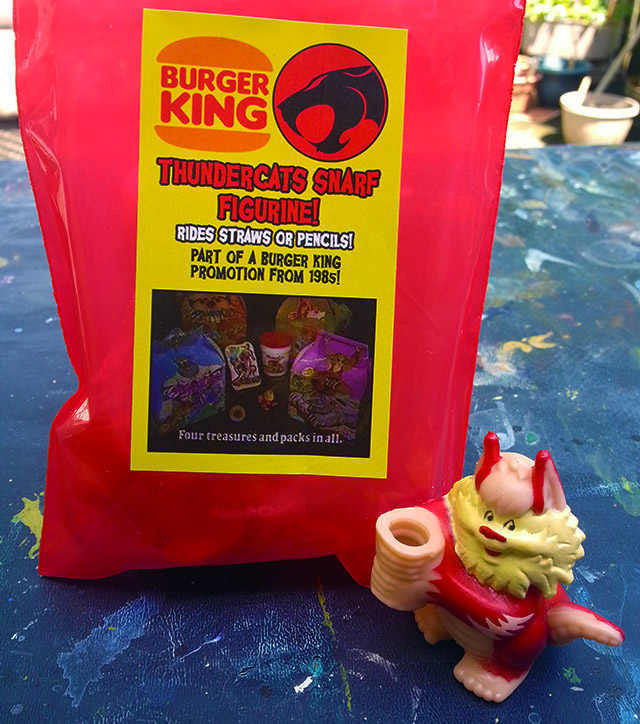 Next we have a Thundercats Snarf Pencil Topper, which was distributed back in '85 as part of a Burger King promotion. Each figurine is unused and still sealed in its original baggie — but I went ahead and double-bagged 'em with custom Dino Drac packaging!
(Yes, I know that a couple of you may have gotten these in an erstwhile version of the Funpack from long ago — but I think Snarf is cool enough to want two of!)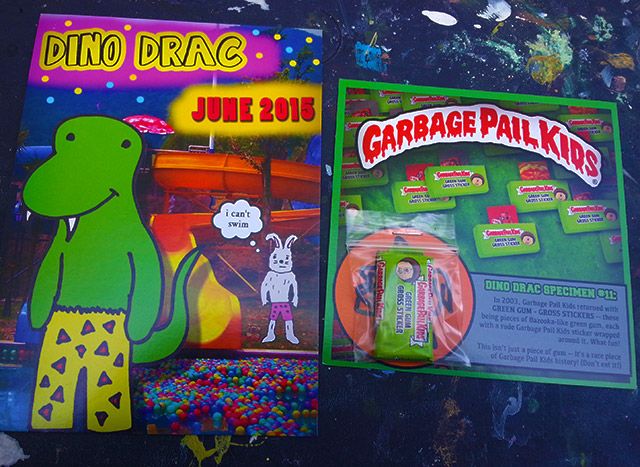 As we head into summer, Dino Drac's June 2015 Ugly Mini-Poster puts our pals in some goofy water park. Then, for the June 2015 Specimen, you'll each get a piece of very obscure Garbage Pail Kids "Green Gum," from 2003! (These pieces are still wrapped with a little Garbage Pail Kids sticker inside, but as always, you should NEVER eat a Dino Drac Specimen! Each is bagged and stapled to a 5×5″ display card.)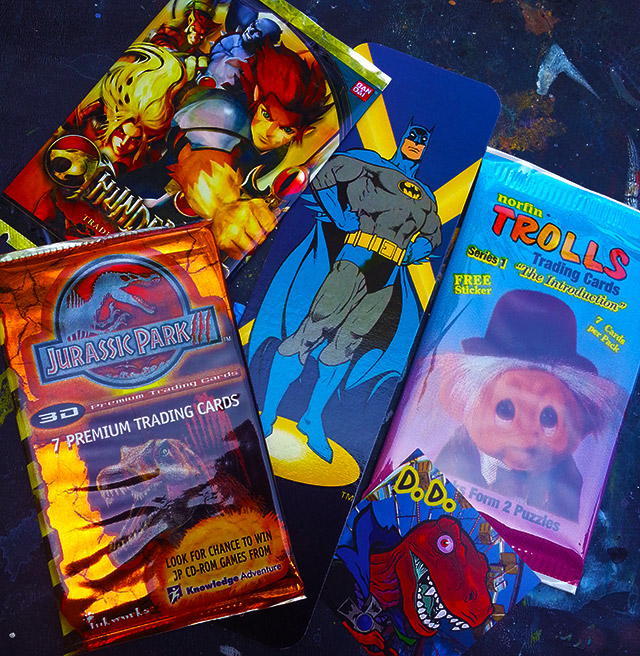 OH GOD THERE'S MORE. I think you'll enjoy tearing through these old trading card packs. Included this month are Jurassic Park III (how timely), Norfin Trolls, and a more recent pack of Thundercats cards. For some reason, you're also getting a vintage Batman bookmark, from 1989!
Our Kool-Aid hot streak continues. This month, you'll receive a fresh pack of Great Bluedini — one of the most beloved (and rare) Kool-Aid flavors of all time! I'll also toss in a random bag of chips, because what fun is Kool-Aid if you don't have some salty trash to wash it down with? (Snack bags will vary — you'll get one of six different flavors.)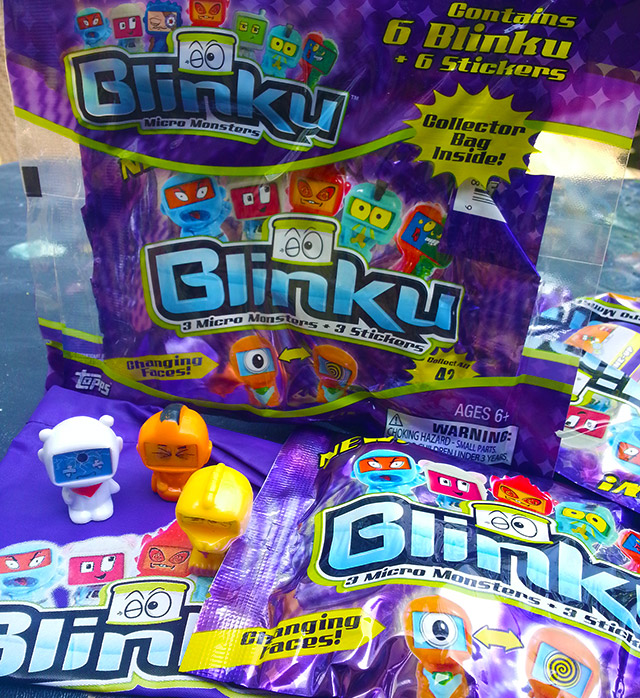 Then, jeez, even more! A mega pack of Blinku Micro Monsters! These are super cool little figures with lenticular faces. I know most of you have never heard of them, but trust me, you're gonna fall in love. Each sealed pack comes with six Blinku figures, and a neat little sack to carry 'em around in.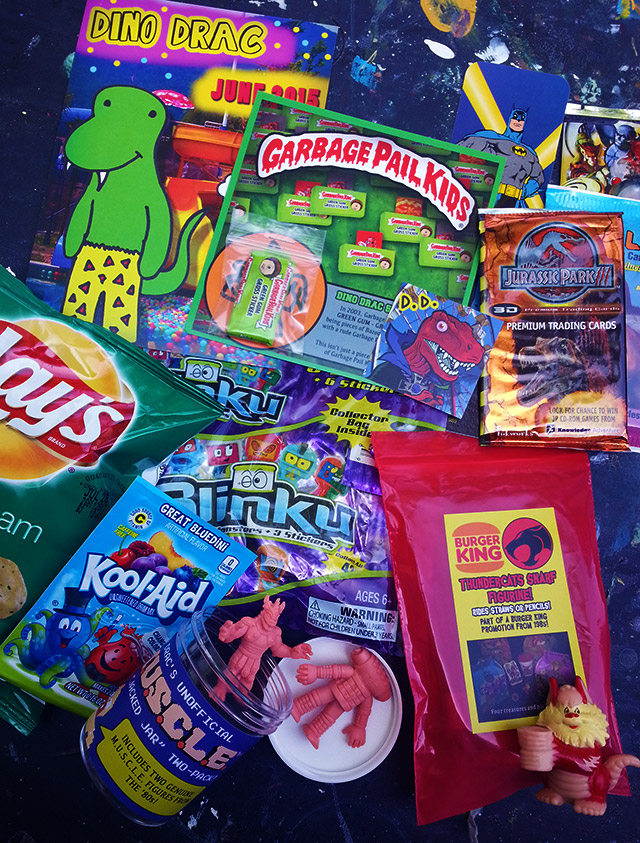 That's one hell of a spread, and IMO, you're getting a big bang for your buck this month. All of that, PLUS the newsletter, for $25 shipped!
If you're already a subscriber and you'd like to stay that way… do nothing! You're all set!
If you'd like to sign up, please read the following, and then click on the button at the bottom of this post!
1. Funpacks are available in the United States only. Sorry!
2. Subscriptions are handled via Paypal. If you don't have an account, it's very easy to make one!
3. Funpacks will be shipped to the address listed on your Paypal account. If you need to change your shipping address, or if you'd like for your Funpacks to be shipped to someone else, simply email me!
4. You will be automatically billed every month. If you subscribe today, you'll pay today, and then again in exactly one month. For as long as you remain subscribed, you'll keep getting Funpacks!
5. You can cancel at anytime. (You could subscribe today and cancel today!) If you cancel after you've already been charged for the following month's Funpack, you'll of course receive it just the same as any current subscriber would. You always get what you pay for!
6. The June 2015 Funpacks will ship on or before 6/16!