I love Christmas stockings. The way they look, the way they feel, the way they get filled up with tiny toys. The way they let me hammer nails into studless walls that could support nothing heavier than a 14" sock. They're 100% great.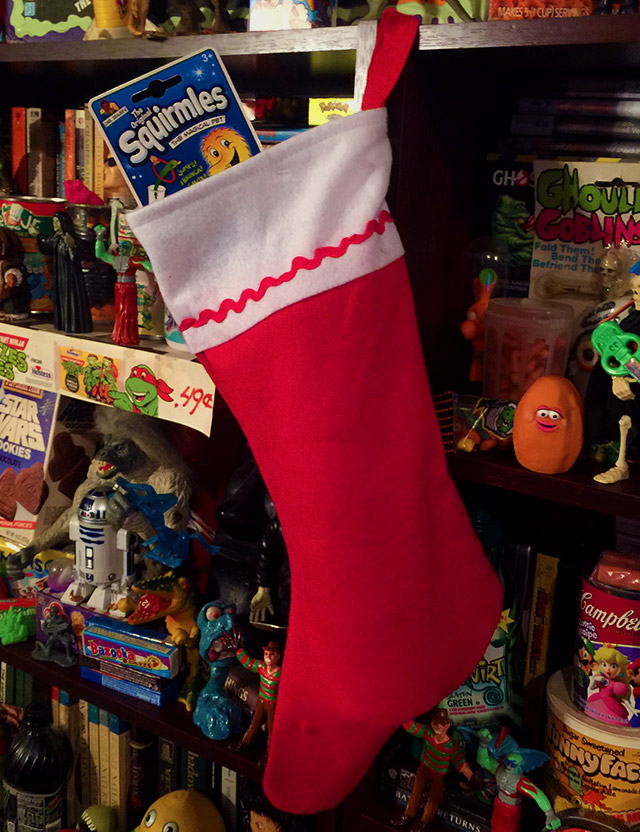 During my earliest years, this was the one classic Christmas tradition that my family kind of skipped over. We had plenty of stockings, but they were only used as decorations. It was such a pisser, because the world revolved around me, and a pile of Inhumanoids and Nintendo games under the tree meant zilch if it wasn't accompanied by a sock full of extra garbage.
After several "depressing" Christmases, I successfully lobbied for stocking stuffers. At first, my family just took this to mean that I specifically wanted Christmas presents that would fit in a stocking, rather than outright additional gifts. Corrective measures were taken. Eventually, I got the stocking that I'd always dreamed about, filled with crayons and candy canes and Super Elastic Bubble Plastic. I put down the knife.
If you're in charge of filling a kid's Christmas stocking this year, I'm here to help. See below for five Matt-approved stocking stuffer ideas.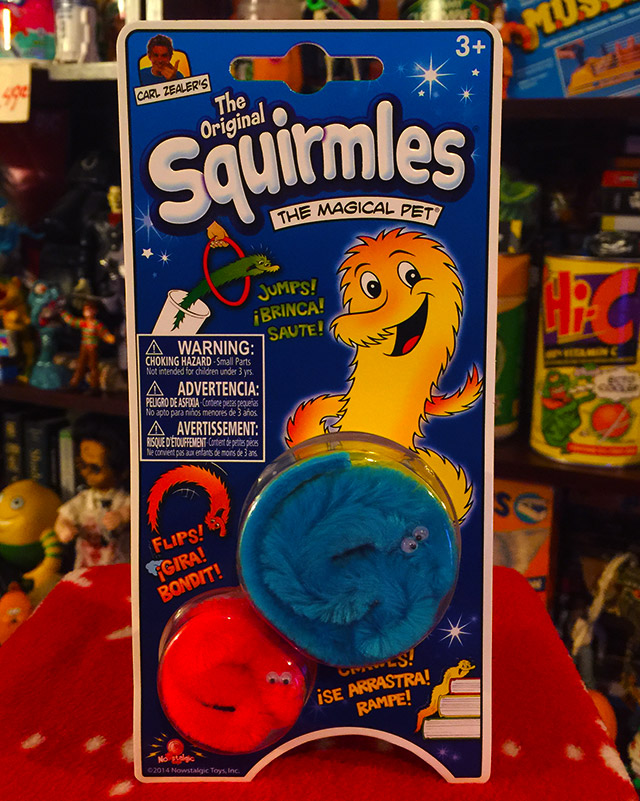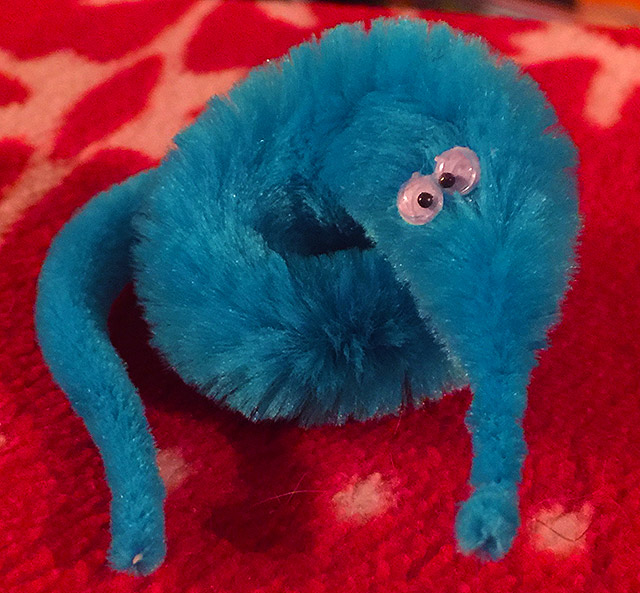 Squirmles!
(Buy on Amazon)
I'm so happy that Squirmles are still a thing. Believe it or not, these were some of my favorite toys as a child. I'd frequently choose them over actual action figures during Toys "R" Us runs. I went through dozens of those little guys, and I named all of them Slick.
If you've never heard of Squirmles, they're just fuzzy worms with googly eyes, attached to "invisible" wires that let you turn simple puppeteering into an apparent act of God. They're marketed mostly as magic tricks for kids, but I think the bigger sell is in getting a new fake pet.
This particular set comes with one "regular size" critter, plus a cute baby version that's precisely 50% more easily ruined.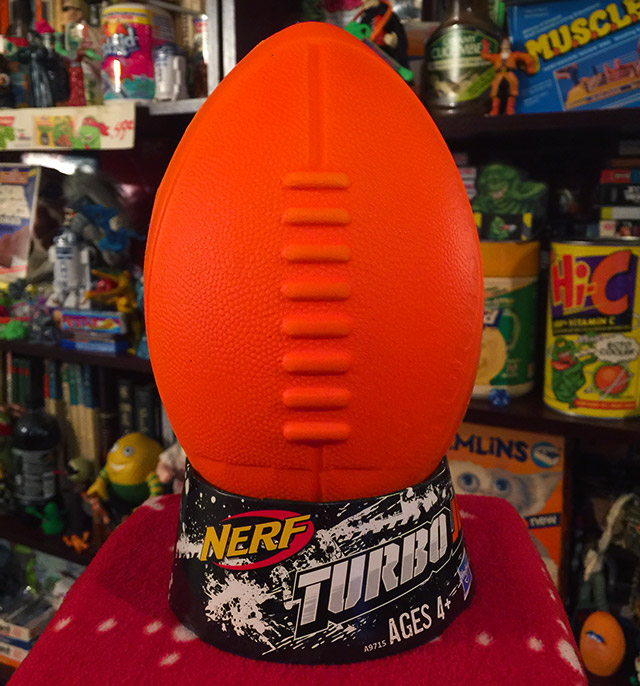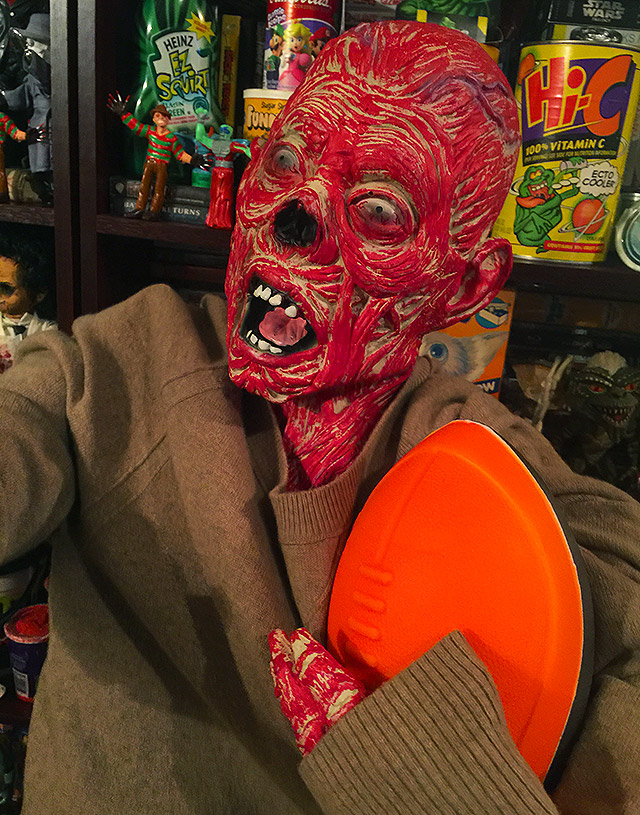 Nerf Turbo Jr. Football!
(Buy on Amazon)
You don't hear a lot about sports from me, but I've long made exceptions for Nerf. My friend had a similarly soft Nerf football when we were kids, leading to ill-advised Super Bowls staged directly from his living room. Football's so much more fun you can dive over recliners and knock shitty matador paintings off the wall.
This one is extremely soft, to the point where you could only hurt someone with it if you were actively trying to. Given that so many of my childhood sports fears tied directly to the idea that some neighborhood Bluto would slug me in the face, I am all about Nerf's Turbo Jr. football. The fact that it's colored like a persimmon is an odd but undeniable bonus.
(You might think that this is too big for a stocking. Maybe it is. I guess it depends on the stocking. You've seen Pee-wee's Christmas special, right? You could've fit 20 footballs in his.)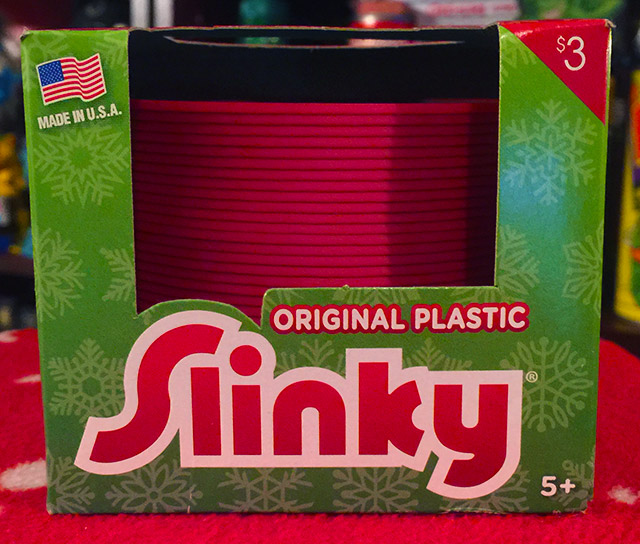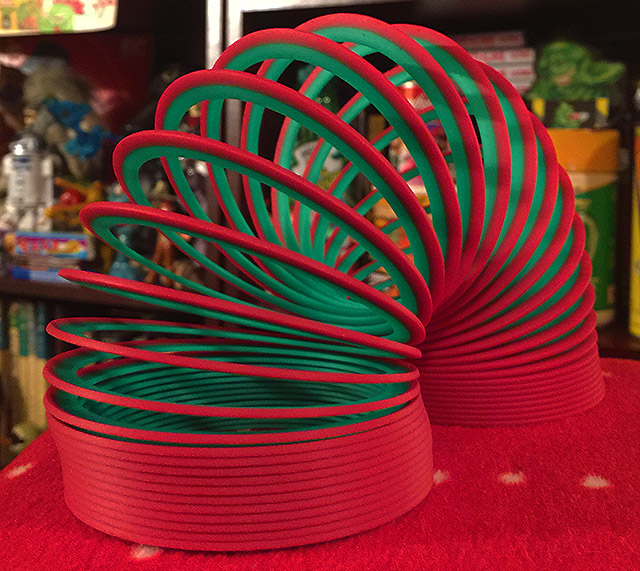 Slinky!
(Buy on Amazon)
Here's the thing. If you have kids and you celebrate Christmas, the stocking is one of the best ways to force your own passions on them. If I had a son, I'd like to think that he'd be obsessed with Captain Phasma and Rocksteady, but if he wasn't, I'd get him what he wanted. With the stocking, though, all bets would be off.
Kids don't get to pick stocking stuffers. Kids don't write to Santa and draw in a little sidebar for stocking stuffer ideas, not because they don't want to, but because they know that Santa draws a fine line between enthusiasm and greed.
The stocking is your best shot to buy the eight-year-old version of you Christmas presents. It's here where you can safely introduce kids to the stuff you really like. Nobody's sent a Slinky down the stairs for more than twenty years, but so what? It's going in. You remember the Slinky and you loved the Slinky. If your kid doesn't, great, you'll take that shit back in January.
I normally prefer the traditional metal Slinky, but at this point, the red-and-green plastic holiday edition seems just as classic.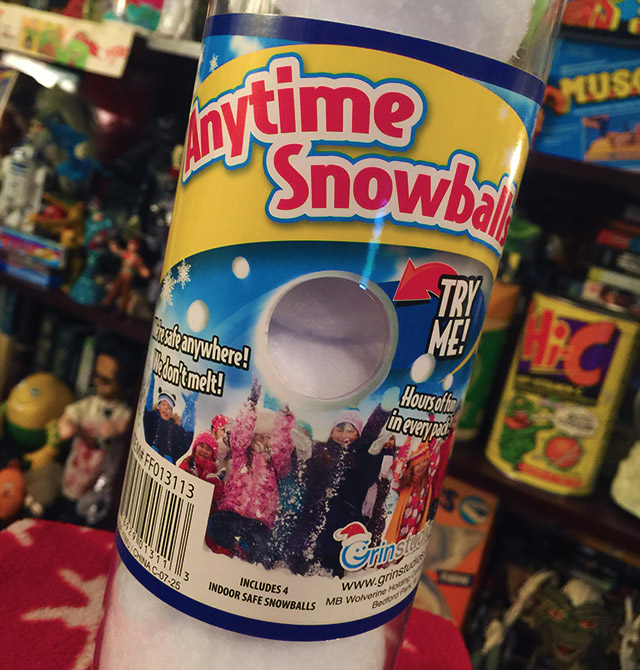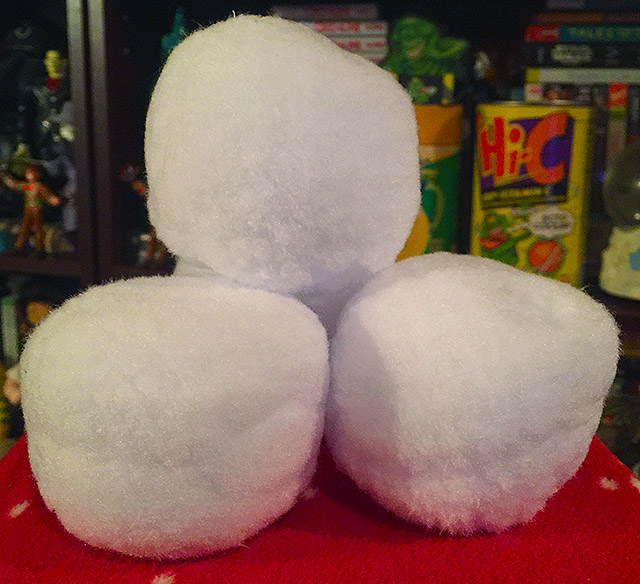 Anytime Snowballs!
(Buy on Amazon)
I wasn't expecting much when I bought these, and if I didn't have a blog to run, I wouldn't have considered making the purchase. At first, I thought they were literally just balls of cotton sold at what I guessed was a 50000% markup.
In truth, they're much cooler (figuratively, duh) than they look. While the outer layer is made of the same cheap stuff that you might build Halloween spiderwebs out of, each snowball hides a beanbag-like core. This makes them seriously FEEL like snow. When you press into them, they make the same pleasant snow crunch and everything. It's fantastic.
I can only assume that they're meant to be used for indoor snowball fights. I tried to use them as cat toys, but after throwing them to four different cats and being met with the same "are you serious" face all four times, I guess they're too big for that.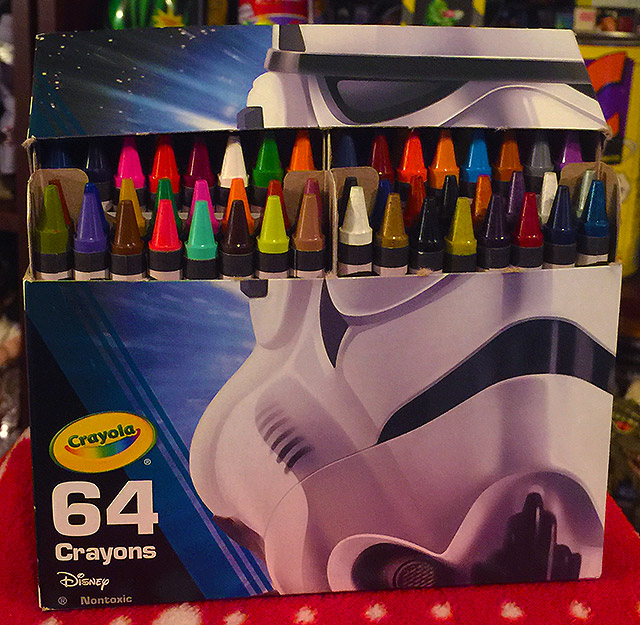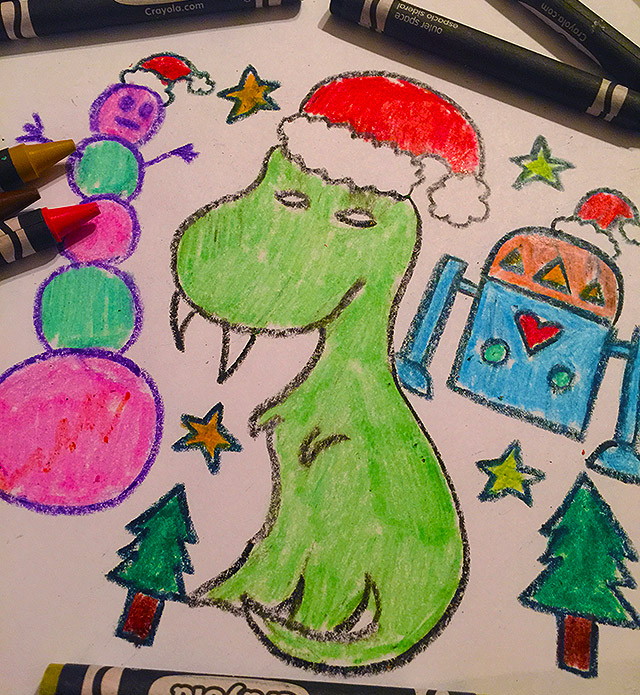 Star Wars Crayola Crayon Box!
(Buy on Amazon)
This is important, so I'll do it in caps: NO CHRISTMAS STOCKING IS COMPLETE WITHOUT CRAYONS. If you don't want to splurge on a 64-pack, fine, but at least throw an 8-pack in there.
My love for Crayola has been expressed a thousand times over the years, and it's never been a put-on. I think some people have this idea that they need to be good at drawing and coloring to have fun doing those things. I cannot overstate how untrue that is. I've never been good at drawing, and I've always loved drawing. The picture up there isn't some adorable attempt to doodle like a 2nd grader. That's just how I do.
This year, you have a bonus reason to fill a stocking with Crayola crayons. Several boxes currently come with Star Wars themes, featuring revamped packaging and several renamed crayon colors. I already loved Crayola crayons, but dressing each of them like a cylindrical Darth Vader has made me super extra careful about not breaking them.
Was your family a "stocking family" as a kid? Are you part of a "stocking family" now? What kind of things did you get? What kind of things are you stuffing them with now? Tell me everything about your history with Christmas stockings. I demand it.
PS: If you missed it earlier this week, the latest episode of The Purple Stuff Podcast has dropped!