Hoooo boy. This was worth every ounce of sweat and every minute of the hours-long drive.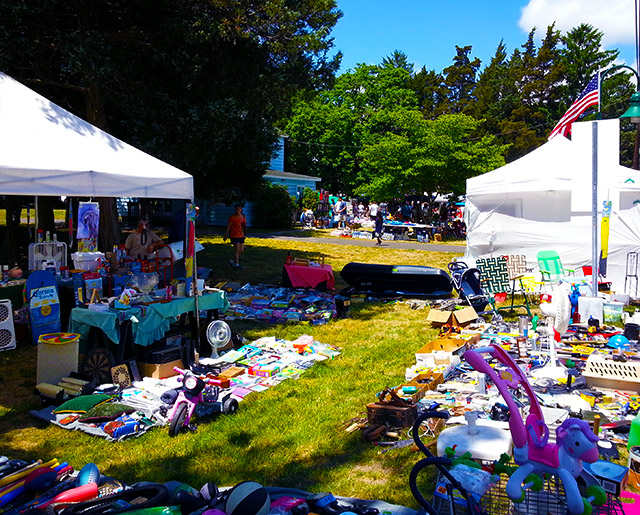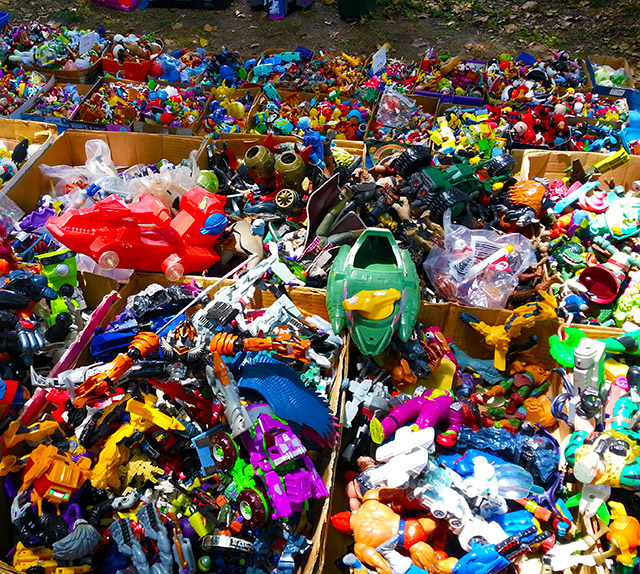 It's a Toy Show — essentially an outdoor flea market that dealt strictly in old toys — happened last Saturday in some part of Jersey that's otherwise populated by nothing but cows and Wawas. Hosted on the grounds of the incredible It's A Toy Store, the hundred degree heat did little to dampen the event's status as life-changingly awesome.
Dozens upon dozens of vendors took to picnic tables and ratty blankets, and nearly all of them had collections worthy of individual tributes on Dino Drac. And maybe rock anthems by charity supergroups. Holy shit, this was paradise.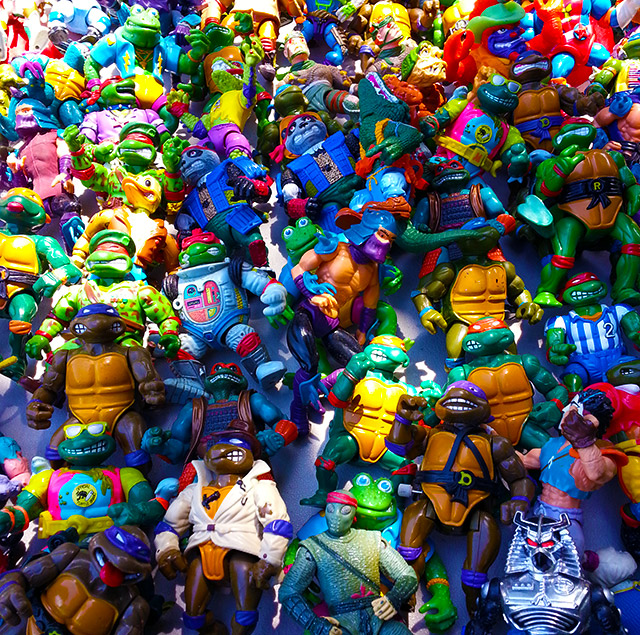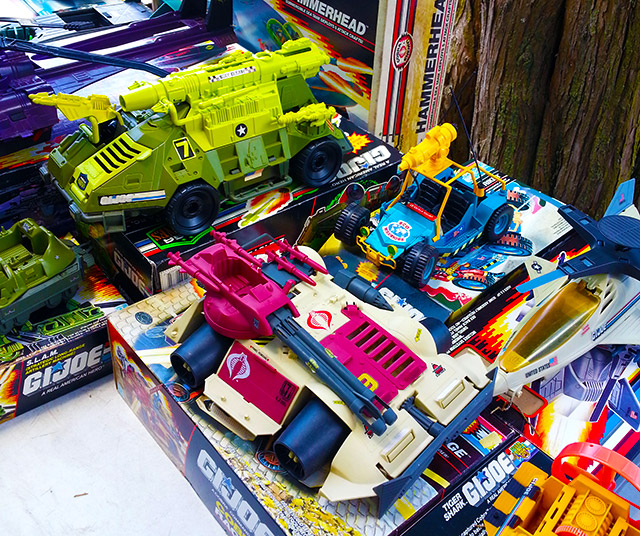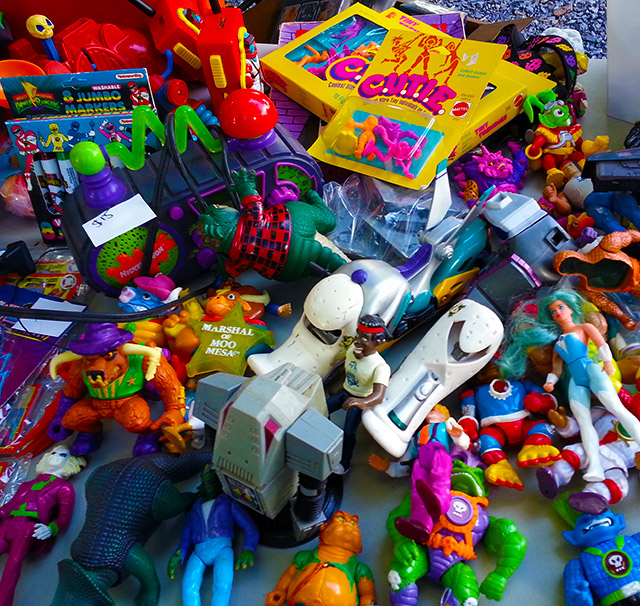 Now that I think about it, this was the first time I'd ever been to a straight-up toy show. There was a huge difference between this event and the many comic and horror conventions I've attended. With those, I hunt through mazes of unwanted junk for those six or seven dealers selling old toys, usually at prices that make eBay look like Goodwill. Here, not only was the plastic crap out there in ten thousand times the volume, but the prices were generally fantastic.
Had I only browsed, the show still would've been worth going to. Just seeing that many collectibles in person was thrill enough. How often do you get to stand six inches from a MISB Eternia playset? It felt like a time warp took the form of a tornado and spat the contents of a 1987 Toys "R" Us all over some guy's lawn.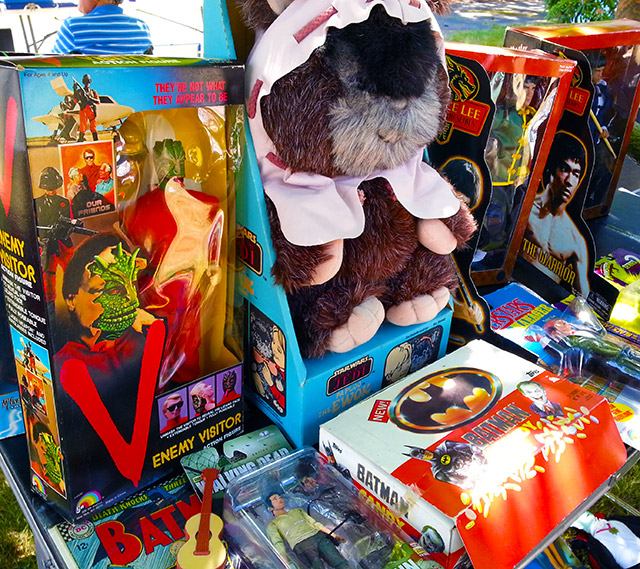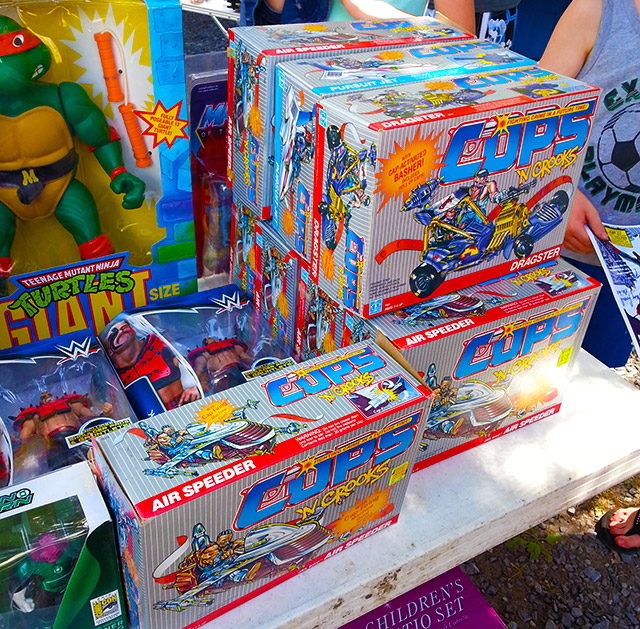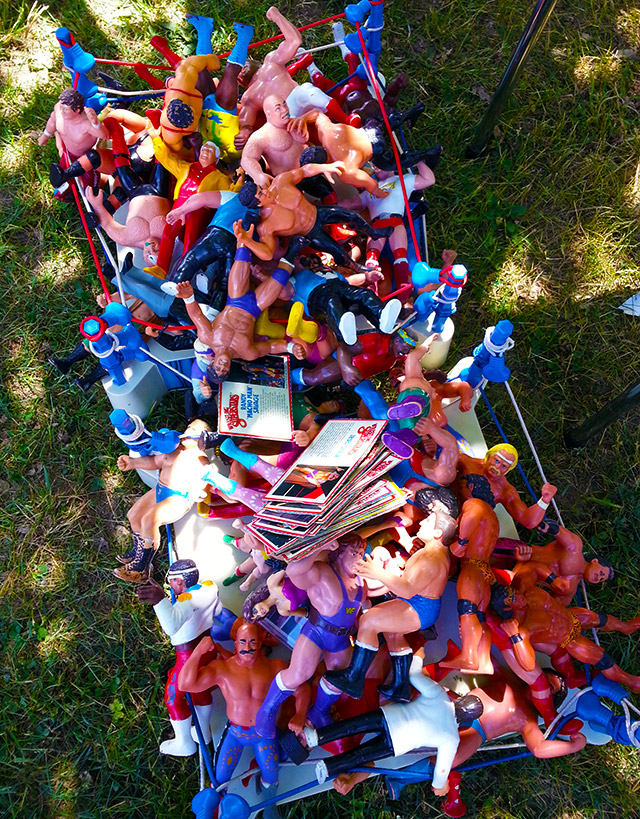 Not all of the dealers were cheap, but many were. It might not seem this way if you're a regular reader, but I'm actually quite picky about old toy prices. During past visits to various conventions, I've often left with only one thing, and those "one things" were only purchased so I wouldn't have to act bratty on the drive home.
But here? Wow. I was a lunatic. I went home with gobs of stuff, and had I a bigger budget, I could've filled five car trunks. People were selling action figures for as low as a quarter! Even the ones who weren't liquidating were far below eBay prices. In many senses, it was as if I'd stumbled upon the most idyllic yard sale ever. Gotta love that my personal vision of utopia is still so fucking filthy.
(Side note: It was also super nice to meet up with some web friends and Dino Drac readers. I guess I shouldn't be surprised to have found camaraderie at a place swarming with Street Sharks figures.)

Of course, I'm mainly writing this so I can gush about the ridiculous things I bought. Unfortunately, some of my best finds must be kept secret for now, lest I spoil the contents of several future articles.
Even after paring my fortunes down to things I'm okay with mentioning here, it was still a hugely successful trip. Check out five of my finds, down below!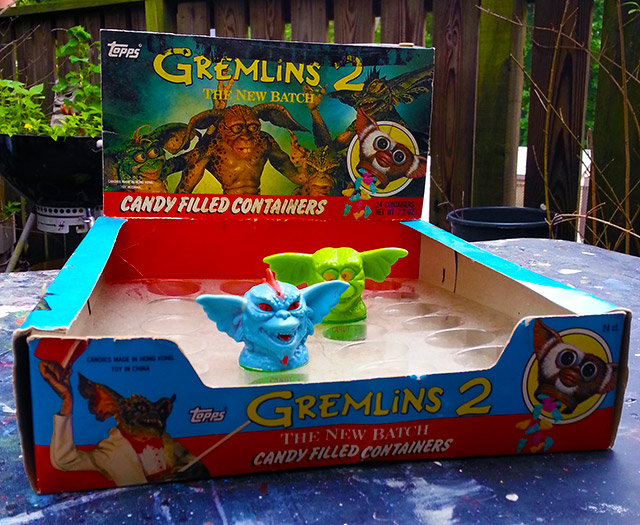 Gremlins 2 Candy Containers Box!
Price: $6
This was my first score of the day. Talk about getting off on the right foot! I'd have bought the display box at that price even if it didn't come with two of the candy containers. Best of all, one of those two containers was of Mohawk, with chalky blue skin that isn't exactly movie-accurate, but still totally welcomed.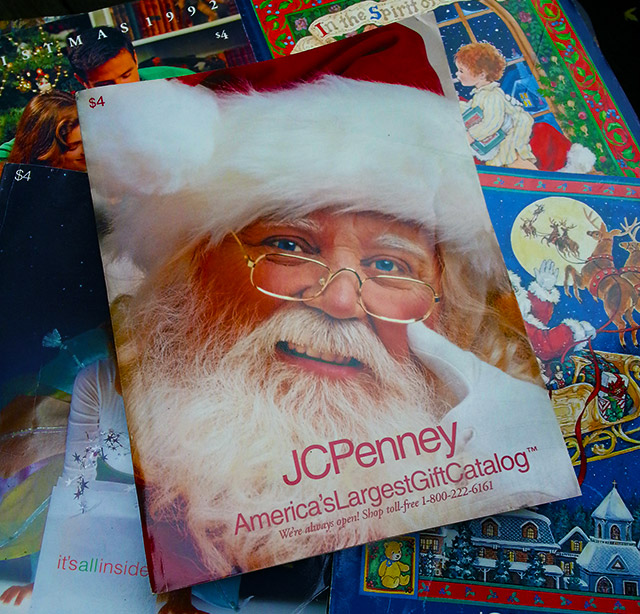 Old Christmas Catalogs!
Price: $5 each
Sears Wish Books, JCPenney catalogs and more! Some dude had a huge box of them, and I can tell you from experience that these catalogs were a crazy steal at five bucks each. I picked a bunch from the '80s and '90s, each in nigh-perfect condition. (They won't be in such great shape after I cut them to death for future toy catalog reviews, but hey.)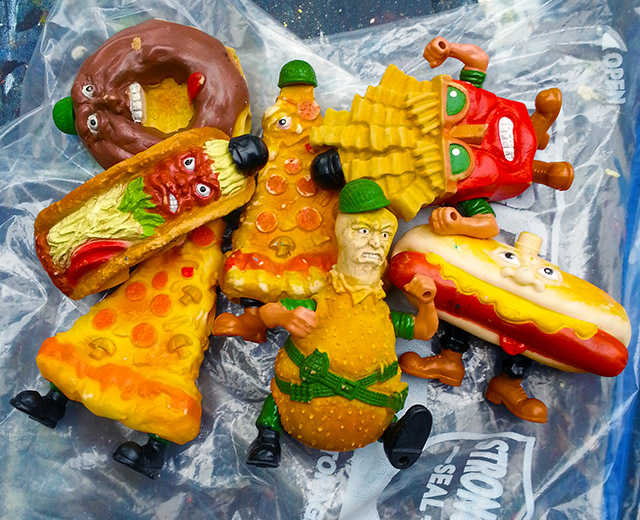 Bag of Food Fighters!
Price: $15
Considering that only two of them had both arms and both legs, this wasn't an absurd bargain, but still very much worth the money. Food Fighters is quietly among my favorite toy lines of all time, and those figures have become pretty hot commodities on the collectors' market. Fifteen bucks for seven of 'em in any condition is solid, all things considered.
I'm ecstatic to have finally reclaimed Fat Frenchy. He was my favorite as a kid, thanks to the simple truth that there is literally NOTHING cooler than anthropomorphized french fries wearing sunglasses.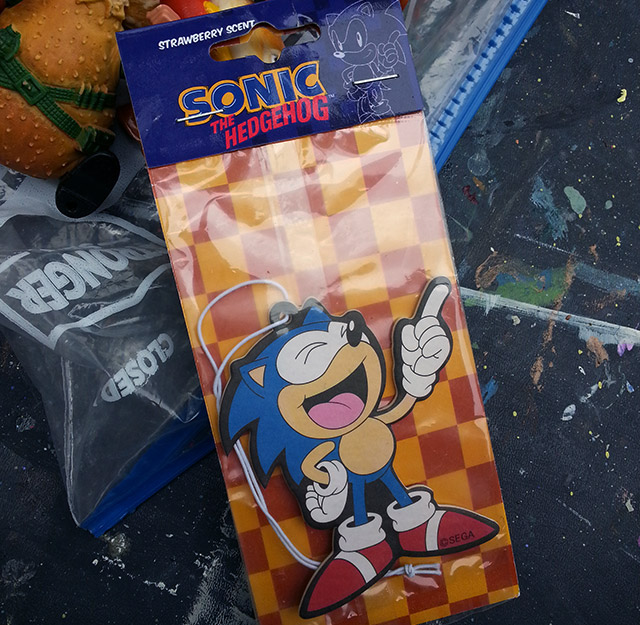 Sonic the Hedgehog Air Freshener!
Price: $1
Nice of them to have clearly advertised the strawberry scent. I can just imagine how many potential buyers would've balked at the thought of what an always-running hedgehog might smell like. I'm thinking cedar chips 'n crotch.
Finding out that such a thing existed was treasure enough, but I couldn't leave it behind at this price.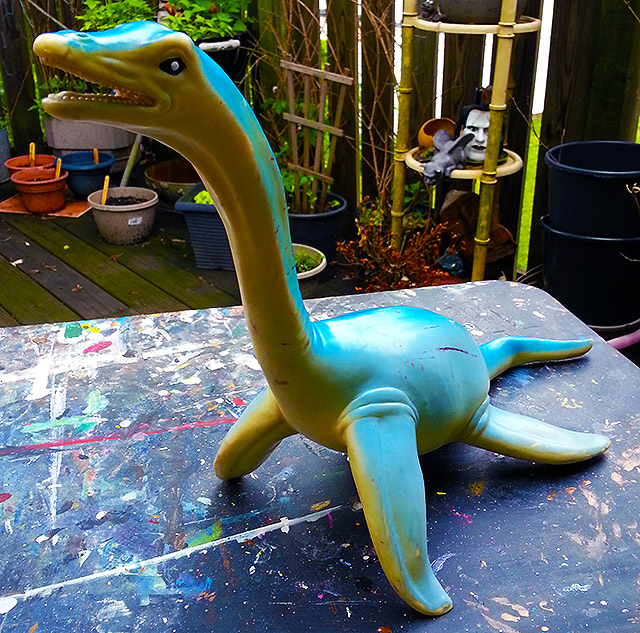 Giant Elasmosaurus!
Price: $2
Found this guy right before we left. It was love at first sight. To you it's just a dirty rubber elasmosaurus, one that's hardly worth touching let alone paying for. I, however, see the potential for righteous animism. This is no toy. This is a friend.
In the weeks ahead, the best of my finds will begin popping up on Dino Drac. (Let's just say that I'll plow through the next few editions of Five Random Action Figures very easily.)
Special thanks to The Sexy Armpit for discovering this event and taking me to it! (And to It's a Toy Store for hosting it in the first place!)