After an action-packed WrestleMania weekend that's left me feeling like I've lost the right to ever eat or drink again, I return to normalcy with eight thousand words about ratty toys.
Below: The sixteenth edition of Five Random Action Figures, starring one green guy, one white guy, one yellow guy and two red guys. But not in that order.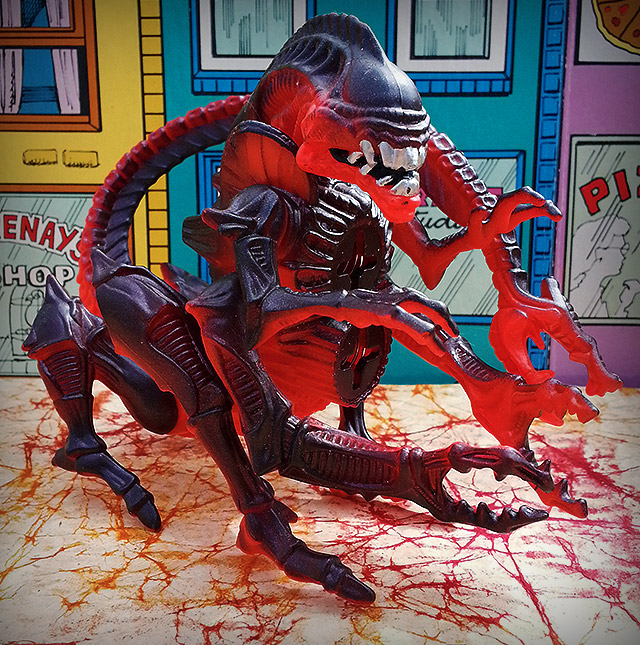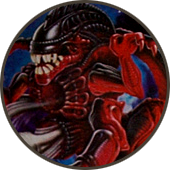 Killer Crab Alien
Aliens, 1992
Another of Kenner's animal/Xenomorph hybrids, I found this one at a horror convention a few weeks ago. There he was surrounded by other incomplete action figures, all nestled into what I'm pretty sure was an Easter basket. The five dollar price tag made buying him a no-brainer.
"Mutant extraterrestrial crabs" absolutely defines my wheelhouse, and while I'd concede that other Aliens figures were objectively better, none of them were crabs. Looking like Modulok in beast mode, the Killer Crab Alien has two arms and four legs, or possibly two legs and four arms, or maybe it's two arms and two legs and two limbs pulling double-duty. Also, his tail is a prehensile trident.
Unfortunately, mine is missing its pair of projectile Chestburster missiles. If you're confused by the term "projectile Chestburster missiles," just know that there's no better way to describe them. Even without those, he's as monstrous and can be, and even a backdrop of Crayola-colored storefronts does little to reduce his photographical badassery. (more…)
I wouldn't normally go back to the "Five Random Action Figures" well so soon, but I'm tired and I have a headache and my car is broken, and this is the only series I can handle when I'm completely oblivious to what I'm writing. My favorite blog about raising a chimp in a screen house hasn't updated in a while, and I'm starting to fear the worst.
Here's the fifteenth edition of Five Random Action Figures, typed on a stormy night in a room that has no reason to smell like oranges, but does.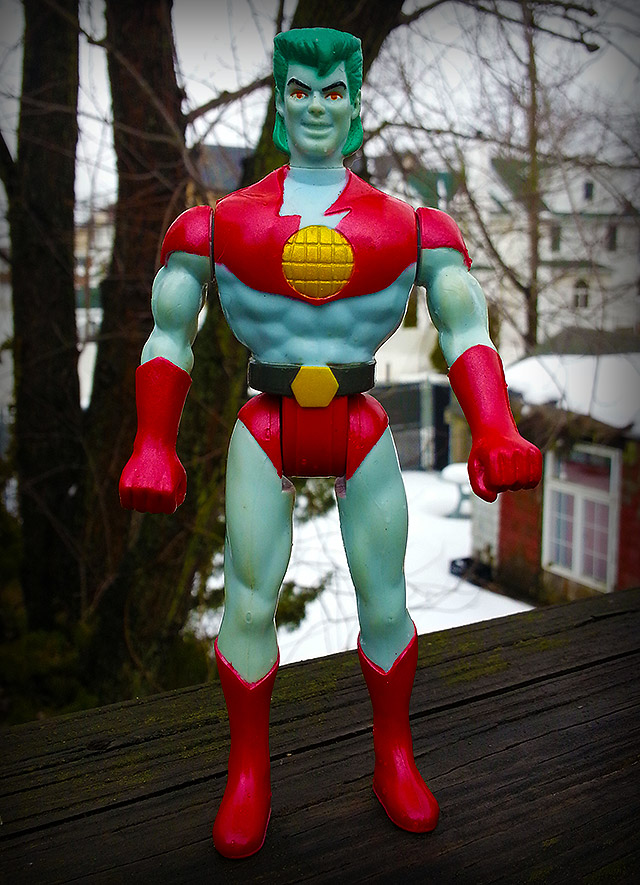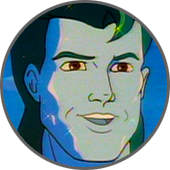 Captain Planet
Captain Planet and the Planeteers, 1991
With sky blue skin and a grass green mullet, Captain Planet was a superhero with an ecological slant. Summoned by magical rings worn by multicultural children, he'd fly in like Superman and never stop smiling, no matter how many bad guys threw fiery, poison-soaked logs at his face.
Positive anti-pollution messages aside, the cartoon existed to sell toys, and Captain Planet had a great line. In general, the villain figures outclassed the heroes, as it was pretty hard to pick some noodnik teenager over a snarling rock man with lumpy, glow-in-the-dark skin.
99 out of every 100 people remember the first verse of the Captain Planet theme song, which according to legend was written by Phil Collins. That's untrue, but let's roll with it, because if there's anything weirder than a theme song about an environmentally conscious flying blue man, it's that plus Phil Collins. (more…)
Tonight's article is about fast food kiddie bags from the 1990s, which is as close as I may ever come to literally writing about garbage.
Really, focusing on the bags is just my way to highlight five memorable fast food promotions, starring everyone from Spider-Man to Amy Monkey.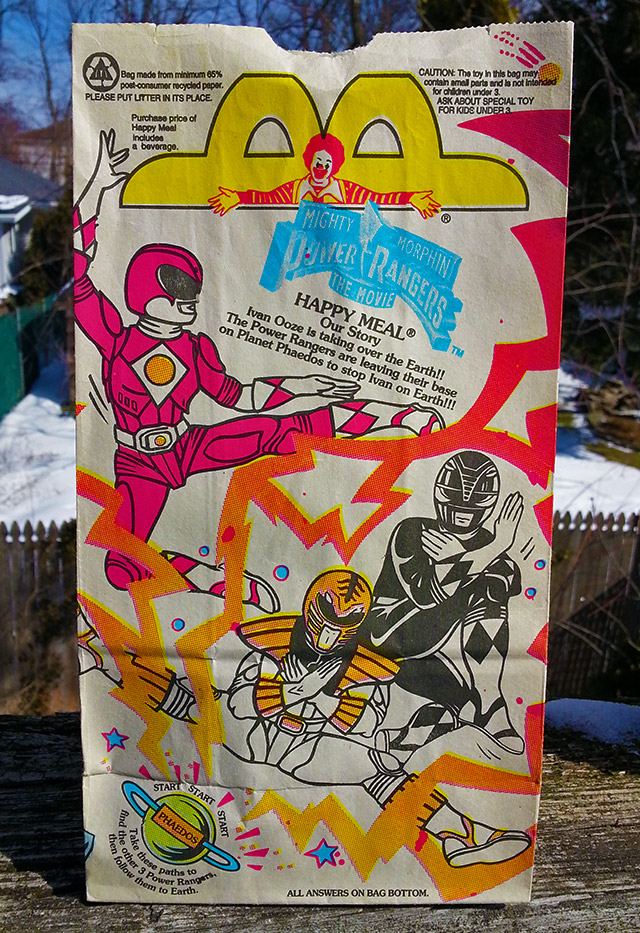 Mighty Morphin Power Rangers: The Movie!
McDonald's Happy Meal, 1995
I've come to dig the first Power Rangers movie. Guess I needed a full twenty years to truly appreciate Ivan Ooze, a sort of otherworldly midpoint between Brother Justin and Ursula. When one could accurately summarize a film with "villain mass produces toy slime that turns people in drooling slaves," I feel an almost religious need to champion said film.
It isn't surprising that the movie scored a Happy Meal, but I'm shocked at how good the toys were. I mean, this was Power Rangers in 1995. They could've tossed anything in there, and kids still would've lost it. Instead we got a set of six legit action figures in accompanying Zords. The figures were on the small side, but they still way overachieved for McDonald's toys.
UPDATE: I've since been told that these figures were actually sold apart from the Happy Meals — which included smaller MMPR doodads — and thus weren't exactly "free." Oh well. They did seem a little too good to be true.
I've been salivating over the many reveals from this year's Toy Fair, which collectively guarantee that I'll have five cents to my name by the end of 2015.
To cool down, I thought I'd take a minute to appreciate what I already have… and stop worrying about how I'm going to afford seventy thousand new Decepticons. Curse my toxic plasma.
Here's the fourteenth edition of Five Random Action Figures!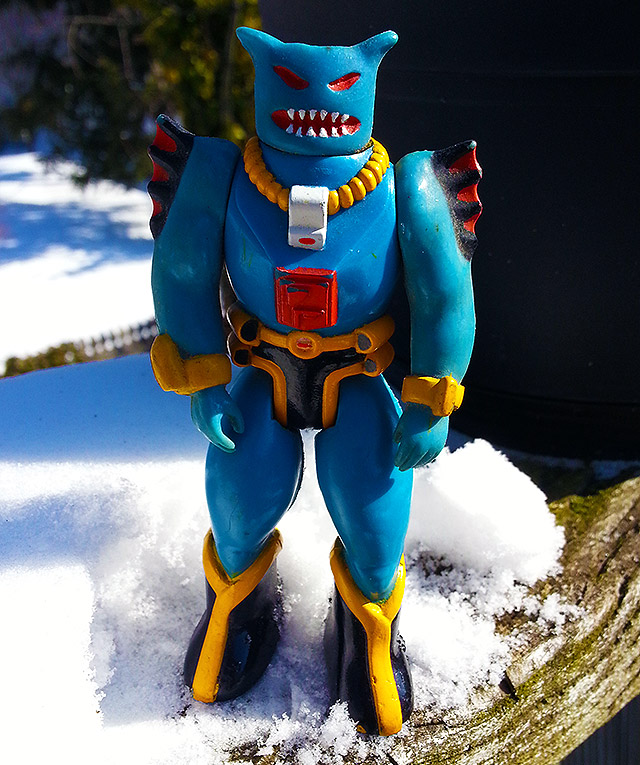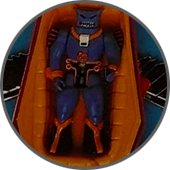 Robeast Scorpious
Voltron, 1984
Through the years, I've been pretty quiet on the Voltron front. I had the big lion set and watched the show often enough, but my ability to retain Voltron knowledge is weirdly horrible. I'll never understand it.
My silence has been a disservice, because aside from the giant robot toys that everyone thinks of when they hear "Voltron," Panosh's accompanying series of standard-sized action figures absolutely RULED.
Here we have Robeast Scorpious, a gorgeous blue demon that was equal parts Darth Vader and Ganon. If you didn't know that he was from Voltron, you might imagine him to be from some knockoff line sold at 1980s supermarkets. Or possibly the fruit of a six-year-old's Play-Doh project. I just love him. (more…)
We're in the middle of a blizzard, and it'll be a miracle if I'm able to finish this article before the power goes out. If I sound like I'm rushing… I am!
So, onward with the thirteenth edition of Five Random Action Figures. I took these photos over the weekend, hoping to capitalize on a picturesque snow dusting. Little did I know that I'd have forty feet of it to work with just two days later.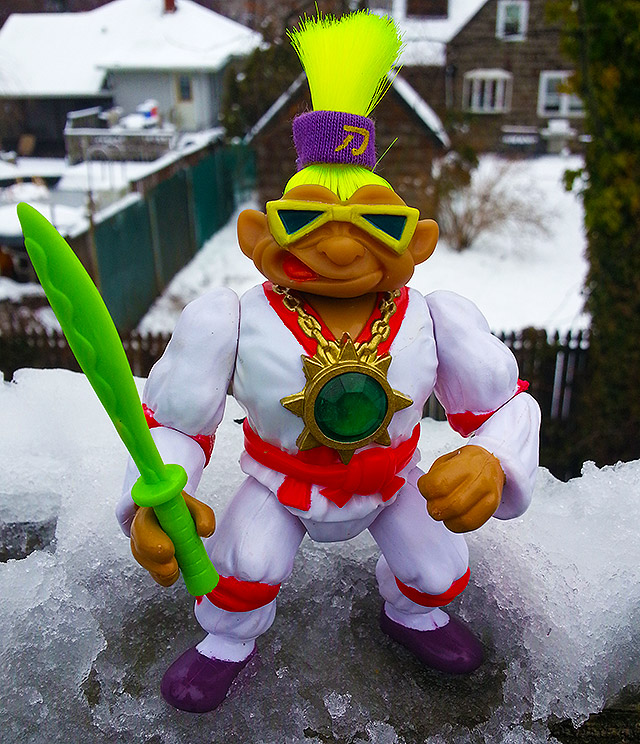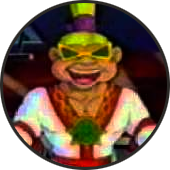 Cornelius the Samurai
Stone Protectors, 1993
Stone Protectors was one of several toy lines made to swipe glow from the Norfin Troll craze, but it was also arguably the best of them. Boosted by an animated series and a Super Nintendo game, this was the story of a shitty rock band turned into screwy Troll superheroes by the power of five magic stones. (I'm serious. That was the concept.)
Most Troll-themed action figures were made on the cheap, relying on poofy hair to keep people from noticing a lack of articulation and other finer details. That wasn't the case with Stone Protectors, which would've been right at home in Playmates' old Ninja Turtles line. The figures were bright, detailed and poseable, and they came with plenty of accessories. Of course, no Troll is complete without funky "real" hair, so Stone Protectors had that going for 'em, too.
Cornelius here was the team leader, and probably my favorite from the set. How can you not love a Troll with electric yellow hair who is both a rock vocalist and a goddamned samurai? Is that what they mean by a slash career?
In a neat touch, you can move Cornelius's arm to make his chest jewel "spark." (Picture a lighter that can't maintain a flame. Cornelius's sparking jewel worked something like that.)
The line wasn't a big success in its day, and hasn't caught on with collectors since. That's good news for you, because Stone Protectors figures are absolutely boss, and you should have to pay three times more than you'll actually need to. Act fast, before everyone smartens up. (more…)