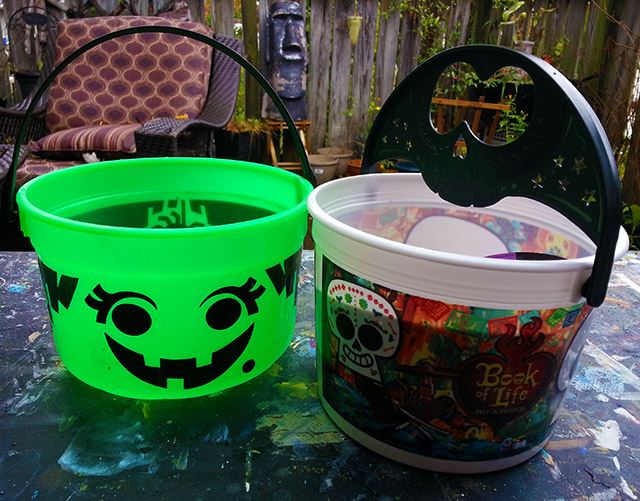 They're not McBoo pails, but they're the spiritual successors!
Now at McDonald's, each Happy Meal comes with one of two trick-or-treat pails based on The Book of Life, which isn't exactly a "Halloween" movie, but remains perfectly on-point because its promotional imagery deals mostly in chalk white skulls.
McDonald's has been putting out similar pails for years now. It started in 2010 with a Mr. Potato Head theme, and I don't think they've missed a season since. The pails are always lidless, always stinking of fries, and always accompanied by a circular sheet of stickers. (more…)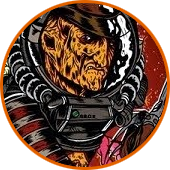 We spent the weekend at the headquarters of Freddy In Space, taking years off of our lives with a mix of pizza, pumpkin beer and Crayola crayons. I suspect I'll be fully recovered by Christmas.
The best thing about John's house (aside from Mothman the cat) is his absolute swarm of horror memorabilia, permeating literally every corner while still somehow staying completely organized. I could blog for weeks about his collection, but for now, I'll just focus on a few random action figures.
Yes, in this edition of Five SPOOKY Action Figures, the toys actually don't belong to me. These were all found on John's shelves, and hastily photographed on the steps outside his house. I normally prefer to stick with what's in my own collection, but these weirdos were cool enough to break that rule.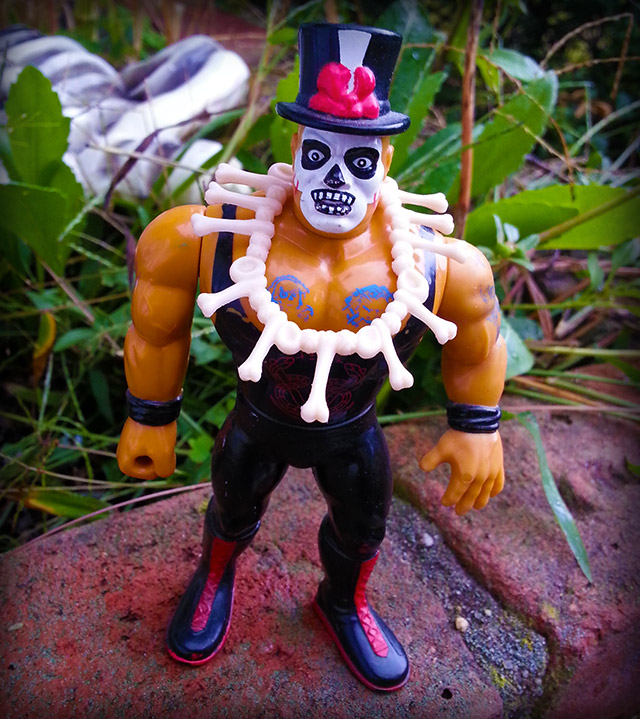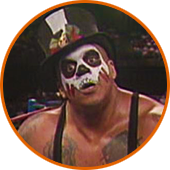 Papa Shango
World Wrestling Federation, 1992
WWE has unleashed dozens of Halloween-appropriate wrestlers, from giants who control fire to absolutely literal vampires. Still, few have been as on-the-nose as Papa Shango. WWE may have been a bit more diplomatic in their wording, but Papa Shango was a basically a cliched voodooist who defeated his opponents with BLACK MAGIC.
(Actually, he defeated his opponents with inverted shoulderbreakers, but let's not get too technical.)
The tricks usually occurred during interview segments, and man, they were out there. Best among them was the time Papa Shango caused the Ultimate Warrior to throw up on everyone backstage. (Some wrestlers got a push by being scripted to win matches. Others got it by making their opponents vomit.)
The height of Papa Shango's chicanery didn't last long. He ultimately became "just another guy," who rarely backed up his look with any B movie nonsense. Fortunately, he did stick around long enough to score a Hasbro action figure, with a weirdly irremovable top hat!
FYI: Charles Wright, who played Papa Shango, would eventually find much bigger success as "The Godfather" — wrestling's most lovable pimp! (more…)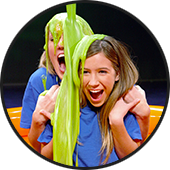 "Gak," originally a nickname for the slime used on Double Dare, first hit the retail market in the early '90s. From then on, the sludgy plaything slid in and out of production, always returning with new colors and weirder upgrades.
But over the last few years, Nickelodeon's legion of gloppy toys have become more permanently available. From "Green Slime" to "Floam," you won't have much trouble tracking any of them down. This includes Gak, of course.
The benefit to this increased availability is Nickelodeon's need to constantly reinvent themselves. After all, it'd get pretty boring to buy the same old Gak month after month. So, we get things like this…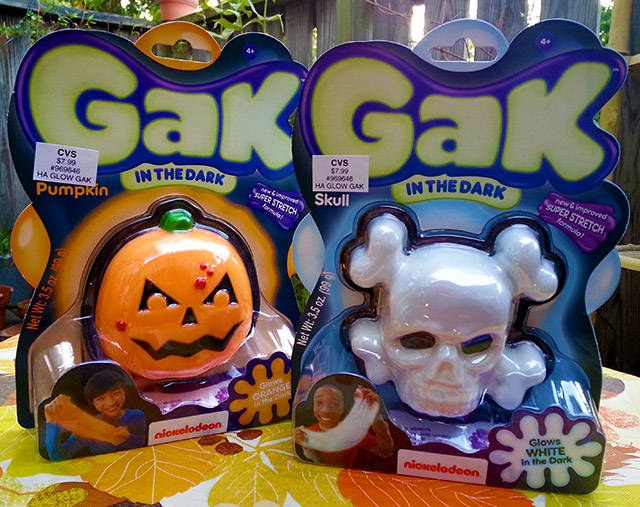 Halloween Gak, in two terrific styles! (The white Gak in the skull container has been available in the past, but I've definitely never seen that pumpkin Gak before.)
You could argue that only fundamental difference between Halloween Gak and regular Gak is the shape of the plastic container, and I guess you'd be right. But isn't that enough? (more…)
Okay, it's Saturday night and none of you are here, but I'm already panicking about how close we are Halloween. A scant 48000 hours away! I don't want to miss the chance to get even one more horrifying thing posted before the big day, so here I am. I'm so lonely.
Here's another batch of spooky action figures, covering everything from The Real Ghostbusters to Masters of the Universe to other long titles that look shitty in italics. Enjoy!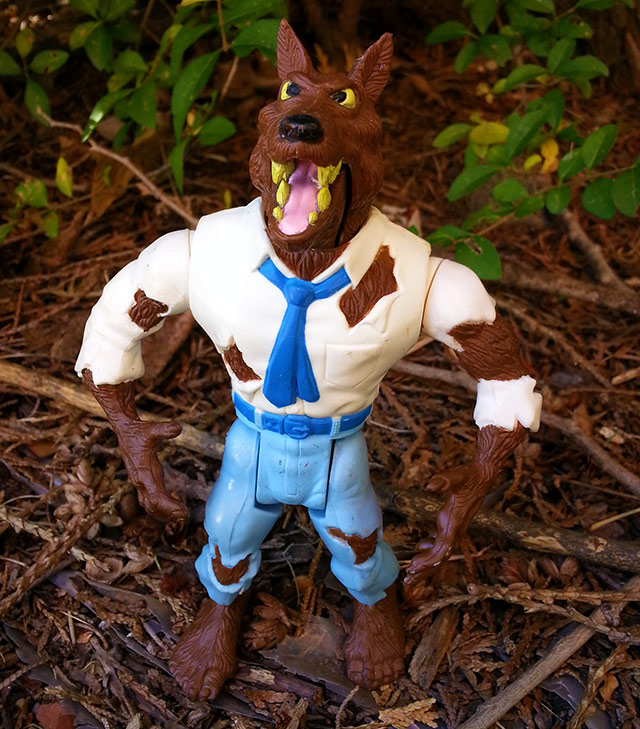 The Wolfman Monster
The Real Ghostbusters, 1989
Part of The Real Ghostbusters "Monsters" series, this Wolfman was in some respects the plainest villain in the entire line. That's not so much an indictment of Wolfman as a tribute to the sheer creativity Kenner put into their RGB figures. If a werewolf in tattered casual wear with a snapping jaw was the plainest guy in the line, you can just imagine how endearingly odd the rest of them were.
The "Monsters" series is sometimes criticized by fans. The thrill of RGB's villains was in their collective lunacy, so a bunch of "regular" monsters naturally paled in comparison. It's not quite a fair judgment, since there isn't much in this world that could compare to three-eyed blobs of purple flesh, or alien skeletons that trapped people in their ribcages. If this set seemed boring, it was only because the bar was set so high.
Actually, they're some of my favorite representations of classic movie monsters. (There were five others in the series, including Dracula and Frankenstein.) Whenever old school monsters were made into action figures, it was usually done in a "stoic" way. The figures generally looked calm and well-mannered. By contrast, RGB's looked excitable and active, and very much like cartoon characters… even if they never did appear on the show. (more…)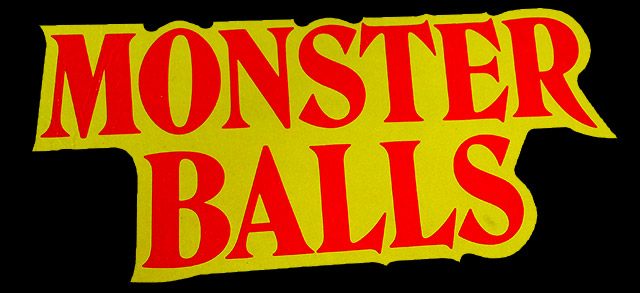 You should steal that image and put it on a t-shirt. Then, when you're out in public, pretend that walking really hurts.
Ladies and gentlemen, it's time for us to talk about MONSTER BALLS. I'd wanted to write about these for over ten years, but the eBay prices were always too dissuasive. A few months ago, I finally found one that I could afford.
I finally got a MONSTER BALL.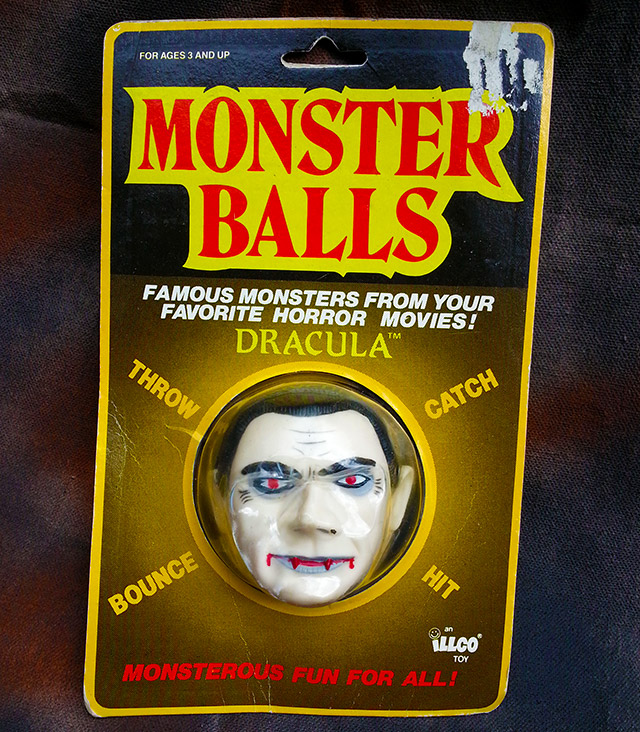 The package doesn't list a year, but it's safe to assume that they're from the late '80s. MONSTER BALLS were pretty obviously meant to steal some glow from AmToy's Madballs.
It takes a certain familiarity with goofy '80s toys to understand why MONSTER BALLS are incredible, so for those without that certain familiarity, I'll do my best to explain.
Madballs, those lovably gross rubber monster balls, took certain demographics by storm when they debuted in 1987. Almost immediately, other toy companies stole the concept, whether to make straight-up bootlegs, or — as was the case with MONSTER BALLS — new creations were still direct pitches to existing Madballs fans.
So what appears to just be some obscure rubber Dracula head is actually a whole lot more. My MONSTER BALL is a relic from one of the weirdest and most wonderful fads of the '80s!
There were four different MONSTER BALLS available. Each came in the same package — the one with the helpful suggestions on what a person could do with their MONSTER BALL. ("Throw," "catch," "bounce" and "hit." I'd add "squeeze," and maybe "tuck under your shirt to give the illusion of a misplaced breast.") (more…)
Continuing with my "Five Random Action Figures" series, I thought I'd make this edition a little more appropriate for the Halloween Countdown. This time, our five random action figures are all TERRIBLE MONSTERS!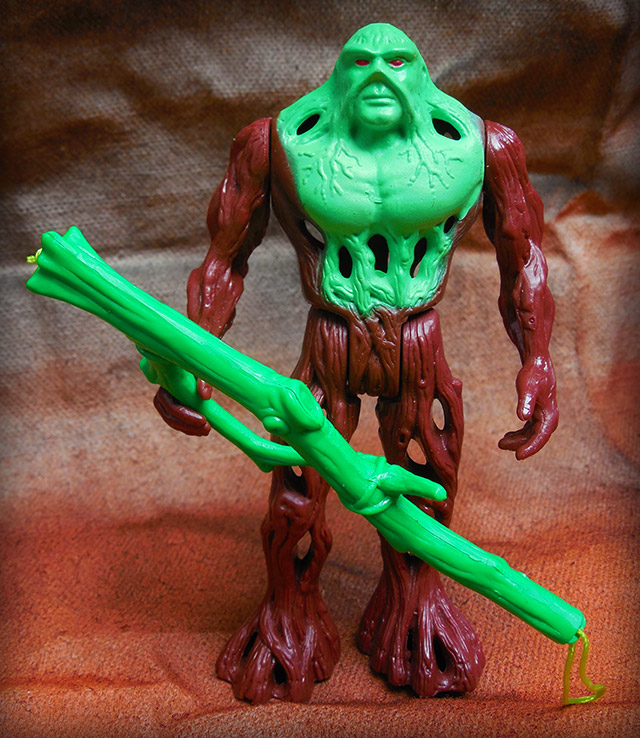 Camouflage Swamp Thing
Swamp Thing, 1990
This toy series found root (heyoooo) in the Swamp Thing animated series. Good lord, what fantastic figures! Most notably, the villains came with what were essentially finger puppets, which they could (loosely) wear over their heads to become "monsters."
There were several different Swamp Thing figures available, of course, and Kenner did a great job in differentiating them. One Swamp Thing glowed in the dark. Another had his left hand attached by a string, to serve as an organic snare. A third could actually fall apart, into what was supposed to look like a pile of harmless branches, even if it really just looked like a dismembered Swamp Thing.
The guy pictured here is Camouflage Swamp Thing. With a little cold water, all of his green parts will turn brown. (I guess to assist him with sneak attacks from the mud?) It was the same gimmick that those old Matchbox cars had, but it was a hell of a lot cooler to do it to Swamp Thing. (more…)
Remember last year's SDCC exclusive Jason Voorhees figure? You know, the "8-bit" one? Of course you do.
…but unless you're a serious Friday the 13th fan, here's something you probably don't know: That figure started a minor revolution. I touched on this in my last Monster-Mania report, but my friend John has the story in much greater detail. "8-bit Jason" has taken the horror world by storm, and as if from nowhere, seeing Jason Voorhees with a blue mask and purple skin has become nearly as common as seeing him the "right" way.
For years, Jason's screwy look in the old Nintendo game was something people made fun of. How couldn't they? Why did they make Jason blue and purple, anyway?
But these days? Forget it. As strange as it sounds, that look has become a beloved part of his lore.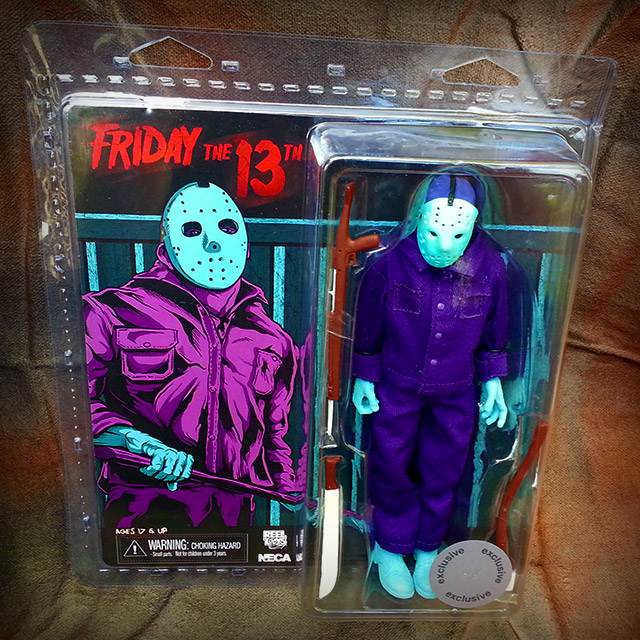 So of course I was going to be all over this new figure, again from NECA. Everyone went berserk when the news broke a short while back. With nary a peep, NECA and Toys "R" Us teamed for another 8-Bit Jason figure, this time in a larger "Mego" style. (If you're unfamiliar with Mego's ancient exploits, the toys they made were essentially blends of "dolls" and "action figures.")
This new Jason is a TRU exclusive, and after checking multiple stores multiple times on multiple days, I found zip. I'm not sure exactly how many of the figures were produced, but early on, they were obviously being gobbled up by dealers. Who could blame them? For the first week or so, the toys were selling for triple their retail price on eBay.
Eventually, TRU put the figures online. Never before had my fingers typed a credit card number so fast. (It's sold out as of this writing, but since New Purple Jason doesn't seem to be as rare as was initially feared, I'd advise against paying eBay rates. Just keep looking!) (more…)