Thanks largely to the media blitz surrounding its 30th anniversary, Ghostbusters seems hotter than ever. You know how I'm always saying that every Halloween season has "one thing" that ultimately sets it apart from every other Halloween season? In 2014, it's gotta be Ghostbusters.
Let's review. The movie returned to theaters. Krispy Kreme made some legendary donuts. There's more GB merchandise now than ever before, since "doodad makers" have the luxury of catering both to kids and to old idiots like me. Tack on the confirmation of a new movie, and yeah, it's been a great few months for GB fans.
All of the buzz inspired me to do one last Ghostbusters post before Halloween, so here are five random GB items from my collection. I've had some of these things for years, but most were recent pickups. You reading about them justifies me buying them, so thanks in advance!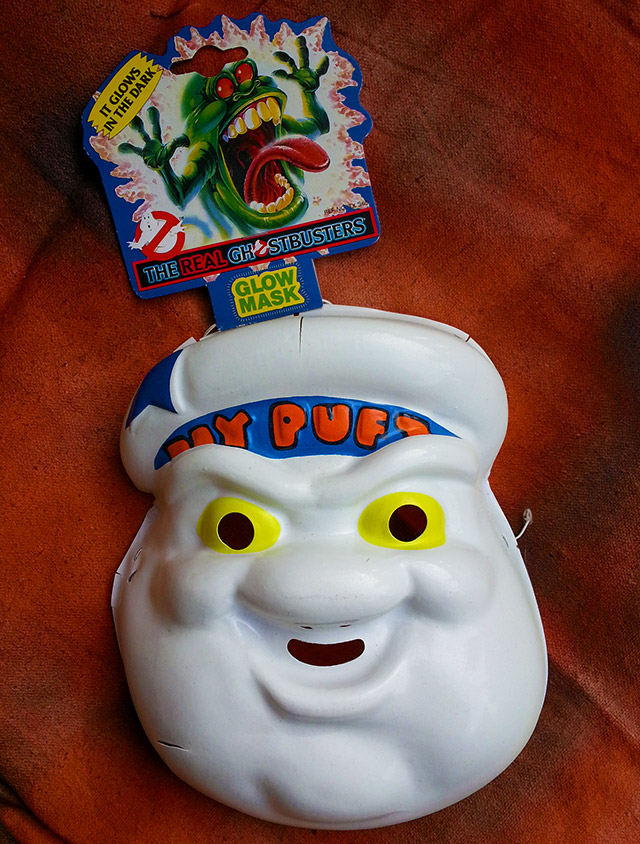 #1: Stay Puft Glow Mask! (1986)
I admit that I paid too much for this mostly-broken Halloween mask, but how could I resist? It's Stay Puft! And, to the best of my knowledge, it's pretty rare.
Cheap, plastic masks remind me of my earliest Halloweens, back when the ol' mask-and-smock combo was the In Thing. (You know the kind. You'd get a crude plastic mask based on your favorite cartoon character, along with what was essentially an enormous lobster bib.) Had I spotted this Stay Puft gear back in '86, I most definitely would've been a Marshmallow Man for Halloween.
It's worth noting that there isn't a face this mask would fit. Even imagining myself with the head of a four-year-old, there's just no way. I think it was sold less on the basis of "hey wear this" and more on the basis of "hey buy this because it's a glow-in-the-dark Stay Puft head." Challenge accepted, albeit 28 years late.
I can't envision a scenario wherein I'd ever have a taxidermied deer head in my house, but I'm going to hang this mask in exactly the same fashion. It's a trophy I can be proud of, and when I get up in the middle of the night to eat half a brick's worth of Cracker Barrel cheese, Stay Puft's faint glow will keep me from stubbing my toes on table legs. (more…)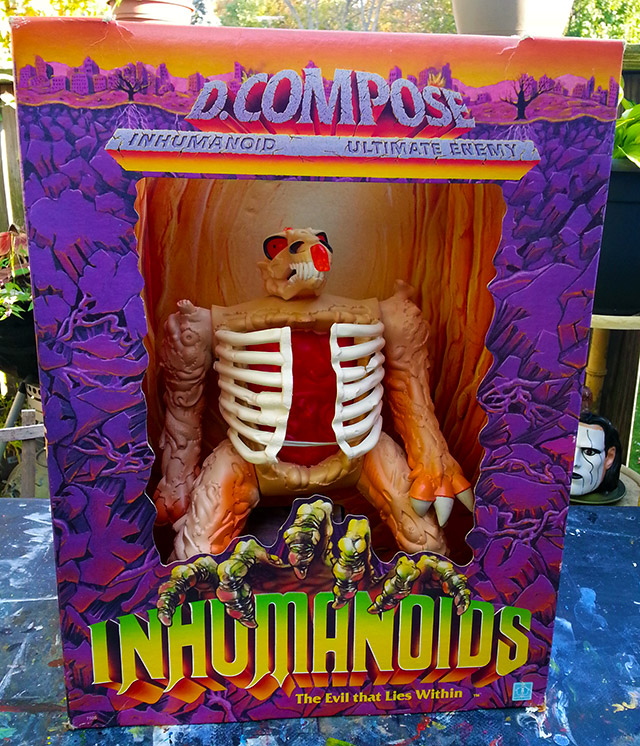 I've been waiting a looooong time to do this post. Inhumanoids was one of the best toy lines of any decade, and if you've been with me for a while, you've read that sentiment more than a dozen times. Today, it's finally time to show you why.
(Or you could just look at that photo. It explains everything in a nutshell.) (more…)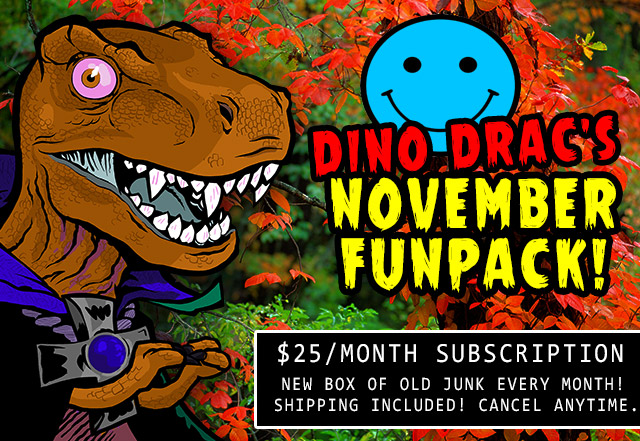 I know we're still in Halloween mode, and thank God for that, but if you'll pardon me this one exception, it's time to debut Dino Drac's NOVEMBER 2014 Funpack! (Available to those living in the United States only.)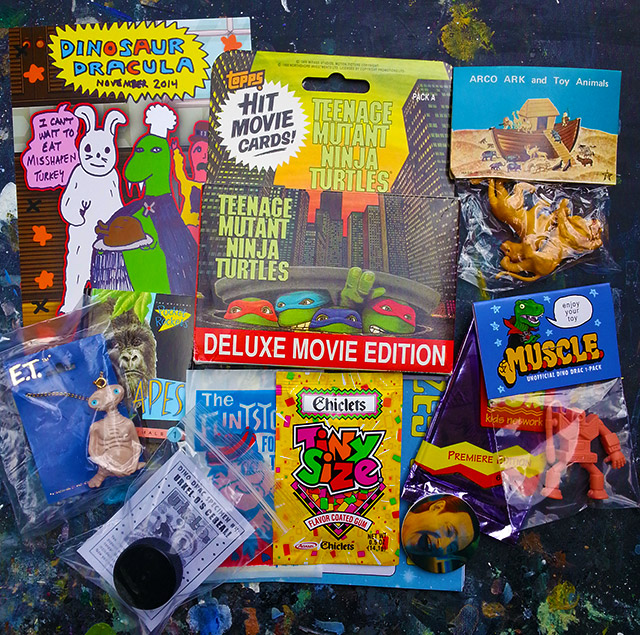 If you're worried about those post-Halloween doldrums, I think November's Funpack will be a great pick-me-up. It's quite possibly my favorite one so far! (more…)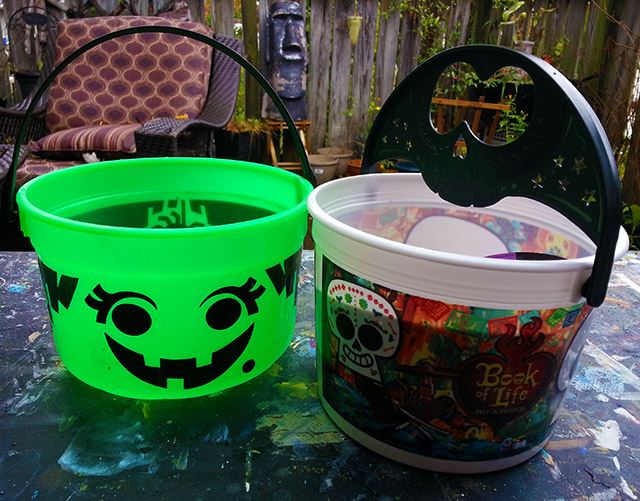 They're not McBoo pails, but they're the spiritual successors!
Now at McDonald's, each Happy Meal comes with one of two trick-or-treat pails based on The Book of Life, which isn't exactly a "Halloween" movie, but remains perfectly on-point because its promotional imagery deals mostly in chalk white skulls.
McDonald's has been putting out similar pails for years now. It started in 2010 with a Mr. Potato Head theme, and I don't think they've missed a season since. The pails are always lidless, always stinking of fries, and always accompanied by a circular sheet of stickers. (more…)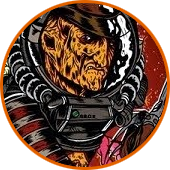 We spent the weekend at the headquarters of Freddy In Space, taking years off of our lives with a mix of pizza, pumpkin beer and Crayola crayons. I suspect I'll be fully recovered by Christmas.
The best thing about John's house (aside from Mothman the cat) is his absolute swarm of horror memorabilia, permeating literally every corner while still somehow staying completely organized. I could blog for weeks about his collection, but for now, I'll just focus on a few random action figures.
Yes, in this edition of Five SPOOKY Action Figures, the toys actually don't belong to me. These were all found on John's shelves, and hastily photographed on the steps outside his house. I normally prefer to stick with what's in my own collection, but these weirdos were cool enough to break that rule.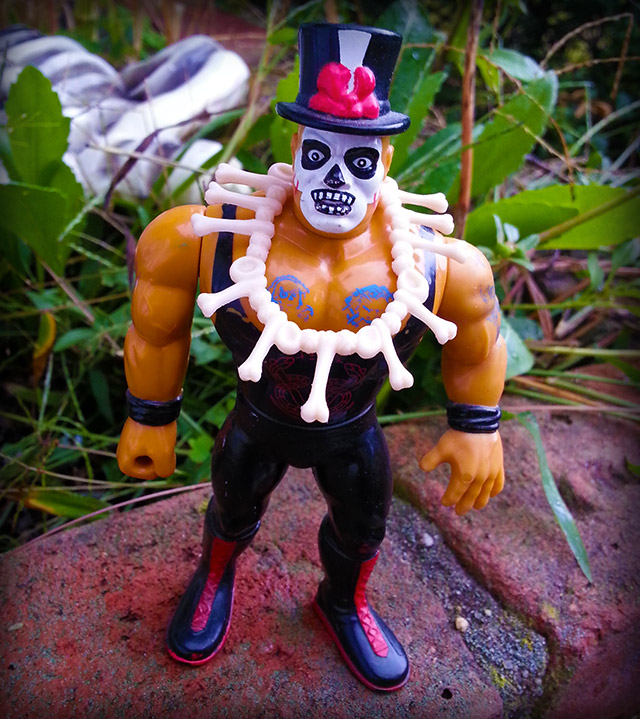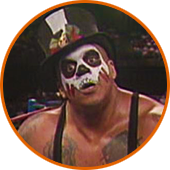 Papa Shango
World Wrestling Federation, 1992
WWE has unleashed dozens of Halloween-appropriate wrestlers, from giants who control fire to absolutely literal vampires. Still, few have been as on-the-nose as Papa Shango. WWE may have been a bit more diplomatic in their wording, but Papa Shango was a basically a cliched voodooist who defeated his opponents with BLACK MAGIC.
(Actually, he defeated his opponents with inverted shoulderbreakers, but let's not get too technical.)
The tricks usually occurred during interview segments, and man, they were out there. Best among them was the time Papa Shango caused the Ultimate Warrior to throw up on everyone backstage. (Some wrestlers got a push by being scripted to win matches. Others got it by making their opponents vomit.)
The height of Papa Shango's chicanery didn't last long. He ultimately became "just another guy," who rarely backed up his look with any B movie nonsense. Fortunately, he did stick around long enough to score a Hasbro action figure, with a weirdly irremovable top hat!
FYI: Charles Wright, who played Papa Shango, would eventually find much bigger success as "The Godfather" — wrestling's most lovable pimp! (more…)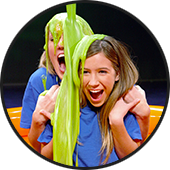 "Gak," originally a nickname for the slime used on Double Dare, first hit the retail market in the early '90s. From then on, the sludgy plaything slid in and out of production, always returning with new colors and weirder upgrades.
But over the last few years, Nickelodeon's legion of gloppy toys have become more permanently available. From "Green Slime" to "Floam," you won't have much trouble tracking any of them down. This includes Gak, of course.
The benefit to this increased availability is Nickelodeon's need to constantly reinvent themselves. After all, it'd get pretty boring to buy the same old Gak month after month. So, we get things like this…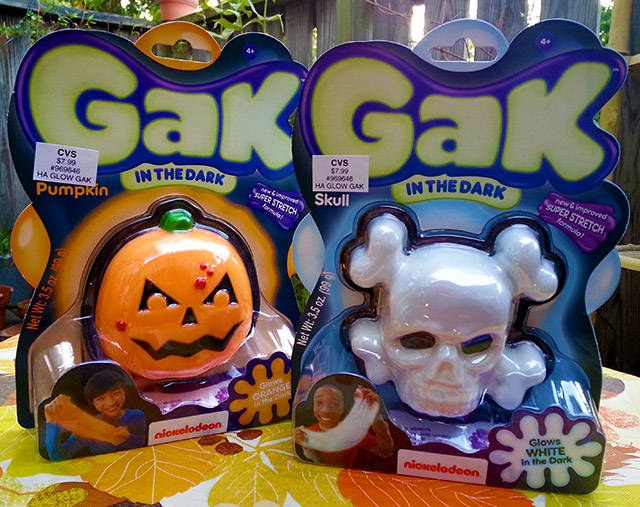 Halloween Gak, in two terrific styles! (The white Gak in the skull container has been available in the past, but I've definitely never seen that pumpkin Gak before.)
You could argue that only fundamental difference between Halloween Gak and regular Gak is the shape of the plastic container, and I guess you'd be right. But isn't that enough? (more…)
Okay, it's Saturday night and none of you are here, but I'm already panicking about how close we are Halloween. A scant 48000 hours away! I don't want to miss the chance to get even one more horrifying thing posted before the big day, so here I am. I'm so lonely.
Here's another batch of spooky action figures, covering everything from The Real Ghostbusters to Masters of the Universe to other long titles that look shitty in italics. Enjoy!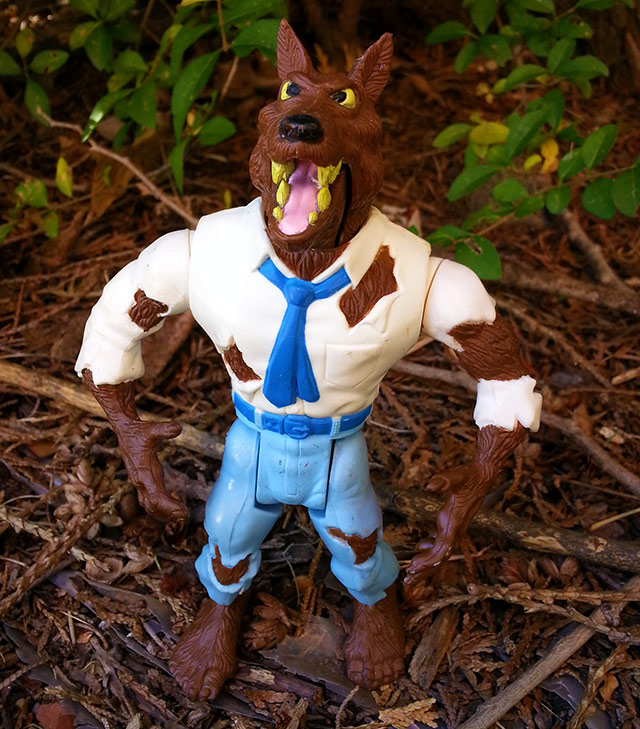 The Wolfman Monster
The Real Ghostbusters, 1989
Part of The Real Ghostbusters "Monsters" series, this Wolfman was in some respects the plainest villain in the entire line. That's not so much an indictment of Wolfman as a tribute to the sheer creativity Kenner put into their RGB figures. If a werewolf in tattered casual wear with a snapping jaw was the plainest guy in the line, you can just imagine how endearingly odd the rest of them were.
The "Monsters" series is sometimes criticized by fans. The thrill of RGB's villains was in their collective lunacy, so a bunch of "regular" monsters naturally paled in comparison. It's not quite a fair judgment, since there isn't much in this world that could compare to three-eyed blobs of purple flesh, or alien skeletons that trapped people in their ribcages. If this set seemed boring, it was only because the bar was set so high.
Actually, they're some of my favorite representations of classic movie monsters. (There were five others in the series, including Dracula and Frankenstein.) Whenever old school monsters were made into action figures, it was usually done in a "stoic" way. The figures generally looked calm and well-mannered. By contrast, RGB's looked excitable and active, and very much like cartoon characters… even if they never did appear on the show. (more…)