If you've been around Dino Drac long enough, you've probably read my article about the legendary Toys "R" Us Treat Box. Of course, "legendary" may be too strong a word, since I seem to be the only one who remembers them. Thank God for material evidence.
Brother, you missed out. At scattered points during the '90s, TRU paired up with various sponsors to give away cardboard "lunchboxes," filled with samples and coupons. More importantly, every time they ran the promotion, the box had a different and even more awesome theme. (I already told you about the Batman Returns version, which included, among other things, a cutout Catwoman mask.)
Now here's another, from later that year: The Jurassic Park "R" Treat Box!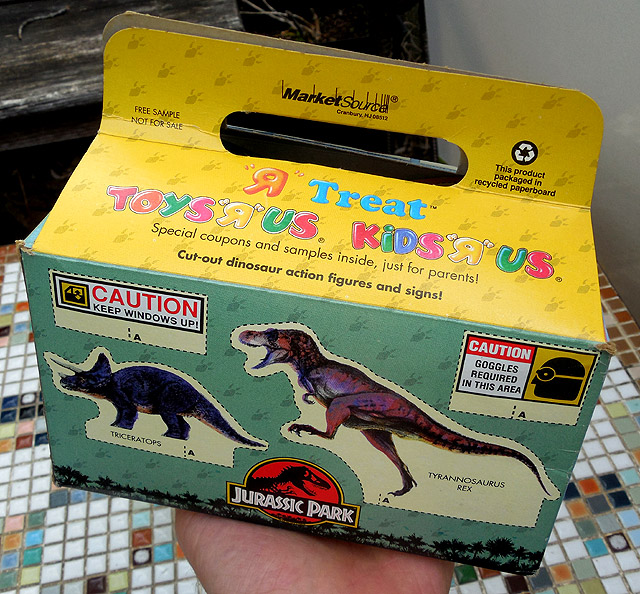 Jurassic Park debuted in June of '93, but this box is actually from late '92. That should give you an idea of how long and deep the film's marketing ran.
These giveaways were promoted in TRU's Sunday circulars, and whenever they came around, I was always there. I cannot possibly overstate how much I loved the "R" Treat Boxes! They were free with any (literally any) purchase, so it's not like you had to jump through any major hoop to get one.
I don't have the original samples that were once tucked inside, but imagine things like a pack of gum and a teensy bit of Crest toothpaste. If you were lucky enough, there'd even be a bag of chips or cookies. I remember treating those things like priceless artifacts that were to be left unmolested for all of time. (For roughly ten minutes. Then I ate everything.)
The free junk made me feel like such a star, but even the empty boxes were worth celebrating. Covered with good reasons to cut them into a million pieces, here are the key features of the Jurassic Park version: (more…)
What should have been a routine trip home from Philly turned into an absolute nightmare, with the kind of demoralizing traffic normally reserved for setup montages during coffee commercials.
This was yesterday afternoon, and as hellish at it was, the experience came with a major bright side. A desperate attempt to cross bodies of water using only local streets went about as well as you'd suspect, but it did place us squarely in front of this incredible Goodwill store: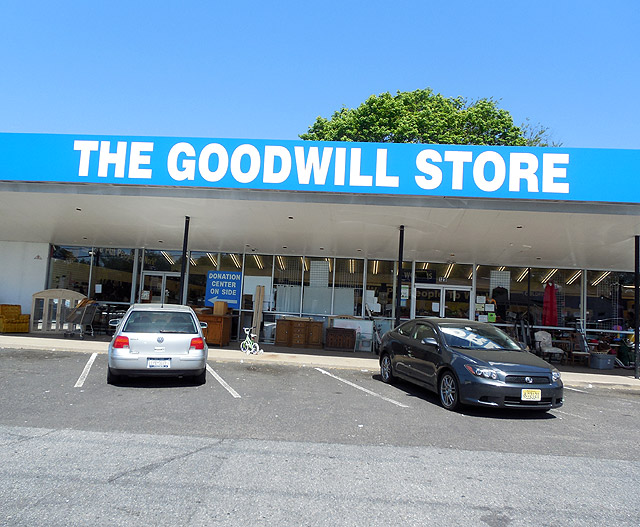 Many illegal and dangerous maneuvers were made to get us into that parking lot, because I saw this for what it was. A chance to turn a negative into a positive.
We don't have Goodwill stores around here. Is this what I've been missing? I must have seen over a hundred thrift shops in my life, but never one like this. Never one that was as big as a supermarket. Never one where the customers use shopping carts.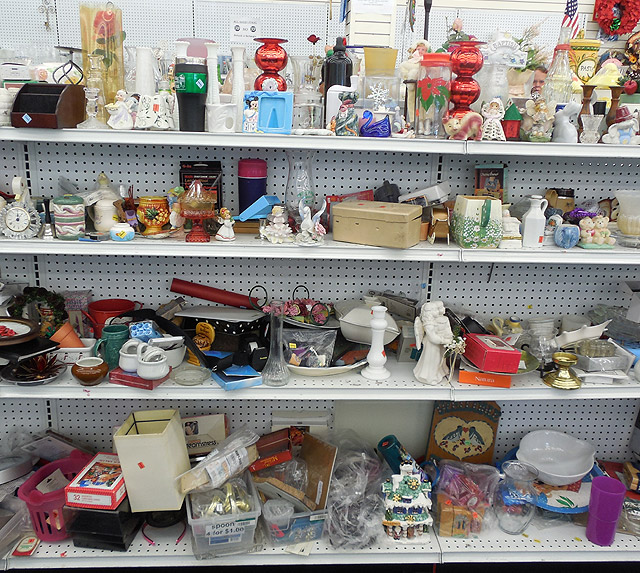 The store was enormous and had everything. Clothes, toys, games, books, movies, glassware, paintings – you name it. That's not unusual for thrift stores, but the difference here was the sheer volume. I'm used to going to thrift stores where finding even one reasonably priced "cool thing" is like discovering the Ark of the Covenant.
When we first walked in, I chuckled at the sight of everyone using shopping carts, because who needs a shopping cart in a thrift store? Well, ten minutes later, there I was, pushing a cart around and wondering if one was even enough. (more…)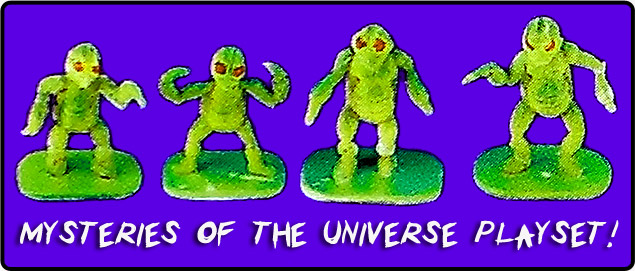 Sent from the cosmos to some dank New Jersey flea market, I'm proud to present the gorgeous mutant offspring of Mighty Max and space aliens!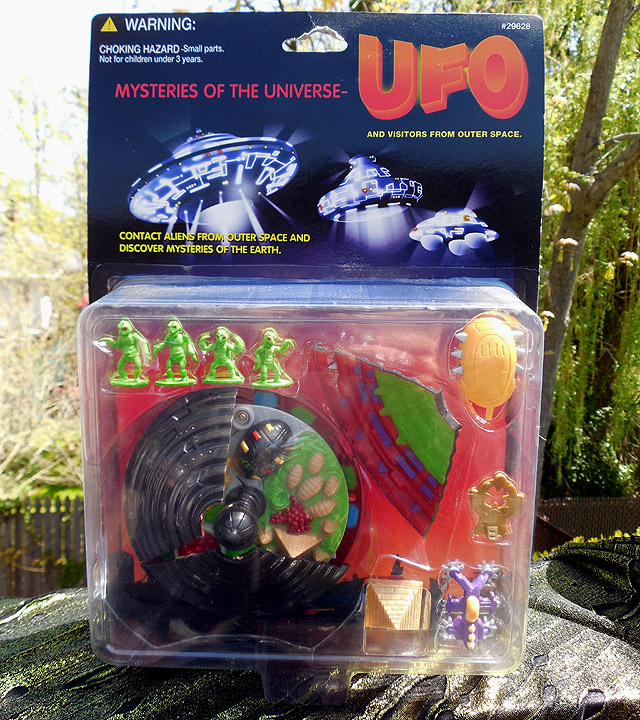 The Mysteries of the Universe collection mixes the "tiny playset" appeal of Mighty Max with the "holy shit SPACE ALIENS" appeal of… I don't know, Fire in the Sky?
The package is undated, but I'm fairly sure it's from the mid '90s. (Not only would it justify the Mighty Max similarities, but that's also around the time of Independence Day and The X-Files.)
Unless "China" is a company, I have no idea who made it. I also have no idea what to officially call the toy, unless its makers really were obnoxious enough to go with "Mysteries of the Universe – UFO and Visitors from Outer Space." I don't think SEO rigging applies to toy packaging. (more…)
I've been away for a while, slaying dragons, righting wrongs, and drawing crude character concepts for a gaming universe populated exclusively by warrior snails. I can't say that I've been very successful with these endeavors, but they've given me many stories to tell.
To ease myself back into the role of Person Who Writes About Stupid Things For The Internet, I'm going to dust off an easy concept. Here's another batch of random action figures! (Part 1 and Part 2 limited the choices to the '80s. For Part 3, NO DECADE IS SAFE.)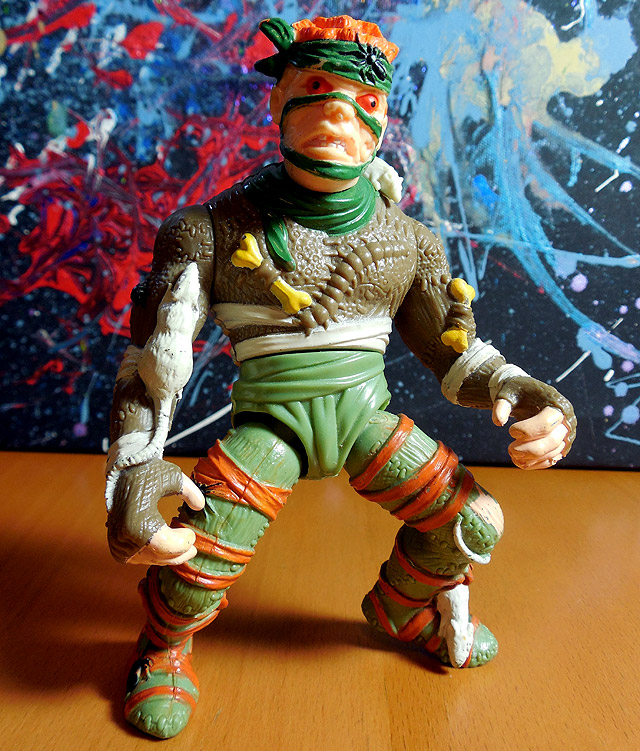 Rat King
Teenage Mutant Ninja Turtles, 1989
In all his many adaptations, Rat King is one of the best characters of TMNT lore. This figure represents Rat King from the original Ninja Turtles cartoon. I hate to go all caps so soon after "NO DECADE IS SAFE," but there's no other option. In the first cartoon, Rat King was INCREDIBLE.
Without bothering to confirm the validity of my memories by cross-referencing with online episode guides, Rat King was a psychotic hermit who lived in the sewers. (Or maybe some other, sewer-like structure?) He looked like a crack addict in a cheap mummy costume, and much like any crack addict in a cheap mummy costume, he only seemed dangerous part of the time.
Don't get me wrong. Rat King could pull some seriously nasty shit. He just seemed really passive about it all.
Through supernatural communication with rats, Rat King really was their king. He could order them to swarm into what looked like hideous ocean waves, made of rats instead of water. I loved it when he did that.
He looked great on the cartoon, but the figure is even more demented. The unnatural bald patches and unholy red eyes really set the stage, and there is literally no body part that isn't covered in something awesome. Look close and you'll even spot a giant centipede embedded into Rat King's chest, thereby clarifying the character's brief flirtation with the alternative alias of Centipede King.
Also, is it just me, or does Rat King look slightly like Biff Tannen? I wish "Rat to the Future" read as good as it sounds. (more…)