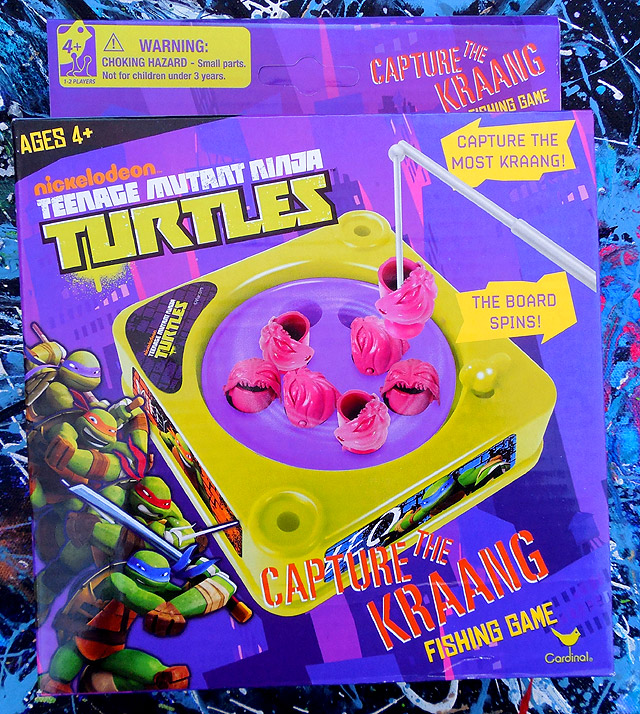 Right, like I was going to pass this up.
"Capture the Kraang" is a clever spin on the old game where you use a little rod to yank fake fish out of a plastic pool. As the title suggests, they've replaced the fish with eight goddamned snapping Kraang.
It's a miniature version of a much larger set. (Thanks for the tip, Dan!)  This version was being sold in Target's stocking stuffer section, and since I'm weirdly obsessed with that "genre," I prefer it to the bigger one. I could easily see it enveloped in red plush, neighboring with candy bars and Crayola crayons. (more…)
I took a few days to lose the post-Halloween doldrums, but now I'm back, and ready to talk about candy canes. Almost.
Dino Drac's 2013 Holiday Season has arrived, and with it, another swank logo courtesy of Jason Week. We'll come up with something else for December, but a "Thanksgiving Day Parade" motif seemed like the right thing for right now.
I'm not making any promises as far as post frequency, partly because I can't, but also because I just want to wing it this year. Write when I want to write, read old Star Wars Galaxy Guides when I want to read old Star Wars Galaxy Guides. Even so, I'm confident that I will make you ABSOLUTELY SICK OF SANTA CLAUS before 2014.
Let's start now!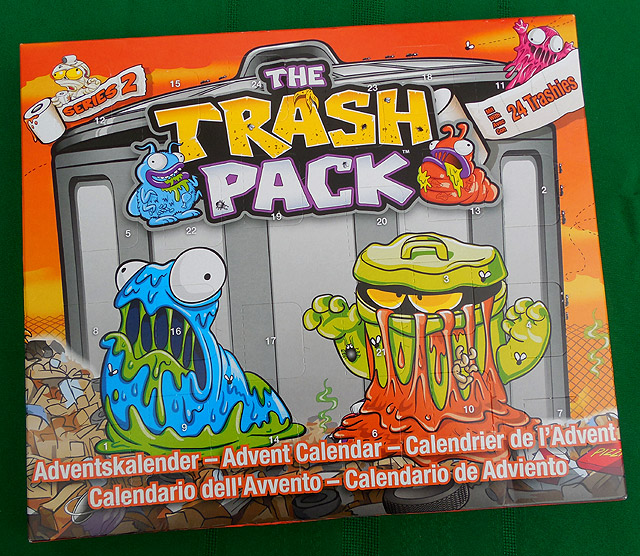 I found The Trash Pack Advent Calendar on Amazon, and even with its bloated price, buying one was a no-brainer.
Those who have read me since the Dark Ages know that I have a long and somewhat sordid history with toy-stuffed advent calendars, dating back to 2002. At that time, Playmobil was the only show in town, but now there's an advent calendar for everything. (And Playmobil, desperate to retain their turf, can only respond by debuting sixty different advent calendars each year.)
It's become overwhelming, to the point where my impulse is to just ignore all advent calendars, lest I spent 15 minutes in a K-hole at Target, trying to choose between the LEGO, Imaginext and Mega Bloks versions.
It takes a lot to make me jump at an advent calendar nowadays. A Trash Pack version was not only justification for jumping, but justification for jumping high enough to crack my head open on the ceiling. By the complete lack of give, I estimate that mine was crafted with something other than sheetrock. (more…)
The rumors are true. I have eight balls.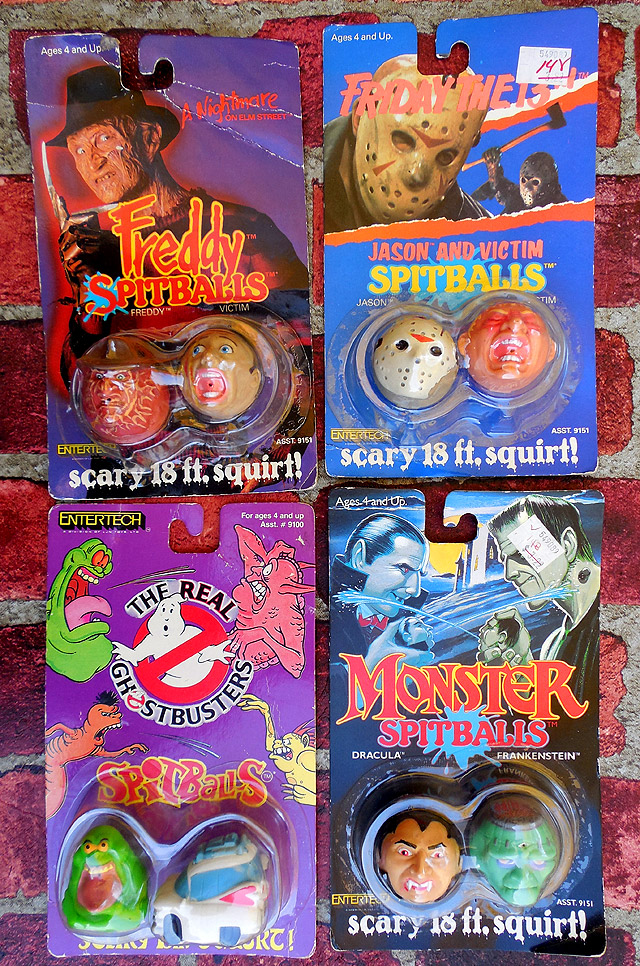 Made by Entertech in 1989, the SPITBALLS collection turned our favorite slashers, monsters and ghosts into… well, spitballs.
Each set came with two hollow rubber heads, with pinholes in the mouths. Squeeze 'em underwater to fill 'em up, and squeeze 'em again to make 'em… Jesus Christ, that's too many 'ems. What I'm trying to say is that they SHOOT WATER, over a purported distance of eighteen feet. I don't think I need to test that; Entertech was clearly exaggerating.
Would you look at this lot? Freddy Krueger! Jason Voorhees! Slimer! Dracula! Turning such beloved murderers into tiny squirt heads might seem like a waste of the licensing fees, but I look at it like this: While there are plenty of action figures for each of these characters, there's only one Spitball. (more…)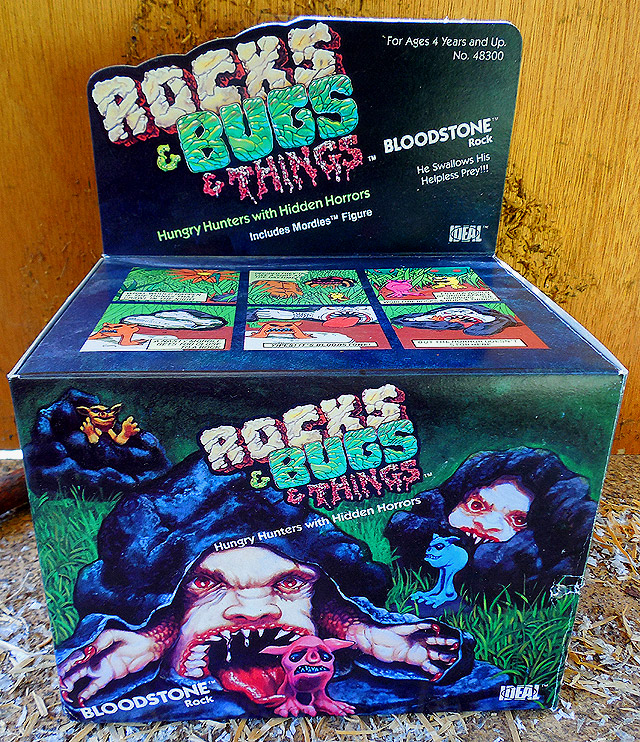 Rocks & Bugs & Things may very well be the strangest toy line of all time. Made by Ideal in 1985, there was nothing typical about these "hungry hunters with hidden horrors."
This much should be obvious just by looking at the box. No, your eyes aren't playing tricks on you. No, there isn't a softer explanation for what you're seeing. That really is a fleshy monster, disguised as a rock, preparing to eat a little goblin. THAT'S WHAT'S IN THE BOX.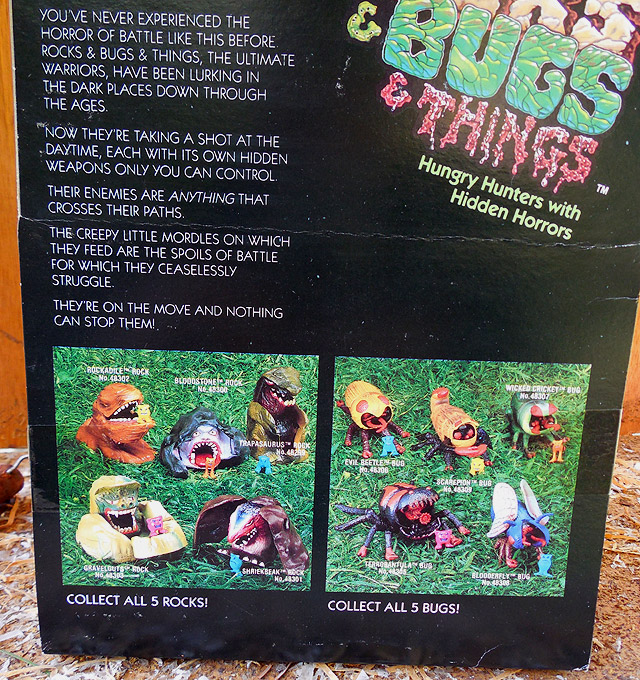 The line consisted of ten monstrous rocks and bugs. The rocks worked like simple Transformers, with terrible creatures masquerading as benign boulders. The bugs were only a little less interesting, with extra heads and appendages hidden in their mouths.
But wait, there's more!
The creatures were positioned as bloodthirsty warriors, who fought endlessly over the "Mordles" – those being the little goblins seen on the box. Each figure came with one Mordle figure, and they were intended to be FOOD for the rocks and bugs!
I seriously could not name another toy line so bizarre in concept and execution. Monster rocks fighting mutant bugs over neon-colored edible imps? GLORIOUS. (more…)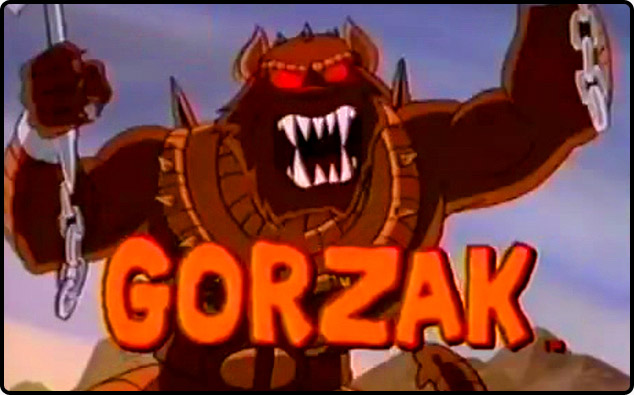 Introducing GORZAK, one of the best toys you've never heard of.
Made by Tyco in 1994, the battery-operated behemoth stood around fifteen inches tall, feeling much like a cousin of the Inhumanoids. Here's the commercial, but I warn you: Nobody can watch this without making the acquisition of Gorzak their life's mission.
GOOD. GOD.
Gorzak wasn't part of a larger collection; from all I can tell, it was just him. The figures you saw Gorzak beating up in the commercial were of the generic or "prop" sort.
That just makes the monster even better. For a one-and-done, Tyco put a LOT into this guy. A high-end commercial combining a live shoot with custom animation, and that says nothing of the toy itself. I'm of the mind that Gorzak was originally meant to be a part of some existing line, because he's just too amazing and intricate for such a random, singular release. (more…)