Let's take a look at five old McDonald's Happy Meal boxes, and see how many tangentially related paragraphs they inspire. You may consider this a surrogate sequel to my article about old fast food bags.
God, I write about a lot of garbage!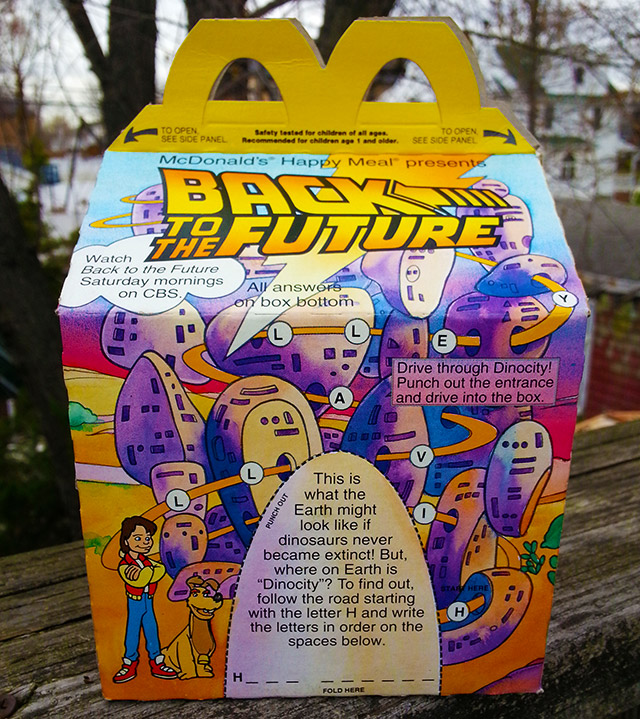 Back to the Future Happy Meal!
Year: 1991
Wow, a Back to the Future Happy Meal?! Okay, sure, it's based on the animated series rather than the movies, but this is still pretty Big Time.
(And besides, the seemingly little-loved cartoon series definitely had its charms, not the least of which being an impressive amount of continuity between it and the movies. The show actually remembered and factored in what happened in the films, whereas so many other movie-to-toon adaptations ignored everything but the names and gimmicks.)
The BTTF Happy Meal set included four toys — all of which being character figurines irremovably stuck inside action-packed vehicles. With apologies to Marty, the only one worth tracking down is Doc in the DeLorean… because DeLorean.
As for the Happy Meal box, it's one of those neat ones that doubles as a playset after a little help from scissors. I loved boxes like that. True action figure playsets were expensive, and kids rarely got new ones outside of birthdays and major religious holidays. During the off season, a Happy Meal box that worked on the same principle as Castle Grayskull was even better than a toy DeLorean. (more…)
Today's article is about Hasbro's World Wrestling Federation action figures from the early '90s. These guys, I mean:
I'm sad to admit that I wasn't a big collector during their heyday, I guess owing to building suspicion that I was too old for "wrestling figures." (I was in junior high when these were big, and if junior high taught me anything, it was to be ashamed of everything I liked, no matter how trivial.)
Only in recent years have I come to see that these toys are exactly as great as their most ardent supporters have long claimed. I'm not ready to put them a notch above LJN's older set (the big rubber figures), but I'm very ready to fill a couple of shelves with 'em.
What I like most about Hasbro's line is the huge string of absolutely ridiculous wrestlers, from the WWF's "difficult" period in the early '90s. There's a high concentration of grapplers frequently found on today's "worst ever" lists, but I always loved those weirdos. Any time a wrestler could be best described as a "monster" or "cartoon," I was in. The stranger the better!
Below are five of my favorites from Hasbro's collection: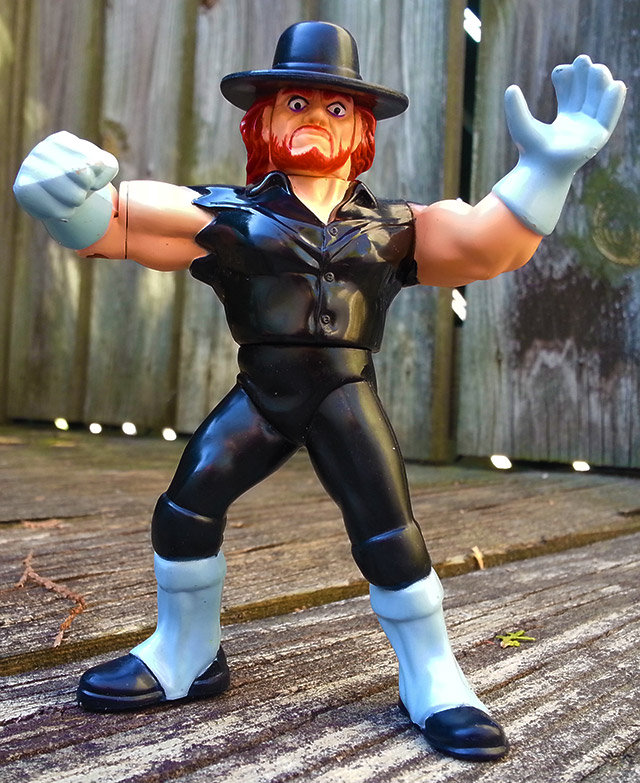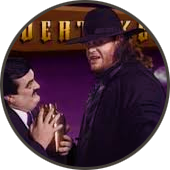 THE UNDERTAKER!
Action Feature: Tombstone Tackle!
Next to Randy Savage, The Undertaker is my favorite wrestler of all time — and the only guy on this list still actively competing for WWE. Most simply described as a "wrestler slash zombie," Undertaker had a lot going for him: Cool outfit, tremendous size, apparent lack of nerve endings to indicate pain, and oh yeah, supernatural powers. (Not many wrestlers refuted their enemies' claims by summoning goddamned lightning storms.)
I've been following Taker's career since his 1990 debut, which is just shy of 25 years as of this writing. Today, that just means watching WrestleMania every year and hoping I haven't seen his last match. But back in the '90s? Forget it. I was nuts about the guy. In secret tribute to my hero, I even wore button-down black shirts with torn sleeves… which I'll admit did little for my social standing at the schoolyard. (more…)
After an action-packed WrestleMania weekend that's left me feeling like I've lost the right to ever eat or drink again, I return to normalcy with eight thousand words about ratty toys.
Below: The sixteenth edition of Five Random Action Figures, starring one green guy, one white guy, one yellow guy and two red guys. But not in that order.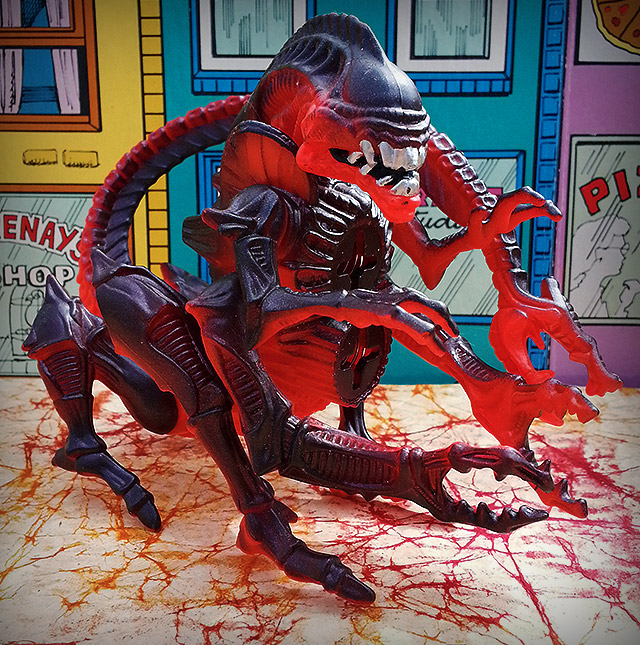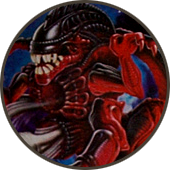 Killer Crab Alien
Aliens, 1992
Another of Kenner's animal/Xenomorph hybrids, I found this one at a horror convention a few weeks ago. There he was surrounded by other incomplete action figures, all nestled into what I'm pretty sure was an Easter basket. The five dollar price tag made buying him a no-brainer.
"Mutant extraterrestrial crabs" absolutely defines my wheelhouse, and while I'd concede that other Aliens figures were objectively better, none of them were crabs. Looking like Modulok in beast mode, the Killer Crab Alien has two arms and four legs, or possibly two legs and four arms, or maybe it's two arms and two legs and two limbs pulling double-duty. Also, his tail is a prehensile trident.
Unfortunately, mine is missing its pair of projectile Chestburster missiles. If you're confused by the term "projectile Chestburster missiles," just know that there's no better way to describe them. Even without those, he's as monstrous and can be, and even a backdrop of Crayola-colored storefronts does little to reduce his photographical badassery. (more…)
I wouldn't normally go back to the "Five Random Action Figures" well so soon, but I'm tired and I have a headache and my car is broken, and this is the only series I can handle when I'm completely oblivious to what I'm writing. My favorite blog about raising a chimp in a screen house hasn't updated in a while, and I'm starting to fear the worst.
Here's the fifteenth edition of Five Random Action Figures, typed on a stormy night in a room that has no reason to smell like oranges, but does.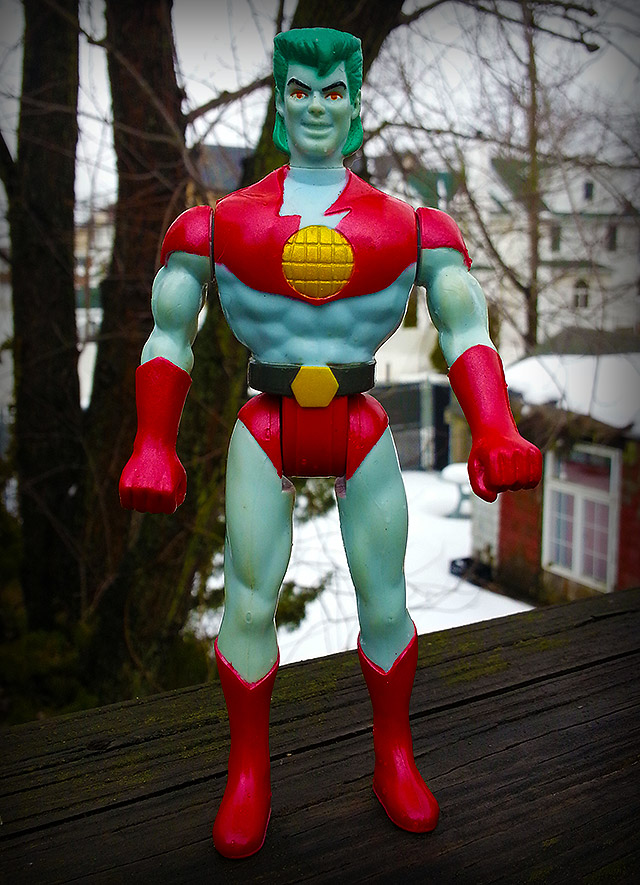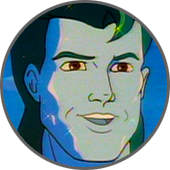 Captain Planet
Captain Planet and the Planeteers, 1991
With sky blue skin and a grass green mullet, Captain Planet was a superhero with an ecological slant. Summoned by magical rings worn by multicultural children, he'd fly in like Superman and never stop smiling, no matter how many bad guys threw fiery, poison-soaked logs at his face.
Positive anti-pollution messages aside, the cartoon existed to sell toys, and Captain Planet had a great line. In general, the villain figures outclassed the heroes, as it was pretty hard to pick some noodnik teenager over a snarling rock man with lumpy, glow-in-the-dark skin.
99 out of every 100 people remember the first verse of the Captain Planet theme song, which according to legend was written by Phil Collins. That's untrue, but let's roll with it, because if there's anything weirder than a theme song about an environmentally conscious flying blue man, it's that plus Phil Collins. (more…)
Tonight's article is about fast food kiddie bags from the 1990s, which is as close as I may ever come to literally writing about garbage.
Really, focusing on the bags is just my way to highlight five memorable fast food promotions, starring everyone from Spider-Man to Amy Monkey.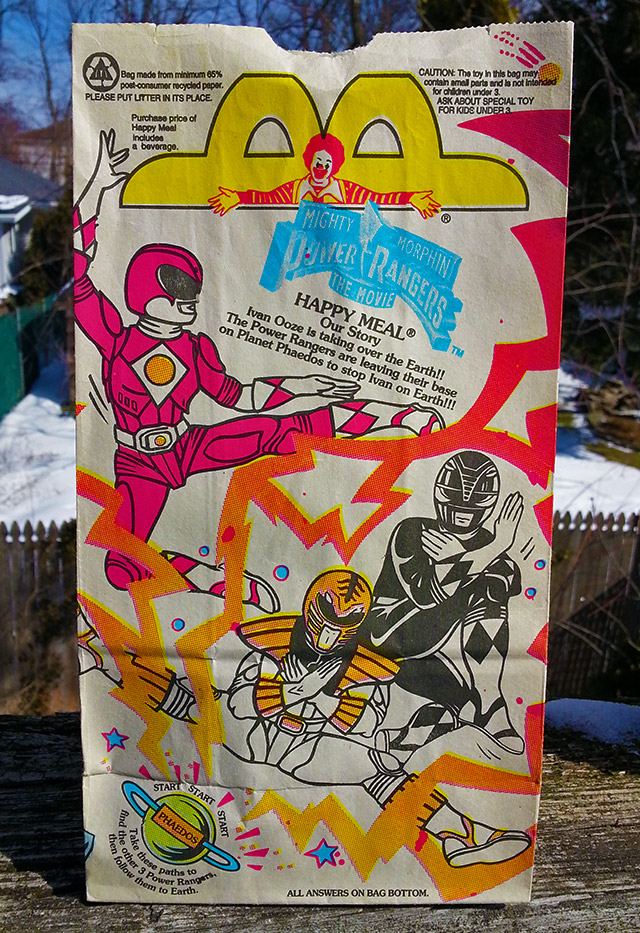 Mighty Morphin Power Rangers: The Movie!
McDonald's Happy Meal, 1995
I've come to dig the first Power Rangers movie. Guess I needed a full twenty years to truly appreciate Ivan Ooze, a sort of otherworldly midpoint between Brother Justin and Ursula. When one could accurately summarize a film with "villain mass produces toy slime that turns people in drooling slaves," I feel an almost religious need to champion said film.
It isn't surprising that the movie scored a Happy Meal, but I'm shocked at how good the toys were. I mean, this was Power Rangers in 1995. They could've tossed anything in there, and kids still would've lost it. Instead we got a set of six legit action figures in accompanying Zords. The figures were on the small side, but they still way overachieved for McDonald's toys.
UPDATE: I've since been told that these figures were actually sold apart from the Happy Meals — which included smaller MMPR doodads — and thus weren't exactly "free." Oh well. They did seem a little too good to be true.