Oof. Christmas caught me by surprise this year, and I didn't write nearly as often as I would've liked to. Can't do anything about that now, so I'll just try to make this an extra good one!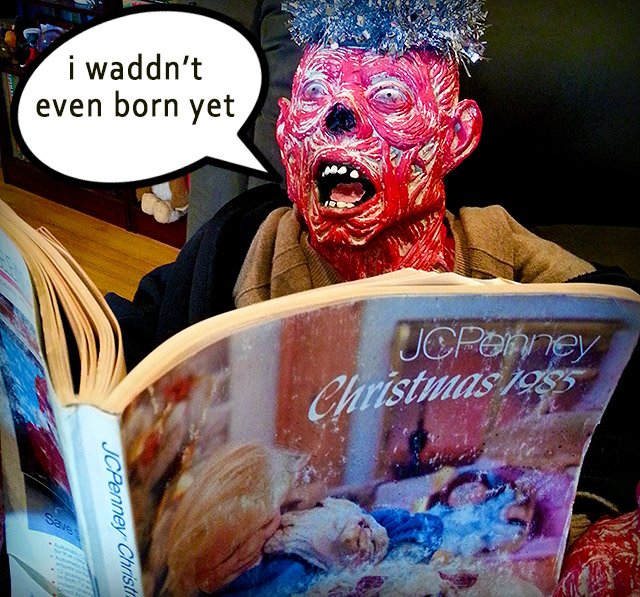 Today we're gonna look at some highlights from the 1985 JCPenney catalog, which was basically another Sears Wish Book, serving as a veritable bible of that year's hottest toys and games.
I actually covered this exact same catalog way back in 2007, but it seemed criminal to stop at a mere twelve items when the book had hundreds of things worth celebrating. 1985 was an absolute banner year for toys, as I think these seven selections will prove!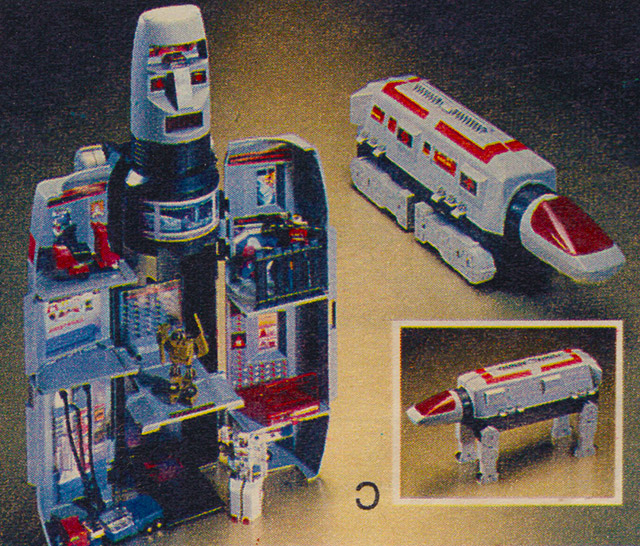 Gobots "Mobile Command Center" Playset!

($26.99)
Remember the AT-AT from Star Wars? This was like the its rad kid sister.
The Mobile Command Center was easily the crown jewel of Tonka's Gobots collection. Starting off as a four-legged transport not unlike those behemoths from The Empire Strikes Back, the playset then transforms into a multi-level headquarters that doubles as a giant robot. TOO COOL, and not in the Brian Christopher way.
Oh, and speaking of Star Wars, one neat thing about Gobots playsets is how they worked just as nicely with those figures. (Same with G.I. Joe, or any of the other 3-4" lines.)
I'd like to say that I used the Mobile Command Center for that purpose, putting Darth Vader in charge of a futuristic apartment complex with a loft shaped like a robot head. The truth is, I never had one as a kid. A friend of mine did, and I was so jealous. He was one of those friends that I only had scattered after-school play-dates with, while our mothers forced awkward conversation over cups of bad coffee. That guy had everything. His bedroom looked like Toy Fair.
Through him, I saw enough of the Mobile Command Center to know that I was seriously deprived. This as close as we've ever come to the fictitious skyscraper robot from Big. (more…)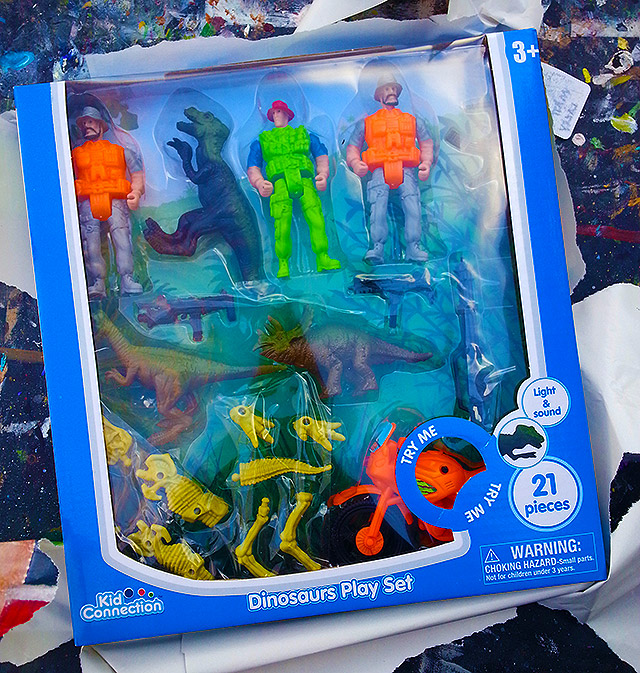 Every Christmas, various department stores dedicate whole aisles to those super cheap "generic" toys. You know the kind. They always come in the same-style boxes, whether they're sets of dominoes or princess baby dolls.
Shown above is one example. The "Dinosaurs Play Set," a 21-piece assortment of Not Quite Jurassic Park toys. I found it in Walmart, sandwiched between a similar set that replaced the dinosaurs with tigers, and a stack of "Rad O Control" cars that appeared to come with purposeless mock remotes.
The Dinosaur Play Set leaves us with much to discuss! (more…)
One of the coolest A Nightmare on Elm Street toys… technically has nothing to do with A Nightmare on Elm Street.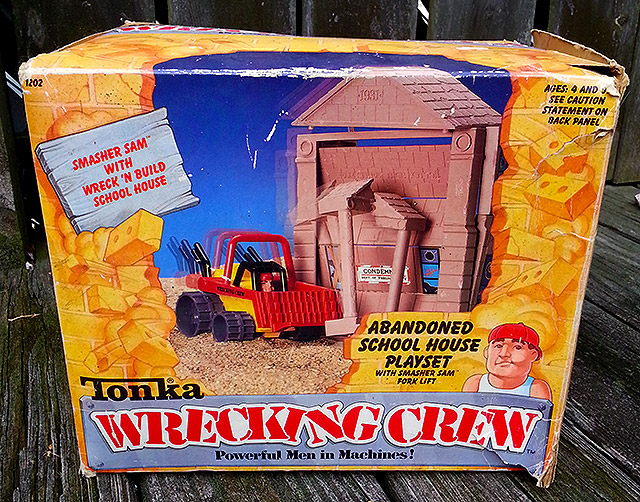 Bear with me. This'll take a little explaining.
In 1988, Tonka launched a small line of Wrecking Crew toys. These were various construction vehicles that could plow over and/or straight through break-apart playsets, affording kids the chance to do what they did best: Smash shit.
With such a simple gimmick and a nearly generic look, very few people remember the Wrecking Crew series. That's unfortunate, because hiding deep in the line was an awesome and unmistakable nod to none other than Freddy Krueger.
Seriously!
Shown above is the Abandoned School House Playset. It might not look very remarkable now, but once I show you the finer details, you're gonna flip. (more…)
I've never been happier, and it's all because of Santa Robot.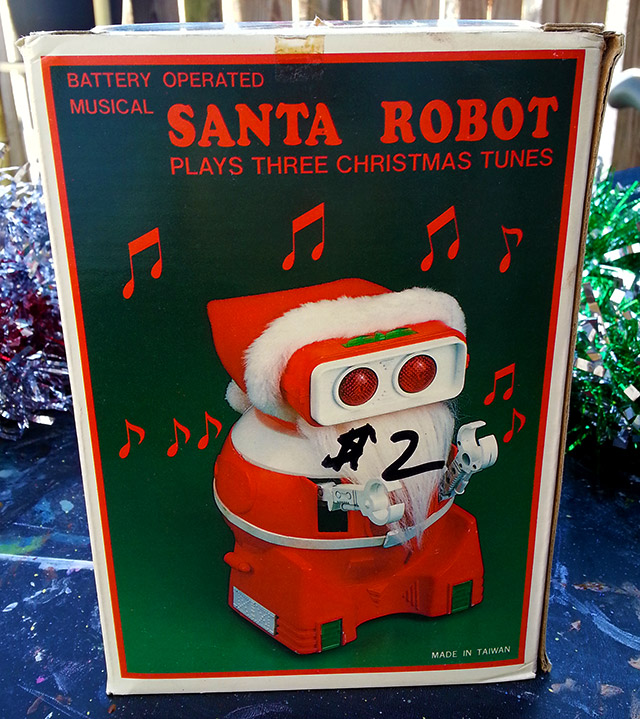 I don't know who was responsible for Santa Robot, nor do I have any hard evidence of when he's from. (Though given the similarities to Tomy's old battery-operated robots, it's a safe bet that Santa Robot is from the mid '80s.)
You'll notice the crude "$2" scribbled on the box. For the record, I didn't pay that. I paid far more than that, actually. I paid a price so hefty that if the end result was anything BUT Santa Robot, I'd feel so ashamed. (more…)
Back in March, I paid tribute to eBay's action figure mixed lots — those being auctions for "bunches" of toys that sellers have neither the time nor interest to list individually. Even with the bazillion eyes perpetually scanning eBay, there are some great deals hiding in those listings.
Only rarely am I compelled to bid, but one recent auction really grabbed my attention: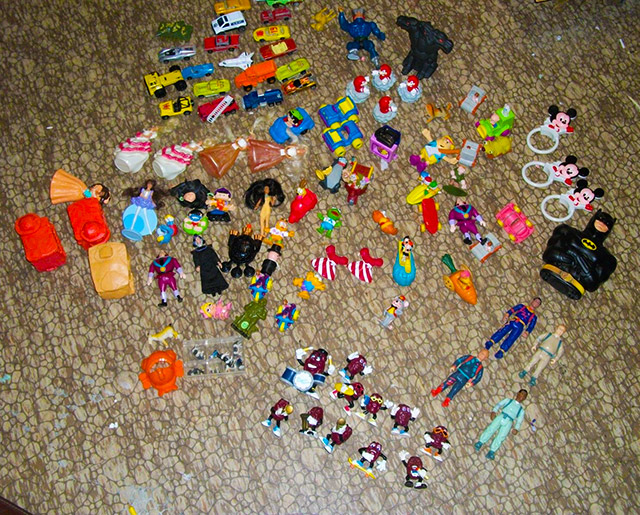 That one. With a $5 starting bid and no competition, I won it with ease. Now sure, the hefty shipping rate raised the total price to $20, but even that was a fair price for such an incredible assortment of absolute crap.
Almost every mixed lot is 80% junk, and this one was no different. The trick is to single out the few items that do have some value, and see if they're enough to justify the total price. In this case, it was.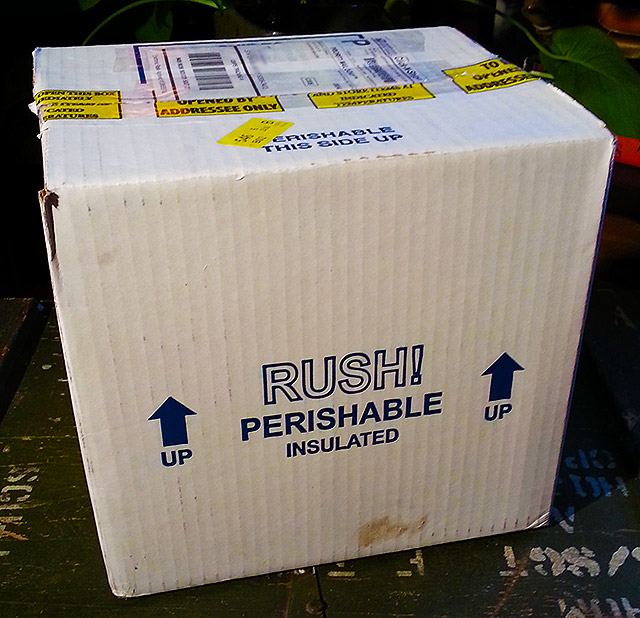 The toys arrived today, rather fittingly shipped in a stained box that appears to have once held loads of mailable fruit.
Let's see what's inside! (more…)

Since it's Friday night and I live life to the fullest, I will now write 900 words about old Masters of the Universe figures.
In this post: A lobster man, a guy with three faces, another guy with a big hand, an alien rock dude, a pure robot, and finally a naked race car driver. Eternia was a hot mess.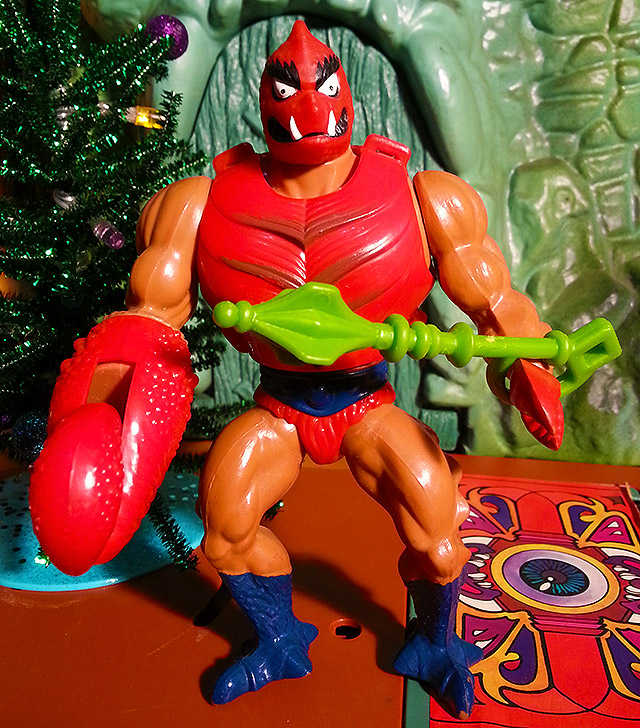 Clawful!
Given my well-documented crustacean obsession, it should come as no surprise that I love this action figure. One of Skeletor's ineffective henchmen, Clawful had one little claw and one GIANT claw, capable of "snapping" with the aid of a hidden lever.
Interestingly, while this figure portrays Clawful as a sort of masked pro-wrestler, the cartoon version was 100% lobster. Or maybe 100% crab. Clawful was never clear about that.
Both versions were great, but I think I prefer the way he's seen here. Mainly because it lets me dream up an origin story wherein an everyday musclebound villain simply decided to start dressing like a lobster. What was the impetus? (more…)