I mentioned this on Dino Drac's Facebook page, but it's way too important to lose in the social media ether.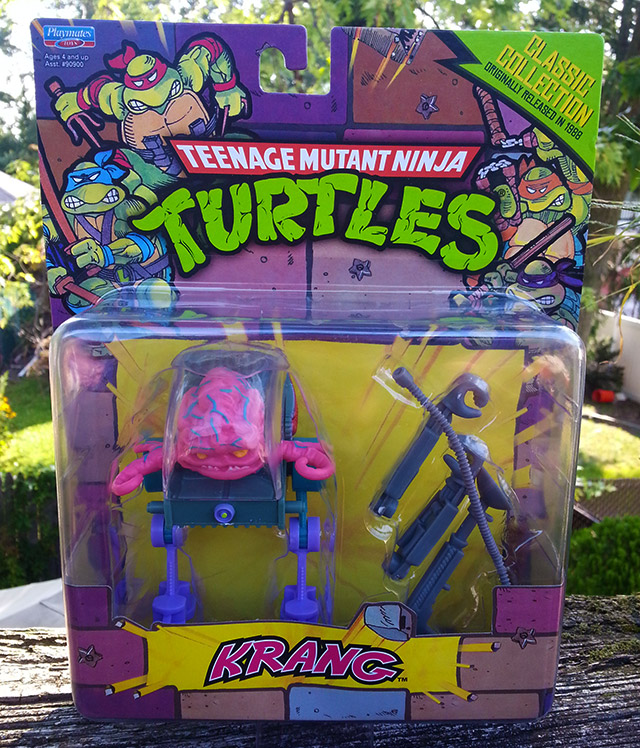 Returning as part of the Ninja Turtles Classic Collection, it's motherfucking KRANG. One of my favorite action figures EVER, and by far my favorite TMNT character. Hell, maybe my favorite character PERIOD.
Lots of capped words, plus a "motherfucker." Can you tell that I'm excited?
Look, Krang was my gateway drug into All Things Turtles. Not sure if I've told this story before, but while I got on the TMNT bandwagon early, I didn't get on it from the very start. On a trip to the grocery store with my friend and his mom (excitement), I bought a spiral notebook with the Ninja Turtles on the cover. I didn't know much about them at that point, and my purchase had more to do with "oooh shiny new notebook" than "oooh Ninja Turtles."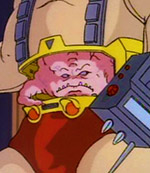 But later that afternoon, my friend showed me what I'd been missing. We watched the cartoon in its normal weekday afternoon slot, and I was IMMEDIATELY taken with Krang. By then, he already had his now-trademark robot body. (The bald guy with the bedroom in his stomach.) Between Krang's look, voice, and weirdly laissez-faire approach to villainy, he was "my guy" from Minute 1.
HE WAS A TALKING PINK BRAIN.
LIVING INSIDE A HALF-NAKED ROBOT'S STOMACH.
FOR CHRIST'S SAKE.
Now firmly turned onto TMNT, I became a megafan. I watched everything. I collected everything. I ate Crunchabungas and gained 20 pounds. I saw the first movie on opening night. Same with the second. I've had many obsessions, but TMNT was up there with the biggest of 'em all.
Of course, I was waaay into the action figures. Hobbies have often turned me to lunacy, but man, I was especially crazy when it came to Ninja Turtles figures. When a new wave came out, I'd force people to bring me to toy stores every single day. Maybe I was spoiled, or maybe it was because my pleading was on the level of someone begging off a serial killer.
"YOU DON'T UNDERSTAND. THIS MEANS EVERYTHING TO ME. I WILL QUOTE THE ROOM FIFTEEN YEARS BEFORE IT GETS MADE. TAKE ME TO GEOFFREY NOW." (more…)
Since we're up to the seventh installment of this series, I guess I can skip the preamble. Here are random action figures. Five of them!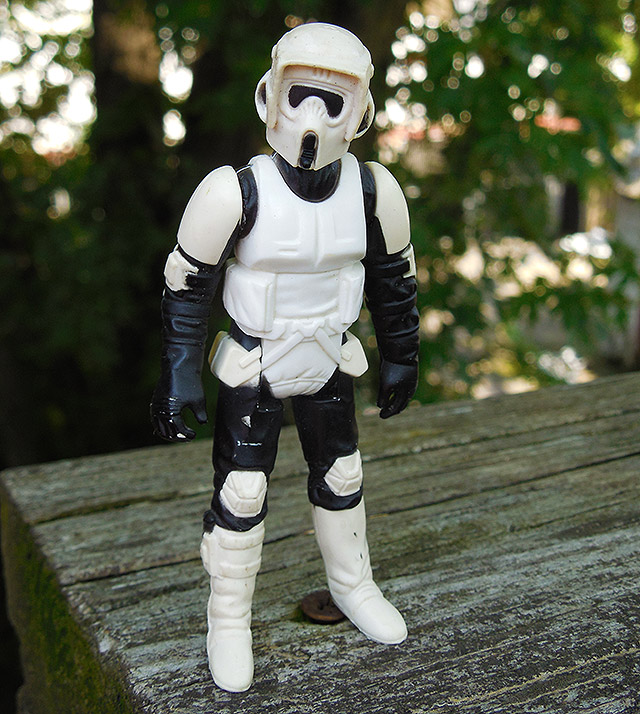 Biker Scout
Star Wars, 1983
Behold, one of my favorite figures from Kenner's immense Star Wars collection. Something about the Biker Scout's boxy head appealed to me in a way normal Stormtroopers didn't, and excluding the Emperor's Royal Guard, this was the Star Wars figure I bought most often. (Sometimes I needed to replace a lost figure; other times I just wanted more Biker Scouts.)
Critics be damned: When I hear "Star Wars," my mind jumps to Return of the Jedi. It's fitting that my most beloved "Imperial" characters were exclusive to that movie.
The biggest reason to own a Biker Scout was to have an appropriate figure to place on Kenner's "Speeder Bike" vehicle. (The one that blew apart with the push of a button… which was an awesome feature until you realized how easy it was to hit said button by accident.)
Speeder bikes featured prominently in ROTJ, of course, and I grew up wanting to ride one more than any other fictitious vehicle. Every time I was in my parents' car, stuck in Jersey shore traffic, I'd imagine myself on a speeder bike, casually zipping to Wildwood just above the many hoods. In those dreams, I'd be dressed in the Biker Scout's uniform. (more…)
In November of 2000, I placed my first-ever order with Amazon. Reviewing my account, it looks like I bought Charmander earrings, two Furby Babies, and twenty of the exact same Darth Sidious figure, just because it was marked down to a buck.
Probably shouldn't have admitted all of that, but here's the point: I'd guess that the vast majority of you have been ordering from Amazon for nearly as long. Maybe even longer. Many of us have ordered so frequently that our purchase histories read like diaries. It's been our collective corner deli for everything that isn't food.
I thought it'd be interesting to take a look at Amazon as it existed back when a lot of us were first hearing about it, so I dug up an old version of site.
This was Amazon, on August 27th, 1999: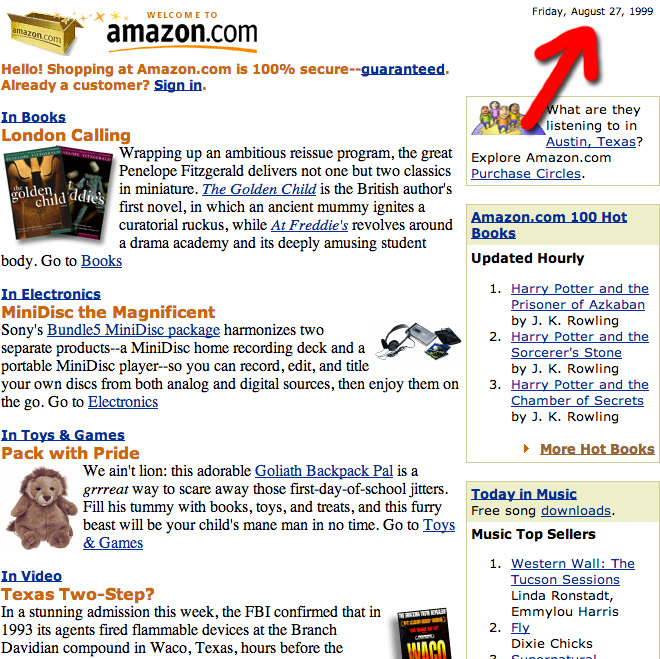 Maybe Amazon's comfort factor stems from how little it's changed through the years. Today's version of the site is slicker, more responsive and less heavy on the ten paragraph advertorials, but it's still basically the same.
The screenshot isn't a mockup. That's what people saw on the Amazon homepage on 8/27/99. As I clicked through the site, so many memories came flooding back. I had to remind myself that 1999 really was fifteen years ago, and that it wasn't crazy to see so many new movies in VHS format. (God, we're all so old.)
I spent most of my time in the "Toys & Games" category. Holy nostalgia. The neat thing about sifting through Ancient Amazon rather than an old store catalog is that you'll see much obscurer things. A catalog will remind you about "big launch" releases, but even back then, Amazon carried everything. It was as much "shit parade" as "hit parade," and I loved every second of it.
To commemorate the hours I spent navigating dead links (and forced redirects to more dead links), here are thirteen random playthings Amazon sold back in 1999. (more…)