The weather is starting to cool, the leaves are looking less green, and I'm suddenly craving Elm Street movies on a nightly basis.
Oh, it's in the air. Halloween is IN the air.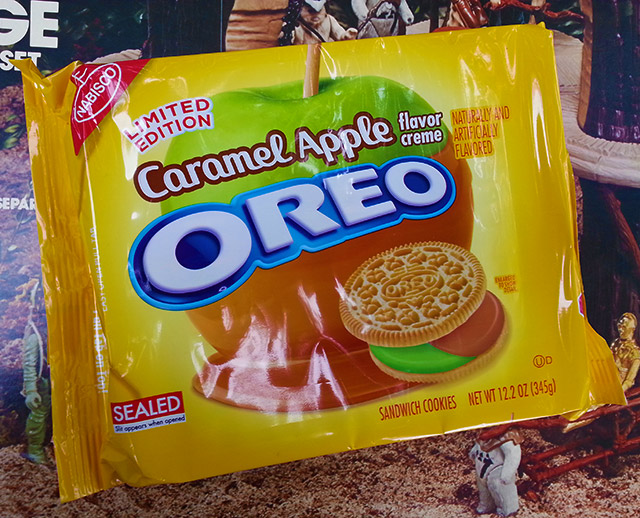 For proof, look no further than Nabisco's new Caramel Apple Oreo cookies. It may only be August, but these are utterly autumnal.
Every year, there's that one new Halloween thing that comes out a little early, effectively ushering in the season. In 2014, this is it. To some they're merely cookies, but I view them more as edible gatekeepers. By the time this package is through, I'll be surrounded by plastic rats and cardboard vampire heads. Thank God.
Over the last year, Nabisco's gone batty with Oreo cookies, releasing wild new flavors that have ranged from "pleasantly odd" to "class action lawsuit." Clearly some of those flavors were more expected to be "noticed" than "liked." The people at Nabisco aren't stupid, and the amount of free press they get for Bacon-Wrapped Filet Mignon Oreos is worth the thousand people thinking they've lost their fucking minds.
Fortunately, I don't classify these as being so intentionally divisive. Caramel apple candy is nothing new, and no alarm bells ring over the flavor's transition to cookies. It seems like a natural way to celebrate the 2014 season in a manner that you couldn't in 2013. Bring it on, Nabba Sco. Read More…
I mentioned this on Dino Drac's Facebook page, but it's way too important to lose in the social media ether.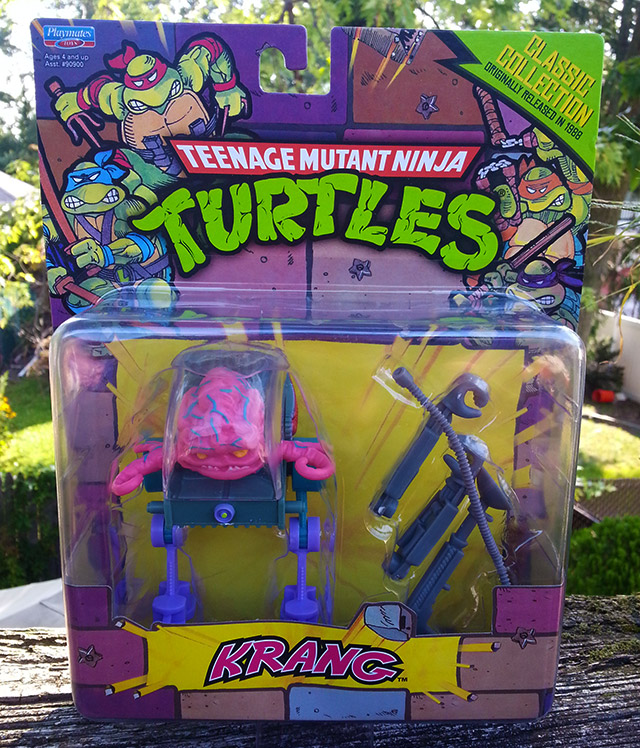 Returning as part of the Ninja Turtles Classic Collection, it's motherfucking KRANG. One of my favorite action figures EVER, and by far my favorite TMNT character. Hell, maybe my favorite character PERIOD.
Lots of capped words, plus a "motherfucker." Can you tell that I'm excited?
Look, Krang was my gateway drug into All Things Turtles. Not sure if I've told this story before, but while I got on the TMNT bandwagon early, I didn't get on it from the very start. On a trip to the grocery store with my friend and his mom (excitement), I bought a spiral notebook with the Ninja Turtles on the cover. I didn't know much about them at that point, and my purchase had more to do with "oooh shiny new notebook" than "oooh Ninja Turtles."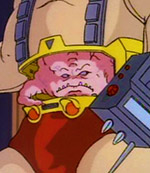 But later that afternoon, my friend showed me what I'd been missing. We watched the cartoon in its normal weekday afternoon slot, and I was IMMEDIATELY taken with Krang. By then, he already had his now-trademark robot body. (The bald guy with the bedroom in his stomach.) Between Krang's look, voice, and weirdly laissez-faire approach to villainy, he was "my guy" from Minute 1.
HE WAS A TALKING PINK BRAIN.
LIVING INSIDE A HALF-NAKED ROBOT'S STOMACH.
FOR CHRIST'S SAKE.
Now firmly turned onto TMNT, I became a megafan. I watched everything. I collected everything. I ate Crunchabungas and gained 20 pounds. I saw the first movie on opening night. Same with the second. I've had many obsessions, but TMNT was up there with the biggest of 'em all.
Of course, I was waaay into the action figures. Hobbies have often turned me to lunacy, but man, I was especially crazy when it came to Ninja Turtles figures. When a new wave came out, I'd force people to bring me to toy stores every single day. Maybe I was spoiled, or maybe it was because my pleading was on the level of someone begging off a serial killer.
"YOU DON'T UNDERSTAND. THIS MEANS EVERYTHING TO ME. I WILL QUOTE THE ROOM FIFTEEN YEARS BEFORE IT GETS MADE. TAKE ME TO GEOFFREY NOW." Read More…