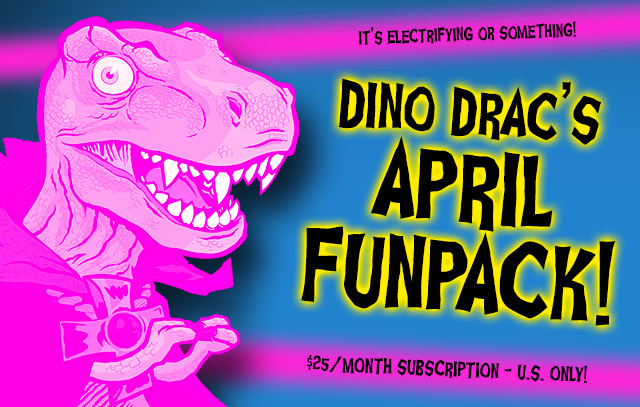 ($25 MONTHLY SUBSCRIPTION AVAILABLE IN THE U.S. ONLY!)
Dino Drac's April 2015 Funpack is available now!
Hard to believe that the Funpacks are entering their ninth month. I never expected this to go for so long, and I'm insanely grateful for everyone who took the plunge and helped me justify a life spent writing about Doritos and old comic book ads. Without you, Dino Drac would be lucky to get two updates a month. Thanks so much!
If you're new to this Funpack business, here's the lowdown: Each month, I send all subscribers a box of absurd nonsense. Subscriptions are $25 a month, and that includes shipping. Subscriptions are handled through Paypal, and you can cancel at anytime with no penalty. For as long as you remain subscribed, you'll keep getting Dino Drac Funpacks every month! (Scroll to the bottom of this post for more information and a link to subscribe!)
Now, what's in store for you this month?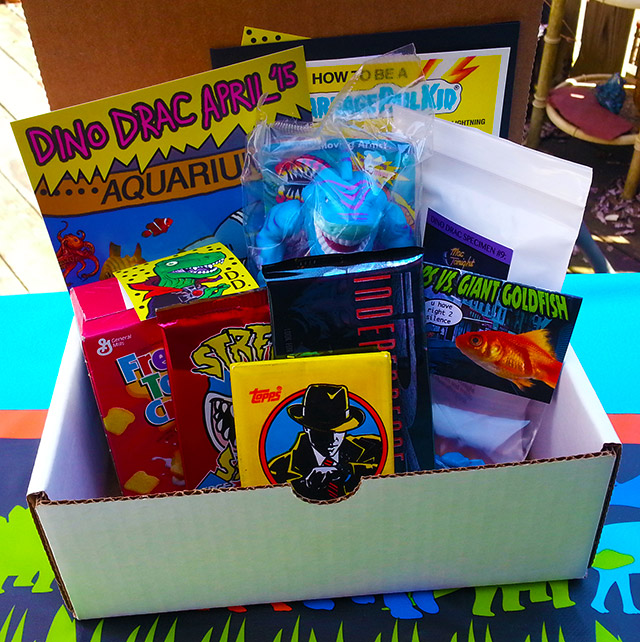 It's another ten item box! Every subscriber will receive:
– A never-used, still-bagged Street Sharks "Candy Machine" from 1995!
– A one-ounce box of case-fresh French Toast Crunch cereal!
– A 1989 McDonald's Mac Tonight figure, in a custom Dino Drac bag!
– A giant Garbage Pail Kids sticker from 1986!
– Dino Drac's April 2015 Ugly Mini-Poster!
– Dino Drac's "Cops Vs. Giant Goldfish" two-pack!
– A pack of vintage Street Sharks trading cards!
– A pack of vintage Dick Tracy trading cards!
– A pack of vintage Independence Day trading cards!
– Dino Drac's April 2015 Funpack Newsletter! (Not shown.)
If that doesn't sound like a night well spent, you're probably reading the wrong website. More details on this month's inclusions down below!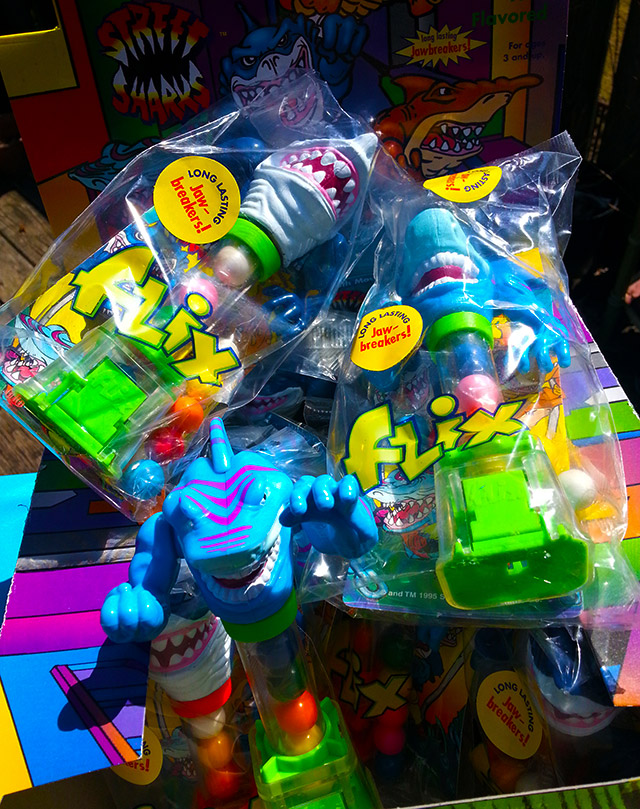 I'm really excited about this month's Street Sharks Candy Machines. They're from 1995, and each is still sealed in its original bag. The neat thing about these is that they're topped by what are essentially Street Sharks action figures. Big ones, too! They don't have any legs, but their arms are poseable!
There are a few characters available (luck of the draw, but they're all sharks), and there's one of these babies in every Funpack. Don't eat the candy — it's old!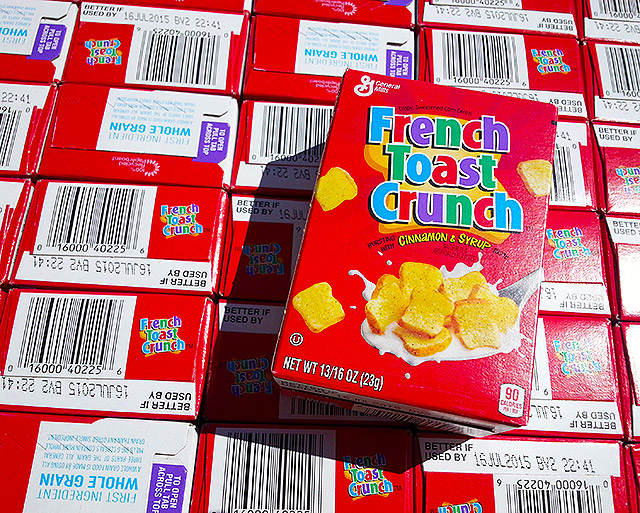 Oh, hell yes. Ever since spotting one-ounce sample-sized boxes of French Toast Crunch at the supermarket, I knew I had to include them in the Funpacks. They're adorable, and as you should remember from my review, this is a product I really believe in.
Acquiring enough boxes for the Funpacks was no easy task, and in fact, it took a big favor from General Mills to make this happen! (Many thanks to A.G. of General Mills for putting up with two months' worth of emails!) You're gonna love this stuff, guys. If you've had trouble finding it in your city, the Funpacks have you covered!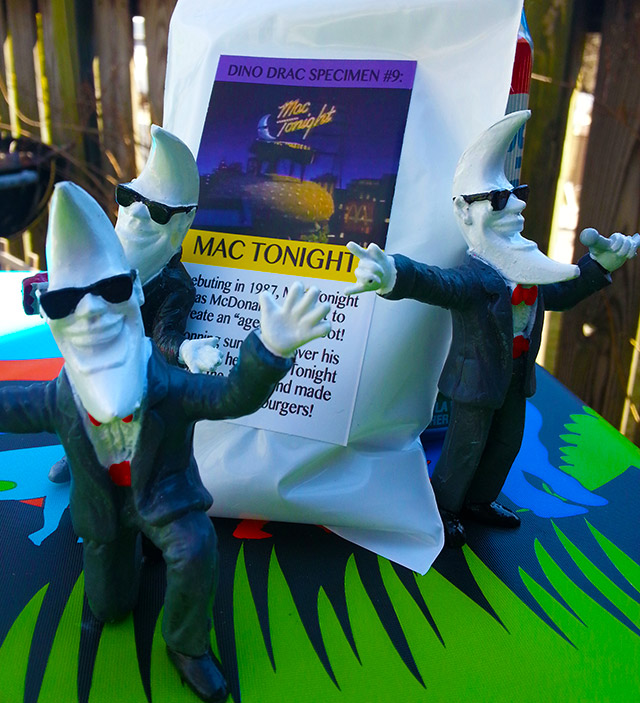 Uh oh, it's Dino Drac's April 2015 SPECIMEN. This time, you'll each receive one vintage McDonald's Mac Tonight figure, from 1989! Mac Tonight was the moon-headed, piano-playing mascot meant for adult audiences, and I shouldn't need to tell you that moon-headed, piano-playing mascots are always awesome.
You'll receive one of the three figures shown above. Nice, PVC-quality figures. Each is placed in its own custom Dino Drac Specimen bag!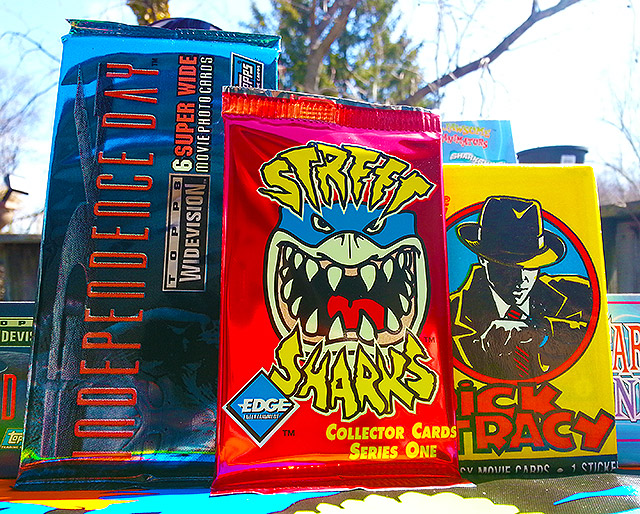 No Dino Drac Funpack is complete without some old trading cards, and this month, you're getting three packs! Street Sharks! Dick Tracy! Independence Day! May the '90s live on through shiny cardstock.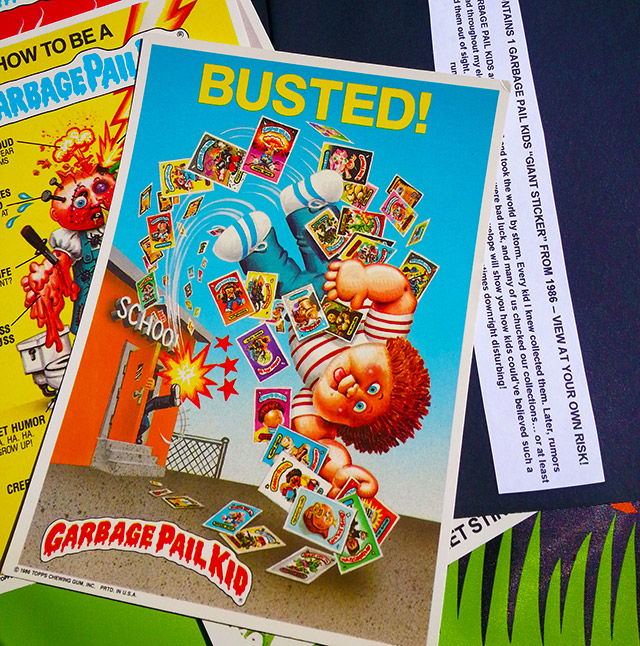 From 1986, I'm also including one vintage Garbage Pail Kids GIANT Sticker in every Funpack! Yes, these existed. Each is 5×7", and since some of them are pretty damn disturbing, I'm placing each in a protective black envelope that you can open at your own risk!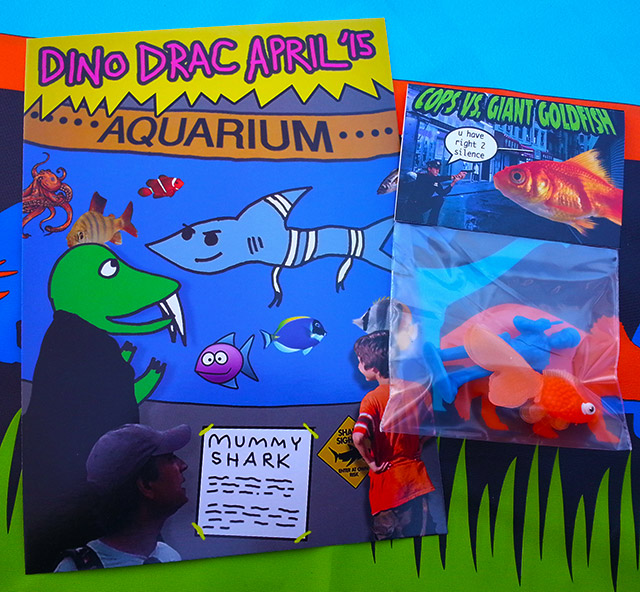 Finally, Dino Drac goes to the aquarium in the April 2015 Ugly Mini-Poster! And to top it all off, you'll also receive Dino Drac's Cops Vs. Goldfish two-pack, which uses crummy toys and custom packaging to tell the story of giant goldfish attacking your fair city!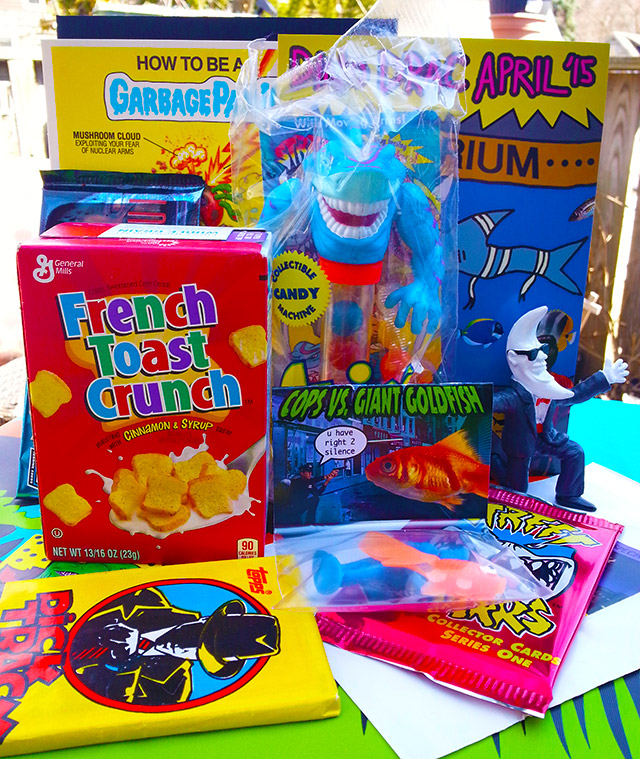 All that, plus the newsletter, shipped to your door for $25! I think you'll enjoy the loot, but even if you don't, hey, you helped keep the site going for another month. Yay!
Ready to subscribe? Click the button at the bottom of this post. But first, just a few notes!
1. Funpacks are available in the United States only. Sorry!
2. Funpacks will be shipped to the address listed on your Paypal account. If you need to change your shipping address, or if you'd like for your Funpacks to be shipped to someone else, simply email me!
3. You will be automatically billed every month. If you subscribe today, you'll pay today, and then again in exactly one month. For as long as you remain subscribed, you'll keep getting Funpacks!
4. You can cancel at anytime. (You could subscribe today and cancel today!) If you cancel after you've already been charged for the following month's Funpack, you'll of course receive it just the same as any current subscriber would. You always get what you pay for!
5. The April 2015 Funpacks will ship on or before 4/14!
Thanks again to all subscribers, old and new! If you're already a subscriber and you'd like to stay that way — do nothing! You're all set! If you're new to this and you'd like to sign up, simply click on the button below to get started!