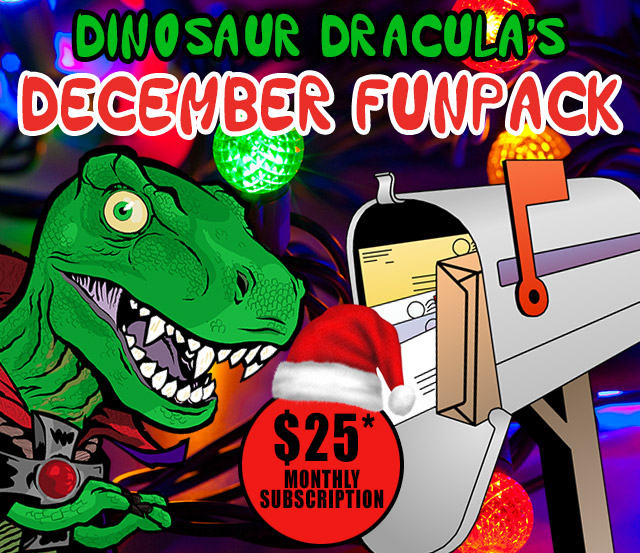 (NOTE: Available in the United States only!)
Okay folks, I'm ready to plug the hell out of Dino Drac's Funpacks again! For those who don't know, for 25 bucks each month, you'll get a new box of random junk sent straight to your door, every month! (And yes, you can cancel at any time!) Subscriptions keep this site alive, and in return, you'll get a package full of insanity each month.
Check it out… the December 2014 Funpack HAS LANDED!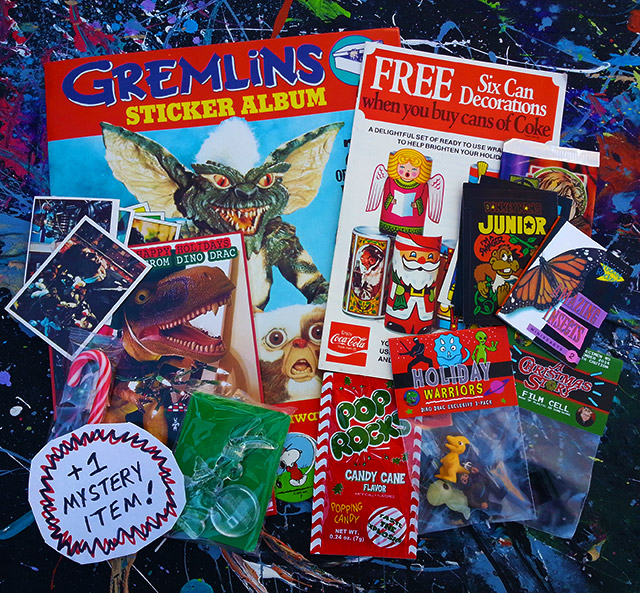 It's a hot hot ho ho holiday extravaganza!
Over ten items in every box, including:
– Vintage 1984 GREMLINS STICKER ALBUM, with a few stickers to get you started! Even if you never fill it, the pages in this one are GORGEOUS. Since Gremlins is technically a Christmas movie, yes, this one fits! (Note: Albums will be gently rolled with a rubber band — they're too big for the boxes otherwise!)
– Vintage COCA-COLA ORNAMENT BOOK, unused and I believe from the '70s! This is filled with six different pull-out sheets that can be wrapped around empty soda cans to transform them into tree ornaments! So cool!
– Vintage ENERGIZER BUNNY TREE ORNAMENT, still packaged! These were promotional giveaways from 1992, and your tree really isn't complete without a see-through Energizer Bunny hanging from one of its branches!
– Dino Drac's exclusive HOLIDAY WARRIORS 3-PACK! Tiny, vending machine quality ninjas, dinosaurs and space aliens are given new meaning in exclusive double-sided Dino Drac packaging, which tells the story of the Holiday Warriors! (Each pack includes one ninja, one dinosaur and one space alien. Colors vary!)
– Dino Drac's December 2014 MINI-POSTER! So ugly!
– Dino Drac's December 2014 SPECIMEN. This one is special — you'll get an honest-to-goodness film cell from A Christmas Story! They're tiny and crude, and not all of them are easy to identify, but these were cut from actual Christmas Story film reels that were purportedly used in theaters. (To err on the side of caution, I'll say they're for novelty purposes only.) Each is packaged in exclusive double-sided Dino Drac packaging!
– Since I like to give everyone something to eat while they sort through their Funpacks, all subscribers will get a mini pack of Candy Cane Pop Rocks!
– You'll also receive a holiday goodie bag stuffed with a mini book, vintage stickers and more!
– One random mystery gift NOT shown here! What will it be?!
Whoa. Not bad, aye? Here are some more photos!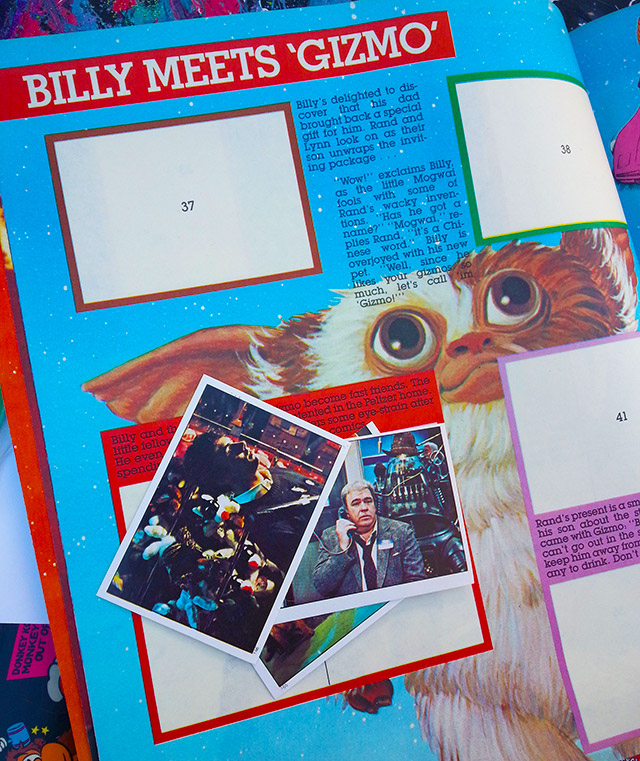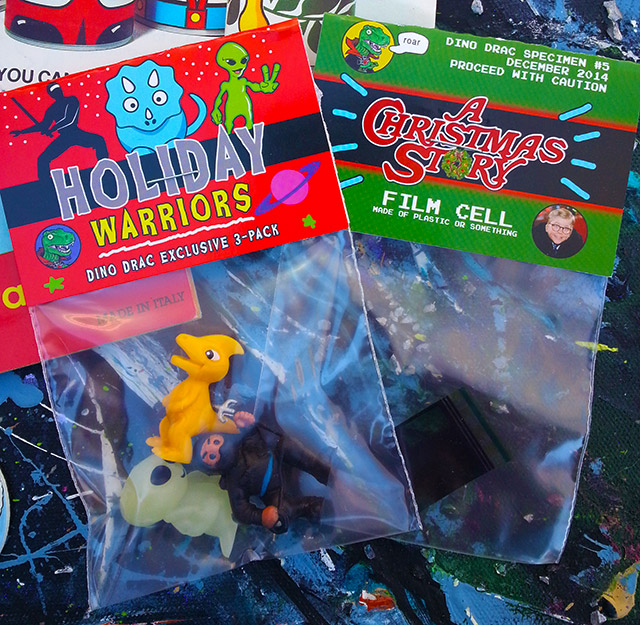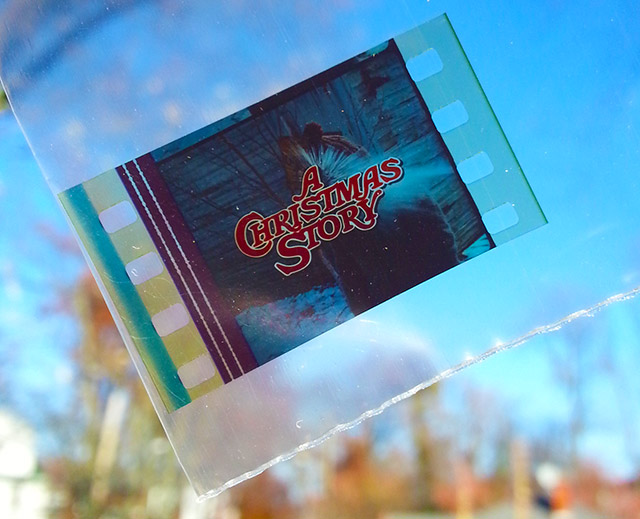 Now let's talk business!
If you're already a subscriber and you'd like to stay that way… do nothing! You're all set, and you'll be receiving the December 2014 Funpack!
If you're NOT a subscriber and you'd like to be, here's what you need to know!
1. I put out a new Funpack every month. So long as you remain subscribed, you'll keep getting them. You'll be automatically charged $25 a month. (Yes, that includes shipping!)
2. If you want to cancel, you can do so at ANY time. While my hope is that you'll like the Funpack too much to want to cancel, you could theoretically cancel one minute after subscribing for December's box. (When/if you ever need to, you can cancel via Paypal!)
3. If you plan to stay a subscriber, you will be charged $25 a month. If you subscribed today, you'll be charged again exactly one month from today. There are no tricks and no catches!
4. All December Funpacks will be mailed on or before December 10th.
I work hard to ensure that these monthly Funpacks contain a great mix of nostalgia and random fun for everyone who subscribes, and so far, the feedback has been staggeringly positive. Also, not to lay it on thick, but the Funpack sales have become the lifeblood of the site, in that I literally would not be able to do it without the "assists" from those who subscribe. So if you enjoy the site, not only will you get a neat box of junk every month, but you're also ensuring that I can keep it all going! (And this month's is particularly important, as the number of subscribers kind of dictates how much Dino Drac stuff I'll be doing in 2015!)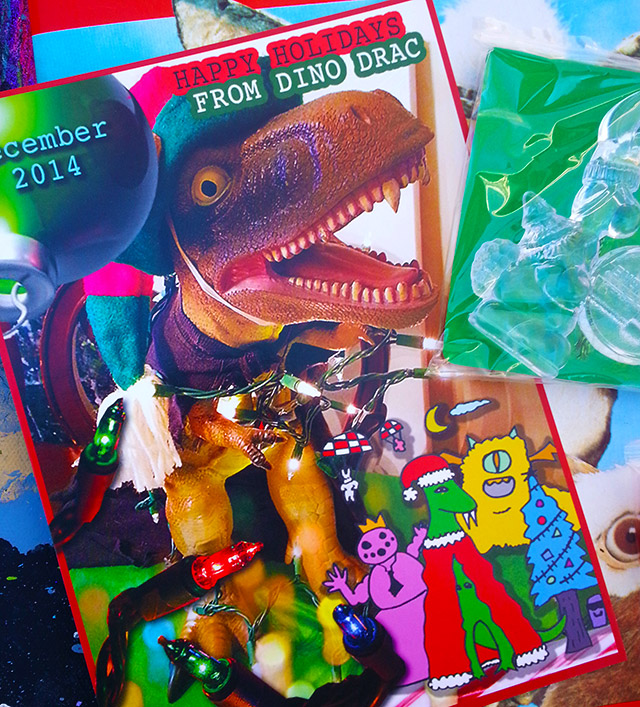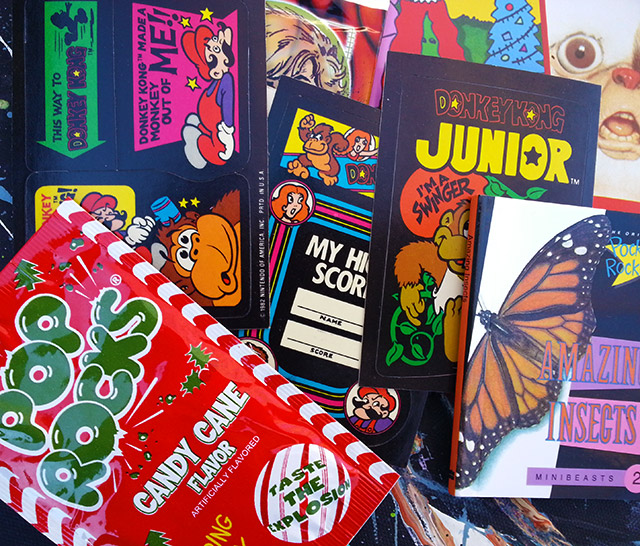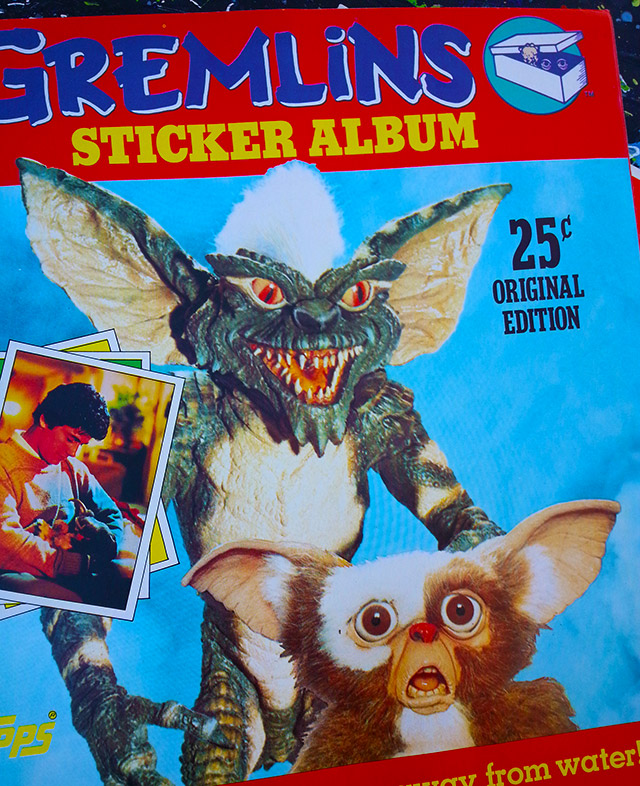 Thanks to all current subscribers, and to all new ones! Can't wait for you to get your goodies!
If you'd like to join up, follow the link below. Even if you don't have a Paypal account, you can still sign up with any major credit card. You'll have an opportunity to include your shipping address when you do. It's easy!
Remember, you will be billed $25 every month, and you'll receive a new Funpack each month for as long as you stay subscribed. You can cancel at any time!
NOTE: Subscriptions are closed for December 2014. May open it up for a day or two later — stay tuned!
If you have any questions, feel free to email me or post a comment below. Thanks again!