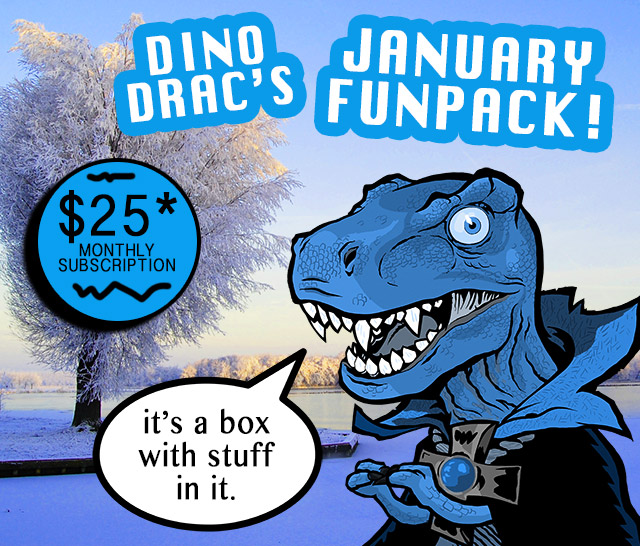 (AVAILABLE IN THE UNITED STATES ONLY!)
I'm officially ready to shill the hell out of Dinosaur Dracula's first Funpack of the new year. It's the January 2015 edition, stuffed with 10+ items!
As this is now the sixth Funpack in the monthly series, it's safe to assume that most of you already know the score. But just in case you don't, I'll explain!
I'm offering subscriptions for monthly Funpacks filled with assorted retro junk — along with choice newer items and even a couple of Dino Drac exclusives. These Funpack subscriptions are absolutely the driving force that allows me to continue running Dino Drac, so aside from getting a cool box of stuff every month, you're also helping to keep the site going!
I'll give you more details below, but here are the basics: Funpack subscriptions are $25 a month, and that includes shipping anywhere in the United States. You can cancel at anytime. For as long as you stay subscribed, you'll automatically be billed $25 a month, and I'll keep sending you new Funpacks!
Now, let's see what's in the January 2015 edition!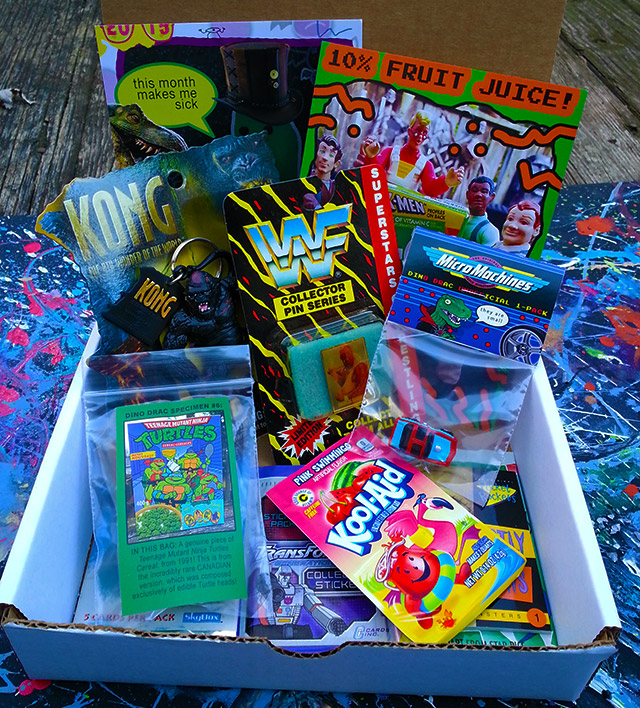 I think it's a very strong contender for the best one yet. Over ten items in each box, including…
– Dino Drac's January 2015 Ugly Mini-Poster!
– Dino Drac's January 2015 Specimen — a piece of the vintage Canadian TMNT cereal!
– A vintage Micro Machines car, in exclusive Dino Drac packaging!
– A vintage World Wrestling Federation Collector Pin, still packaged!
– A still-packaged King Kong stretchy figural keychain from 2005! Oooh ooh ah ah!
– An "editor's choice" packet of fresh Kool-Aid!
– A BONUS Ecto Cooler Ugly Mini-Poster!
– A miniature book about spooky mythology!
– A pack of G1-style Transformers stickers from 2003!
– Other surprise card packs & stickers — a varied mix!
– Dino Drac's 1-Page January 2015 Funpack Newsletter!
Whew! Let's take a closer look at the contents!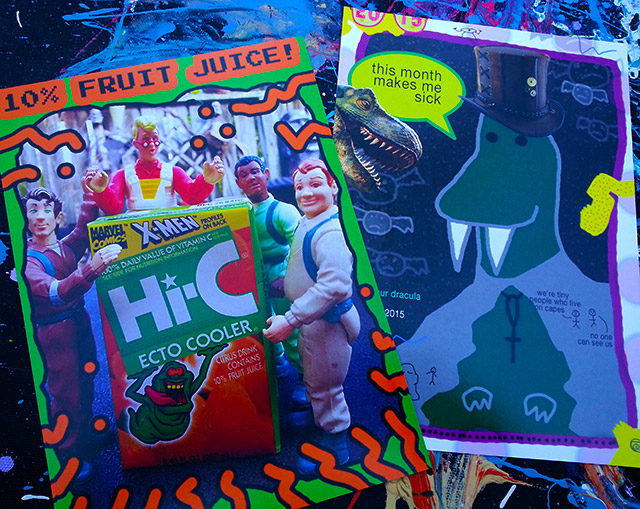 You'll receive BOTH of these Mini-Posters!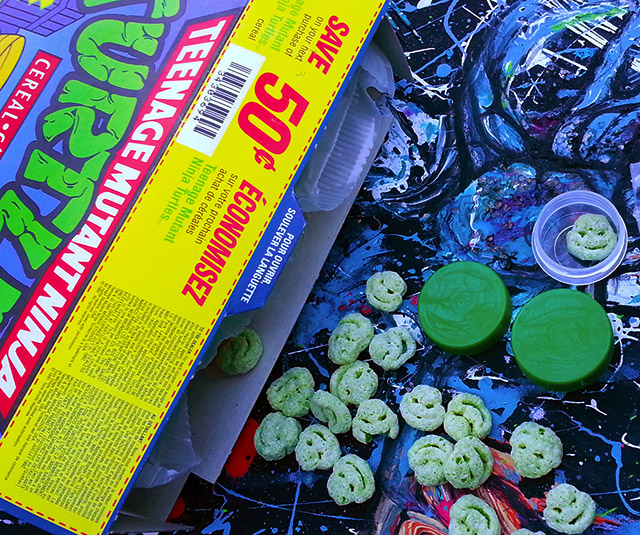 Bet you can't wait to own a really old piece of cereal shaped like a Ninja Turtle head!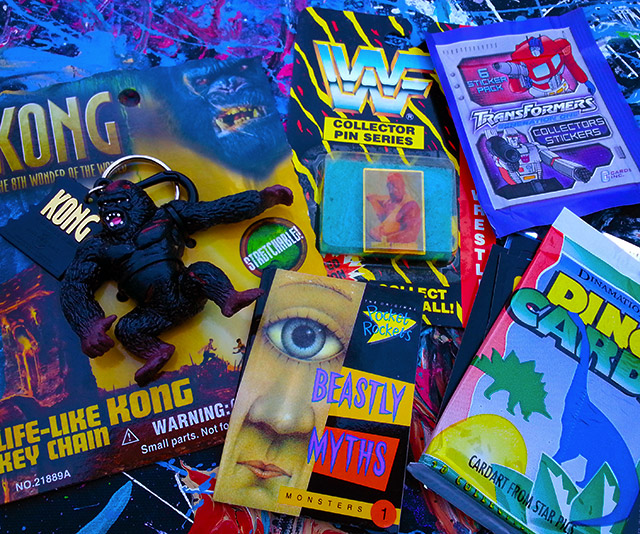 Giant gorillas and giant pro-wrestlers! And other stuff!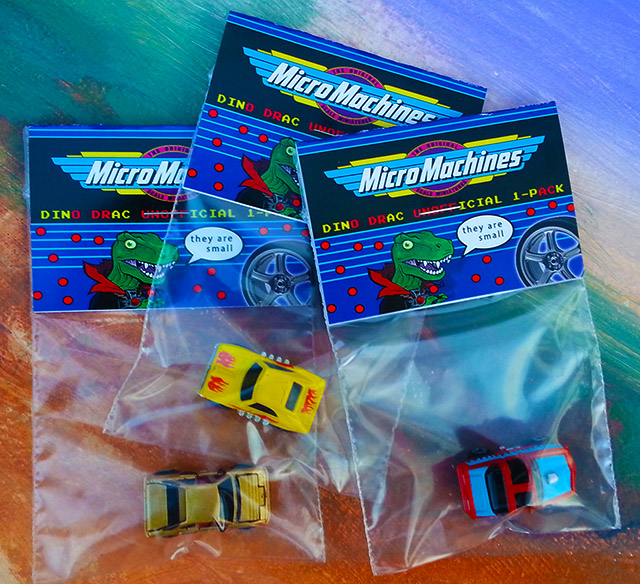 Dig that custom packaging for your new/old Micro Machines car!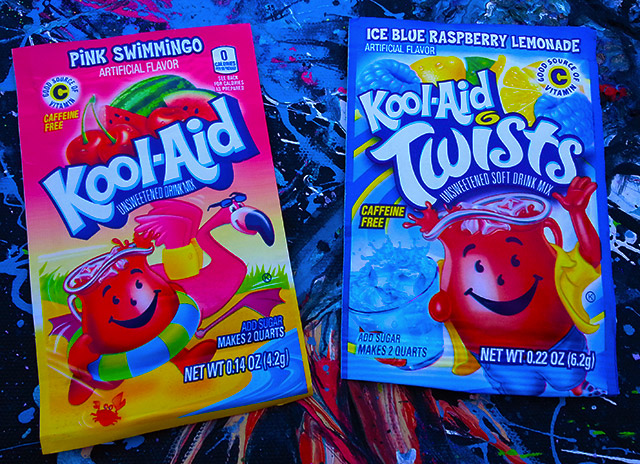 Two of my favorite flavors! You'll get one of 'em in your Funpack!
Okay, now let's talk about how you can subscribe!
First off, if you're already a subscriber and you'd like to stay that way… do nothing, you're all set!
If you'd like to subscribe and start with the January 2015 Funpack, here's everything you need to know:
How do I subscribe?
You can click the button at the end of this post to head to Paypal and start your subscription. Even if you don't have a Paypal account, you can use any credit or debit card.
How much does it cost and when will I be billed?
Funpacks are $25 a month, shipped. United States only. If you subscribed today, you will pay $25 today, and then another $25 exactly one month from today, and so on and so on. So long as you stay subscribed, you will keep receiving Funpacks.
What happens if I want to cancel?
You can cancel anytime! Hell, you can subscribe today and cancel today, guaranteeing you the January 2015 Funpack but none beyond that. (Of course, it's my hope that you'll like them too much to want to cancel!) You can cancel right on Paypal, and if you need any assistance, I'm always on email to help.
How will you know where to send my Funpack?
If you already have Paypal, there should be a name and address associated with it. If there isn't, you'll be asked to provide one. If you need your Funpacks to go to a different address, just email me and I'll make sure that they do.
How long do I have to subscribe, and when will the Funpacks shipped?
The current subscription deadline for the January Funpack is 1/10/15. However, supplies are limited, so I wouldn't advise waiting until the last minute if you're sure you want in! All January 2015 Funpacks will shipped by 1/12/15.
Will you ship internationally? Please?
Unfortunately, I can't. The shipping rates would be too high to make it worth it for anyone.
I'm interested but I have another question.
Feel free to email me or ask in the comments. I'll get back to you ASAP!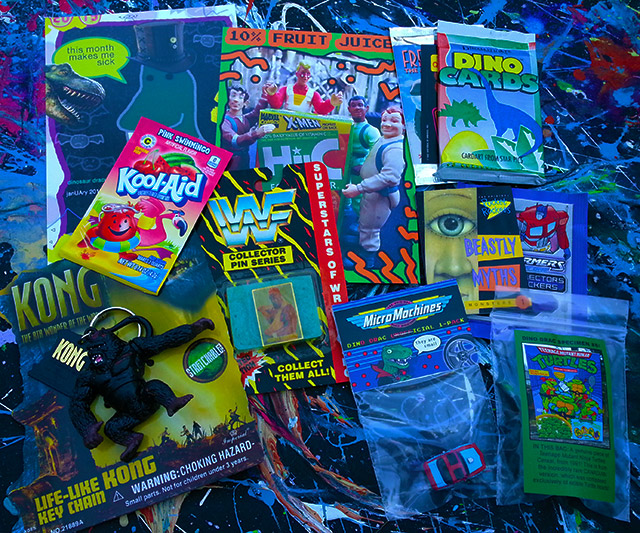 Ready to subscribe? Click the button below to head to Paypal. (Even if you don't use Paypal, you can subscribe with any credit card.) Remember, if you're already a subscriber, you're all set!
Offer good in the United States only. Thanks so much for looking, and if you subscribe, for helping to keep Dino Drac going!