Hooray! I'm finally ready to reveal the goods!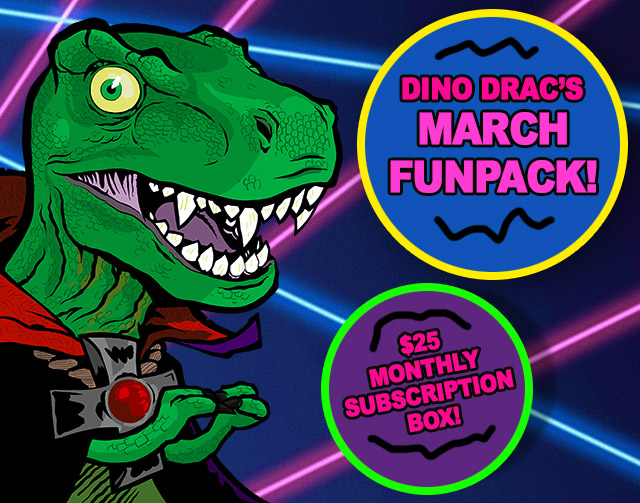 (AVAILABLE IN THE UNITED STATES ONLY!)
Dino Drac's March Funpack is here!
Obligatory spiel: I create and sell monthly Funpacks, stuffed with old and new nonsense. Without the profits from these boxes, I wouldn't be able to run Dino Drac. So on top of getting cool boxes filled with neat stuff, you're also ensuring another month's worth of Kool-Aid reviews and video store trip reports.
The Funpacks are $25 per month, and that includes shipping. Subscriptions are handled via Paypal. For as long as you choose to stay subscribed, you'll be billed automatically every month and continue to receive Funpacks! Of course, you can cancel at any time without penalty.
To all subscribers, old and new: Thank you so much for keeping the site afloat!
Let's see what's in store for the March 2017 Funpack!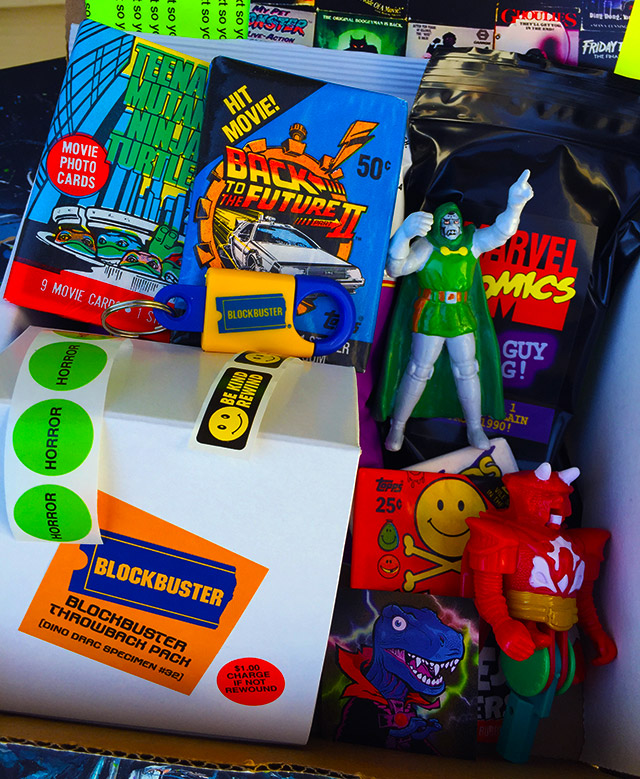 The March 2017 Funpack is loaded with so much awesome junk! There are over ten items in every box, and pretty much everything except the bag of chips is from the '80s or '90s. If you're into retro nostalgia, this box will beat you over the head with it.
Scroll to the bottom for ordering info, or keep reading to see everything you'll receive in this month's Funpack!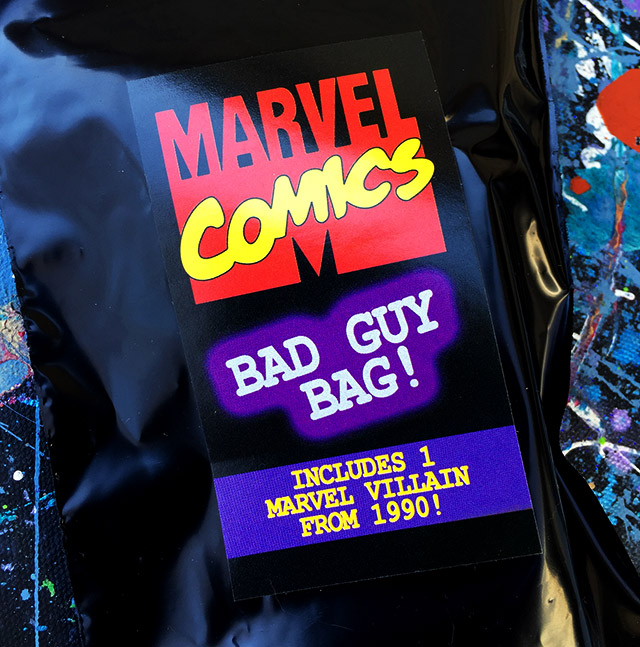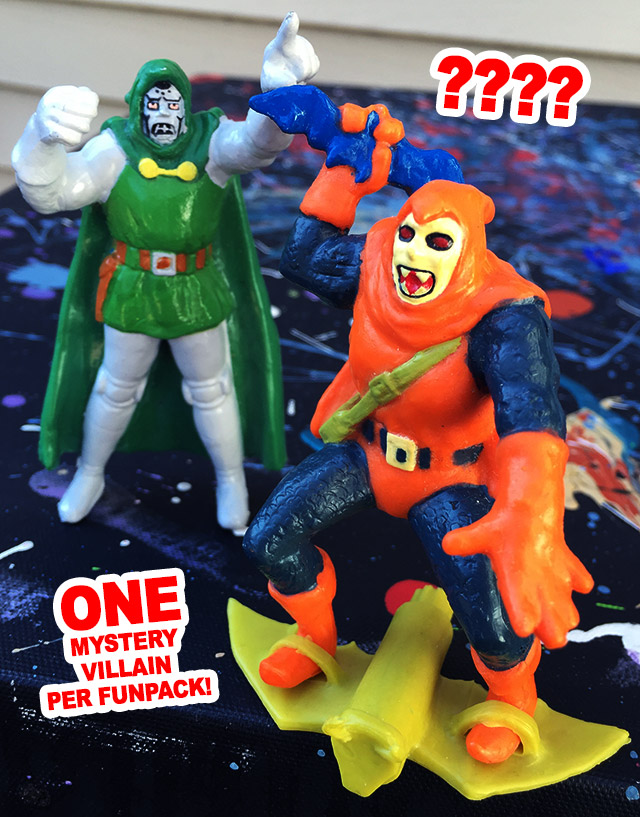 First up, every subscriber will receive ONE vintage Marvel Comics PVC figurine, made in 1990. I love these little guys, which are a bit shorter than standard action figures, but make up for it with bright colors and fairly ridiculous poses.
These figures were officially licensed and originally sold in swank displays near toy store registers. You will receive either Doctor Doom (with threateningly pointed finger) or Hobgoblin (with removable bat flyer thing) in a custom Dino Drac Marvel Bad Guy Bag. Figures may have a paint chip here or there, but they've never been played with and are as clean as they were in 1990.
Sorry, no picking! No matter which villain you prefer, you have a 50/50 shot at him!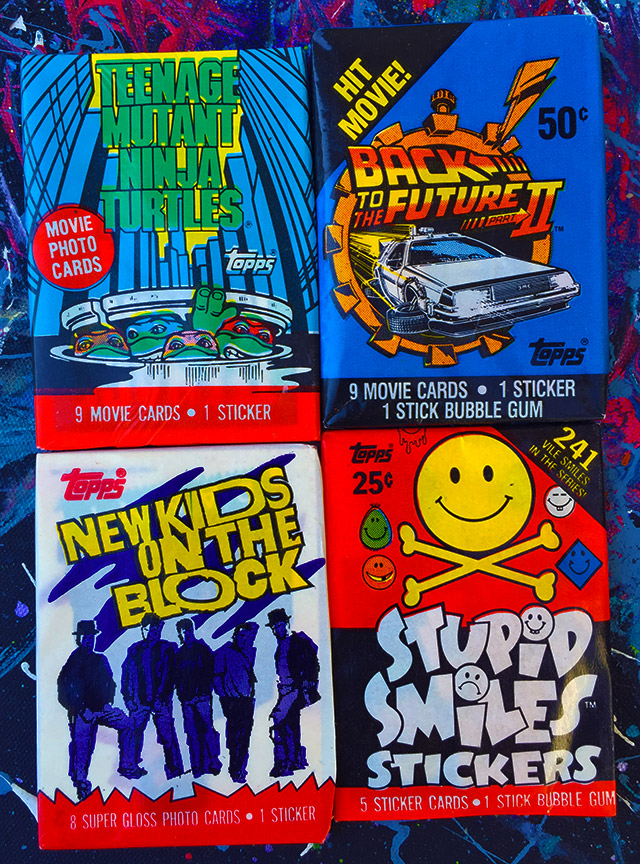 Next up, you'll each receive ALL FOUR trading cards packs shown here. This is one of my favorite mixes of packs from any Funpack. Just look at those beautiful wrappers!
Included are packs for TMNT: The Movie, Back to the Future Part II, New Kids on the Block and Stupid Smiles. Considering that the TMNT pack is the youngest of the four, these are super vintage… but still bright and clean. Have fun flipping through the cards… if you can stand to open such nice looking packs!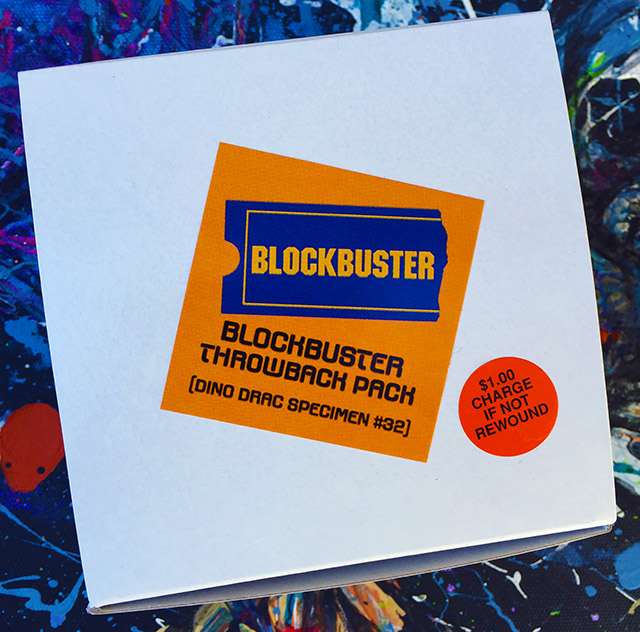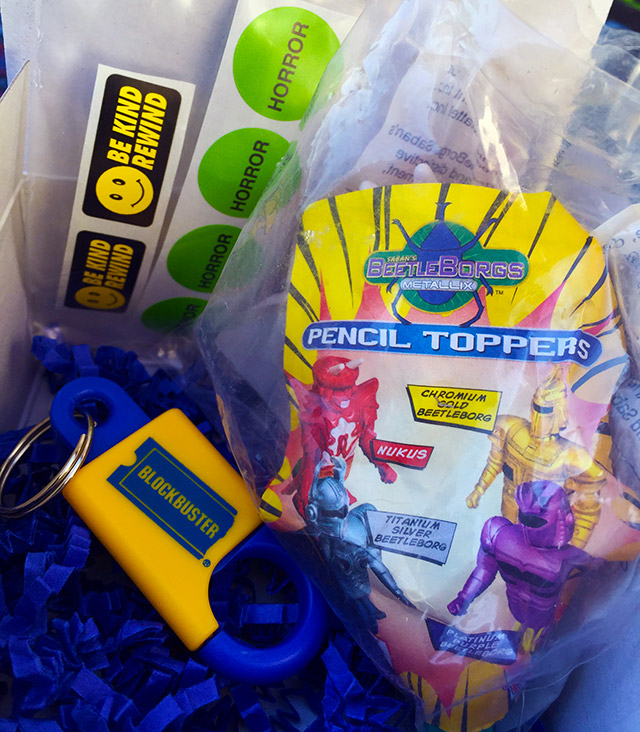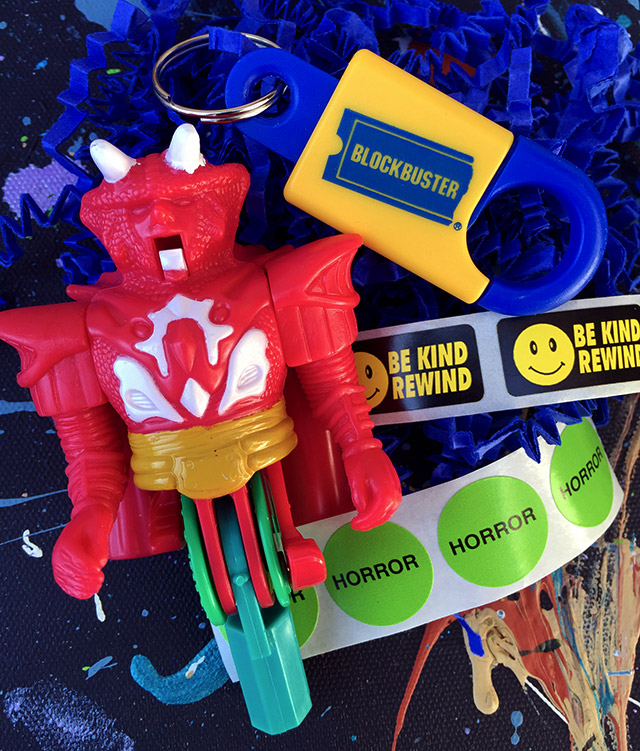 Next up is this month's Dino Drac Specimen, and it's a doozy. Behold, the Blockbuster Throwback Pack! It's a Funpack within a Funpack!
This special gift box will help you remember the era when Blockbuster was pretty much the only rental game in town. Each custom Dino Drac gift box includes:
– A vintage Beetleborgs figural pencil topper, still packaged. These were given away by Blockbuster in the late '90s! (Characters vary.)
– A vintage Blockbuster promo keychain, so you can carry the nostalgia with you at all times!
– An awesome strip of four still-sticky VHS "HORROR" stickers *and* a strip of two classic "BE KIND REWIND" stickers!
All items fit snugly in the Blockbuster Throwpack Pack gift box, thanks to a sprinkling of "Blockbuster blue" crinkle paper. You're gonna love this!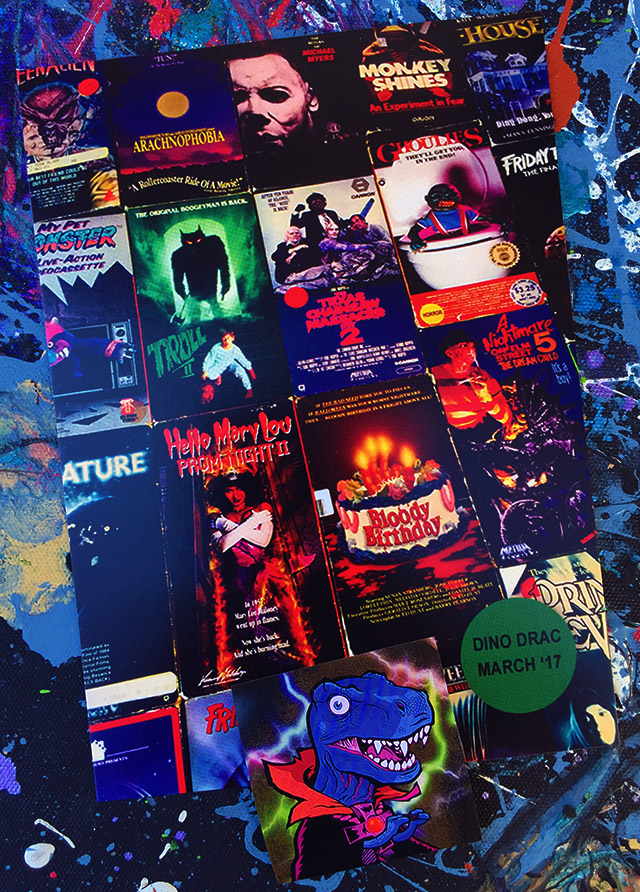 The video store nostalgia continues with this month's Dino Drac Ugly Mini-Poster, which features a portion of my own VHS collection on 5×7″ cardstock. And yes, you'll get this month's exclusive Dino Drac sticker, too!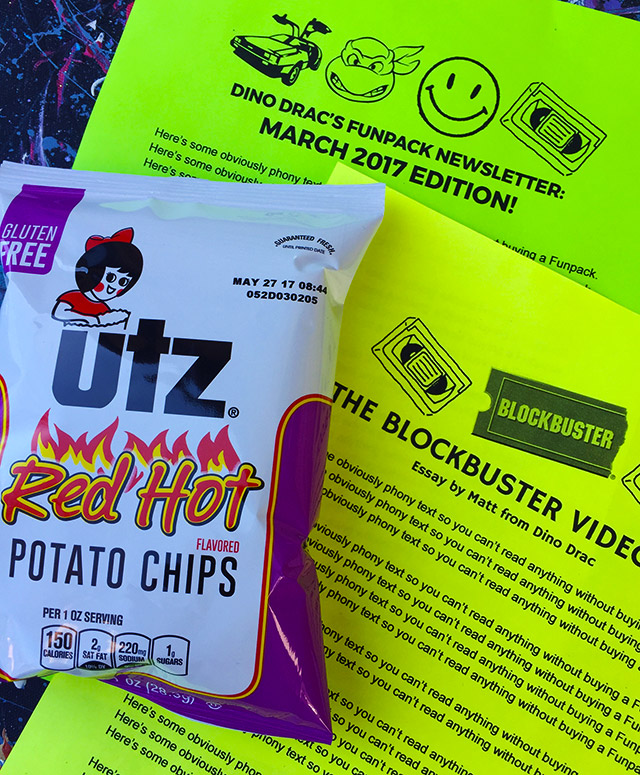 Finally, enjoy a bag of Utz Red Hot potato chips while you read this month's Dino Drac Funpack Newsletter, plus an exclusive essay about my own personal Blockbuster memories. (Essay will never be reprinted on the site!)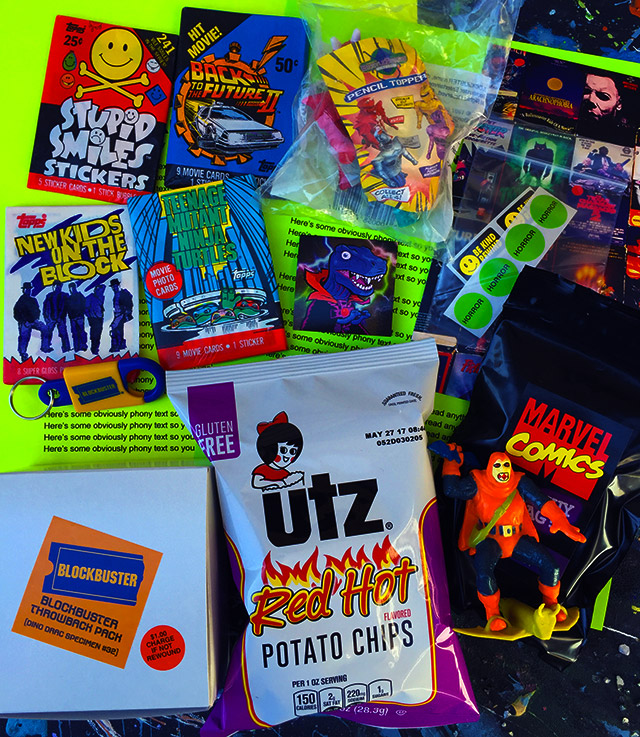 Yep, you'll get EVERYTHING shown above for $25 shipped!
If you're already a Funpack subscriber and you'd like to stay that way… do nothing! You're all set!
If you want to subscribe, please read the following, and then click the button at the bottom of this page!
1. Funpacks are available in the United States only. Sorry!
2. Subscriptions are handled via Paypal. If you don't have an account, it's very easy to make one!
3. Funpacks will be shipped to the address listed on your Paypal account. If you need to change your shipping address, or if you'd like for your Funpacks to be shipped to someone else, simply email me!
4. You will be automatically billed $25 every month. (Yes, that price includes shipping.) If you subscribe today, you'll pay today, and then again in exactly one month. For as long as you remain subscribed, you'll keep getting Funpacks!
5. You can cancel at anytime. (You could subscribe today and cancel today!) If you cancel after you've already been charged for the following month's Funpack, you'll of course receive it just the same as any current subscriber would. (You can cancel via Paypal, or by emailing me.)
6. The March 2017 Funpacks will ship on or before 3/21!
Remember, the Funpacks are *absolutely* what allow me to keep doing the site… thanks so much to all who help to keep it/me going!
To get your subscription started, click the button below!
SORRY, THE MARCH 2017 FUNPACKS ARE SOLD OUT. SEE YOU IN APRIL!