Hooray! I'm finally ready to debut Dino Drac's February 2017 Funpack! Took me long enough.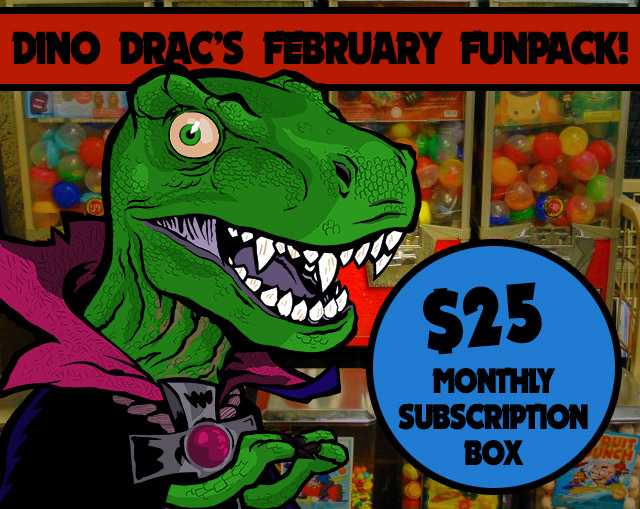 (AVAILABLE IN THE UNITED STATES ONLY!)
Obligatory spiel: I create and sell monthly Funpacks, stuffed with old and new nonsense. Without the profits from these boxes, I wouldn't be able to run Dino Drac. So on top of getting cool boxes filled with neat stuff, you're also ensuring another month's worth of… I don't know… Doritos reviews.
The Funpacks are $25 per month, and that includes shipping. Subscriptions are handled via Paypal. For as long as you choose to stay subscribed, you'll be billed automatically every month and continue to receive Funpacks! Of course, you can cancel at any time without penalty.
If you haven't hopped on the train yet, thanks for considering it. Your support means everything, and I'll remember it the next time I spend a weekend writing about mummy-themed wrestlers from 1995.
Let's see what's in store for the February 2017 Funpack!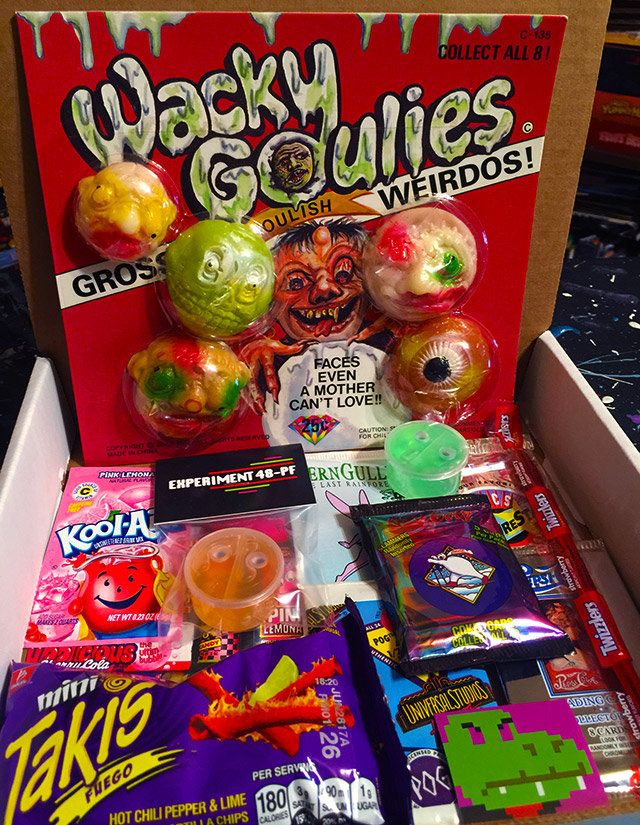 Oh my, this one is stellar, if I do say so myself. There are over a dozen items in every box, ranging from serious '80s collectibles to seriously delicious Kool-Aid. Scroll to the bottom for ordering info, or keep reading to hear about EVERYTHING you'll receive this month!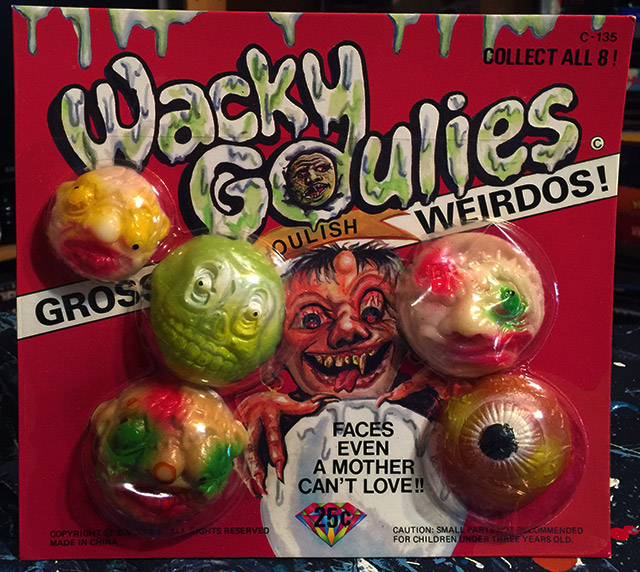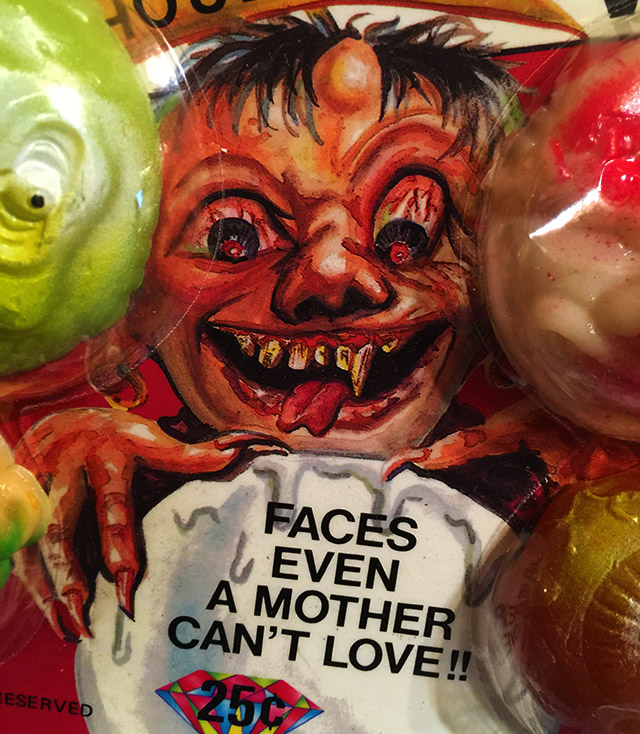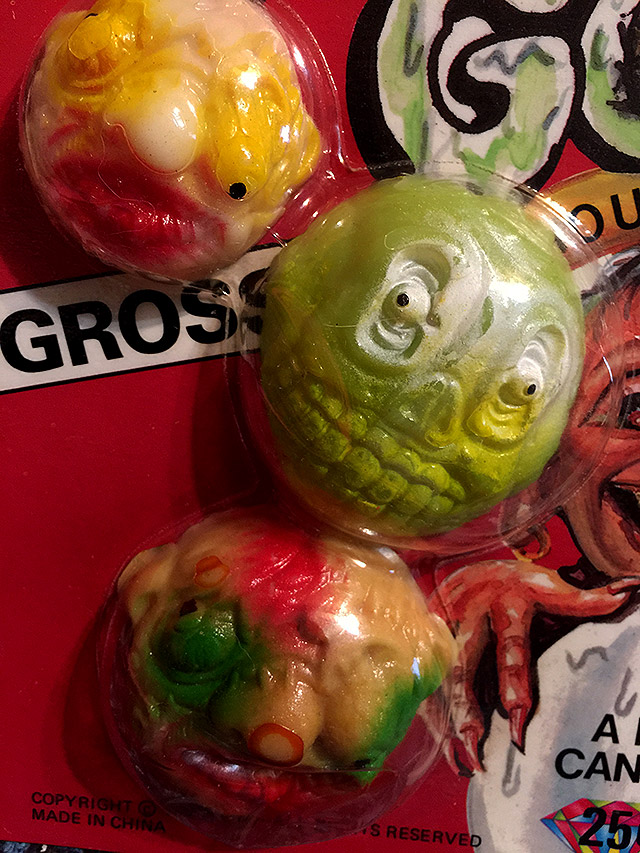 First (and best) is an unbelievable treat, assuming you're into the same weird shit as me. EVERY subscriber will receive a vintage Wacky Goulies vending machine teaser card, COMPLETE with original Wacky Goulies prizes. YES! YES! YES!
If you don't remember these from my ancient tribute, Wacky Goulies came out in 1986 and were very obviously inspired by AmToy's Madballs. In fact, most of the weird, suction-cupped creatures are direct riffs on specific Madballs from the original collection! Toss in a little inspiration from Ghoulies, and you're looking at one heck of a horror/action figure/1980s combo collectible.
For one long ago Funpack, I gave every subscriber just one of the Wacky Goulies toys. This time, you're getting the COMPLETE ORIGINAL TEASER CARD. These were never sold in stores, and were meant to be placed inside vending machines to tempt little kids into parting with their quarters. These are unbelievably cool, guys!
NOTE ON CONDITION: These cards are from 1986, meaning they're more than three decades old! Most have crushed bubbles and edgewear. However, the plastic bubbles are still on tight despite the dents.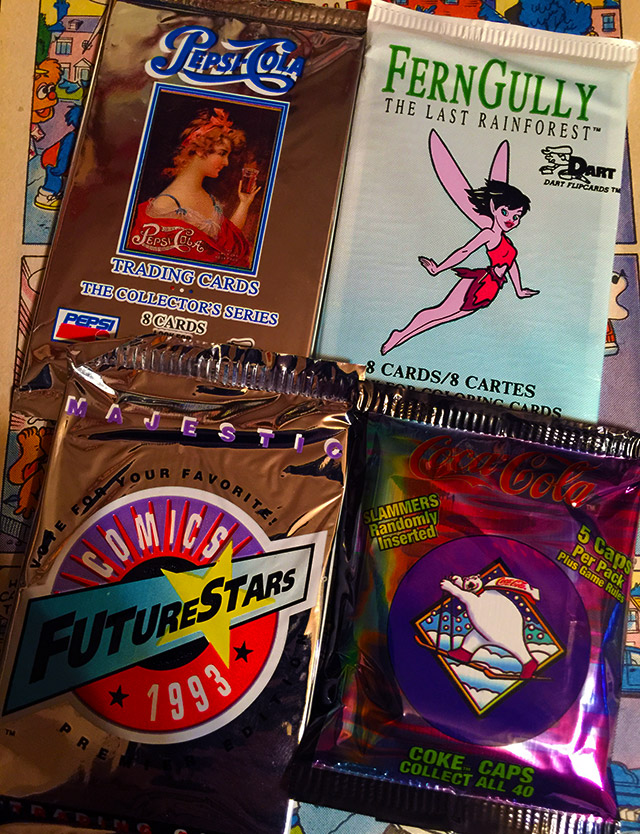 Next up, you'll each receive another assortment of vintage trading card packs. Well, three vintage trading card packs, and then a pack of Coca-Cola pogs. Joining that are card packs for Ferngully, Pepsi, and Comics Future Stars. Have fun tearing everything open and pretending you're 10 again!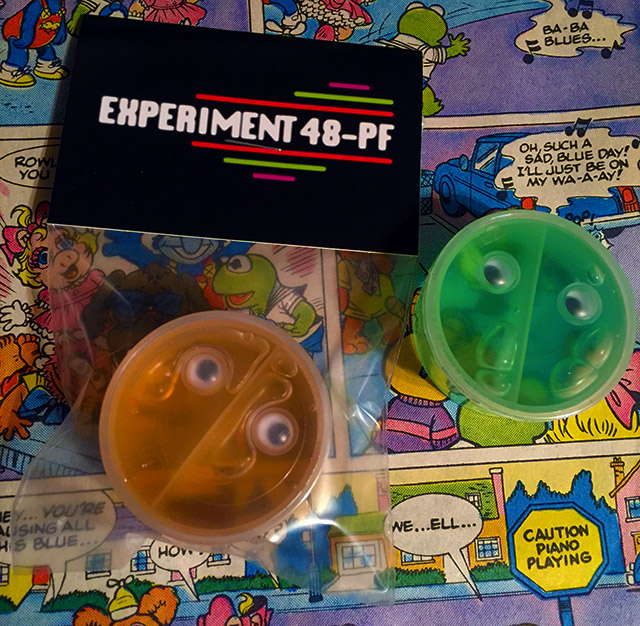 And then we have EXPERIMENT 48-PF — a Dino Drac exclusive! EXPERIMENT 48-PF just happens to refer to those little tubs of toy slime topped by adorable googly eyes.
Nobody knows where they came from, but EVERYONE had them. If you're like me, you spent much of your childhood treating them like living creatures, and forcing all of your action figures to do the same. You'll each receive *two* EXPERIMENT 48-PF slime tubs — one in the custom package, and another loose!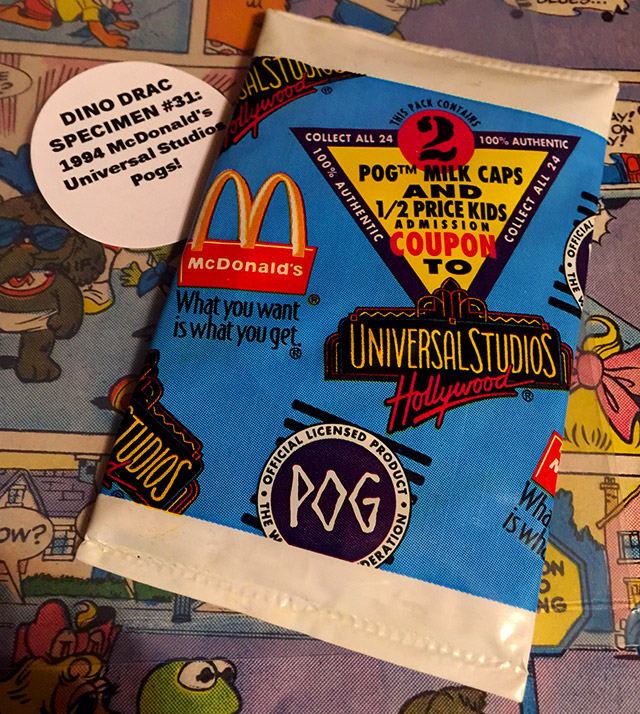 This month's Dino Drac Specimen is a pack of Universal Studios Pogs, given away by McDonald's back in '94. Open it if you like, but try not to damage the wrapper too much. It's a beauty. (On that note, I'll be placing each pack in a protective sleeve before shipping!)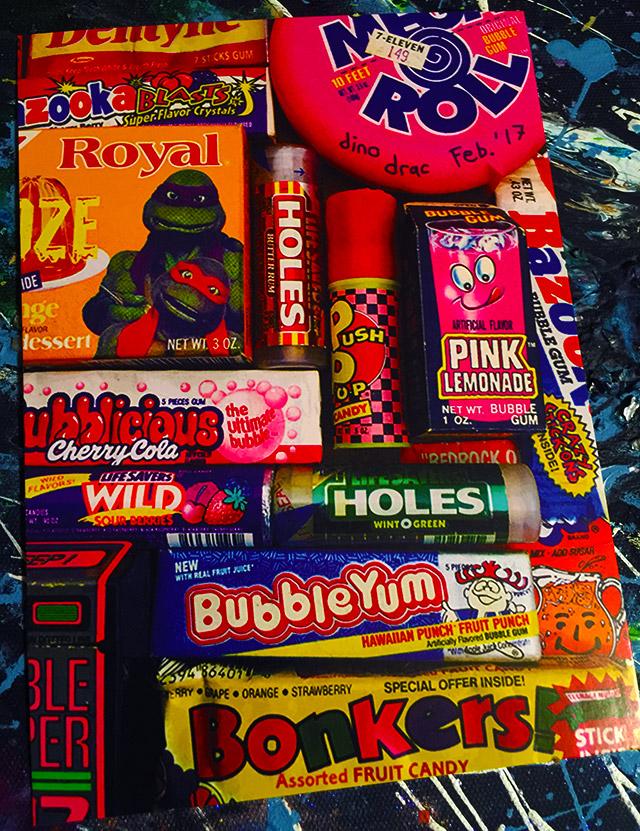 This month's Ugly Mini-Poster really isn't so ugly. It's a ridiculously great photo of my vintage candy collection, because while I'd agree that collecting old food takes a certain mindset, surely tacking up pictures of it is fun for everyone?
Mini-Posters are 5×7" and printed on cardstock.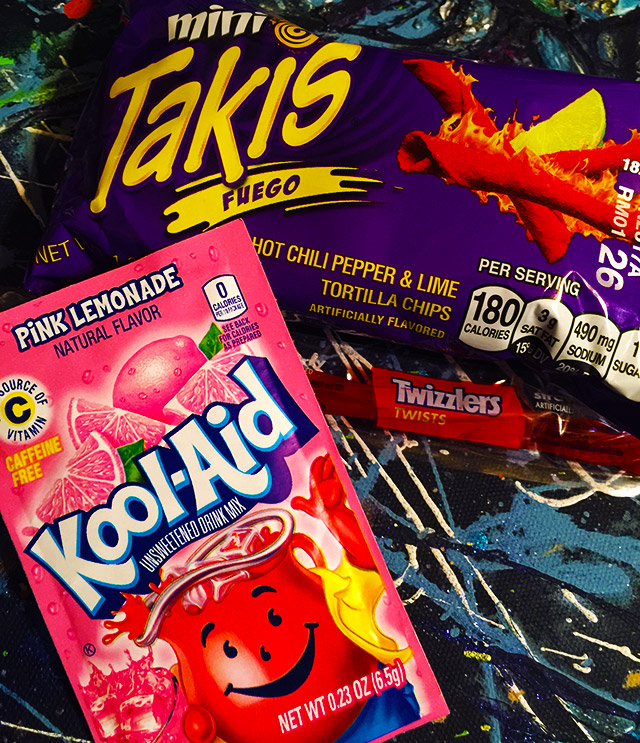 Oh, and don't forget the food! This month, every subscriber will receive a pack of Mini Takis (dangerously delicious) and a packet of Pink Lemonade Kool-Aid. (…which you'll probably need, because those Takis are friggin' spicy.) I'll also throw in a Twizzler, because I know you secretly hoped I would.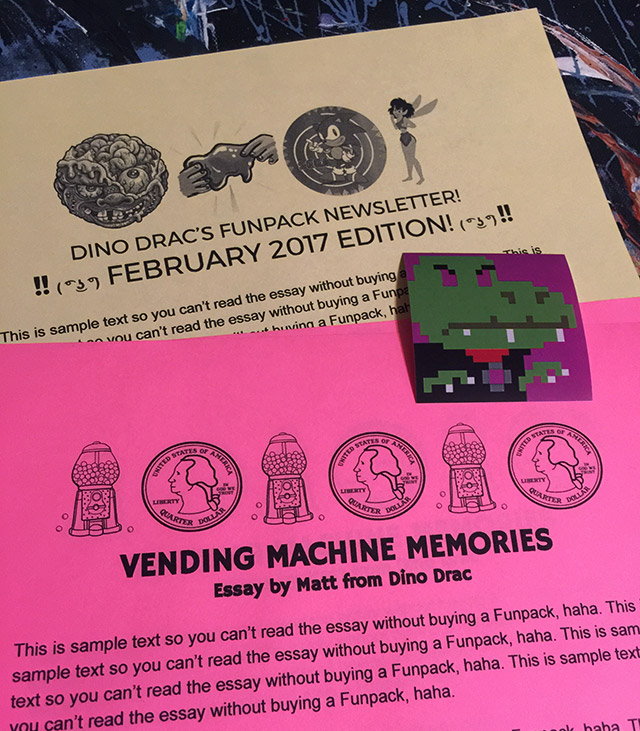 Rounding things out is the monthly Funpack newsletter and Dino Drac sticker, PLUS an exclusive essay that will never be reprinted on the site! In honor of those Wacky Goulies, this month's essay is all about my childhood vending machine memories. I'll tell you about everything from red slime to prismatic Marvel Comics stickers. What fun we'll have!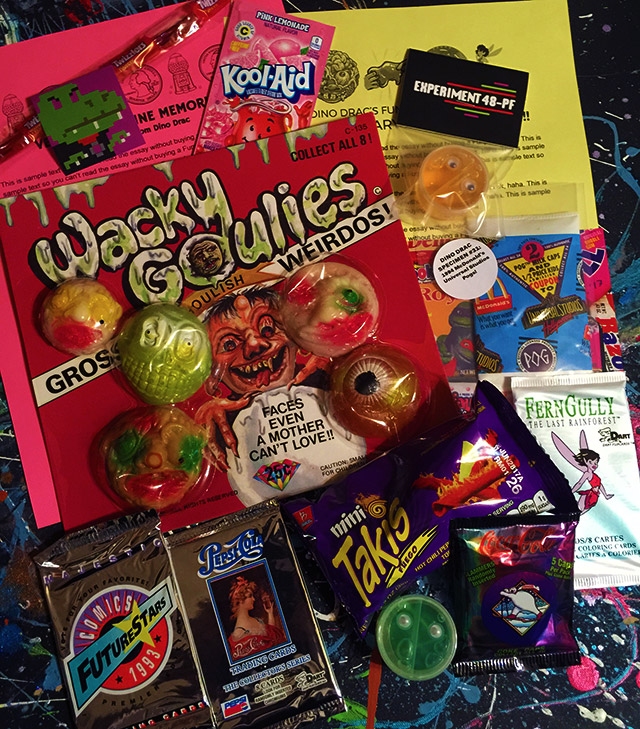 Yep, you'll get EVERYTHING shown above for $25 shipped!
If you're already a Funpack subscriber and you'd like to stay that way… do nothing! You're all set!
If you want to subscribe, please read the following, and then click the button at the bottom of this page!
1. Funpacks are available in the United States only. Sorry!
2. Subscriptions are handled via Paypal. If you don't have an account, it's very easy to make one!
3. Funpacks will be shipped to the address listed on your Paypal account. If you need to change your shipping address, or if you'd like for your Funpacks to be shipped to someone else, simply email me!
4. You will be automatically billed $25 every month. (Yes, that price includes shipping.) If you subscribe today, you'll pay today, and then again in exactly one month. For as long as you remain subscribed, you'll keep getting Funpacks!
5. You can cancel at anytime. (You could subscribe today and cancel today!) If you cancel after you've already been charged for the following month's Funpack, you'll of course receive it just the same as any current subscriber would. (You can cancel via Paypal, or by emailing me.)
6. All February 2017 Funpacks will ship on or before 2/21!
Remember, the Funpacks are *absolutely* what allow me to keep doing the site… thanks so much to all who help to keep it/me going!
To get your subscription started, click the button below!
SOLD OUT! (See you next month!)