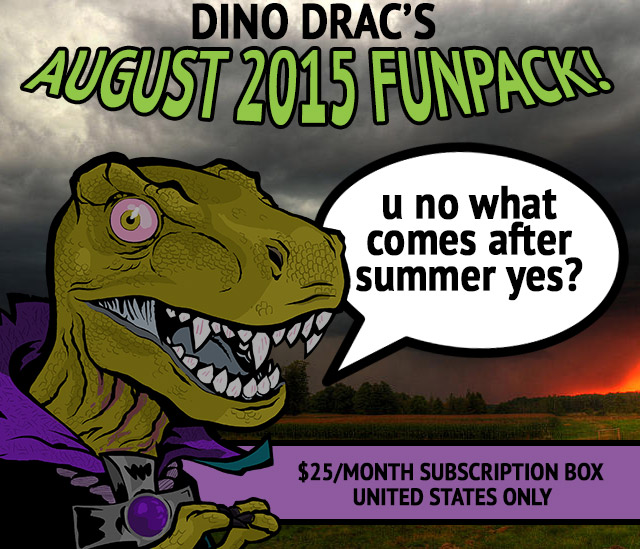 It's here, it's here! Dinosaur Dracula's August 2015 Funpack is available now!
The scoop, if you're new: Every month, I mail out boxes of goodies — "Funpacks" — to everyone who subscribes. The cost is $25 per month — including shipping — and you'll continue to receive Funpacks for as long as you remain subscribed. Also, you can cancel at anytime. (Heck you could subscribe today and cancel today, if you're only interested in this month's box!)
Selling these Funpacks is what enables me to continue running Dino Drac, and as we head into the site's most expensive months — the Halloween Countdown is coming, after all — every subscription counts!
You can skip to the bottom of this post for more subscription information. First, let's see what's in store for August!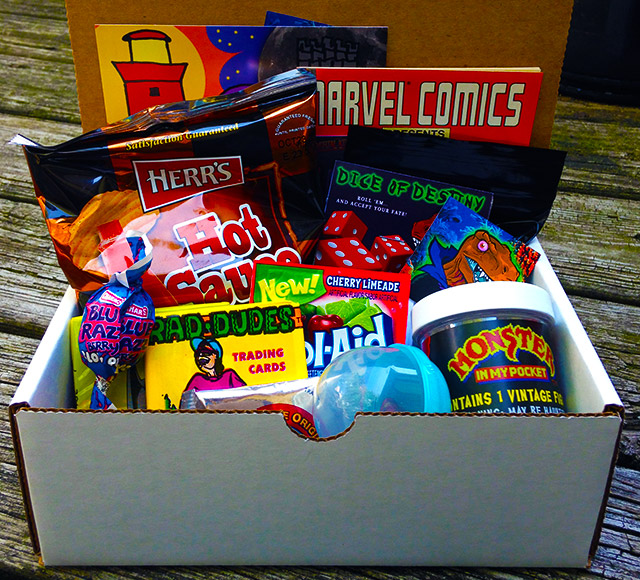 The theme for this month is "Summer into Autumn." Every box includes some bright and sunny things… and then some things from the dark side.
There are over a dozen items in each Funpack, including…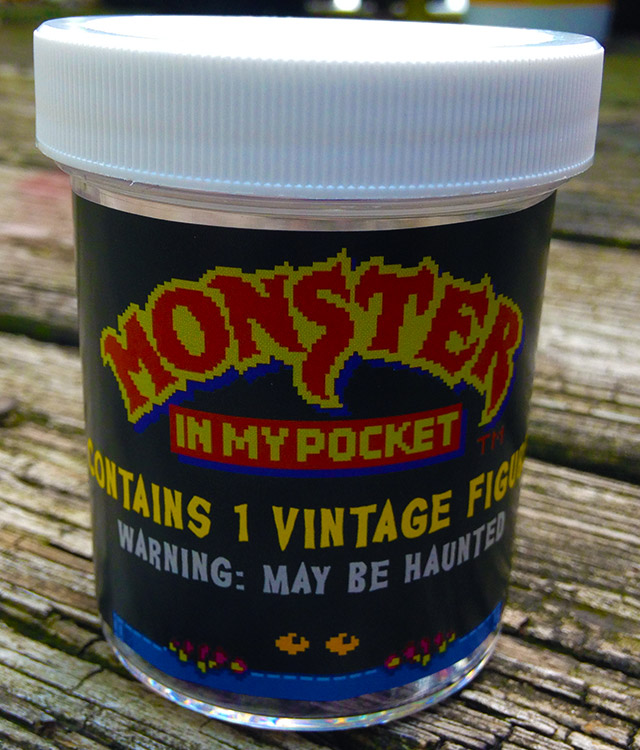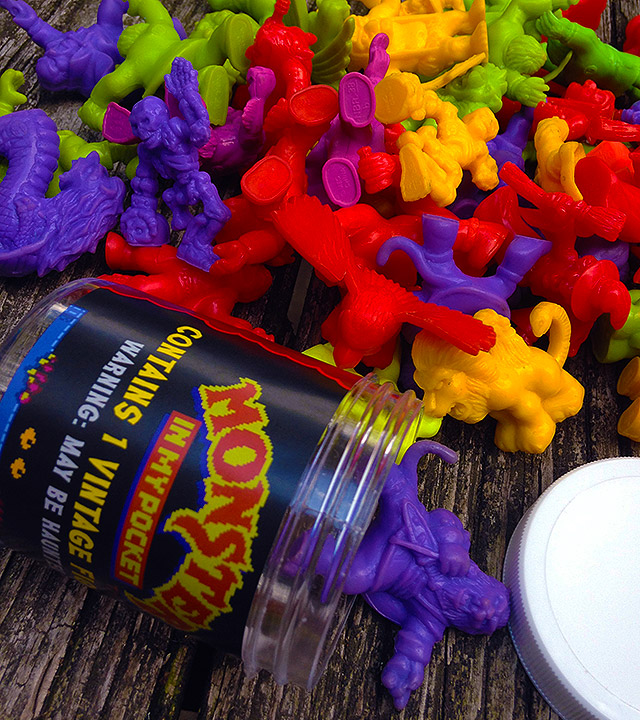 Every subscriber will receive one vintage Monster in My Pocket figure, adorably trapped in a custom Dino Drac jar! For those who don't recall, Monster in My Pocket was an amazing line of little, colorful monster figures, made by Matchbox in the early '90s.
I'm drawing exclusively from the first series, too, so no matter which figure you receive, it will definitely be one from the original set. No figures are being held back — including the rarer ones!
(Figures are used, obviously, but in nice shape. I'll be giving them a good cleaning prior to jarring them, too!)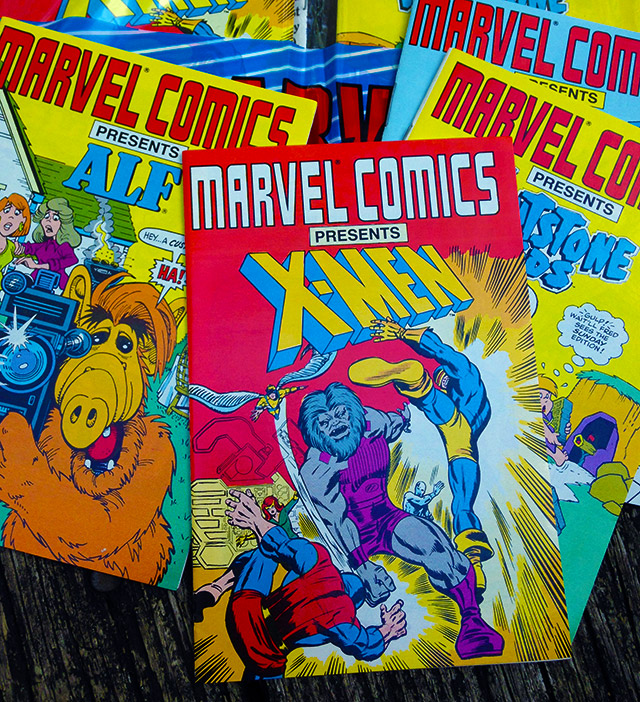 Oooh, these are a treat — literally! Marvel Treats was a collection of mini-sized comic books put out by Marvel Comics in the mid '80s. They were intended to be used as Halloween giveaways for families who didn't want to hand out chocolate. (And this may be a rare case of something being better than chocolate.)
Every subscriber will receive ONE of these comics at random. Possible titles include X-Men, The Flintstones Kids, ALF and Spider-Man. (Note to longtime subscribers: You may remember similar comics in the very first Funpack from last year. Don't you worry: This is a completely different set!)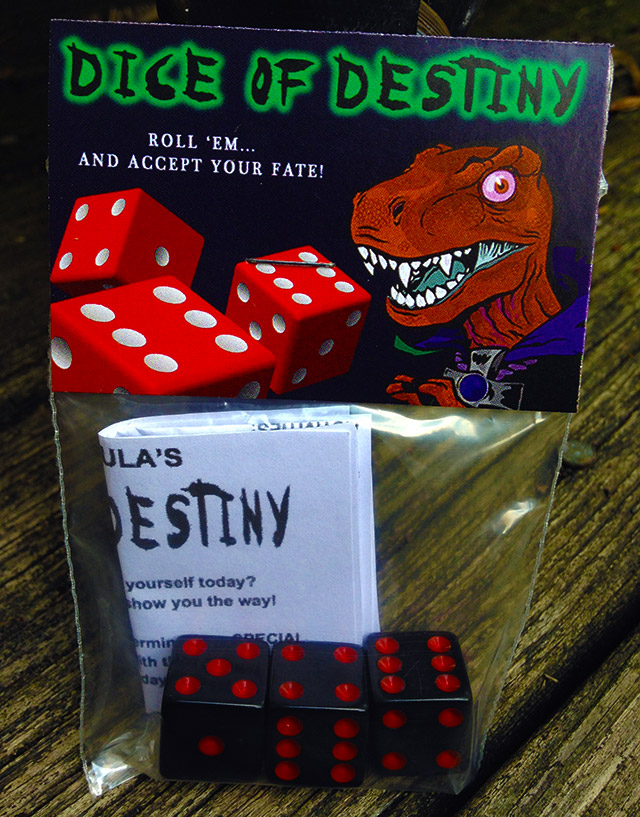 Okay, now it's time to GET WEIRD. Every subscriber will receive Dino Drac's Dice of Destiny, a custom-packaged game that has the potential to keep you occupied for WEEKS.
Roll the three MAGIC dice, and match your number to the included instruction sheet. Then you'll learn which activity you MUST do on that day. There are over 20 possible activities, ranging from "go to the movies" to "make a robot out of a soda can." If you can never think of what to do with yourself, Dino Drac's Dice of Destiny will show you the way!
(Note: For those who don't want to open the package, I'll also be emailing the instructions to all subscribers once the Funpacks have been shipped.)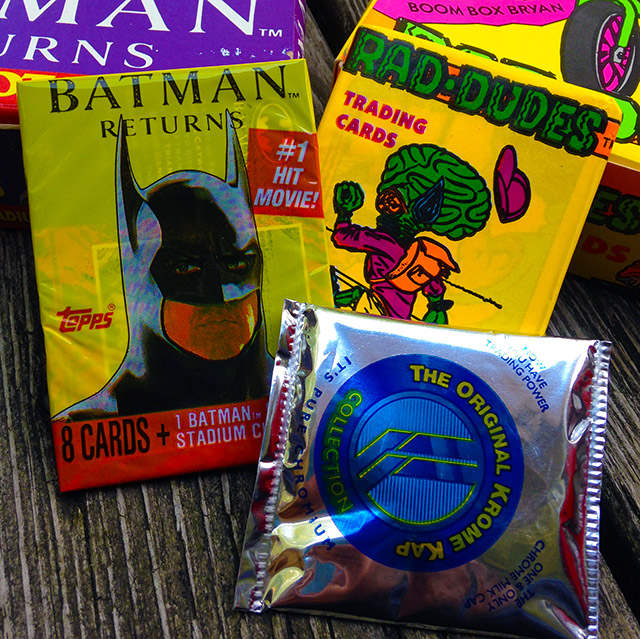 No Funpack is complete without a bunch of old trading cards. This month, every subscriber will receive one pack of Batman Returns cards and one pack of Rad Dudes cards. I'll also throw in a curiously foil-wrapped package of pogs!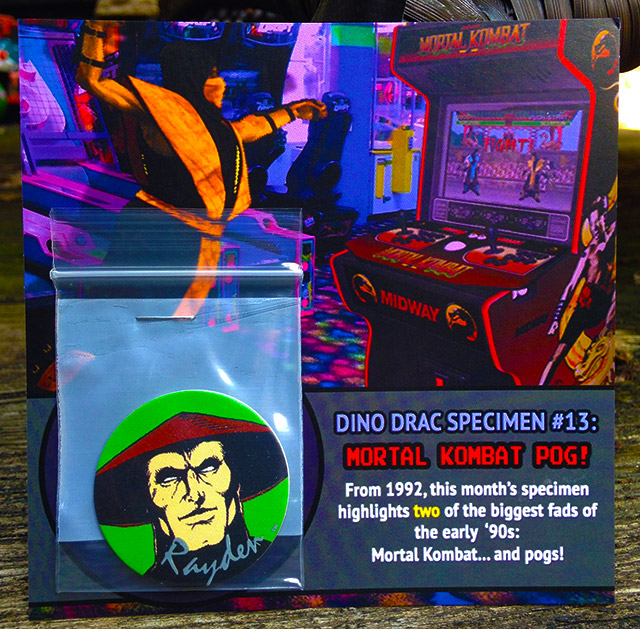 …and speaking of pogs, the August 2015 Specimen brings each of you one vintage Mortal Kombat pog, from 1992! Each pog features one of the main warriors. Pogs are bagged and stapled to custom Dino Drac display cards, too!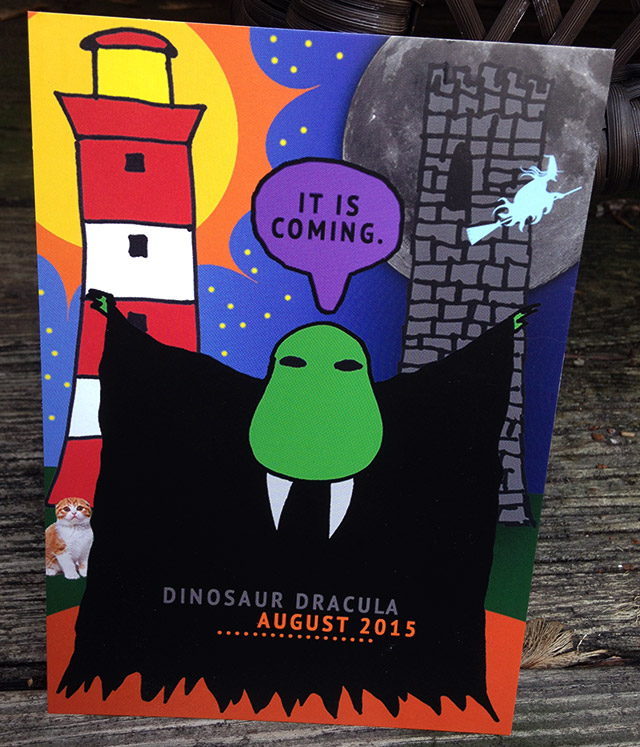 The August 2015 Ugly Mini-Poster hints at what's ahead for Dino Drac. (Honestly, August is one of my least favorite months of the year… but at least it leads into several fantastic ones!)
You may have caught my Facebook celebration over having found a "Heads of Horror" vending machine. If you're lucky, there's one near you. If not, no worries, because every subscriber will receive one Heads of Horror toy, suitably trapped in a vending machine capsule!
(These are assorted "zombie heads" which double as pencil toppers. They're very well made, too!)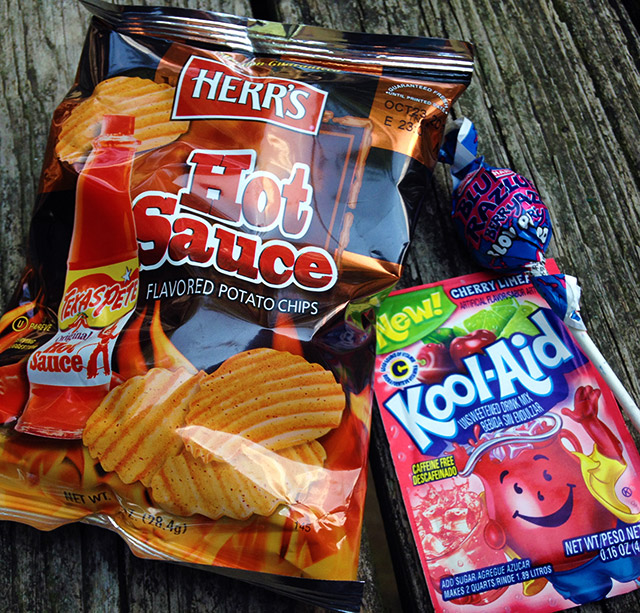 Every Funpack comes with stuff to eat. This month, you'll receive a weird bag of Herr's potato chips, spiced with Texas Pete hot sauce. YOLO, right? You'll also receive a packet of Cherry Limeade Kool-Aid, and a Blue Razz Berry Blow Pop! As always, it's my goal to make you snack like you're in the second grade.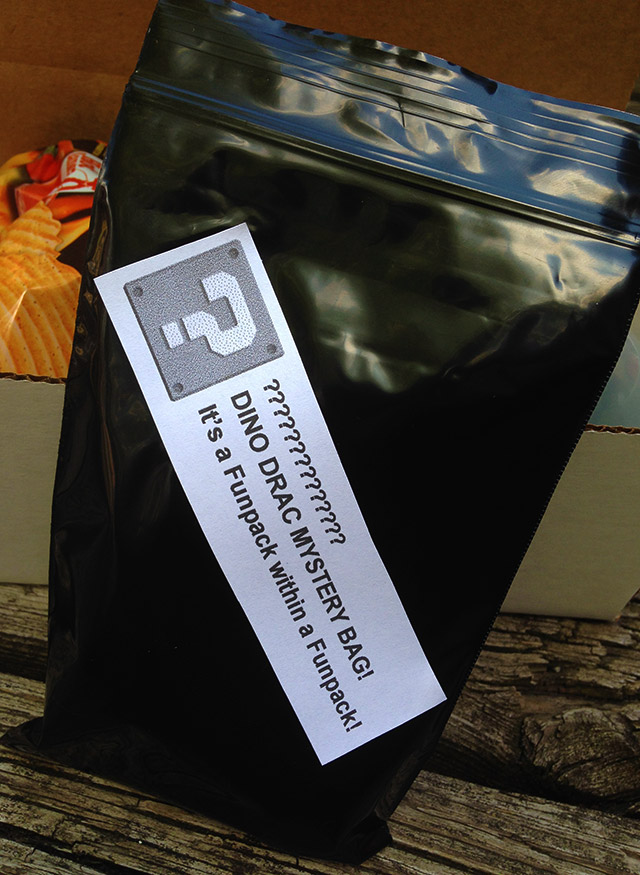 …last but not least, I'm resurrecting the Dino Drac Mystery Bag, which seemed to be a big hit the last time I made 'em. You can consider this a Funpack within a Funpack! Each is stuffed with a few random items, from cards to stickers to little toys. No two will be exactly alike!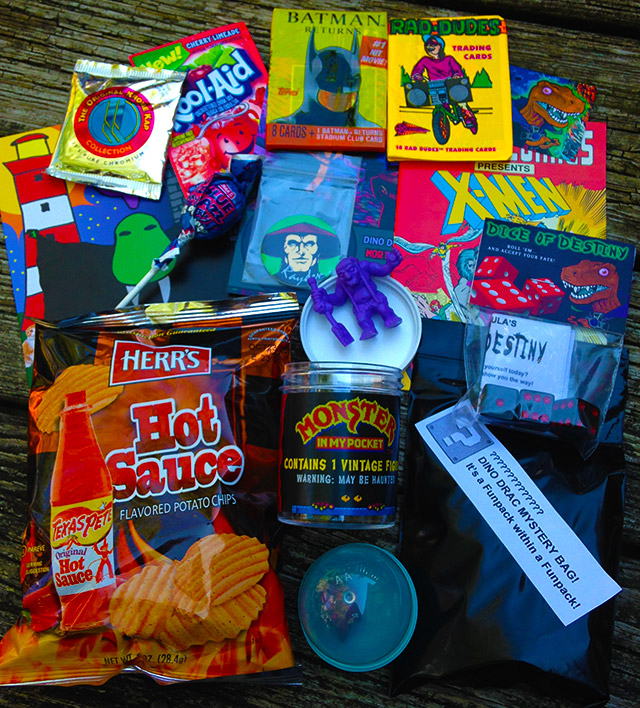 You'll receive everything shown above, plus the August 2015 Funpack newsletter! GOOD ENOUGH?
If you're already a subscriber and you'd like to stay that way… do nothing! You're all set!
If you'd like to sign up, please read the following, and then click on the button at the bottom of this post!
1. Funpacks are available in the United States only. Sorry!
2. Subscriptions are handled via Paypal. If you don't have an account, it's very easy to make one!
3. Funpacks will be shipped to the address listed on your Paypal account. If you need to change your shipping address, or if you'd like for your Funpacks to be shipped to someone else, simply email me!
4. You will be automatically billed $25 every month. (Yes, that price includes shipping.) If you subscribe today, you'll pay today, and then again in exactly one month. For as long as you remain subscribed, you'll keep getting Funpacks!
5. You can cancel at anytime. (You could subscribe today and cancel today!) If you cancel after you've already been charged for the following month's Funpack, you'll of course receive it just the same as any current subscriber would. You always get what you pay for!
6. The August 2015 Funpacks will ship on or before 8/14!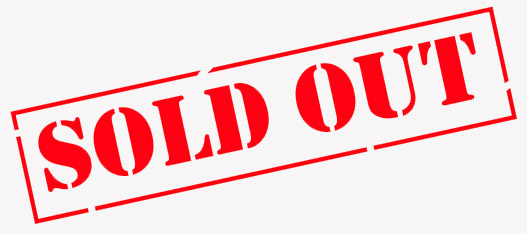 Sorry, the July Funpacks have sold out! If you're still interested, please email me and I'll double-check quantities. Thanks!