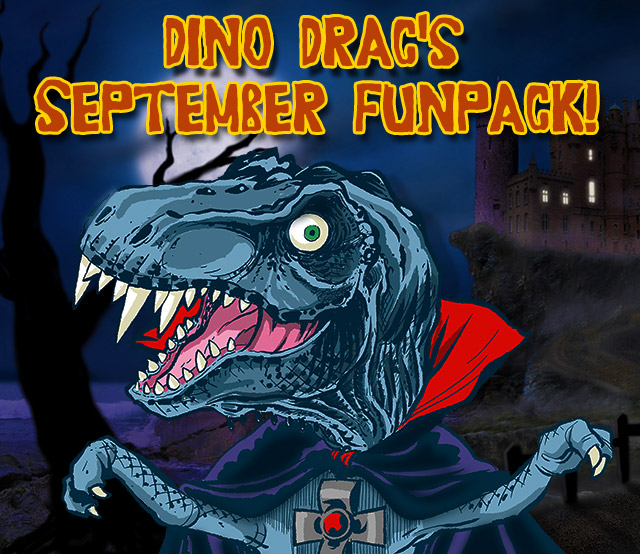 (Available in the United States only!)
Uh oh! Dino Drac's September 2015 Funpack HAS ARRIVED, and in celebration of the Halloween Countdown, it's stuffed with TERROR AND NIGHTMARES.
If you're new to the site, here's the scoop: Every month, I mail a new Funpack out to all subscribers. The cost is $25 per month (including shipping), and you can cancel at anytime. Automatic payments are handled via Paypal. For as long as you stay subscribed, you'll keep getting Funpacks! This endeavor helps to keep Dino Drac afloat, so thank you!
Skip to the bottom for more subscription info, or read on to see what's inside this month's box!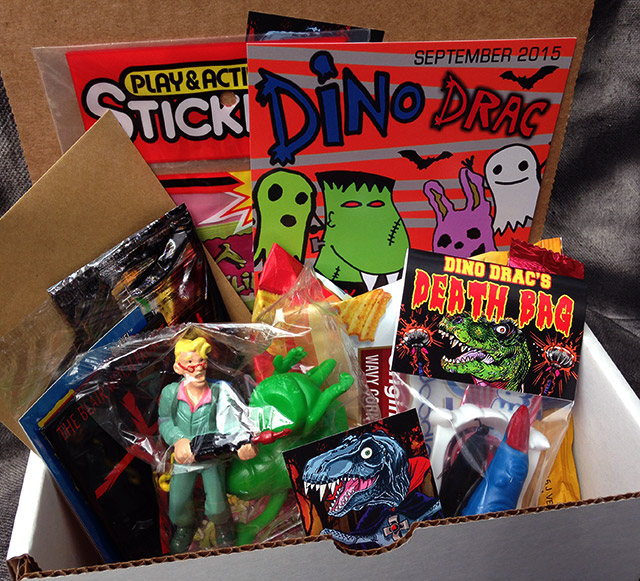 There are over ten items in every Funpack, and nearly all of them are n tune with the Halloween season. From weird ass Real Ghostbusters figures to Dino Drac's Bag of Death, it's one of the best Funpacks I've ever put together. I swear!
EVERY subscriber will receive ALL of the following: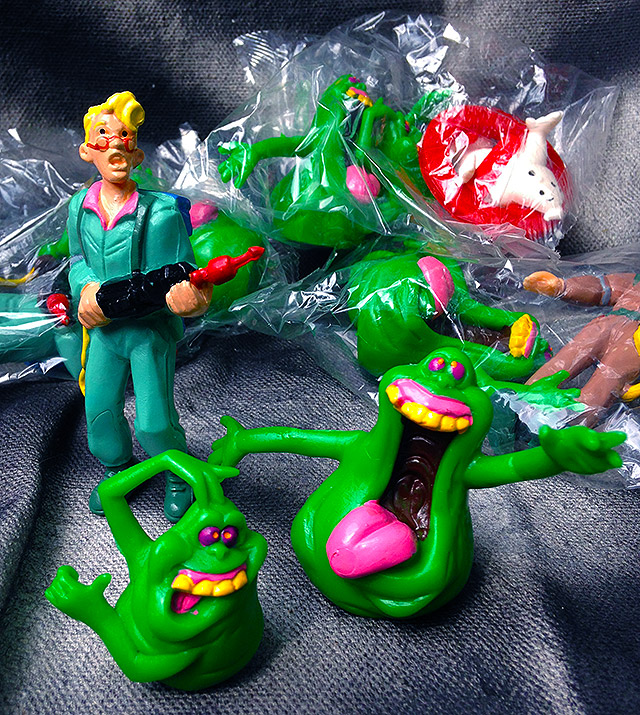 WOW. Okay, so in 1987, the Yolanda company in Spain released a set of crude, strange Real Ghostbusters figurines. They're smallish and decidedly quirky, but still completely awesome.
Every subscriber will receive one sealed baggie including THREE of these miniature figures. (Sorry, no picking — you get what you get!) The "sets" include:
1) Egon w/ Large Slimer and Small Slimer!
2) Peter w/ Large Slimer and Small Slimer!
3) Winston w/ Large Slimer and Small Slimer!
4) Large Slimer with Small Slimer and a "No Ghosts" Logo Figure!
You will get one of the sets listed above. Please note that these figures are nearly thirty years old and were made with shoddier-than-usual materials, so while they display nicely, age has made them a bit sticky.
By far one of the best inclusions of any Funpack to date! You'll love these oddballs.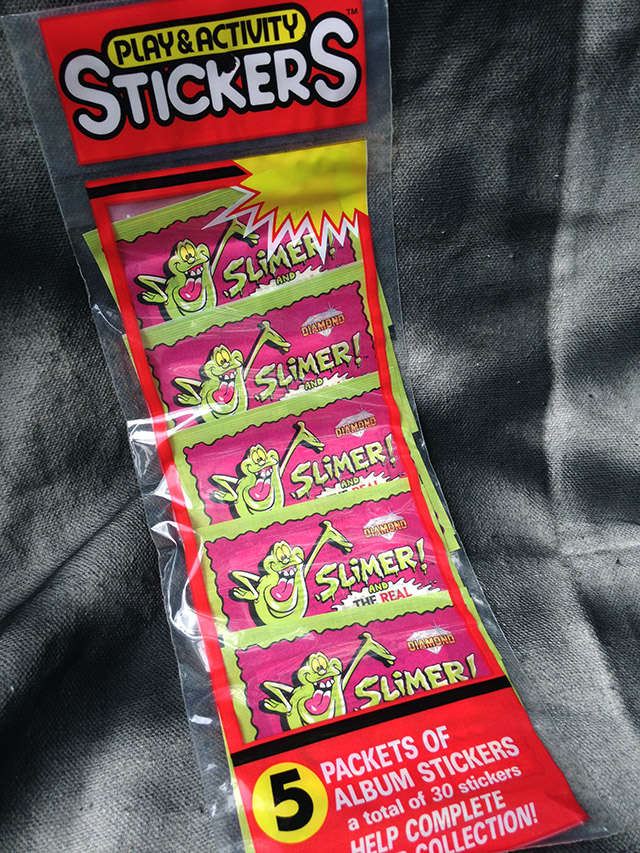 …and hey, if Ghostbusters is your thing, you should also dig this sealed set of Slimer & The Real Ghostbusters album stickers! Each includes FIVE vintage packs, and yes, every subscriber will receive exactly what's shown above: A whole strip of five packs, still in package!
These are from 1988, and while the stickers were formulated for a special sticker album, I don't think you'll have much trouble coming up with new uses for 'em. Enjoy!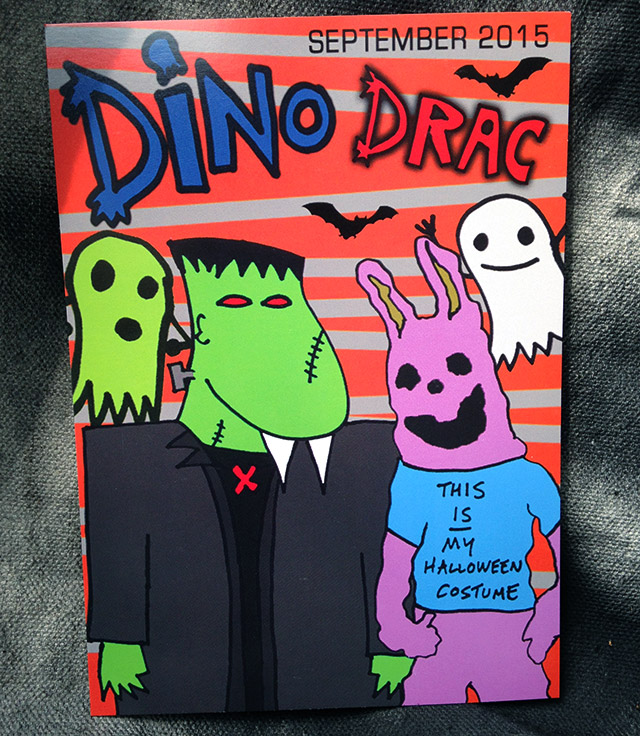 The September 2015 Ugly Mini-Poster turns Dino Drac into Frankenstein, and Leviathan into some kind of gooey, purple jack o' rabbit!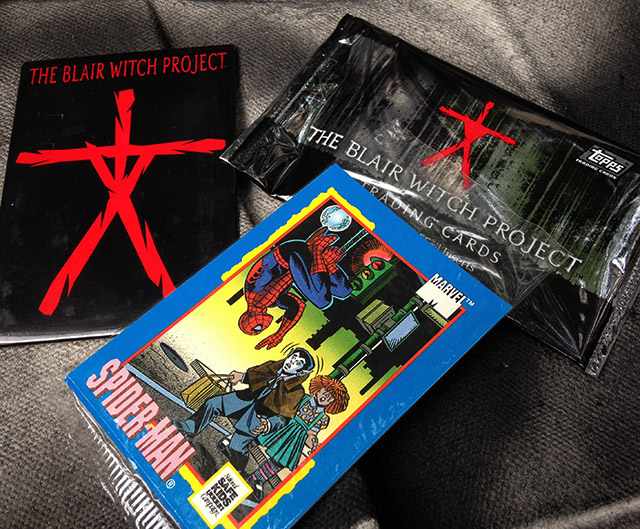 If you're into The Blair Witch Project, you should enjoy a vintage pack of Blair Witch trading cards, AND a vintage, officially licensed Blair Witch Project magnet!
I'll even throw in a vintage pack of Marvel Comics Trading Card Treats! (These packs contain three cards each, and were intended to be given away to trick-or-treaters back in 1991!)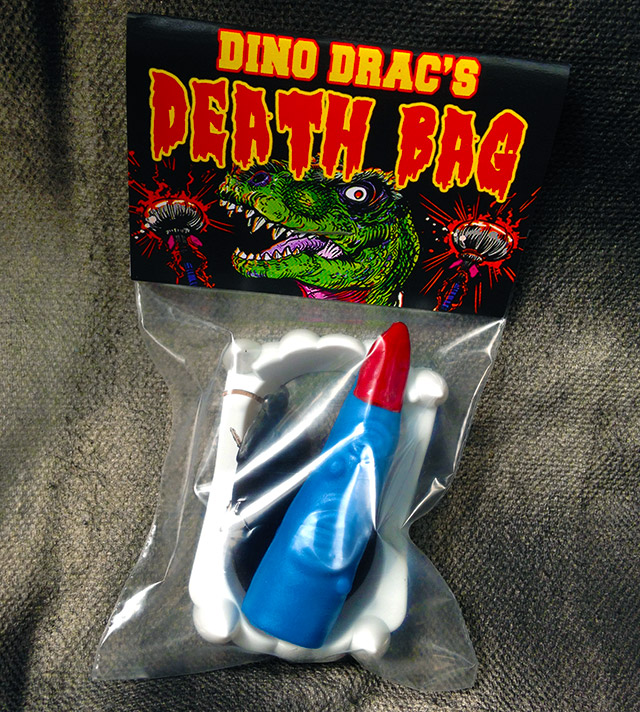 And wait… what's this? You'll ALSO receive Dino Drac's DEATH BAG. You might think it's just a random assortment of low quality Halloween toys shoved in a bag, but I prefer to think of it as a sealed portal to a dimension of PAIN. Don't open the bags! There's no telling what might happen. Be a hero and keep the world safe.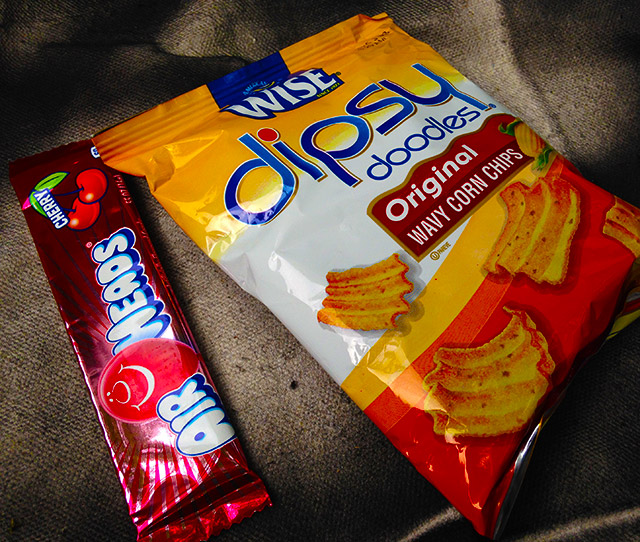 I like to keep my subscribers well-fed, so every one of you will receive one Airheads candy (assorted flavors) and one bag of Wise snacks. (Everything from popcorn to chips to Dipsy Doodles — you'll get one at random!)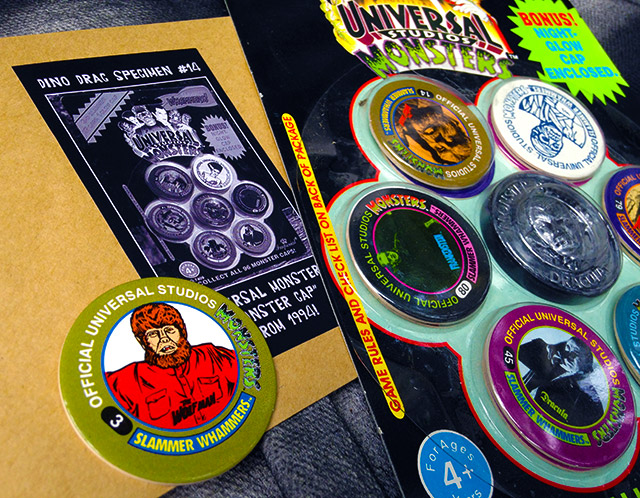 Finally, the September 2015 Dino Drac Specimen! Every subscriber will receive ONE vintage Universal Monsters pog from 1994! (Each will be sent protected in a custom Dino Drac envelope!)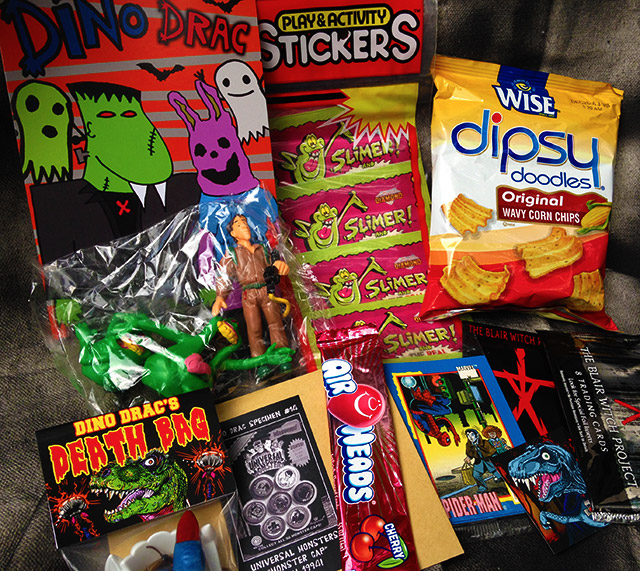 Yes, you'll receive everything you just read about, plus Dino Drac's September 2015 Newsletter, for $25 shipped!
If you're already a subscriber and you'd like to stay that way… do nothing! You're all set!
If you wanna sign up, please read the following terms, and then click the button at the bottom of this post to set up your subscription!
1. Funpacks are available in the United States only. Sorry!
2. Subscriptions are handled via Paypal. If you don't have an account, it's very easy to make one!
3. Funpacks will be shipped to the address listed on your Paypal account. If you need to change your shipping address, or if you'd like for your Funpacks to be shipped to someone else, simply email me!
4. You will be automatically billed $25 every month. (Yes, that price includes shipping.) If you subscribe today, you'll pay today, and then again in exactly one month. For as long as you remain subscribed, you'll keep getting Funpacks!
5. You can cancel at anytime. (You could subscribe today and cancel today!) If you cancel after you've already been charged for the following month's Funpack, you'll of course receive it just the same as any current subscriber would. (You can cancel via Paypal, or by emailing me.)
6. The August 2015 Funpacks will ship on or before 9/14!
Don't delay — this one oughta sell out pretty quickly!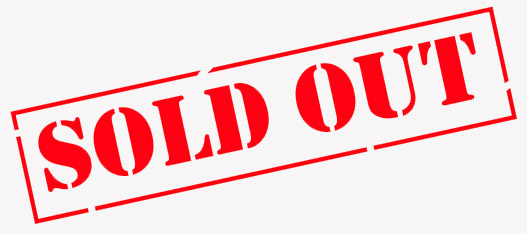 Sorry, the September Funpacks have sold out! Stay tuned… I may have some other goodies for sale soon!