Berry Blue Jell-O arrived in 1992, and the fanfare — at least in my imagined version of things — was enormous.
Here were raspberries and blueberries, finally putting aside their differences to take over the planet. This was perhaps the first signal of the "blue candy" craze that would stain the nation throughout the '90s.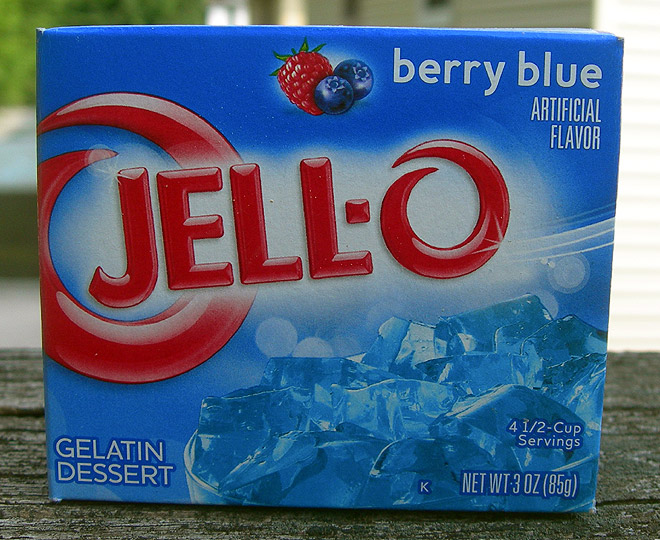 I don't know what the truth was, but we had our rumors. In my neighborhood, the story was that a ban on blue food dye had finally been lifted, freeing confectioners to make everything look like sea water from a tropical hotel brochure.
True or not, the story seemed to fit. All through the '90s, everything was coming out blue. Blue M&Ms and blue Blow Pops were the kings of this burgeoning fad, but it didn't end there. Not by a long shot. Even foods that made no sense being blue, became blue.
For a time, every kid I knew spent their days wandering around with blue-tinted tongues. It was weird and great.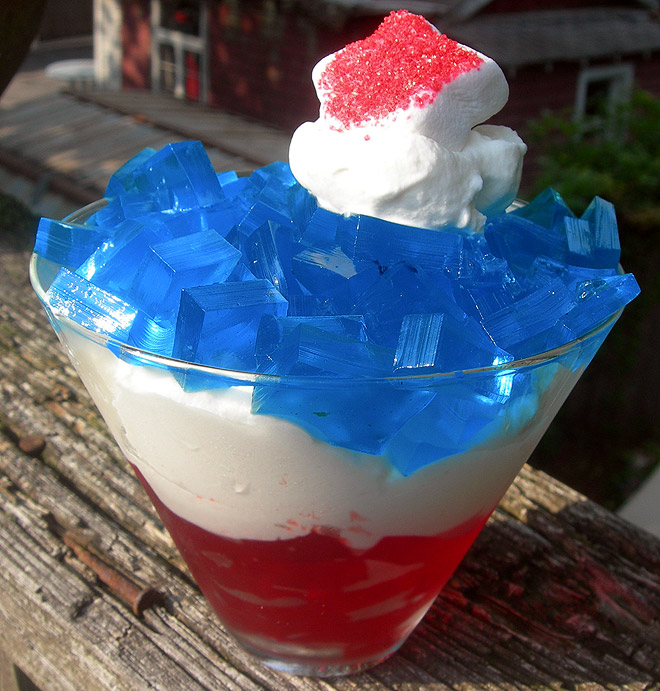 And this? This is something Jell-O calls the Star Spangled Snack. Found the recipe in a Berry Blue promo booklet from its debut year. As soon as I saw the Star Spangled Snack, I knew I had to make it. It isn't electric sex gleaming in the window, but it is electric blue Jell-O gleaming on a wooden plank.
How to do it, and it's real easy:
Make red Jell-O. Make blue Jell-O. Cut into half-inch squares. Create a layer with the red squares. Add a second layer of Cool Whip. Third layer of blue squares. Top with another dollop of Cool Whip, adorned with a sugar-sprinkled marshmallow.
The end result? Something that photographs better than a Baby Pygmy Marmoset, trained to give cameramen a thumbs-up.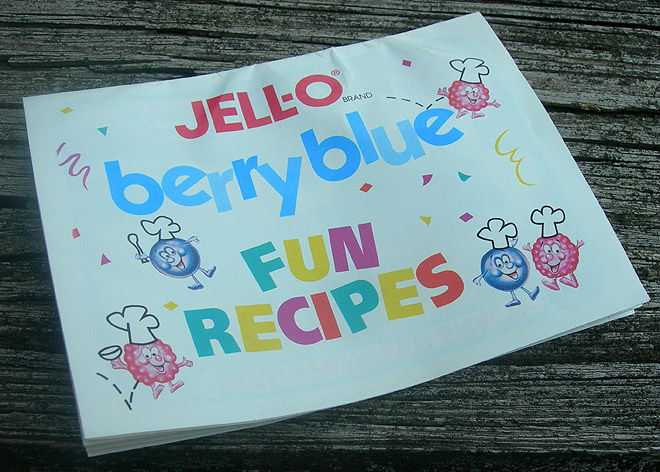 And as for that Berry Blue Jell-O recipe booklet? It is FANTASTIC. I can't tell you where I got it yet, though. I'm saving that story for another day.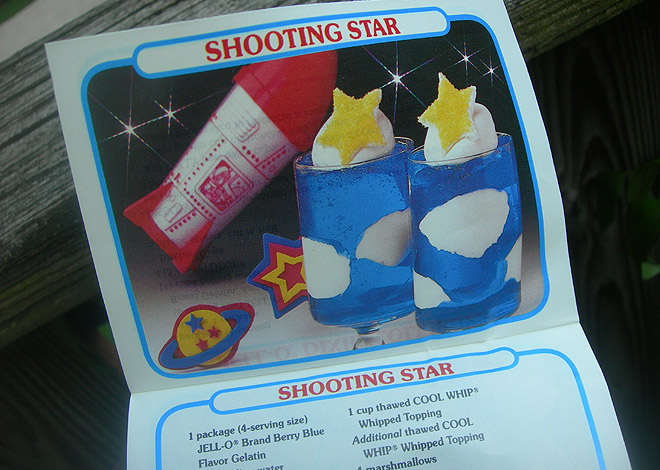 But I will tell you this: It's filled with the sorts of recipes that make me want to be reincarnated as a 1957 housewife. Seriously. My kingdom for more excuses to make big productions out of Jell-O. Let me borrow your children. They will return unharmed and full of gelatin. Aunt Matty will show 'em a grand old time.
Look at that recipe, for Shooting Star treats. They've managed to represent the cosmos in a glass of Jell-O. I'm impressed, delighted and praying for more free time. I need to make everything in this book. Even the boring Jell-O Dixie Lollipops, because I'm a completist.
Actually, aside from the Star Spangled Snack, another recipe had my crotch vibrating with too much turbulence to wait even one more day. Presenting, the Edible Aquarium!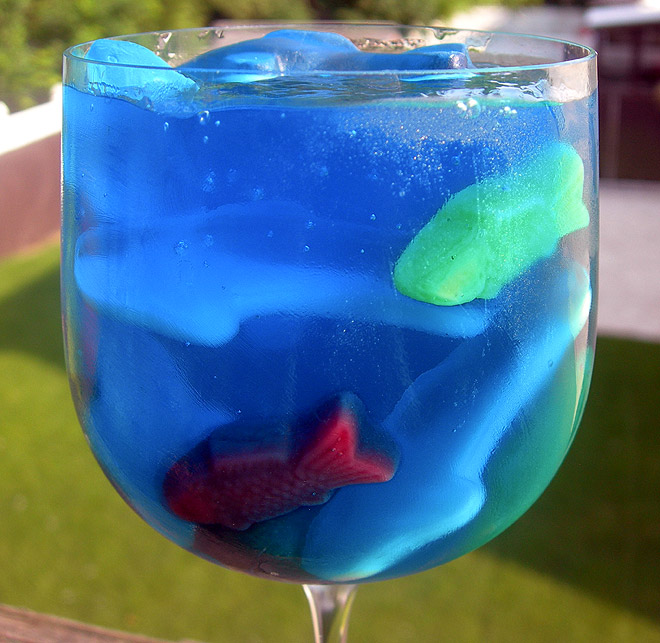 That's what they call it. "Edible Aquarium." Jell-O was always pretty straight. A lesser gelatin giant would've went with the cheeky "Aquari-yum."
This is Berry Blue Jell-O, quickly cooled with ice to give it a "chunky" effect, with fruit and various gummy fish swimming around inside. It isn't as visually striking as the Star Spangled Snack, but it does have white-bellied gummy sharks.
I call that a tie.