I want you to think of this month's Funpack as "Christmas morning in a box."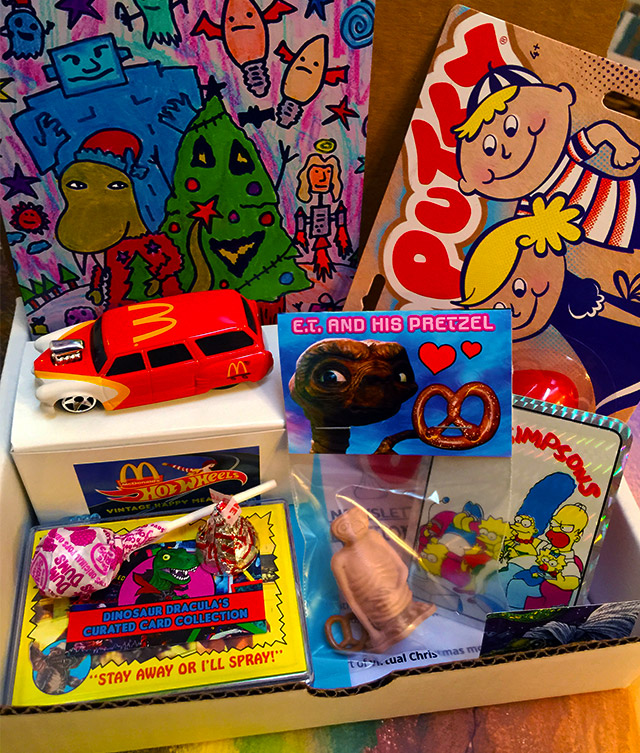 From collectibles to candy to reading material to classic stocking stuffers, Dino Drac's December Funpack is guaranteed (well, the fake sort of guarantee, anyway) to make your month merrier. (And also guaranteed to get there before Christmas!)
For those who don't know the score, I sell monthly Funpack subscriptions. The boxes are $25 a month (including shipping), and for as long as you stay subscribed, you'll keep receiving them! You can cancel at any time without penalty, too!
Remember, your Funpack subscriptions are literally the only thing keeping Dino Drac alive! Without you, there'd be no me!
Scroll down to the bottom for more info, or keep reading to see everything you'll receive in this month's box!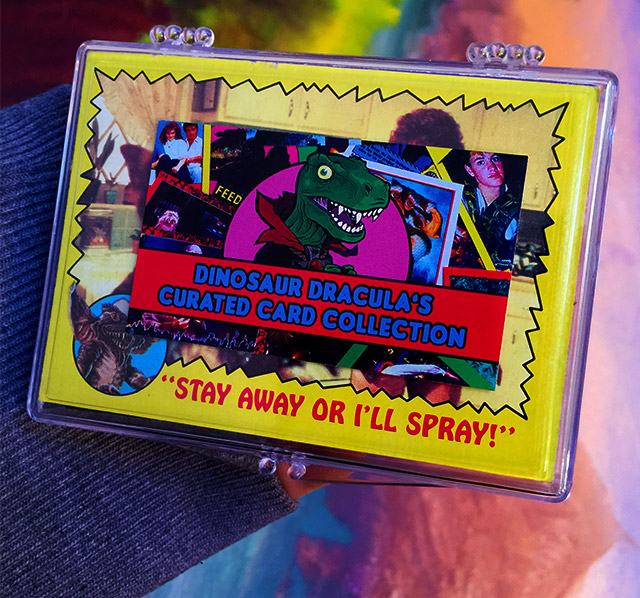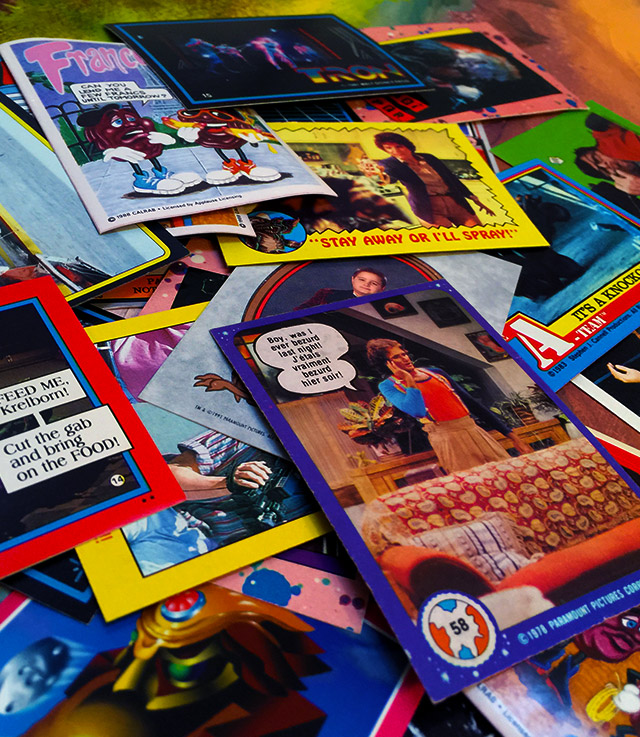 First up is Dinosaur Dracula's Curated Card Collection, and guys, I love this thing. You'll get 25 vintage trading cards and stickers, packed into one of those plastic card holders, and then topped by a custom Dino Drac sticker!
No two Curated Card Collections are the same, but I can make you some promises:
1) You'll get cards and stickers from *at least* a dozen different sets. (And *most* of those sets have never been featured in a prior Funpack!)
2) You'll get no more than 3 cards or stickers from any single set.
3) In my opinion, there are no "junk sets" in the mix!
I had a load of fun putting these together, and I think you'll have a blast sorting through 'em.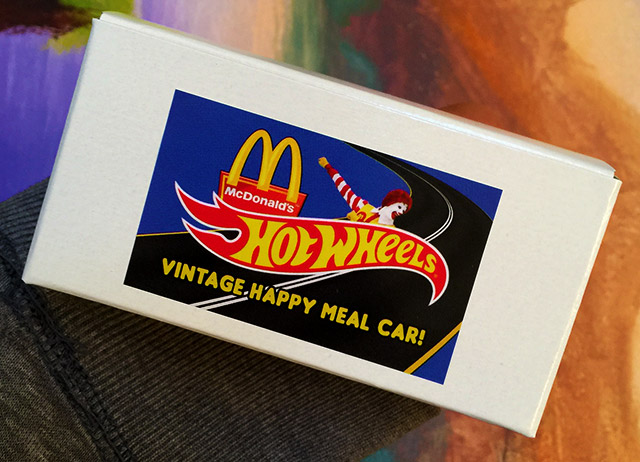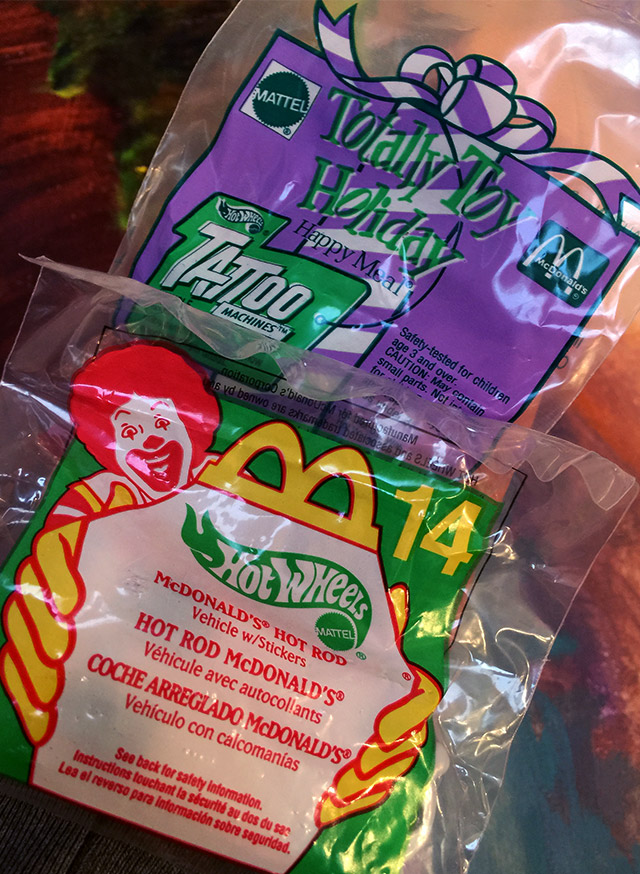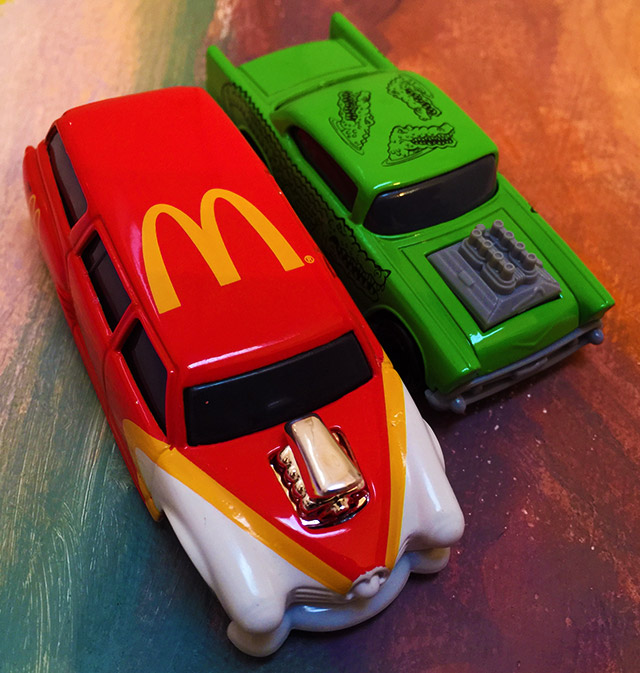 Next is a vintage Happy Meal Hot Wheels car, still sealed in its original McDonald's baggie, and then tucked into a custom Dino Drac gift box! Yes!
There have been a lot of Hot Wheels cars given away at McDonald's over the years, but I honestly believe that I've gathered the best of them. You will receive ONE of the cars shown above:
– A gator-themed '57 Chevy, from the 1991 Totally Toy Happy Meal!
*or*
– A McDonald's Hot Rod, from a Hot Wheels Happy Meal back in 2000!
Sorry, no picking, but both are great! Again, the cars are still bagged and then boxed, so expect yours to come in mint condition!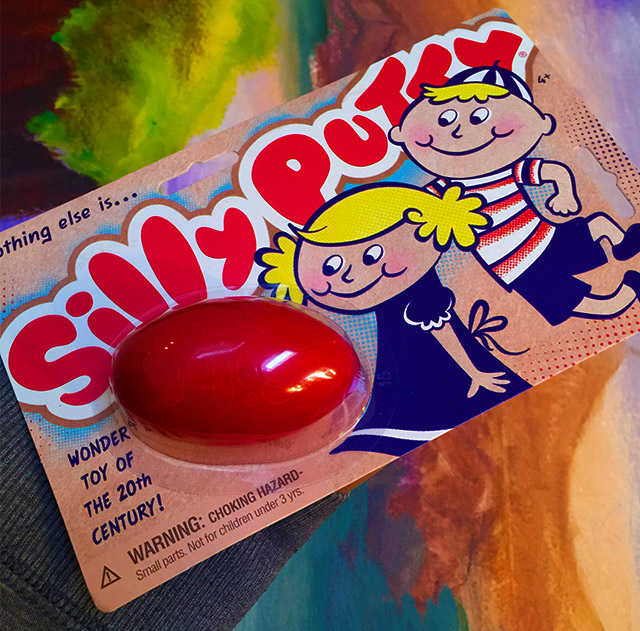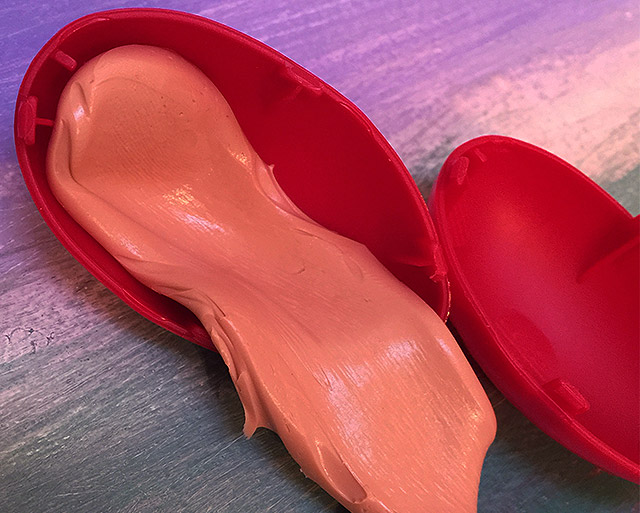 Then we have a package of honest-to-goodness Silly Putty, one of the all-time greats as far as stocking stuffers go. Stretch it! Bounce it! Make it pull images from the funnies!
And yes, your Silly Putty egg will come in that swank retro-themed package. (Do keep in mind that the packages are a bit flimsy, but I'll do my best to pack them safely prior to shipping!)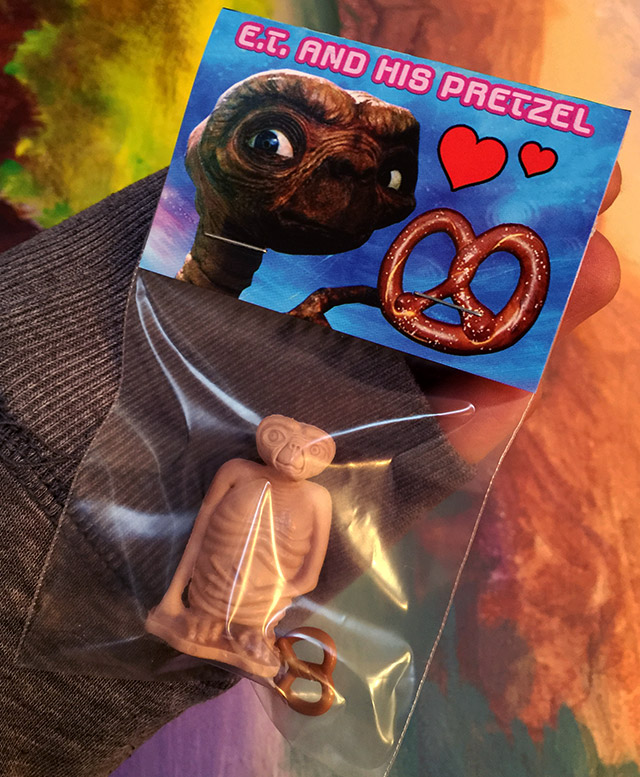 Next is possibly the strangest item I've ever included in a Funpack: The "E.T. and His Pretzel" gift set!
Each custom-packaged set includes a licensed E.T. figure from 1982 (you might remember it from the old board game) and a tiny pretzel. Why are these two things together? You'll have to read the back of the package to find out!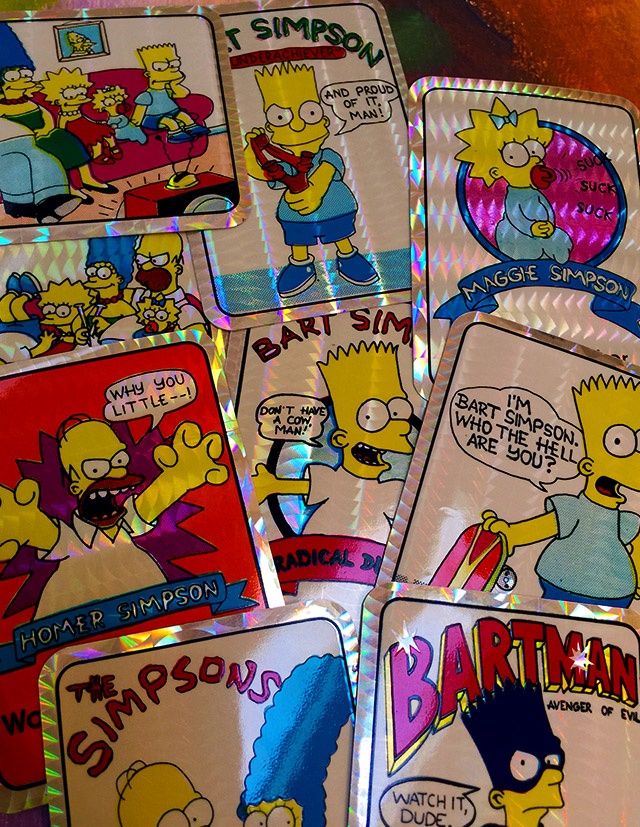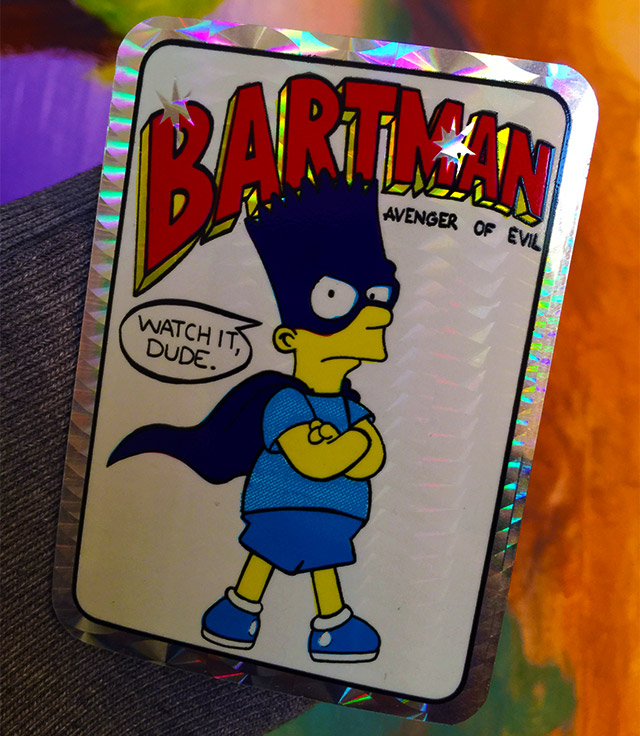 Serving as this month's Dino Drac Specimen, I'll also toss in ONE vintage Simpsons prismatic vending machine sticker from… the early '90s, I guess?
If you're near my age, you might remember trading quarters for these at every opportunity. You'll receive ONE sticker at random from the assortment shown above!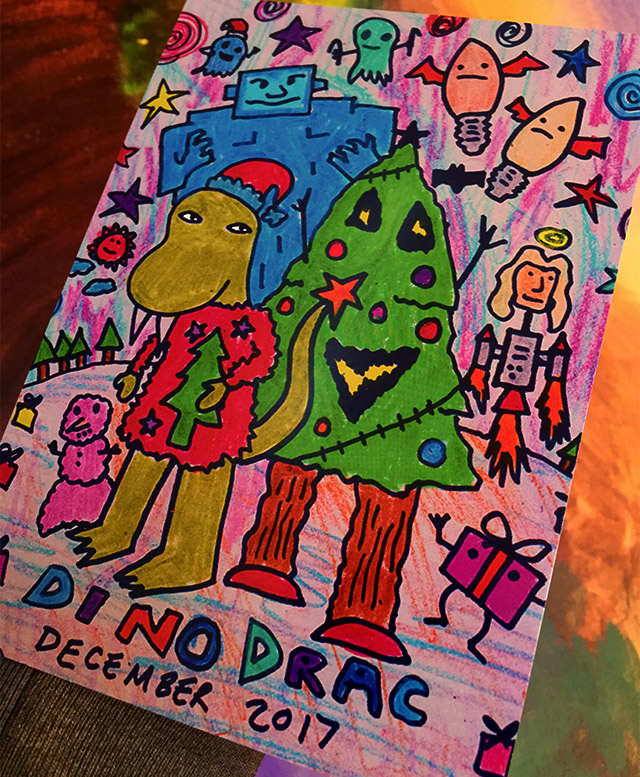 You'll also receive this month's Ugly Mini-Poster — a super odd 5×7″ tribute to the holiday season, starring Dino Drac and, uh, Tony Tree?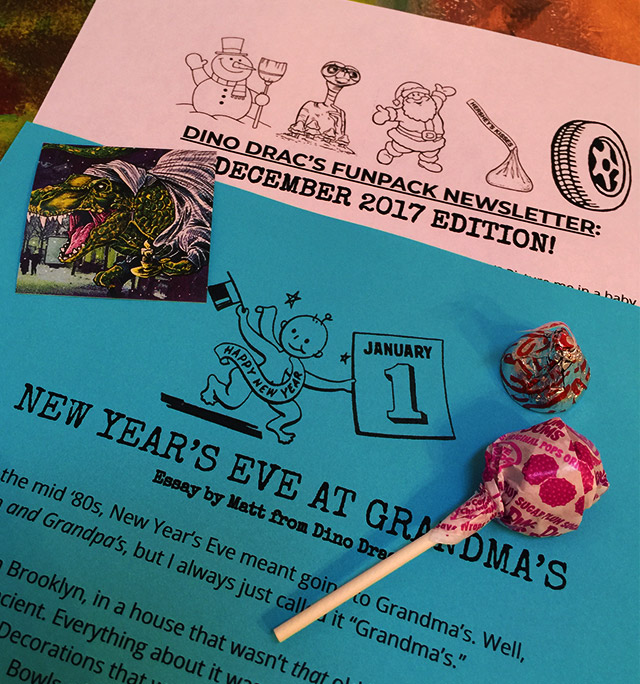 Rounding things out is some candy, this month's exclusive Dino Drac sticker, the December 2017 Funpack Newsletter, and an exclusive essay that will never be reprinted on the site!
(This month's essay is all about our old New Year's Eve celebrations at my grandmother's house in Brooklyn.)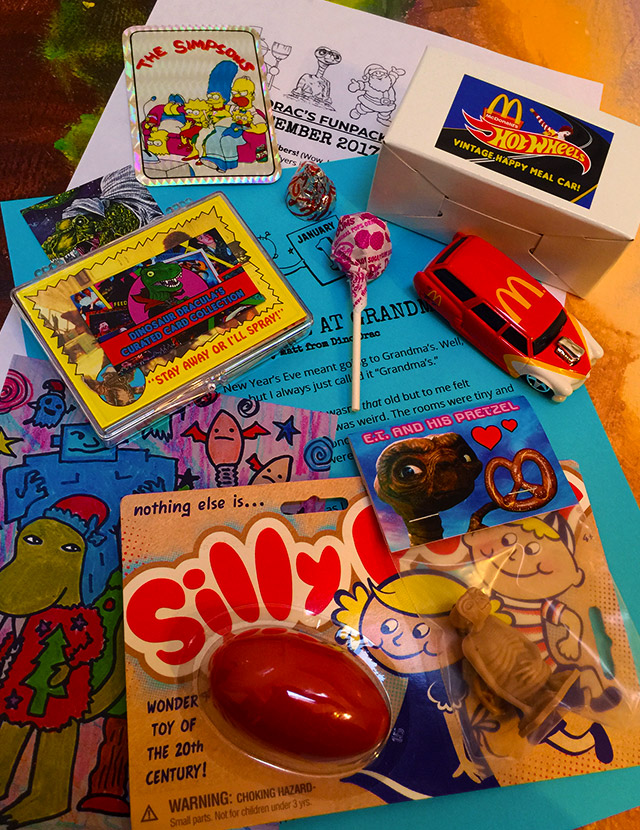 Yep, you'll get EVERYTHING shown above for $25, shipped!
If you're already a Funpack subscriber and you'd like to stay that way… do nothing! You're all set!
If you want to subscribe, please read the following, and then click the button at the bottom of this page!
1. Funpacks are available in the United States only. Sorry!
2. Subscriptions are handled via Paypal. If you don't have an account, it's very easy to make one!
3. Funpacks will be shipped to the address listed on your Paypal account. If you need to change your shipping address, or if you'd like for your Funpacks to be shipped to someone else, simply email me!
4. You will be automatically billed $25 every month. (Yes, that price includes shipping.) If you subscribe today, you'll pay today, and then again in exactly one month. For as long as you remain subscribed, you'll keep getting Funpacks!
5. You can cancel at anytime. (You could subscribe today and cancel today!) If you cancel after you've already been charged for the following month's Funpack, you'll of course receive it just the same as any current subscriber would. (You can cancel via Paypal, or by emailing me.)
6. The Dece,ber 2017 Funpacks will ship on or before 12/18! Yes, they will arrive before Christmas!
Remember, the Funpacks allow me to keep doing the site… thanks so much to all who help to keep it/me going!
To get your subscription started, click the button below!
Thank you!!