Hooray! It's finally here! Dino Drac's December 2015 Funpack is available now, and I think this one qualifies as a doozy!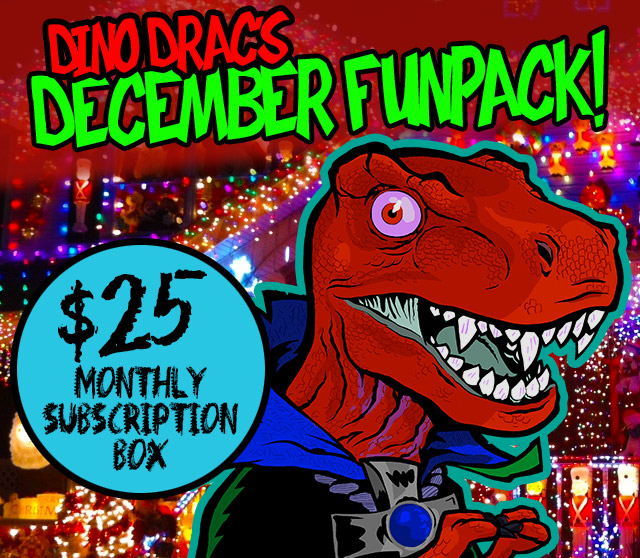 (Available in the United States only!)
Do I need to do the spiel again? Okay! If you haven't been watching the site too closely, I sell monthly Funpacks. Without them, there'd be no Dino Drac!
Subscriptions are $25 a month (that includes shipping), and for as long as you stay subscribed, you'll continue to receive new boxes of fun junk, each and every month. You can cancel at any time without penalty. In trade for helping to keep the site afloat, you'll get a box some some (arguably) awesome stuff!
Skip to the bottom of this post for additional subscription details and notes on how to order. Or keep reading, to see what's in store for the December 2015 Funpack!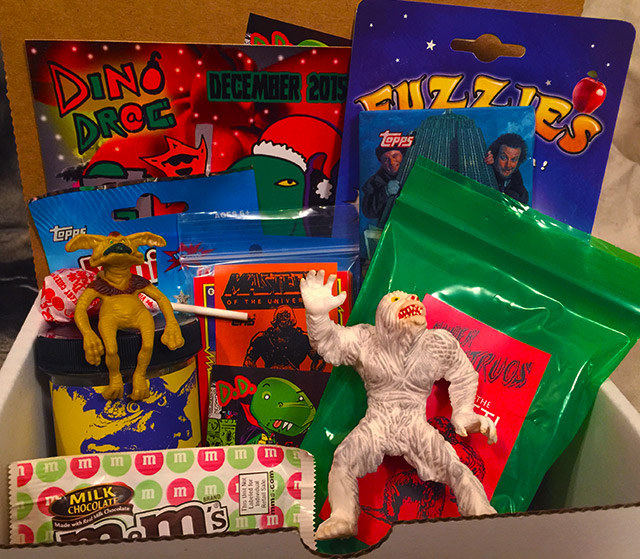 Duuuuudes, I think you're gonna like this box.
To celebrate the holidays, this month's Funpack will make you feel like a kid on Christmas morning… but more specifically like a kid on Christmas morning in 1985. Every Funpack is loaded with stuff that's either actually-vintage or retro-feeling. If you're the type of person who can stomach my mile-long tributes to the minutiae of yesteryear, I'm pretty positive that you'll love the contents.
EVERY subscriber will receive ALL of the following…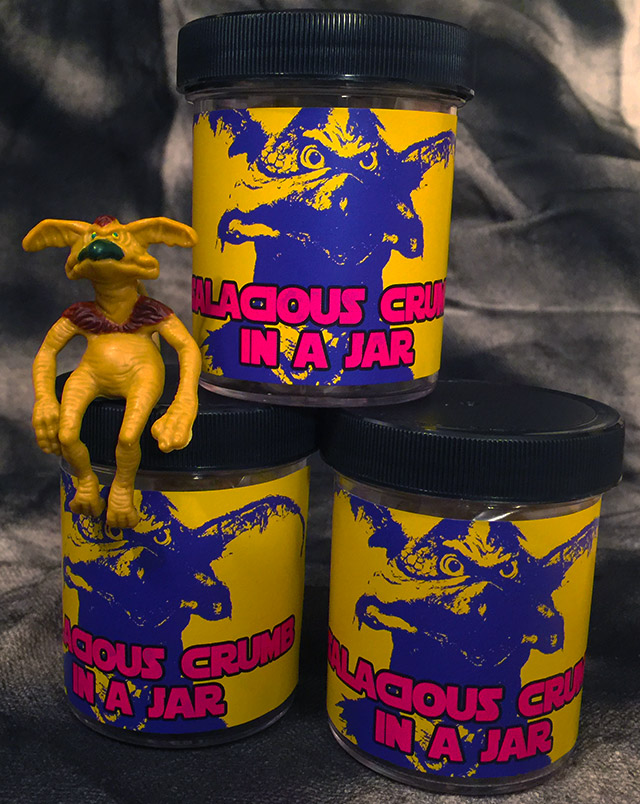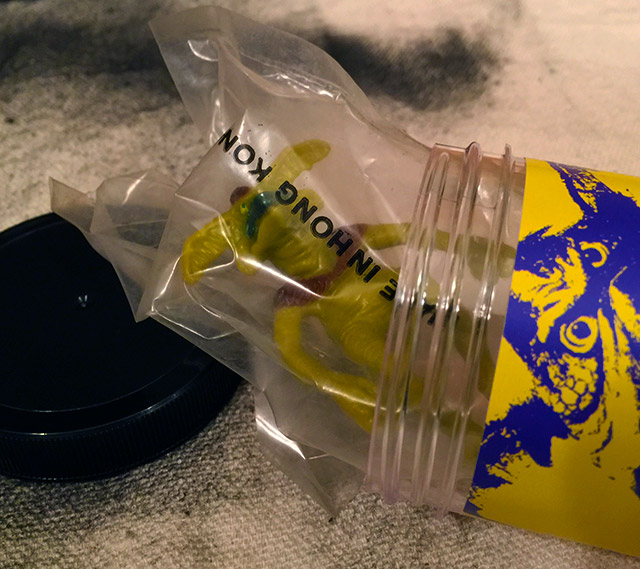 OMG! This month's top drawer item is SALACIOUS CRUMB IN A JAR. Yes, you're getting a legitimate vintage Star Wars figure! Made in 1983, Salacious Crumb was originally packaged with the Jabba the Hutt playset. Each figure is still sealed in its original Kenner baggie, and THEN stuffed into a custom Dino Drac jar!
These are the real deal VINTAGE figures, NOT reproductions. It's the same Salacious Crumb that kids like me carried in our pockets throughout the early '80s. Every subscriber gets one!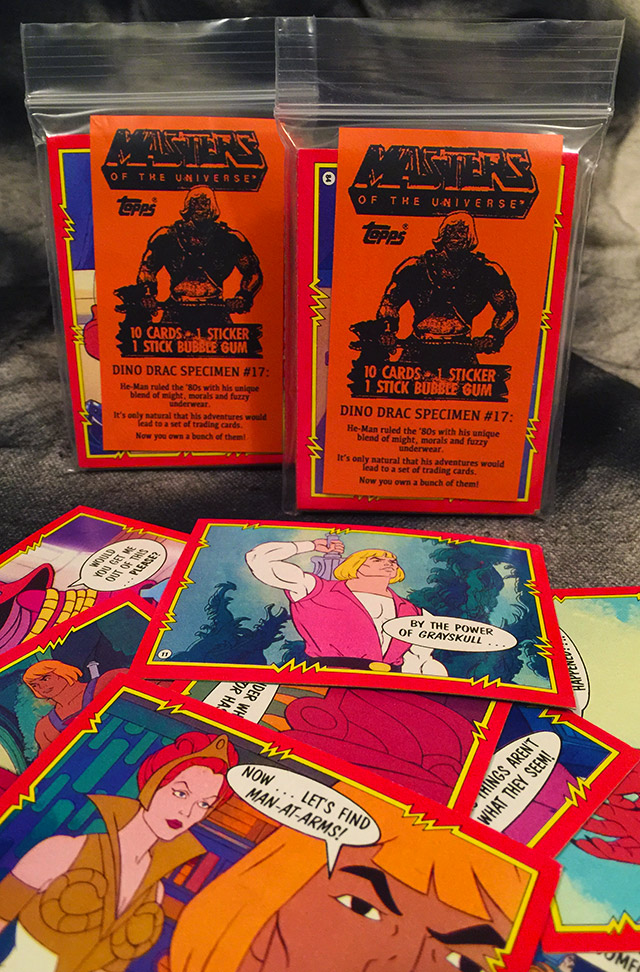 For this month's Dino Drac Specimen, I've prepared something special: Custom baggies stuffed with FIFTEEN vintage Masters of the Universe trading cards, made by Topps in 1984! Everybody gets one baggie!
Starring He-Man, Skeletor and the whole weird gang, these are awesome, colorful cards, still in great condition. You'll receive 15 at random. (They're unsorted, but I'll do my best to ensure that nobody gets any doubles.) Your fifteen cards will be packed in a bag with a custom Dino Drac sticker!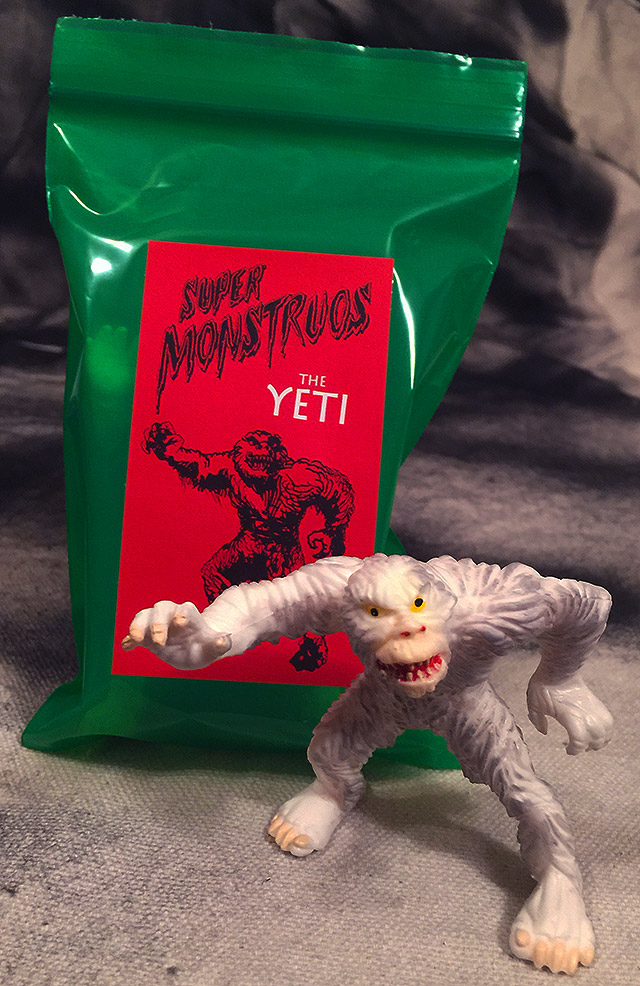 And the hits just keep on comin'! Every subscriber will also receive a vintage SUPER MONSTRUOS "Yeti" figure, made in Spain in the early '90s! Yes, your very own Christmas Yeti! These figures are a few inches tall and adorably crude. Each will be sent in a custom Dino Drac bag!
Note: These are OLD figures that were made rather cheaply, so a few may be a bit sticky from the oils used in processing. This is a common trait among old PVC-style figures.
You're gonna love this little dude. He's the perfect mascot for your holiday celebration!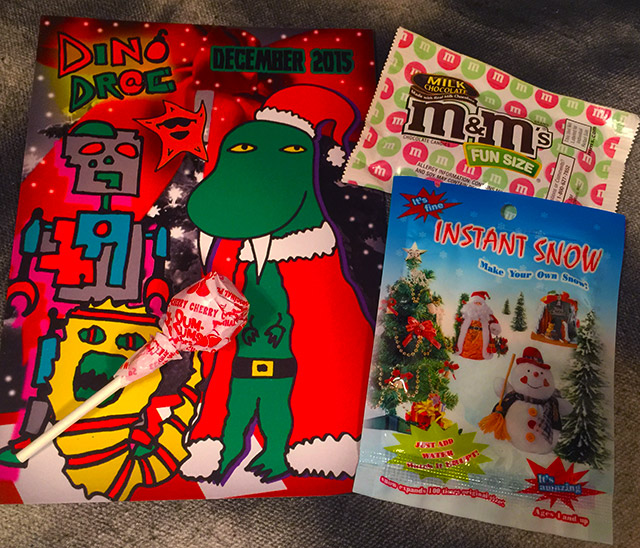 But wait, there's more! Every subscriber will also get Dino Drac's December 2015 Ugly Mini-Poster, a handful of candy, and a packet of "Instant Snow" that will let you create a winter wonderland no matter the temperature!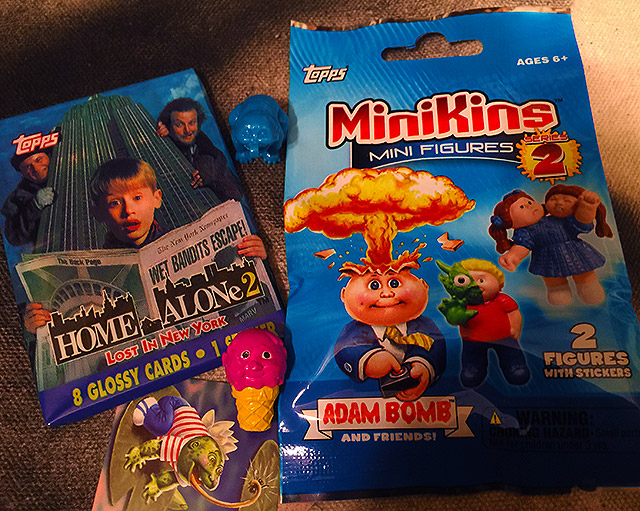 And I'm not done! You'll ALSO get a vintage pack of Home Alone 2 trading cards, PLUS a sealed package of Garbage Pail Kids MiniKins, which includes two tiny-sized GPK figures along with two GPK stickers!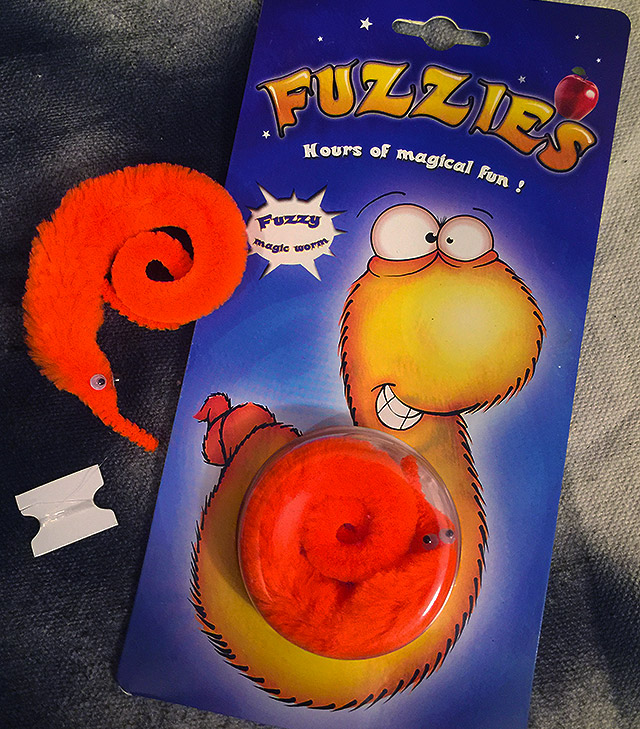 …and if the Squirmles mentioned in a recent Dino Drac article piqued your interest, I have good news! Every subscriber will receive a brand new Fuzzies Magic Worm, which is basically the exact same thing! Use the "invisible" wire to make your fuzzy pal do amazing tricks! Consider this a stocking stuffer from me to you.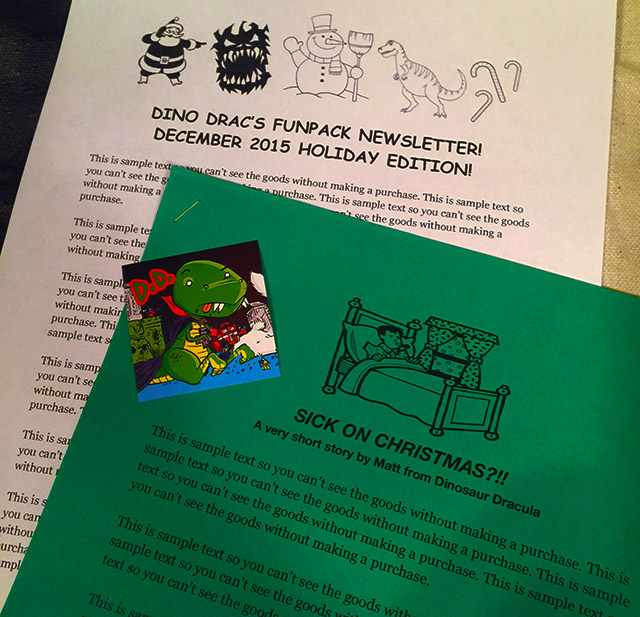 You'll also receive Dino Drac's December 2015 Funpack Newsletter, PLUS an exclusive short story about the time I spent Christmas sick as a dog. Just some fun reading material to add to the experience! (And yes, I'll toss in that adorable Dino Drac sticker, too.)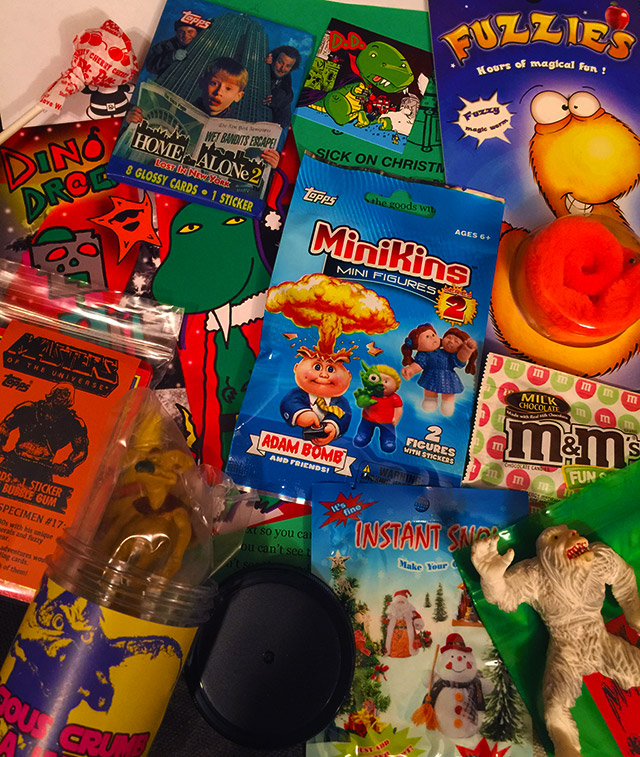 Yep, you'll get EVERYTHING shown above for $25 shipped!
If you're already a Funpack subscriber and you'd like to stay that way… do nothing! You're all set!
If you want to subscribe, please read the following, and then click the button at the bottom of this page!
1. Funpacks are available in the United States only. Sorry!
2. Subscriptions are handled via Paypal. If you don't have an account, it's very easy to make one!
3. Funpacks will be shipped to the address listed on your Paypal account. If you need to change your shipping address, or if you'd like for your Funpacks to be shipped to someone else, simply email me!
4. You will be automatically billed $25 every month. (Yes, that price includes shipping.) If you subscribe today, you'll pay today, and then again in exactly one month. For as long as you remain subscribed, you'll keep getting Funpacks!
5. You can cancel at anytime. (You could subscribe today and cancel today!) If you cancel after you've already been charged for the following month's Funpack, you'll of course receive it just the same as any current subscriber would. (You can cancel via Paypal, or by emailing me.)
6. The December 2015 Funpacks will ship on or before 12/14!
Remember, the Funpacks are what allow me to keep doing the site, so if you like all of these giant articles about old toy catalogs and TV commercials, subscribing to Dino Drac's Funpacks is the best way to guarantee more of them!
Supplies are limited… once they're gone, they're gone!
To get your subscription started, click the button below!
THANK YOU!!