If you could use a pick-me-up this holiday season, gimme your money!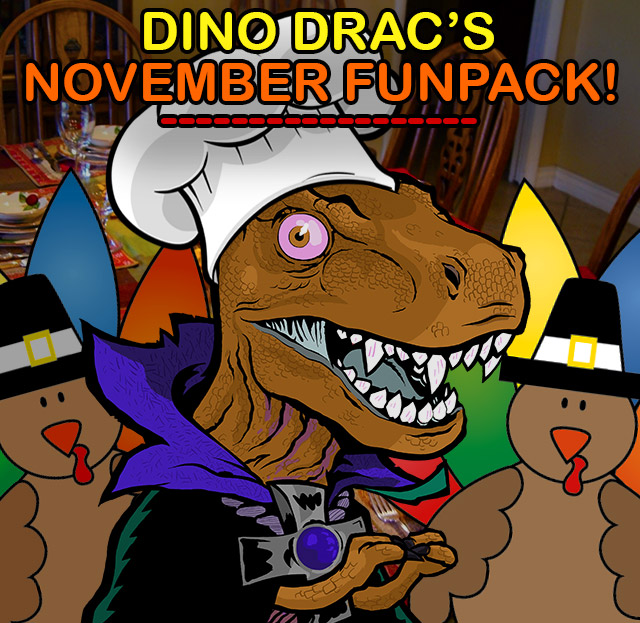 (UNITED STATES ONLY. LIMITED QUANTITIES AVAILABLE!)
Dino Drac's November 2016 Funpack is available now!
For the few newbies: I sell monthly Funpacks. Without them, there would be no Dino Drac! In return for your patronage, you'll receive boxes of retro-and-new goodies for as long as you stay subscribed. Subscriptions are $25 per month (including shipping), and you can cancel at any time without penalty.
Scroll to the bottom for more info. First, let's see what's inside the November 2016 Funpack!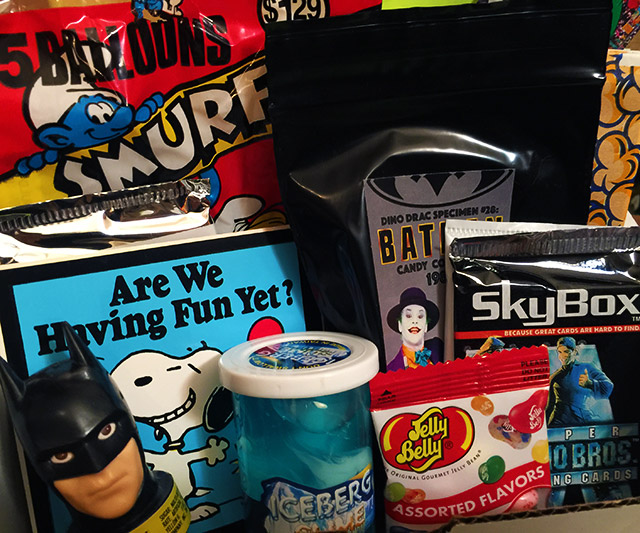 This month's Funpack mixes vintage collectibles with some other stuff that's just perfect for Thanksgiving. Like cans of blue slime. There are over ten items in every box!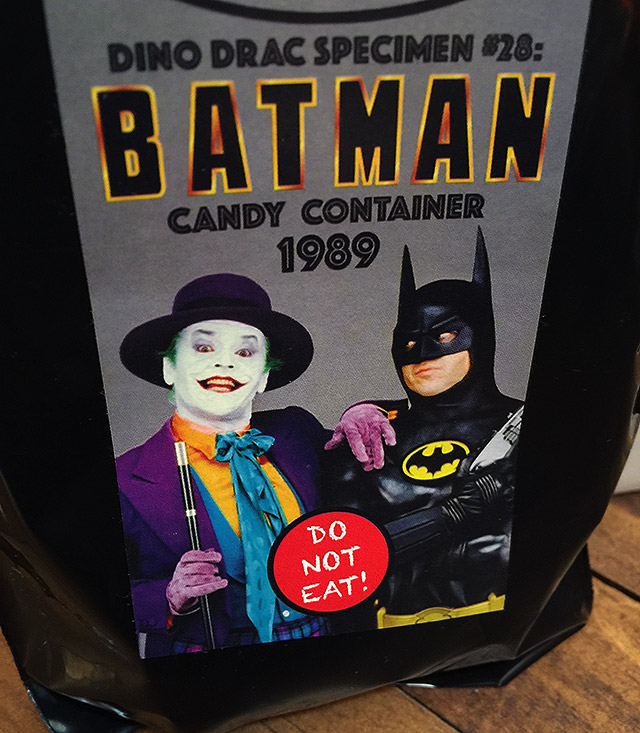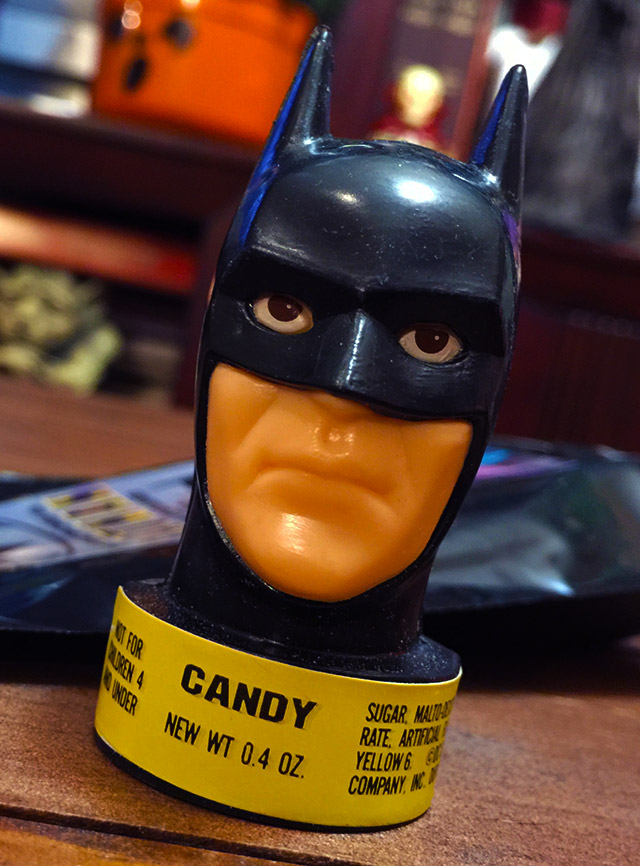 First up is this incredible Batman candy container from 1989, packed in a custom Dino Drac bag! These were all the rage after Burton's Batman debuted, and I'm sure that many of you still remember turning these containers into weird Batman finger puppets.
Each candy container is in brand new condition and is STILL SEALED. Yes, the original candy is inside! No, you should NOT eat it! (Containers may be a bit "chalky," but are coming straight from their display boxes — they're totally unused!)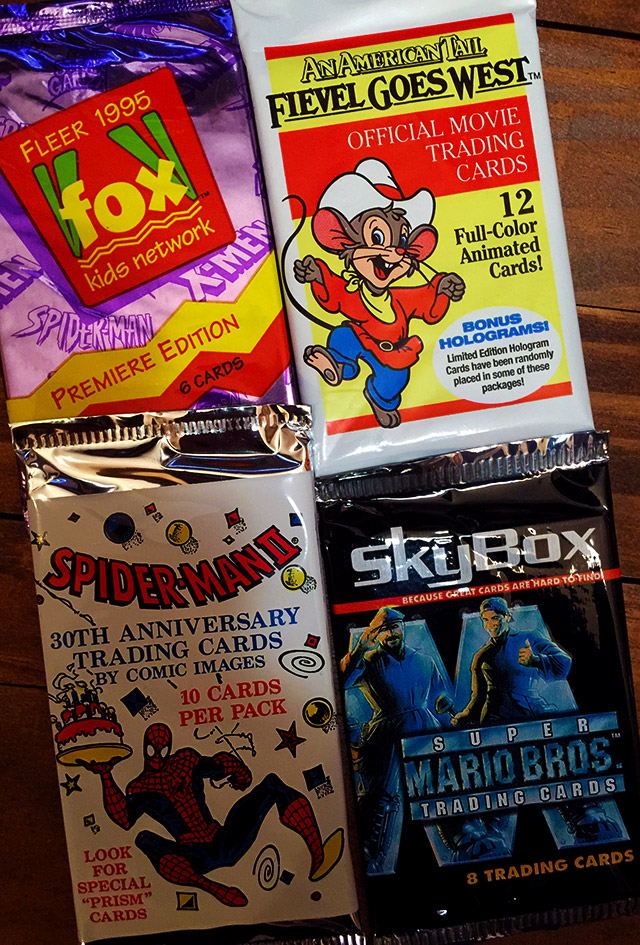 Next are FOUR packs of vintage trading cards, and I'm really loving this month's assortment. Tear into packs for the Super Mario Bros. movie, Fievel Goes West, Fox Kids, and Spider-Man's 30th Anniversary!
That's over 35 trading cards to read and love and make houses out of. (Or you can just keep them sealed in their pretty packages — I know a lot of subscribers do!)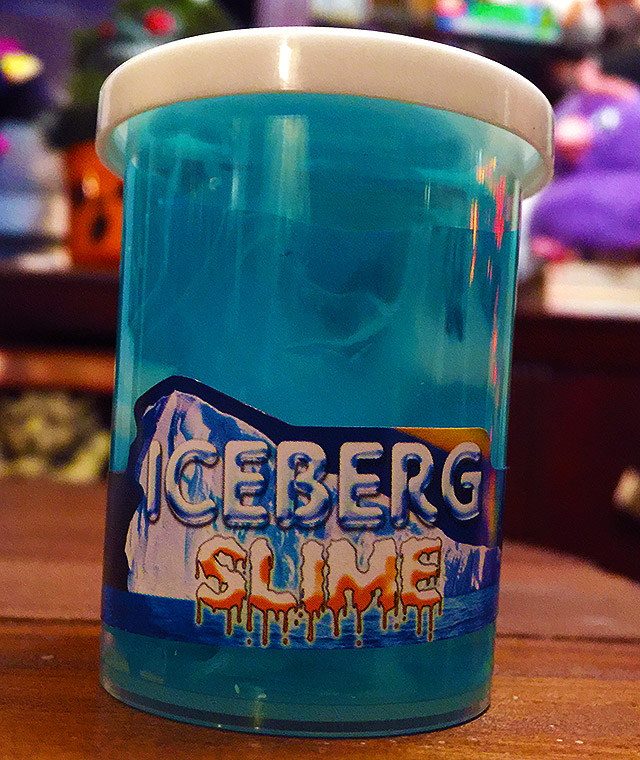 Then we have this sealed canister of ICEBERG SLIME, which is exactly what it sounds like: Slime that looks like ice!
The canisters are small but the portions of slime are super generous. I've handled a lot of toy slime in my day, and can say with total sincerity that this is an awesome batch. Matt-approved! That's why you're getting it!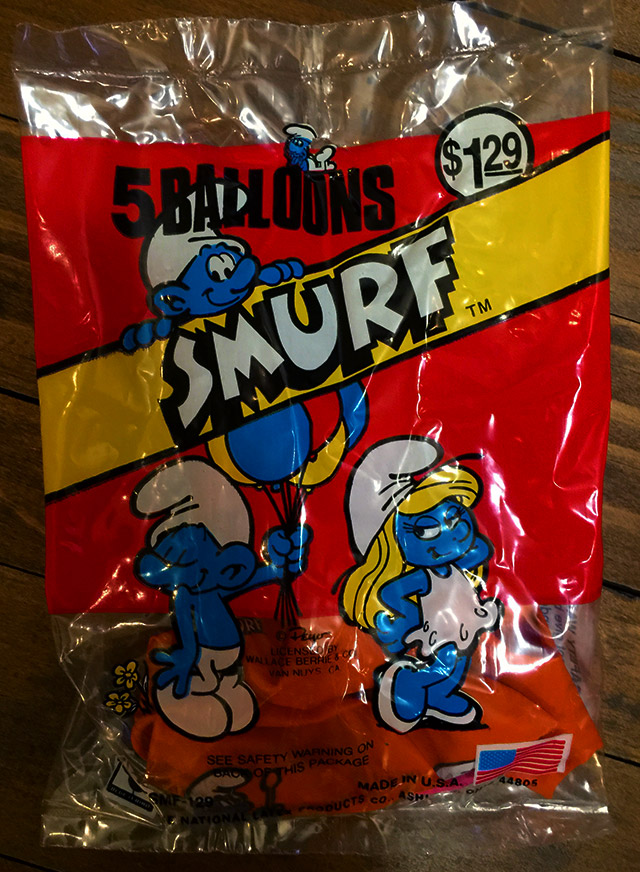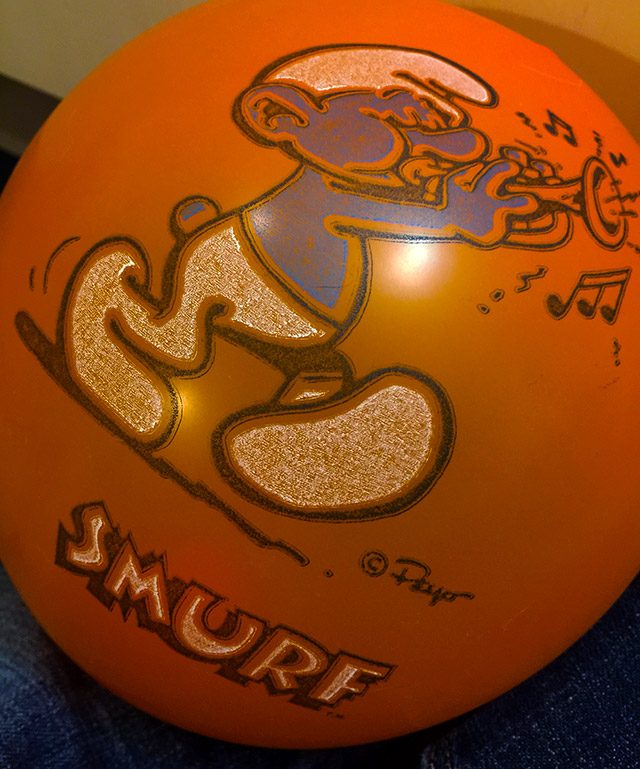 You'll ALSO receive a sealed, vintage package of five Smurfs balloons! These are from the mid '80s! Fresh from their original shipping case, the balloons are in remarkable condition considering their age. I won't guarantee that every balloon will be "as good as new," but I tried a few and they all inflated just fine.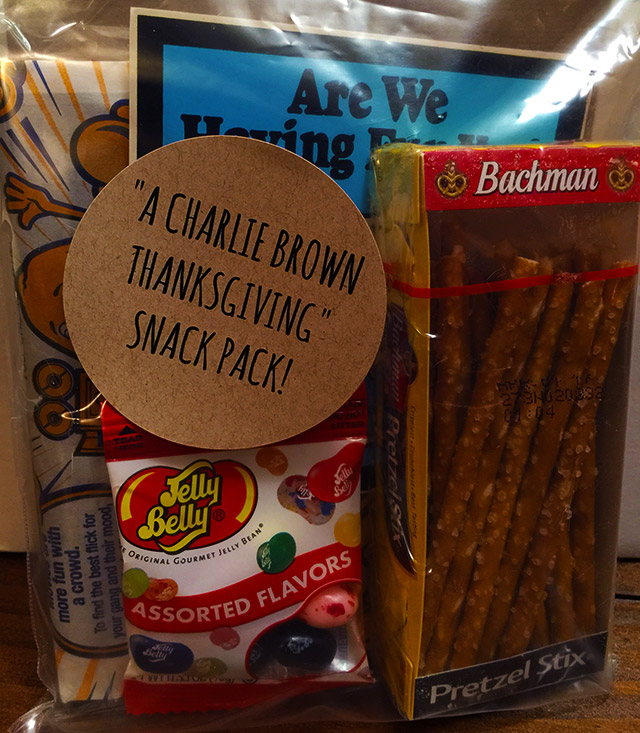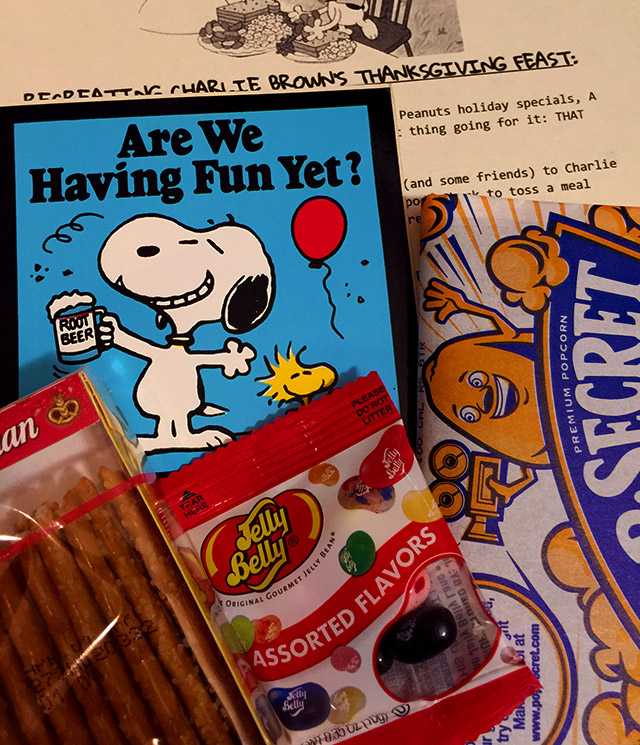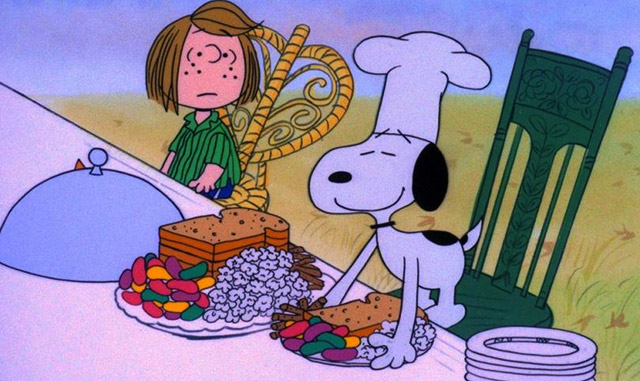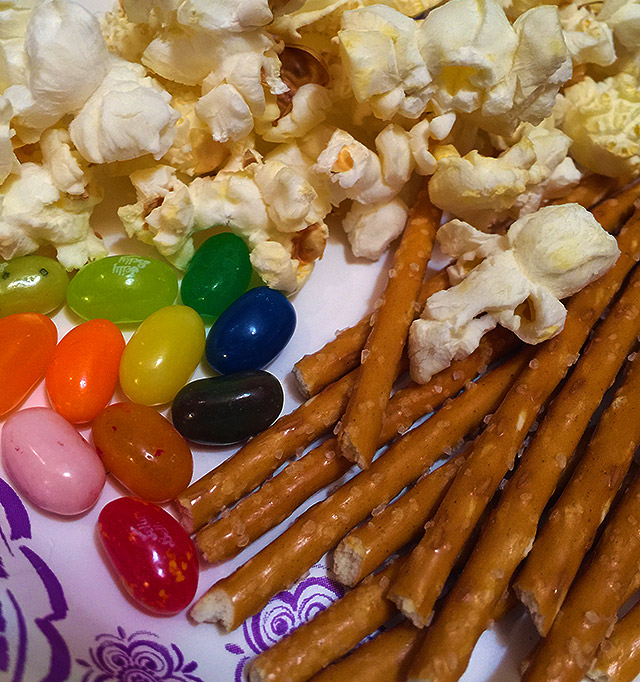 Next up is something extra special. Every Funpack will come with my latest, greatest creation: A Charlie Brown Thanksgiving Snack Pack!
Longtime readers know of my affinity for a key scene in Charlie Brown's Thanksgiving special, where he and Snoopy cook up a strange holiday feast consisting of toast, ice cream sundaes and other oddities.
These Snack Packs include three of the primary ingredients in recreating Chuck's feast: A mini-bag of microwaveable popcorn, a box of pretzel sticks and a tiny bag of jelly beans! You'll also receive my page-long guide to filling in the rest of the blanks.
Just to sweeten the pot, your Snack Pack will also come with a vintage 4×4" Snoopy sticker, in amazing condition!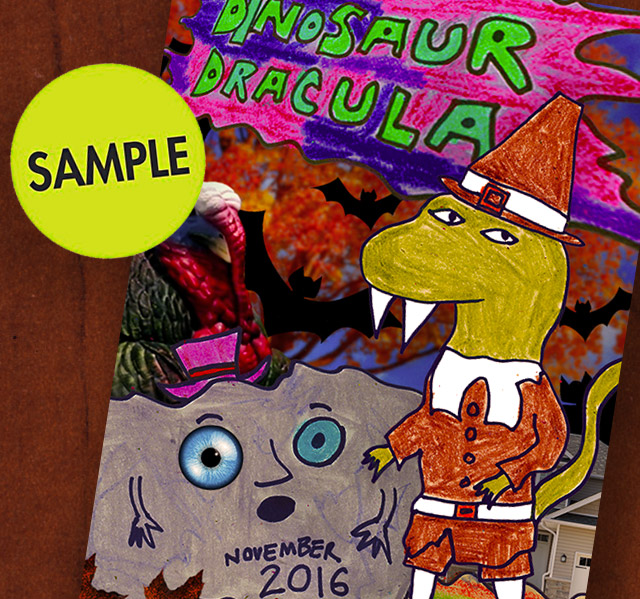 Every subscriber will also receive this month's Ugly Mini-Poster, which naturally has a Thanksgiving theme.
(Please forgive the "sample" photo — I'm still waiting for these to arrive! Actual size is 5×7", which is bigger than you're seeing here.)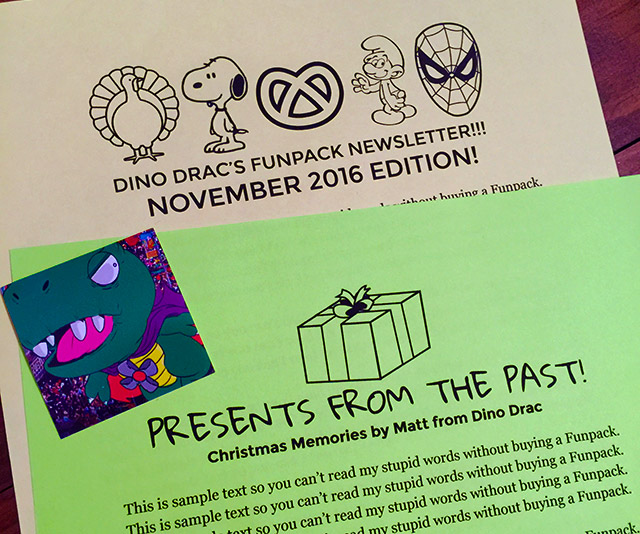 More reading material! Each Funpack will arrive with this month's newsletter, as well as an exclusive Dino Drac essay that will never be reprinted on the site! This month, I'll tell you about some of the greatest (and weirdest) Christmas presents from my childhood. It'll make you SO READY for December. (Specifically December 1988.)
And yeah, you'll get this month's exclusive Dino Drac sticker, too.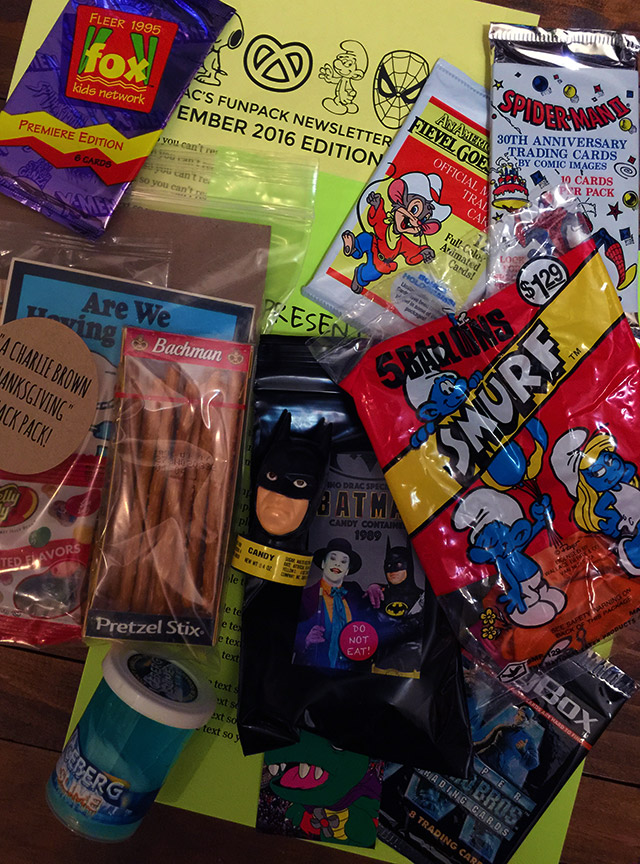 (MINI-POSTER NOT SHOWN, BUT WILL BE INCLUDED!)
Yep, you'll get EVERYTHING shown above for $25 shipped!
If you're already a Funpack subscriber and you'd like to stay that way… do nothing! You're all set!
If you want to subscribe, please read the following, and then click the button at the bottom of this page!
1. Funpacks are available in the United States only. Sorry!
2. Subscriptions are handled via Paypal. If you don't have an account, it's very easy to make one!
3. Funpacks will be shipped to the address listed on your Paypal account. If you need to change your shipping address, or if you'd like for your Funpacks to be shipped to someone else, simply email me!
4. You will be automatically billed $25 every month. (Yes, that price includes shipping.) If you subscribe today, you'll pay today, and then again in exactly one month. For as long as you remain subscribed, you'll keep getting Funpacks!
5. You can cancel at anytime. (You could subscribe today and cancel today!) If you cancel after you've already been charged for the following month's Funpack, you'll of course receive it just the same as any current subscriber would. (You can cancel via Paypal, or by emailing me.)
6. The November 2016 Funpacks will ship on or before 11/17!
Remember, the Funpacks are *absolutely* what allow me to keep doing the site… thanks so much to all who help to keep it/me going!
To get your subscription started, click the button below!
Thank you!!