Look dudes, you're too old to go trick-or-treating. This Halloween, you're gonna have to treat yourself. And I have just the thing!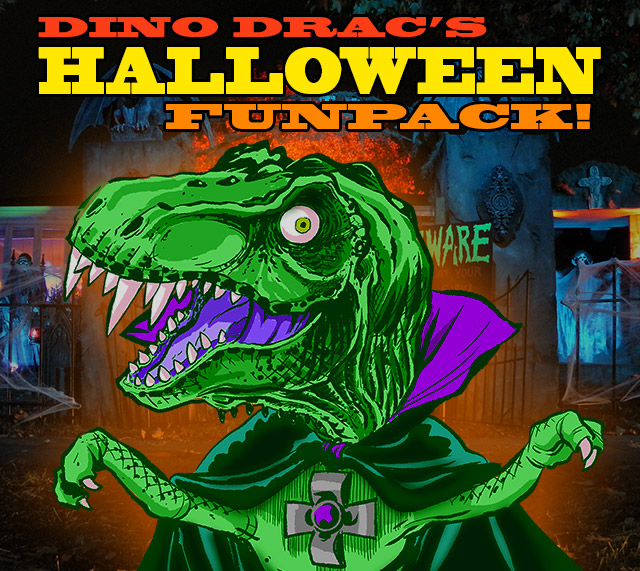 ($25 MONTHLY SUBSCRIPTION BOX. UNITED STATES ONLY!)
Dino Drac's Halloween 2016 Funpack is finally here, and baby, it's loaded. There are around a dozen items in every box, and they're all SUPER SPOOKY.
For those who haven't been paying attention — and God, I need a copy/paste version of this spiel — I sell monthly Funpacks. They're 25 bucks a month (including shipping), and for as long as you stay subscribed, you'll keep receiving new boxes of wacky goodies every month. (You can cancel at any time without penalty, of course!)
The Funpacks fund the site, and without them, there'd be no Dino Drac. So on top of getting boxes of retro-and-new nonsense each month, you're also helping to keep the site stocked with silly articles about trivial junk. Yay!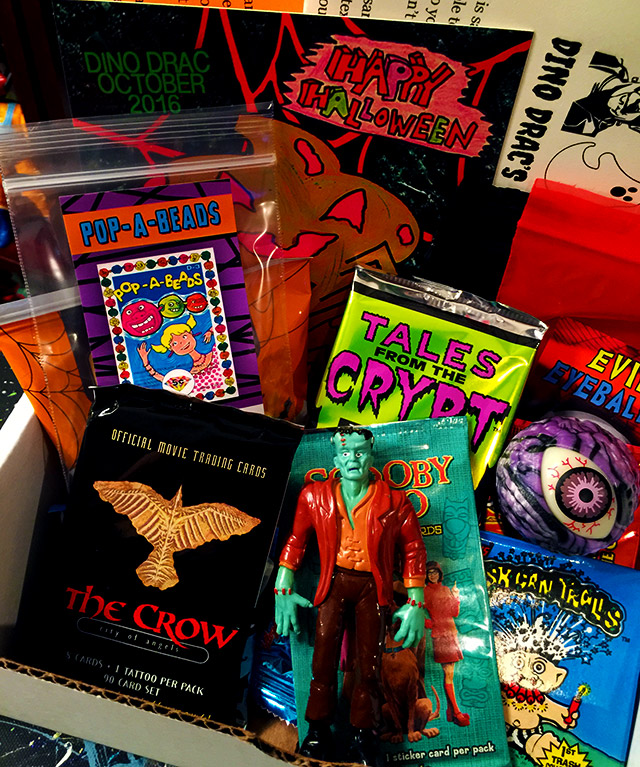 I'm pretty happy with how the October 2016 Funpack came together, and I think you will be, too. Scroll to the bottom for ordering info, or keep reading to see everything you'll get in this month's box!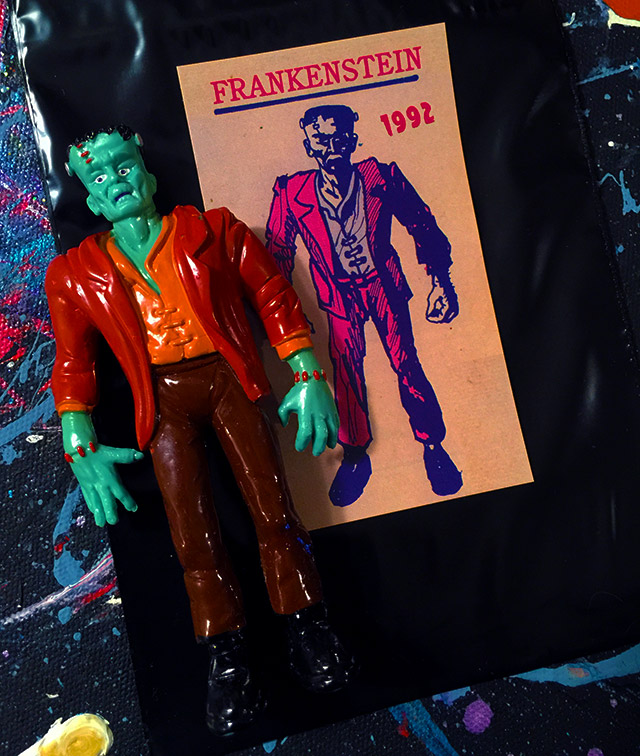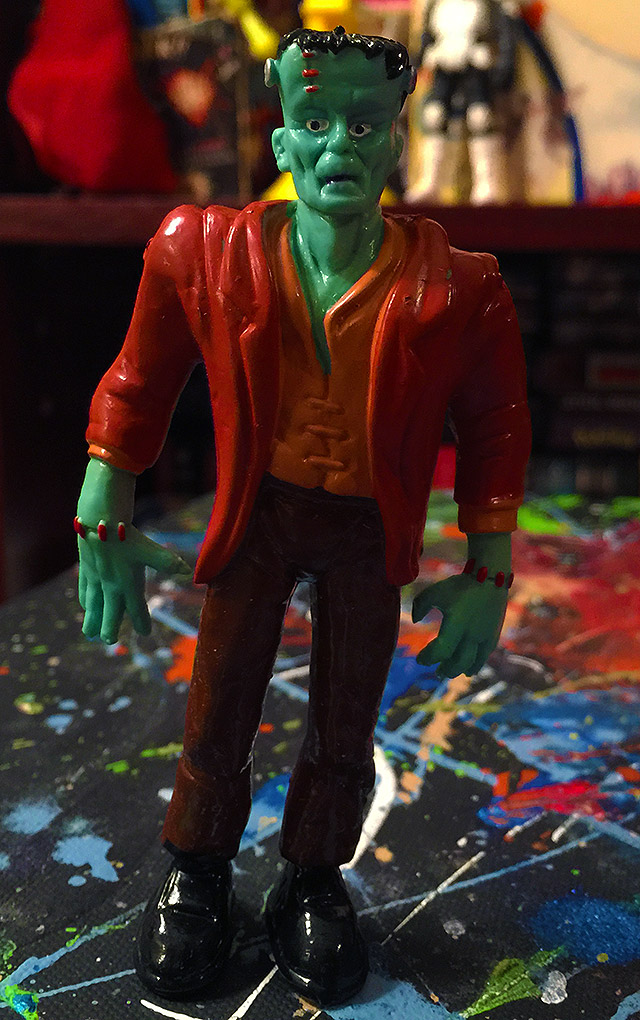 The star of the show is this vintage Frankenstein's Monster figure, made in Spain back in 1992. HE IS THE BEST. Frank looks so charmingly befuddled! You're gonna love this freak. Each comes packed in a custom Dino Drac bag!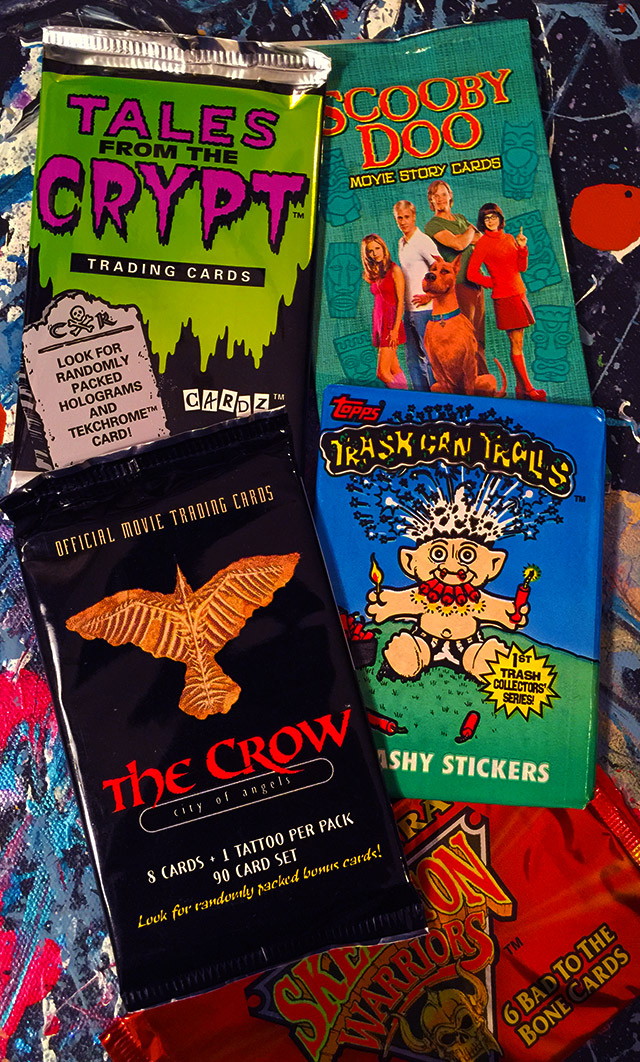 No Funpack is complete without a bunch of old trading card packs, and this month's assortment is legitimately one of the best in Funpack history!
Every subscriber will receive ALL FIVE PACKS shown here, including: Tales from the Crypt, The Crow: City of Angels, Trash Can Trolls, Skeleton Warriors and Scooby Doo. Some of these packs aren't easy to come by, and you're gonna have a blast sorting through them.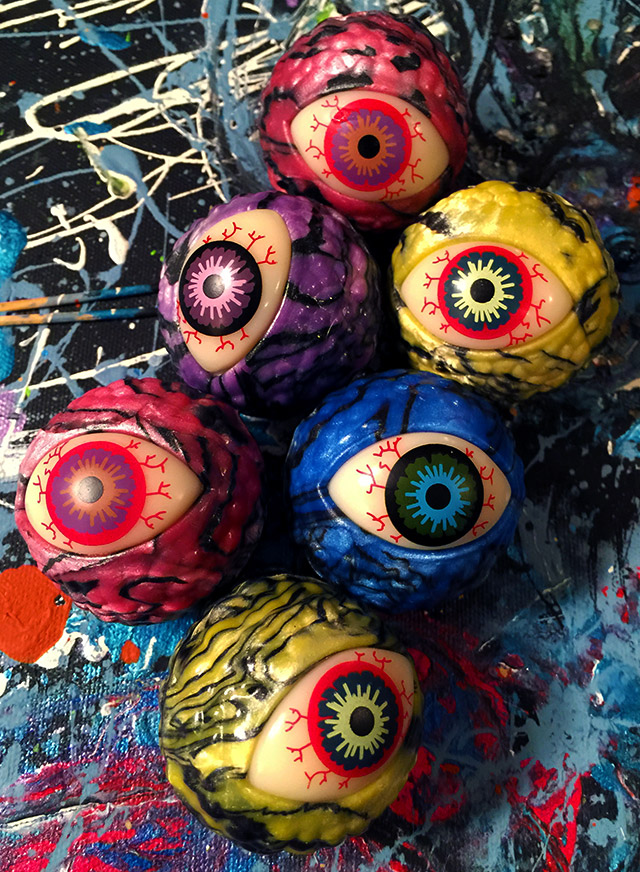 Uh oh, watch out! Every subscriber will receive one of Dino Drac's EVIL EYEBALLS, in a custom Dino Drac baggie. These are fantastic! If you liked last month's Eerie Orbs, you can think of these as their even stranger cousins.
The EVIL EYEBALLS come in assorted colors. Sorry, no picking! No matter which one you get, it'll come ready to bounce its way into your heart, most likely so it can eat it. I'll warn you that Dino Drac's EVIL EYEBALLS are rumored to be cursed, so I would advise against engaging in any staring contests with 'em. You'll lose, and then you'll lose again.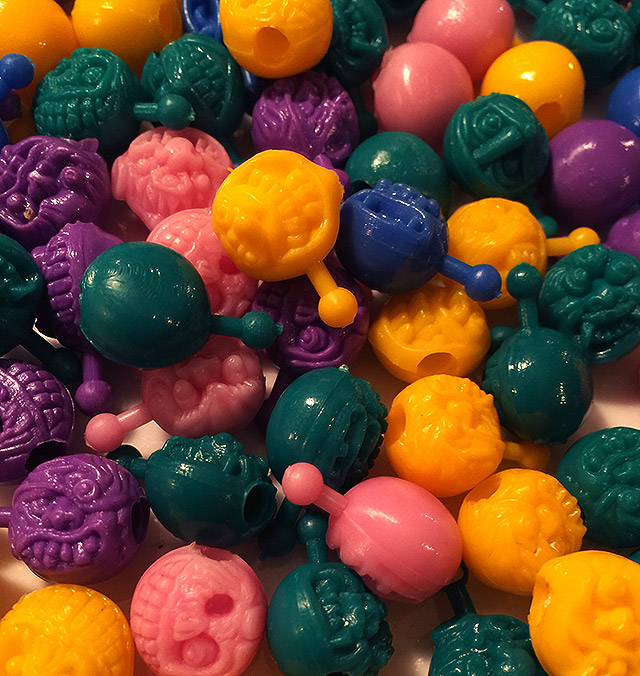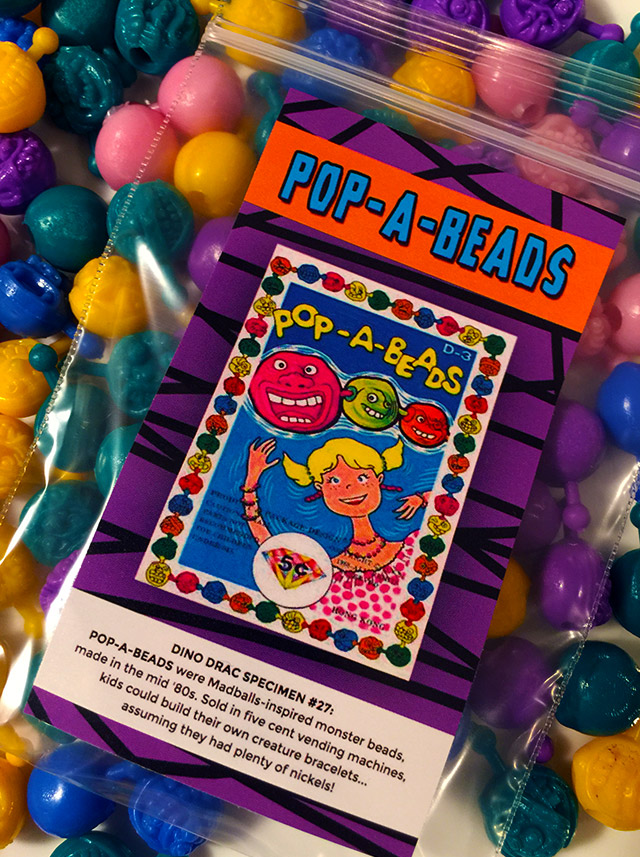 Daaamn, the hits just keep on comin'. Longtime subscribers may remember these Pop-A-Beads as one of the very first Funpack Specimens, but this time, you're not just getting one. Every subscriber will receive SEVEN assorted Pop-A-Beads in a custom Dino Drac baggie!
And what ARE Pop-A-Beads, you ask? Back in the '80s, some random company aped the designs from AmToy's Madballs to make adorably monstrous little beads. These were sold in vending machines and could be linked together to form bracelets, necklaces or whatever the hell else. It'd be almost as accurate to call them vintage Madballs beads, if you can believe that such a thing exists!
Every baggie includes seven Pop-A-Beads, and while you may get a repeat color or two, I'm working hard to make each assortment as assorted as possible. Expect a good mix of monsters!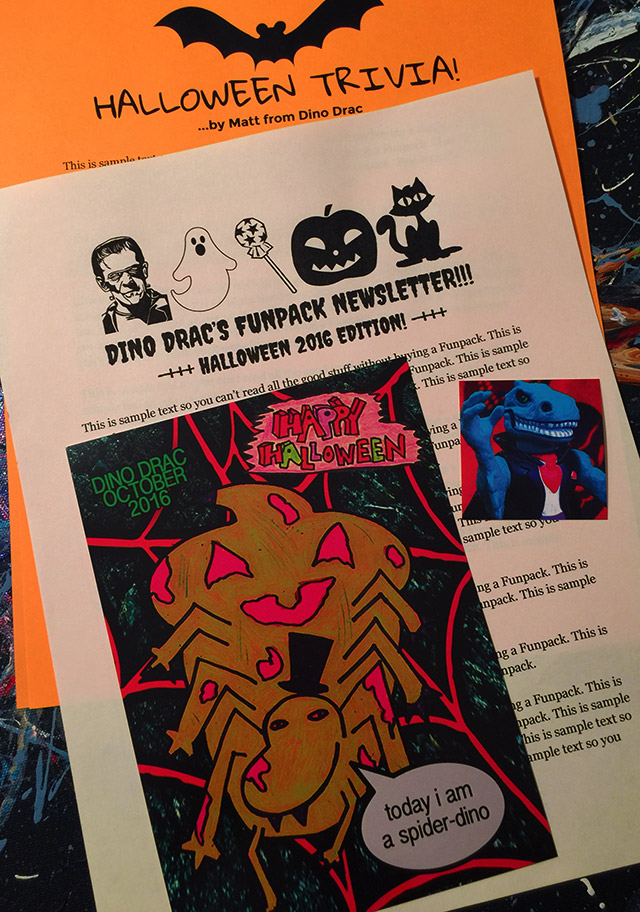 Yes, there's still more! Every subscriber will also receive this month's Ugly Mini-Poster, along with this month's exclusive Dino Drac sticker. You'll also get the October 2016 Funpack Newsletter, PLUS an exclusive essay covering a bunch of random Halloween trivia bits. Spooky reading material!
(Remember, these Funpack essays will never be reprinted on the site!)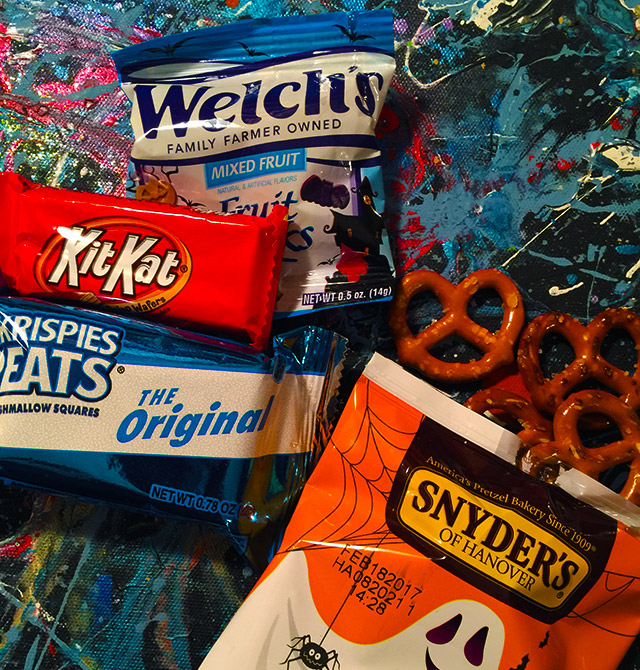 Last but not least, a generous pile of Halloween snacks. Your assortment may vary from the one shown here, but you'll get at least that much to eat. Expect chocolate, expect pretzels and expect to gain a pound. Hey, it's Halloween. You're allowed.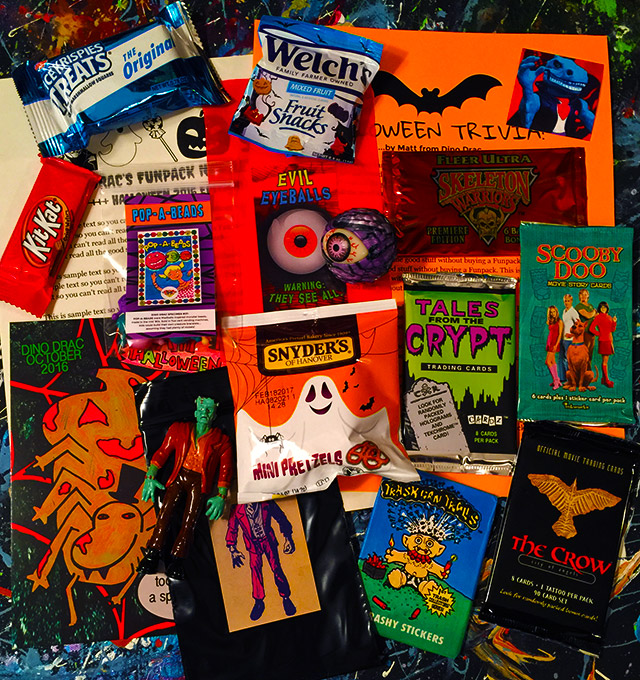 Yep, you'll get EVERYTHING shown above for $25 shipped!
If you're already a Funpack subscriber and you'd like to stay that way… do nothing! You're all set!
If you want to subscribe, please read the following, and then click the button at the bottom of this page!
1. Funpacks are available in the United States only. Sorry!
2. Subscriptions are handled via Paypal. If you don't have an account, it's very easy to make one!
3. Funpacks will be shipped to the address listed on your Paypal account. If you need to change your shipping address, or if you'd like for your Funpacks to be shipped to someone else, simply email me!
4. You will be automatically billed $25 every month. (Yes, that price includes shipping.) If you subscribe today, you'll pay today, and then again in exactly one month. For as long as you remain subscribed, you'll keep getting Funpacks!
5. You can cancel at anytime. (You could subscribe today and cancel today!) If you cancel after you've already been charged for the following month's Funpack, you'll of course receive it just the same as any current subscriber would. (You can cancel via Paypal, or by emailing me.)
6. The October 2016 Funpacks will ship on or before 10/18!
SORRY, THE OCTOBER FUNPACKS ARE SOLD OUT. SEE YOU IN NOVEMBER!