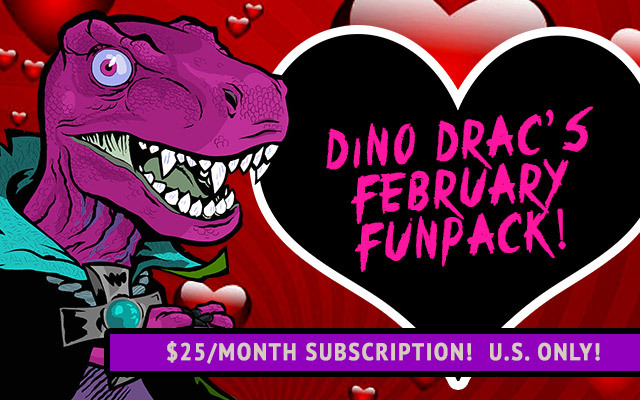 Dino Drac's February Funpack has landed!
Most of you know the drill by now, but here's the quick-and-dirty version:
Every month, I mail out boxes filled with old & new treasures to all subscribers. It's $25 a month (that price includes shipping to anywhere in the United States) and you can cancel whenever you want. The Funpacks are absolutely what allows me to keep producing Dino Drac content at a high frequency, so on top of getting neat boxes of STUFF, you're also helping to keep the site afloat!
…and as for the February Funpacks? Since your boxes will be arriving around Valentine's Day, this month's theme is LOVE & MONSTERS.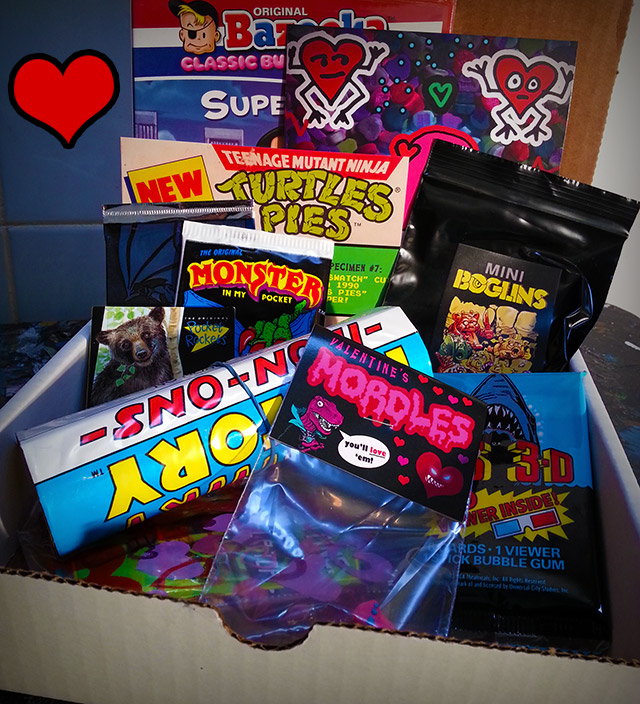 There are over ten items in this month's box! Loads of nostalgia with a hint of Valentine's goodness — and plenty of monsters!
Each Funpack includes:
– Dino Drac's February Ugly Mini-Poster – Valentine's Day themed!
– Dino Drac's February Specimen – a piece of a Hostess TMNT Pudding Pies wrapper!
– Three packs of vintage trading cards, including Jaws 3-D and Monster In My Pocket!
– A sealed Superman DVD stuffed with cartoons from the 1940s!
– A special "Valentine's Mordle" in custom Dino Drac packaging!
– A Mini Boglins Mystery Bag including one Mini Boglin from the 1990s!
– A sealed Topps T-Shirt Factory Iron-On from the '80s!
– A mini book (various subjects) and a piece of Valentine's Day candy!
– Dino Drac's February 2015 Funpack Newsletter!
If you're ready to sign up, you can skip to the bottom of this post for more subscription info and a link to get started. Otherwise, keep reading for a closer look at this month's highlights!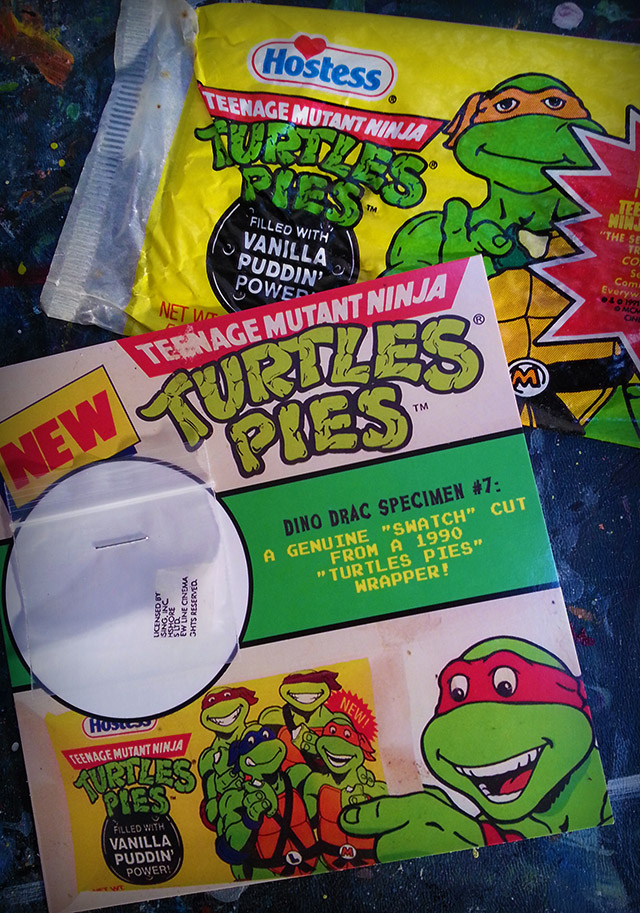 This month's Dino Drac Specimen is an honest-to-goodness "swatch" cut from a vintage Hostess Teenage Mutant Ninja Turtles Pies wrapper! Each small square comes bagged and stapled to a special 5×5" display card!
(Some pieces will be from the yellow fronts, other pieces will be from the white backs — but all pieces were genuinely a part of a real TMNT Pudding Pie wrapper!)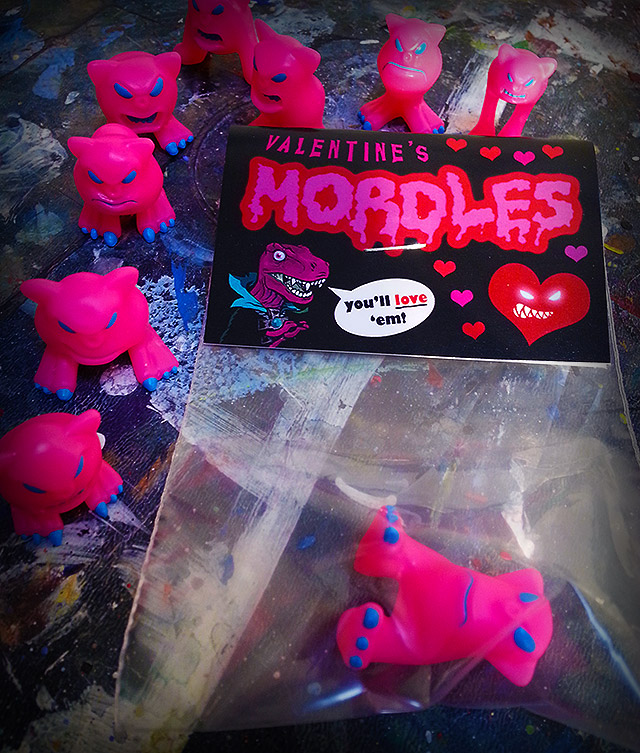 Yes! You'll also receive a special Valentine's Mordle in custom Dino Drac packaging! You may remember Mordles as the "little demons" from the Rocks & Bugs & Things line, but my pals at ToyFinity now own the license and are producing them once more!
These hot pink Mordles weren't originally made to celebrate Valentine's Day, but I got permission to "rebrand" them. Every Funpack will include one of these romantic monsters in exclusive packaging!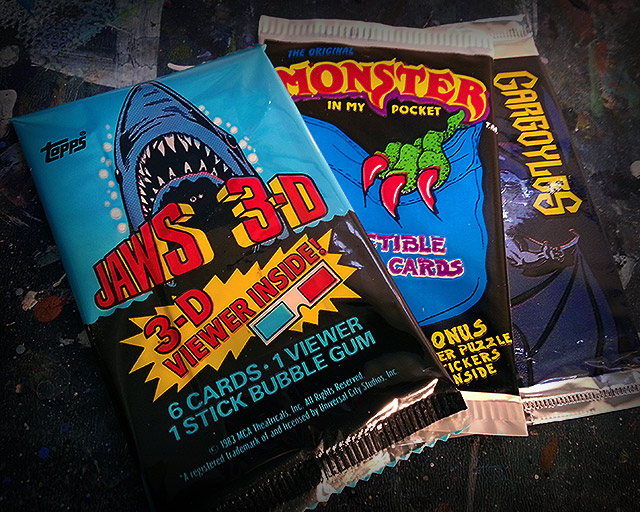 My Funpacks usually have some old trading cards in them, but I'm especially excited about this month's batch. All subscribers will receive packs of Jaws 3-D cards, Monster In My Pocket cards and Gargoyles cards!
The first two aren't everyday finds, mind you! And you're going to be really thrilled with the Jaws cards, since each pack comes with a miniature pair of 3D glasses!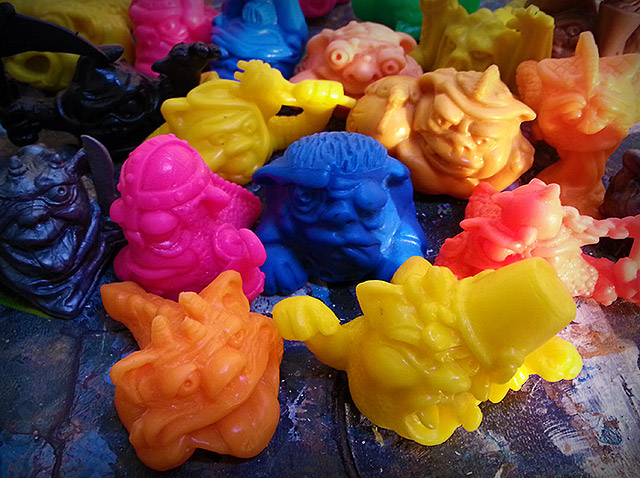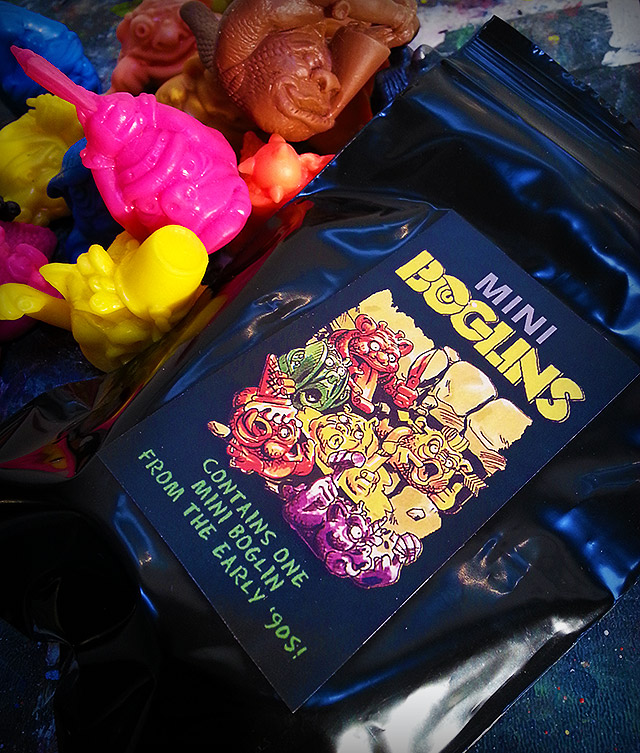 Oh, hot damn. Bet some of you didn't know that these even existed. Yes, the Boglins line, best known for its rubber monster puppets, also included a collection of small, colorful figurines! They were called Mini Boglins, and every Funpack includes one in a black mystery bag!
(Mini Boglins arrived in the early '90s and were mostly sold overseas. They come in many colors and MANY styles. Which one will you get?!)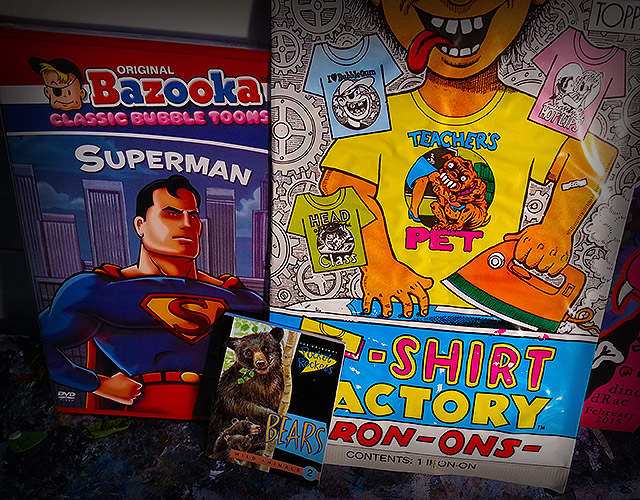 I know most of you aren't mentally flipping over a Superman DVD, but trust me, you'll love it. I grew up with a video of those old toons, and they're pretty fantastic. (Albeit full of lines and plots that would never fly today!) These older DVDs were presented by Bazooka gum, of all things!
You'll also get a vintage Topps T-Shirt Factory Iron-On, in a sealed pack. Yes, these are functional iron-ons, so you'll be able to make yourselves some really weird shirts. (Packs will be sent rolled, as they're too big for the boxes otherwise!)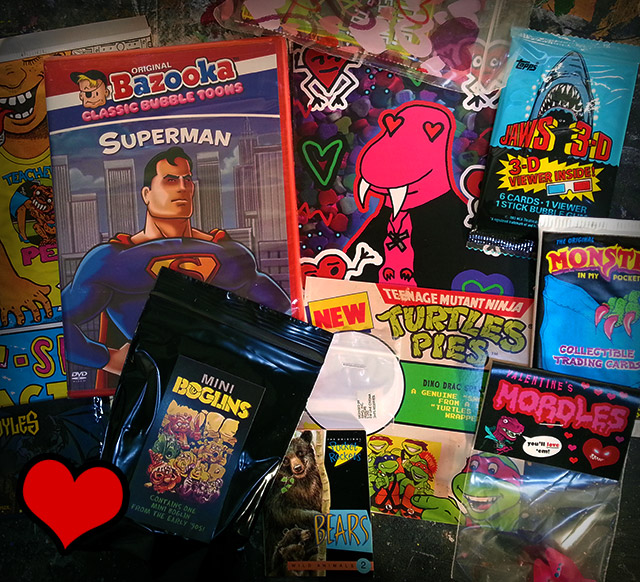 …and that's the whole spread. Over ten items in all, sure to provide you with a healthy dose of strange entertainment. And love and monsters.
February Funpacks will begin shipping on 2/9, so they should arrive just in time for Valentine's Day!
If you're already a subscriber and would like to stay that way… do nothing! You're all set!
If you're new and you can't turn down this buncha junk, here's everything you need to know:
1. Subscriptions are handled through Paypal. You will be automatically billed each month. If you subscribe on February 5th, you'll be charged on February 5th, and then again on March 5th… and so on and so on. For as long as you stay subscribed, you'll continue receiving Funpacks!
2. You can cancel your subscription via Paypal at any time. (Hell, you could subscribe today and cancel tomorrow, if so desired.) After you cancel, you'll either stop receiving Funpacks or receive one final box, depending on how far you've paid up for.
3. Sorry, but due to shipping costs and customs issues, the Funpacks are available in the United States only.
4. If you don't have Paypal, don't worry, you can still subscribe using any major credit card. There will be a place to add your name and shipping address. If you need your Funpack to be sent to a different name and/or address, simply email me and I'll take care of it.
5. If you have any other questions about subscriptions, I'm always available on email, or in the comments below. I stay on top of these Funpacks and am always quick to address any questions or issues!
Heard enough? GOOD. Click the button below to head to Paypal to set up your subscription. Thanks in advance — every subscription helps me keep Dino Drac going!
SOLD OUT!