With only two weeks left until Halloween, you're (hopefully) trying to cram in as much spooky fun as possible. We're now at the point where if you blink one too many times, October will be over!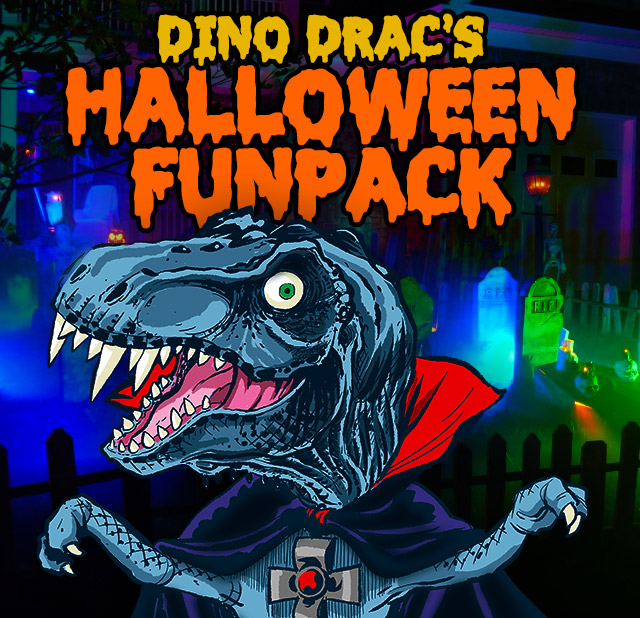 LIMITED TIME! LIMITED QUANTITY! UNITED STATES ONLY!
But have no fear! With Dino Drac's October Funpack, you're guaranteed at least one solid night of macabre wonder, where you can lay on the couch and have a party-for-one. Consider this month's Funpack Halloween in a box!
If you don't know the drill, I run a monthly subscription box service. For as long as you stay subscribed, you'll keep receiving new boxes of mostly-old collectibles and assorted fun stuff! The boxes are $25 a month (including shipping), and you can cancel at any time without penalty.
This month's Funpack is super important for the site, as it helps offset the increased costs that go along with my increased productivity. So, on top of getting a neat box of retro-and-new nonsense, you're helping to ensure that Dino Drac can continue doing what it does!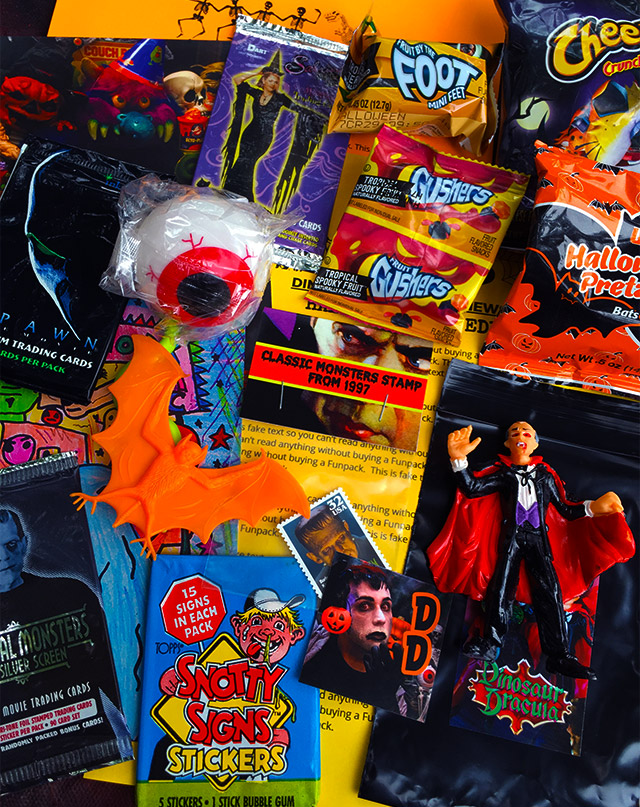 The October 2017 Funpack contains more than a dozen items, and every single one of them will fill your black heart with Halloween spirit. Skip to the bottom of this post for ordering info, or keep reading to learn about EVERYTHING you'll receive in this month's box!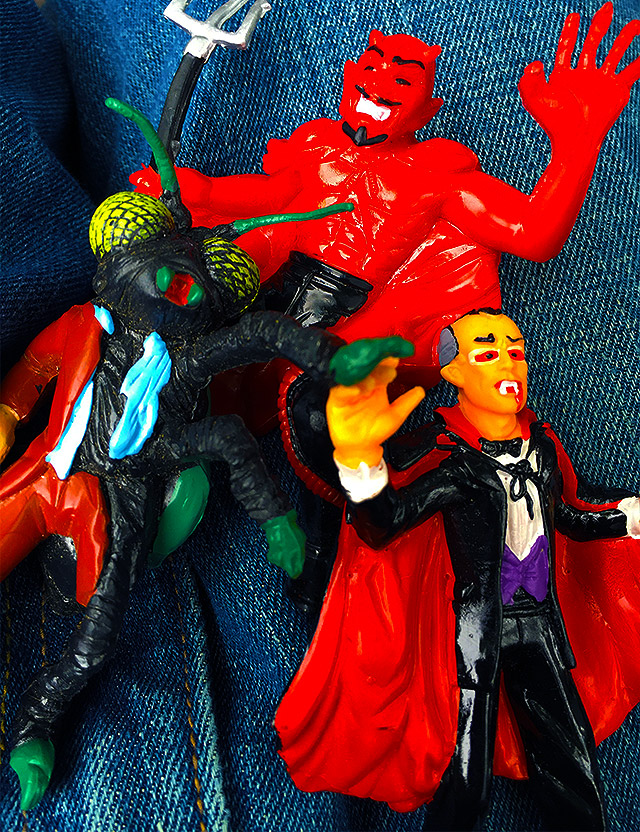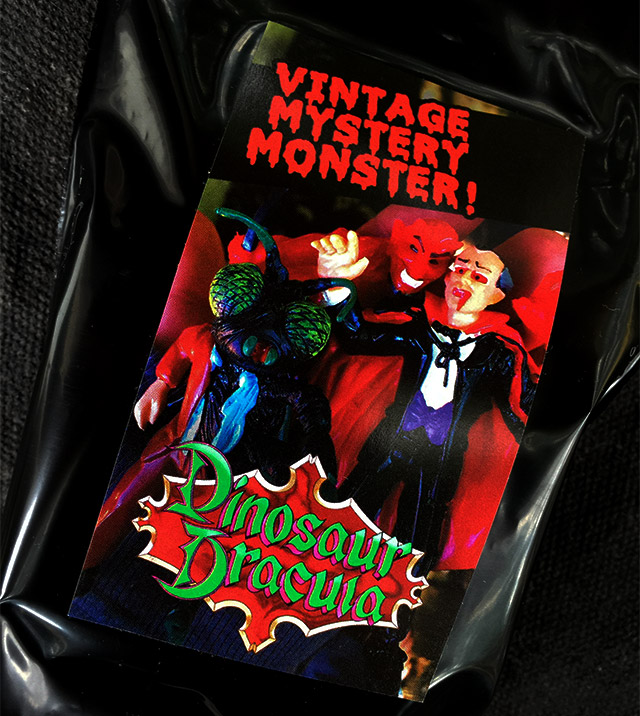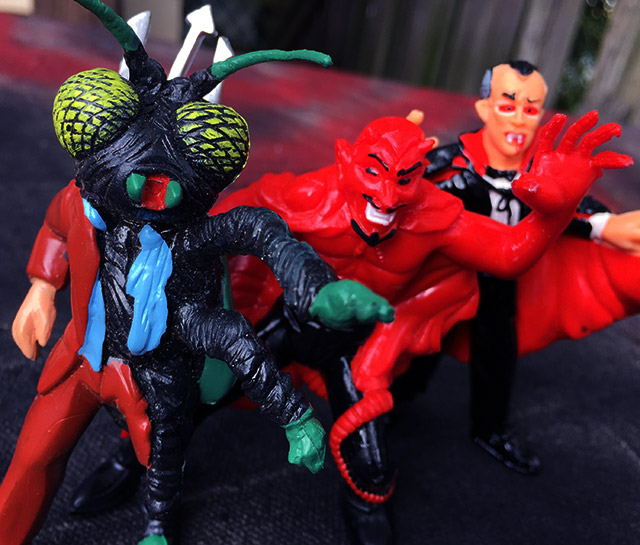 ONE VINTAGE MYSTERY MONSTER PER FUNPACK!
First up, a VINTAGE MYSTERY MONSTER in a custom Dino Drac baggie! You will receive ONE of the three figures shown here. All three were part of Spain's Super Monstruos collection from 1992. They're adorably inelegant, but still in great condition.
You will receive ONE of the following monsters: Dracula, Man Fly or Diablo. Each has its own incredible quirks.
Sorry, no picking! If you're curious, you have a 40% chance at Man Fly, a 40% chance at Dracula and a 20% chance at Diablo.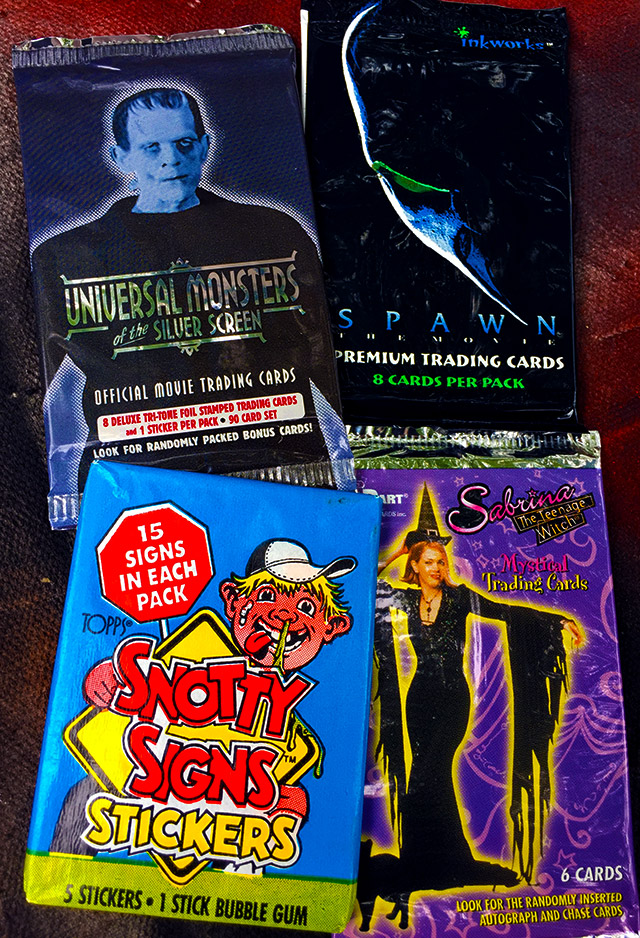 Next is a quartet of vintage trading card packs, and I worked hard to make sure they were all October-appropriate.
You will get all four of the packs shown here, including Universal Monsters of the Silver Screen, Spawn: The Movie, Snotty Signs and Sabrina the Teenage Witch. It's an instant collection of spooky cards!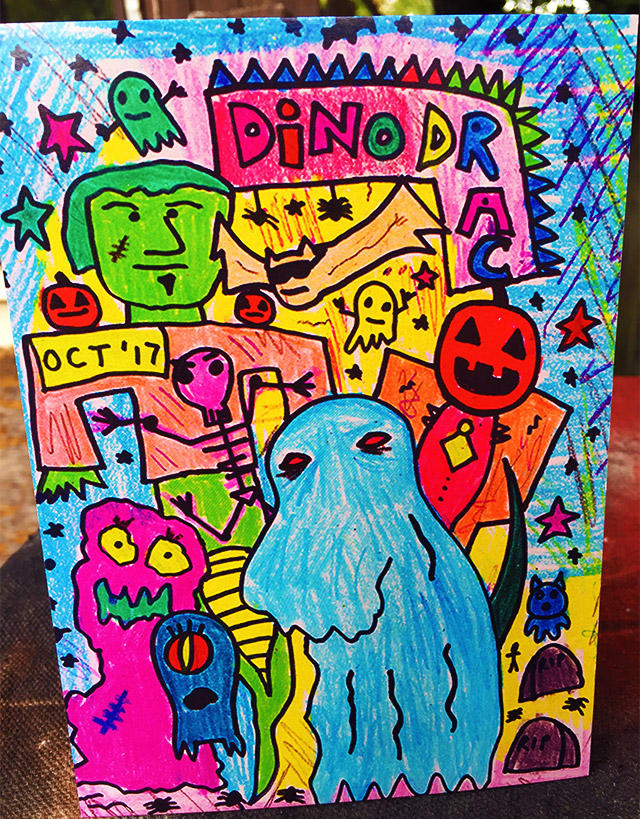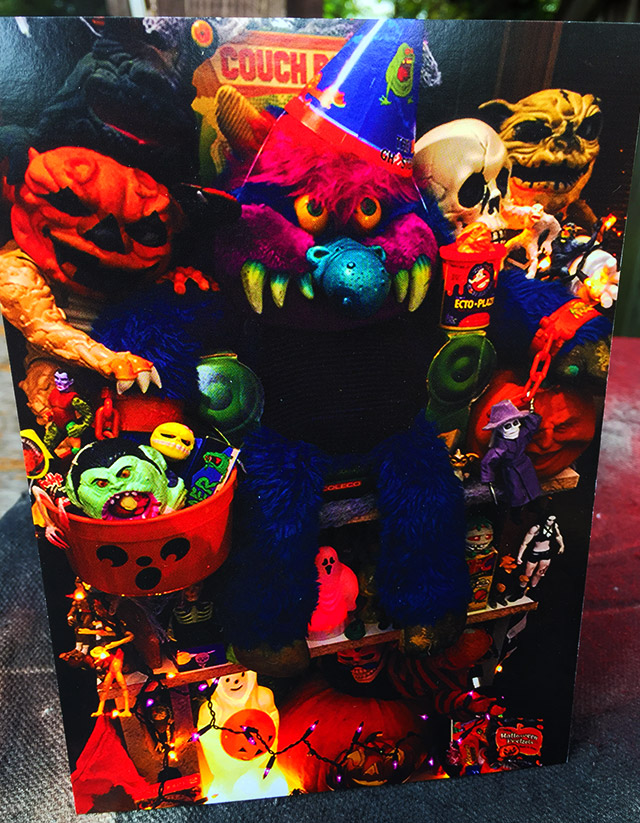 Since Halloween is so special, I'm doubling down on Dino Drac's monthly Mini-Posters! You will receive BOTH of the Mini-Posters shown here. Each is printed on 5×7" cardstock.
First is a crude crayon drawing of Dino Drac hosting some kind of interdimensional Halloween party. The bonus poster is of this year's Halloween Mood Table, and is meant for you to leave up all year for those moments when you need an off-season hit of Halloween!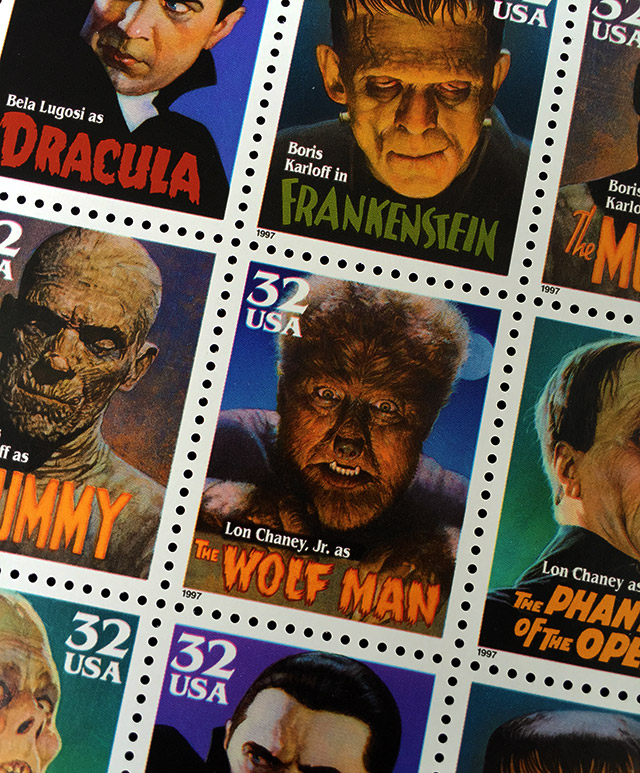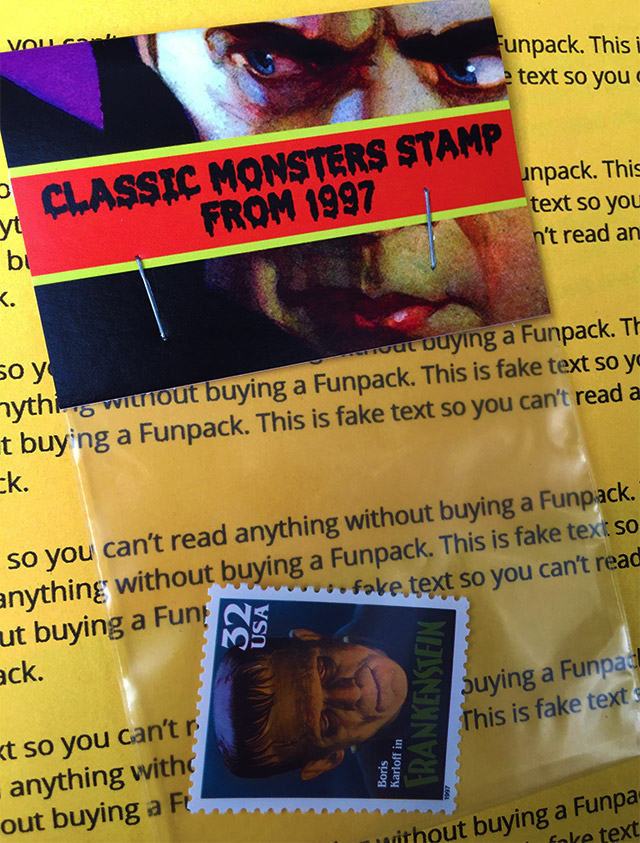 For this month's Dino Drac Specimen, you'll each receive one vintage USPS Classic Movie Monsters stamp, in custom Dino Drac packaging! If you don't remember these stamps, they were a HUGE deal back in 1997, and a big reason for that whole Universal Monsters renaissance of the late '90s.
You probably won't want to open the custom packaging, but if you do, yes, these stamps are still totally usable! They're brand new and have never been on an envelope.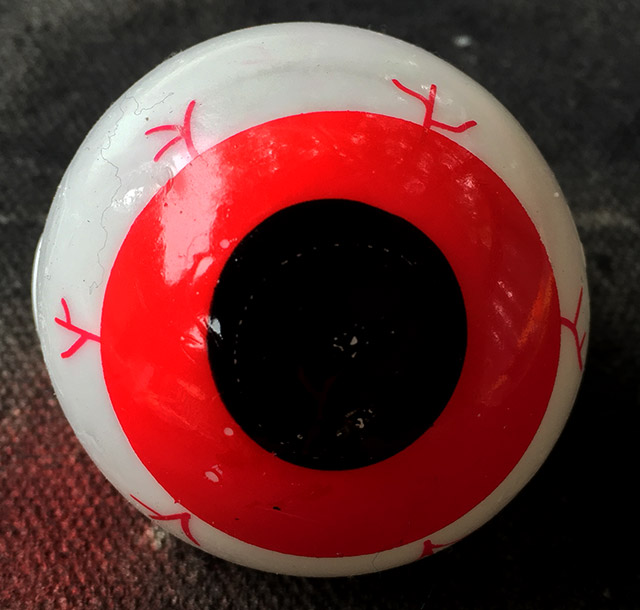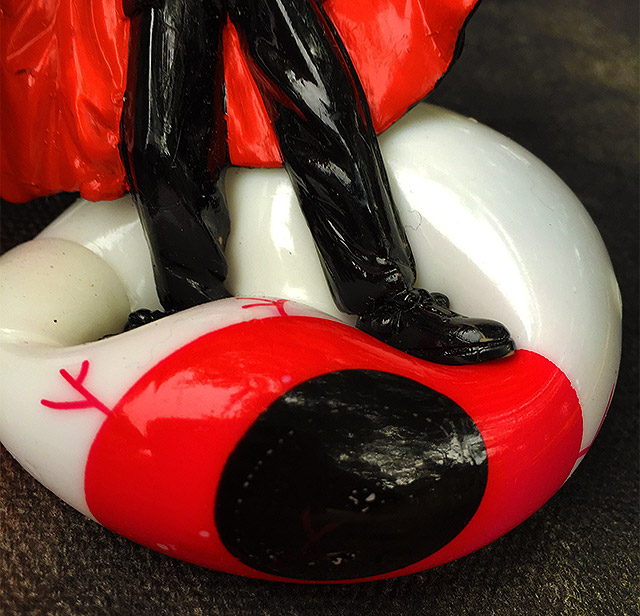 On the goofier side, every Funpack also comes with this weird water-filled eyeball toy, which you can smoosh and stretch to your heart's content. It's an odd way to relieve stress, but it works!
Your eyeball will come sealed in a protective baggie. You will either receive the red one shown here, or a blue one that's somehow even stranger.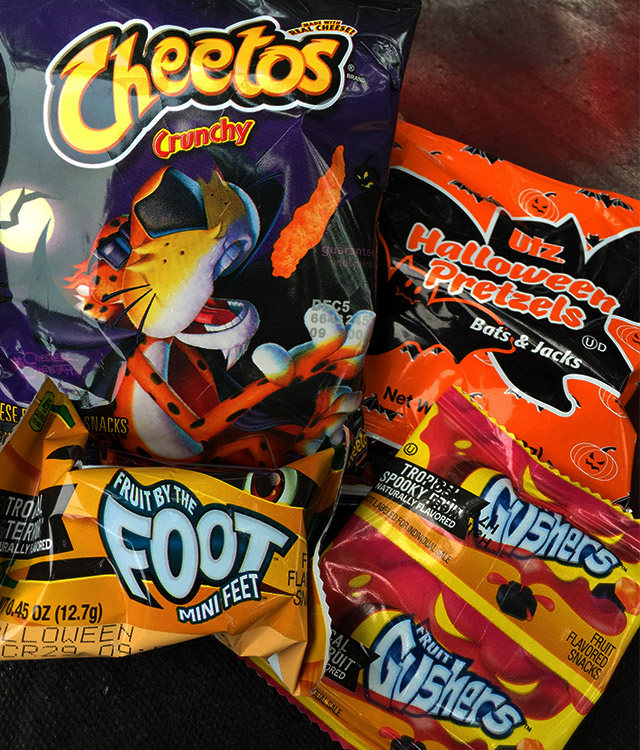 Most of you are too old to go trick-or-treating, but I'm gonna let you pretend you did anyway.
Included with your Funpack will be all four of the treats shown here, including spooky-themed packs of Fruit Gushers, Fruit by the Foot, Cheetos and Utz Pretzels. It's practically a whole meal's worth of food, so long as you aren't terribly concerned about sugar or salt.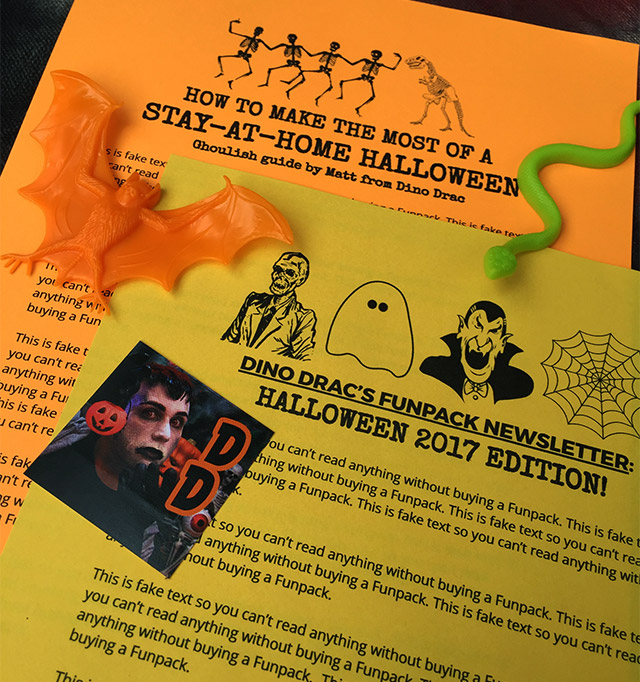 Finally, you'll each receive this month's Funpack Newsletter, an exclusive Madd Matt sticker, AND an exclusive essay that will never be reprinted on the site.
(This month's essay will give you some tips on how to have a successful stay-at-home Halloween. Even if you don't have big plans for Halloweekend, you can still have a blast!)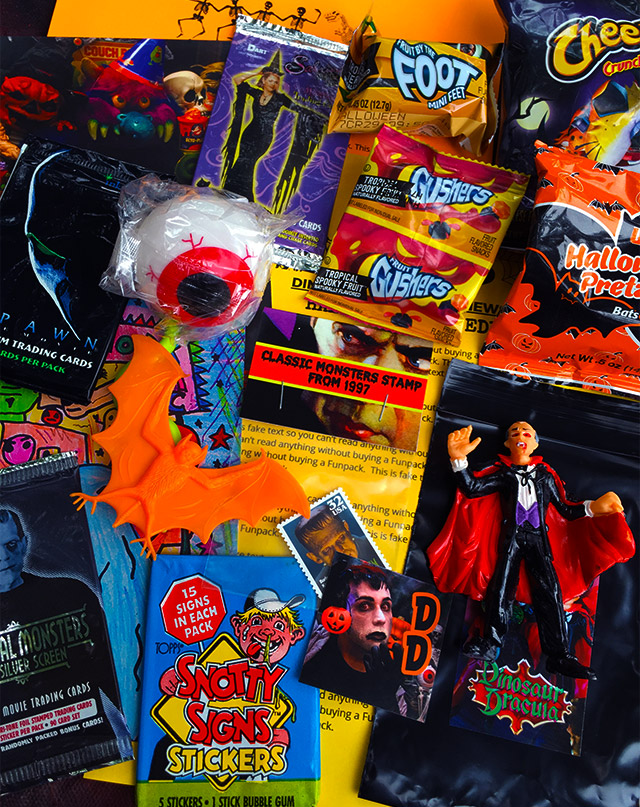 Yep, you'll get EVERYTHING shown above for $25, shipped!
If you're already a Funpack subscriber and you'd like to stay that way… do nothing! You're all set!
If you want to subscribe, please read the following, and then click the button at the bottom of this page!
1. Funpacks are available in the United States only. Sorry!
2. Subscriptions are handled via Paypal. If you don't have an account, it's very easy to make one!
3. Funpacks will be shipped to the address listed on your Paypal account. If you need to change your shipping address, or if you'd like for your Funpacks to be shipped to someone else, simply email me!
4. You will be automatically billed $25 every month. (Yes, that price includes shipping.) If you subscribe today, you'll pay today, and then again in exactly one month. For as long as you remain subscribed, you'll keep getting Funpacks!
5. You can cancel at anytime. (You could subscribe today and cancel today!) If you cancel after you've already been charged for the following month's Funpack, you'll of course receive it just the same as any current subscriber would. (You can cancel via Paypal, or by emailing me.)
6. The October 2017 Funpacks will ship on or before 10/19!
Remember, the Funpacks allow me to keep doing the site… thanks so much to all who help to keep it/me going!
To get your subscription started, click the button below!
SOLD OUT! THANKS ALL!