If you like Smurfs, Star Wars and swamp monsters, good news! Dino Drac's February 2016 Funpack has all three!
If you haven't been paying attention, I sell monthly Funpacks. Without them, there'd be no Dino Drac! (The modest ads you see on this site do not at all cover even the expenses associated with Dino Drac, let alone the time and effort spent on its content! So yeah, the Funpacks are definitely the site's lifeblood.)
Subscriptions are $25 a month (that includes shipping), and for as long as you stay subscribed, you'll continue to receive new boxes of fun junk, each and every month. You can cancel at any time without penalty. In trade for helping to keep the site afloat, you'll get a box some some (arguably) awesome stuff!
Skip to the bottom of this post for additional subscription details and notes on how to order. Or keep reading, to see what's in store for the February 2016 Funpack!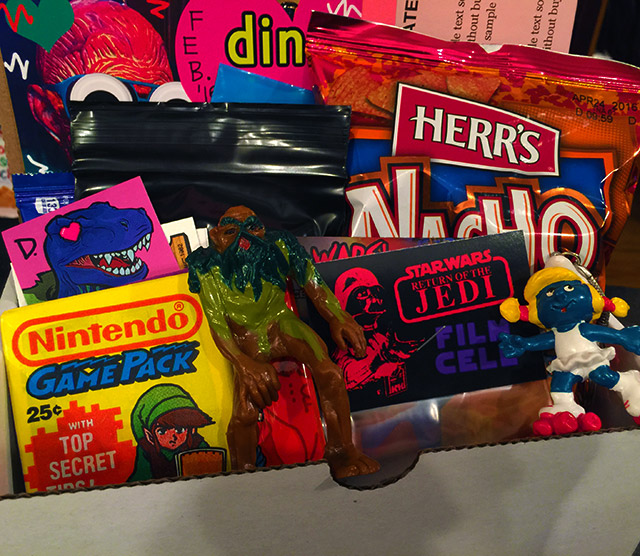 There are over a dozen items in this month's Funpack, ranging from action figures to trading cards to bags of super delicious tortilla chips. Take a look!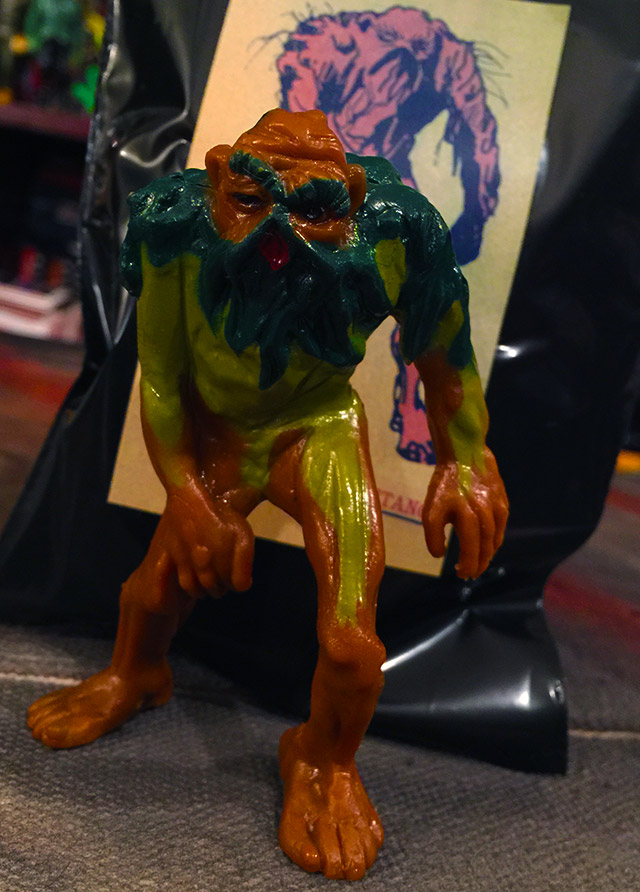 Among this month's featured items is yet another monster figure from 1992's Super Monstruos collection, made in Spain. Get a load of El Monstruo Del Pantano, which I believe roughly translates to SWAMP MONSTER.
Looking a bit like Swamp Thing's crotchety grandpa, your figure will arrive safely in a custom Dino Drac bag, featuring art from the original Super Monstruos catalog!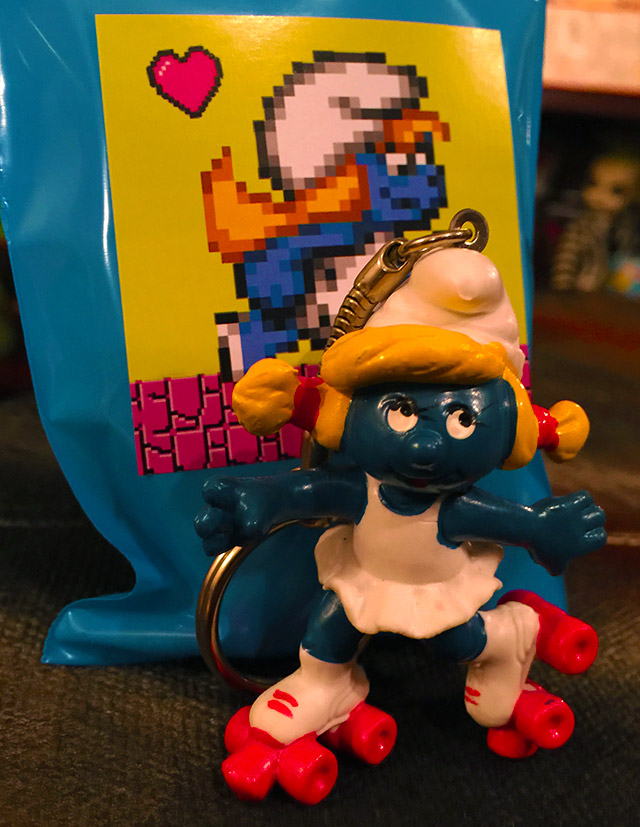 You'll also receive this kickass vintage Smurfette keychain, made in Hong Kong in the '80s. If you grew up collecting Smurf PVC figures, this Smurfette is basically the same thing… except with a keychain protruding from her skull.
Each will arrive in a Smurfy blue custom Dino Drac bag!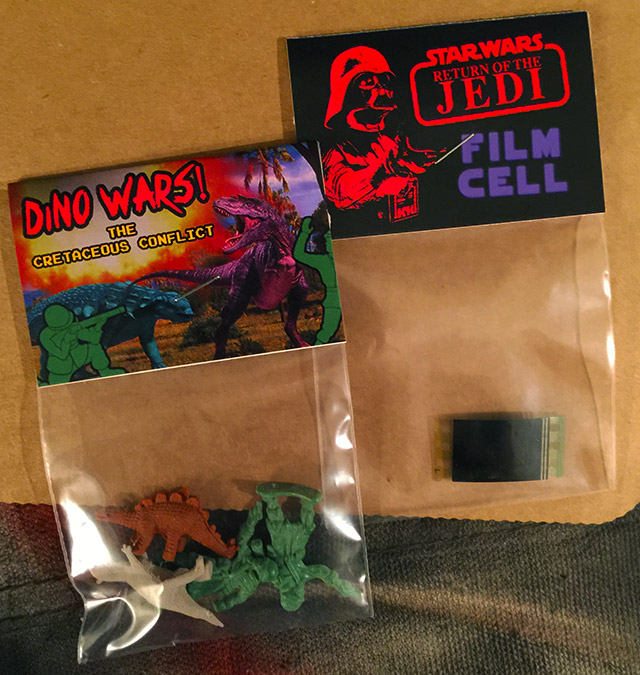 Then you'll find Dino Drac's latest creation, Dino Wars! This is a four-pack of tiny junky figures, but since they come in swank Dino Drac packaging, I hope they'll seem less junky. Why would American soldiers be at war with dinosaurs? You'll have to read the back of the package to find out!
Every subscriber will also receive this month's DINO DRAC SPECIMEN: An honest-to-goodness Return of the Jedi film cell, in custom Dino Drac packaging! These are genuine film cells pulled either from the original movie or trailer reels, and though you can't tell much by the picture, you'll be able to see the action perfectly fine when you receive yours. I have cells featuring everyone from Leia to Bib Fortuna!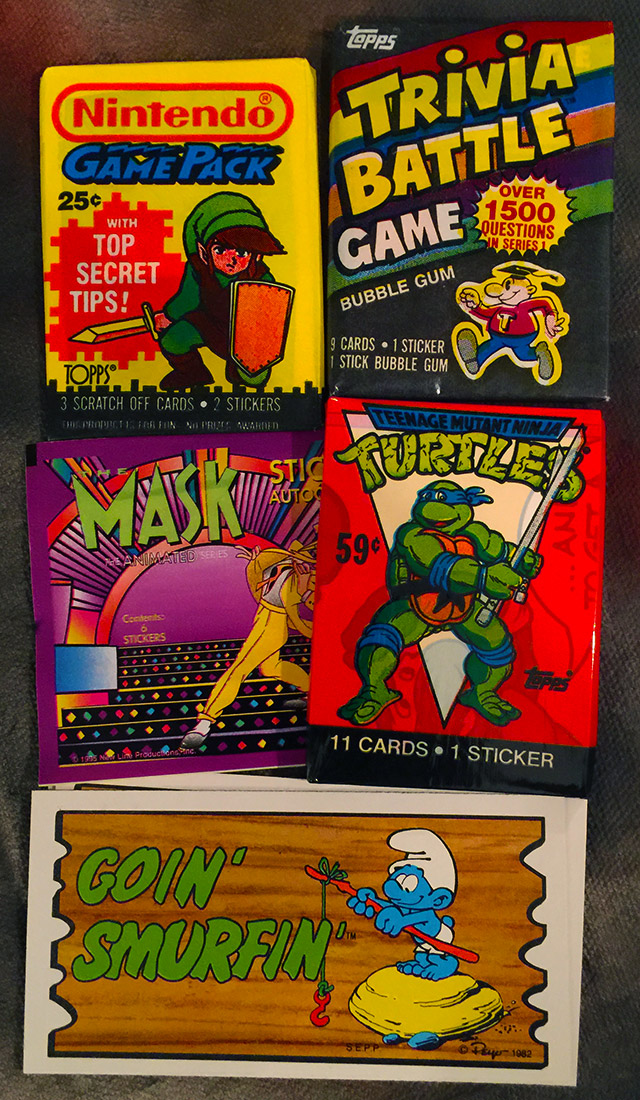 Next up is this smorgasbord of vintage trading cards, led by the amazing Nintendo Game Pack, from 1989! (Yes, you'll receive one sealed pack!)
You'll also receive a jumbo-sized vintage pack of Teenage Mutant Ninja Turtles cards, a vintage pack of Topps Trivia Battle cards, and for some reason, a pack of vintage The Mask album stickers. As a bonus, I'll throw in a couple of vintage Smurf Supercards, just so your Smurfette keychain will feel more at home.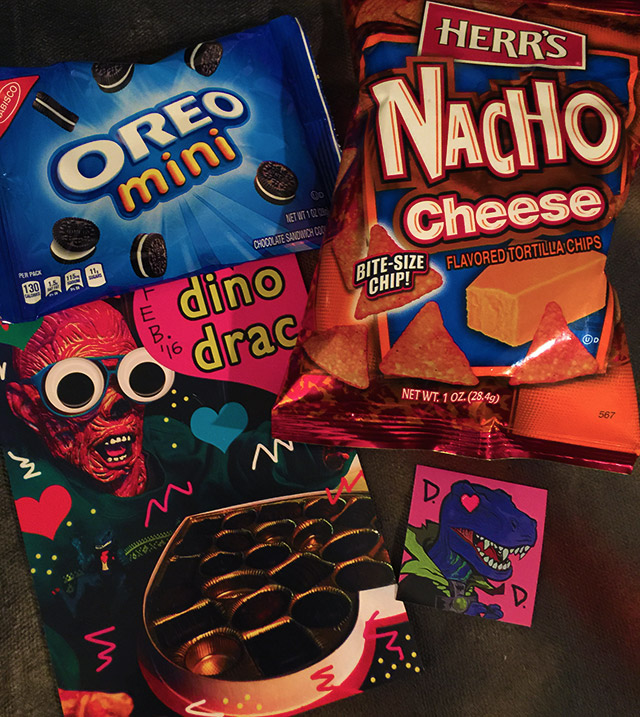 You'll also receive Dino Drac's February 2016 Ugly Mini-Poster — a special Valentine's Day edition starring Larry! (And yeah, you'll be receiving this box a few days after Valentine's Day, but Larry plowing through a box of chocolates is cool in a year-round sort of way, I think.)
Yep, I'll toss in that little Dino Drac Valentine's Day sticker, too!
We're also doubling up on the snacks this month. Every subscriber will receive a bag of Herr's Nacho Cheese Tortilla Chips, which are almost unfairly good. (If you don't have access to them where you live, they're basically tiny Doritos.) If you prefer sweet to savory, fine, go tear open that bag of Oreo Minis!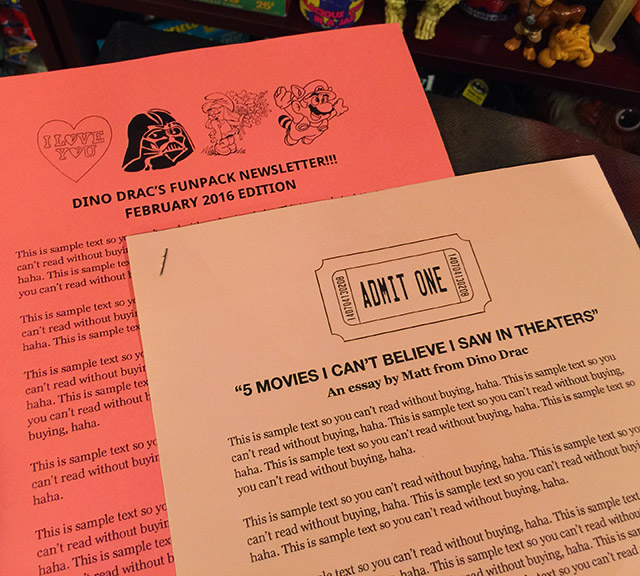 You'll also receive Dino Drac's February 2016 Funpack Newsletter, along with an exclusive multipage essay — "5 Movies I Can't Believe I Saw In Theaters" — which will never be posted on the site or anywhere else. (And I bet you can't wait to read about the time I saw Garbage Pail Kids: The Movie!)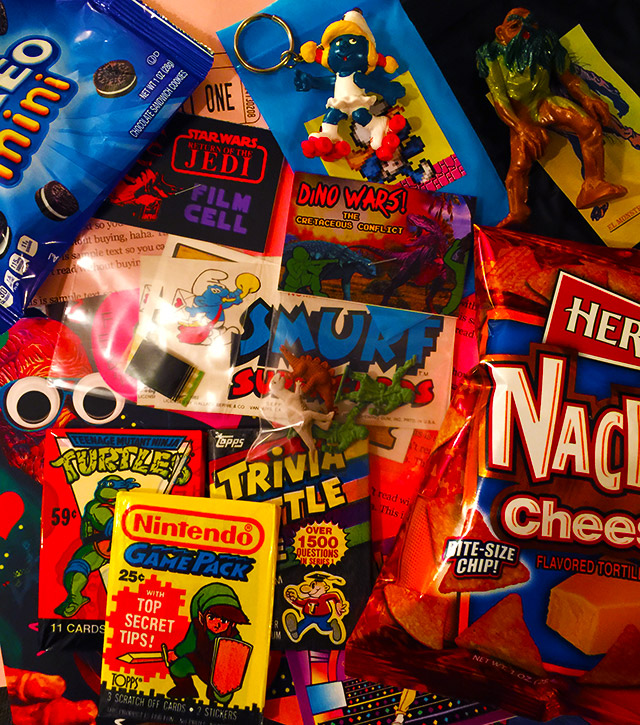 Yep, you'll get EVERYTHING shown above for $25 shipped!
If you're already a Funpack subscriber and you'd like to stay that way… do nothing! You're all set!
If you want to subscribe, please read the following, and then click the button at the bottom of this page!
1. Funpacks are available in the United States only. Sorry!
2. Subscriptions are handled via Paypal. If you don't have an account, it's very easy to make one!
3. Funpacks will be shipped to the address listed on your Paypal account. If you need to change your shipping address, or if you'd like for your Funpacks to be shipped to someone else, simply email me!
4. You will be automatically billed $25 every month. (Yes, that price includes shipping.) If you subscribe today, you'll pay today, and then again in exactly one month. For as long as you remain subscribed, you'll keep getting Funpacks!
5. You can cancel at anytime. (You could subscribe today and cancel today!) If you cancel after you've already been charged for the following month's Funpack, you'll of course receive it just the same as any current subscriber would. (You can cancel via Paypal, or by emailing me.)
6. The February 2016 Funpacks will ship on or before 2/16!
Remember, the Funpacks are what allow me to keep doing the site, so if you like all of these giant articles about old toy catalogs and TV commercials, subscribing to Dino Drac's Funpacks is the best way to guarantee more of them!
Supplies are limited… once they're gone, they're gone!
To get your subscription started, click the button below!
THANK YOU!!