If your heart says "Halloween" but your brain won't let you fully commit in August, I have just the thing for you!
Dino Drac's August Funpack blends summer with autumn, and should give you just enough spooky fuel to get through this miserable month!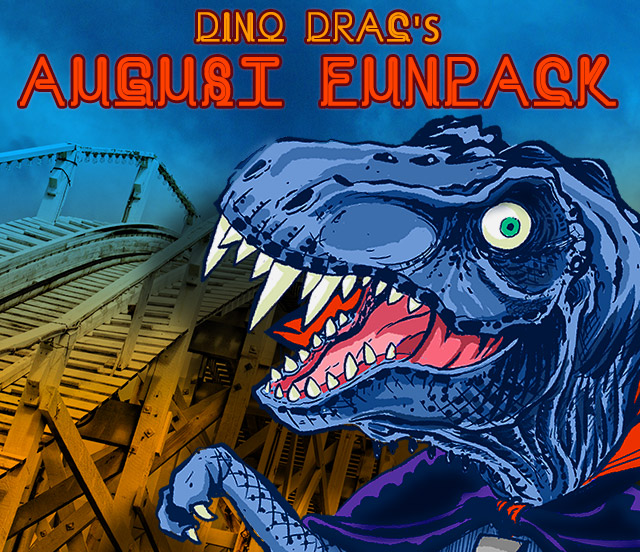 (AVAILABLE IN THE UNITED STATES ONLY!)
For the new kids: I sell monthly Funpacks. Subscriptions are $25 per month (including shipping), and you can cancel at any time without penalty.
The Funpacks fund the site, and at this time of year — when I'm buying all sorts of things to cover during the two month Halloween Countdown — subscriptions are super important to Dino Drac's health!
In trade, you'll keep getting boxes of awesome goodies for as long as you stay subscribed!
Scroll to the bottom of this post for complete ordering information, or read on to see everything you'll get in the August 2016 Funpack!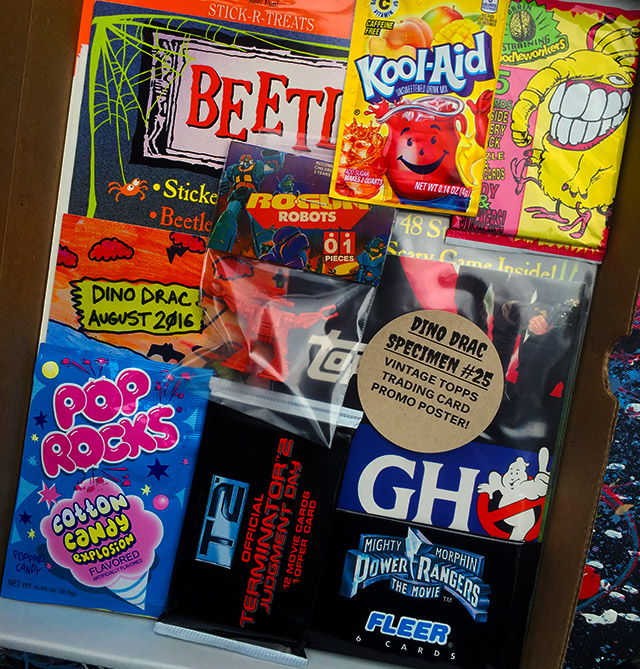 This month, there are over ten items in every box! I aimed to give everyone a big dose of Halloween, but also mixed in enough other stuff to keep people from blowing their wads too early.
You'll get stuff to read, stuff to play with, stuff to decorate your walls with, and even stuff to eat!
Every subscriber will receive ALL of the following: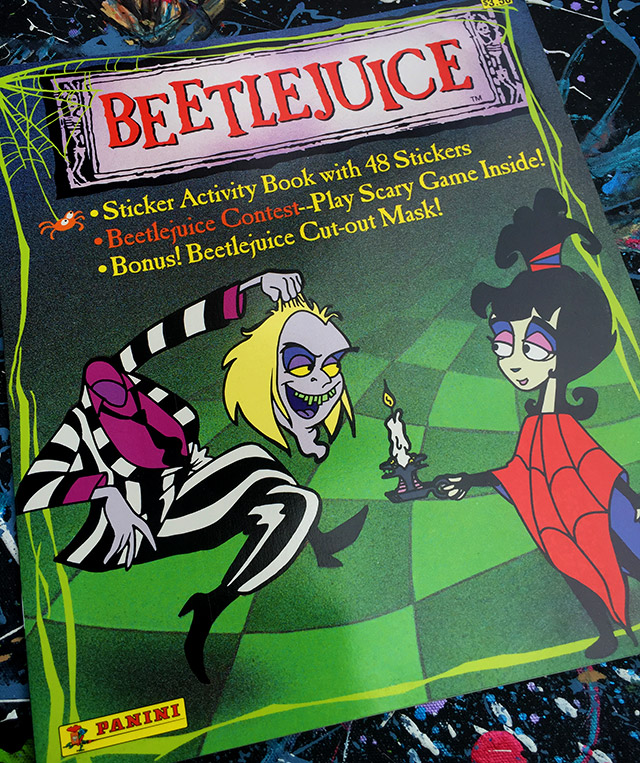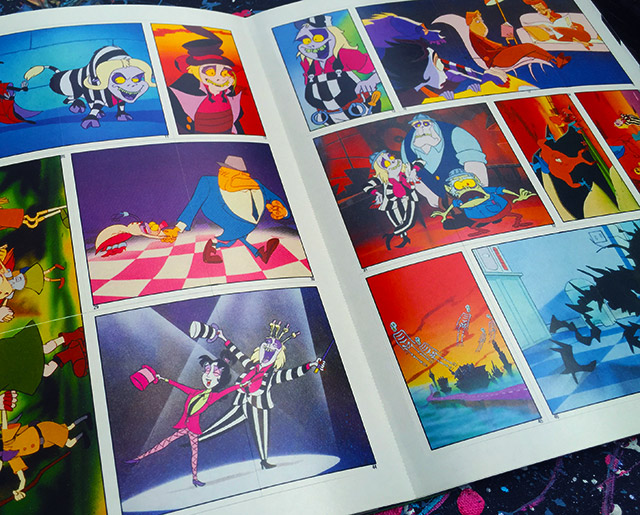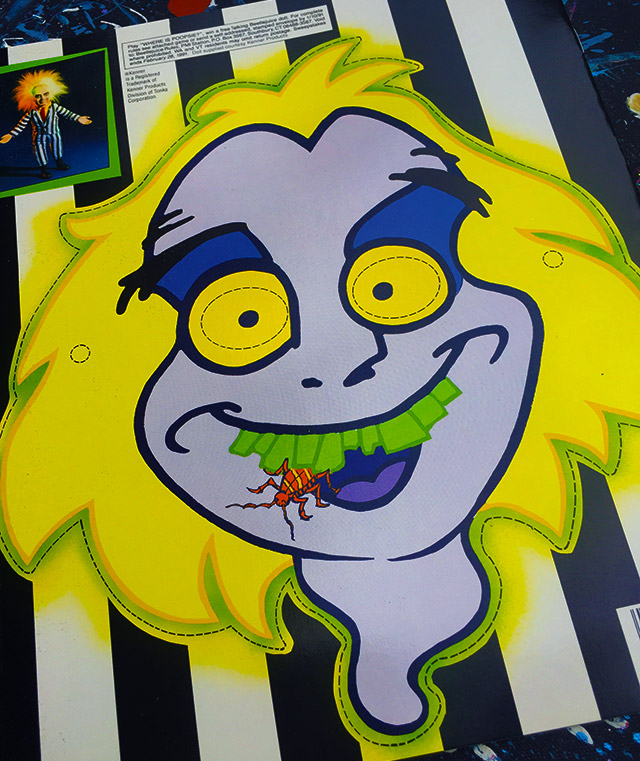 This month's top item is a KILLER Beetlejuice sticker activity book, made by Panini in 1991. Based on the Beetlejuice cartoon series, this baby is super colorful, full of monsters and comes with ALL 48 STICKERS needed to fill the album!
There's even a cutout mask on the back cover, which'll work great if you have a tiny head.
These albums have never been used, and all stickers are intact. Some may have some light fraying to the edges, but nothing too detrimental.
These are seriously awesome books, and you're gonna feel like such a kid when you fiddle around with them.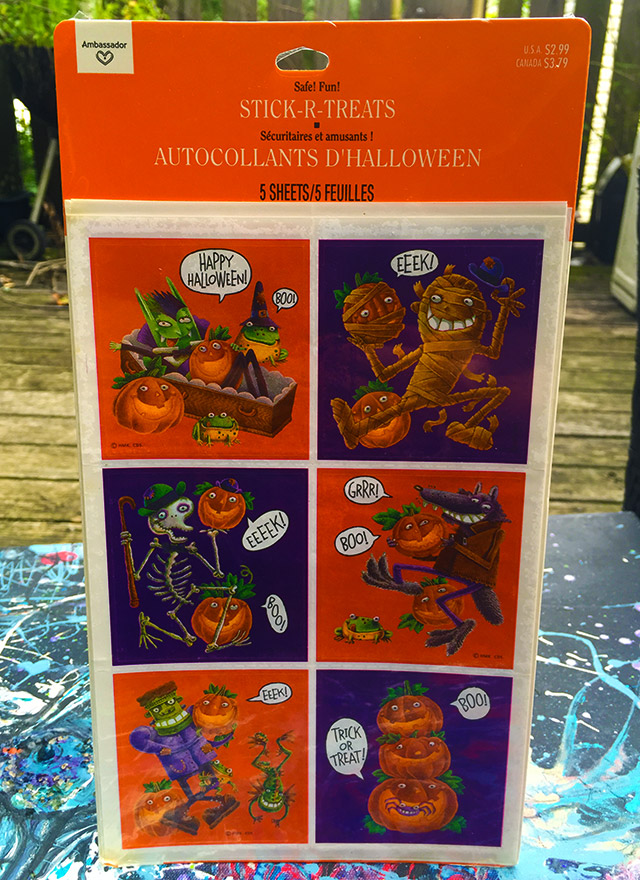 Next up, a GIANT package of vintage Halloween stickers! The photo doesn't offer much in the way of scale, but no joke, these are BIG packs — at least twice the size of the typical ones.
Best of all, they're vintage HALLMARK Halloween stickers, albeit under their "Ambassador" codename. Though undated, they're quite possibly from the mid '80s, and certainly from no later than the early '90s.
These aren't just sticker sheets, mind you. They're "stick-r-treats," originally intended to be given out to trick-or-treaters on Halloween night. Each package comes with a total of 30 stickers, with the sheets neatly perforated.
(These packages are actually even taller than the sticker albums!)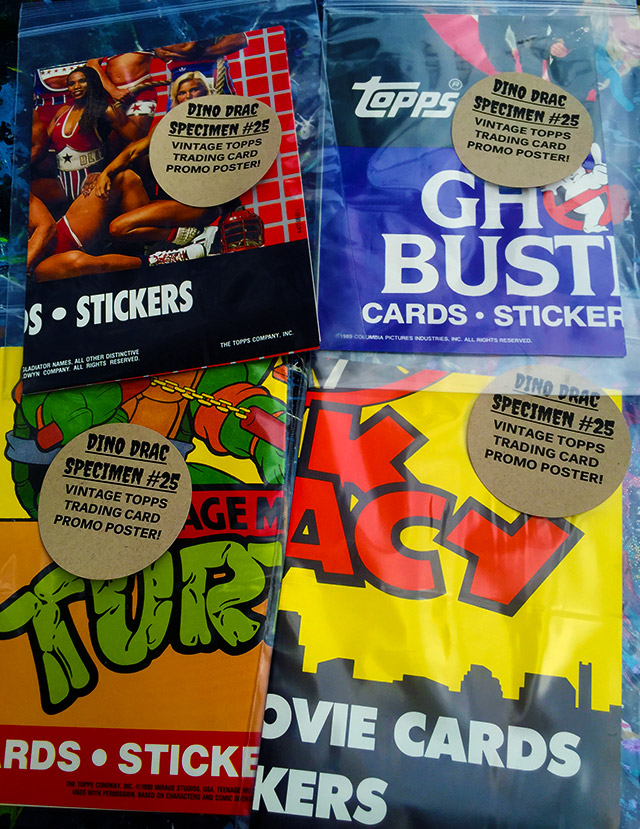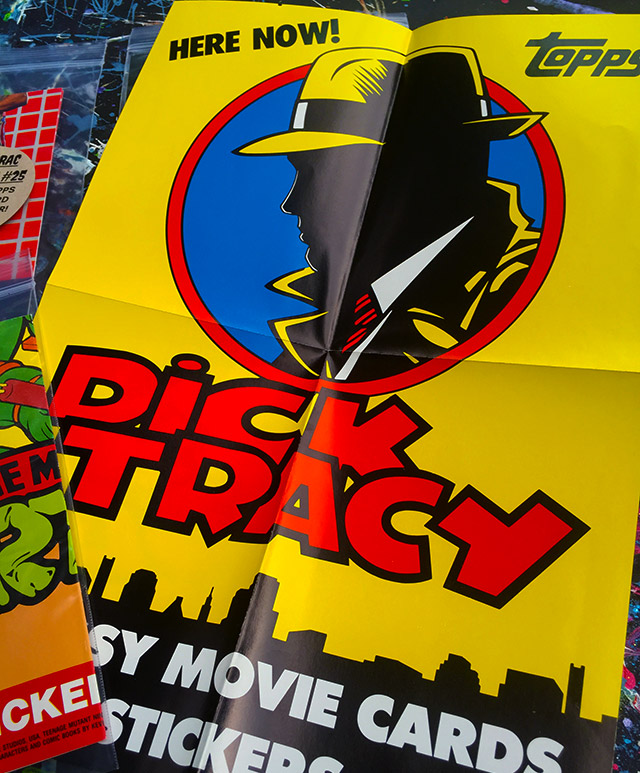 Last month's Topps posters seemed to go over well, so this month, we're doing it again. Yes, as this month's Dino Drac Specimen, you'll be getting ANOTHER vintage Topps trading card promo poster, either from the late '80s or very early '90s.
If you were already a subscriber last month, don't worry… this is a whole new batch, and you're guaranteed to get one that you didn't receive last month.
Every subscriber will receive ONE of the following posters, randomly picked: Dick Tracy (30% chance), Ghostbusters II (20% chance), American Gladiators (25% chance), or the Teenage Mutant Ninja Turtles cartoon (25% chance).
These awesome promo posters were originally meant to be placed in store windows, to entice kids to buy packs of trading cards. They were never sold at retail!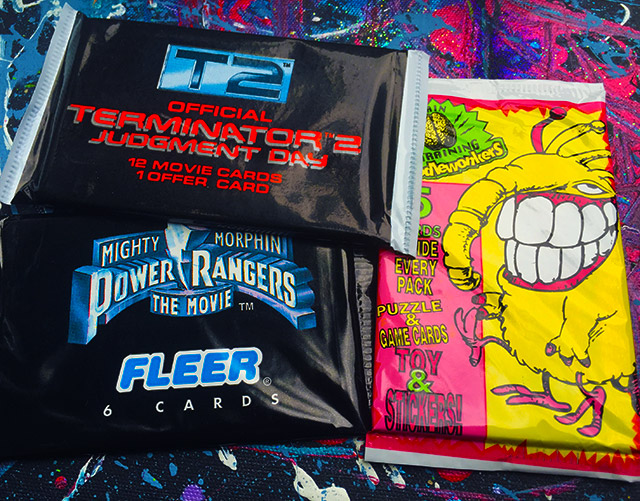 You'll also receive three vintage packs of trading cards, because no Dino Drac Funpack is complete without those!
This month, have fun tearing into packs for Terminator 2, Power Rangers: The Movie and Brain Straining Doodlewonkers!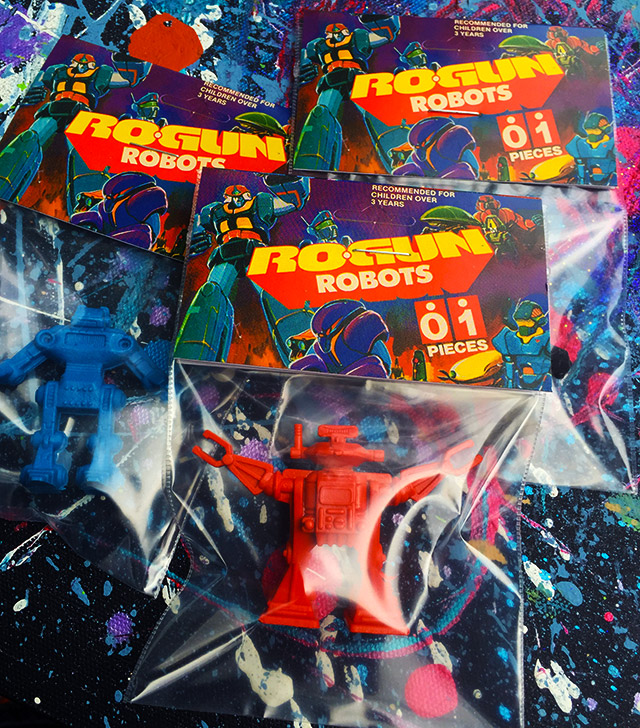 Yes, there's more! Every subscriber will also receive ONE vintage Arco Rogun robot figure, in special Dino Drac packaging made to resemble Arco's own packages from 1984!
Back in the '80s, these robots were sold by the bag in toy stores and discount shops. All of the little plastic robot figures are true Arco originals. You'll receive one at random!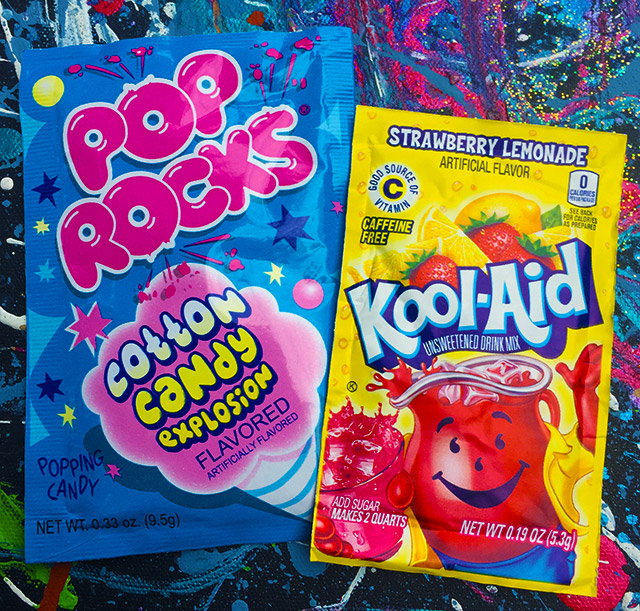 Say goodbye to summer with some snacks that won't be seasonally appropriate for much longer! Whip up a batch of Strawberry Lemonade Kool-Aid, and see if it pairs well with a pack of Cotton Candy Pop Rocks!
Yum?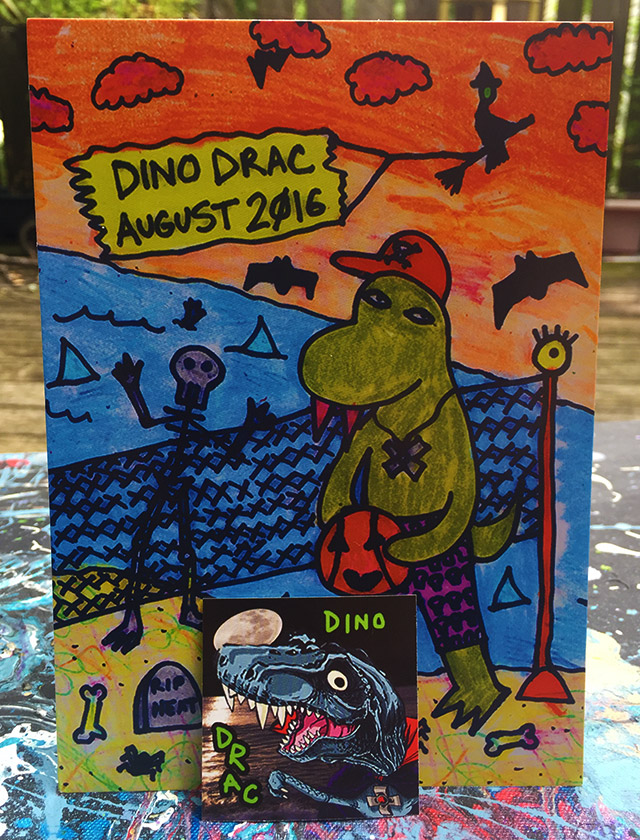 This month's Dino Drac Ugly Mini-Poster takes the Funpack theme to the extreme, with my beloved mascot enjoying the last weeks of beach weather while Halloween creeps up from the sand. SYMBOLISM.
(And yeah, you'll also receive this month's Dino Drac sticker, too!)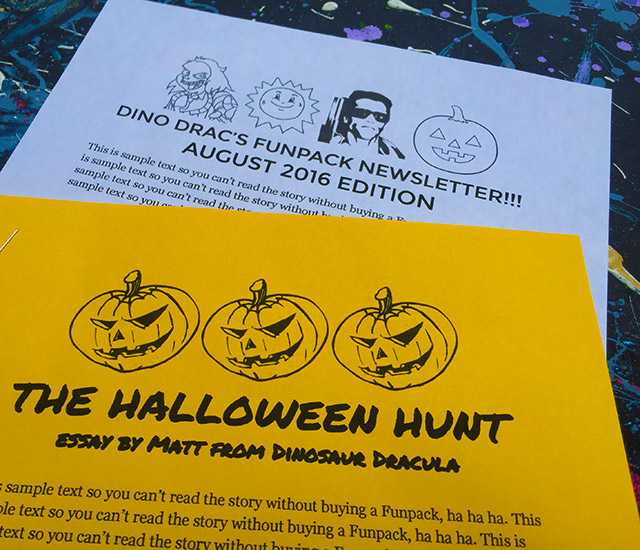 Finally, all subscribers will receive the August 2016 Funpack Newsletter, as well as an exclusive essay that will never be reprinted on the site.
In The Halloween Hunt, I go into detail about the secret best part of the whole season: Looking for spooky goodies in every store and under every rock! (If you've ever wondered what my Countdown preparations are actually like, this'll tell you!)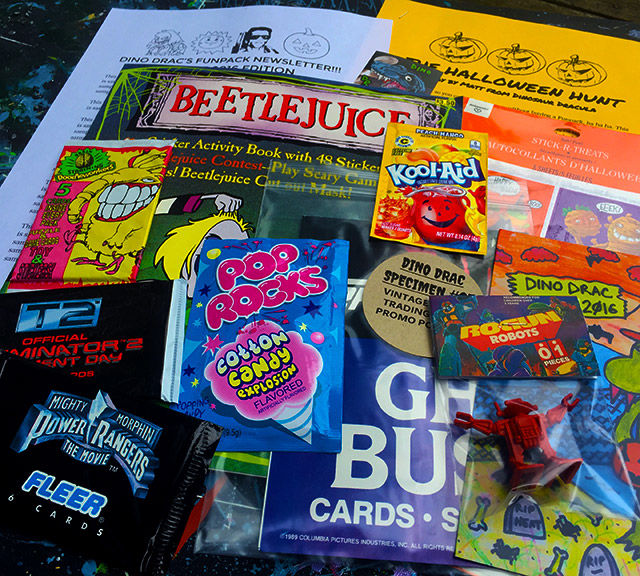 Yep, you'll get EVERYTHING shown above for $25 shipped!
If you're already a Funpack subscriber and you'd like to stay that way… do nothing! You're all set!
If you want to subscribe, please read the following, and then click the button at the bottom of this page!
1. Funpacks are available in the United States only. Sorry!
2. Subscriptions are handled via Paypal. If you don't have an account, it's very easy to make one!
3. Funpacks will be shipped to the address listed on your Paypal account. If you need to change your shipping address, or if you'd like for your Funpacks to be shipped to someone else, simply email me!
4. You will be automatically billed $25 every month. (Yes, that price includes shipping.) If you subscribe today, you'll pay today, and then again in exactly one month. For as long as you remain subscribed, you'll keep getting Funpacks!
5. You can cancel at anytime. (You could subscribe today and cancel today!) If you cancel after you've already been charged for the following month's Funpack, you'll of course receive it just the same as any current subscriber would. (You can cancel via Paypal, or by emailing me.)
6. The August 2016 Funpacks will ship on or before 8/17!
Remember, the Funpacks are *absolutely* what allow me to keep doing the site… thanks so much to all who help to keep it/me going!
Sorry, the August Funpack is sold out! Stay tuned for the September Funpack, coming soon!