You've probably spent December buying junk for other people, but what about YOU? Don't you deserve YOUR OWN JUNK?
I think you do! And I can help.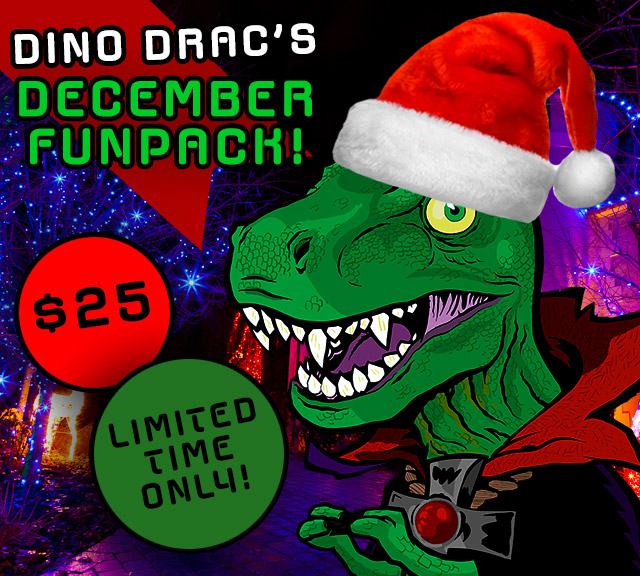 (LIMITED TIME! AVAILABLE IN THE UNITED STATES ONLY!)
FINALLY, Dino Drac's December 2016 has arrived!
I'm getting a late start this month, which means that any potential new subscribers only have a few days to sign up. These babies are shipping later this week!
For those unaware, I sell monthly Funpacks, filled with retro goodies and all sorts of excellent nonsense. It's 25 bucks a month (including shipping), and you can cancel at any time without penalty. For as long as you stay subscribed, you'll receive new Funpacks each and every month!
The Funpacks fund Dino Drac, so on top of getting boxes of neat stuff to sort through, subscribers are the literal only thing keeping this site afloat!
Skip to the bottom for info on how to order, or keep reading to see what's in store for the December 2016 Funpack!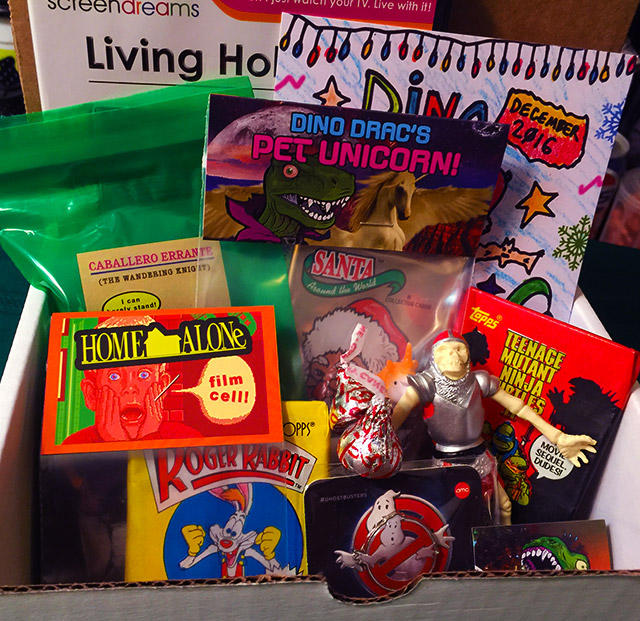 This month's Funpack includes more than a DOZEN items, from old school memorabilia to holiday doodads. Every subscriber will receive ALL of the following: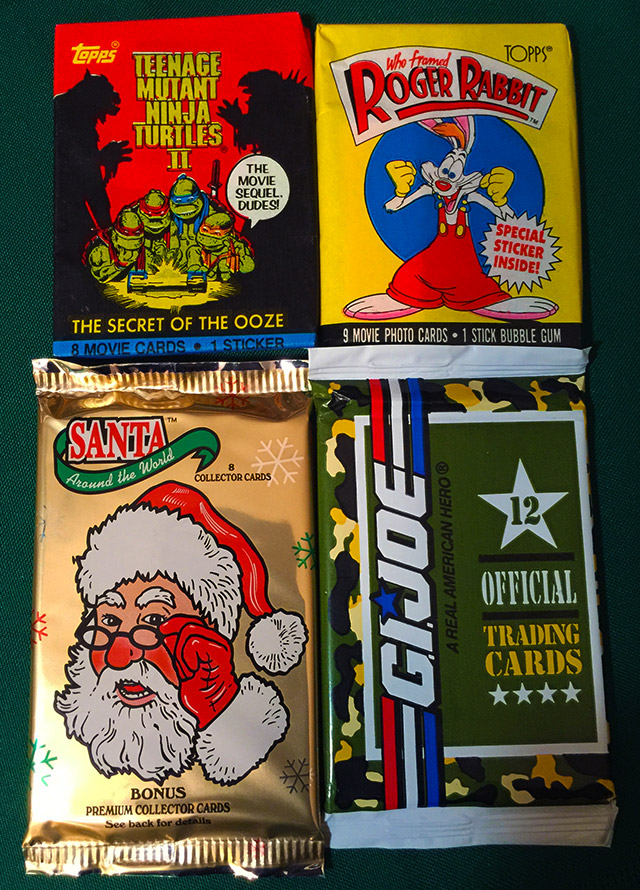 First up, have fun tearing into FOUR vintage trading card packs! This month's assortment includes Teenage Mutant Ninja Turtles II, Roger Rabbit, G.I. Joe and Santa Around the World! A smattering of Christmas and a whole load of nostalgia!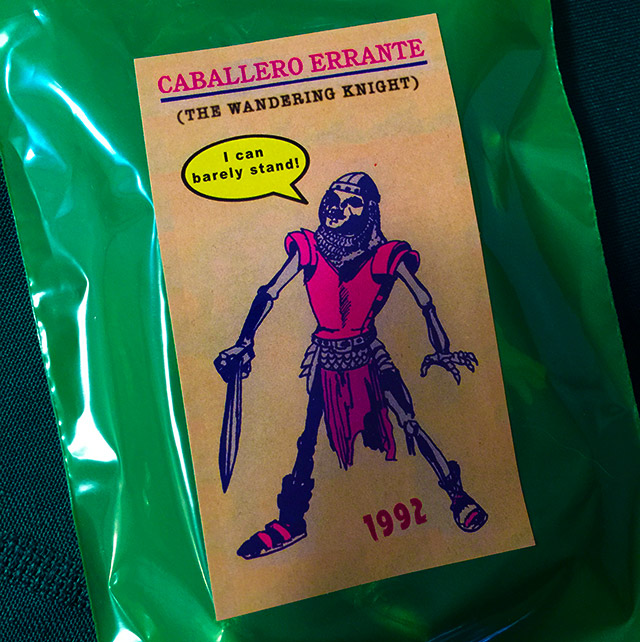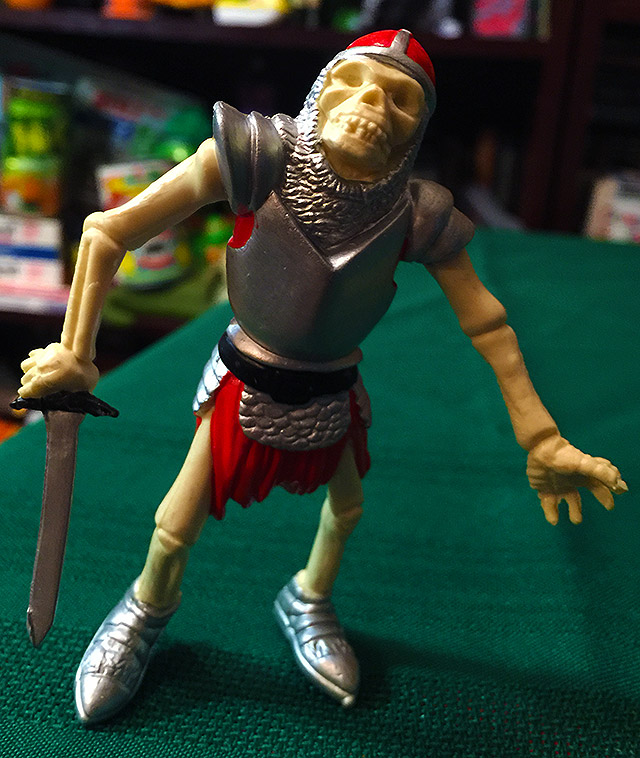 Next is another creature from the awesomely crude line of Super Monstruos horror figures, made in Spain back in 1992. This month, you'll be receiving Caballero Errante — the "Wandering Skeleton" — packed into a custom Dino Drac bag!
This goofy skeleton comes with a warped sword and shaky legs, and I'll warn you that some of these figures may be difficult to stand up. (Fiddling with their legs seems to help, but in the worst case scenario, they lean just fine!)
All in all, I can think of nothing more Christmassy than a skeleton in chainmail. You're gonna love this creep.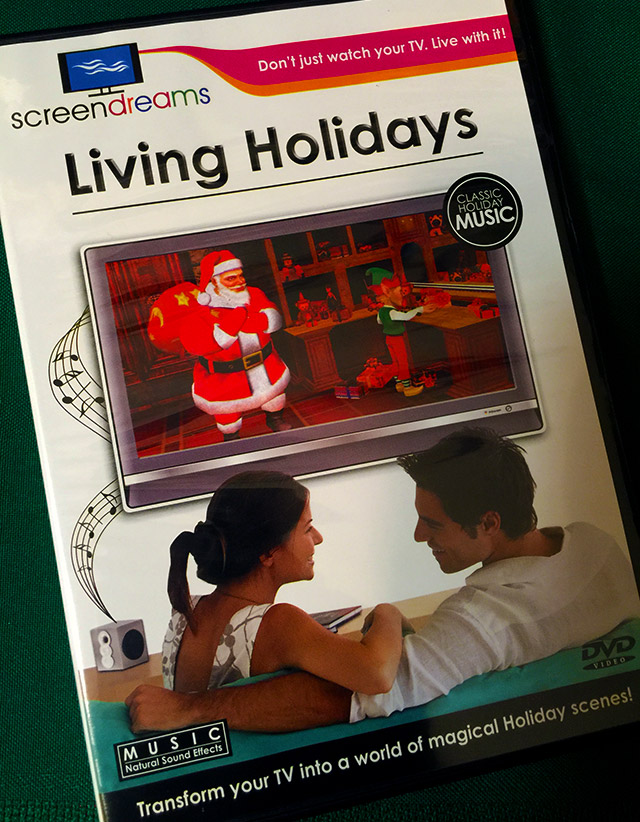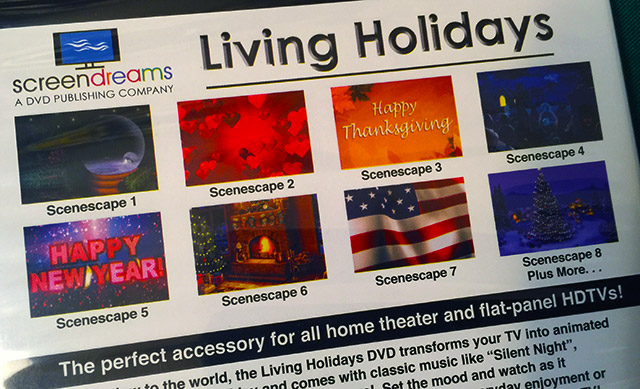 You'll also be receiving this Living Holidays DVD, full of holiday scenes with accompanying music! If you've ever seen one of those "yule log" DVDs, this is like the super extreme version.
They're great for background noise & visuals, but here's the extra awesome news: You won't have to put the DVD away after Christmas. The disc includes scenes for a bunch of different holidays — even Halloween!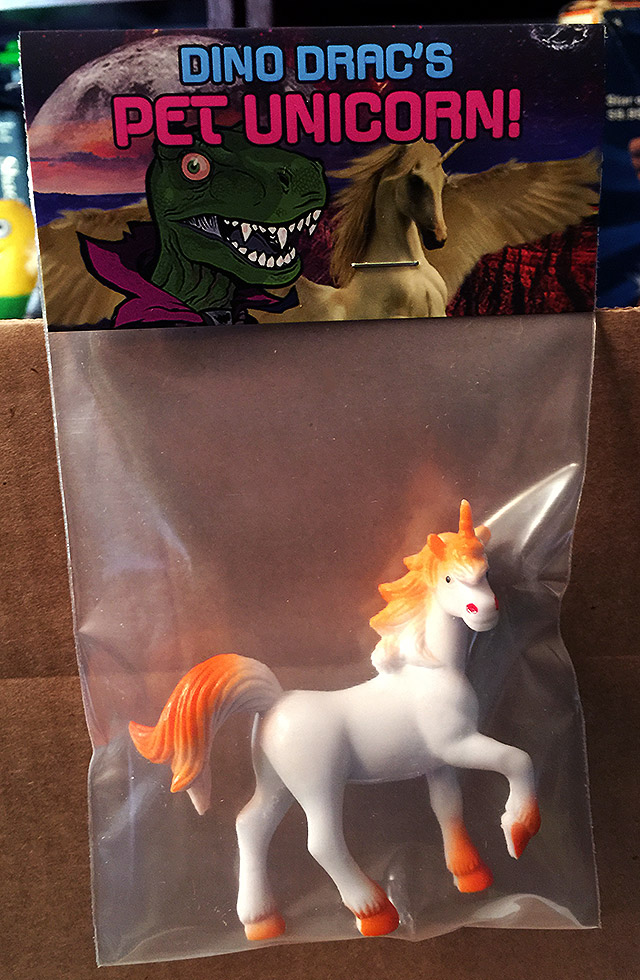 And then we have Dino Drac's Pet Unicorn!
Yes, he has a pet unicorn… and soon, you will too! The not-so-small unicorn figures come in various poses and colors, but they're all trapped in super cool and totally exclusive Dino Drac packaging. (…which looks way better IRL than it does in this photo, FWIW.)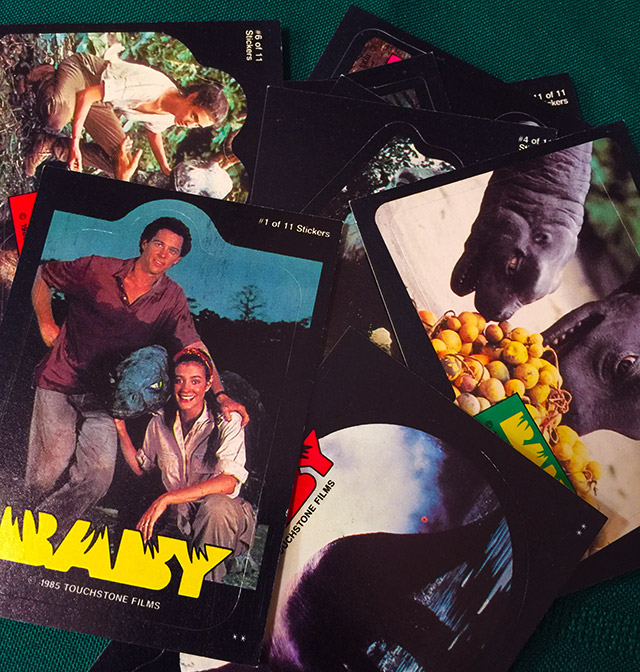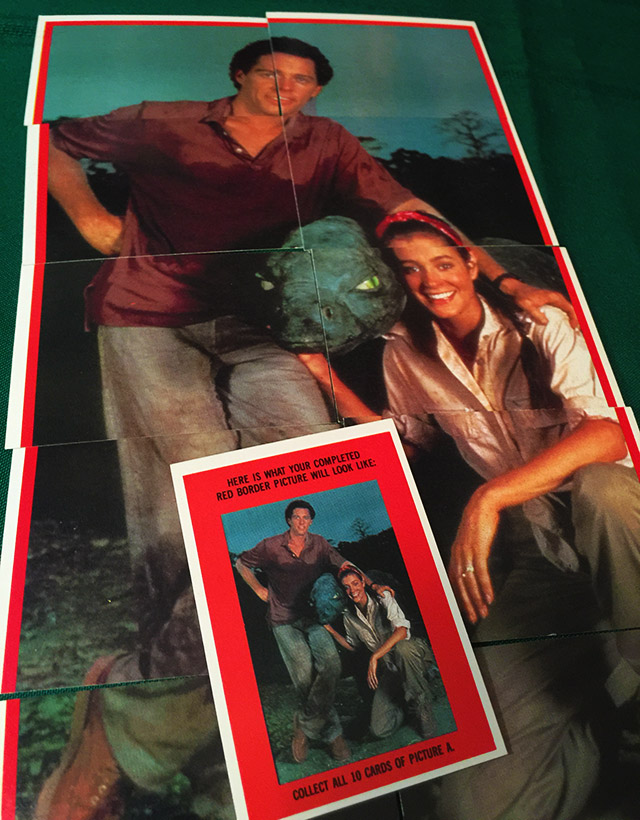 Remember 1985's Baby: Secret of the Lost Legend? That weird dinosaur movie? Well, it somehow had a Topps trading card set. Back in the day, you'd find one sticker in each pack, with the backs of the sticker cards able to be formed into an odd poster.
Well, guess what? In this month's Funpack, you'll be getting the whole set of Baby: Secret of the Lost Legend stickers. All eleven of them! That's a whole bunch of dino stickers PLUS the chance to make one big dino poster! Wheee!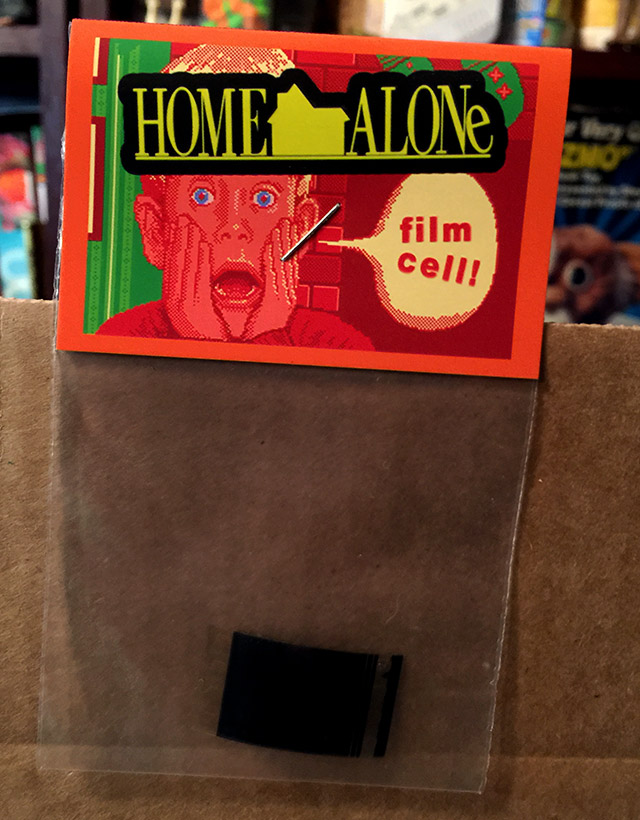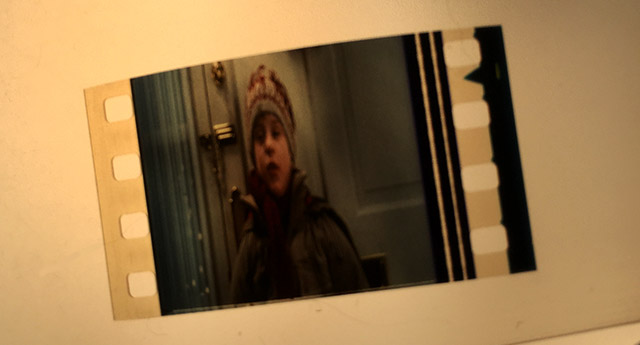 This month's Dino Drac Specimen: An honest-to-goodness Home Alone film cell, in custom Dino Drac packaging! So cool!
NOTE: Film cells may have crude cuts and they aren't exactly "showpiece" cells. They are all legit, though. Think of 'em as fun little novelties and a way to remember the greatness that was Home Alone, and we'll all be happy.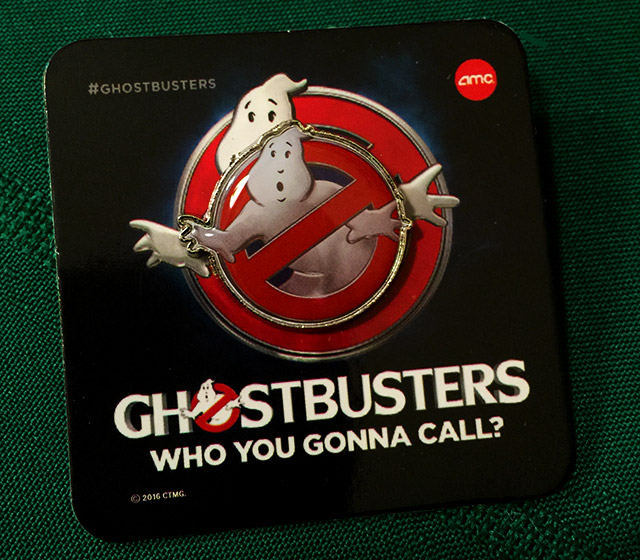 …and then we have this 2016 Ghostbusters pin, which I believe was given away at certain AMC theaters to certain AMC club members. I'm not clear on the particulars, but I do know that this is one excellent pin — shiny, high quality and never used! (Yours will come sealed in its original baggie, too!)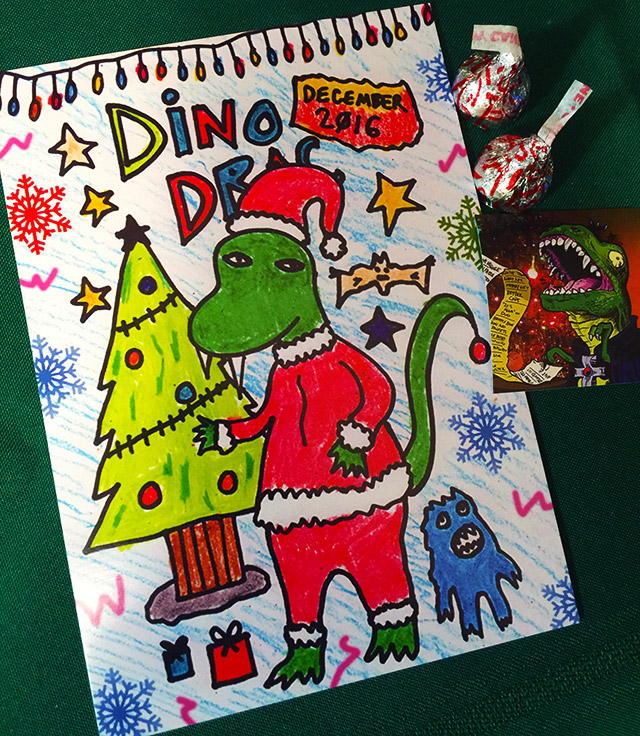 OH GOD THERE'S STILL MORE.
This month's Ugly Mini Poster throws Dinosaur Dracula into the LAND OF CHRISTMAS, and if this 5×7" poster doesn't get you into the holiday spirit, there's just no helping you.
And yes, you'll also receive this month's exclusive (and holiday-themed) Dino Drac sticker, plus a pair of candy cane Hershey's Kisses. (Which, btw, are delicious.)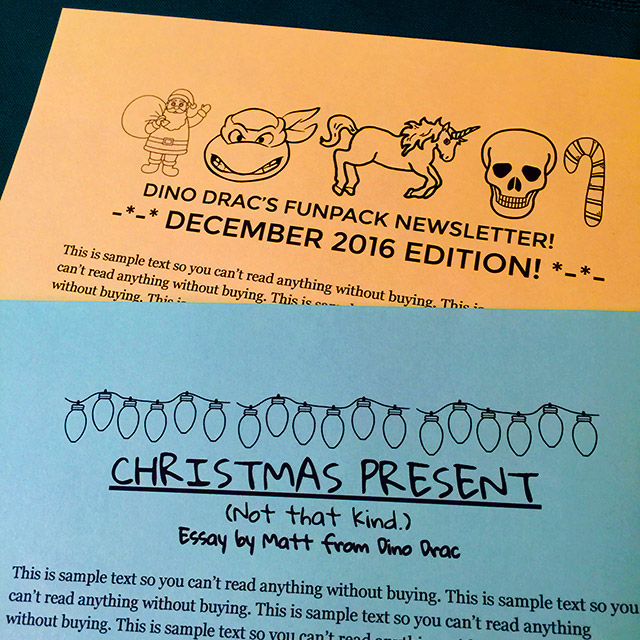 Finally, every subscriber will receive this month's Funpack Newsletter, PLUS an exclusive essay that will never be reprinted on the site or anywhere else! Since I've spent so many years telling you about my childhood Christmases, this essay is all about our current Christmases.
Yep, you'll get EVERYTHING shown above for $25 shipped!
If you're already a Funpack subscriber and you'd like to stay that way… do nothing! You're all set!
If you want to subscribe, please read the following, and then click the button at the bottom of this page!
1. Funpacks are available in the United States only. Sorry!
2. Subscriptions are handled via Paypal. If you don't have an account, it's very easy to make one!
3. Funpacks will be shipped to the address listed on your Paypal account. If you need to change your shipping address, or if you'd like for your Funpacks to be shipped to someone else, simply email me!
4. You will be automatically billed $25 every month. (Yes, that price includes shipping.) If you subscribe today, you'll pay today, and then again in exactly one month. For as long as you remain subscribed, you'll keep getting Funpacks!
5. You can cancel at anytime. (You could subscribe today and cancel today!) If you cancel after you've already been charged for the following month's Funpack, you'll of course receive it just the same as any current subscriber would. (You can cancel via Paypal, or by emailing me.)
6. The December 2016 Funpacks will ship on or before 12/15!
Remember, the Funpacks are *absolutely* what allow me to keep doing the site… thanks so much to all who help to keep it/me going!
To get your subscription started, click the button below!
Thank you!!