If you're digging all of the spooky site content during this year's Halloween Countdown, the best way to guarantee more of it is by subscribing to Dino Drac's Funpacks!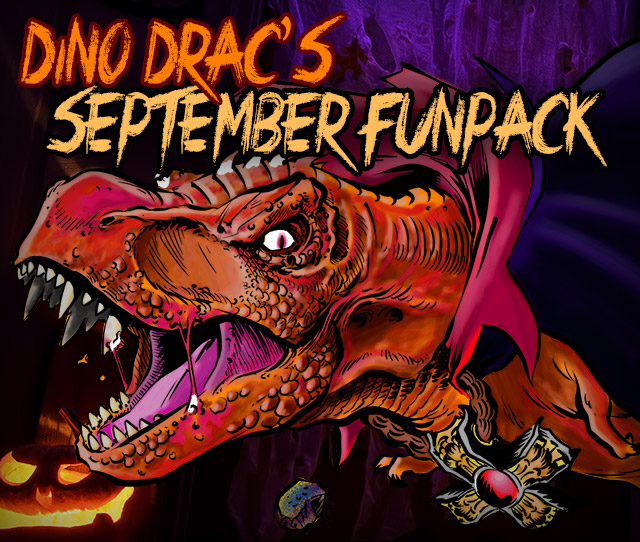 (LIMITED QUANTITY! AVAILABLE IN THE UNITED STATES ONLY!)
New to the site? Every month, I create and mail out a new Funpack — that being a box of goodies stuffed with retro-and-new toys, cards and other assorted nonsense. Subscriptions are handled via Paypal and run $25 a month (including shipping), and you can cancel at any time without penalty.
Without the Funpacks, there'd be no Dino Drac, so all subscribers have my sincere and unending thanks for helping to keep this silly site going!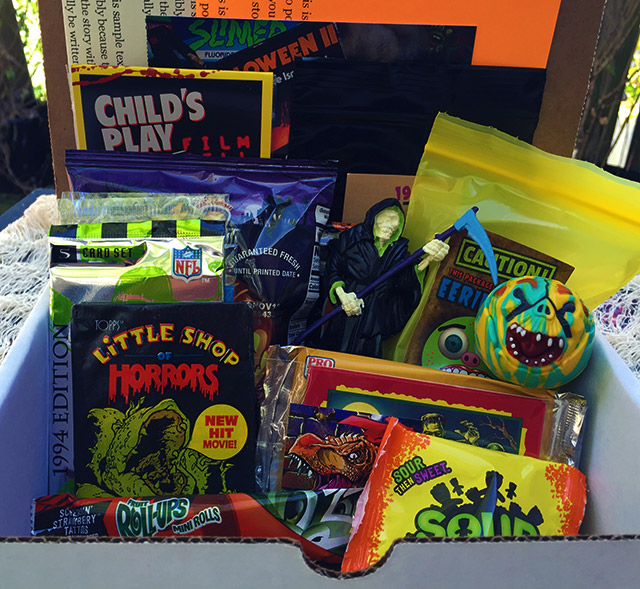 September's Funpack is all about Halloween, of course, loaded with well over a dozen items that should guarantee you at least one night where you can cut loose and embrace the goofy awesomeness of the spooky season.
Skip to the bottom of this post for ordering info, or keep reading to see everything you'll receive!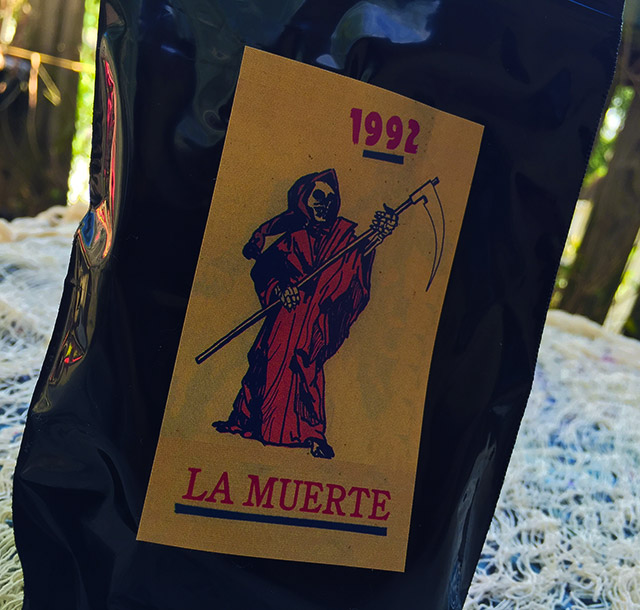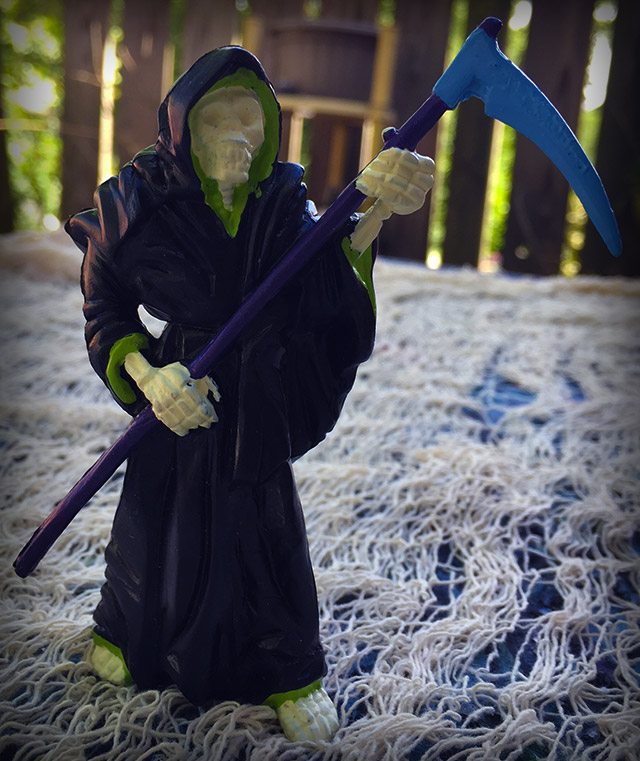 The star of the September Funpack is La Muerte — aka The Death — a figure from 1992's Super Monstrous collection. Made in Spain, this four inch reaper would make the perfect mascot for your Halloween season. Each comes its own custom Dino Drac bag!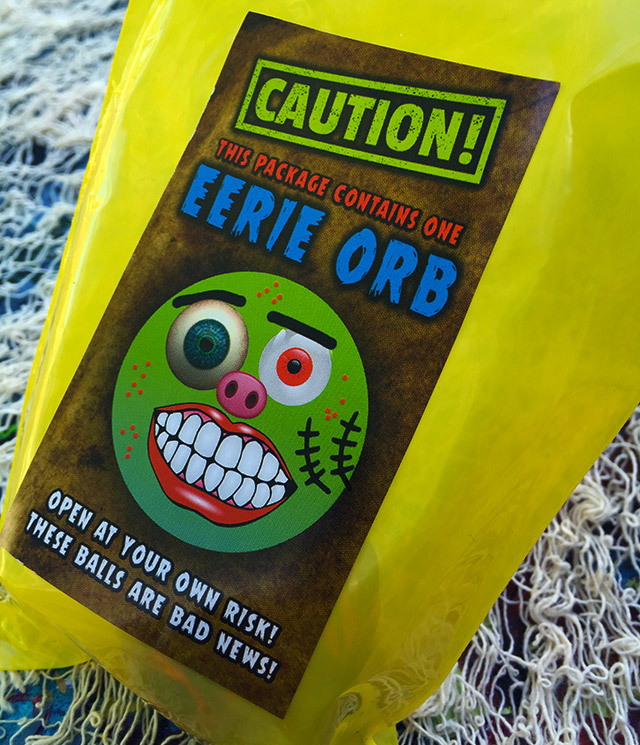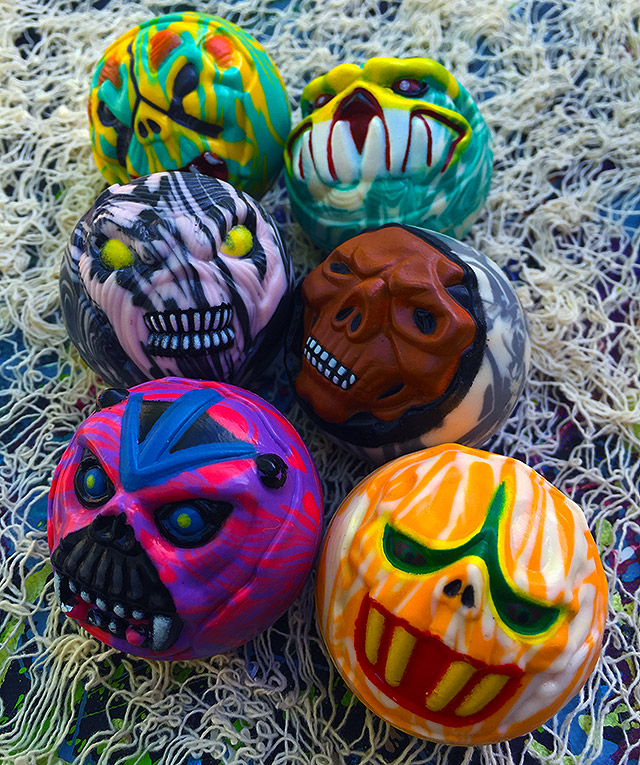 Every subscriber will also receive ONE Eerie Orb, again in custom Dino Drac packaging! These Madballs-inspired monster balls are too cool, with all sorts of macabre faces and wild colors. The Eerie Orbs are about the size and weight of golf balls, so on top of looking menacing, they're also pretty heavy!
You'll each receive ONE Eerie Orb. (Sorry, no picking, but as you can see, they're all great!)
No Dino Drac Funpack would be complete without some vintage trading cards, and this month's are on-point!
Every subscriber will receive a vintage pack of Little Shop of Horrors cards (well, stickers in their case), a killer pack of NFL Monsters of the Gridiron cards from 1994, plus a three-card pack of Universal Monsters-themed Trading Card Treats, made in 1991.
And then, because every Munster family needs a Marilyn, I'll also toss in a pack of Young Indiana Jones Chronicles cards.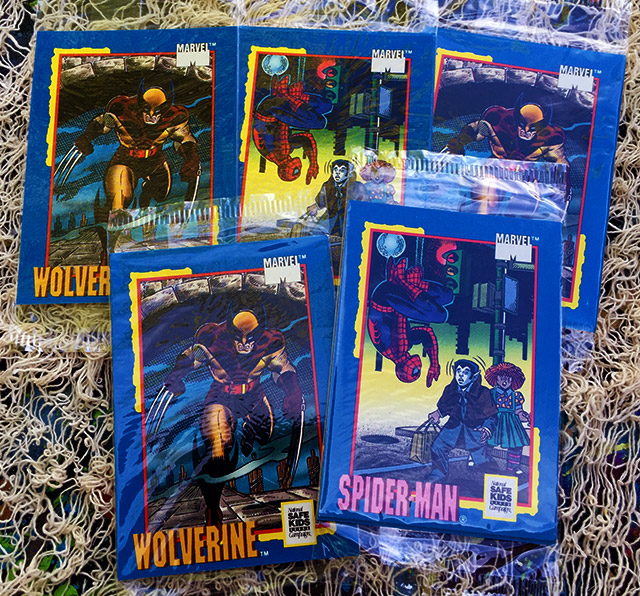 …but wait! You'll get even more cards! Made in 1991, these Marvel Comics-themed Trading Card Treats were intended to be handed out to trick-or-treaters. Each pack contains three cards, and I'm gonna be extra generous with these: Every subscriber will receive FIVE packs!
(Note that the five packs will include duplicate cards, so feel free to pass 'em around to your friends… or save a few packs for trick-or-treaters!)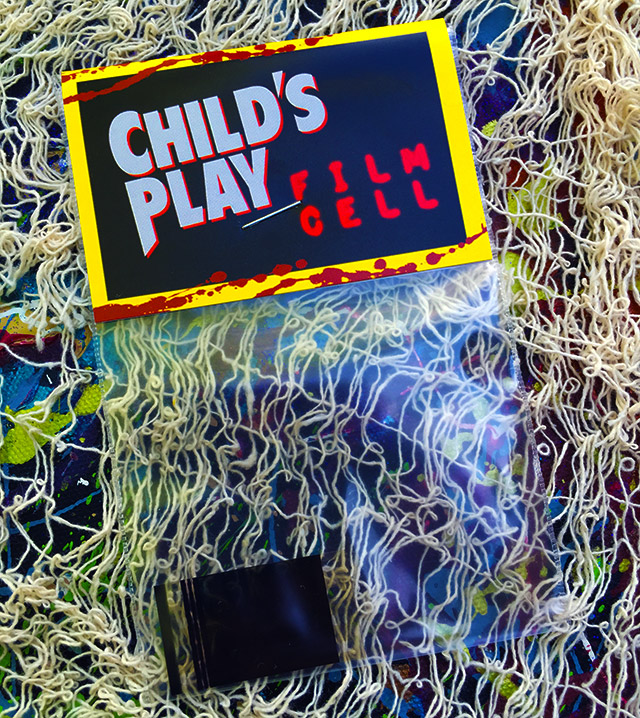 This month's Dino Drac Specimen is an honest-to-goodness Child's Play film cell, in custom packaging. (If you're not a gore hound, don't worry, none of them are especially brutal.)
Though these are legit film cells, the cuts are a little rough and some cells may be pretty dark — so let's consider them more just fun little novelties rather than things you're gonna run out and frame. I am hand-selecting them, though, so I'll do my best to make sure that you get a decent one!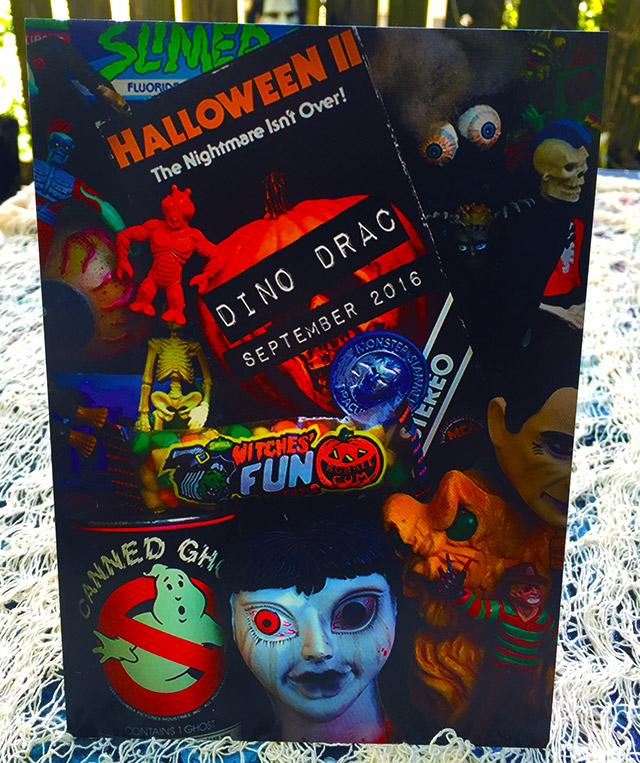 Yes, there's still more!
You'll also receive this month's Dino Drac Mini-Poster, featuring a smorgasbord of vintage Halloween collectibles. If you don't have the space or inclination to decorate for Halloween in any major way, this 5×7" cardstock poster will still give your home a spooky boost!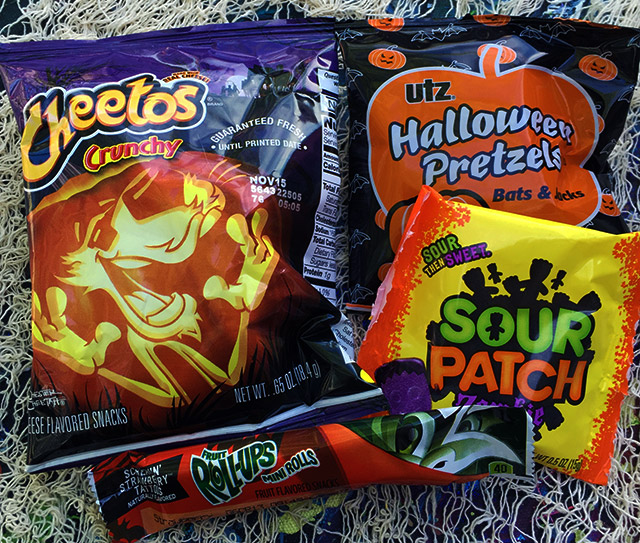 …and hey, since we're in the season, let's pretend we're still kids with great metabolism and go nuts with the candy and snacks.
Every Funpack will include (at least) FOUR different snacks. (Probably the ones shown above, but possibly with some substitutes.) You'll get enough snacks and candy to last a whole night… or maybe five minutes if you're me.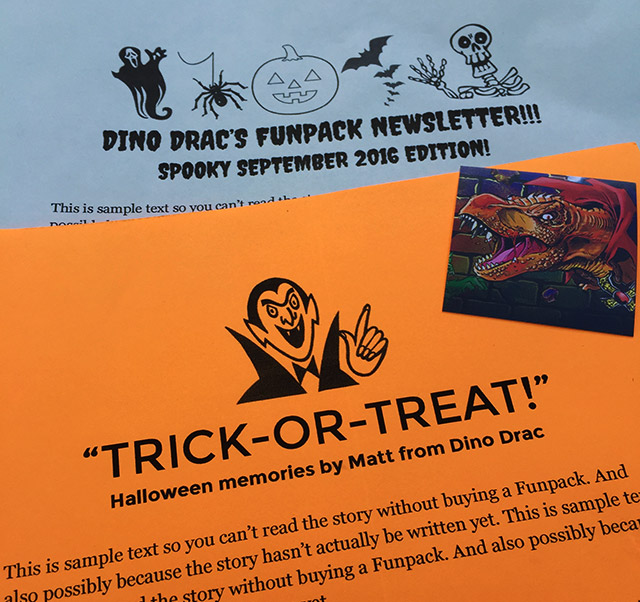 You'll also receive this month's Dino Drac Funpack Newsletter, plus an exclusive essay all about my own childhood trick-or-treating experiences. The essay will never be reprinted on the site, and it'll put you in a Halloween mood just as much as all of the candy, cards and spooky toys!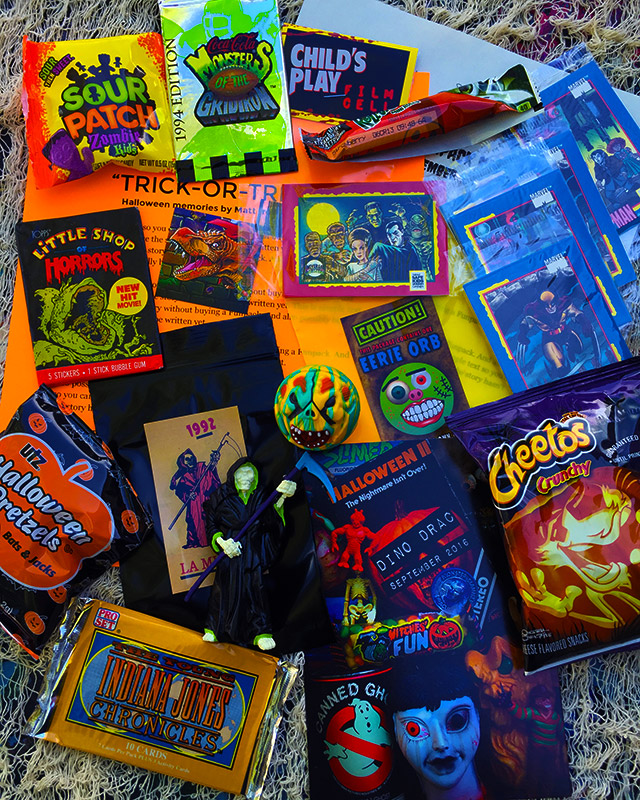 Yep, you'll get EVERYTHING shown above for $25 shipped!
If you're already a Funpack subscriber and you'd like to stay that way… do nothing! You're all set!
If you want to subscribe, please read the following, and then click the button at the bottom of this page!
1. Funpacks are available in the United States only. Sorry!
2. Subscriptions are handled via Paypal. If you don't have an account, it's very easy to make one!
3. Funpacks will be shipped to the address listed on your Paypal account. If you need to change your shipping address, or if you'd like for your Funpacks to be shipped to someone else, simply email me!
4. You will be automatically billed $25 every month. (Yes, that price includes shipping.) If you subscribe today, you'll pay today, and then again in exactly one month. For as long as you remain subscribed, you'll keep getting Funpacks!
5. You can cancel at anytime. (You could subscribe today and cancel today!) If you cancel after you've already been charged for the following month's Funpack, you'll of course receive it just the same as any current subscriber would. (You can cancel via Paypal, or by emailing me.)
6. The September 2016 Funpacks will ship on or before 9/20!
Remember, the Funpacks are *absolutely* what allow me to keep doing the site… thanks so much to all who help to keep it/me going!
To get your subscription started, click the button below!

SORRY! I'M CURRENTLY CHECKING QUANTITIES TO SEE HOW MANY I HAVE LEFT. CHECK BACK LATER!