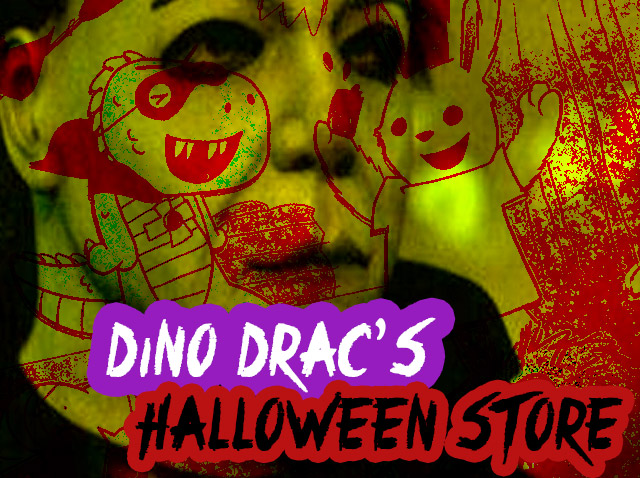 As you can guess, running a site with this much content and on-hand reviews takes a ridiculous amount of time and a ridiculous amount of money. I wouldn't be able to do it at this level without the help of readers willing to buy stupid things from me!
So, welcome to Dino Drac's tiny-sized Halloween store! Right now, it only has two things!
The Dino Drac Funpacks are soon continuing into Month #3, with the special Halloween edition Funpack. This is your first chance to subscribe before they're gone gone gone for another month!
I also have a limited supply of last year's Halloween prints, which, IMO, are just as nice this year!
See below for all of the info, and thanks for supporting the site!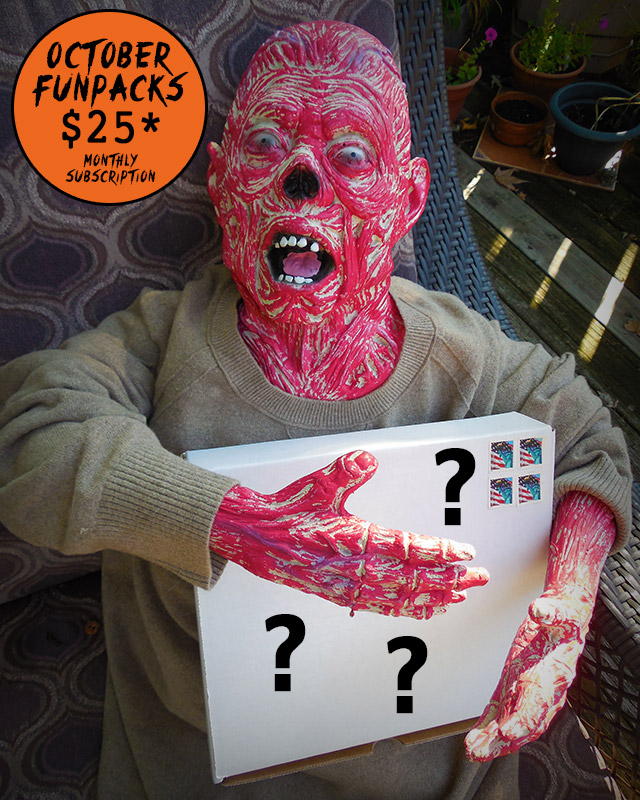 DINO DRAC FUNPACK SUBSCRIPTIONS
$25 / MONTH, SHIPPED!
SUBSCRIPTIONS MADE NOW START WITH THE OCTOBER HALLOWEEN FUNPACK!
AVAILABLE IN THE UNITED STATES ONLY!
My assumption is that 95% of you have seen my previous posts about the Dino Drac Funpacks, but if you haven't, I've been putting together weird boxes of random goodies — mostly retro — on a month-to-month basis. (See the August and September Funpacks for more info!)
It'll be about another week before I'm ready to show a true sample of an October Funpack, but I'll say this much now: It's very much the right thing to get during the Halloween season!
Every month's Funpack includes an exclusive "Specimen" and "Mini Poster," and all told, they're fun boxes of junk that will (hopefully) be a bright spot in your month, every month!
So why am I offering these now, before I'm ready to show the goods? Well, as things stand now, I am *definitely* going to sell out of the October Funpacks. Once I announce the contents, I'm locked into my quantities. If you want to make SURE you have a chance to get the Halloween Funpack, I'd suggest taking a chance and subscribing now. If you've reviewed the previous Funpacks and think they were worth it, this one is gonna be along the same lines.
UPDATE!
I'm finally ready to show you the goods!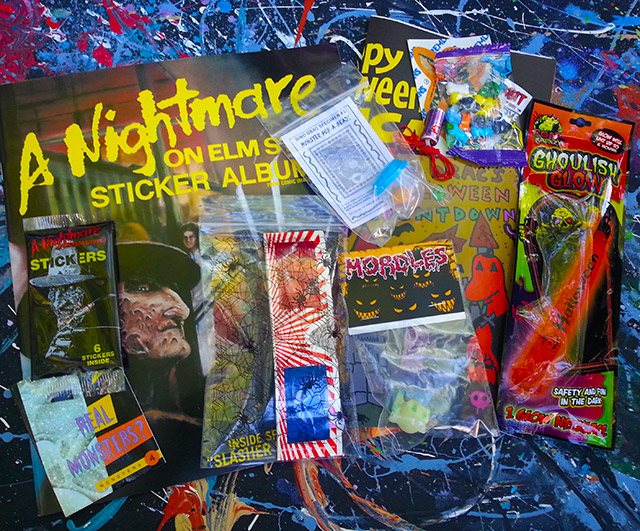 That's a complete sample of the October Funpack. THIS BOX IS A NIGHTMARE!
No, really, it is. To celebrate Halloween, you're getting a whole lot of Freddy Krueger — plus some other monstrous stuff!
ALL October Funpacks include:
– Vintage Nightmare on Elm Street sticker album, plus one pack of stickers!
– Vintage NOES "Freddy's Dead" 3D glasses from its 1991 theater run!
– A demonic Mordle figure (various colors), just like the ones seen on Toyfinity!
– Dino Drac's October edition Mini-Poster!
– Dino Drac's October Specimen: A vintage monster-faced "Pop-A-Bead" vending prize!
– And other goodies that you can kind of see in the photo, but let's let them be surprises.
Additional photos: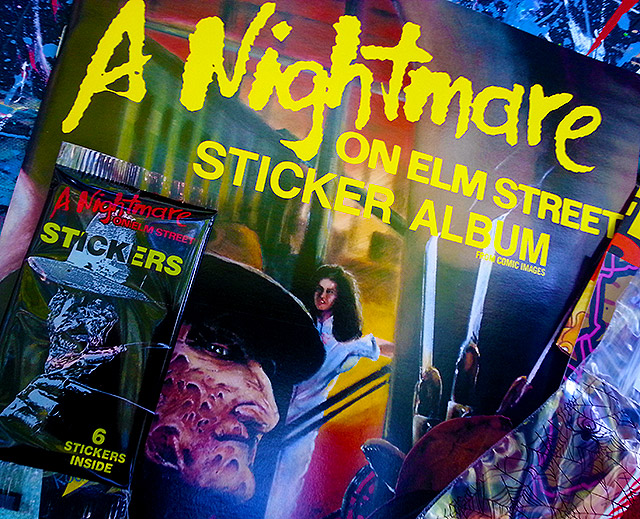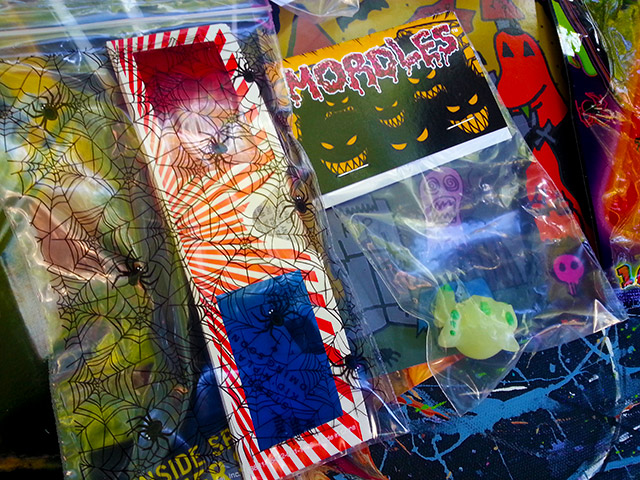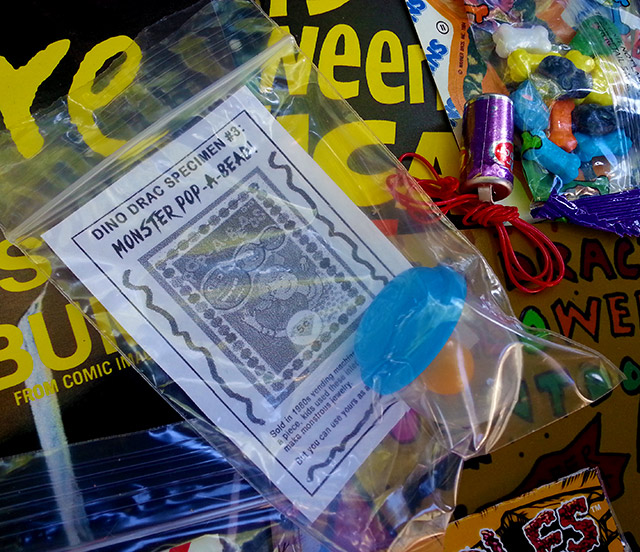 As always, my goal with the Funpacks is to give you something to play with, something to read, something to "do," and maybe even something to eat. I think the October edition hits all of those bullets!
NOTES: Sticker albums will be sent loosely rolled with a rubber band. (They're too large for the boxes otherwise.) Remaining quantities on this Funpack are VERY limited. If they sell out and there's still enough interest, I'll see if I can come up with an alternate box for stragglers… but there are no guarantees, and it definitely won't have the exact set of stuff seen here!
Ordering info is below!
If you're already subscribed and want to stay that way… do nothing! You're all set!
Quick and dirty FAQ:
1) Subscriptions are handled via Paypal. If you don't have a Paypal account, you can still use Paypal and purchase a subscription using most credit cards.
2) The $25 price includes shipping!
3) You will be billed once a month. For as long as you stay on, you'll continue getting monthly Funpacks. (Billing works on a monthly cycle. So, for instance, if you pay $25 today, you will be automatically billed again in exactly one month… and then you'll get the November Funpack automatically, too!)
4) You can cancel your subscription at any time. Being "subscribed" does NOT lock you in for anything more than a single month. Of course, it's my hope that you'll enjoy getting the Funpacks too much to want to quit!
5) Again, sorry, but these are only available to those in the United States.
Reviews of the previous Funpacks have been terrific, and I'm so happy that people really seem to be enjoying these. They're a blast to create and a pain in the ass to ship!
The Halloween Funpacks will ship out during the first week of October.
To subscribe to the Dino Drac monthly Funpacks, click the button below!
SORRY, THE OCTOBER FUNPACKS ARE SOLD OUT!
…however, if you'd like to subscribe early for Funpacks beginning with the NOVEMBER 2014 edition, click here!
…but wait! There's more!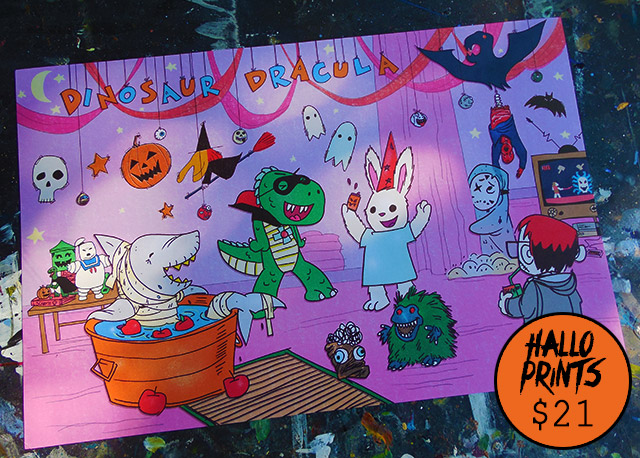 DINO DRAC HALLOWEEN PRINTS
$21 SHIPPED!
AVAILABLE IN THE UNITED STATES ONLY.
Returning from last year is Jason Week's fantastic Dinosaur Dracula Halloween print, starring Madd Matt (me in makeup, I guess), Leviathan, Larry and the whole gang!
These cheerful prints pay an odd homage to It's the Great Pumpkin, Charlie Brown. They're printed on glossy cardstock and measure 11×17". All prints are shipped FLAT in nice cardboard mailers, so you won't have to worry about any unsightly creases.
I don't have very many of these left and I'm definitely not ordering more this year, so if you're interested in wall art of a different kind, click the button below to make your purchase! Remember, United States only!
Thanks so much! If you have any questions, feel free to drop a comment below, or email me!