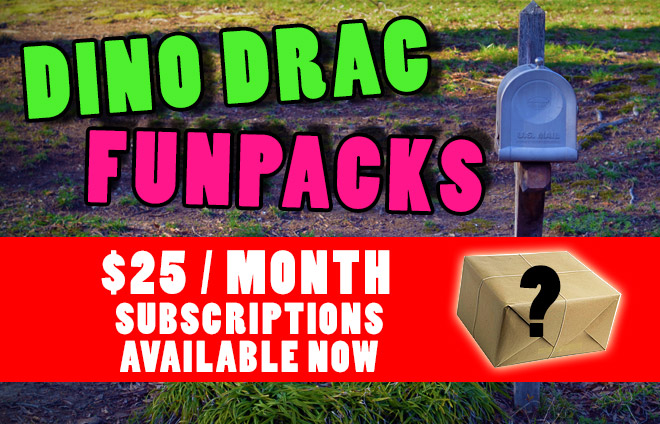 IMPORTANT: If you're looking to subscribe to the Funpacks, this is an older post. Check out the new subscription page here!
Dino Drac Funpacks are back! And this time, here to stay. At least for the foreseeable future.
Here's the deal. I'm coming into that stretch of the year when I toss aside everything to run the site, racking up major expenses and doing it on the arm. Moving forward, that's something I can no longer do. I have to take some different steps.
I've hinted at this on social outlets and have gotten some suggestions, but I had a lot of luck with these Funpacks in the past, and everyone seemed to enjoy them. (See some previous editions here and here!)
The problem in the past is that they've been too scattered to really make a dent. Whatever profits they bring are quickly gobbled by continuing to do the site — paying for it to run, buying all of this stuff to review, and spending crazy amounts of time to put it all together.
If nothing else, I need to do something that will curb the losses — especially in these upcoming heavy months. And I think this could be a fun way to do it!
If you're familiar with the prior Funpacks, you know what you're in for — a package full of old and new goodies, from trading cards to comics to toys to candy, mixed with a few site-specific "custom" items. The difference this time is that I'll be offering them on a monthly subscription basis. Sign up once, and you're good to go for as long as I continue doing them. (Right now, I'm looking at a 5-6 month sprint, but if they take off and perform well enough, maybe they'll continue.) You can cancel at any time, of course.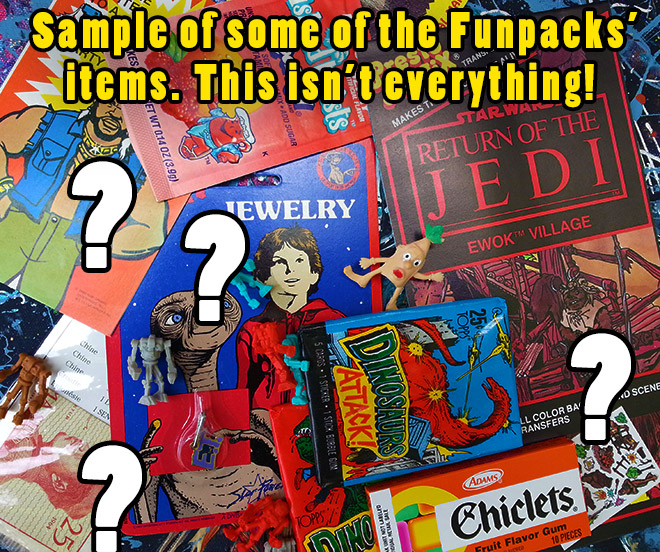 (A sampling of what you might find in your Funpack — but the real ones are better!)
This post is meant to encourage early signups, as I'll be starting this new endeavor with the August 2014 Dino Drac Funpack. I'm not ready to show you a "complete" sample, but above are examples of some of the items that might be in your pack. Every Funpack will have everything from old trading cards to an old comic, small toys, bric-and-brac, and monthly exclusives.
Yes, monthly exclusives. For starters, each month's Funpack will include an exclusive Dino Drac Ugly Mini Poster, and I do mean ugly — but hopefully in the good way. These mini-posters (5×7") are custom printed and of better quality than the ones sold with previous Funpacks.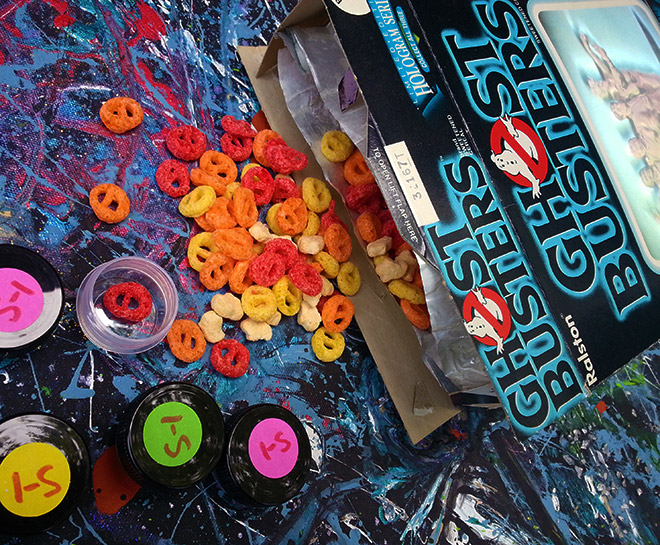 (Dino Drac Specimen #1: Ghostbusters Cereal!)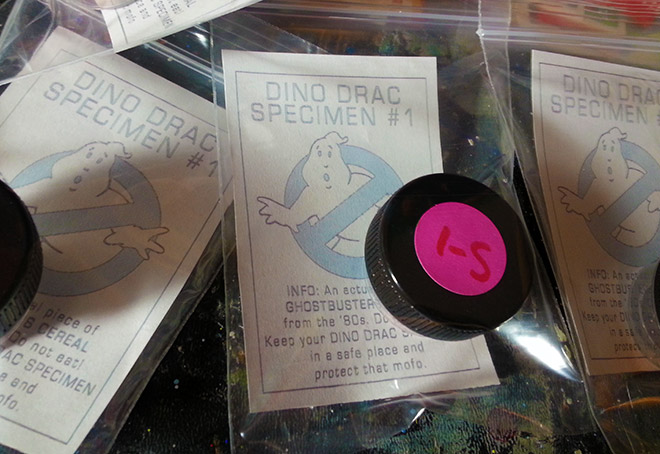 (You'll receive one of these!)
The other exclusive is much odder. Every month's Funpack comes with a new Dino Drac SPECIMEN — that being a piece of ephemera of exceeding rarity, neatly trapped in a small jar. Most of these will be food items from eons ago, and I think I picked a great one to start off with.
The August 2014 Dino Drac Specimen — "Specimen #1" — puts single pieces of Ghostbusters Cereal from the '80s into tiny jars, and turns you into their protectors. Do not eat them! Hell, don't even open the jars! Pretend you're a curator and keep them in a safe place, because if you're a subscriber, there's more weird shit like this to come!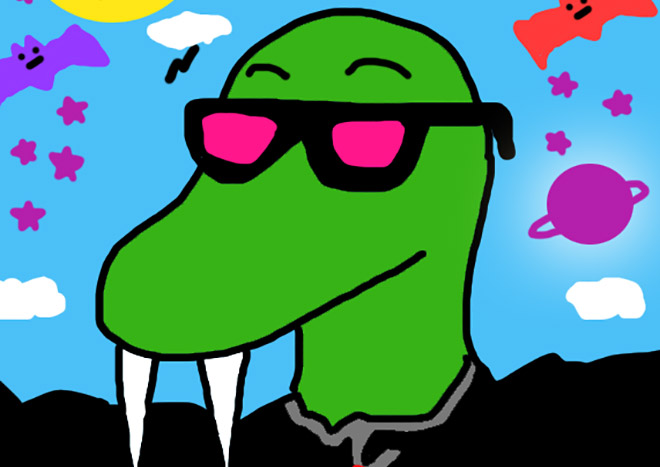 (Portion of August 2014's Ugly Mini-Poster.)
I won't front. The Funpacks probably aren't something people would order blind from a stranger. The idea here is that you like the site, want it to continue, and like "random crap" enough to see this as a worthwhile purchase. It isn't intended to be viewed as some amazing value unseen anywhere else online.
But it's my hope that you'll get a kick out of receiving them every month. Every Funpack will be stuffed with little pick-me-ups. A weird but appealing mix of God Knows What for you to look forward to, each and every month. Something to read, something to do, something to eat, something to avoid eating, and something to decorate with. Stickers, too!
UPDATE!!!
I can finally show you a completed sample for August!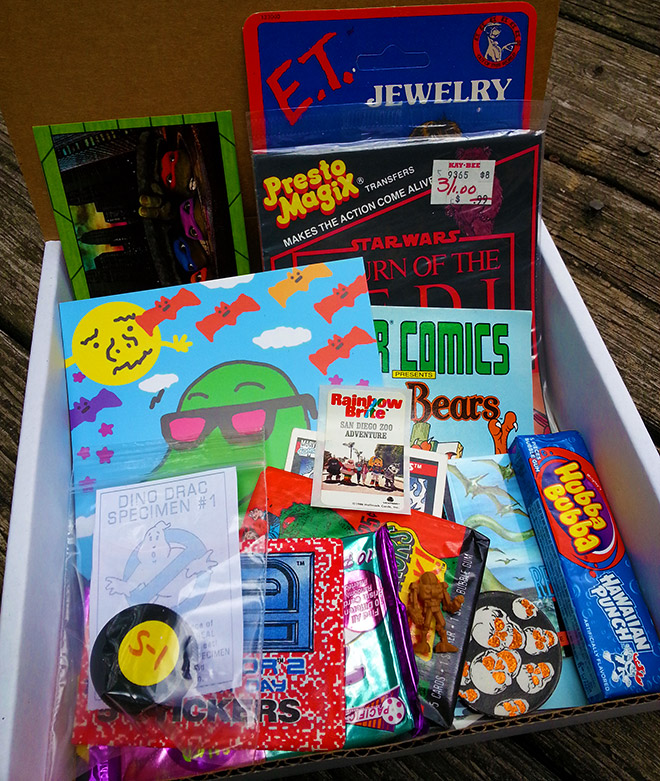 (A complete sample of a Funpack — contents in each differ, but this is the idea!)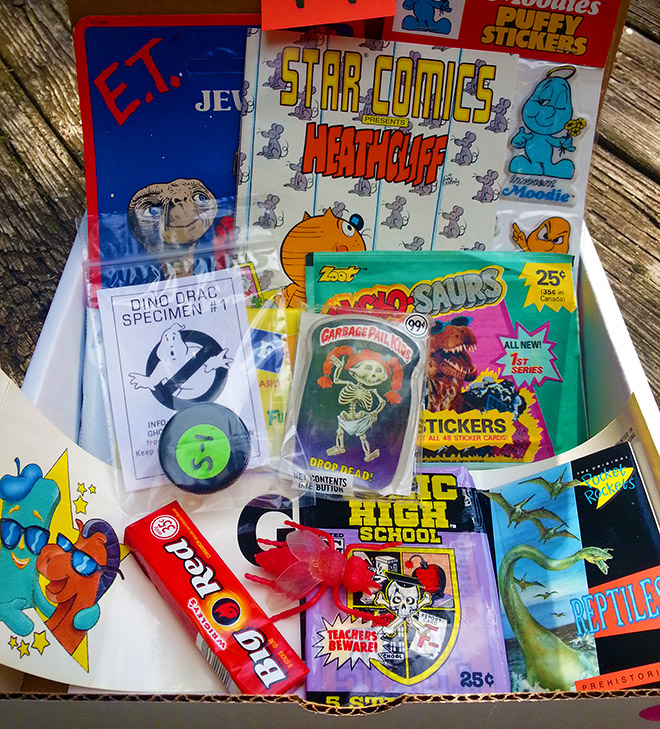 (Another sample! Mini-Poster not pictured, but of course you'll get that!)
I don't want to fully disclose what's in there, but this is a real actual August 2014 Funpack. Please understand that no two Funpacks are identical, so there are no guarantees that you'll receive these exact items. However, what you will receive will be of similar value. I'd also prefer to keep the box contents a bit surprising, as it wouldn't be as fun for you to know exactly what you're getting. (There may be another few little things hiding in there!) If you like what you see here, yeah, this is a good barometer!
There's a more exhaustive FAQ below this, but if you've heard enough are are ready to order, skip to the bottom!
Dino Drac Funpacks FAQ:
Q: Who can order a subscription?
A: Anyone in the contiguous United States. Sorry, but past experiences have taught me that shipping elsewhere is just too time-consuming and tricky.
Q: How do subscriptons work and when will I be billed?
A: Subscriptions are handled via Paypal. You will be billed on the same day, every month. If you order today, you will be billed today, and on the same day next month. (Orders made between now and 8/7 will start with the August 2014 Funpack. Orders made after 8/7 will start with the September 2014 Funpack.)
Q: What happens if/when you stop doing Funpacks?
A: If/when I stop doing Funpacks, I will cancel all subscriptions personally. I expect Funpacks to continue for 5-6 months for sure, at which point I'll assess their success.
Q: How will you know where to ship?
A: You should have an address associated with your Paypal account. If you wish to have your Funpack sent elsewhere, you can include that in the "Notes" section when you order, or email me directly.
Q: I like the idea but $25 a month is too steep for me.
A: That is both understandable and fine. I realize that not everyone can afford to spend $25 a month so frivolously. Honestly, I had two choices, here. One was soliciting donations via some crowdfunding site to at least carry me through the very active Dino Drac months, and the other was this. I chose this, because I'm more at peace with the idea of people paying for something tangible, even if it's in the spirit of a donation.
Q: If I decide to subscribe in a later month, will I never have the chance to pick up earlier Funpacks to complete my collection of Mini-Posters and Specimens?
A: There are no guarantees of leftovers, but if there are any Funpacks left, I will sell them individually for the same price. (Meaning if you're seeing this in October and want to pick up August's Funpack, you will have that option… but only if there are any left.) Subscribing is the only way to guarantee the full-run as quantities are limited. Please don't take this for granted!
Q: On any given month, are all of the Funpacks exactly alike?
A: Using August as an example, there will be items that are in every single Funpack sent out. The Mini-Poster and Specimen, obviously, but also other items. However, because I have no idea how many people will be ordering, and because certain "goodies" are in shorter supply, no, not every Funpack will be exactly alike. I'll still aim to make each of them equally "valuable" — if you could call this stuff valuable!
Q: When will Funpacks be shipped?
A: The first week of every month! So if you order now, you won't be waiting long.
Q: Will the Funpacks have monthly themes?
A: Yes! Where appropriate, at least. So you can assume the October one will have a Halloween flavor, for example.
Q: I don't live in the contiguous United States but I REALLY, REALLY want a Funpack. Can we talk?
A: Long story short — it's impossible (or not reasonably possible) for a variety of reasons. However, I am currently looking into at least being able to ship to Canada. No guarantees on this, but if you're interested and in Canada, shoot me an email and I'll let you know when I can.
Q: I have a question that isn't covered here.
A: Email me! (If your question seems important, I'll add it to this FAQ.)
Okay guys, if you're ready to order, here's the short summary:
– $25 a month, shipped anywhere in the contental United States.
– You will be charged each month, on the same day you made your first order. (July 26, August 26, September 26, etc.)
– You can cancel your subscription at any time via Paypal.
Ready to roll the dice? I'll be adding photos later this month of a "complete" sample Funpack if you feel you need to have a better understanding of their contents before ordering. Just remember that there's a limit to how many I can sell, so it's first come, first serve!
Click the button below to set up your subscription via Paypal!
SORRY, THE DEADLINE HAS PASSED FOR SUBSCRIPTIONS STARTING WITH THE AUGUST FUNPACK. THE GOOD NEWS IS THAT SUBSCRIPTIONS ARE NOW OPEN FOR NOVEMBER!!