You know what solves the post-holiday blues? Retail therapy. Course, I might just be saying that because I have something to sell you. You never know with me.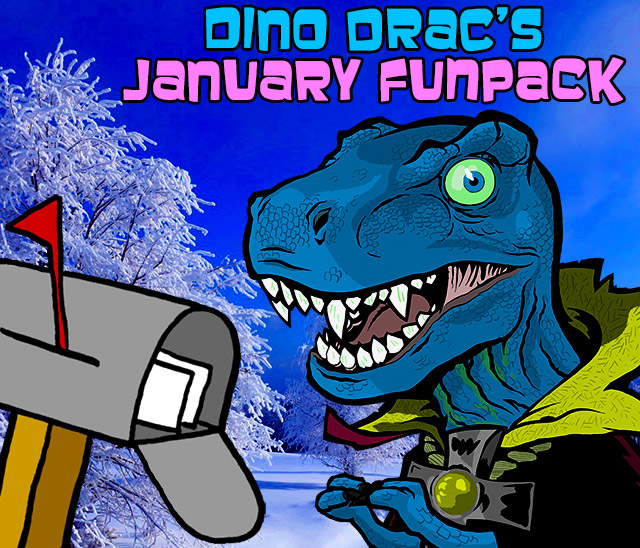 LIMITED TIME ONLY! UNITED STATES ONLY!
Dino Drac's January 2018 Funpack is finally here! I'm late-as-heck this month, so this one will only be available for a very short time!
As I'm assuming y'all know by now, these Funpacks fund the site. Without them, I would not be able to continue running Dino Drac. On top of getting cool boxes of old nonsense for as long as you stay subscribed, you're also helping to ensure that I keep posting tributes to weird monsters. Yay!
Subscriptions are $25 per month, and that includes shipping. For as long as you remain subscribed, you'll keep getting boxes every month! You can cancel at any time without penalty — even right after subscribing if you only want this month's box!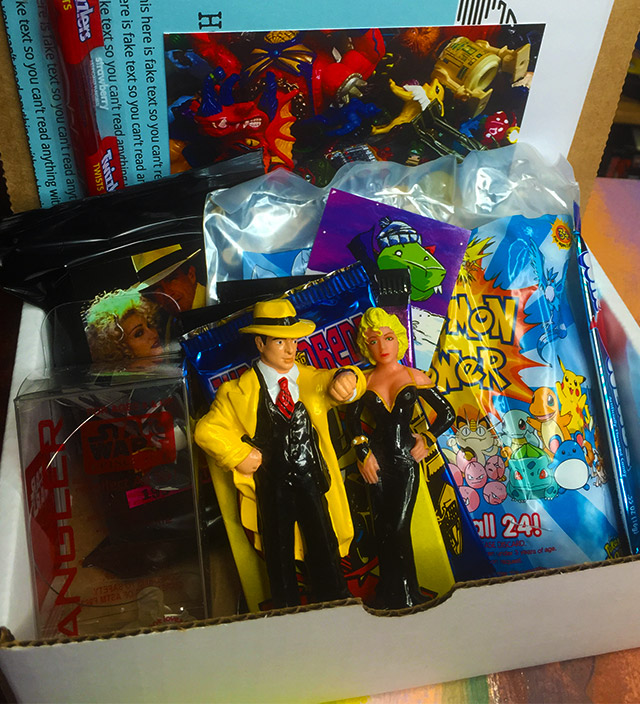 The January 2018 Funpack is one of the best of 'em. There are over ten items in every box, including everything from serious collectibles to goofy novelties to a goddamned Twizzler. It pretty much guarantees that you'll have at least one good night during this otherwise dreary month!
Scroll to the bottom for ordering info, or keep reading to learn about everything you'll receive in this month's box!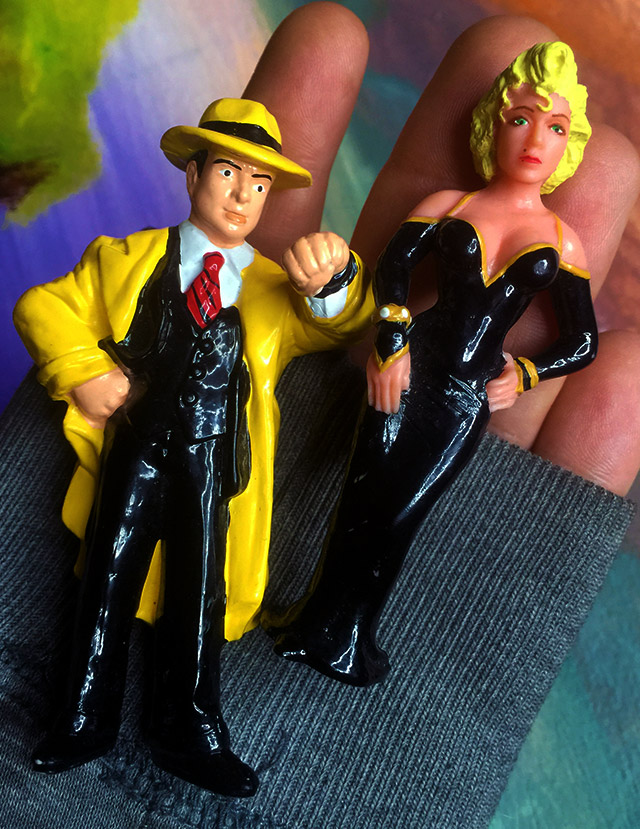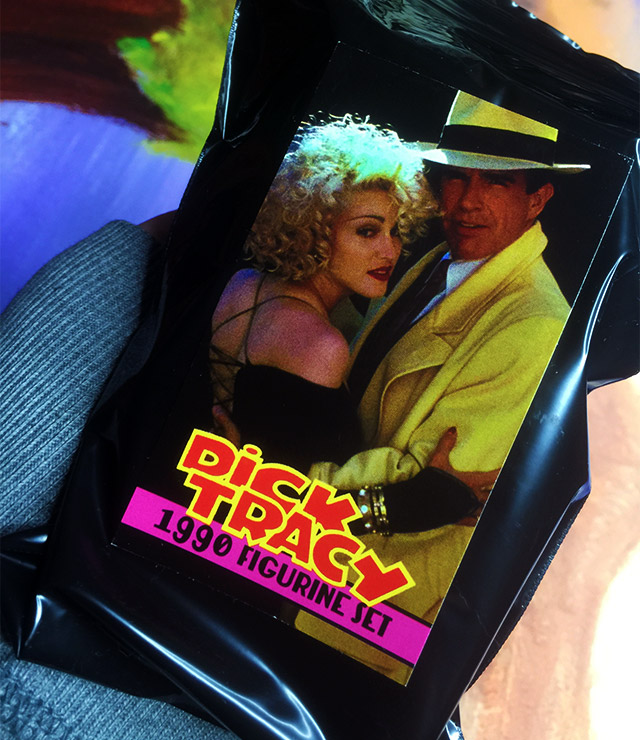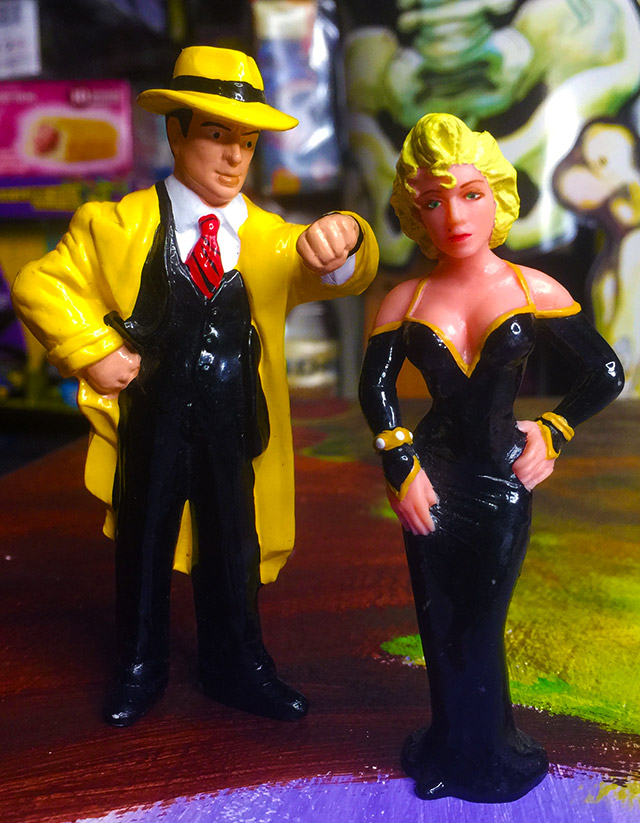 YES, YOU WILL GET *BOTH* FIGURES!
Oh man, this is a big one. Every subscriber will receive this vintage Dick Tracy figurine set, packed in an exclusive Dino Drac baggie. You will get BOTH of the figures shown above!
Made by Applause in 1990, you'll get Dick Tracy AND Breathless Mahoney. These PVC figures are between 3 and 4" tall and are pretty gorgeous.
I'm a HUGE fan of the Dick Tracy movie, so I'm thrilled to share these with you. Do keep in mind that these figures are close to THIRTY years old, and some will have some paint smudges since they've been sitting in a box together for almost three decades. Roll with it!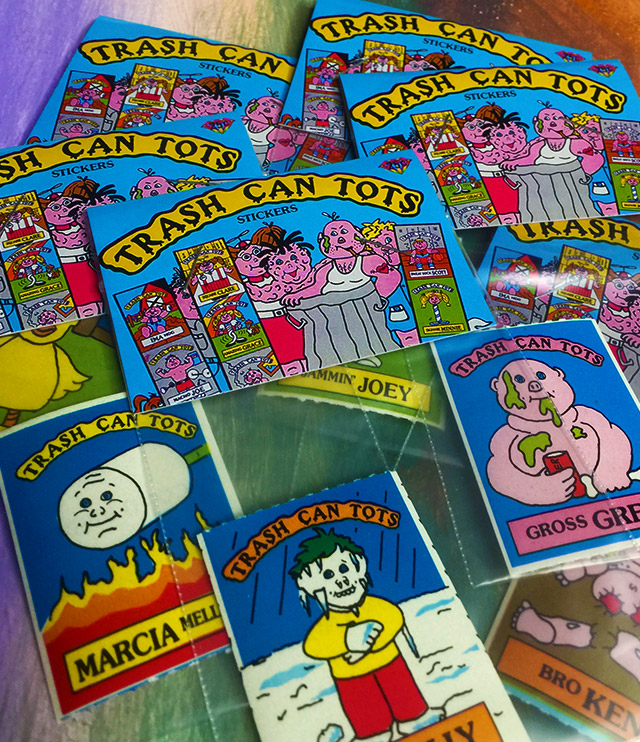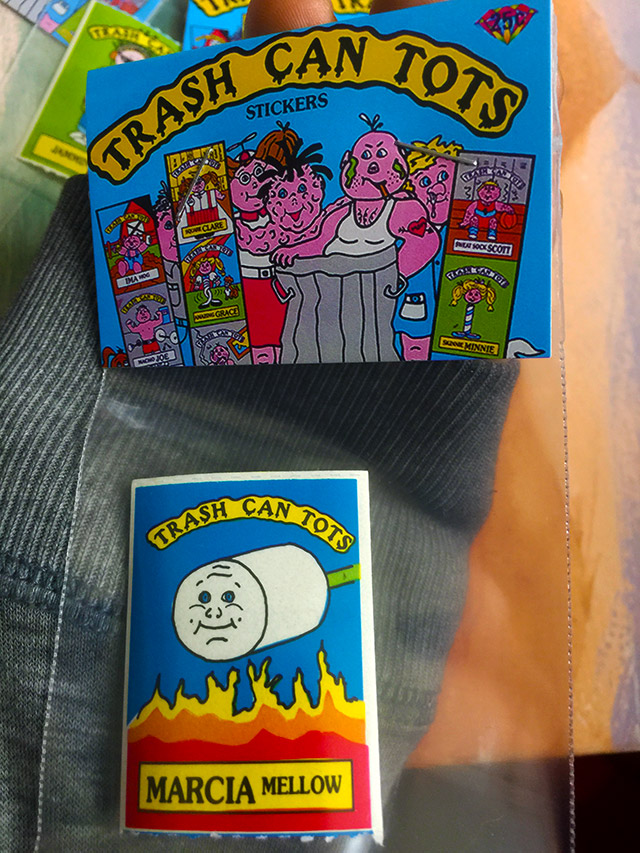 This month's DINO DRAC SPECIMEN is one of my faves. Back in the '80s, the popularity of Garbage Pail Kids inspired many imitators, including TRASH CAN TOTS, which were tiny stickers that kids could buy from supermarket vending machines.
The stickers were obviously inspired by Garbage Pail Kids, though they were more goofy than gross, with adorably crude artwork. You'll each receive ONE Trash Can Tots sticker, well-protected in super cool Dino Drac packaging!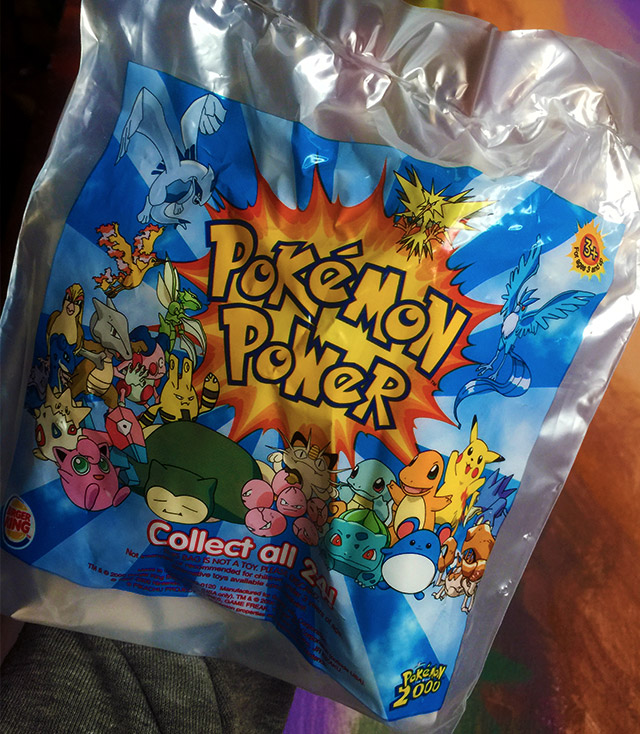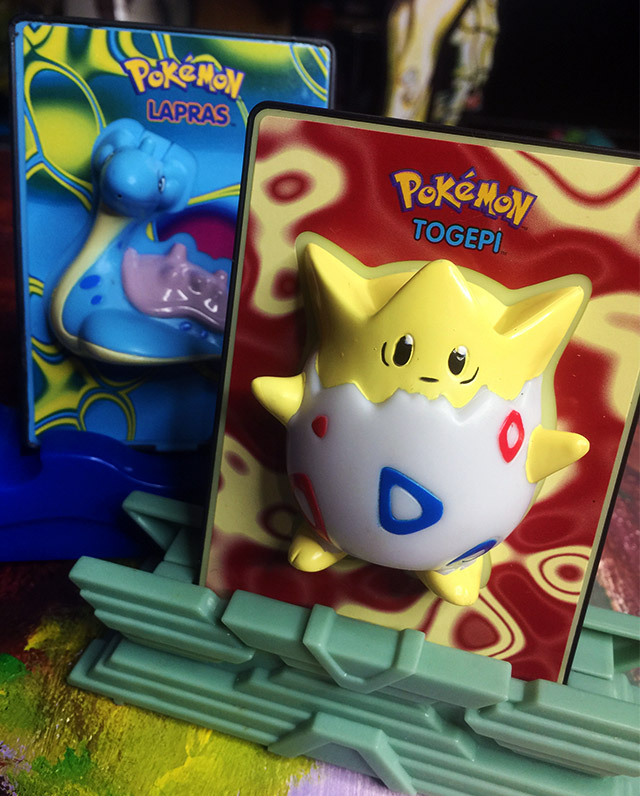 You will also receive one of these way-cool Pokemon Power toys that were given away at Burger King back in 2000. Each toy is basically a three-dimensional "card" on a plastic base, and each one has a special action feature. Some light up, others squirt water, and others do even odder things!
Your Pokemon Power toy will come sealed in its original baggie. Please keep in mind that these toys are now almost 20 years old, so I cannot guarantee that any electronic features will still work. (I tested a few. Some worked, others didn't. Even if yours doesn't, it's still a fun display item that's loaded with Pokemon nostalgia!)
There are 24 different Pokemon Power toys in all, and there's no telling which one you'll get! Shown above are two of the possibilities… but yours might be a different toy entirely!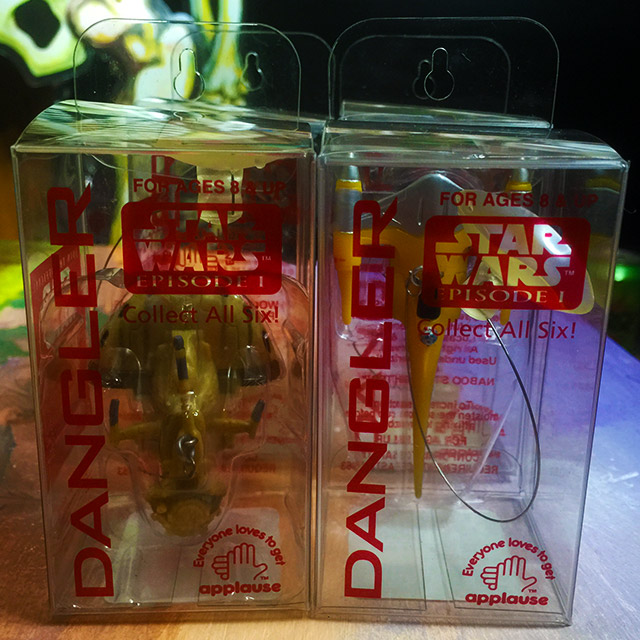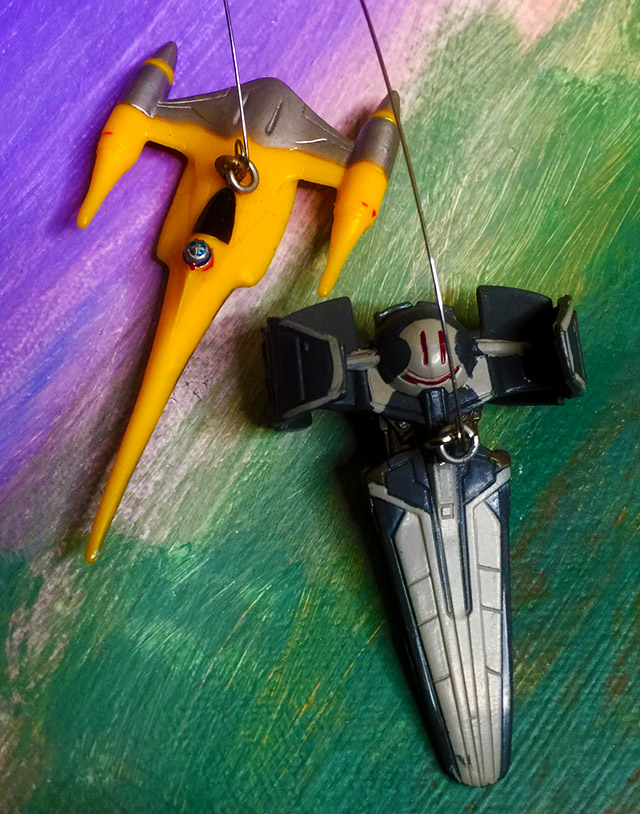 *ONE* STAR WARS DANGLER PER FUNPACK!
Next we have these Star Wars Episode 1 Danglers, made by Applause in 1999. Each of you will receive ONE of these, still sealed in its original see-through box!
So the situation with these: They're little Star Wars vehicles attached to thin, bouncy wires with a suction cup at the end. Stick 'em to a smooth surface and watch your ship dangle for as long as the suction cup keeps its grip!
There are six different vehicles in this set, from the Naboo Starfighter to Darth Maul's Sith Infiltrator. You'll each receive one, randomly picked!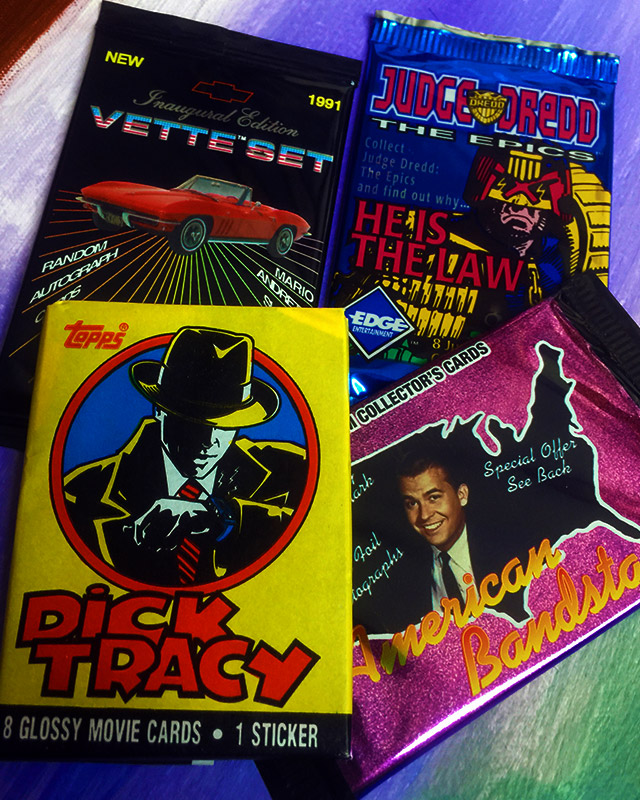 No Dino Drac Funpack is complete without some old trading cards, and this month, you'll be receiving FOUR vintage packs! Have fun tearing into packs for Dick Tracy, Vette Set, American Bandstand and Judge Dredd.
(And yeah, this is an odd assortment of cards, but one of the joys of these Funpacks is introducing you to slices of pop culture that you might've otherwise never thought to sample!)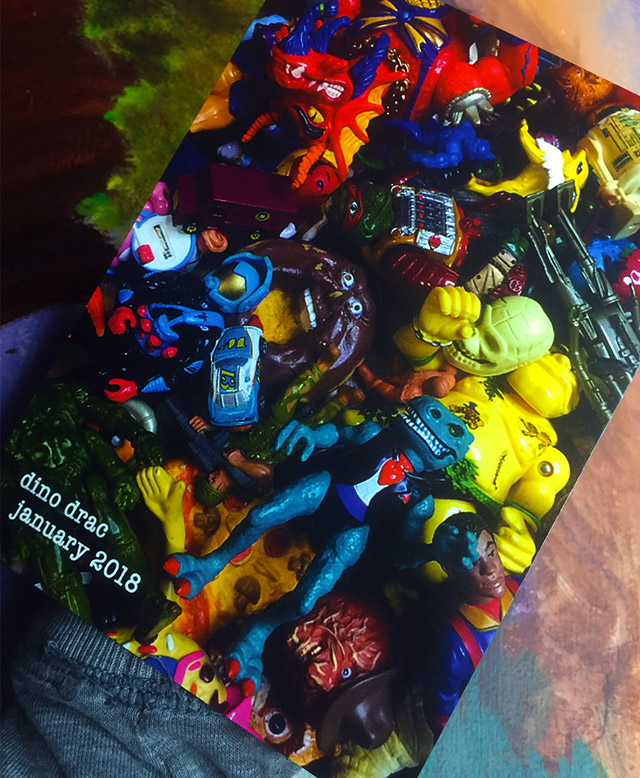 You'll also receive this month's exclusive 5×7" mini-poster, printed on cardstock, or at least something close to cardstock.
This month's poster is especially cool — it's just a giant, messy spread of vintage toys and action figures, featuring everything from Ninja Turtles to M.U.S.C.L.E. wrestlers. Set aside an hour and try to identify them all!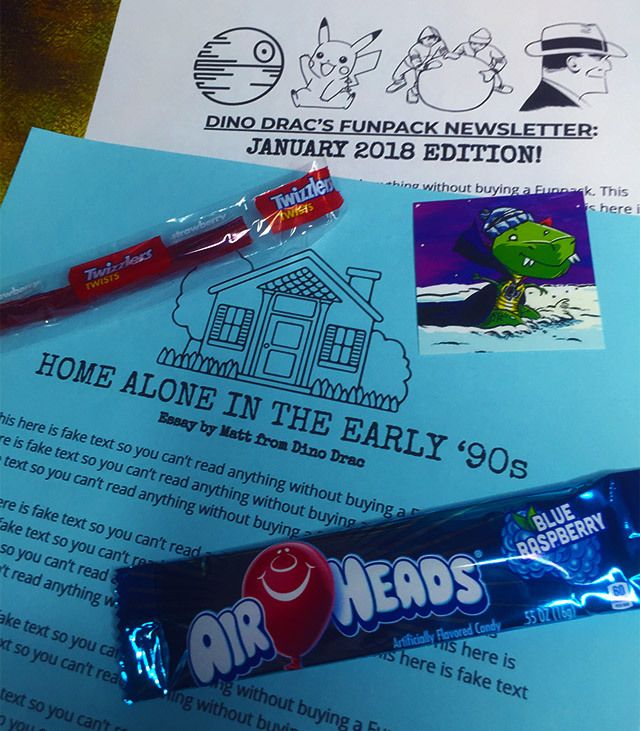 Rounding things out, you'll also receive a few pieces of candy, this month's exclusive Dino Drac sticker, this month's Funpack Newsletter *and* an exclusive essay that will never be reprinted on the site!
In this month's essay, I'm reexamining what it was like to have the house to myself back in the early '90s, when I was old enough to be left alone but still young enough to abuse that privilege. Expect references to pizza, infomercials and the Super Nintendo.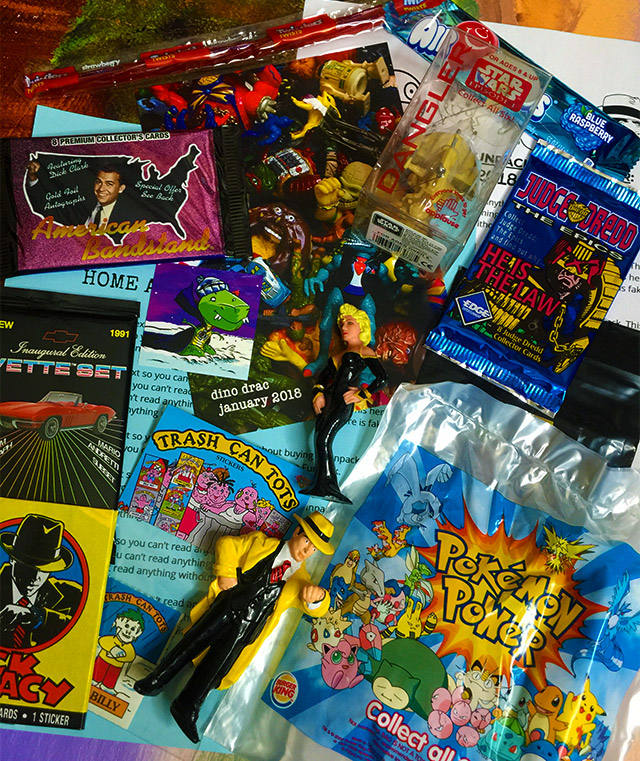 Yep, you'll get EVERYTHING shown above for $25, shipped!
If you're already a Funpack subscriber and you'd like to stay that way… do nothing! You're all set!
If you want to subscribe, please read the following, and then click the button at the bottom of this page!
1. Funpacks are available in the United States only. Sorry!
2. Subscriptions are handled via Paypal. If you don't have an account, it's very easy to make one!
3. Funpacks will be shipped to the address listed on your Paypal account. If you need to change your shipping address, or if you'd like for your Funpacks to be shipped to someone else, simply email me!
4. You will be automatically billed $25 every month. (Yes, that price includes shipping.) If you subscribe today, you'll pay today, and then again in exactly one month. For as long as you remain subscribed, you'll keep getting Funpacks!
5. You can cancel at anytime. (You could subscribe today and cancel today!) If you cancel after you've already been charged for the following month's Funpack, you'll of course receive it just the same as any current subscriber would. (You can cancel via Paypal, or by emailing me.)
6. The January 2018 Funpacks will ship on or before 1/23!
Remember, the Funpacks allow me to keep doing the site… thanks so much to all who help to keep it/me going!
To get your subscription started, click the button below!
SOLD OUT! Look for the next Funpack soon!