Have the post-holiday blues? This oughta fix it. Dino Drac's January 2016 Funpack is finally ready to lauch!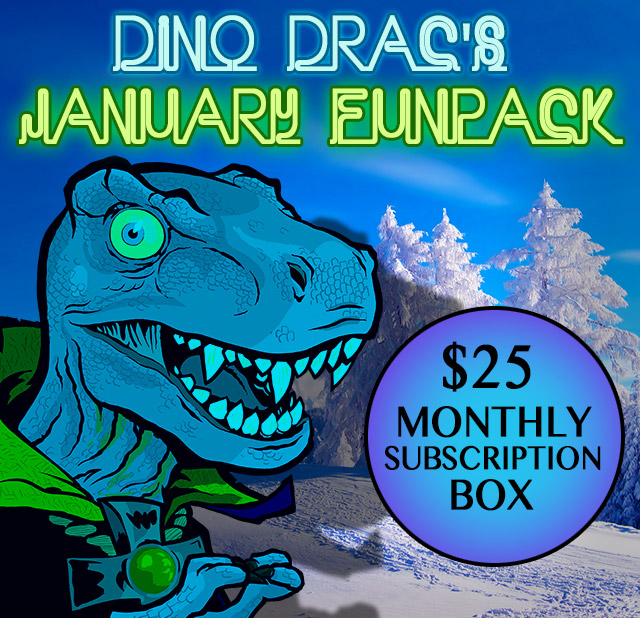 AVAILABLE IN THE UNITED STATES ONLY!
If you haven't been watching the site too closely, I sell monthly Funpacks. Without them, there'd be no Dino Drac!
Subscriptions are $25 a month (that includes shipping), and for as long as you stay subscribed, you'll continue to receive new boxes of fun junk, each and every month. You can cancel at any time without penalty. In trade for helping to keep the site afloat, you'll get a box some some (arguably) awesome stuff!
Skip to the bottom of this post for additional subscription details and notes on how to order. Or keep reading, to see what's in store for the January 2016 Funpack!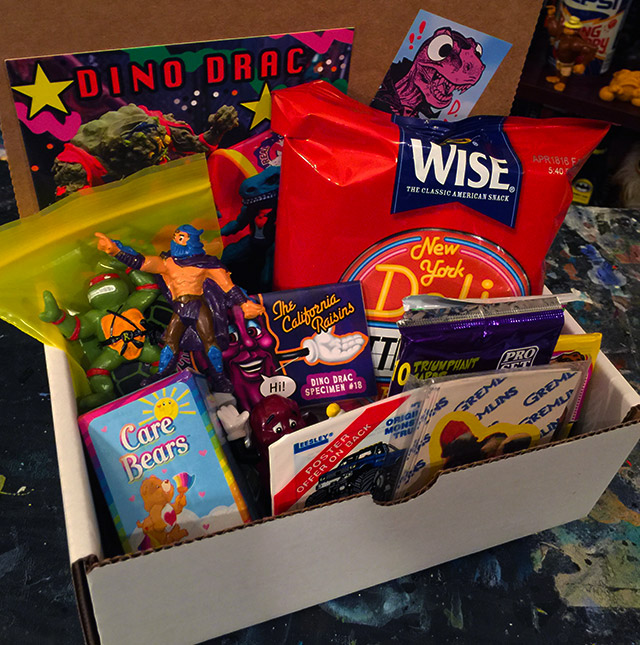 Oooh, this is a good one. The January 2016 Funpack features well over ten items in every box, including old action figures, vintage trading cards, random novelties, stories and even a dangerously delicious bag of potato chips. There are some awesomely obscure finds this month. Every subscriber will receive ALL of the following: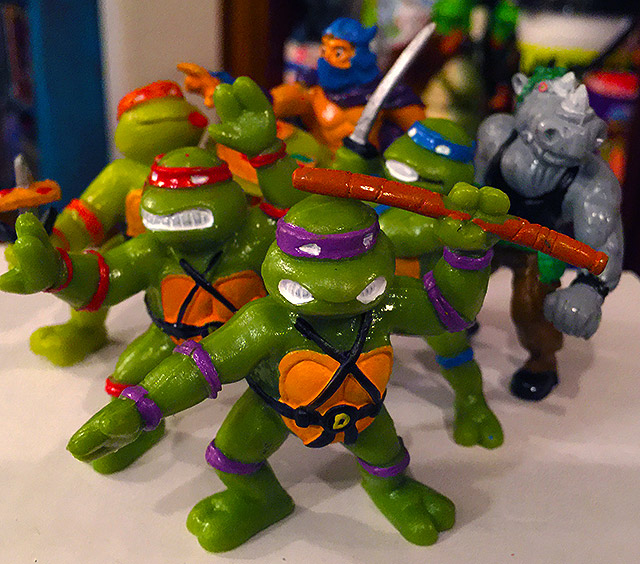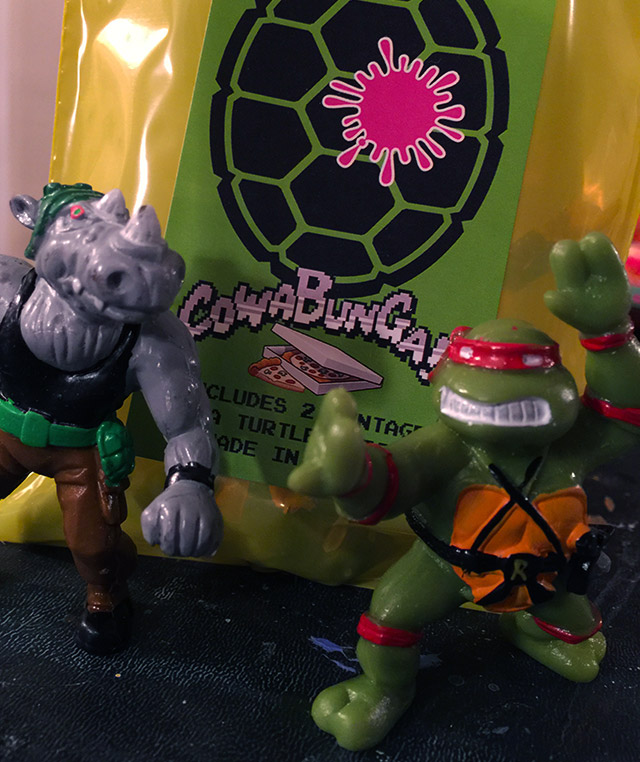 Shell yes, each of you will receive TWO vintage Teenage Mutant Ninja Turtles figures, made in Spain in the very early '90s! These were from a company called Yolanda, and believe it or not, they're officially licensed!
Each stands between 2 and 3 inches tall. Every subscriber will get TWO at random, nestled snugly into a custom Dino Drac bag! All four Turtles are in the mix, along with villains Shredder and Rocksteady! (Sorry, no picking, but I do guarantee that you'll get two DIFFERENT figures.)
These are adorably crude as all get out.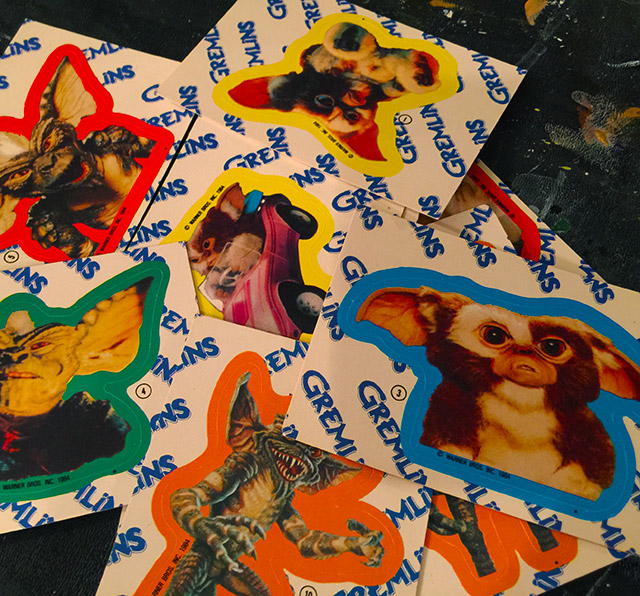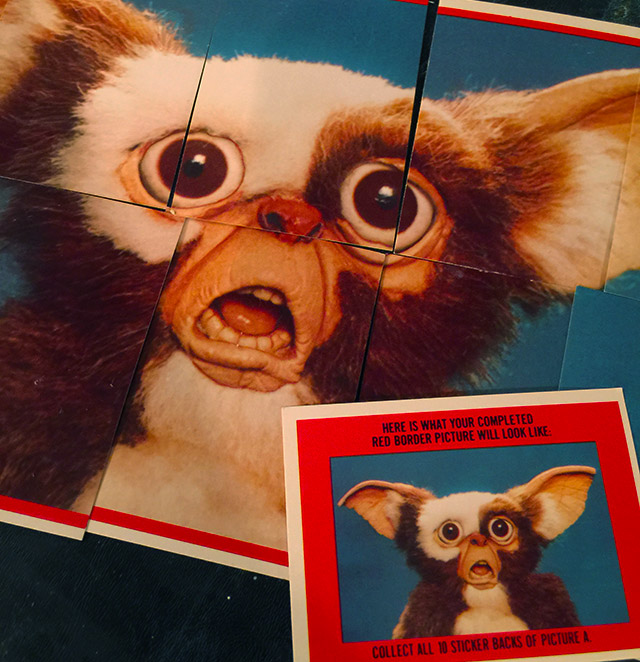 Next, every subscriber will receive a COMPLETE set of 11 Topps Gremlins stickers, which were part of Topps's Gremlins trading card set. Remember how old trading card sets used to include only one sticker per pack? Well, you won't have to go digging through umpteen expensive packs to complete your sticker set — I'm giving you all eleven, all at once!
The really neat thing? Since you'll have the complete set, you'll be able to create the adorable Gizmo poster shown above! (Each sticker includes a different "puzzle piece" on the back!)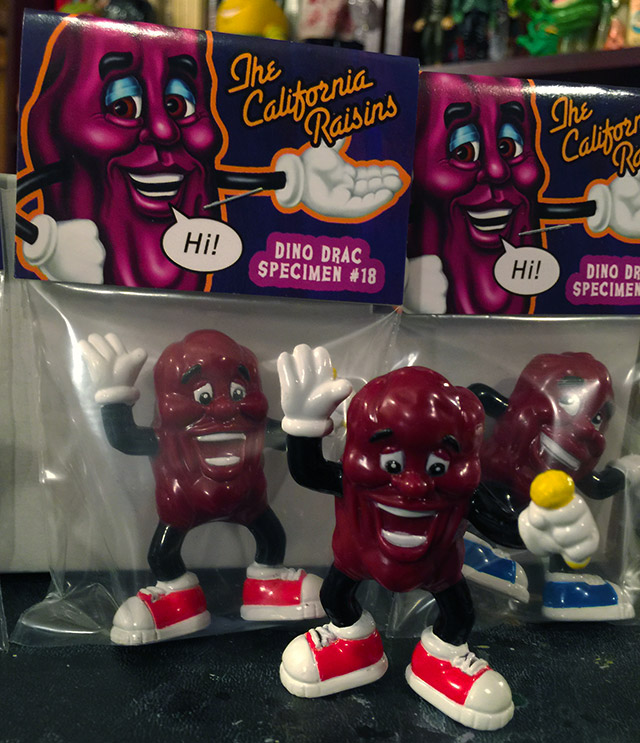 Wait, it gets better! This month's DINO DRAC SPECIMEN is a vintage California Raisins figurine, in custom Dino Drac packaging! These were given out by Hardee's restaurants in the very early 2000s, but they look just the same as the ones you may have collected back in the '80s.
These figurines are GEM MINT and have never been played with. Each will arrive safely in special edition Dino Drac packaging! (One packaged figure per Funpack!)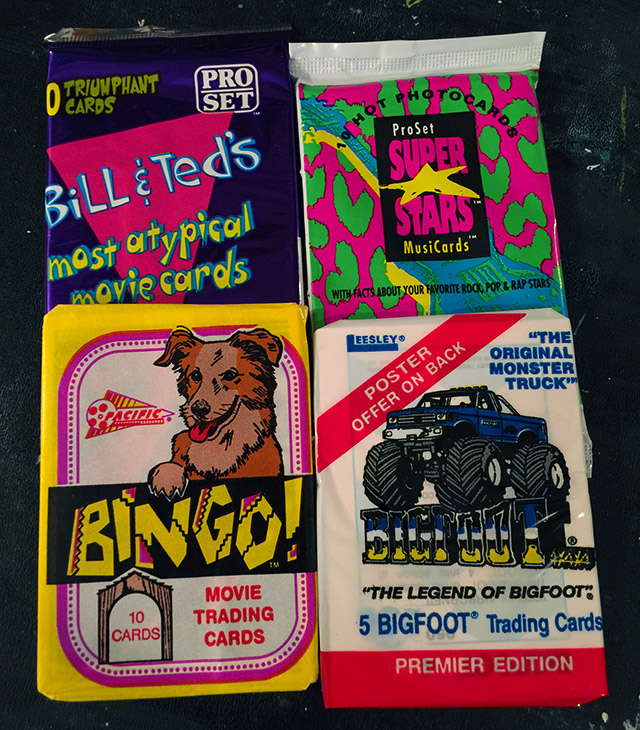 You'll also receive FOUR vintage packs of trading cards, featuring Bigfoot, Bingo, Bill & Ted and random '90s pop stars! Have fun tearing them open! May they inspire you to fall down the Wikipedia rabbit hole, digging up trivial info about monster trucks, Bill S. Preston and some old dog movie.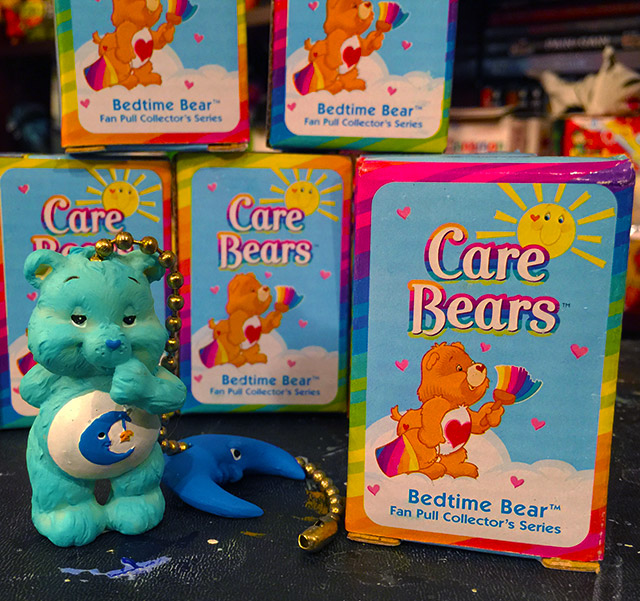 Wait, there's more! You'll also receive an official Care Bears Bedtime Bear Fan Pull figurine, still in its original box and never used! These sweet ceramic figurines are from 2004, and are meant to be used as pull-chains for ceiling fans.
I'm not so sure that you'll use them that way, but they're still super cute Care Bears figures… I'm sure you'll figure out something to do with them!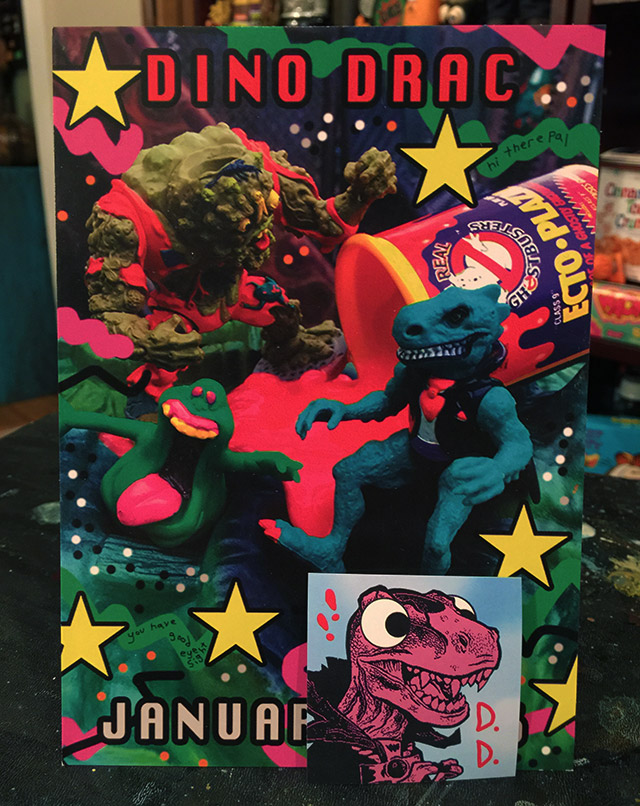 You'll also get Dino Drac's January 2016 Ugly Mini-Poster, with a suspiciously slimy theme! (Yeah, I'll toss in the random Dino Drac sticker, too!)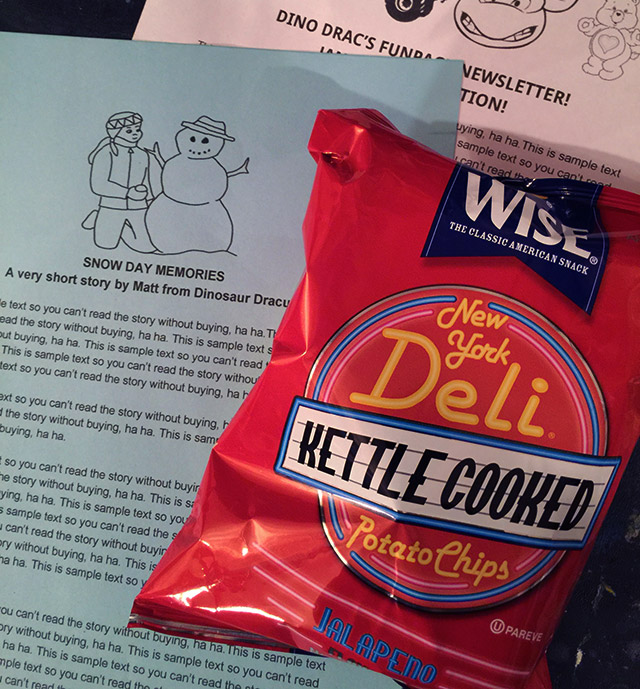 Also look for Dino Drac's January 2016 Funpack Newsletter, plus an exclusive short story covering my own personal Snow Day Memories. (Story will not be reprinted on the site, ever!)
And you can enjoy all of those goodies while blasting through a bag of Wise New York Deli Jalapeno Chips, which are ridiculously good and will hook you immediately. (Seriously, they taste like spicy french fries.)
Yep, you'll get EVERYTHING shown above for $25 shipped!
If you're already a Funpack subscriber and you'd like to stay that way… do nothing! You're all set!
If you want to subscribe, please read the following, and then click the button at the bottom of this page!
1. Funpacks are available in the United States only. Sorry!
2. Subscriptions are handled via Paypal. If you don't have an account, it's very easy to make one!
3. Funpacks will be shipped to the address listed on your Paypal account. If you need to change your shipping address, or if you'd like for your Funpacks to be shipped to someone else, simply email me!
4. You will be automatically billed $25 every month. (Yes, that price includes shipping.) If you subscribe today, you'll pay today, and then again in exactly one month. For as long as you remain subscribed, you'll keep getting Funpacks!
5. You can cancel at anytime. (You could subscribe today and cancel today!) If you cancel after you've already been charged for the following month's Funpack, you'll of course receive it just the same as any current subscriber would. (You can cancel via Paypal, or by emailing me.)
6. The January 2016 Funpacks will ship on or before 1/19!
Remember, the Funpacks are what allow me to keep doing the site, so if you like all of these giant articles about old toy catalogs and TV commercials, subscribing to Dino Drac's Funpacks is the best way to guarantee more of them!
Supplies are limited… once they're gone, they're gone!
To get your subscription started, click the button below!
THANK YOU!!