It's hard to believe, but with the arrival of Dino Drac's July Funpack, I've now been doing these for a full two years. WOW. I never expected that this would go on for so long, and I can't thank all of my subscribers enough. You've kept Dino Drac afloat for far longer than its presumed expiration date. Thank you x1000!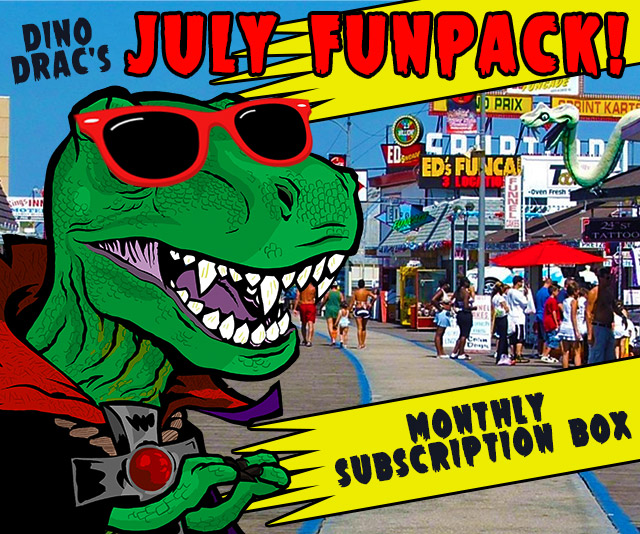 (AVAILABLE IN THE UNITED STATES ONLY)
For those who don't know, I sell monthly Funpacks — aka a monthly subscription box, stuffed with all sorts of retro nonsense, novelties, snacks and stories. Dino Drac is not backed by any financiers, obviously, nor is it even constructed to make the most of its modest ad revenue potential. Without readers like you subscribing to the Funpacks, there'd be no Dino Drac!
The cost is $25 per month, and that includes shipping. You can cancel at any time without penalty. (Even immediately after signing up, if you're only interested in this month's box.) For as long as you stay subscribed, you'll keep getting Funpacks! (And I keep excellent records, so don't worry — you'll always get the exact amount of Funpacks that you've paid for!)
Scroll to the bottom of this post for more information or to get your subscription started, or keep reading to see what's in store for the July 2016 Funpack!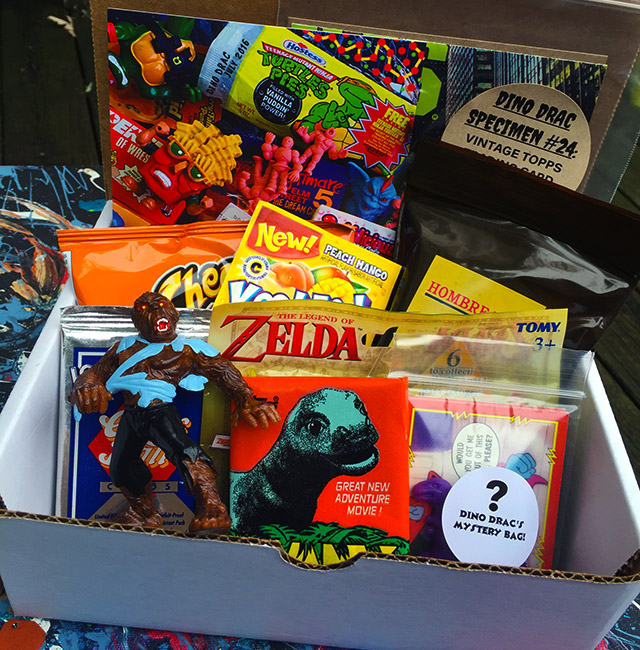 This month's anniversary Funpack is an eclectic mix of old and new bric-a-brac, featuring werewolves, Zelda, dinosaurs and more. There are over ten items in every box, including…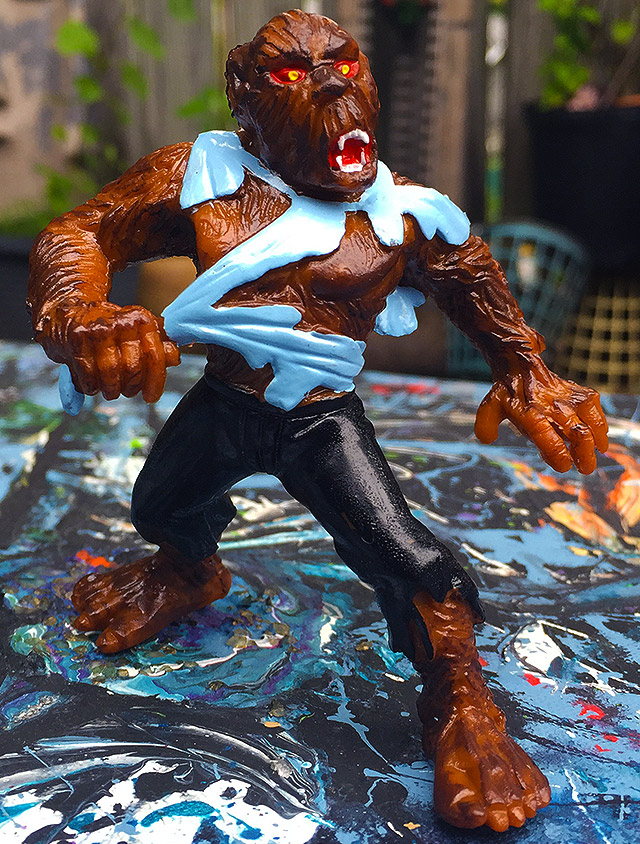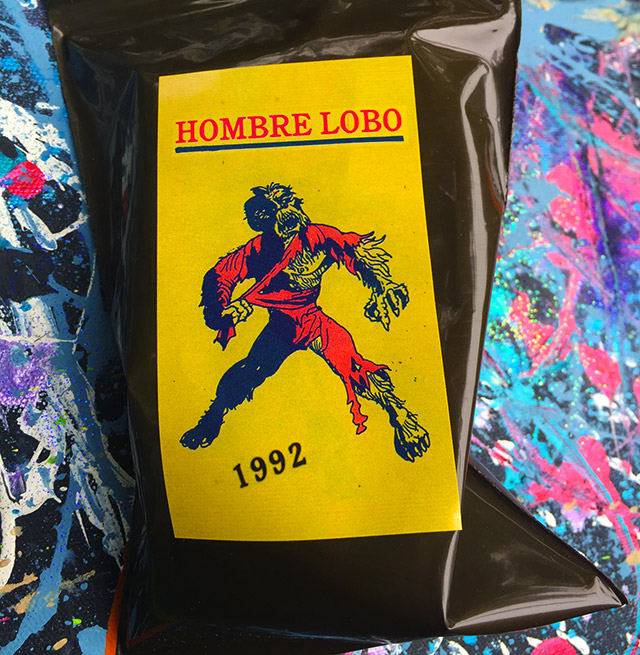 Every subscriber will receive Hombre Lobo, a deranged wolfman! This gorgeous little figure was made in Spain way back in 1992! He's gnarly, stylish and just waiting to help you usher in the 2016 Halloween season. Every figure comes protected in a custom Dino Drac bag, too!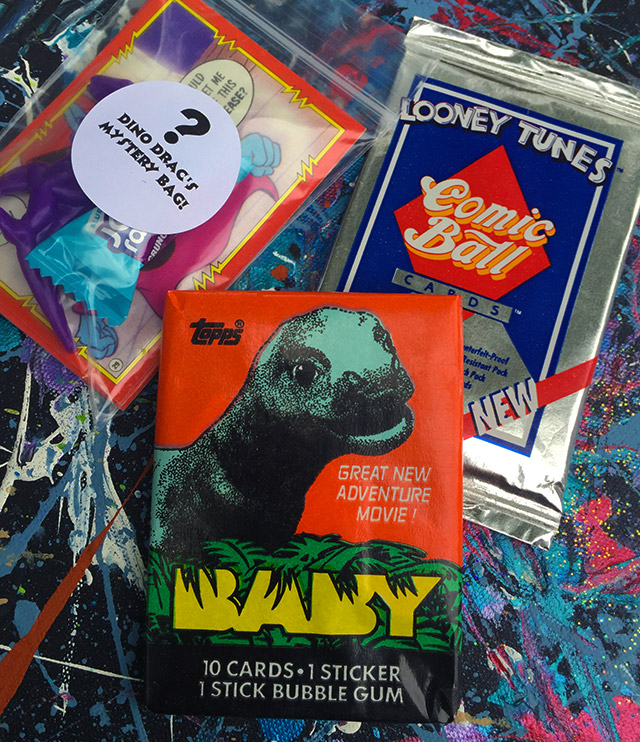 Next you'll get a few vintage trading card packs. Hey, remember Baby: Secret of the Lost Legend? That iffy '80s movie? No? Well, whatever, you're getting one of its super vintage trading card packs. Don't eat the gum!
You'll also receive a vintage pack of Looney Tunes Comic Ball cards. These beauts are from 1990! I was never into sports, but even I remember collecting this set. Some of these foil packs might even include a rare hologram card! No guarantees there, of course.
Then you'll get a special Dino Drac Mystery Bag, filled with a few extra trading cards that I'm hand-picking from my own collection. (You'll probably find a little toy and a piece of candy in there, too… and maybe some other doodads!)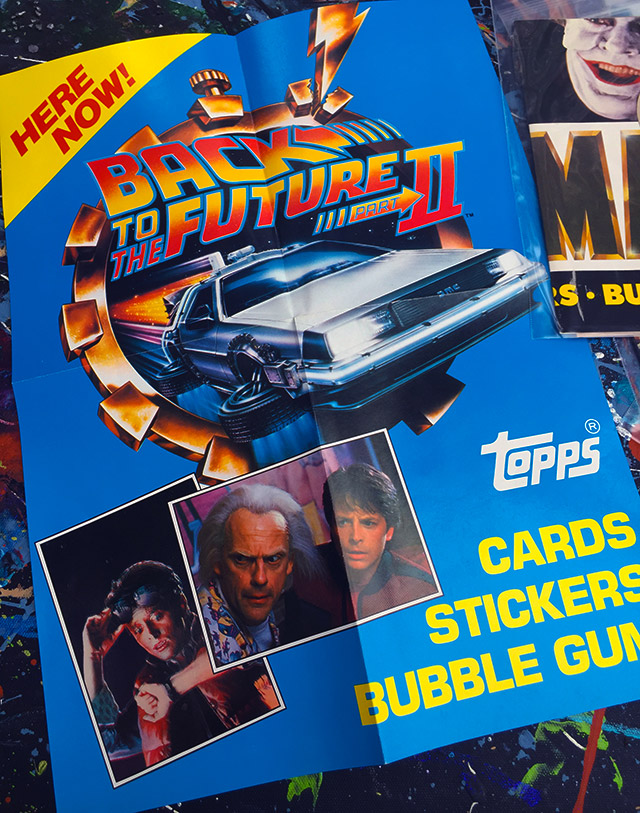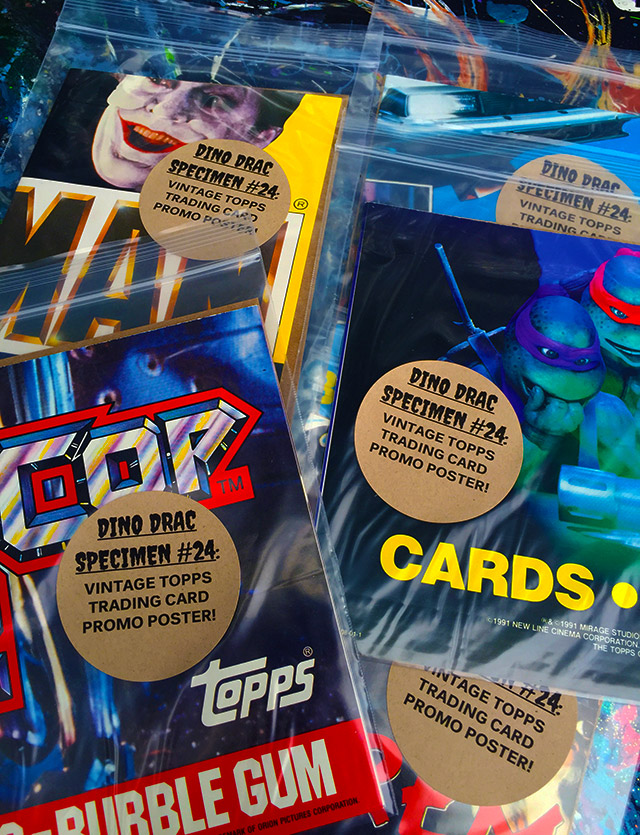 I'm THRILLED about this month's Dino Drac Specimen. Each of you will receive ONE random Topps trading card promo poster, either from the late '80s or very early '90s.
These were NEVER sold at retail, and were only available inside trading card wax boxes. They were meant to be hung in store windows to solicit trading card sales, and were often way cooler than the posters that kids actually could buy!
You will receiving ONE of the following vintage trading card promo posters: Robocop 2, Batman, Gremlins 2, Back to the Future Part II, Teenage Mutant Ninja Turtles, or Teenage Mutant Ninja Turtles II. I can't guarantee which one you'll receive, but if you're a Dino Drac reader, I'm pretty sure that you'd enjoy any of them!
Posters fold out to 10×14", and will be sent protected in a special oversized Dino Drac Ziploc bag, complete with backer board. So cool!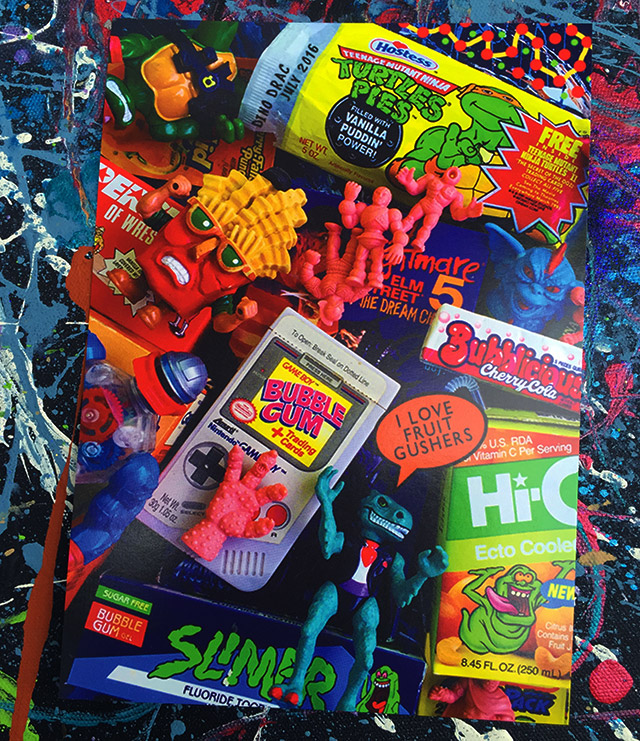 This month's Ugly Mini-Poster really isn't so ugly. I photographed some of my very favorite things, and I'll go ahead and assume that they're some of your favorite things, too. This high-quality 5×7" mini-poster includes everything from Food Fighters to Slimer Toothpaste!
(PS: Though it's not pictured here, yes, every subscriber will also receive the standard Dino Drac sticker that comes with every Funpack. Don't worry!)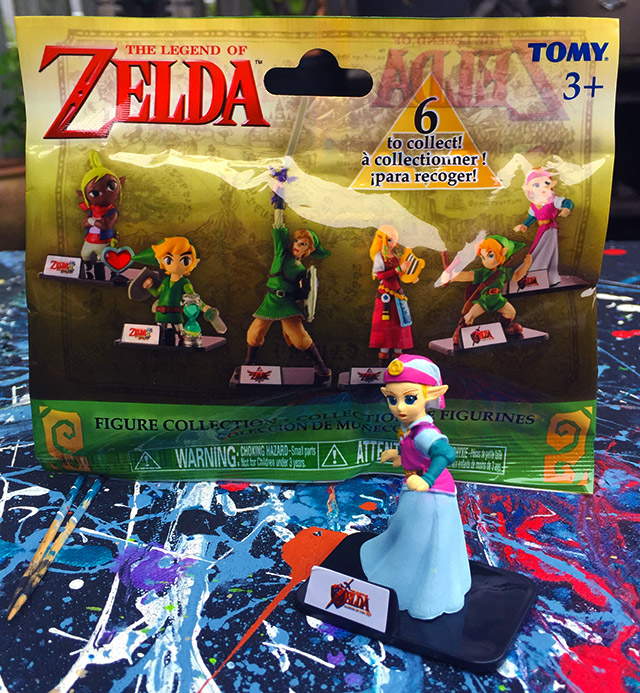 Next up, this way cool The Legend of Zelda blind bag, from Tomy. Each includes ONE random The Legend of Zelda figurine, complete with a detachable base. For blind bag figures, these are REALLY nice!
(There are six different figures in all, including three different versions of Link! Which one will you receive? I don't know!)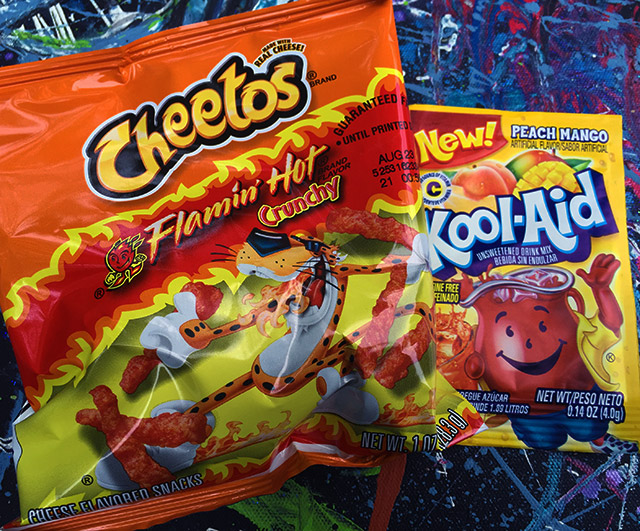 If all of your old/new collectibles give you the munchies, enjoy a little bag of Flamin' Hot Cheetos. And after they kill your tongue, make a fresh batch of Peach Mango Kool-Aid!
(Note: Snacks may vary depending on quantities ordered, but you'll definitely be getting some kind of crunchy snack and some kind of Kool-Aid… and probably a little more, too!)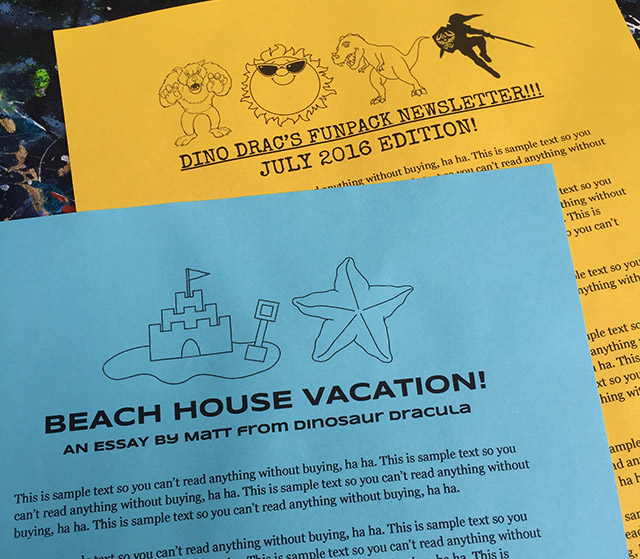 All subscribers will also receive the July 2016 Funpack Newsletter, as well as my latest exclusive essay. This month, it's a story about the beach houses my family used to rent in Long Beach Island, New Jersey. But it's really about arcades and claw machines and Dick Tracy action figures. Go fig.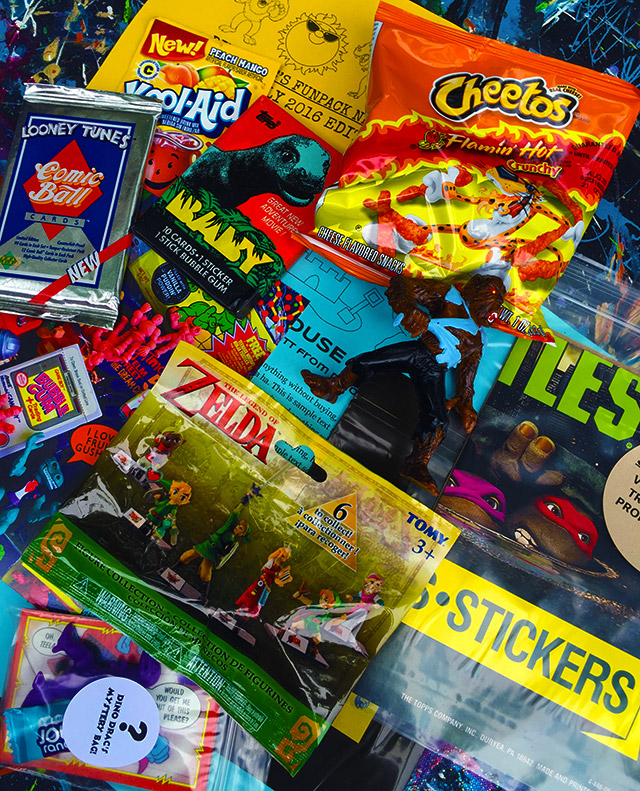 Yep, you'll get EVERYTHING shown above for $25 shipped!
If you're already a Funpack subscriber and you'd like to stay that way… do nothing! You're all set!
If you want to subscribe, please read the following, and then click the button at the bottom of this page!
1. Funpacks are available in the United States only. Sorry!
2. Subscriptions are handled via Paypal. If you don't have an account, it's very easy to make one!
3. Funpacks will be shipped to the address listed on your Paypal account. If you need to change your shipping address, or if you'd like for your Funpacks to be shipped to someone else, simply email me!
4. You will be automatically billed $25 every month. (Yes, that price includes shipping.) If you subscribe today, you'll pay today, and then again in exactly one month. For as long as you remain subscribed, you'll keep getting Funpacks!
5. You can cancel at anytime. (You could subscribe today and cancel today!) If you cancel after you've already been charged for the following month's Funpack, you'll of course receive it just the same as any current subscriber would. (You can cancel via Paypal, or by emailing me.)
6. The July 2016 Funpacks will ship on or before 7/19!
Remember, the Funpacks are *absolutely* what allow me to keep doing the site… thanks so much to all who help to keep it/me going!
To get your subscription started, click the button below!
THANK YOU!!