The wait is over! The latest Dino Drac Funpack has arrived!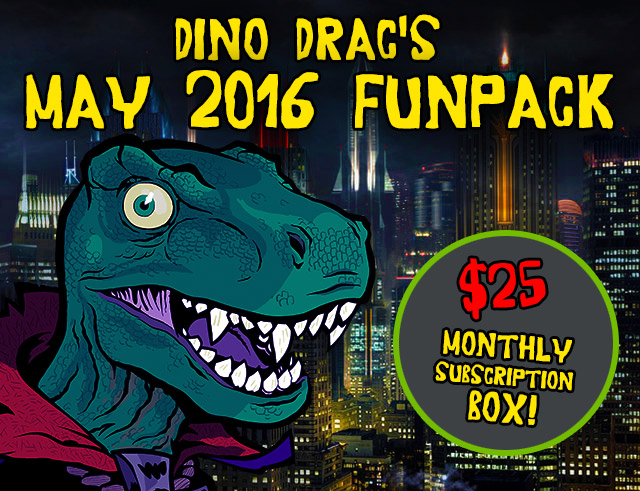 (AVAILABLE IN THE UNITED STATES ONLY!)
Quick and dirty info: I sell monthly Funpacks. Without them, there'd be no Dino Drac. In trade for your support, you'll get weird and awesome boxes stuffed with all sorts of retro nonsense, delivered straight to your door, every month! (You can cancel anytime without penalty.)
The price is $25 a month, and that includes shipping. My huge and sincere thanks to all subscribers, old and new. Without you, I'd never be able to keep the site going!
You can skip to the bottom of this post for more information on setting up a subscription, or keep reading to see this month's many treasures!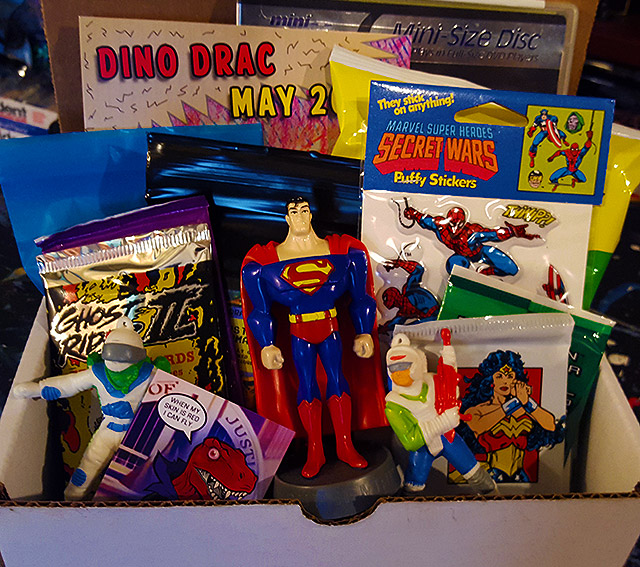 The May 2016 Funpack is a special edition, wheeeee!
This month, it's all about SUPERHEROES. There are over ten items in every box, and most of them pay tribute to our favorite characters from Marvel, DC and beyond!
Here's the full haul: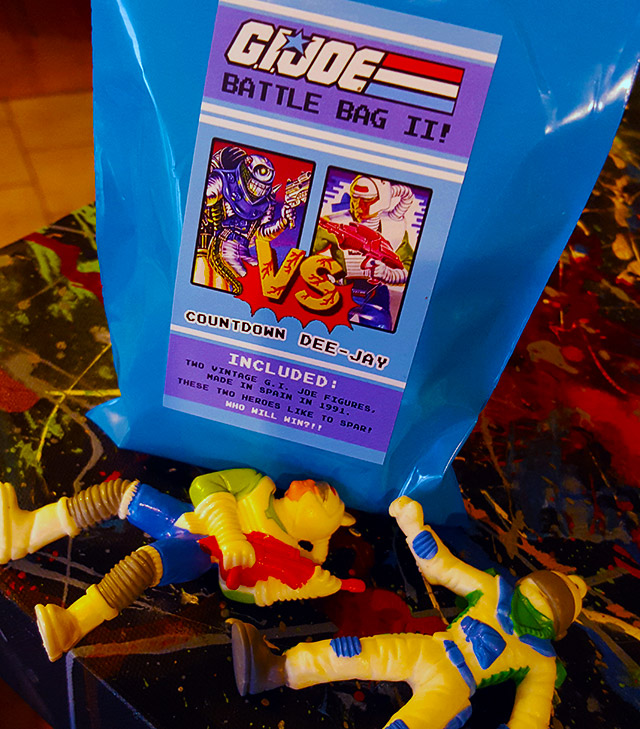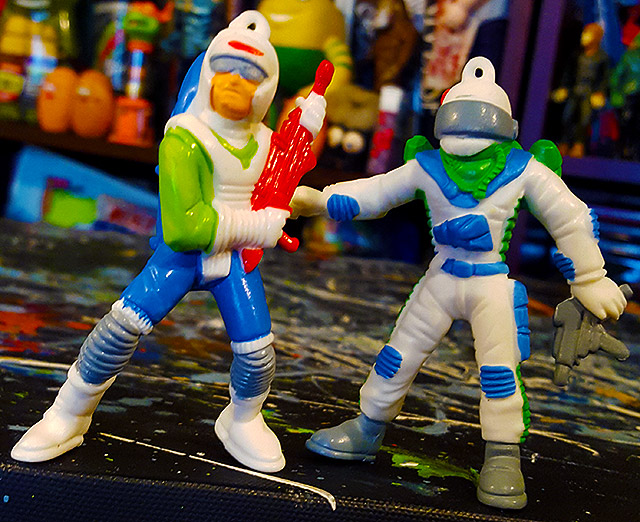 First up, you'll each receive the sequel to my G.I. Joe Battle Bag!
Each custom bag contains two vintage G.I. Joe figures, made in Spain in the early '90s. They look crude and they are crude, but believe it or not, these are officially licensed figures!
Each Battle Bag comes with Countdown and Dee-Jay. (Yeah, both are good guys… but who says they can't spar?)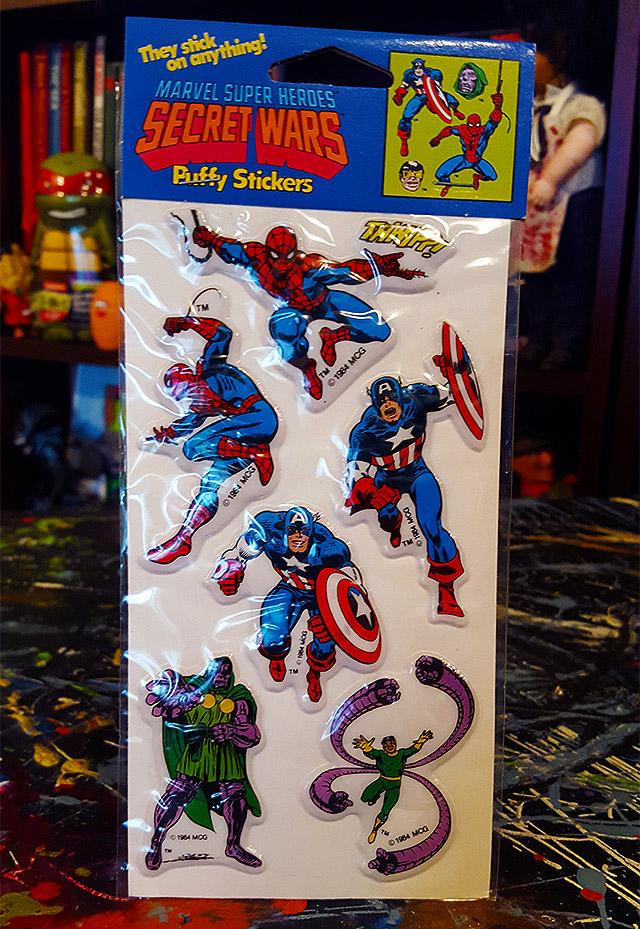 Next, you'll each receive a sealed pack of Marvel Secret Wars Puffy Stickers! These babies are from 1984!
From one of Marvel's biggest tentpole events of the '80s, each pack contains a bunch of your favorite heroes and villains. (Characters vary, but they all come packaged the same way. Nice score!)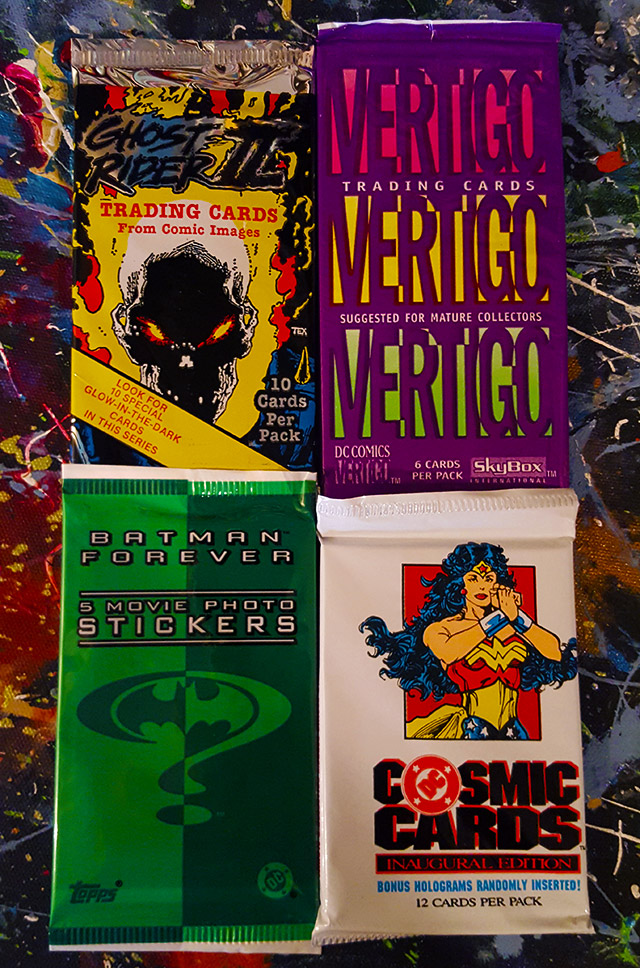 No Dino Drac Funpack is complete without a bunch of sealed trading card packs, and this month, you're getting FOUR! All are vintage, and all are superhero related.
Enjoy tearing into packs for Ghost Rider II, Vertigo, Batman Forever and DC Cosmic Cards. Sooo much nostalgia. Trust me, you're gonna kill an hour with these cards.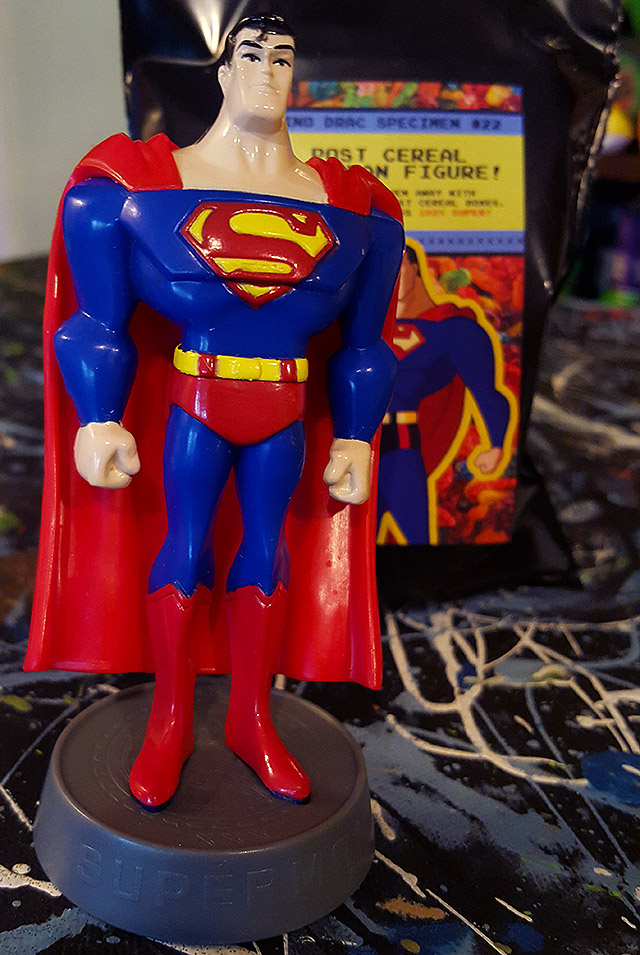 This month's Dino Drac Specimen is a real beauty. You'll each receive a Superman figurine, which was originally distributed with boxes of Post Cereal back in 2004! Cereal prizes are rarely so nice — this is a pretty big and hefty figure, untouched and in brand new condition!
Each Superman figurine comes in a custom Dino Drac bag, too!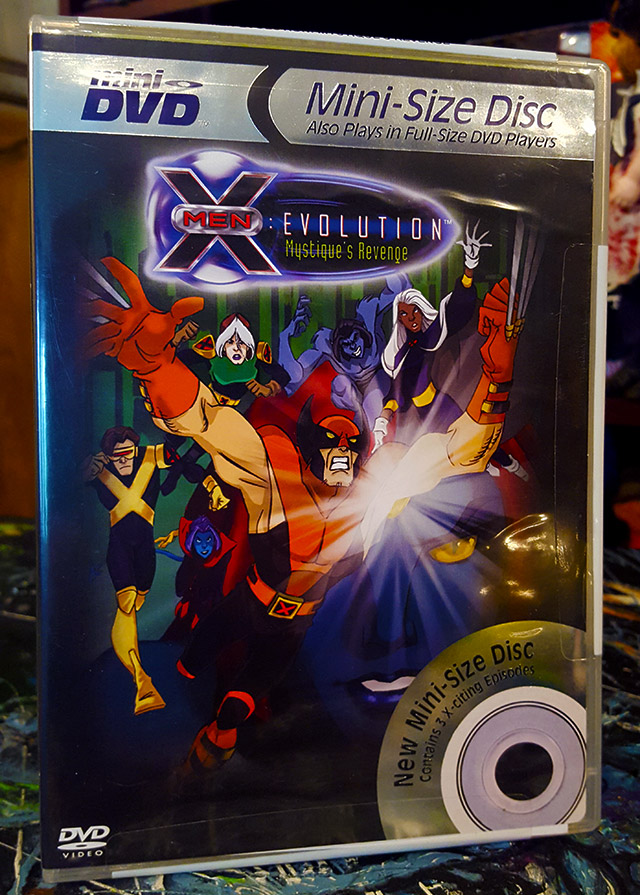 Yes, there's more! While you play with your new toys and cards, pop in this old X-Men: Evolution Mini-Size DVD — another relic from 2004!
Despite the DVD's demure size, it'll play like normal in any standard player. The disc includes the final three episodes from the show's second season. So cool!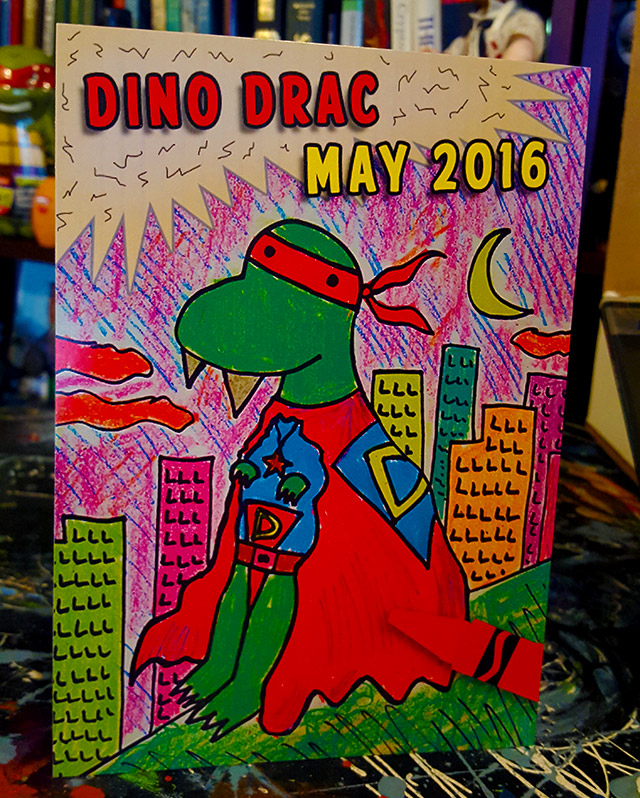 In celebration of this month's theme, the latest Dino Drac Mini-Poster turns my silly mascot into an even sillier superhero. And yes, I really drew this with crayons. Each poster is cardstock quality and suitable for framing, though I very much doubt that any of you will go that far.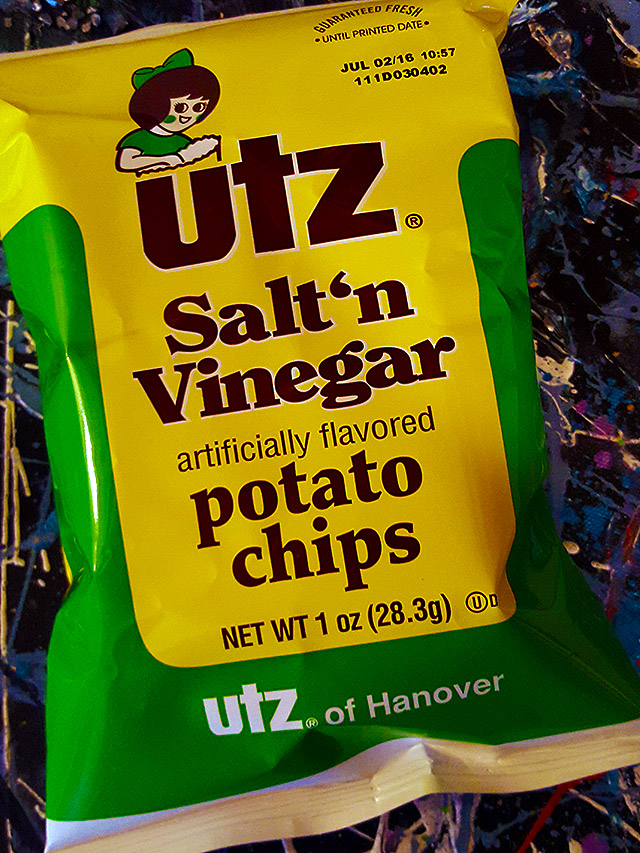 If all of this superhero nonsense makes you hungry, I've got you covered. Each Funpack will also include a little bag of Utz's Salt & Vinegar Chips. There's nothing inherently heroic about them, but given the colors, I'm gonna claim that they're Vision-themed.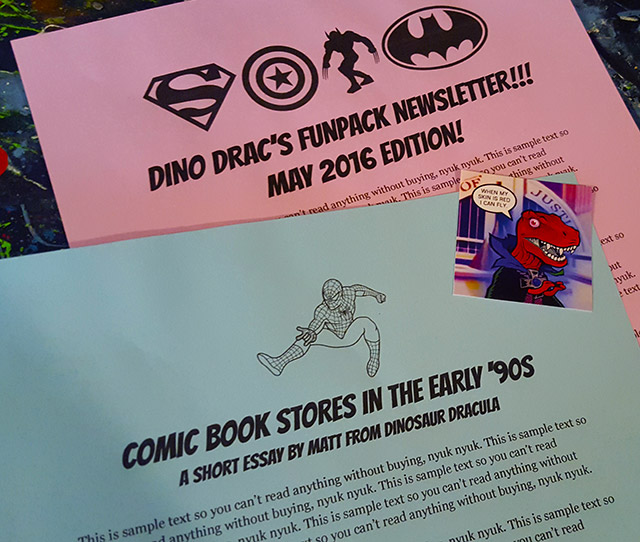 Finally, you'll receive Dino Drac's Funpack Newsletter, a Dino Drac sticker, and an exclusive essay about going to comic book shops during the early '90s boom. (And that essay will never be reprinted on the site!)
Oh, and be on the lookout for a little mystery gift, too. There's one in every box, and even that is superhero-themed!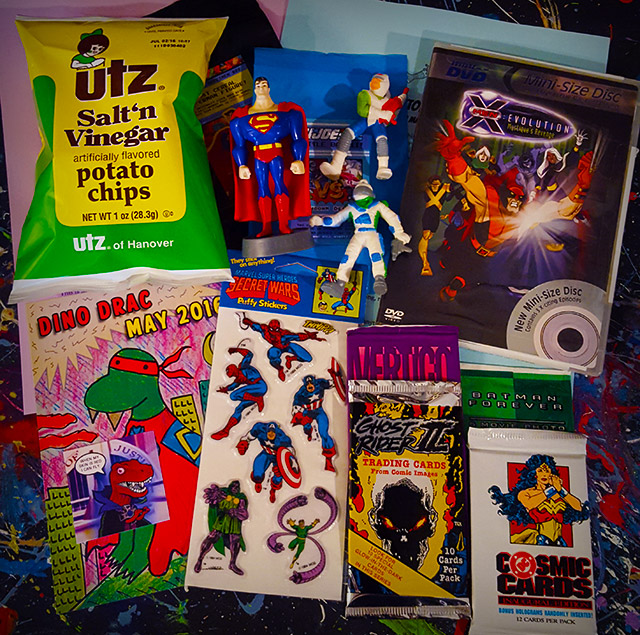 Yep, you'll get EVERYTHING shown above for $25 shipped!
If you're already a Funpack subscriber and you'd like to stay that way… do nothing! You're all set!
If you want to subscribe, please read the following, and then click the button at the bottom of this page!
1. Funpacks are available in the United States only. Sorry!
2. Subscriptions are handled via Paypal. If you don't have an account, it's very easy to make one!
3. Funpacks will be shipped to the address listed on your Paypal account. If you need to change your shipping address, or if you'd like for your Funpacks to be shipped to someone else, simply email me!
4. You will be automatically billed $25 every month. (Yes, that price includes shipping.) If you subscribe today, you'll pay today, and then again in exactly one month. For as long as you remain subscribed, you'll keep getting Funpacks!
5. You can cancel at anytime. (You could subscribe today and cancel today!) If you cancel after you've already been charged for the following month's Funpack, you'll of course receive it just the same as any current subscriber would. (You can cancel via Paypal, or by emailing me.)
6. The May 2016 Funpacks will ship on or before Wednesday, 5/18!
Remember, the Funpacks are *absolutely* what allow me to keep doing the site, so if you like all of these giant articles about old toy catalogs and TV commercials, subscribing to Dino Drac's Funpacks is the best way to guarantee more of them!
To get your subscription started, click the button below!
THANK YOU!!