Dino Drac's July 2017 Funpack is a very special edition, and not just because it includes a rubber shark head.
July's box marks the three year anniversary of Dino Drac's Funpacks — which means that you have effectively extended this site's shelf life for three full years! (Assuming you are or have been a subscriber, that is.)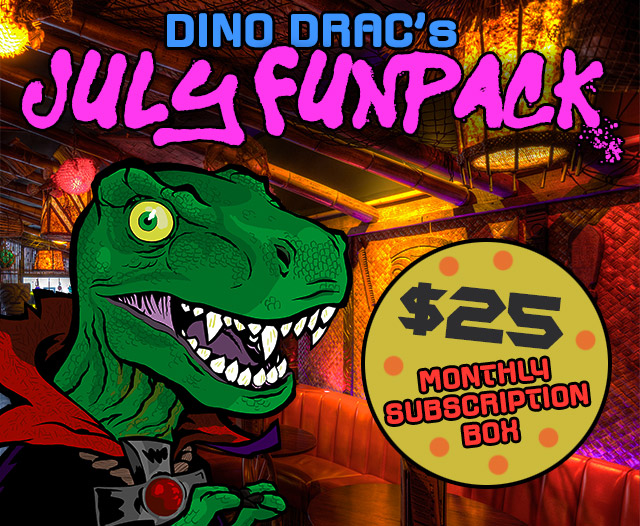 So uh… wanna go for four?
If you're new to this Funpack biz, they're $25 a month (including shipping) and you can cancel via Paypal at any time. For as long as you remain subscribed, you'll keep getting new boxes of old nonsense each and every month!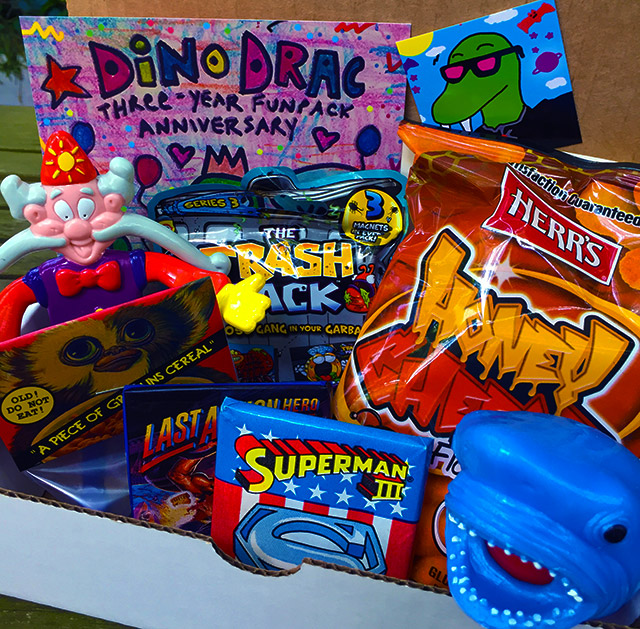 The July 2017 Funpack includes everything from old advertising mascots to even older Superman trading cards, and even a bag of cheese curls fronted by a menacing bee.
If that's all you need to hear, skip to the bottom for ordering info. Otherwise, keep reading to learn about everything you'll receive in this month's box!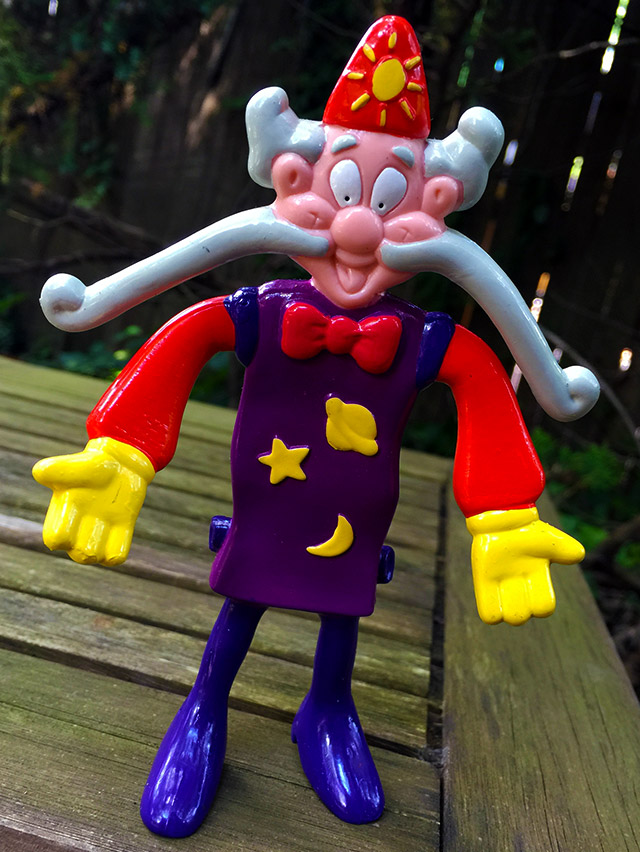 DOMO ARIGATO, MR. ROLLUPO!
Many of you should remember The Great Rollupo, an animated wizard who once acted as the spokesman for Fruit Roll-Ups. Back in the early '90s, he was the star of almost every Fruit Roll-Ups commercial, and he did a great job of making fruit snacks seem completely insane.
At some point during his tenure, special promotional figures were produced. Big, beautiful bendable ones! These gorgeously colored figures stand around six inches tall, and I think you'll be impressed with their quality. I believe these were only available through a special mail-away offer way back when.
I seriously love The Great Rollupo, and I seriously love these figures. Yours will arrive still factory sealed in its original plastic baggie, too!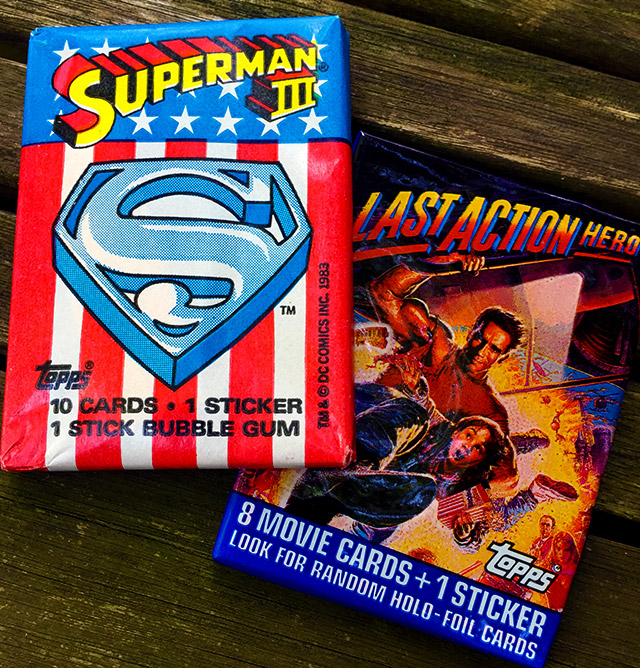 Next up, a pair of vintage trading card packs. These scream "summer blockbuster" in all the best ways.
You'll receive a pack of Superman III cards *and* a pack of Last Action Hero cards. (The Superman III cards are especially vintage — those packs are from 1983!)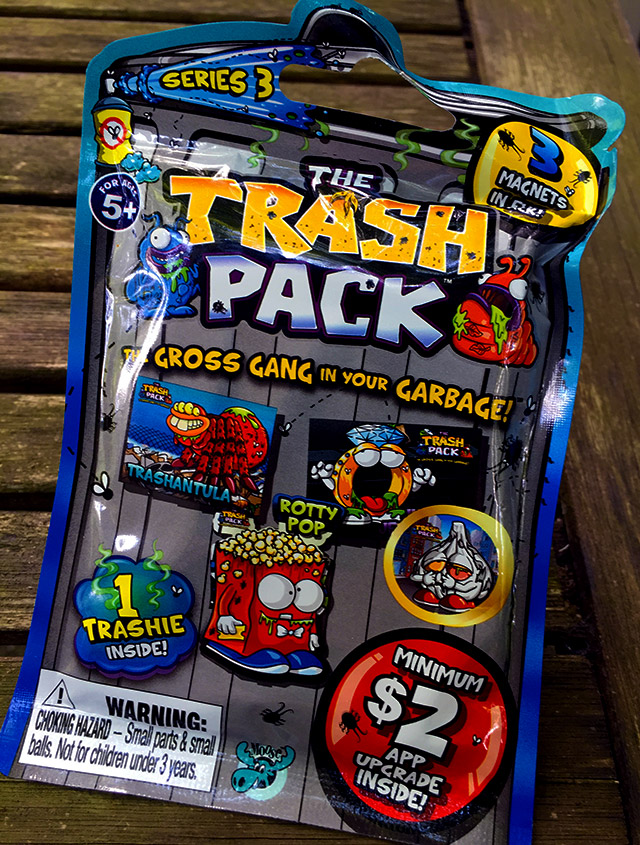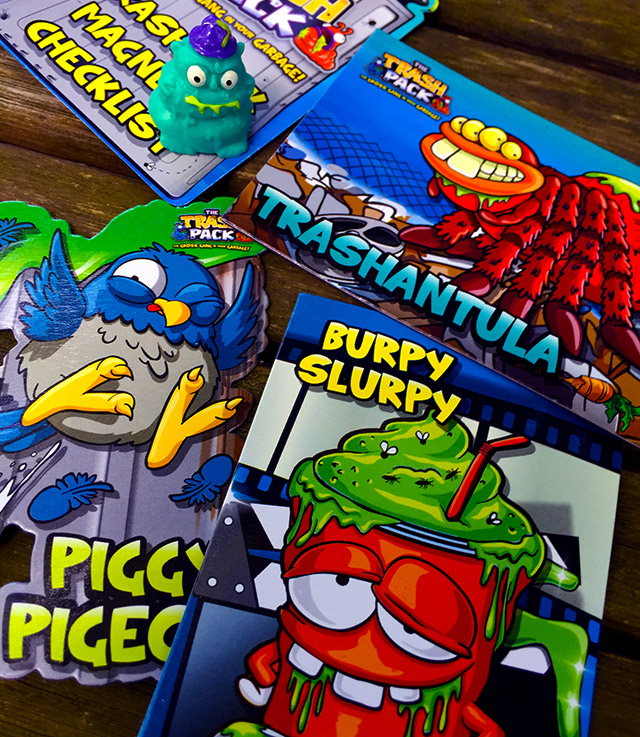 Longtime readers know of my affinity for the Trash Pack toy line, which seems to have finally gone kaput. I'd call for a moment of silence, but here's something better:
You'll each receive an awesome pack of Trash Pack MAGNETS, which subtly wink at the "gross toy" fad of the '80s. Each bag includes three random character magnets (there are 24 in all), *and* a surprise Trashie figure!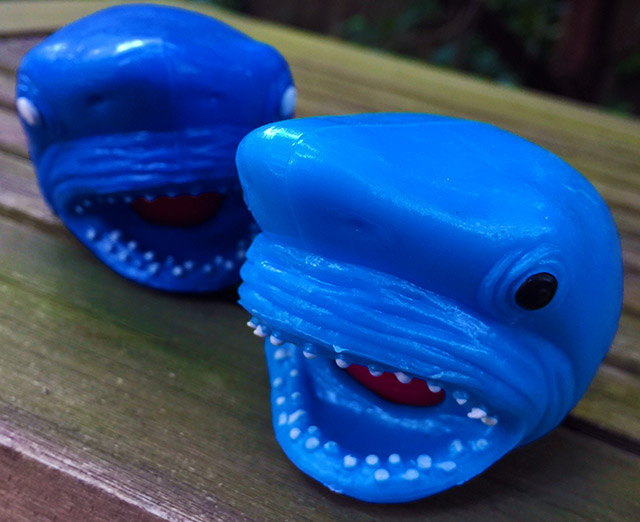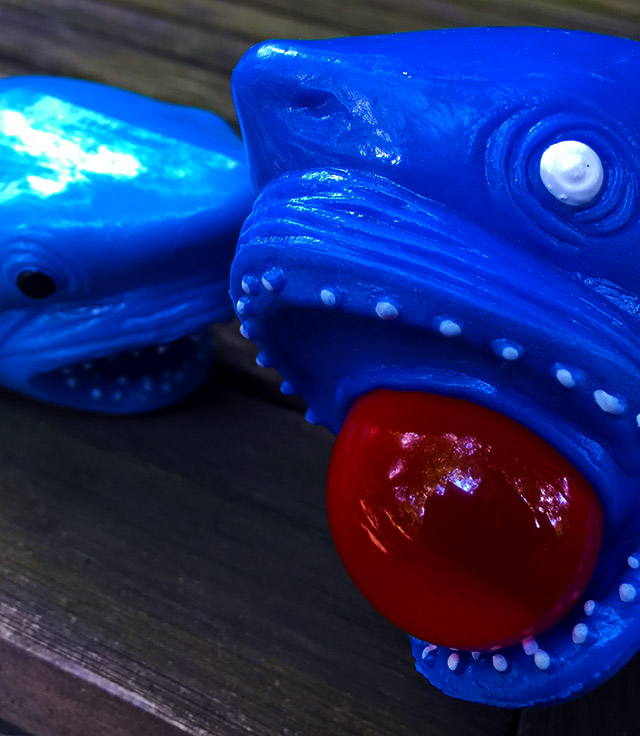 Next up, your very own PET SHARK HEAD!
Part of me thought that these might've been a little too out there for the Funpacks, but having played with them, I knew just how cool they were, and how much you'd love them. (Trust me, you will.)
You'll each receive one rubber (or at least rubbery) PET SHARK HEAD, which can be squeezed to reveal a bulbous ball of blood! What fun! The sharks look cool and they relieve stress. What more could you ask for?
Each comes sealed in a plastic baggie. You will either receive a classic Jaws-style shark head OR a white-eyed ZOMBIE shark head.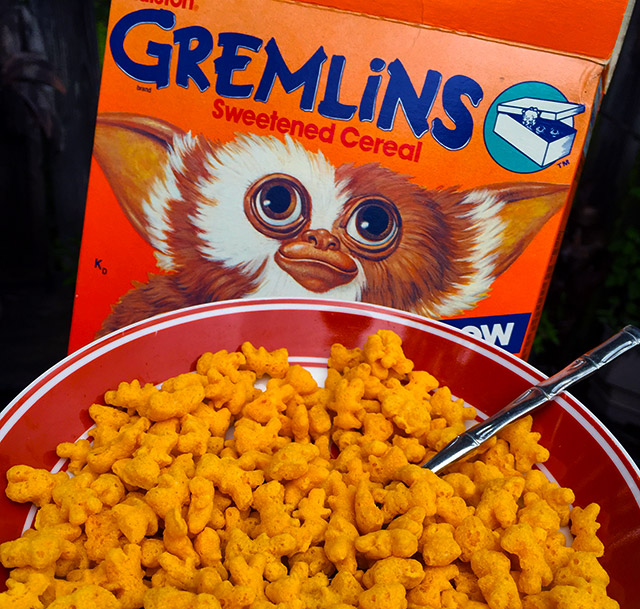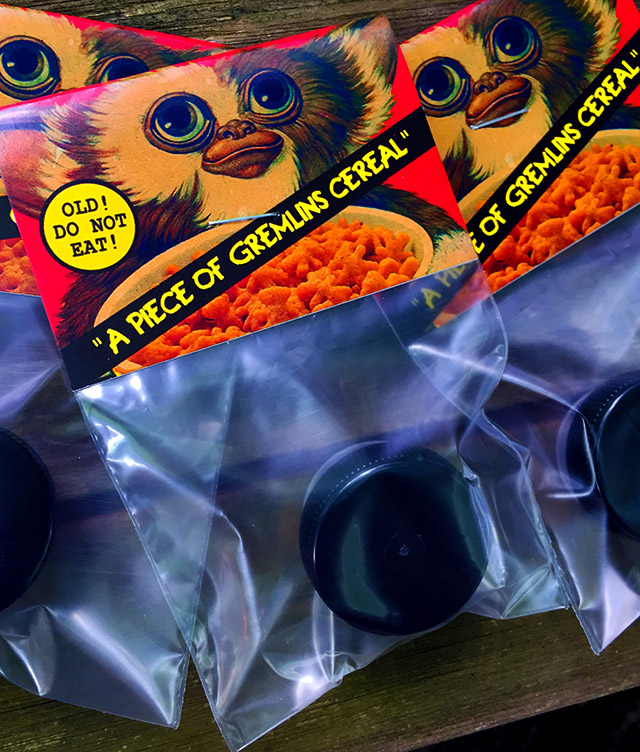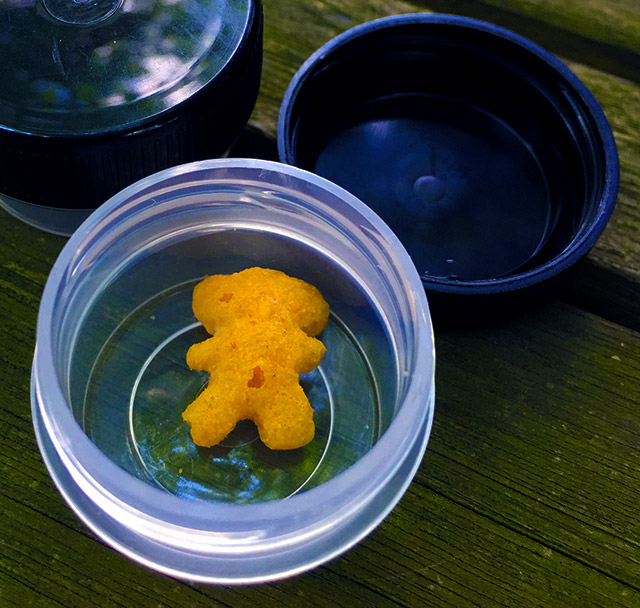 C'mon, you had to know this was coming.
After opening that ancient box of Gremlins Cereal, it seemed only natural to turn the contents into this month's Dino Drac Specimen.
Your eyes don't deceive you. You'll each receive ONE piece of honest-to-goodness Gremlins Cereal from 1984, placed within a tiny jar. (And then further protected by custom Dino Drac packaging!)
The very first Dino Drac Funpack had a piece of old cereal as its specimen, so it felt right to hit that note again on the three year anniversary.
DON'T EAT THESE. Just look at and love them! I'll be personally selecting every piece to make sure you get the best of them. (Meaning you can expect yours to look reasonably like Gizmo, and not just like Gizmo's arm.)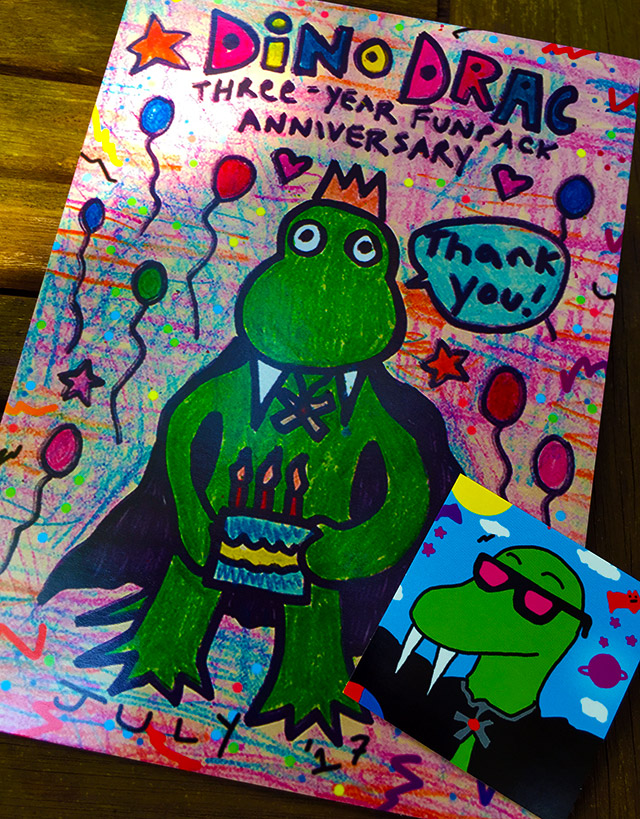 Yes, there's still more! This month's 5×7" Ugly Mini-Poster celebrates the big occasion, while this month's exclusive sticker pays tribute to the very first Ugly Mini-Poster from 2014!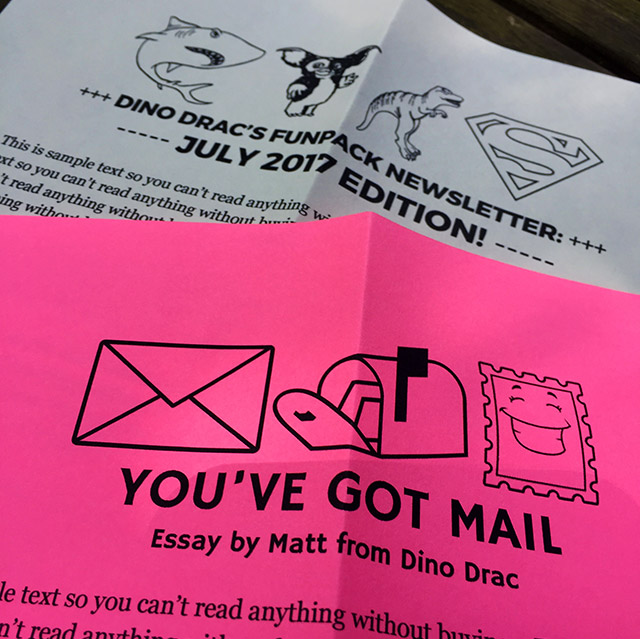 You'll also get this month's Dino Drac Funpack Newsletter, PLUS an exclusive essay that will never be reprinted on the site.
(This month, I'm gonna tell you about my childhood obsession with getting mail, and how simply having incoming packages meant so much to a kid who never seemed to have much else to do. Maybe you'll relate?)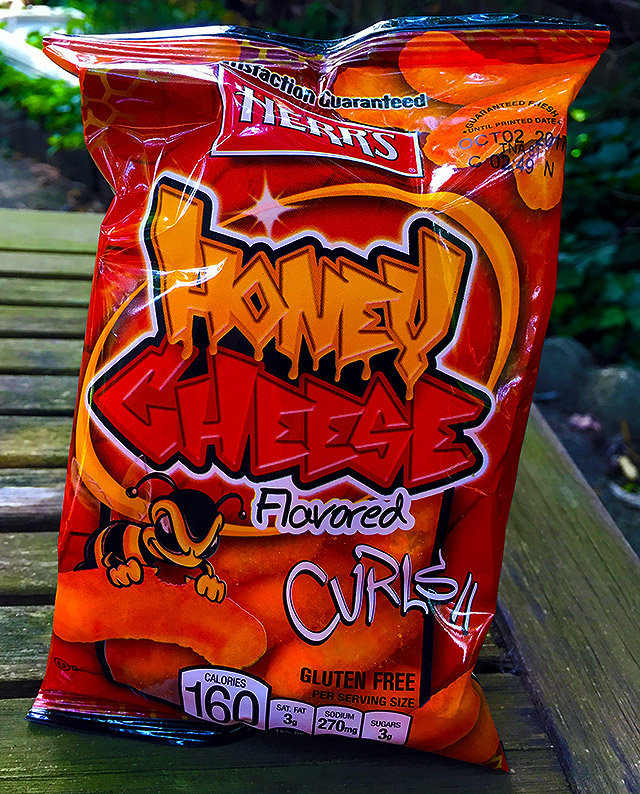 Last but not least, a snack to munch on while you enjoy your trading cards and weird shark head. You'll each receive a bag of Herr's Honey Cheese Curls, which come in AMAZING bags and are also pretty delicious.
(I know they sound weird, but I've had these before, and have managed to kill entire bags in the time it took to type this sentence.)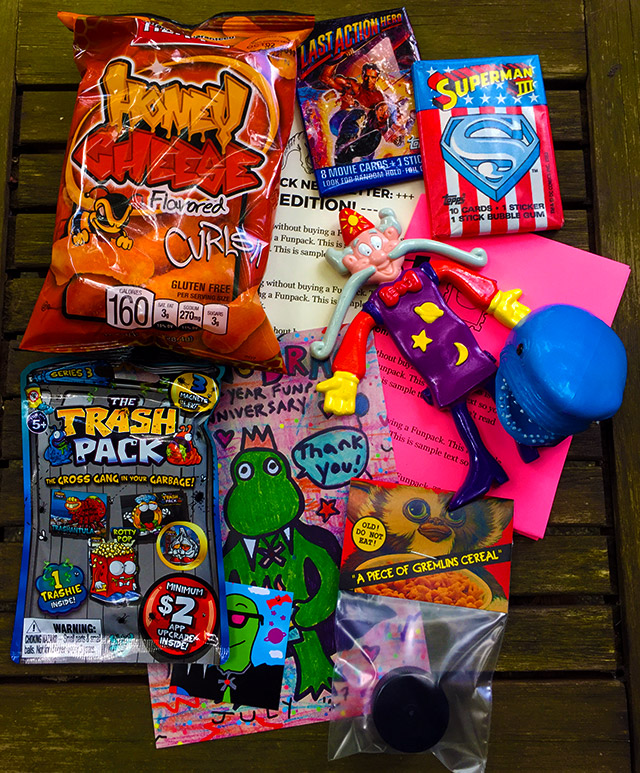 Yep, you'll get EVERYTHING shown above for $25, shipped!
If you're already a Funpack subscriber and you'd like to stay that way… do nothing! You're all set!
If you want to subscribe, please read the following, and then click the button at the bottom of this page!
1. Funpacks are available in the United States only. Sorry!
2. Subscriptions are handled via Paypal. If you don't have an account, it's very easy to make one!
3. Funpacks will be shipped to the address listed on your Paypal account. If you need to change your shipping address, or if you'd like for your Funpacks to be shipped to someone else, simply email me!
4. You will be automatically billed $25 every month. (Yes, that price includes shipping.) If you subscribe today, you'll pay today, and then again in exactly one month. For as long as you remain subscribed, you'll keep getting Funpacks!
5. You can cancel at anytime. (You could subscribe today and cancel today!) If you cancel after you've already been charged for the following month's Funpack, you'll of course receive it just the same as any current subscriber would. (You can cancel via Paypal, or by emailing me.)
6. The July 2017 Funpacks will ship on or before 7/19!
Remember, the Funpacks allow me to keep doing the site… thanks so much to all who help to keep it/me going!
To get your subscription started, click the button below!
Thank you!!