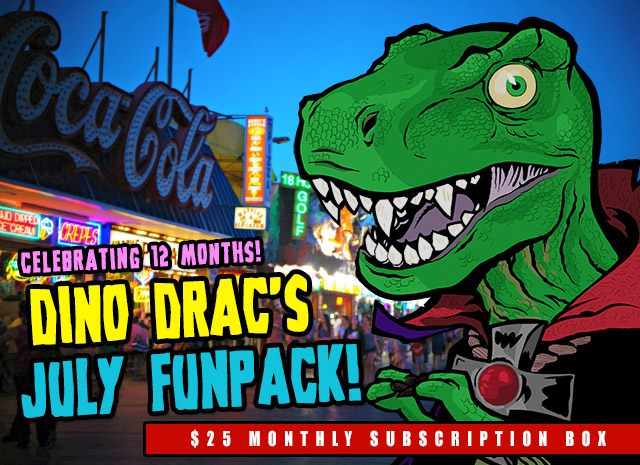 ($25 / MONTH SUBSCRIPTION. AVAILABLE IN THE U.S. ONLY!)
Dino Drac's July 2015 Funpack is available now!
This is the twelfth Funpack, which means I've been at this for a full year. (It also means that subscribers who've stuck with this from the start have also been at this for a full year. WOW.)
Suffice to say, I never expected this to go on for so long. The Funpacks began last August, out of pure need. The Halloween Countdown was approaching, and I was faced with the cold truth that I had no way of gutting through the site's most expensive and prolific months while making zero dollars. The Funpacks were and remain a lot of extra work, but in the grand scheme of things, I felt they were the least offensive way to make a little cash from the site. I never would've predicted that I'd still be doing this, a year later!
It's been a real adventure, I'll tell you that much. Coming up with a decent mix of items for twelve months straight has taken more than a few minor miracles. Our apartment, already resigned to its eternal clutter, had to somehow make room for a constantly evolving stock of weird goodies. I've learned more about packing and shipping this past year than over the three previous decades.
Thanks so much to every subscriber, past and present. These have been a tremendous blessing for me. If you've enjoyed Dino Drac — especially Dino Drac as it's been since last summer — know that the Funpacks are absolutely responsible for my ability to keep doing it. God knows how long I'll be able to keep this nonsense going, but if it ever stops, it won't be for lack of trying!
Now, what's in store for July's Funpack? Take a look!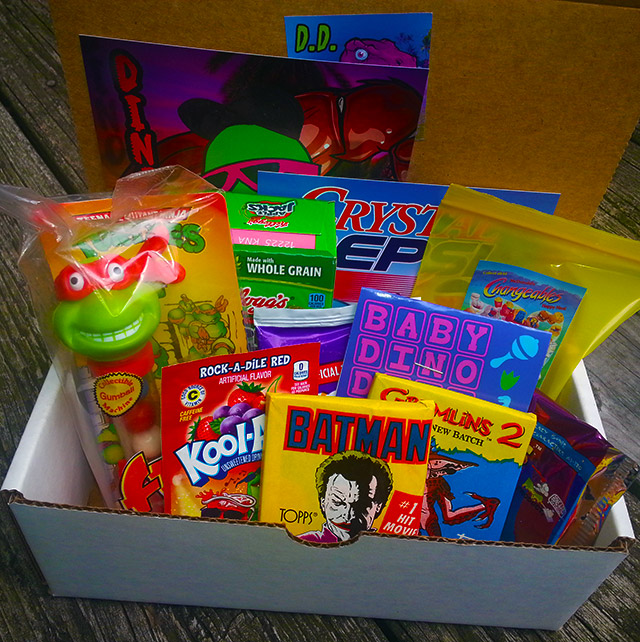 There are over twelve items in this baby, covering everything from toys to cards to Kool-Aid. If you're new to this and haven't paid attention to my previous Funpack pitches, here's the short version:
Every month, I mail out boxes of goodies to all subscribers. Subscriptions are $25 a month — shipping included — and handled via automatic billing through Paypal. You can cancel at any time without penalty, and no matter when you cancel, you'll always get what you paid for. For as long as you remain subscribed, you'll keep getting monthly Funpacks!
I'll walk you through the ordering process at the end of this post. First, let's talk a closer look at July's highlights!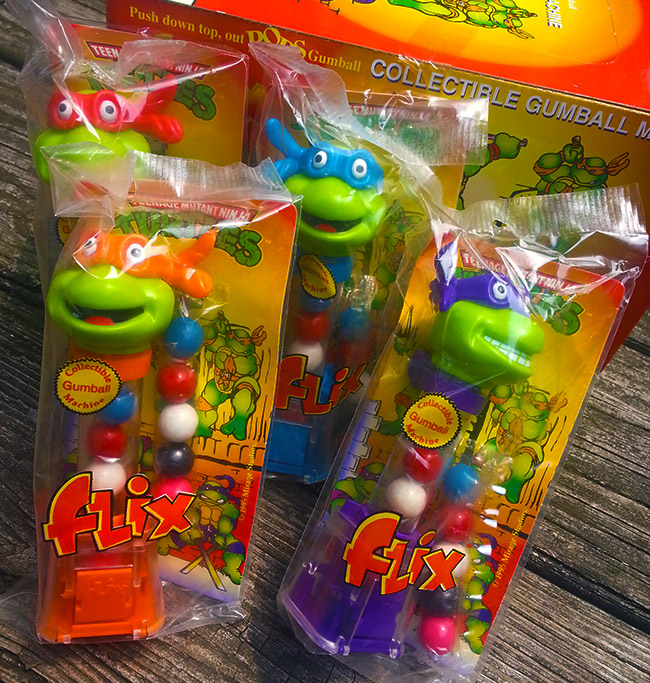 Every subscriber will receive ONE of these swank Teenage Mutant Ninja Turtles gumball machines, made by Flix in 1995. Yes, these are vintage, so do NOT eat the gum!
You'll receive one of the four Turtles, each with a weirdly dopey face. Sorry, no choosing! It's the luck of the draw. Hopefully you'll end up with your favorite. (Personally, I'm praying I'll have one Donatello left after mailing out everyone's boxes.)
Each is still bagged with its TMNT backer card!
To celebrate the Funpack's anniversary, I thought it was only fitting that you get a special Dino Drac item. So, behold! Every subscriber will receive a Baby Dino Drac, in its own custom package! If you want your little T Rex to grow into a fanged vampire, you'll have to shower it with love and attention. Are you up to the task?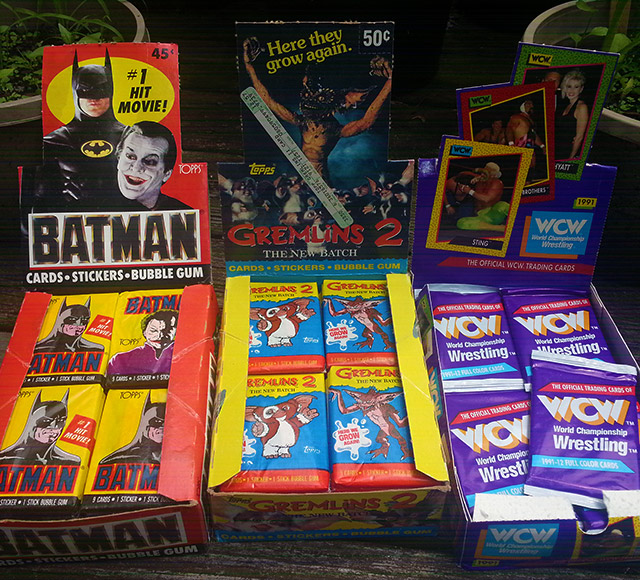 Old trading card packs are a part of every Funpack, but this month, I'm bringing out some heavy hitters. Every subscriber will receive a vintage pack of Batman movie cards, a vintage pack of Gremlins 2 cards, and a vintage pack of World Championship Wrestling cards!
Your albums will bloom with the likes of Mohawk, the Joker and… I dunno, Missy Hyatt. Have fun tearing 'em open!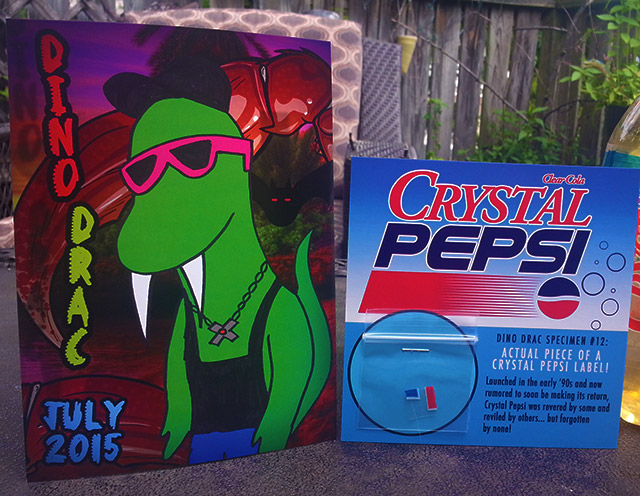 The July 2015 Ugly Mini-Poster features a suspiciously stylish Dino Drac and an ominous crab claw, because if I was ever going to pair those things, July was the right month.
For Dino Drac's 12th Specimen, you're getting a special piece of trash: An honest-to-goodness piece of a vintage Crystal Pepsi soda bottle label! We've all heard the rumors about its pending return, right? If that doesn't pan out, at least you'll have a little piece of plastic to remember it by!
(Each specimen is bagged and stapled to a custom display card!)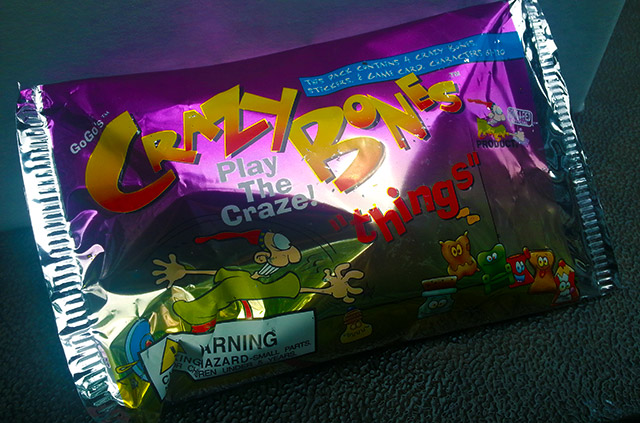 Oh, you'll also get a sealed pack of Crazy Bones. I don't know much about Crazy Bones, other than the fact that their foil bags don't photograph well. Best as I can tell, they're bags filled with micro-sized, blocky monsters. You can't go wrong with micro-sized, blocky monsters.
But wait! There's more!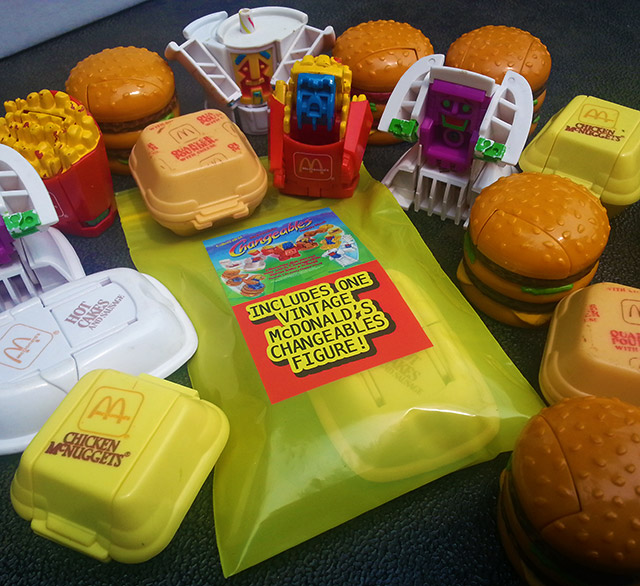 OOOH YEAH. Every subscriber will receive ONE vintage McDonald's Happy Meal Changeables figure, in a custom Dino Drac bag. Remember these? From the late '80s and early '90s, McDonald's occasionally gave kids little plastic versions of their own foodstuffs. The gimmick was that the toys doubled as Transformers, turning into robots and dinosaurs!
They're on pretty much everyone's list of the greatest Happy Meal toys ever. You'll get one, at random!
NOTE: These are very old and used figures. I'll clean them prior to sending, but you should definitely expect them to show wear — meaning chipped paint and color fading. Evidence of a life well-lived? None are broken, of course!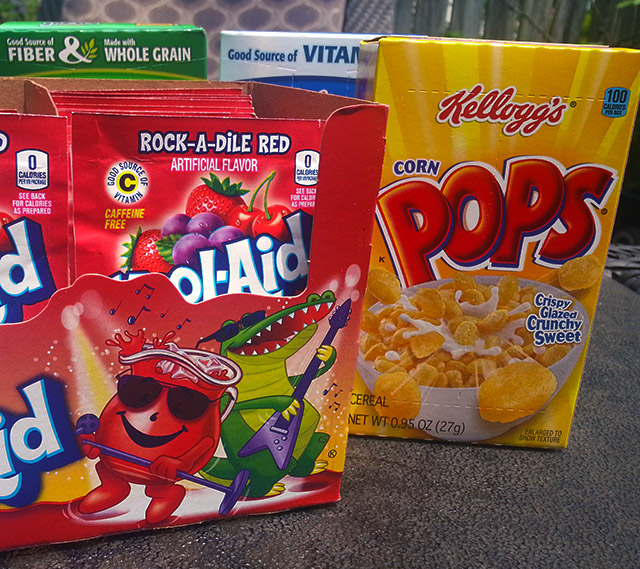 Oh, and you'll be getting stuff to eat, too! Every subscriber will receive one pack of hard-to-find Rock-A-Dile Red Kool-Aid, and a random mini-box (various brands) of Kellogg's cereal! (If you eat them simultaneously, I guess that counts as brunch?)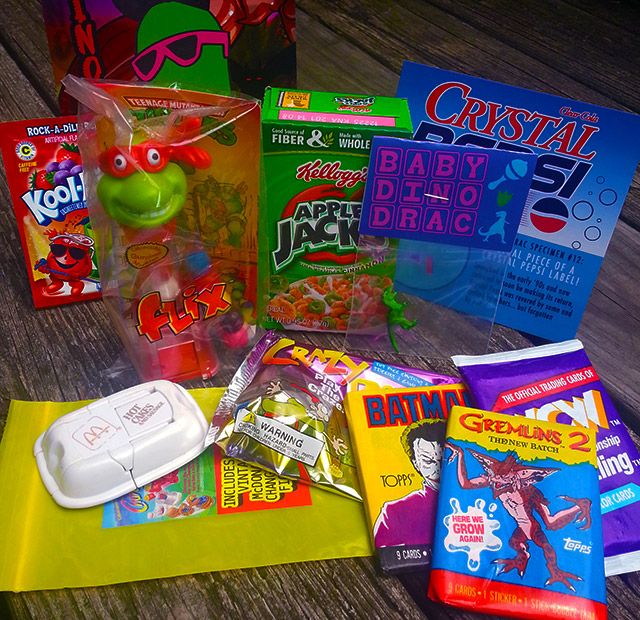 And that's the whole spread. As always, you'll also receive Dino Drac's Funpack Newsletter, along with the loot!
If you're already a subscriber and you'd like to stay that way… do nothing! You're all set!
If you'd like to sign up, please read the following, and then click on the button at the bottom of this post!
1. Funpacks are available in the United States only. Sorry!
2. Subscriptions are handled via Paypal. If you don't have an account, it's very easy to make one!
3. Funpacks will be shipped to the address listed on your Paypal account. If you need to change your shipping address, or if you'd like for your Funpacks to be shipped to someone else, simply email me!
4. You will be automatically billed $25 every month. (Yes, that price includes shipping.) If you subscribe today, you'll pay today, and then again in exactly one month. For as long as you remain subscribed, you'll keep getting Funpacks!
5. You can cancel at anytime. (You could subscribe today and cancel today!) If you cancel after you've already been charged for the following month's Funpack, you'll of course receive it just the same as any current subscriber would. You always get what you pay for!
6. The July 2015 Funpacks will ship on or before 7/15!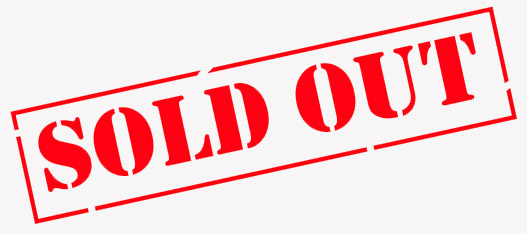 Sorry, the July Funpacks have sold out! If you're still interested, please email me and I'll double-check quantities. Thanks!