It's hard to believe, but this month marks the FOURTH anniversary of Dino Drac's Funpacks. Yes, I've been at this for FOUR YEARS. Unreal!
When I started this adventure, the goal was to survive one "last" Halloween Countdown, which I absolutely could not do without generating some form of income. I had no expectation that the Funpacks would last even half a year, let alone four. Again: UNREAL.
The last four years of Dino Drac is thanks to all of you who've subscribed. Whether you're an active, occasional or former subscriber, the site would absolutely not be here if not for you. Thank you x1000 for enabling me!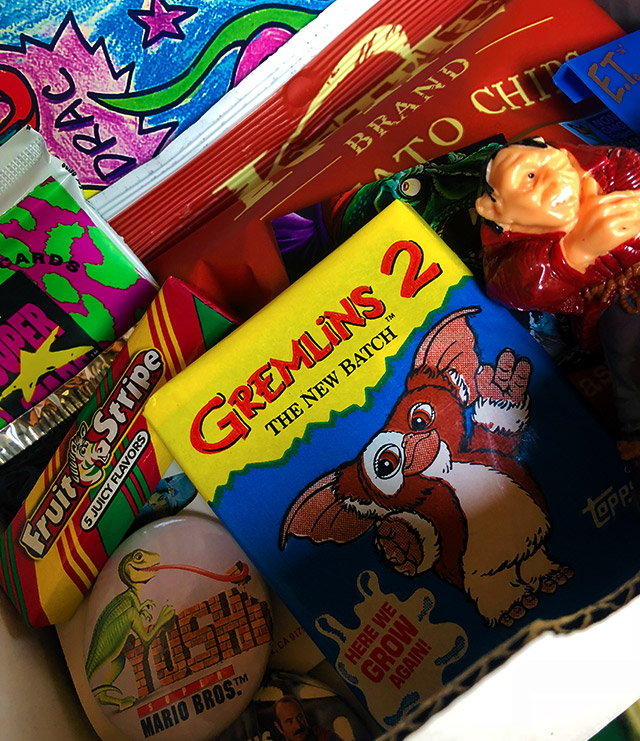 The July 2018 Funpack will only be available for 2-3 days, and quantities for new subscribers are very limited. If you want in, act fast!
Funpack subscriptions are $25 a month (including shipping), and for as long as you remain subscribed, you'll get a new package of old, cool junk every single month! You can cancel at any time without penalty, of course!
There are more than a dozen items in this month's box, including everything from old action figures to killer trading cards to salty chips. Scroll to the bottom for ordering info, or keep reading to learn about EVERYTHING you'll receive in this month's Funpack!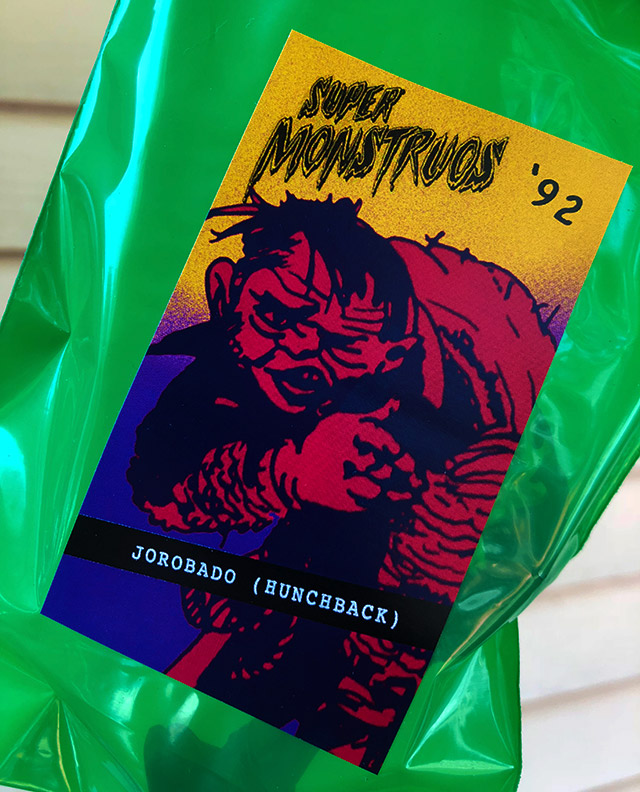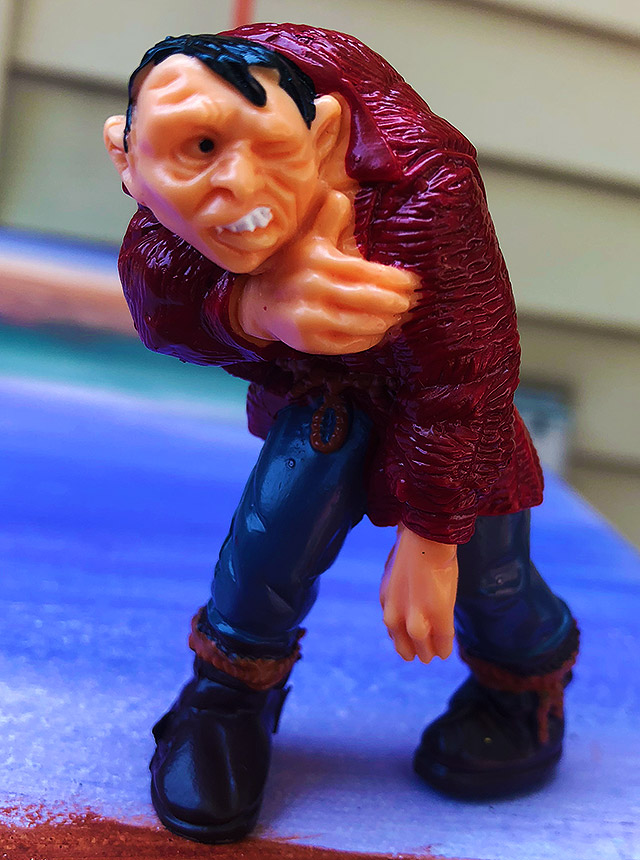 First up is another super cool horror figure from the infamous Super Monstruos collection, made in Spain back in 1992. This month, you're receiving Jorobado — the Hunchback — who will arrive in a custom Dino Drac baggie!
This impish creep is somehow both ugly as sin and completely adorable. I love his sunken features, and I especially love how he appears to be midway through the Thriller dance.
Your figure may have a bit of paint wear, but it's never been played with and is overall in great shape, with bright colors and a nice plasticky scent. Treat him kindly — all he needs is a little love!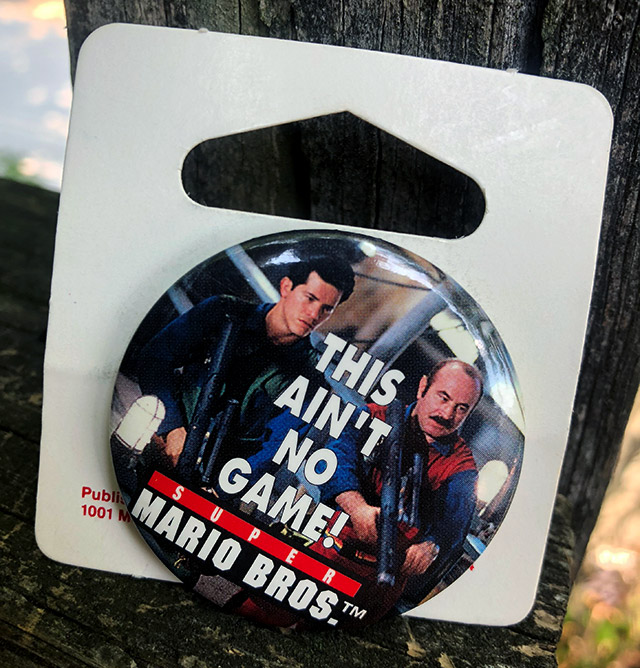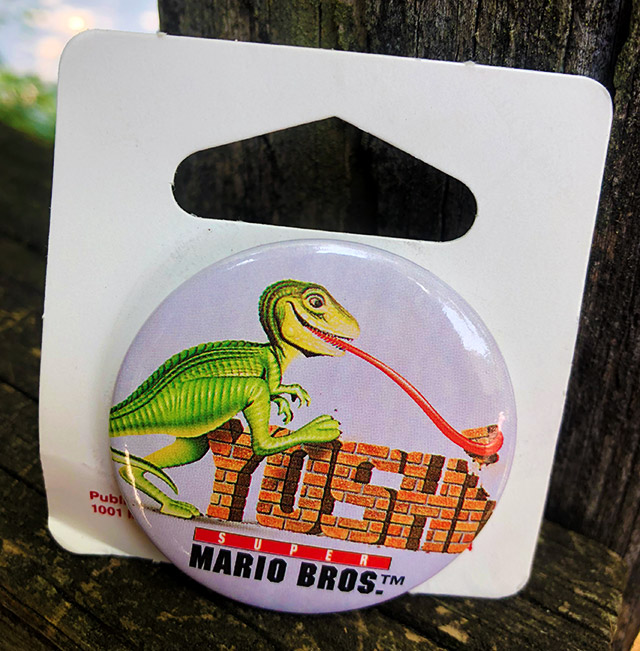 Oh man, I'm super excited to share these with you. You'll each receive BOTH of the Super Mario Bros. movie buttons shown above, which are honest-to-goodness 1993 originals, still attached to their backer cards!
You'll receive the "This Ain't No Game" button featuring Mario and Luigi, plus the *rare* YOSHI button, which is so damn cool that I will be personally offended if you don't wear it every day.
(The Yoshi button is so tough to find that some sellers charge almost as much for that one single button as I'm charging for this entire Funpack!)
Cardboard backers may have a bend or two, but the buttons are in mint, unused condition. LOVE these!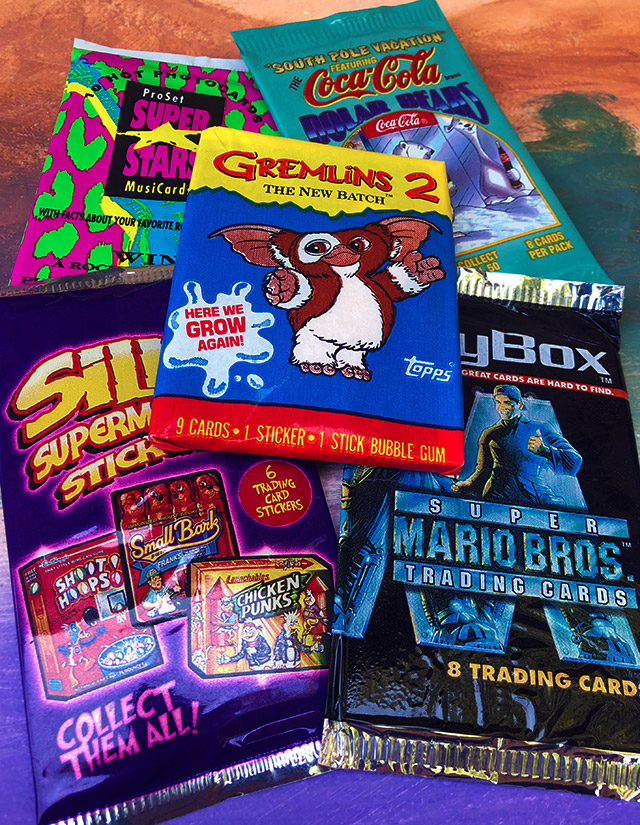 Next up is a serious PILE of vintage trading card packs. To celebrate the Funpacks' fourth anniversary, I'm going all-in and giving everyone FIVE different packs this month. It's a mix of obscurities and old Funpack favorites, including:
– Super Mario Bros. Movie Cards (1993)
– Gremlins 2 Cards (1990)
– ProSet Super Stars MusiCards (1991)
– The Coca-Cola Polar Bears' South Pole Vacation Cards (1996)
– Silly Supermarket Stickers (2008)
Man! I know you'll have a blast tearing these babies open. So much nostalgia and sooo many Instagram-worthy packs! Enjoy!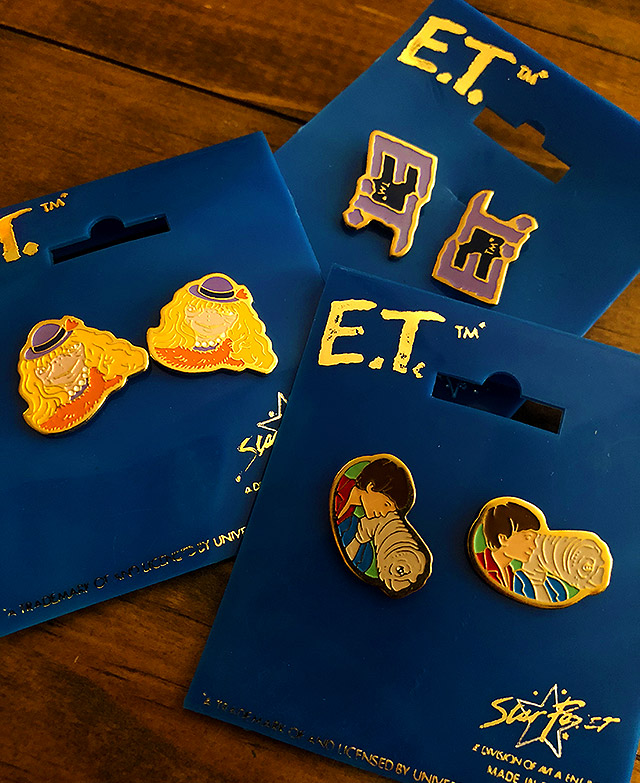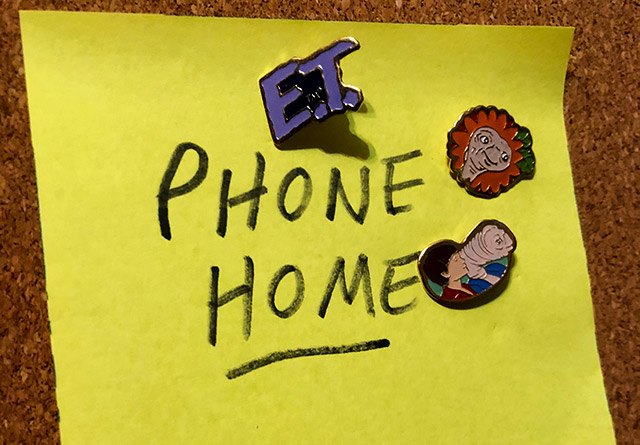 And then we have… *checks notes* …uh, it looks like we have some E.T. earrings over here!
Yep — you'll each receive THREE different pairs of vintage E.T. earrings, made in the early '80s. (I have five different styles available; you'll receive three different at random. Your pairs may differ from the ones shown here.)
For whatever reason, E.T. jewelry was a big thing back in the '80s. These earrings are of the "cheapo" variety, but if you're willing to roll the dice, I can at least confirm that they're all unused. (Yours will arrive still sealed in their factory baggies.)
And hey, if your ears aren't pierced and/or you can't see yourself donning E.T. earrings in public, they do work well enough as bulletin board pins, assuming you have a gentle touch!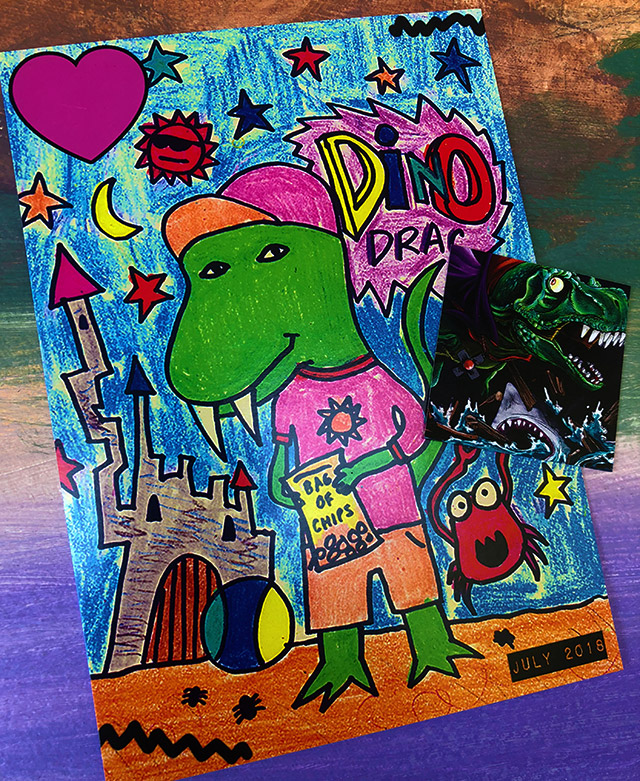 You'll also receive the July 2018 Dino Drac Ugly Mini-Poster, with classically bad "Matt art" to celebrate the big Funpack anniversary. Posters are 5×7" and printed on something resembling cardstock.
If you like your art a wee bit slicker, you'll also receive this month's exclusive 2×2" Dino Drac sticker. It's pulled straight from the site's Cruel Summer header!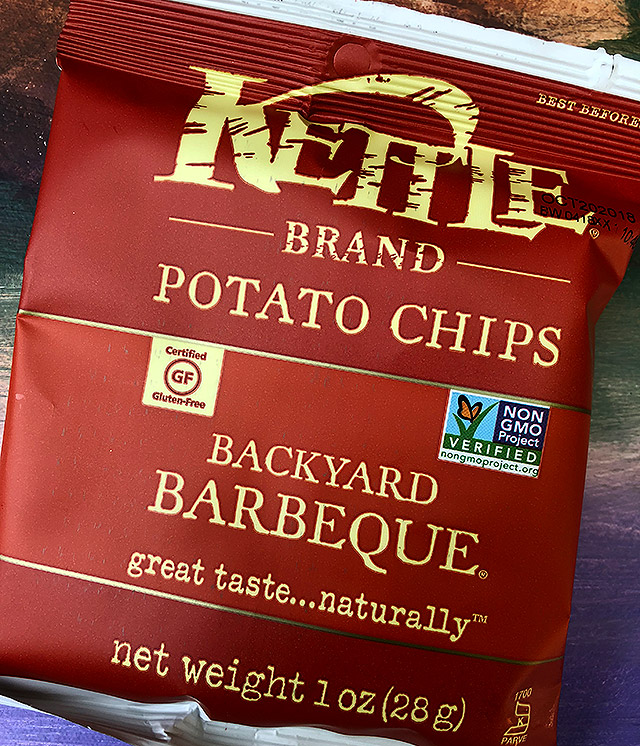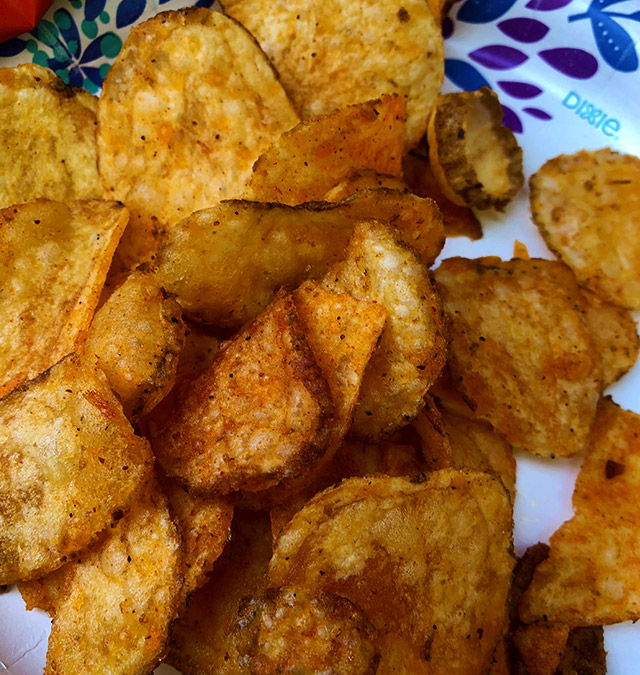 Oh, and while you're sorting through the goodies, chow down on a delicious bag of "Backyard Barbecue" Kettle potato chips. They're delicious AND summery. (No, seriously, these are good chips. I ate a "test bag" which quickly became three test bags, and now I feel guilty as hell.)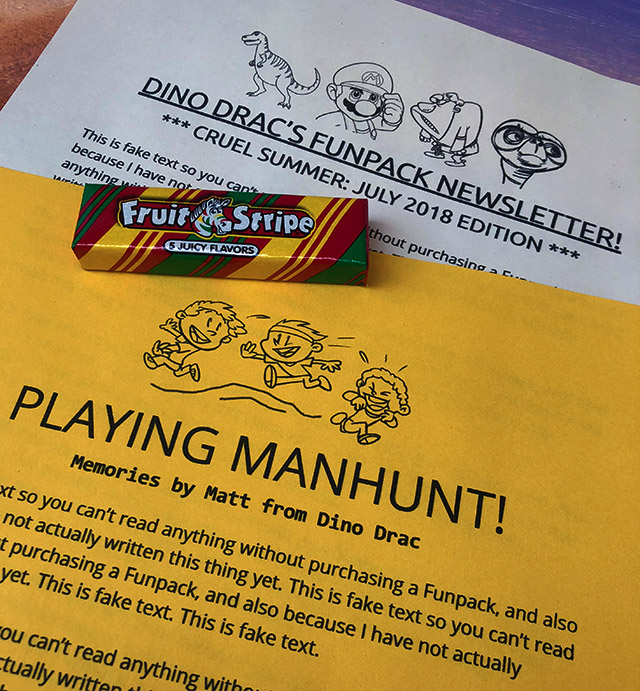 Rounding things out is this month's Funpack Newsletter, along with an exclusive essay that will never be reprinted on the site.
For this month's essay, I talk about how me and the neighborhood kids used to spend those long summer nights playing MANHUNT. If you've never heard of Manhunt, it's somewhere between hide-and-go-seek and Judgment Night.)
Oh, and I'll also toss in a little pack of Fruit Stripe gum. It's the tiniest item in the Funpack, yet I'm sure it's the one you want most!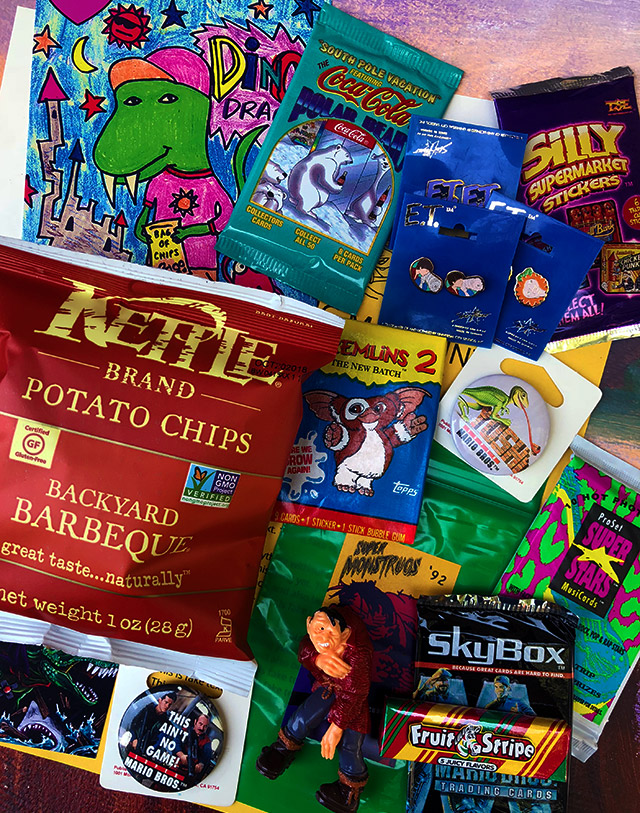 Yep, you'll get EVERYTHING above for $25 shipped!
If you're already a Funpack subscriber and you'd like to stay that way… do nothing! You're all set!
If you want to subscribe, please read the following, and then click the button at the bottom of this page!
1. Funpacks are available in the United States only. Sorry!
2. Subscriptions are handled via Paypal. If you don't have an account, it's very easy to make one!
3. Funpacks will be shipped to the address listed on your Paypal account. If you need to change your shipping address, or if you'd like for your Funpacks to be shipped to someone else, simply email me!
4. You will be automatically billed $25 every month. (Yes, that price includes shipping.) If you subscribe today, you'll pay today, and then again in exactly one month. For as long as you remain subscribed, you'll keep getting Funpacks!
5. You can cancel at anytime. (You could subscribe today and cancel today!) If you cancel after you've already been charged for the following month's Funpack, you'll of course receive it just the same as any current subscriber would. (You can cancel via Paypal, or by emailing me.)
6. The July 2018 Funpacks will ship on or before Friday 7/20!
Remember, the Funpacks allow me to keep doing the site… thanks so much to all who help to keep it/me going!
To get your subscription started, click the button below!
SOLD OUT!