Dino Drac's July Funpack is here! If you're currently a subscriber, here's some great news: In addition to this month's box, you're also locked in for three full months of Halloween-themed Funpacks, starting in August!
(And if you're not a subscriber? Better act quick! There aren't many slots available, and they might not open back up for several months!)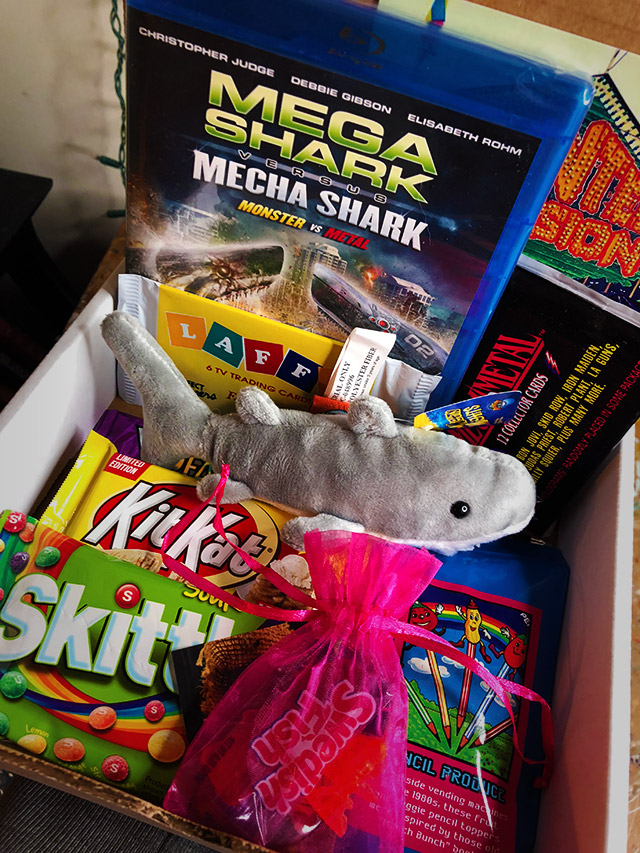 U.S. ONLY! LIMITED AVAILABILITY!
The July Funpack is another blast of summertime awesomeness, covering everything from sharks to sweets. You're gonna have a grand ol' time with this one, that I can promise ya!
You know the score. Funpacks are offered on a subscription basis. They're $25 a month — INCLUDING shipping — and for as long as you remain subscribed, you'll keep getting boxes of old-and-new nonsense each and every month!
Scroll to the bottom for ordering info, or keep reading to learn about everything in the July Funpack!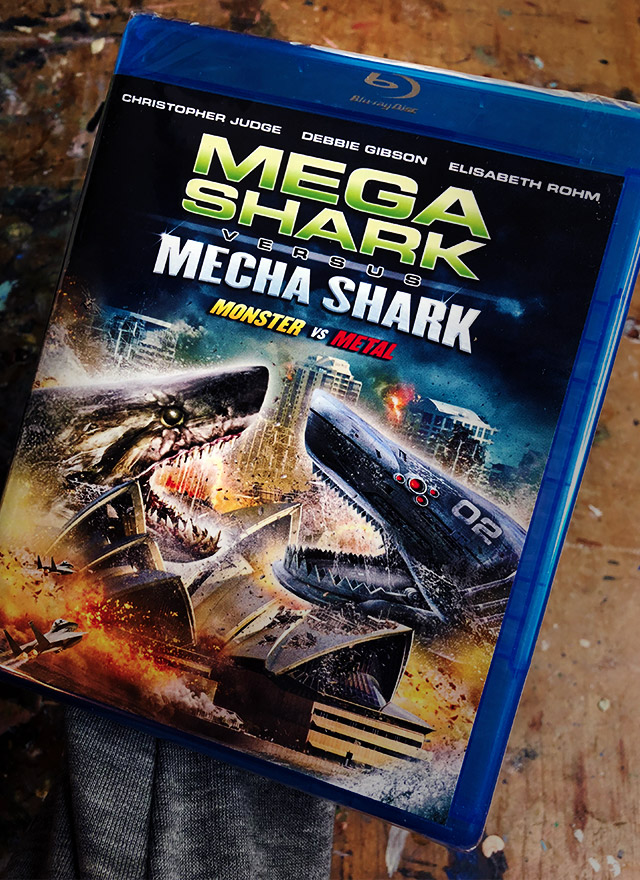 Let's kick things off with a sealed copy of Mega Shark Versus Mecha Shark, on Blu-ray! Released in 2014, the film stars Debbie Gibson and Christopher Jones, and boasts an impressive 2.6/10 score on IMDB!
Here's the synopsis, from Google: "Unexpected complications arise when a supersized, shark-shaped sub is dispatched to kill the giant, prehistoric shark that has been terrorizing the world's oceans."
Lawl. Deep down, you know you're gonna love this.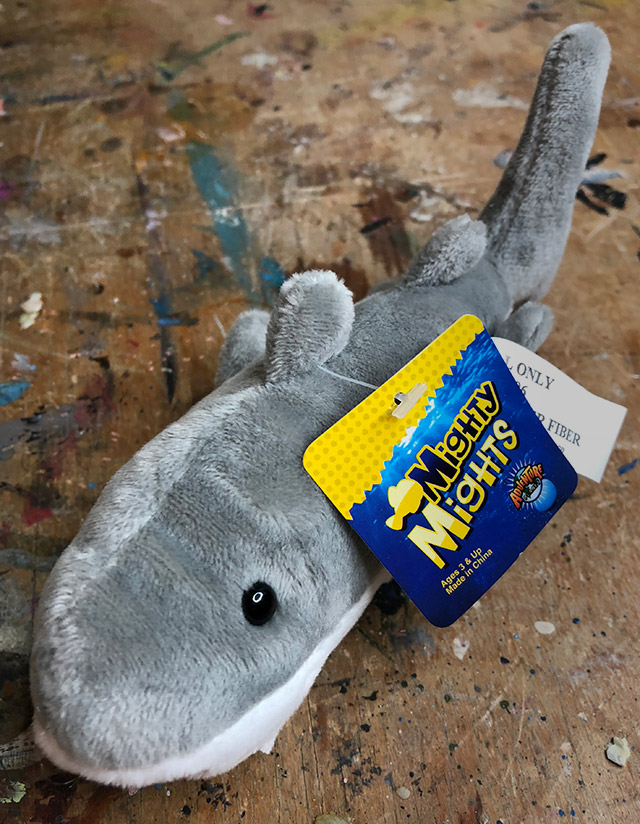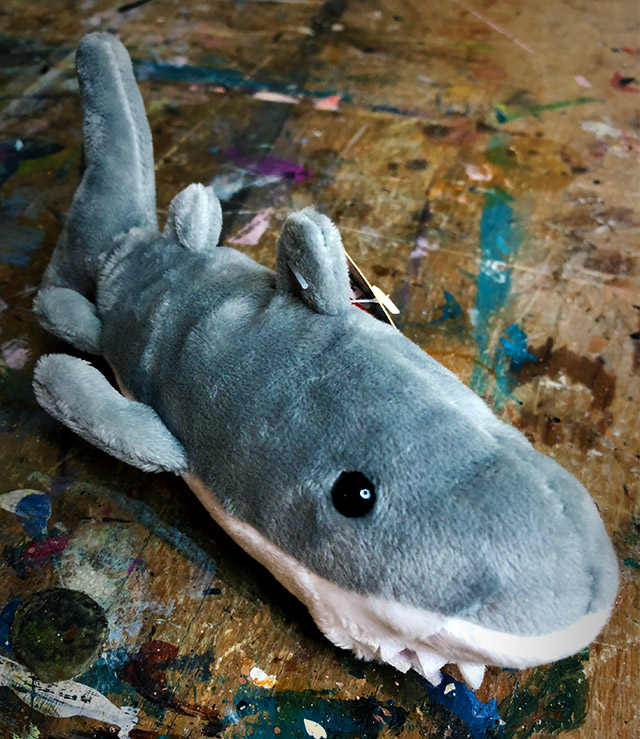 Oh wait, there's more shark action! You'll each receive your very own Pet Shark Plush Doll! This adorable great white — part of the Mighty Mights brand — is around six inches long and ready to chomp into your heart.
You'll love the guy so much, you won't even care that he has like sixteen tags protruding from his gills. Just look at those cute little coal eyes! Name him, pet him and watch shark movies with him!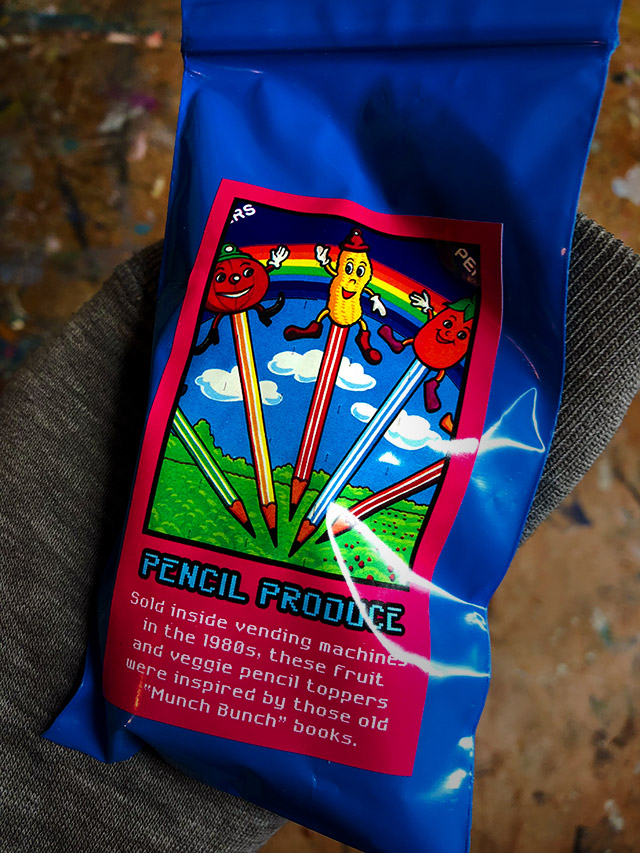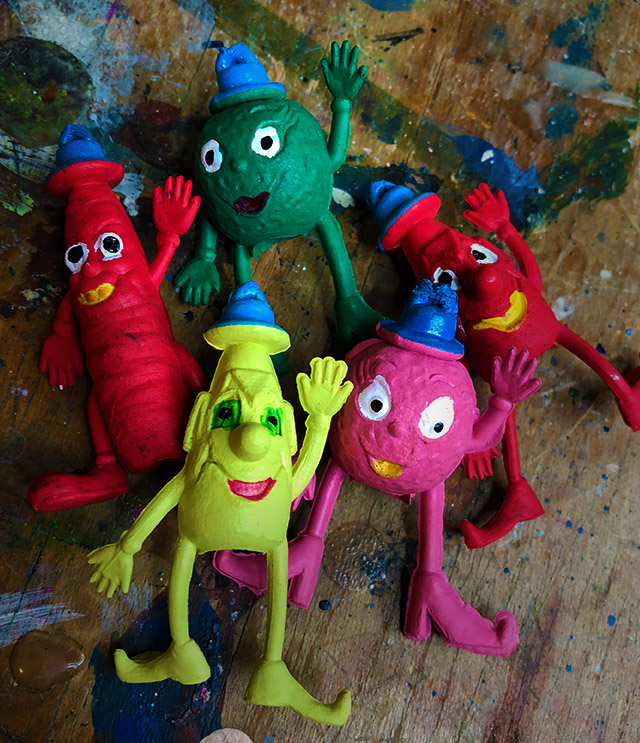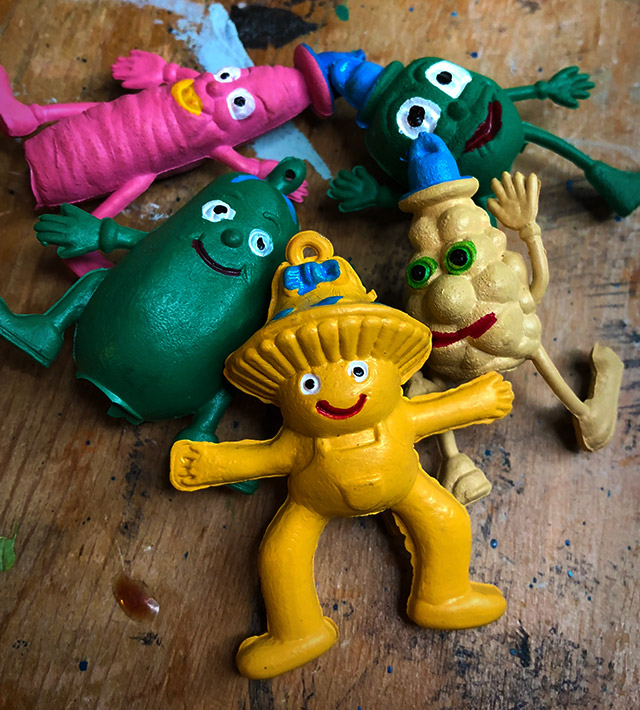 Serving as this month's Dino Drac Specimen, check out this awesome bag of Pencil Produce — that being vintage fruit and vegetable pencil toppers, originally offered inside vending machines during the 1980s. "Inspired" by those old Munch Bunch books, there are TONS of different characters in all sorts of colors. (Even colors that don't make sense! Say hi to anthropomorphic pink corn!)
You will get FIVE vintage pencil toppers stuffed inside a custom Dino Drac baggie. I will do my best to ensure solid assortments of colors and characters. These are super old, super cool, and straddle the line between sweet and disturbing.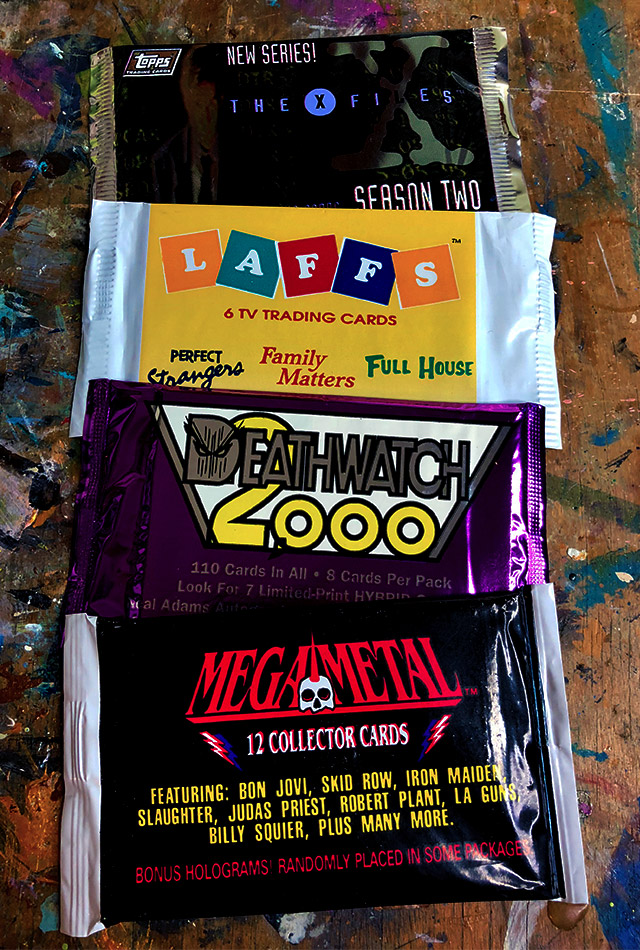 Next is a generous pile of vintage trading card packs, and I'm way happy with the mix this month. You will receive all four of the following packs:
– Laffs (ABC TGIF) Cards from 1991
– MegaMetal Music Cards from 1991
– Deathwatch 2000 Cards from 1993
– X-Files Season 2 Cards from 1996
Have fun tearing 'em open! (Trade you a Judas Priest for a Steve Urkel?)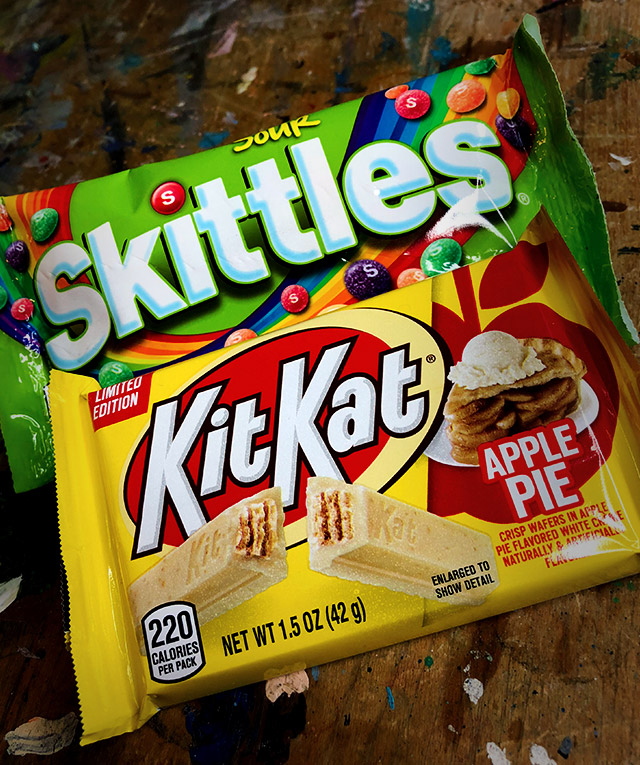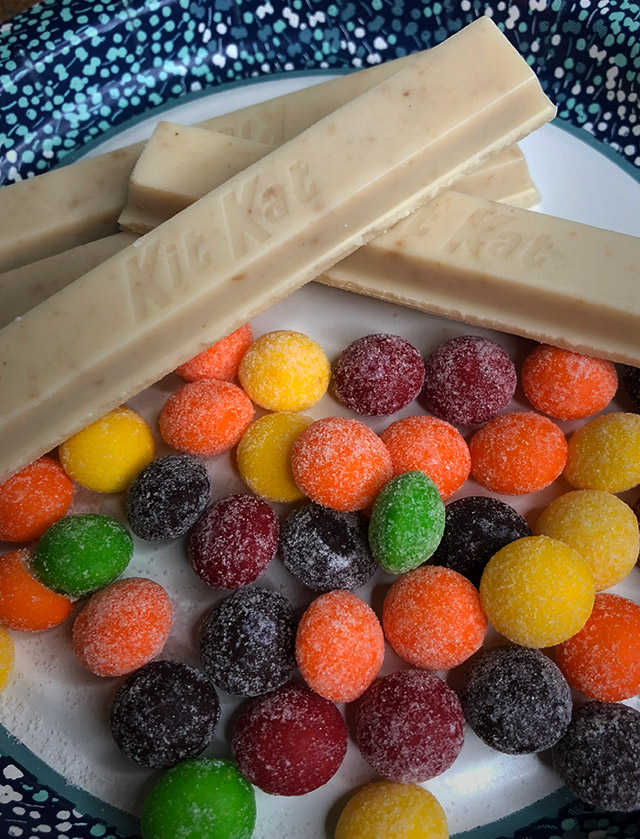 Hot damn! Be glad you're subscribed this month, because you're getting one of the best assortments of candy in Funpack history!
Included in each box are full-sized packages of Sour Skittles and the brand new, limited edition Apple Pie Kit Kat bars! Yeah, you're about to go on a serious junk food binge. Both snacks are delicious, but you're going to be totally entranced by those Kit Kats. They smell better than any Yankee Candle, and obviously taste better, too!
NOTE: Because of the heat, there's a good chance that your Kit Kat will get "melty" in transit. I probably should've thought of that before, huh? If yours feels soft when it arrives, toss it in a freezer for a bit to firm it up. It may not look pretty, but it'll still taste great!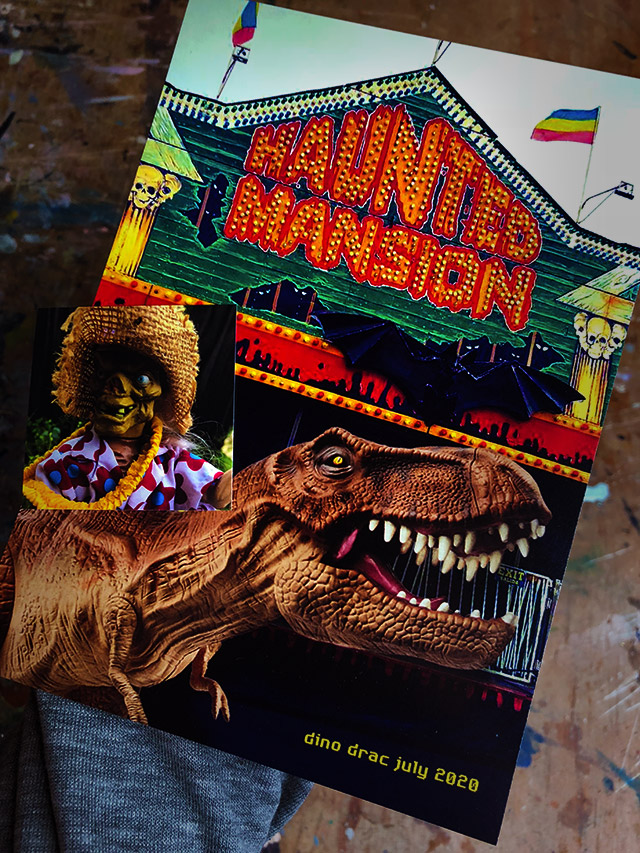 This month's 5×7" mini-poster should help take the sting out of your lack of carnival visits this summer. Enjoy a dinosaur invading the classic Haunted Mansion traveling dark ride! Poster is printed on something resembling cardstock.
You'll also receive a 2×2" sticker featuring the Crypt Keeper in beach garb. Just what you always wanted.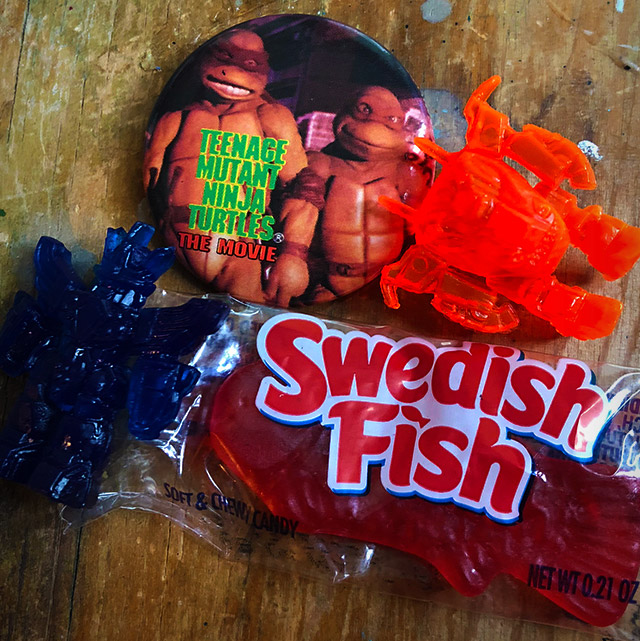 As a special bonus, I've prepared these hot pink Satchels of Fun. I don't want to over-promise just in case there's a weight limit issue on the Funpacks, but I'll at least guarantee you that vintage Ninja Turtles movie button, from 1990. You'll probably get everything shown, though, which also includes a jumbo-sized Swedish Fish and two vintage 1980s vending machine robots!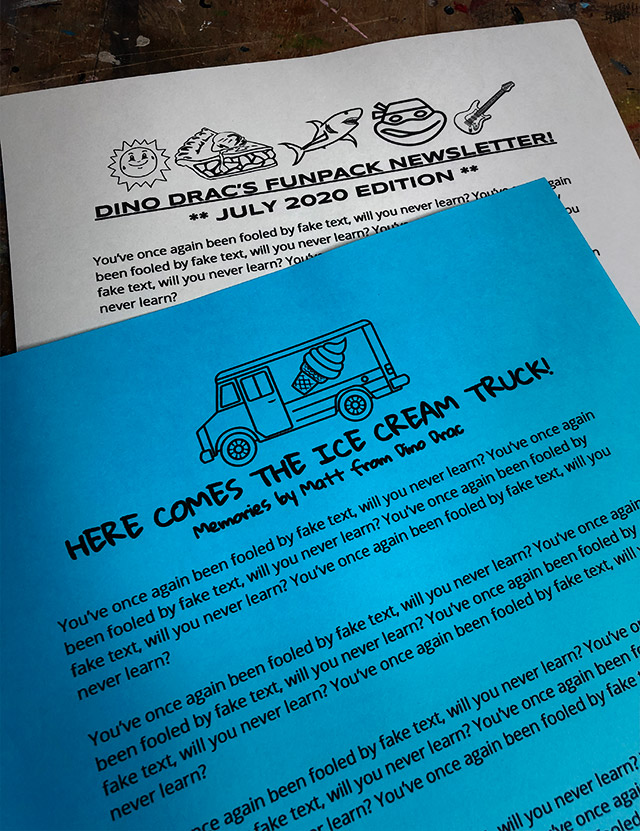 Rounding things out is this month's Funpack Newsletter, plus an exclusive essay that will never be reprinted on the site.
This month's essay is all about ICE CREAM TRUCKS. More specifically, it's about what ice cream trucks meant to me as a kid, with way too many details about what I used to buy from them. You'll relate, trust me!
Yep, you'll receive everything shown above, for $25 shipped!
If you're already a Funpack subscriber and you'd like to stay that way… do nothing! You're all set!
If you want to subscribe, please read the following, and then click the button at the bottom of this page!
1. Funpacks are available in the United States only. Sorry!
2. Subscriptions are handled via Paypal. If you don't have an account, it's very easy to make one!
3. Funpacks will be shipped to the address listed on your Paypal account. If you need to change your shipping address, or if you'd like for your Funpacks to be shipped to someone else, simply email me!
4. You will be automatically billed $25 every month. (Yes, that price includes shipping.) If you subscribe today, you'll pay today, and then again in exactly one month. For as long as you remain subscribed, you'll keep getting Funpacks!
5. You can cancel at anytime. (You could subscribe today and cancel today!) If you cancel after you've already been charged for the following month's Funpack, you'll of course receive it just the same as any current subscriber would. (You can cancel via Paypal, or by emailing me.)
6. The July 2020 Funpacks will ship on or before Tuesday 7/21.
Remember, the Funpacks allow me to keep doing the site… thanks so much to all who help to keep it/me going!
To get your subscription started, click the button below!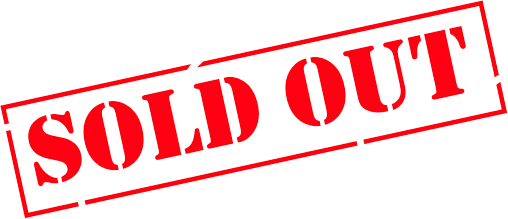 The July Funpacks are close to sold out, though I may have 1 or 2 spares after I finish my counts. If you'd like to get on the wait list, shoot me an email! Thanks all!