I wanted this month's Funpack to reflect Cruel Summer's dual sunny/spooky theme, and I'm pretty sure I succeeded!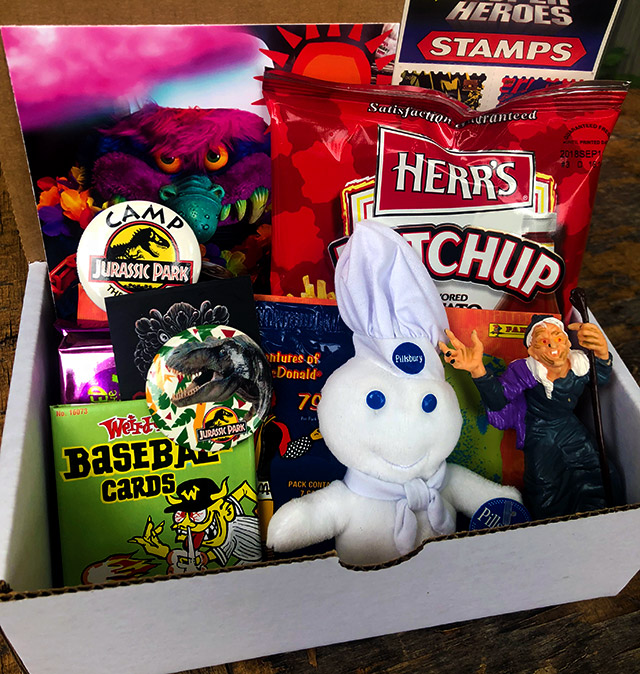 UNITED STATES ONLY! AVAILABLE FOR 3 DAYS ONLY!
Behold! There are around a dozen items in Dino Drac's June Funpack, featuring a perfect mix of summertime treats and spooky horrors — along with a ragtag bunch of retro collectibles.
Usual spiel: Funpack subscriptions are $25 a month (including shipping), and for as long as you remain subscribed, you'll get a new package of old, cool junk every single month! You can cancel at any time without penalty, of course!
There wouldn't be a Dino Drac without your subscriptions, so on top of getting a bunch of fun things, you're also helping to keep the site going!
Scroll to the bottom for more info, or keep reading to see everything you'll get in the June Funpack!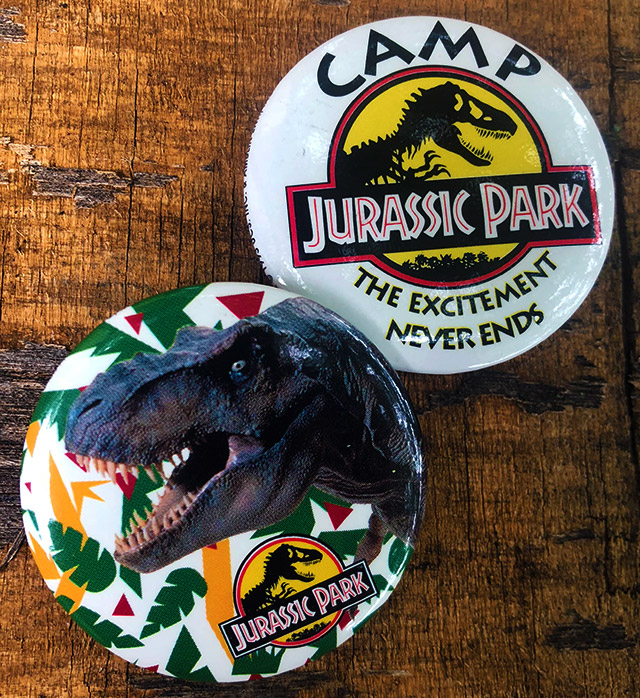 With Fallen Kingdom about to hit theaters, nostalgia for the original Jurassic Park is peaking. Make good on those warm fuzzies with this pair of vintage 1993 Jurassic Park buttons! (Yes, you will get BOTH!)
Included are the Camp Jurassic Park button, along with a semi-psychedelic tyrannosaur pin. Both buttons were officially licensed and are genuine 1993 originals!
PS: These double as this month's Dino Drac Specimen. Buttons are in great shape considering their age, with no rust or really much wear at all.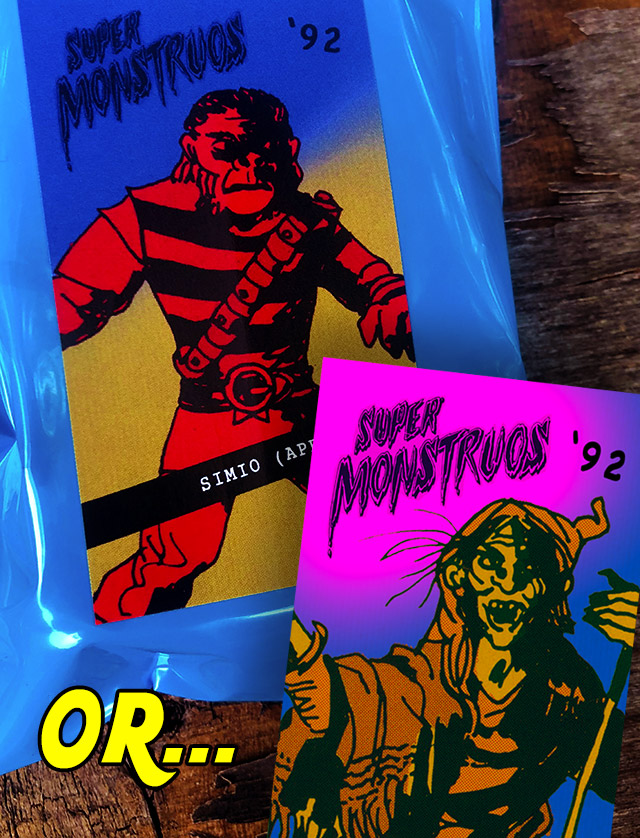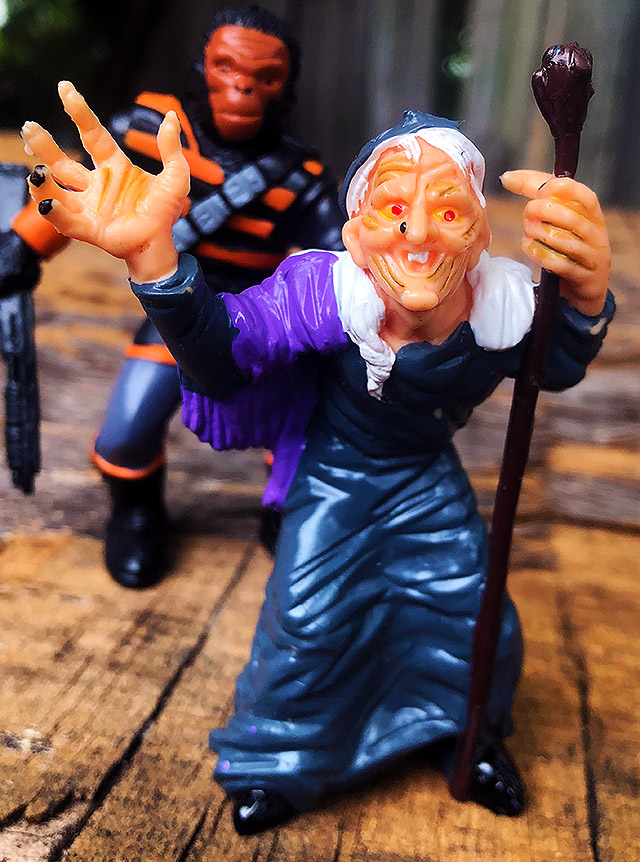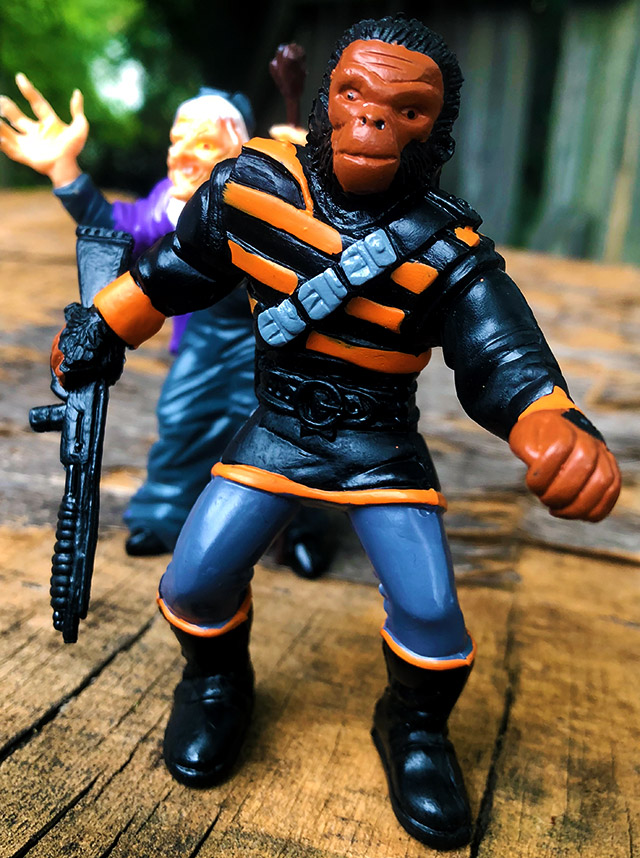 YOU WILL RECEIVE *ONE* OF THESE TWO FIGURES!
Next, Super Monstruos returns to Dino Drac's Funpacks! This unbelievable line of monster figures roared through Spain in the early '90s, and was filled with classic monsters "reimagined" as crude-but-cool figurines.
This month, you'll get ONE of the two figures shown above, at random. Your Funpack will either include Simio, a rifle-toting gorilla who was obviously inspired by Planet of the Apes, or La Bruja, a demented old witch who can't wait to curse you!
Sorry, no picking! Don't worry, both figures are great… actually, they're two of the very best from the entire Super Monstruos collection. Whichever one you get, it'll come protected in a bag with its own exclusive Dino Drac sticker!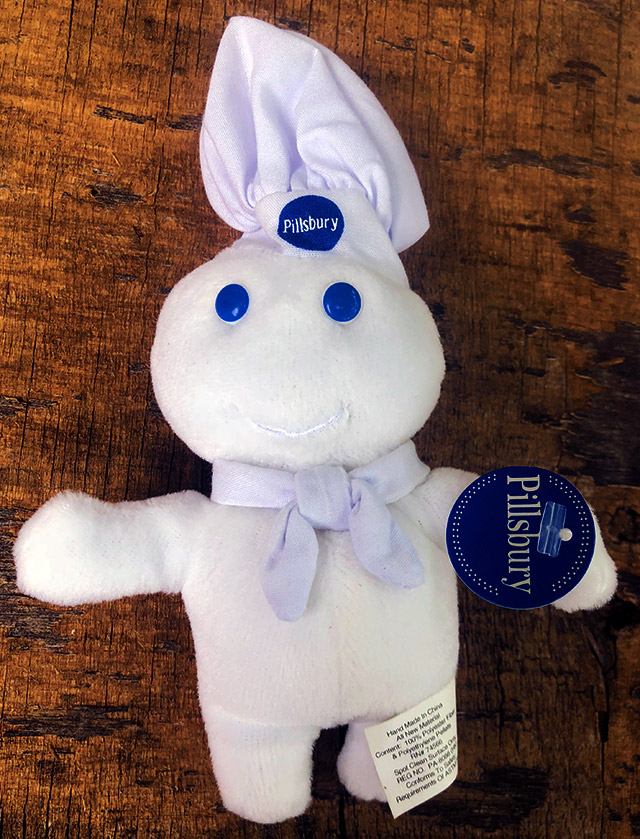 …and if your new monster figure scares you too much, head towards the light with this adorable Pillsbury Doughboy Mini Bean Bag doll, made in 1999! These are around 5" tall and will fit in your pocket, should you decide that you cannot leave him home alone.
PS: Your Doughboy doll will arrive still sealed in its factory baggie, untouched by anyone until you free him! (The photo doesn't do this guy justice. He's one cute mofo.)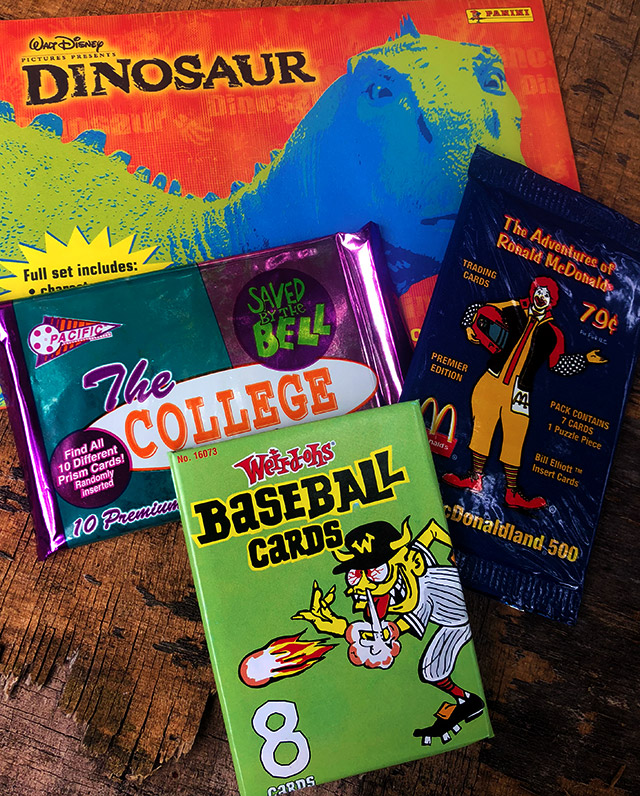 Next is a pile of vintage trading card packs! I'm really thrilled with this month's assortment — lots of super cool cards and some real obscurities.
You'll receive all four of the packs shown above, including:
– Saved by the Bell: The College Years (1994)
– Weird-Ohs Baseball Cards (2007, by way of 1967)
– The McDonaldland 500 (1996)
– Disney's Dinosaur Oversized Photocards (2000)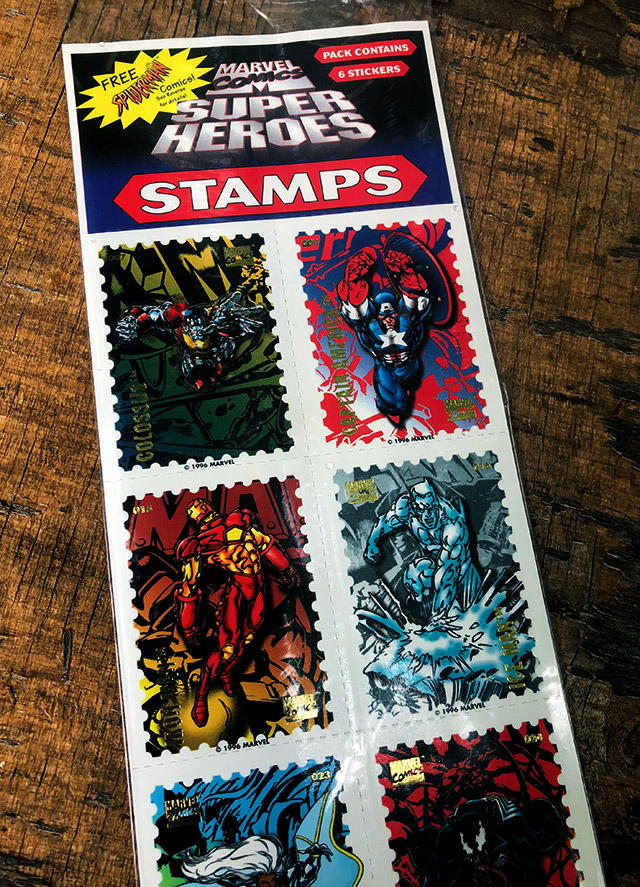 You'll also receive this swank set of Marvel Comics Super Heroes Stamps, from 1996! (They could be more accurately described as stamp-shaped stickers.)
Each sealed pack contains six random stamps, featuring characters like Venom, Captain America, Colossus and more. These stickers are over TWENTY years old!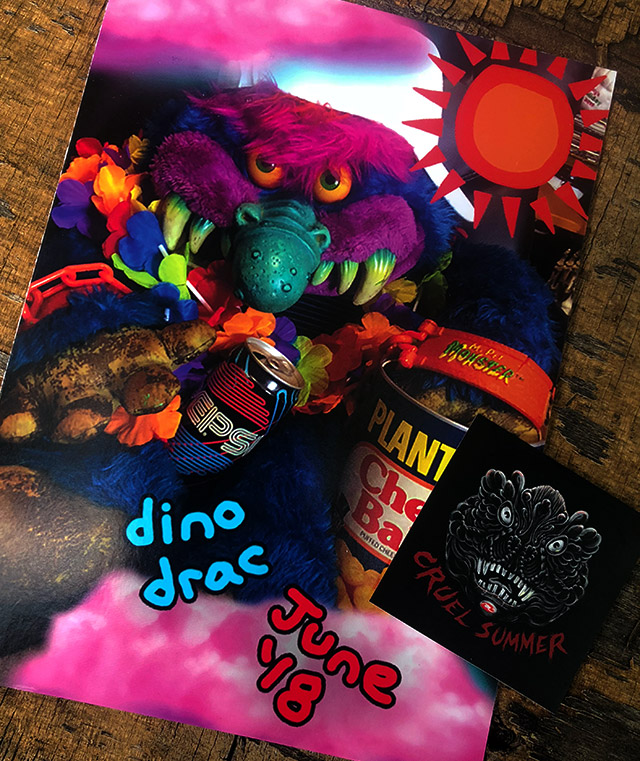 For this month's Dino Drac Mini-Poster, My Pet Monster enjoys a lazy summer day with a can of Pepsi and a tub of Planters Cheez Balls. (Life goals!)
Poster is 5×7" and printed on what's either cardstock or something approximating it.
You'll also receive this month's exclusive 2×2" Dino Drac sticker, featuring the Cruel Summer logo!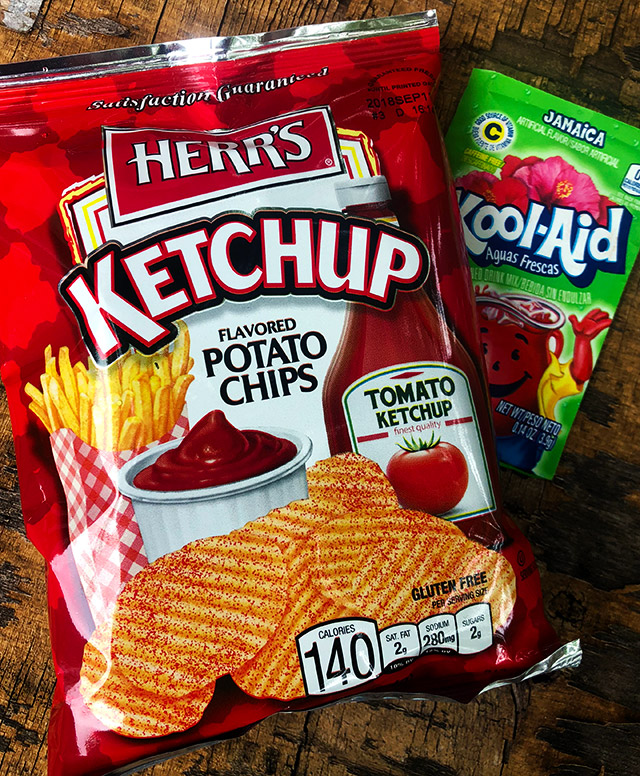 This month's snacks are extra-summery, too! For starters, each of you will receive a bag of Herr's Ketchup-Flavored Potato Chips. I've tried them, and they are SO good. Like, way better than you'd expect a ketchup chip to taste.
You'll also receive a fresh packet of Jamaica Kool-Aid, which is probably the most interesting Kool-Aid flavor still on the market. (If you've never tried it, it's hibiscus-flavored and oh-so-appropriate for the season. It also pairs oddly well with ketchup chips, so lucky you!)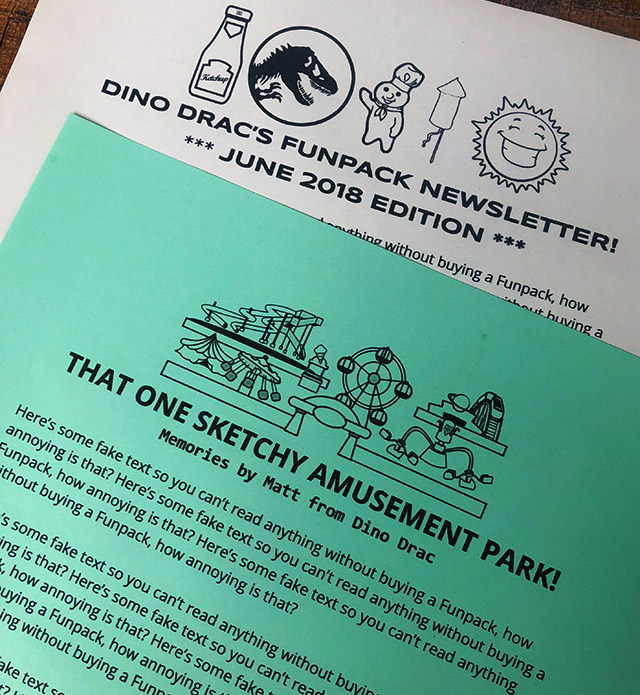 Rounding things out is this month's Funpack Newsletter, along with an exclusive essay that will never be reprinted on the site.
This month's essay tells the tale of my childhood trips to the Keansburg amusement park over in Jersey, back when Keansburg was awesomely sketchy and totally rocked that Lost Boys vibe. Given how excited I am to write this, it should be one of the best Funpack essays yet.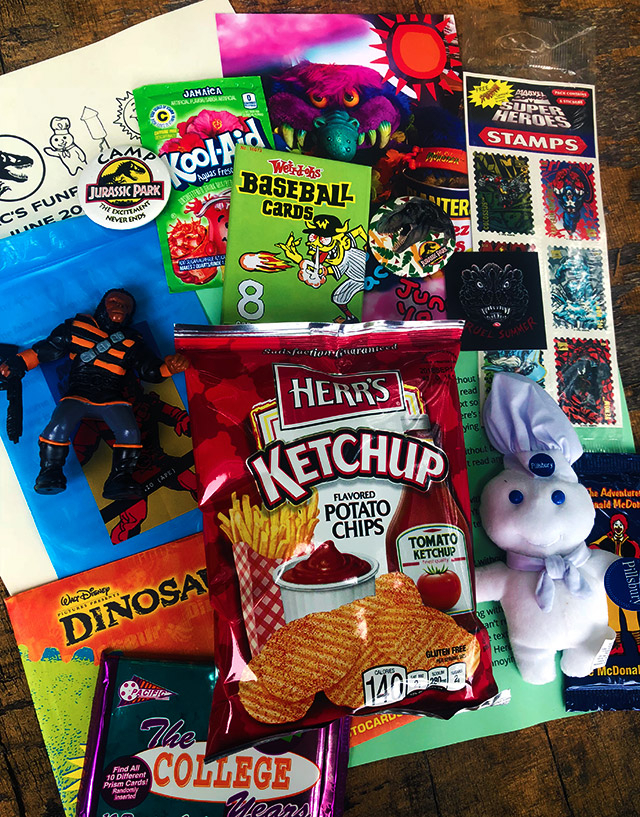 Yep, you'll get EVERYTHING above for $25 shipped!
If you're already a Funpack subscriber and you'd like to stay that way… do nothing! You're all set!
If you want to subscribe, please read the following, and then click the button at the bottom of this page!
1. Funpacks are available in the United States only. Sorry!
2. Subscriptions are handled via Paypal. If you don't have an account, it's very easy to make one!
3. Funpacks will be shipped to the address listed on your Paypal account. If you need to change your shipping address, or if you'd like for your Funpacks to be shipped to someone else, simply email me!
4. You will be automatically billed $25 every month. (Yes, that price includes shipping.) If you subscribe today, you'll pay today, and then again in exactly one month. For as long as you remain subscribed, you'll keep getting Funpacks!
5. You can cancel at anytime. (You could subscribe today and cancel today!) If you cancel after you've already been charged for the following month's Funpack, you'll of course receive it just the same as any current subscriber would. (You can cancel via Paypal, or by emailing me.)
6. The June 2018 Funpacks will ship on or before Tuesday 6/19!
Remember, the Funpacks allow me to keep doing the site… thanks so much to all who help to keep it/me going!
To get your subscription started, click the button below!
SOLD OUT!