It's here, it's finally here! Dino Drac's May Funpack is ready to give you a nostalgia rush and a sugar rush. It may also help you accessorize. Get a load of the goodies: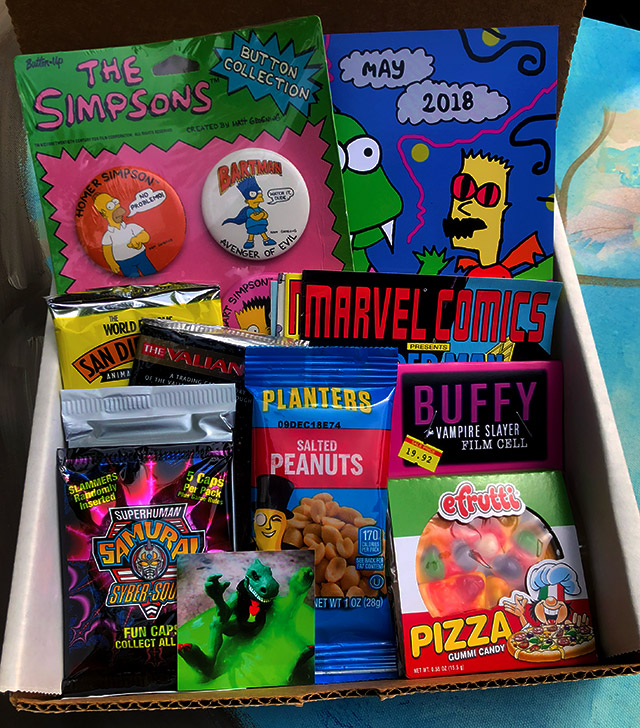 AVAILABLE FOR 3 DAYS! UNITED STATES ONLY!
There are over a dozen items in this one, running the gamut from hardcore retro collectibles to an adorable candy pizza. I envision y'all fiddling with the treasures on some otherwise terrible weeknight, because nothing chases the blues away faster than Bartman and Captain America.
Usual spiel: Funpack subscriptions are $25 a month (including shipping), and for as long as you remain subscribed, you'll get a new package of old, cool junk every single month! You can cancel at any time without penalty, of course!
There wouldn't be a Dino Drac without your subscriptions, so on top of getting a bunch of fun things, you're also helping to keep the site going!
Scroll to the bottom for more info, or keep reading to see everything you'll get in the May Funpack!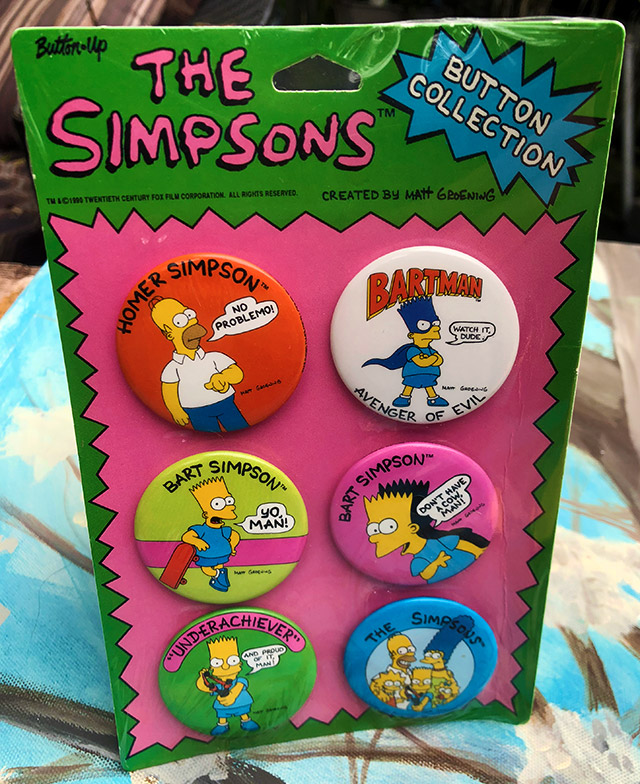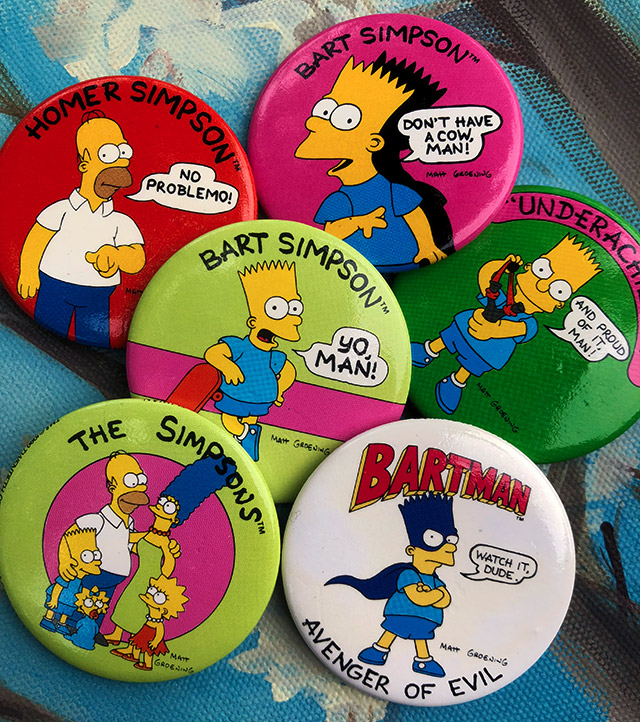 YES, YOU WILL GET A COMPLETE PACKAGED SET!
First and most awesomely, you'll each receive this vintage Simpsons Button Collection from 1990! Yes, you'll get an entire sealed-and-carded package, still shrink-wrapped!
These collectible button sets came out during the show's glory days, when anything with any tie to Bart and Homer was automatically cool. (Look close at the buttons, and you'll even catch hints of the show's older art style!)
You'll receive six different buttons, and you should remember some of those designs from famous t-shirts that everyone used to wear. From Bartman to the classic "Underachiever" design, these are sure to snazz you up before your next big trip to 7-Eleven.
NOTE ON CONDITION: These packages are almost thirty years old! Some packages may have some creases or small markings, but they are all still shrink-wrapped, and the buttons are in great shape. If you don't feel like wearing old buttons, the whole card makes a terrific display item!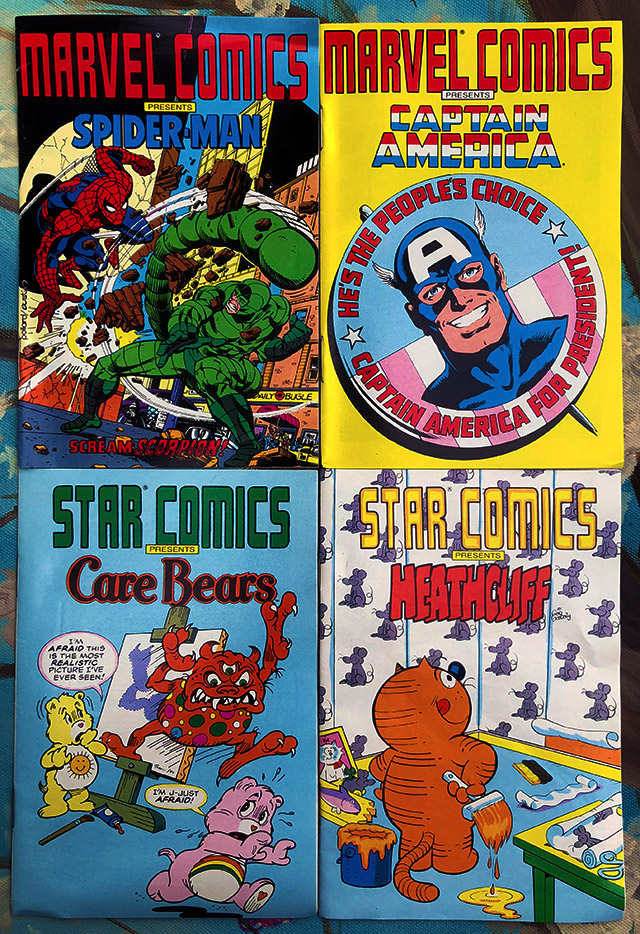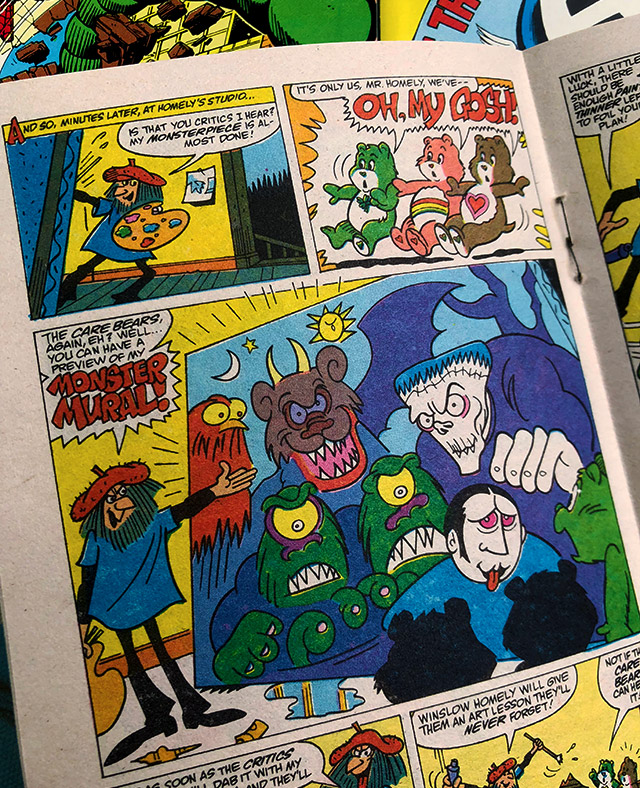 YOU WILL RECEIVE ALL FOUR COMICS!
Way back in the very first Dino Drac Funpack, some subscribers received just one of these small "Marvel Treats" mini-comics. Years later, you'll each be receiving ALL FOUR!
The comics may be smaller, but they're still very much real comic books, with complete stories and incredible art. All issues were released in 1988. You'll each receive ALL of the following:
– Marvel Comics Presents Spider-Man
– Marvel Comics Presents Captain America
– Star Comics Presents Heathcliff
– Star Comics Presents Care Bears
I f'n love these little books, and I think you will, too. Kick back on the couch and party like it's 1988!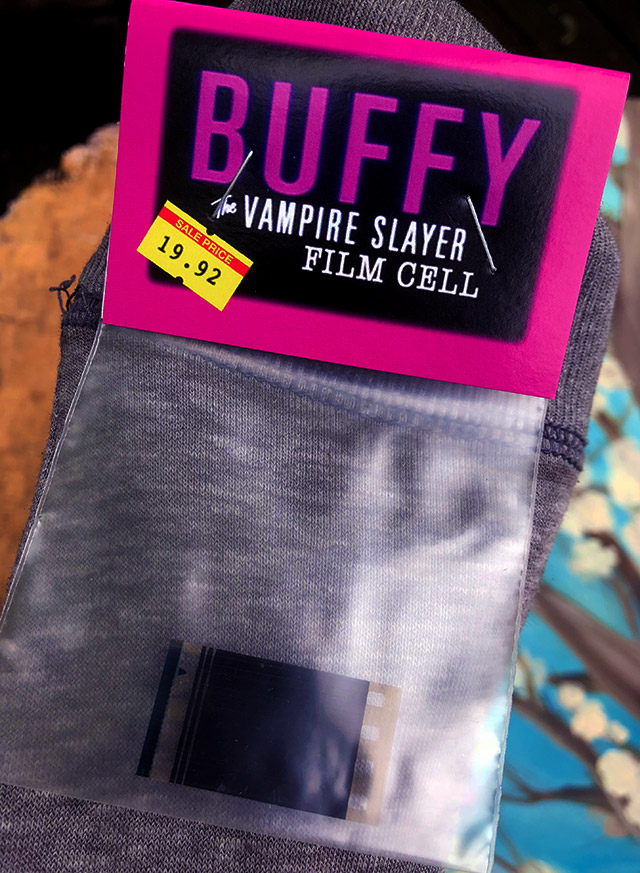 This month's Dino Drac Specimen is an honest-to-goodness Buffy the Vampire Slayer film cell, in custom Dino Drac packaging!
If the fact that these are film cells didn't tip you off, they aren't from the TV show, but rather the 1992 movie starring Kristy Swanson and Luke Perry. (…which I saw in theaters, by the way. Love love love that movie.)
While these are real film cells, do keep in mind that I can't vouch for their origins, and they're not exactly museum-quality. (With many, you'll need to hold 'em up to the light to see what's going on.) Just consider them fun little gag items, and we'll all be happy!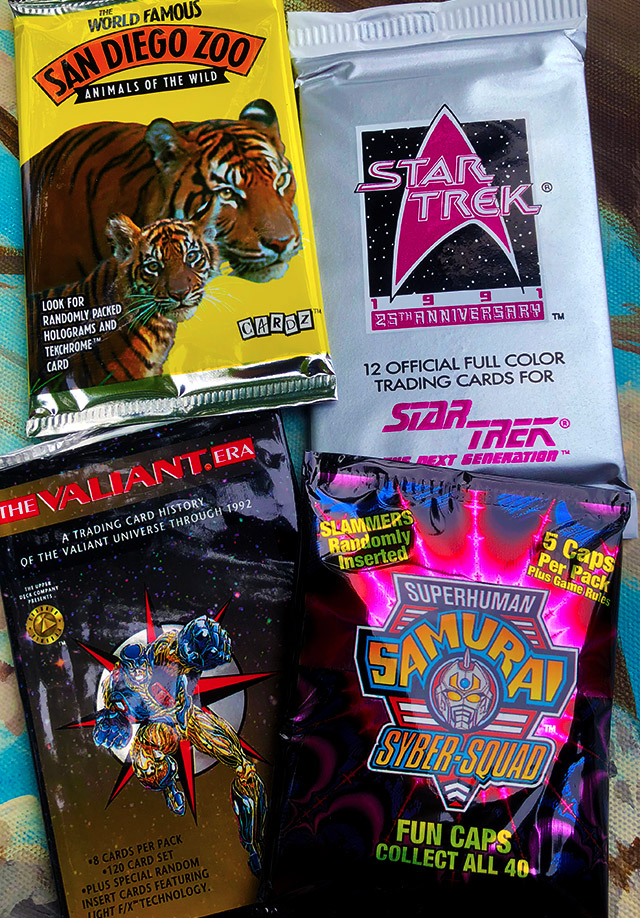 Next is the usual pile of trading cards, and things that aren't quite trading cards! You'll each receive FOUR different vintage packs this month, including:
– Star Trek 25th Anniversary Cards (1991)
– The Valiant Era Comic Cards (1993)
– San Diego Zoo: Animals of the Wild Cards (1993)
– Superhuman Samurai Syber-Squad Fun Caps (1999)
Pretty eclectic mix! Have fun tearing 'em open — or leaving them sealed so you won't mess up the beautiful wrappers. I know how you operate.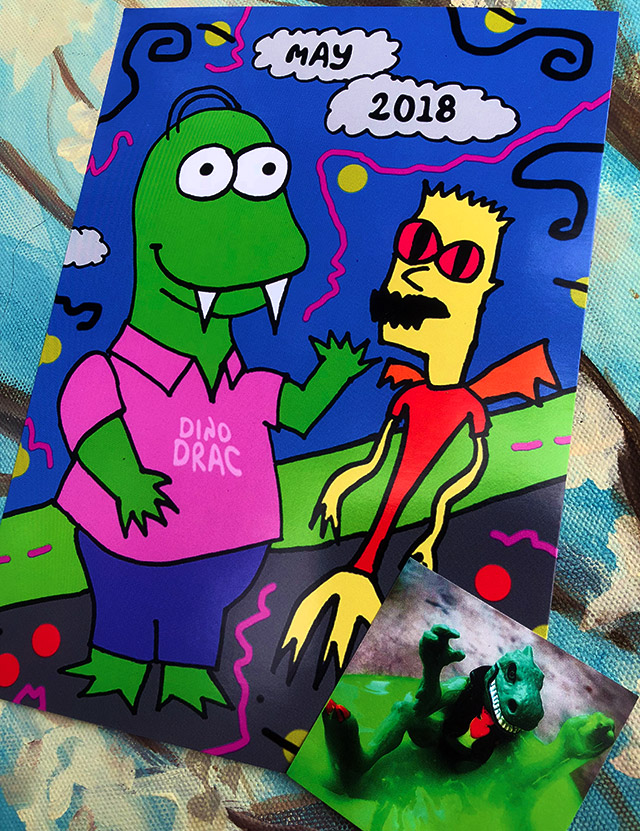 This month's exclusive Ugly Mini-Poster takes a hint from that button set and reimagines Dino Drac as a Simpsons character, while this month's exclusive Dino Drac sticker puts our hero (well, my hero) in a pool of toxic green slime.
Poster is 5×7" and printed on cardstock, or at least something approaching cardstock. Sticker is 2×2".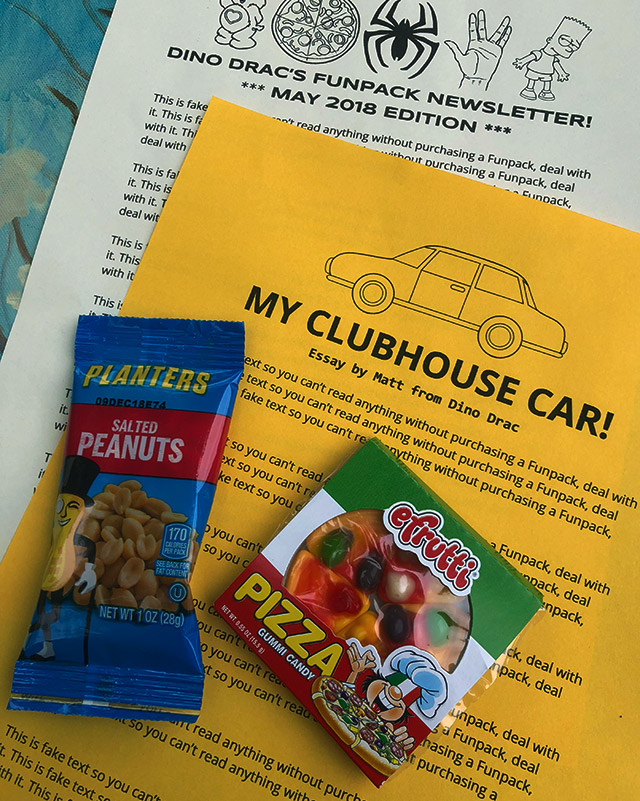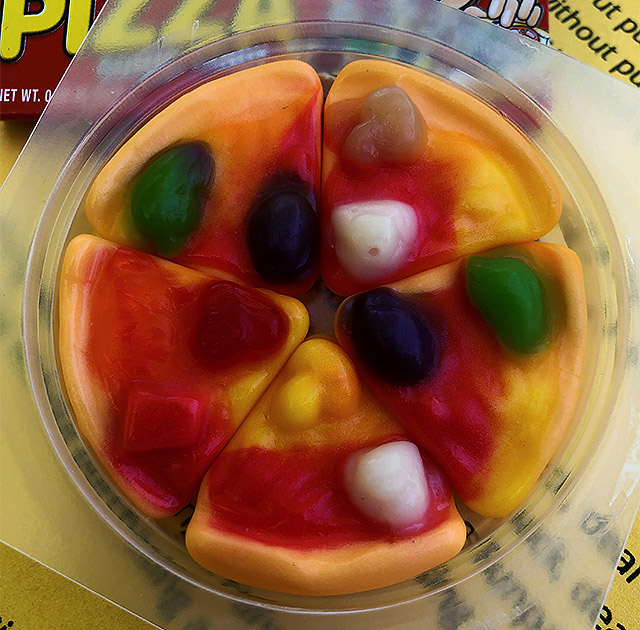 Rounding things out, you'll each receive this month's Funpack Newsletter, plus an exclusive essay that will never be reprinted on the site. (This month, I'll be telling you all about the clubhouse I used to run, which operated out of an abandoned car.)
You'll also get a smattering of snacks! Included in each Funpack will be a little bag of Planters peanuts, as well as an ultra-cute gummi pizza from eFrutti! (The pizza pies are just amazing — they have separate slices and everything!)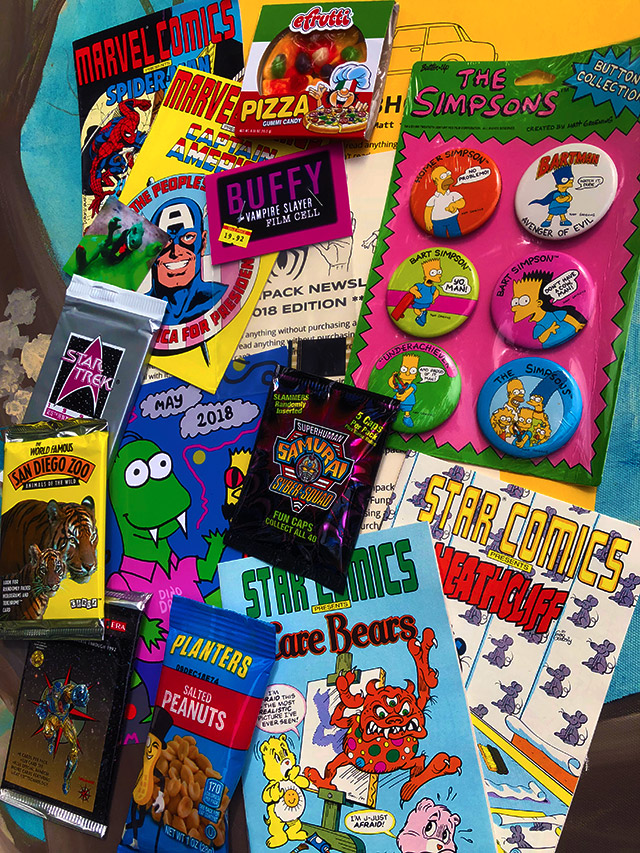 Yep, you'll get EVERYTHING above for $25 shipped!
If you're already a Funpack subscriber and you'd like to stay that way… do nothing! You're all set!
If you want to subscribe, please read the following, and then click the button at the bottom of this page!
1. Funpacks are available in the United States only. Sorry!
2. Subscriptions are handled via Paypal. If you don't have an account, it's very easy to make one!
3. Funpacks will be shipped to the address listed on your Paypal account. If you need to change your shipping address, or if you'd like for your Funpacks to be shipped to someone else, simply email me!
4. You will be automatically billed $25 every month. (Yes, that price includes shipping.) If you subscribe today, you'll pay today, and then again in exactly one month. For as long as you remain subscribed, you'll keep getting Funpacks!
5. You can cancel at anytime. (You could subscribe today and cancel today!) If you cancel after you've already been charged for the following month's Funpack, you'll of course receive it just the same as any current subscriber would. (You can cancel via Paypal, or by emailing me.)
6. The May 2018 Funpacks will ship on or before Tuesday 5/22!
Remember, the Funpacks allow me to keep doing the site… thanks so much to all who help to keep it/me going!
To get your subscription started, click the button below!
Thank you!!