Whew! I don't like to peel the curtain back with these Funpacks, but suffice it so say, some come together easier than others. This month's had plenty of last minute tricks in store for me, leading to scrambles and hair-pullings and, what's that word, agita? I like that word.
But all's well that ends well, and I'm really happy with where we've landed: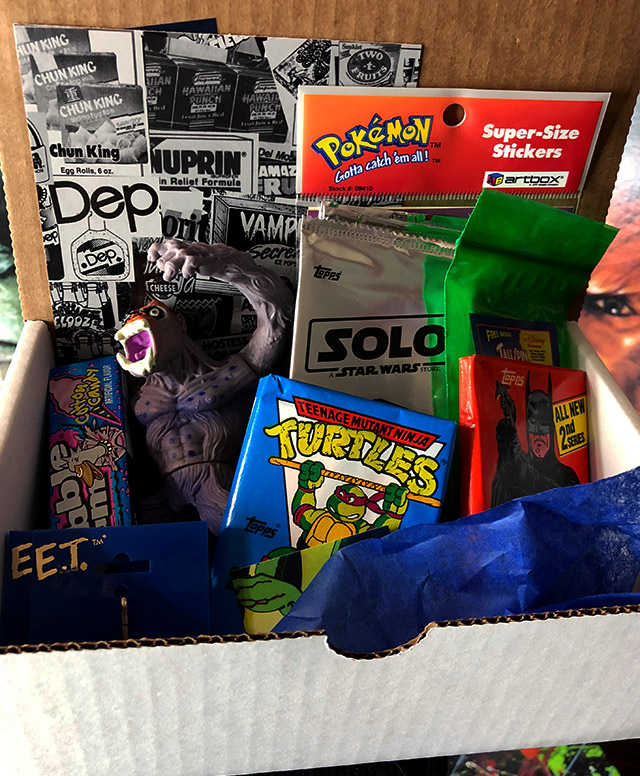 THREE DAYS ONLY! UNITED STATES ONLY!
Dino Drac's May 2019 Funpack is here, and it's loaded with more than a dozen old-and-new items that are guaranteed to make you happy. (Well, I'm not actually going to guarantee that, but I think they will. It's a mix of toys and cards and crazy delicious bubble gum, and if it takes more than that to make you happy, you better check yourself.)
Y'all know how it works by now. Subscriptions are $25 a month, and that price includes shipping. For as long as you remain subscribed, you'll keep getting Funpacks each and every month. Scroll to the bottom for ordering info, or keep reading to learn about everything you'll receive in this month's box!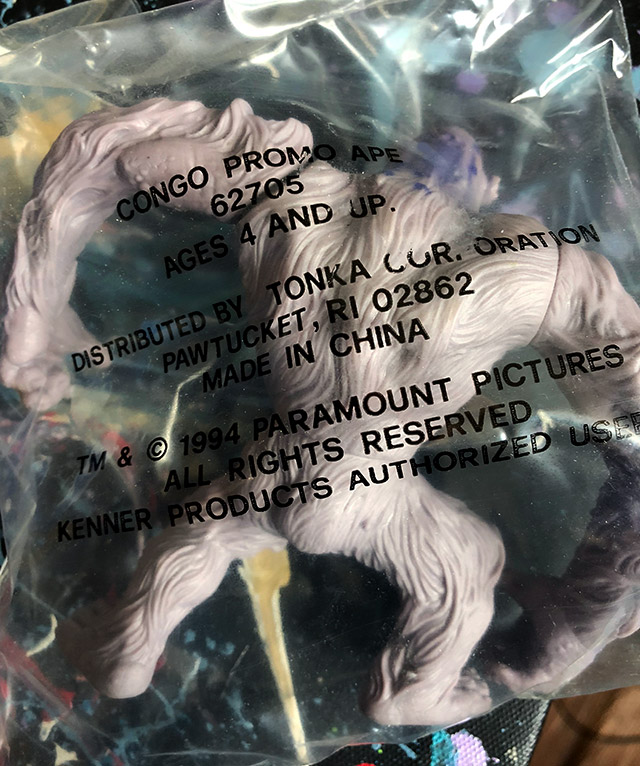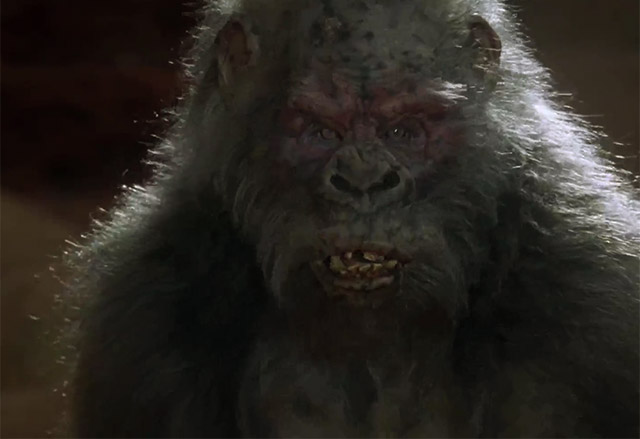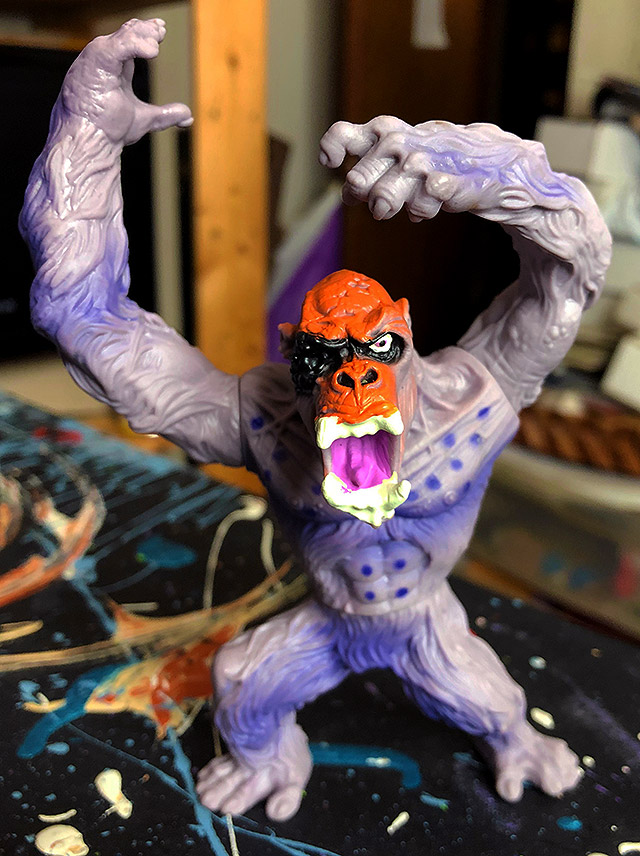 Hell yes, I've been hoping to include this in a Funpack every since I started them almost five years ago. Indeed, you will each receive an honest-to-goodness CONGO PROMO APE.
Yep, it's one of the grey gorillas from Congo, in action figure form. As most of you know, Congo is one of my all-time favorite movies, and the fact that it's littered with evil grey gorillas is a big reason why.
These largish figures from Kenner were released in 1994 as a special mail-away promotion. I'm not sure about the specific details, but I think it had something to do with Pepsi? In any event, your figure will be in gem-mint condition, and will arrive still sealed in its Kenner factory baggie!
The bags may be a bit dusty from storage, but the figures are in perfect condition and are AWESOME. I don't care if you've seen the movie or not. You can't look at this guy's gnarly face and not want to own it.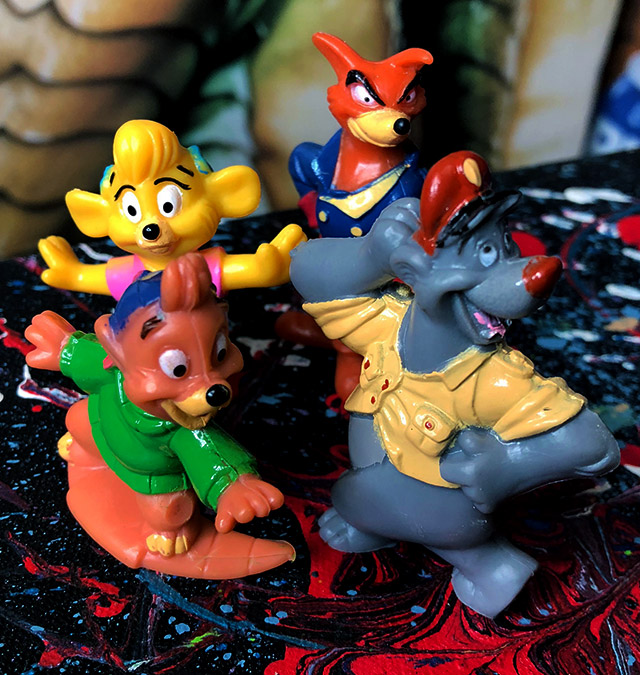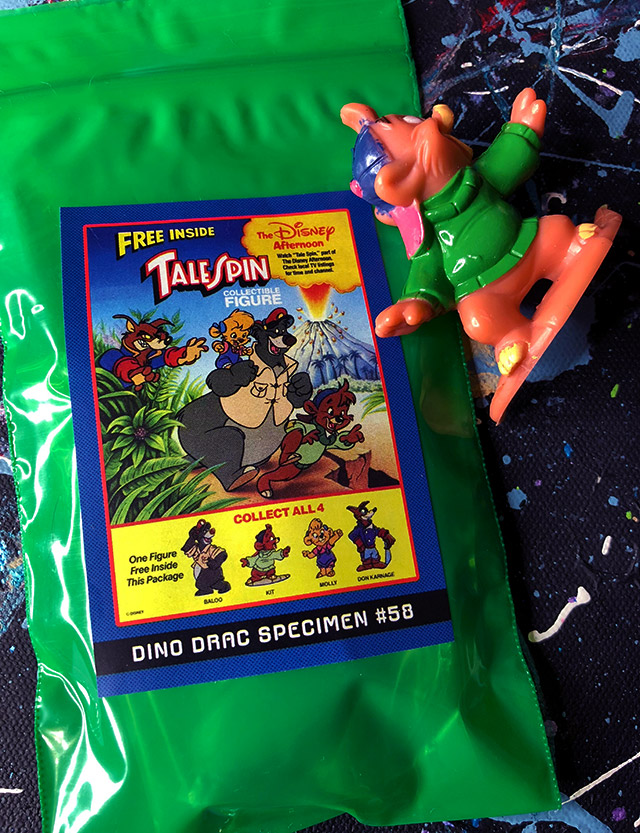 *ONE* TALESPIN FIGURE PER FUNPACK!
Remember when every show from the Disney Afternoon lineup got a line of PVC figures, distributed through various Kellogg's cereals? WELL LOOK AT THIS.
You'll each receive ONE of these vintage TaleSpin figurines, which were included in cereal boxes way back in… 1990? Maybe 1991? Something like that. I'm showing them loose, but yours will arrive still trapped in its factory baggie, untouched by human hands!
The set includes Baloo, Kit, Molly and Don Carnage. You'll receive one of those four figures at random, stuffed in a custom Dino Drac baggie. (And yes, this doubles at this month's Dino Drac Specimen!)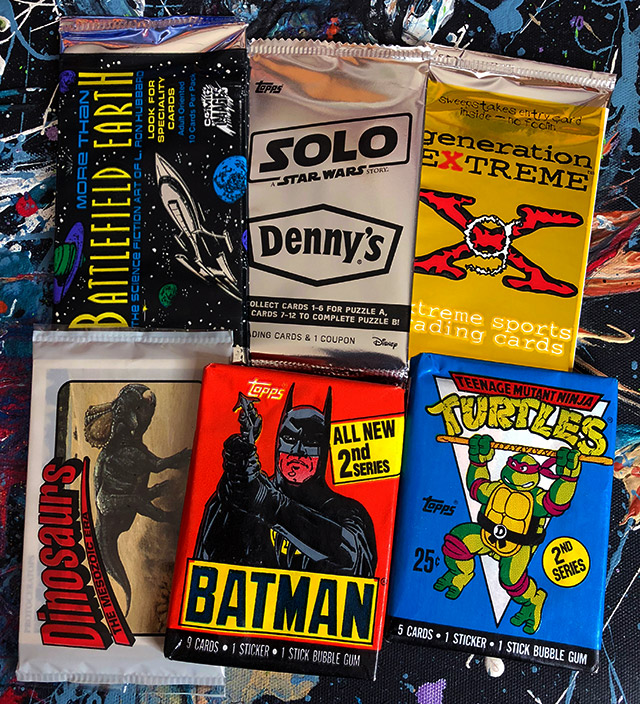 This month's assortment of vintage trading card packs is berserk. You'll each receive ALL SIX of the packs shown here, which includes some heavy hitters:
– Batman 2nd Series Wax Pack (1989)
– TMNT 2nd Series Wax Pack (1990)
– Dinosaurs: The Mesozoic Era (1993)
– More Than Battlefield Earth (1994)
– Generation Extreme Sports Cards (1994)
– Solo: A Star Wars Story (2018)
PS: That Solo pack isn't "vintage," obviously, but since those packs were only sold at Denny's for a brief time when the movie was released, I think you'll give me a pass! (They were expensive as hell at retail, too!)
This is a lot of packs to tear open and and a lot of cards to pore over. Make a night of it, buds.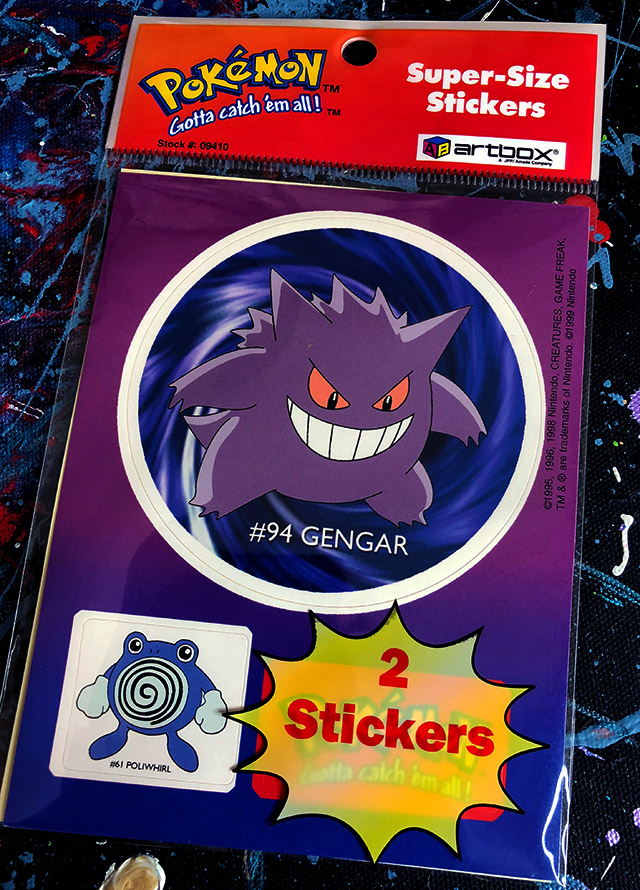 If Detective Pikachu filled you with G1 Pokemon nostalgia, here ya go — a pack of Pokemon Super-Size Stickers, made by Artbox way back in 1999. These came out during Pokemon's initial white-hot period, and they totally feel like they did.
The packs say "two stickers," but they really meant two sticker sheets. There are more than two stickers in each pack, with various characters covering the whole run of G1 Pokemon. Stick them wherever you need joy most!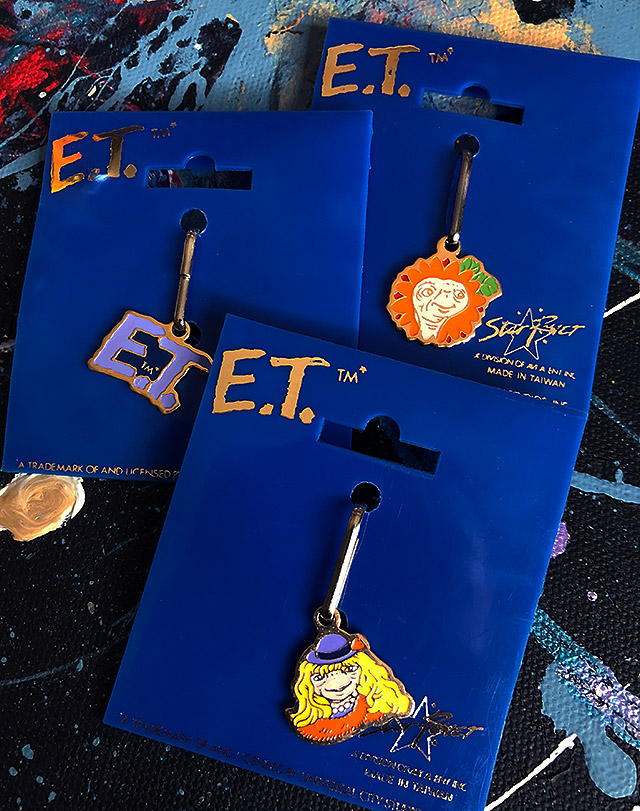 Oh, and since we're all slaves to fashion, I'll toss in three vintage E.T. the Extra-Terrestrial zipper pulls. If I have it right, you can attach these to your coat zippers and let 'em hang there like little weird brooches? You know you're gonna.
I have a whole bunch of styles available. You're not guaranteed these exact three, but you are guaranteed three different zipper pulls. These are incredibly old — likely from 1982, and certainly not much younger than that. They're not the most durable things I've seen, but yours will still arrive in never-used condition.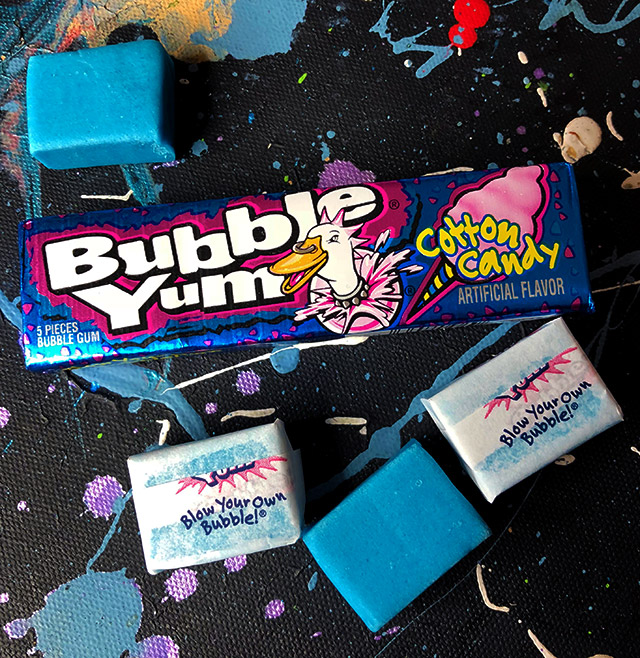 My thing with "Funpack food" is that I try to give you stuff I know you love but probably stopped buying over a decade ago. Thus, you will each receive a pack of Cotton Candy Bubble Yum, which you probably thought was discontinued. Nope! It's still here!
This gum is super good and super BLUE. It's impossibly blue. The bluest candy I've ever seen. That's my diplomatic way of saying, "expect blue teeth." (It'll be worth it, though. This stuff absolutely tastes like real cotton candy.)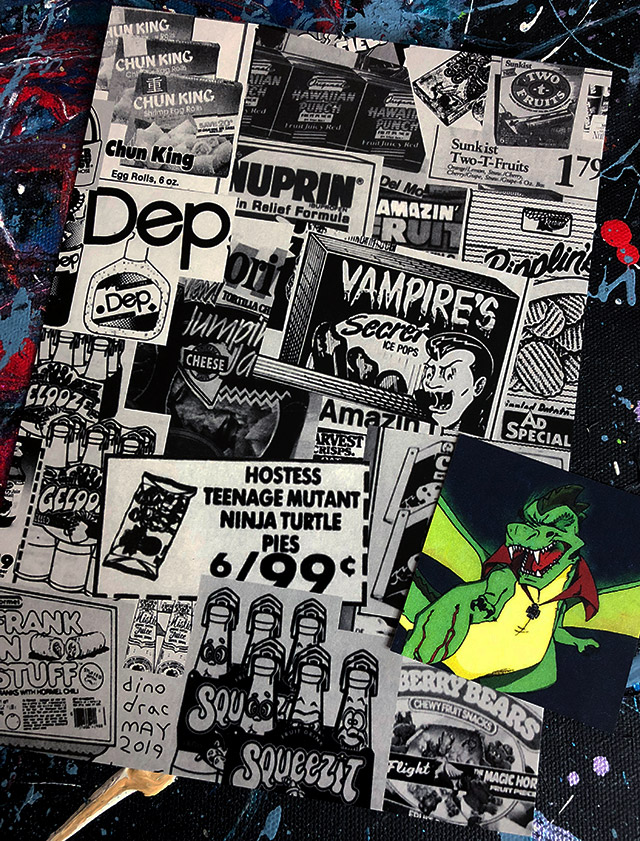 This month's Dino Drac Mini-Poster is one of my favorites. It's a collage of supermarket newspaper ads from the '80s and '90s, featuring such legends as TMNT Pies, Vampire's Secret ice pops, Dep hair gel and more. It's weirdly artful, isn't it?
Poster is printed on something approaching cardstock, and measures in at 5×7". You'll also receive this month's exclusive 2×2" Dino Drac sticker, because I won't rest until I've branded your spiral notebook.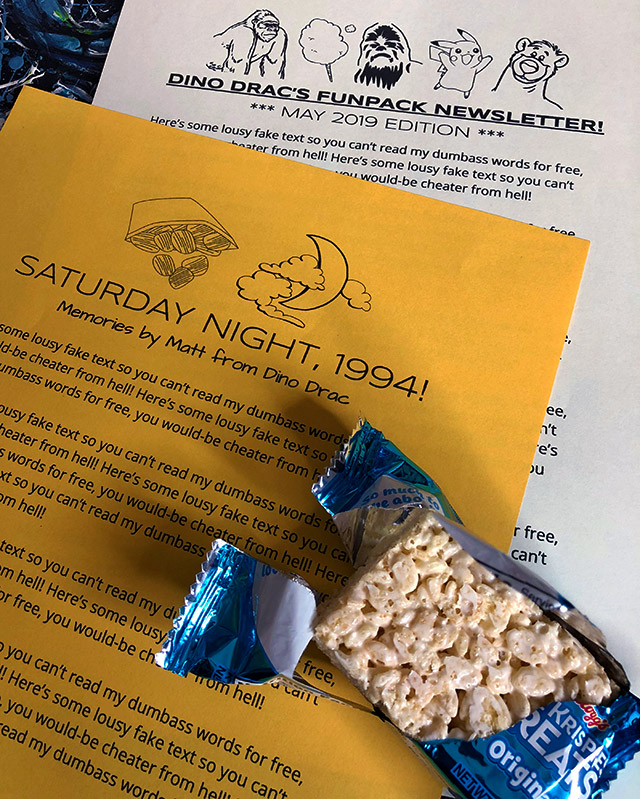 Rounding things out, you'll receive this month's Funpack Newsletter, plus an exclusive essay that will never be reprinted on the site.
This month's essay dutifully recreates a random Saturday night back in 1994, when I was a high school freshman with too much time to kill, and also too many opponents in Mortal Kombat II to kill. You might relate to it, if you're old like me.
Oh, and I'll also throw in a Rice Krispies Treat, just for kicks.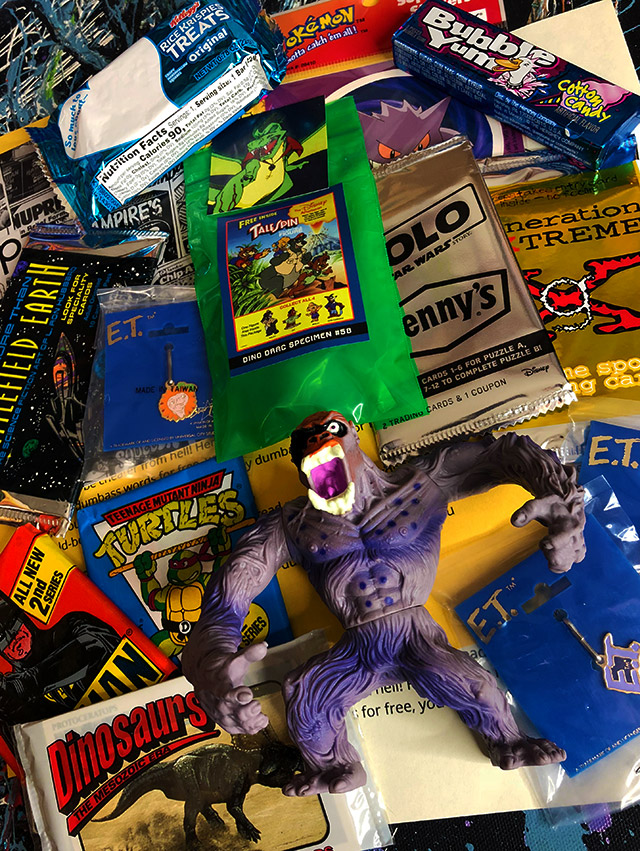 Yep, you'll receive everything shown above, for $25 shipped!
If you're already a Funpack subscriber and you'd like to stay that way… do nothing! You're all set!
If you want to subscribe, please read the following, and then click the button at the bottom of this page!
1. Funpacks are available in the United States only. Sorry!
2. Subscriptions are handled via Paypal. If you don't have an account, it's very easy to make one!
3. Funpacks will be shipped to the address listed on your Paypal account. If you need to change your shipping address, or if you'd like for your Funpacks to be shipped to someone else, simply email me!
4. You will be automatically billed $25 every month. (Yes, that price includes shipping.) If you subscribe today, you'll pay today, and then again in exactly one month. For as long as you remain subscribed, you'll keep getting Funpacks!
5. You can cancel at anytime. (You could subscribe today and cancel today!) If you cancel after you've already been charged for the following month's Funpack, you'll of course receive it just the same as any current subscriber would. (You can cancel via Paypal, or by emailing me.)
6. The May 2019 Funpacks will ship on or before Wednesday 5/23.
Remember, the Funpacks allow me to keep doing the site… thanks so much to all who help to keep it/me going!
To get your subscription started, click the button below!
SOLD OUT!