Dino Drac's December Funpack is here, and it's full of holiday cheer! (Sorry, I was definitely someone who wrote lame catalog descriptions in a past life.)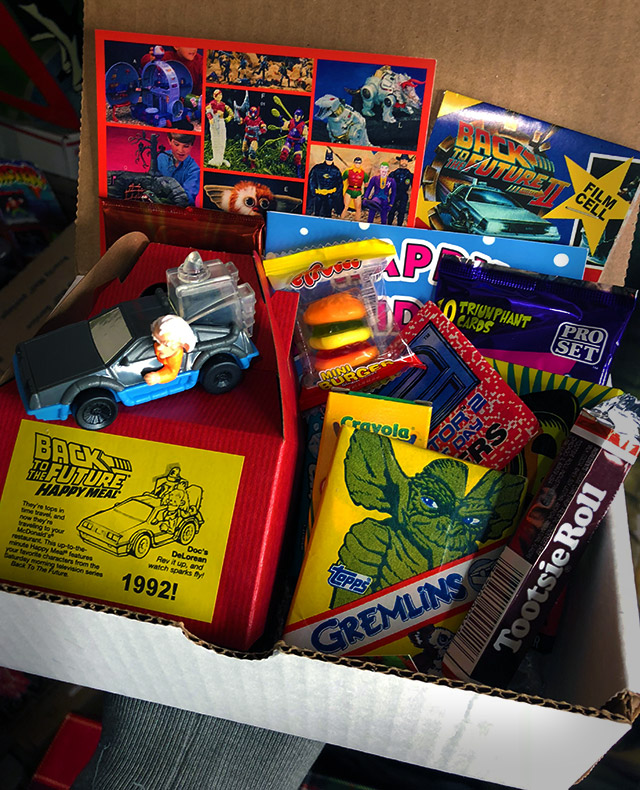 LIMITED SUPPLY! UNITED STATES ONLY!
Consider the December 2019 Funpack a gift to yourself. I assembled this one with Christmas morning in mind, so even if Santa completely disappoints you this year, I hope *I* won't.
You know the deal by now! Funpack subscriptions are $25 a month, and that price includes shipping. For as long as you remain subscribed, you'll keep getting boxes and old-and-new nonsense every single month. (And of course, you can cancel at any time!)
These are in short supply, so if you wanna jump to the bottom for ordering info, go right ahead! Otherwise, keep reading to learn about everything you'll receive in this month's box!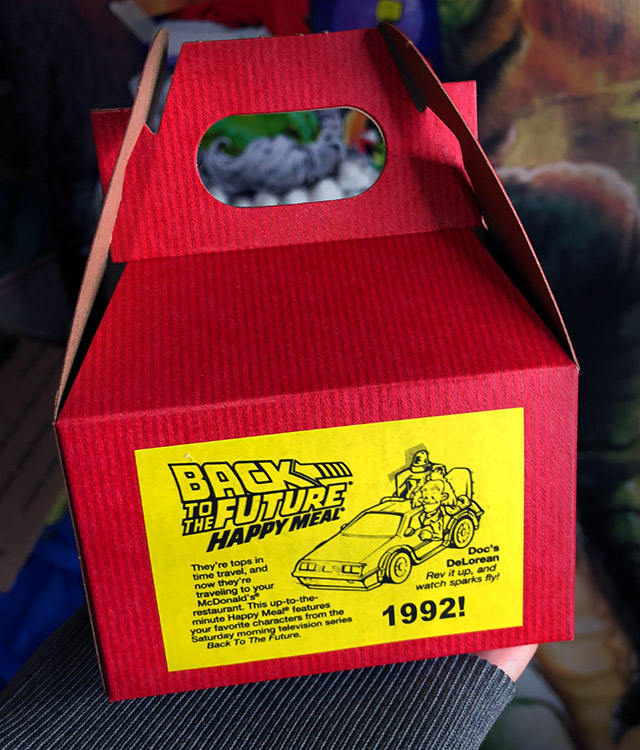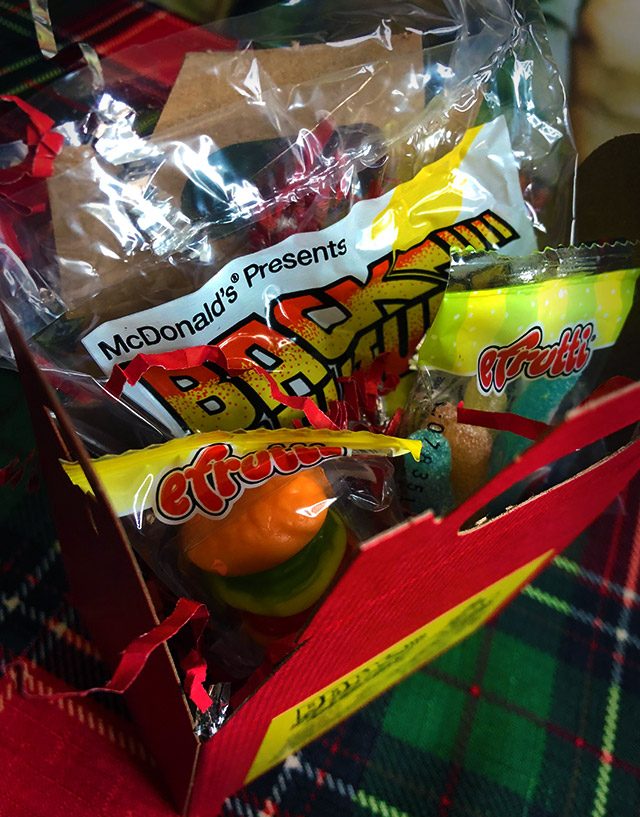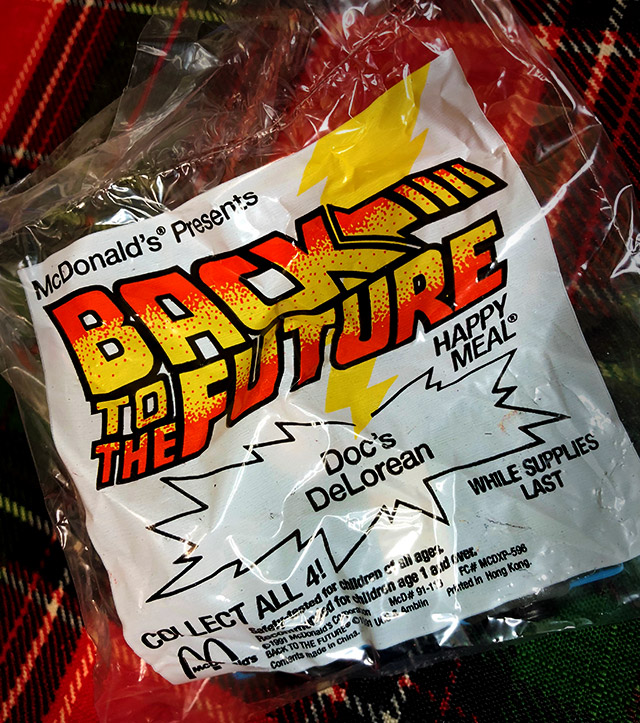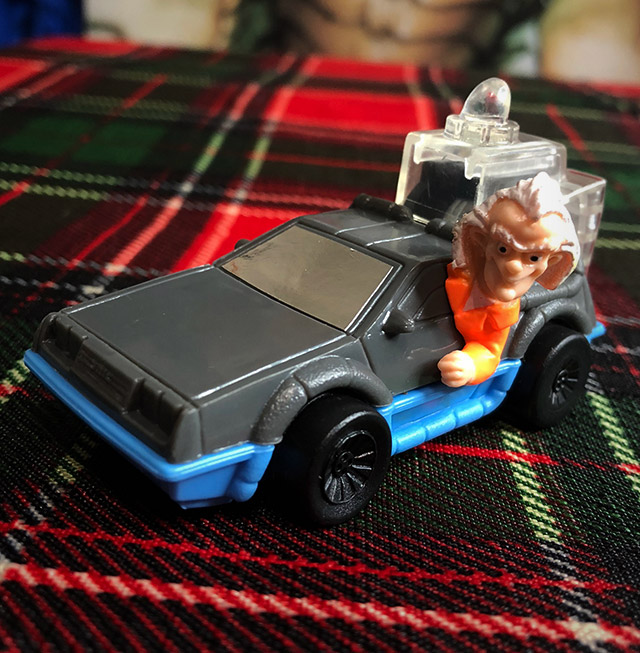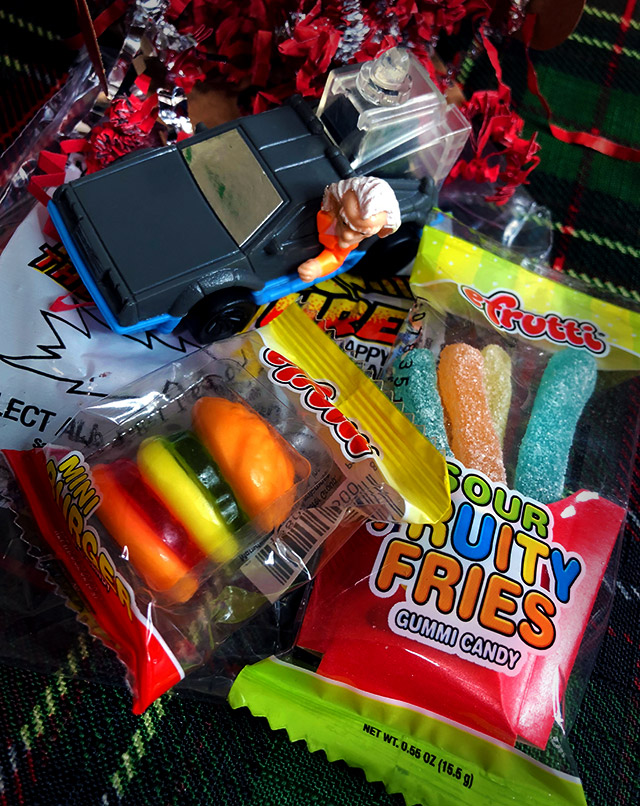 BOOM. The star item of the December 2019 Funpack is a recreated Back to the Future Happy Meal, from 1992! Stuffed in a red "lunch box" that resembles an old Happy Meal container, you'll find a gummy burger, gummy fries, and oh yeah, a NEVER-USED BACK TO THE FUTURE DELOREAN, which was a part of the Back to the Future Happy Meal that came out in '92 in support of the animated series.
These awesome cars have a neat pull-back feature — run the tires once, and then the cars will drive under their own power. They were famously recalled by McDonald's back in '92 because the tires were a potential choking hazard, so like, please don't try to eat them.
This is easily among my all-time favorite Happy Meal toys, and certainly one of the higher-end ones. Really feels more like something we would've bought at retail! Yours will come stuffed in a custom lunch box with Happy Meal-themed candy.
CONDITION NOTE: All cars are in mint condition. They're being pulled straight from an old McDonald's shipping case! The bags are nice and clean, however the seals on a few of the bags have come undone over the years. (Course, the neat thing about those is that you can slip the car out without damaging the bag!) Most are still fully sealed.
You're gonna dig this, guys. It's like getting a whole complete vintage Happy Meal — box, food, toy and all!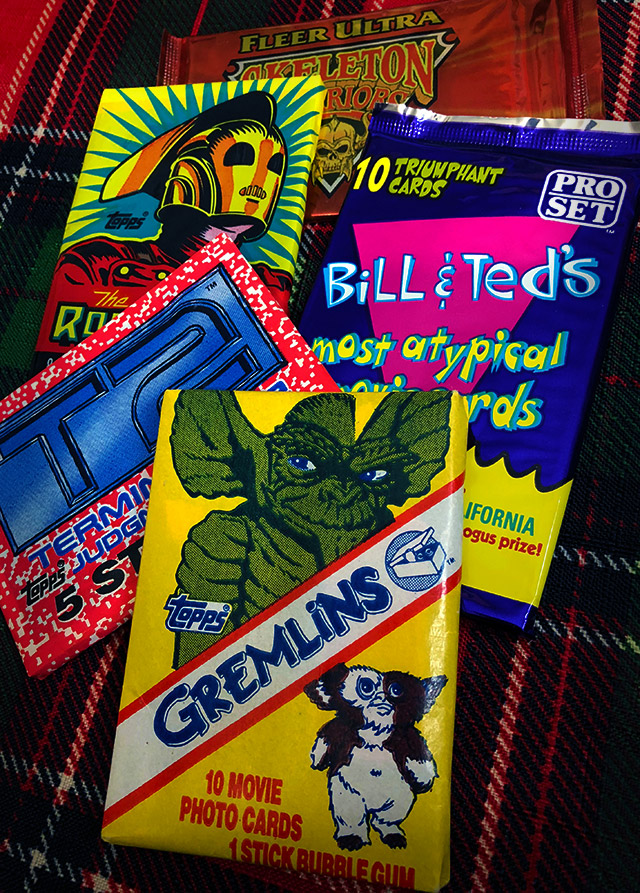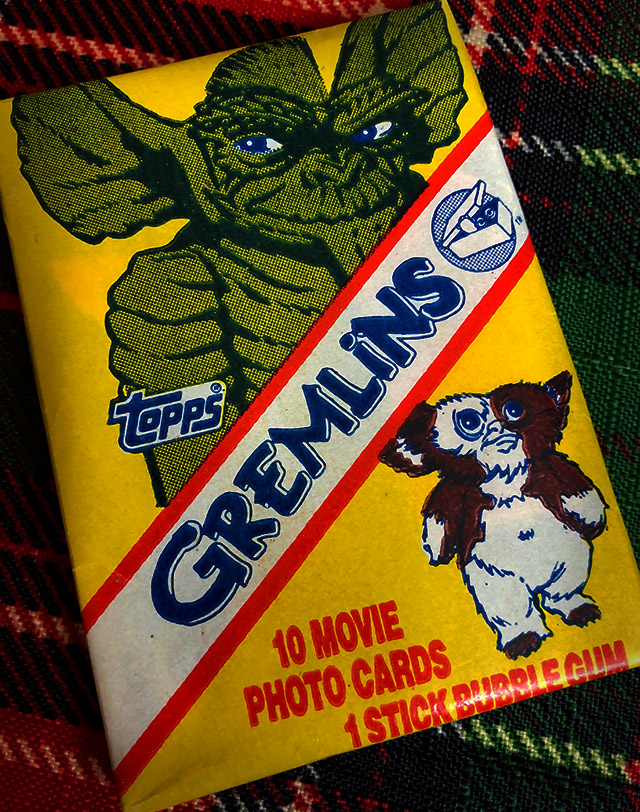 This month, we are going HARD on the vintage trading card packs. You will receive ALL FIVE of the ones shown above, including:
– Gremlins (1984)
– The Rocketeer (1990)
– Terminator 2 Stickers (1991)
– Bill & Ted's Most Atypical Movie Cards (1991)
– Skeleton Warriors (1995)
That's a lotta cards and a serious nostalgic punch. The star of the show, obviously, is that rare pack of super-vintage Gremlins cards. I've been trying to work them into a Funpack ever since the beginning! It's one of my favorite card sets ever, with one of the coolest wrappers. (Dare you open it?)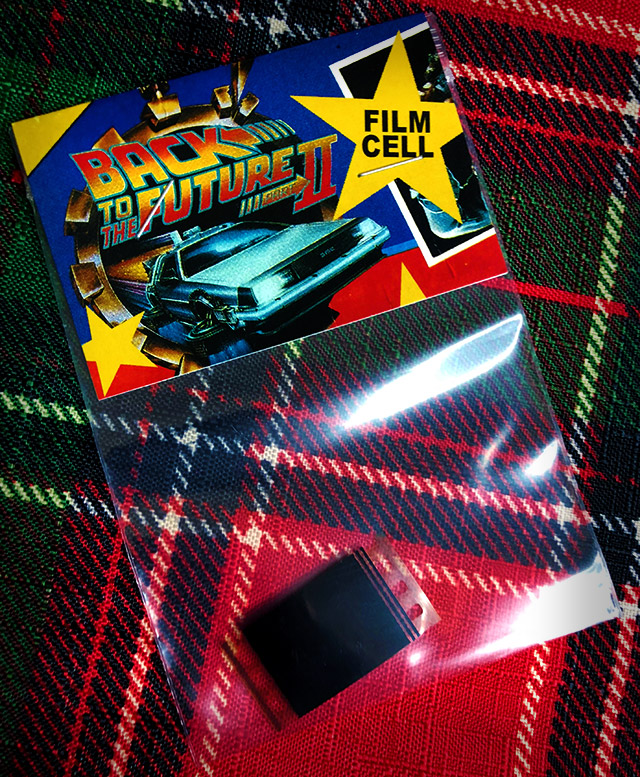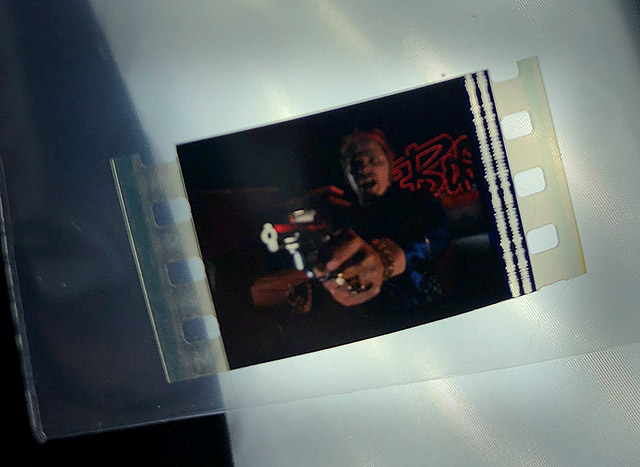 This month's Dino Drac Specimen in an honest-to-goodness Back to the Future Part II film cell, in custom Dino Drac packaging! It's probably my favorite movie in the BTTF franchise, if only for the dehydrated pizza and Jaws 19.
These cells are not "museum quality," mind you. They're crudely cut, and I have no idea if they were pulled from actual movie reels or just trailer reels. Consider them fun little novelties, and we'll be safe. Film cells can run on the darker side, but I'm carefully selecting each one to make sure you'll be able to identify the characters and action! (Some of you may even get a clear shot of Grays Sports Almanac!)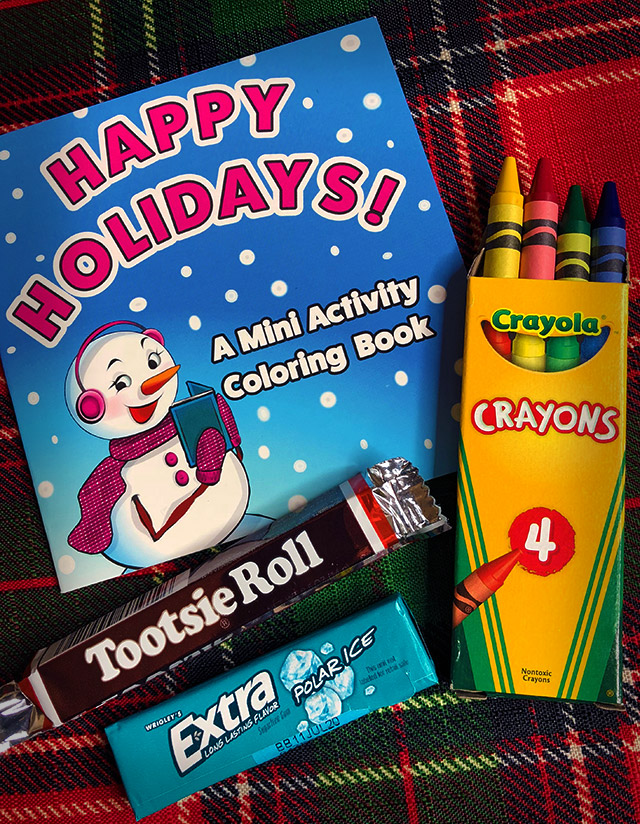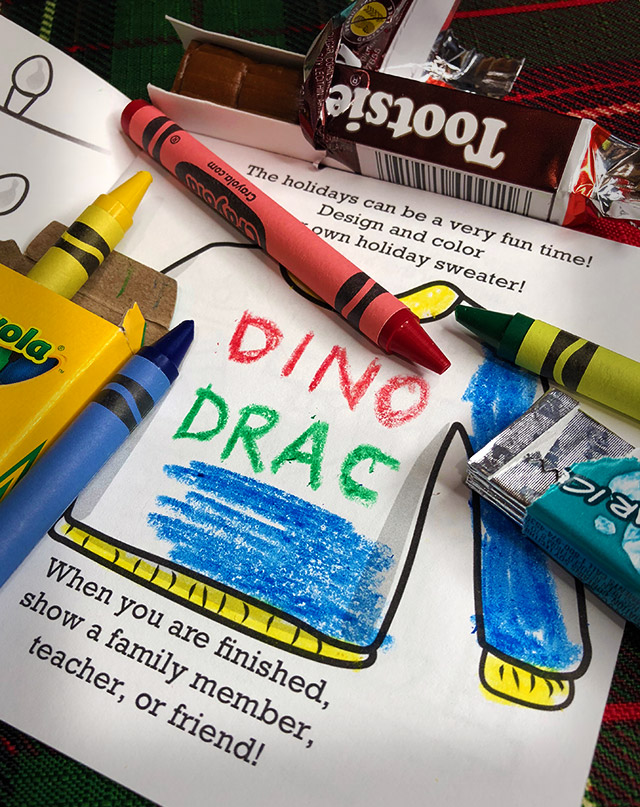 And then we have what I'm calling a Deconstructed Christmas Stocking. You'll receive an absolutely adorable miniature holiday coloring book, a four-pack of Crayola crayons, a pack of Extra Polar Ice gum, and a not-so-tiny Tootsie Roll! All that's missing is the stocking!
(Really though, the books are super cute. There's even a word search page!)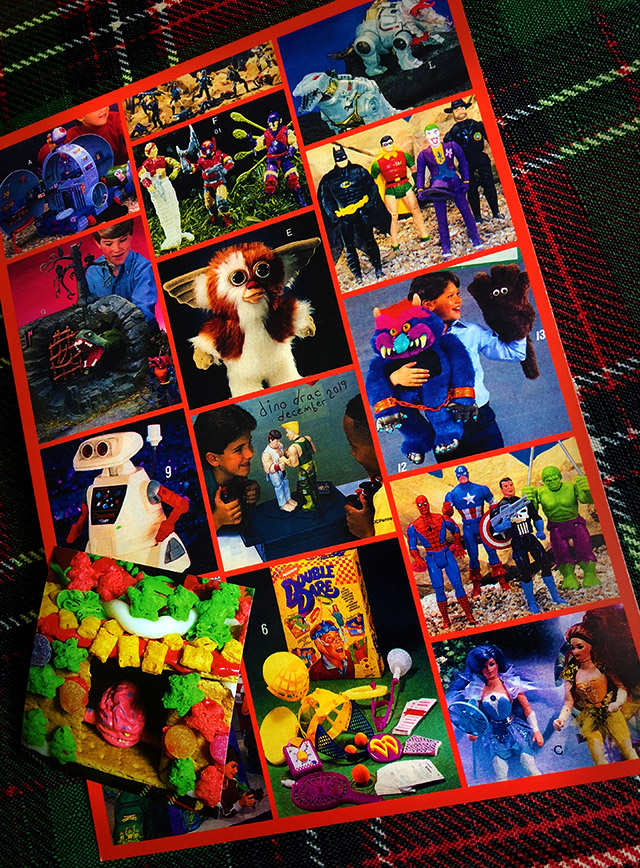 This month's Dino Drac poster collects images from various old holiday toy catalogs. It's a collage that make you daydream for hours about the toys you had and the toys you wish you had. Poster is 5×7" and printed on something resembling cardstock.
You'll also receive this month's 2×2" Dino Drac sticker, which features Krang in a gingerbread house. You know you can't live without a 2×2" sticker of Krang in a gingerbread house.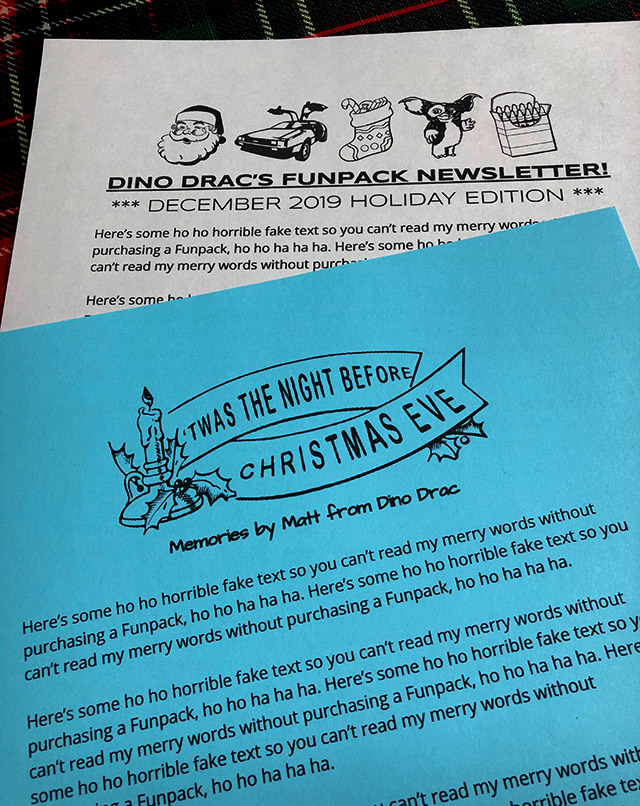 Rounding things out, you'll also receive this month's Funpack Newsletter, plus an exclusive essay that will never be reprinted on the site. The essay is all about December 23rd — aka Christmas Eve Eve — and how special that day was during my childhood. (And maybe during yours, too?)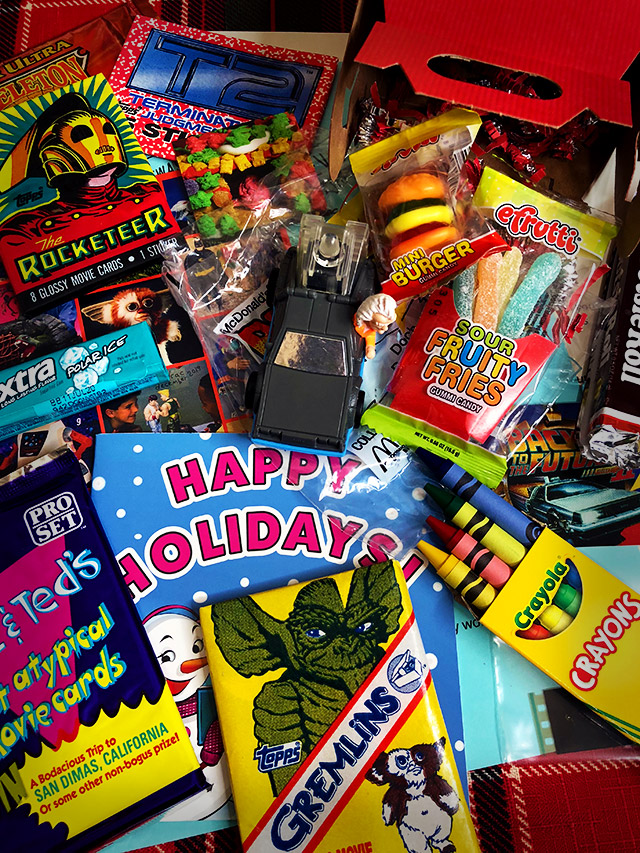 Yep, you'll receive everything shown above, for $25 shipped!
If you're already a Funpack subscriber and you'd like to stay that way… do nothing! You're all set!
If you want to subscribe, please read the following, and then click the button at the bottom of this page!
1. Funpacks are available in the United States only. Sorry!
2. Subscriptions are handled via Paypal. If you don't have an account, it's very easy to make one!
3. Funpacks will be shipped to the address listed on your Paypal account. If you need to change your shipping address, or if you'd like for your Funpacks to be shipped to someone else, simply email me!
4. You will be automatically billed $25 every month. (Yes, that price includes shipping.) If you subscribe today, you'll pay today, and then again in exactly one month. For as long as you remain subscribed, you'll keep getting Funpacks!
5. You can cancel at anytime. (You could subscribe today and cancel today!) If you cancel after you've already been charged for the following month's Funpack, you'll of course receive it just the same as any current subscriber would. (You can cancel via Paypal, or by emailing me.)
6. The December 2019 Funpacks will ship on or before Tuesday 12/17. They should all safely arrive before Xmas!
Remember, the Funpacks allow me to keep doing the site… thanks so much to all who help to keep it/me going!
To get your subscription started, click the button below!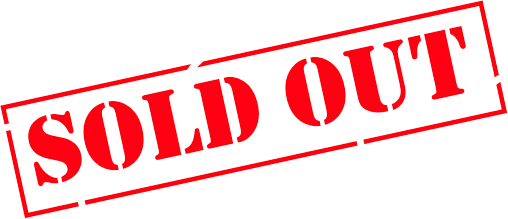 The December Funpacks are currently sold out, but I may have a couple left after I do my final counts! If you're interested in getting on the wait list, please email me. If any slots open up, I'll let you know by Monday!