The November Funpack is always one of my favorites to put together. It's a chance for me to create a sort of "2nd Thanksgiving" for y'all, where the turkey is replaced with candy and the blessings are replaced with, uh, Phantom of the Opera figures.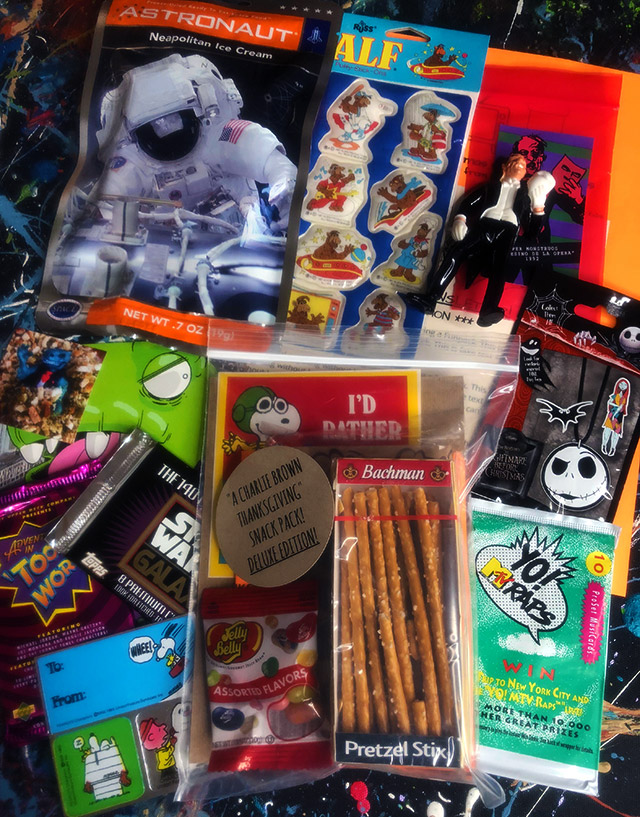 UNITED STATES ONLY! ONLY AVAILABLE FOR 3 DAYS!
I think you know the score by now. Dino Drac's monthly Funpacks are available on a subscription basis. It's $25 a month (including shipping), and for as long as you remain subscribed, you'll get a new box of old nonsense each and every month. Scroll to the bottom for ordering info!
The November 2018 Funpack is loaded with strange food, stranger collectibles and a whole lotta Snoopy. Keep reading to learn about everything that's inside this month's box!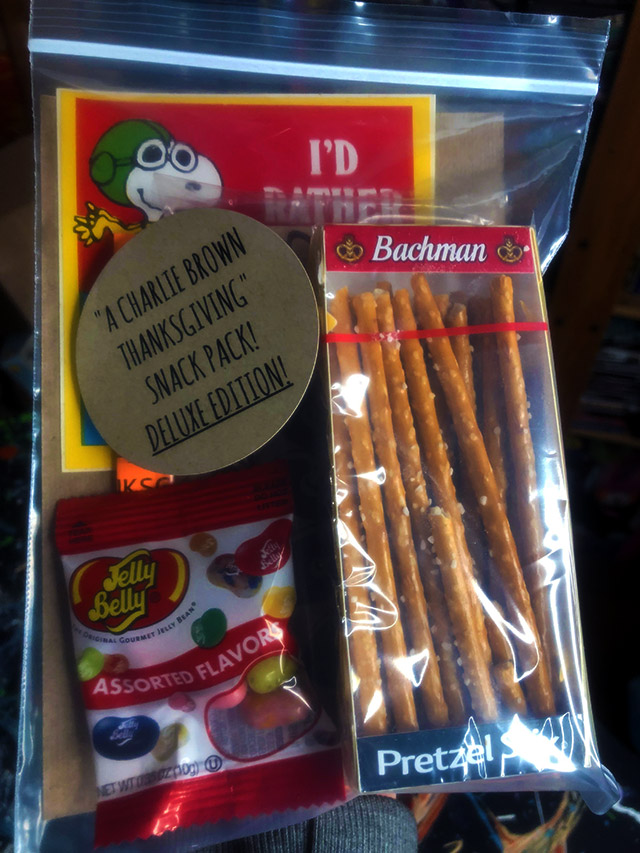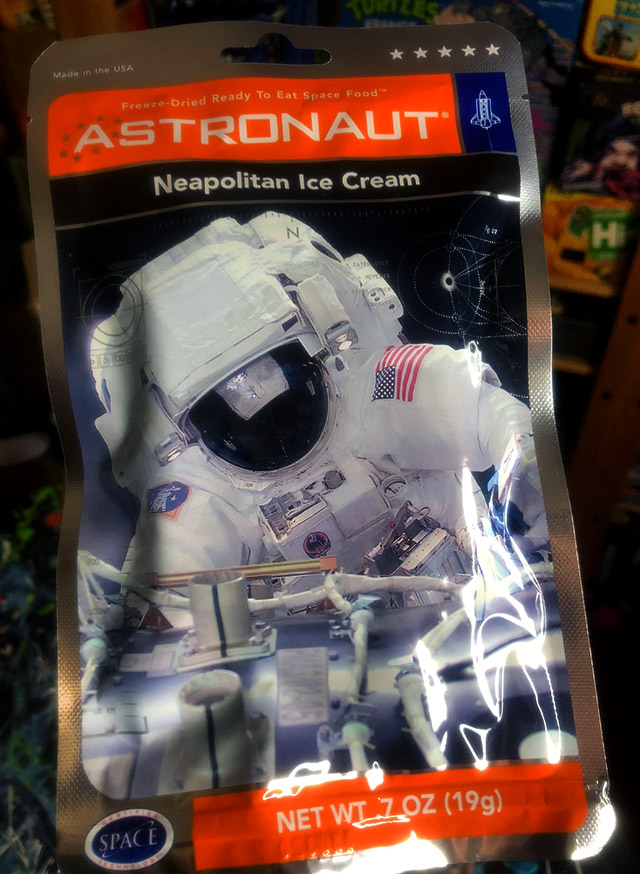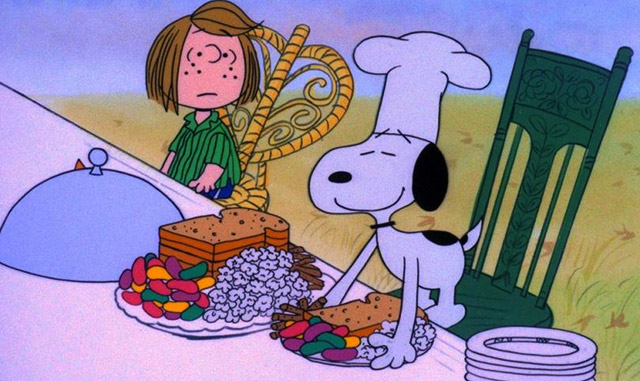 By popular request, I've brought back Dino Drac's Charlie Brown Thanksgiving Snack Pack, which will let you recreate the famous dinner scene from A Charlie Brown Thanksgiving!
This time, though, the Snack Pack is way improved. As you'll recall, the Peanuts gang included ice cream sundaes as part of their Thanksgiving dinner. I obviously can't send you ice cream sundaes, but I found the next best thing: A package of freeze-dried astronaut ice cream! (…which will arrive in broken chunks, as astronaut ice cream usually does!)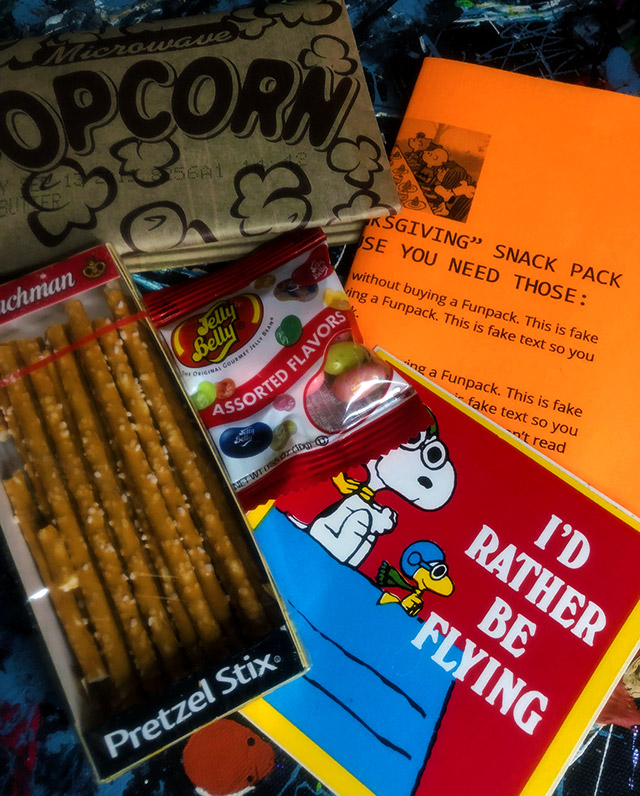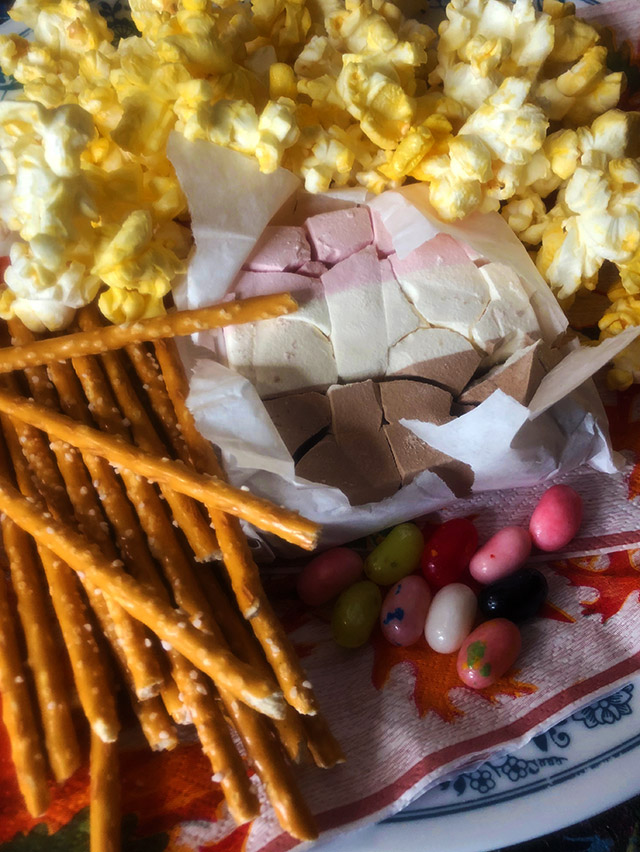 In addition to the astronaut ice cream, you'll receive a box of pretzel sticks, a bag of microwave popcorn and a teensy bag of jelly beans. All that's missing is the buttered toast!
Each Charlie Brown Thanksgiving Snack Pack comes bagged with an instruction sheet, and I'll also toss in a vintage 4×4" Peanuts sticker featuring Snoopy and Woodstock! Eat up!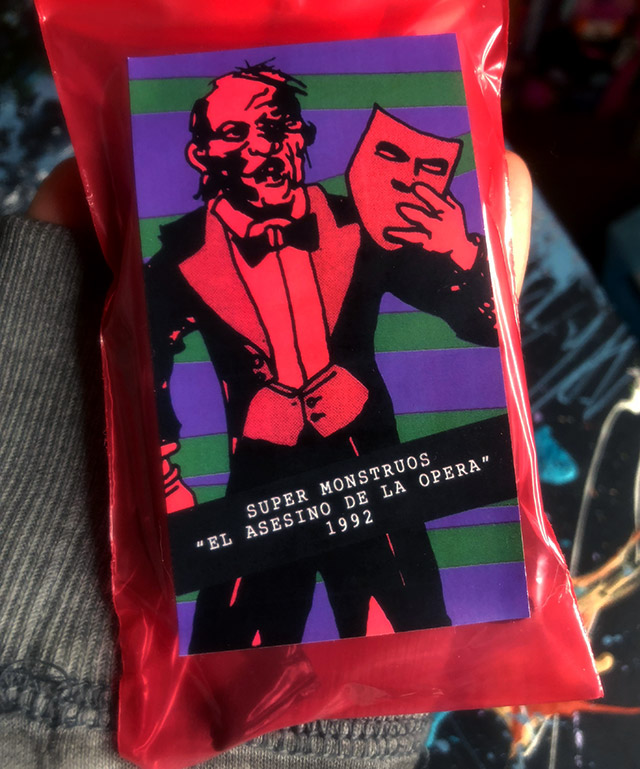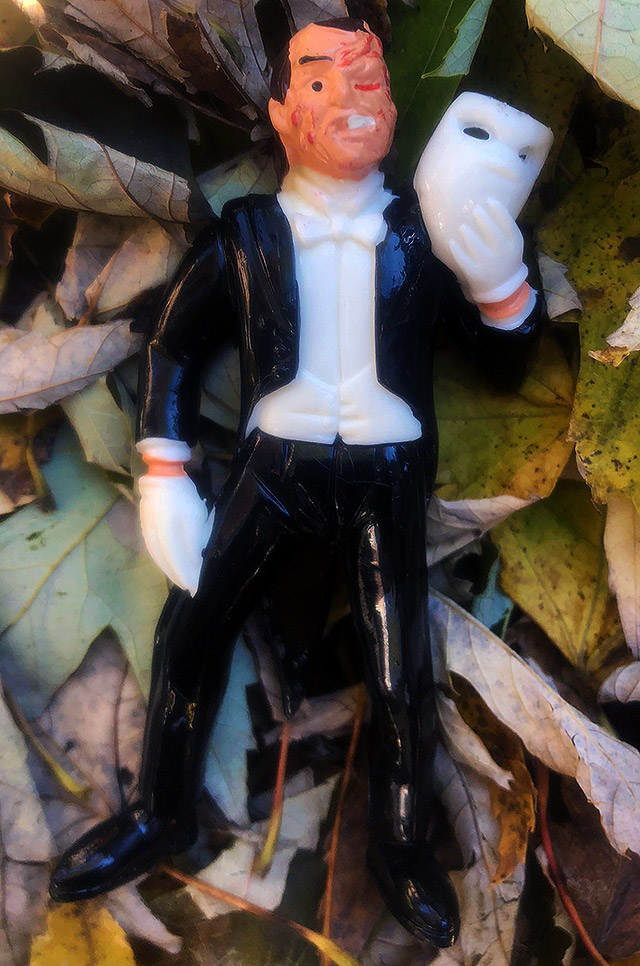 And then we move onto this guy. I wasn't planning on giving out another Super Monstruos figure so soon, but what the hell, it's the holidays. Get a load of El Asesino De La Opera — aka the Phantom of the Opera — resplendent in his shiny tuxedo.
These figures were made in Spain back in 1992 and were never available in the States, as far as I know. Despite his way-mangled face, Mr. Phantom was easily the classiest in the set. Invite him to dinner — he's dressed for it!
Figures are in great shape considering their age, with a slight scratch or two on the tuxedos at worst.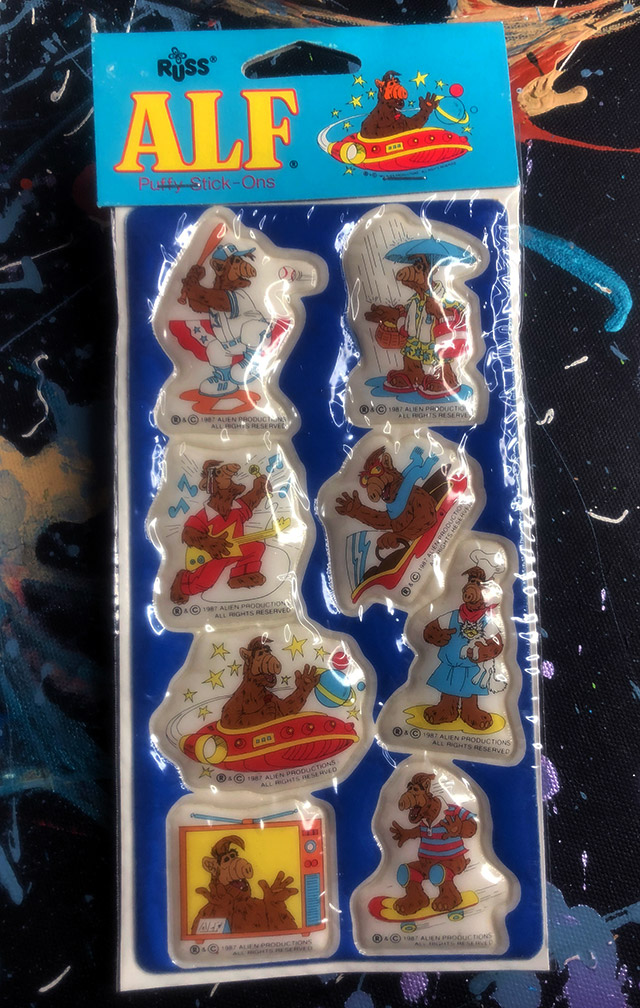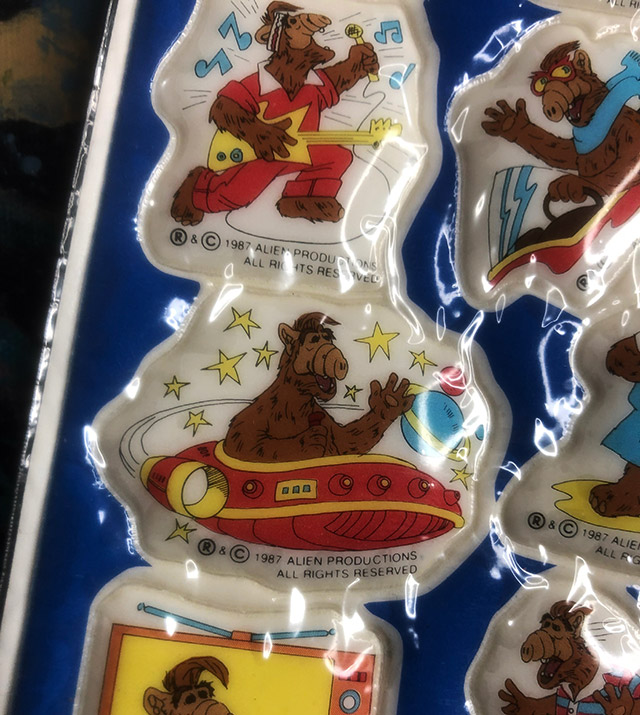 Serving as this month's Dino Drac Specimen is a vintage pack of ALF puffy stickers, from way back in 1988. These sealed packages are case-fresh, not dusty in the slightest!
There are a few variations in the mix, but each pack includes eight stickers featuring ALF in all sorts of oddball situations. I love the artwork on these — it's somewhere between the cartoons and a coloring book.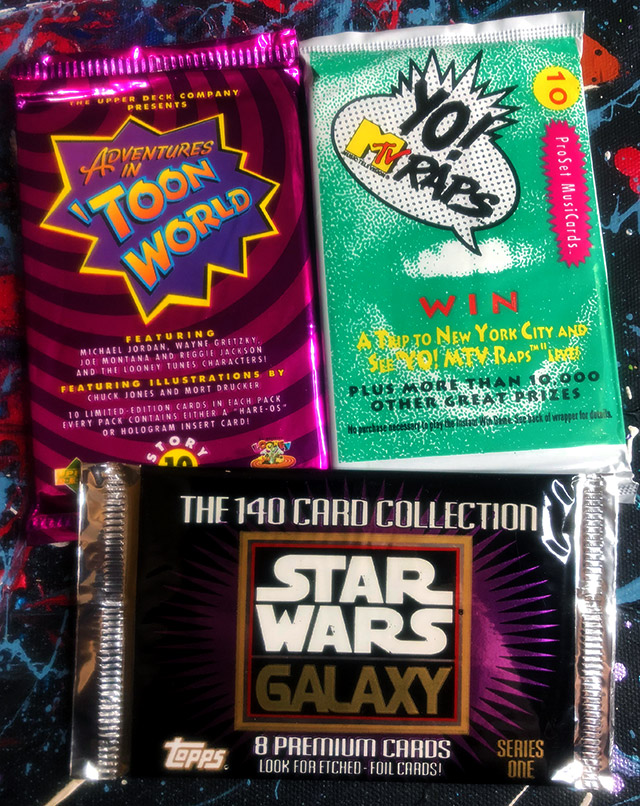 You'll also be receiving three vintage trading card packs this month, and these babies certainly hit some unique notes. Included with every Funpack will be:
– Star Wars Galaxy Pack (1993)
– Adventures in Toon World Pack (1993)
– Yo! MTV Raps Pack (1991)
Have fun tearing 'em open!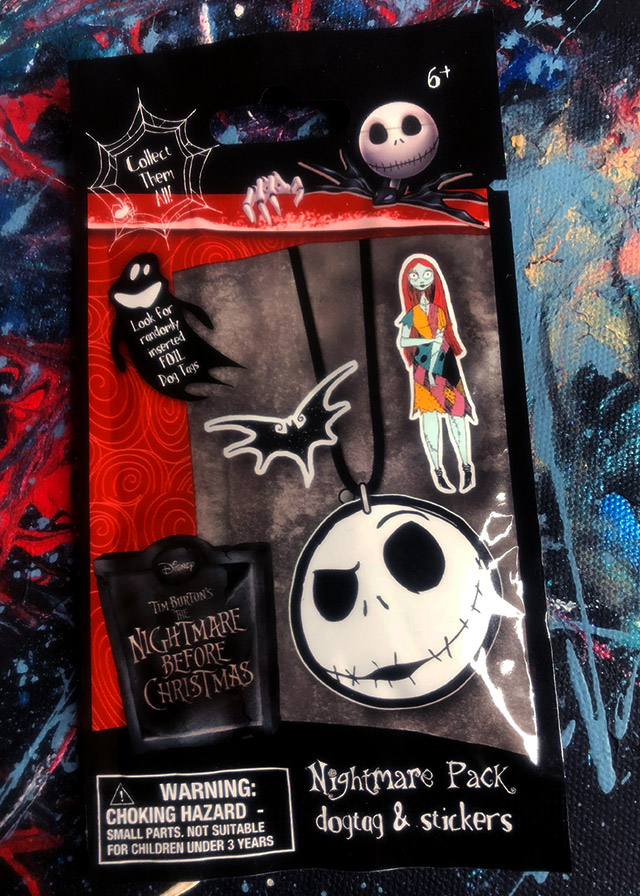 Oh, and to help soften the transition from Halloween into Christmas for those who just can't let those bats and rats go, I'll be including one of these Nightmare Before Christmas Nightmare Packs!
Each includes a dog tag on a chain or string, plus one Nightmare Before Christmas sticker.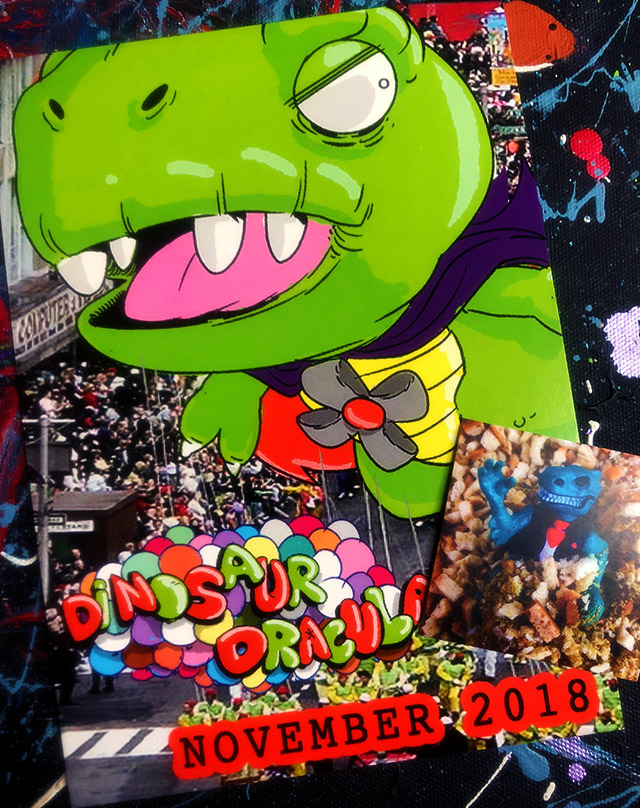 This month's exclusive 5×7" Dino Drac Mini-Poster *and* this month's exclusive 2×2" Dino Drac Sticker celebrate Thanksgiving with a mix of Macy's Parades and Stove Top Stuffing.
(Poster is printed on something resembling cardstock. Sticker is printed on whatever they print stickers on.)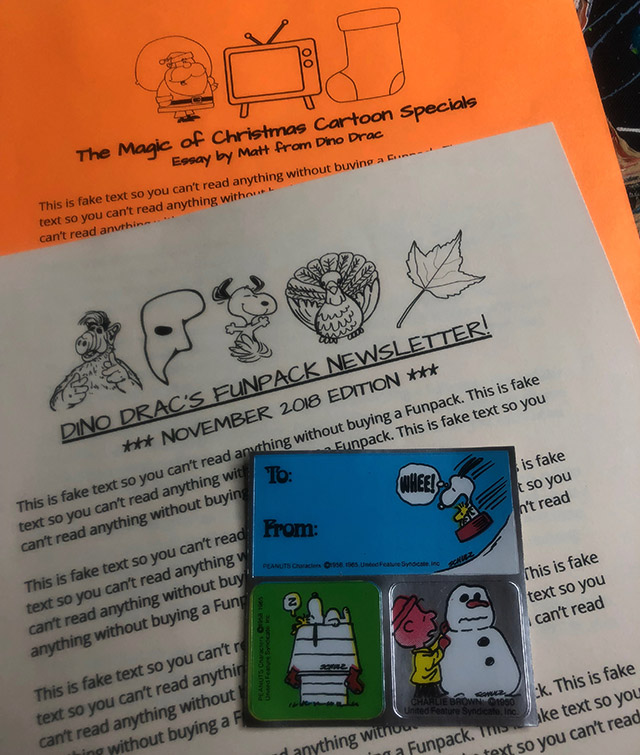 Rounding things out, you'll also receive this month's Dino Drac Funpack Newsletter, along with an exclusive essay that will never be reprinted on the site.
This month's essay is about animated Christmas specials airing during prime time, and WHY they meant so much to us as kids. Hardcore holiday nostalgia, my friends.
Oh, and just for the heck of it, I'll also toss in a vintage Peanuts gift label sheet. There are several varieties in the mix, but each includes three foil stickers. I don't have an exact date on these, but they're obviously old and seem pretty rare!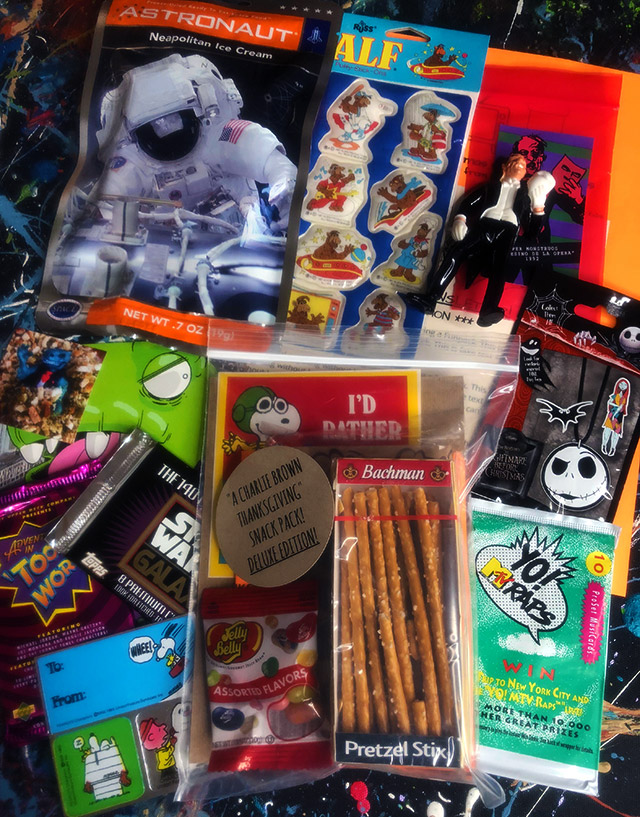 Yep, you'll get EVERYTHING above for $25 shipped!
If you're already a Funpack subscriber and you'd like to stay that way… do nothing! You're all set!
If you want to subscribe, please read the following, and then click the button at the bottom of this page!
1. Funpacks are available in the United States only. Sorry!
2. Subscriptions are handled via Paypal. If you don't have an account, it's very easy to make one!
3. Funpacks will be shipped to the address listed on your Paypal account. If you need to change your shipping address, or if you'd like for your Funpacks to be shipped to someone else, simply email me!
4. You will be automatically billed $25 every month. (Yes, that price includes shipping.) If you subscribe today, you'll pay today, and then again in exactly one month. For as long as you remain subscribed, you'll keep getting Funpacks!
5. You can cancel at anytime. (You could subscribe today and cancel today!) If you cancel after you've already been charged for the following month's Funpack, you'll of course receive it just the same as any current subscriber would. (You can cancel via Paypal, or by emailing me.)
6. The November 2018 Funpacks will ship on or before Thursday 11/15. All *should* arrive before Thanksgiving!
Remember, the Funpacks allow me to keep doing the site… thanks so much to all who help to keep it/me going!
To get your subscription started, click the button below!
SOLD OUT!