The Purple Stuff Podcast normally goes live on Saturday nights, but an assortment of irritating factors forced us to push it off a bit. The good news? Now it's ready!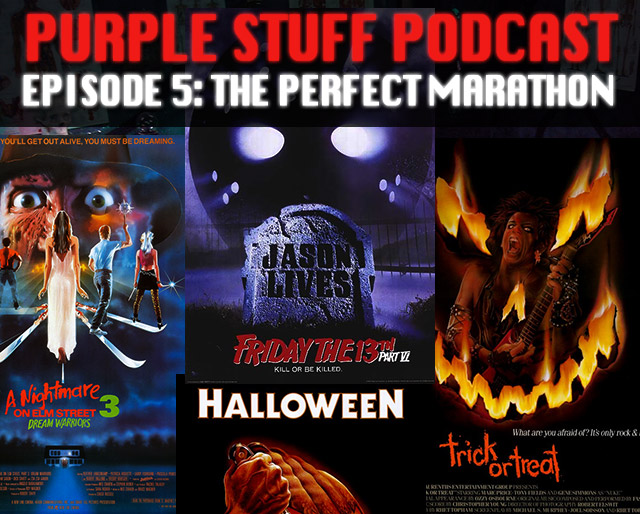 In this episode, me and Jay try to come up with our ideal Halloween television marathon. Like, let's say you were put in charge of a network's lineup for October 31st, and you didn't have to worry about licensing fees or any of that shit. How would you fill the hours? What horror movies and TV specials would you dust off?
Give us a listen on the player below! Or, if you prefer, you can access the MP3 directly over here.
Reminder: The Purple Stuff Podcast is also on iTunes and Stitcher!
This episode was partially inspired by ABC Family's unveiling of their 2015 13 Nights of Halloween lineup. We goof on some of the "iffier" inclusions during the podcast, but the truth is that it's full of awesome selections. Sleepy Hollow? Poltergeist II? I'm so in.
…but most of our inspiration came from WPIX's old Shocktober marathons. As longtime readers may remember, Shocktober was just about my favorite thing ever. Here's an old promo for it, which was apparently lifted from X-E and uploaded to YT by a complete stranger:
WPIX's monthlong marathons absolutely shaped the Halloween seasons of my youth, and I'd even credit them with "breaking my seal" with All Things Horror. (Hell, I never even saw an Elm Street movie until Shocktober threw Dream Warriors in my face.)
In the podcast, we attempt to recreate Shocktober drawing from movies, cartoons, television specials and beyond. I think this episode lends itself to a survey, too. In the comments, tell everyone what YOU would include on a Halloween television marathon of your own design. Hey, you might just inspire someone to watch something new! (Well, old… but new to them!)
Thanks for listening, as always!